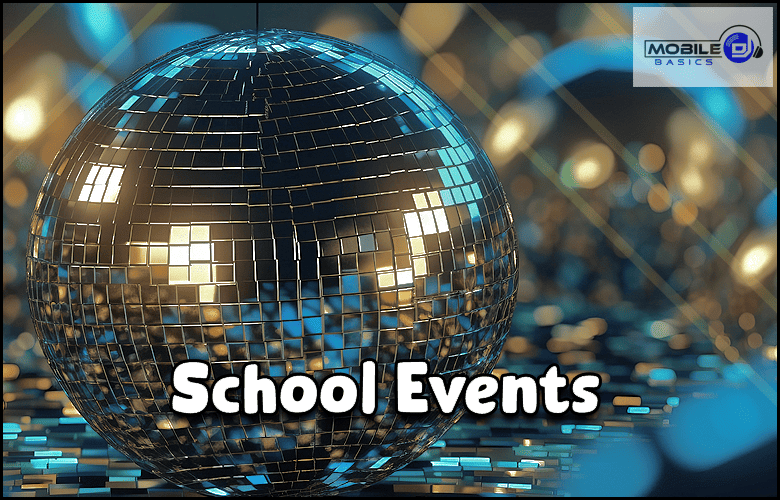 School Events
FAQ: School Events | School Dances, Prom, and Homecoming
1. What is a Event? A Event refers to an occasion where a professional disc jockey (DJ) provides music and entertainment for a specific purpose, such as school dances, proms, or homecoming events. DJs play a wide range of music genres, engage with the audience, and create a lively atmosphere.
2. How do I hire a DJ for our school dance, prom, or homecoming? To hire a DJ for your event, you can start by researching local DJs who specialize in school events. Look for recommendations from other schools, ask for referrals, or search online directories. Contact the DJs you are interested in, discuss your event requirements, negotiate pricing, and finalize the booking with a signed contract.
3. What services can a DJ provide for our event? A professional DJ can offer a variety of services tailored to your event. This may include providing and setting up sound equipment, creating playlists based on your preferences, accommodating special song requests, acting as an emcee, coordinating with event organizers, and maintaining a lively and energetic atmosphere throughout the event.
4. Can we request specific songs or genres for our event? Yes, most DJs are open to song requests and will work with you to create a playlist that matches the desired ambiance for your event. It's a good idea to communicate your preferences and any specific songs or genres you would like to be played in advance so that the DJ can prepare accordingly.
5. How early should we book a DJ for our event? It's recommended to book a DJ for your school dance, prom, or homecoming event as early as possible. DJs often have busy schedules, especially during peak event seasons, so securing their services in advance ensures availability and gives you ample time to discuss your event details and preferences.
6. What equipment does a DJ typically bring? A professional DJ will typically bring their own sound equipment, including speakers, microphones, mixers, and DJ controllers. They may also have lighting equipment, smoke machines, or other effects to enhance the visual experience. However, it's essential to communicate with the DJ in advance to confirm what equipment they will be providing.
7. Will the DJ play appropriate music for a school event? Yes, a professional DJ understands the importance of playing appropriate music for school events. They will be conscious of the age range of the attendees and ensure that the music selection is suitable. If you have specific guidelines or restrictions regarding music content, it's important to communicate them to the DJ in advance.
8. What is the cost of hiring a DJ for a school dance, prom, or homecoming? The cost of hiring a DJ can vary depending on various factors, such as the duration of the event, the DJ's experience and reputation, the equipment provided, and any additional services requested. It's best to inquire about pricing from different DJs and discuss your specific requirements to obtain accurate quotes.
9. Can the DJ also provide additional entertainment services? Some DJs offer additional entertainment services, such as interactive games, dance contests, photo booths, or special effects. If you're interested in these extras, inquire with the DJ during the booking process to see if they offer any additional entertainment options.
10. Is it customary to tip the DJ after the event? While tipping is not mandatory, it is customary to show appreciation for a job well done. If you were satisfied with the DJ's performance and feel they went above and beyond, it's a nice gesture to provide a tip as a token of gratitude. The amount is at your discretion based on your budget and level of satisfaction.
Remember, each DJ may have their own policies and procedures, so it's important to communicate clearly, read through any contracts or agreements, and ask any specific questions you may have when booking a DJ for your school dance, prom, or homecoming event.
---
Your Ultimate Guide to School Events and Entertainment