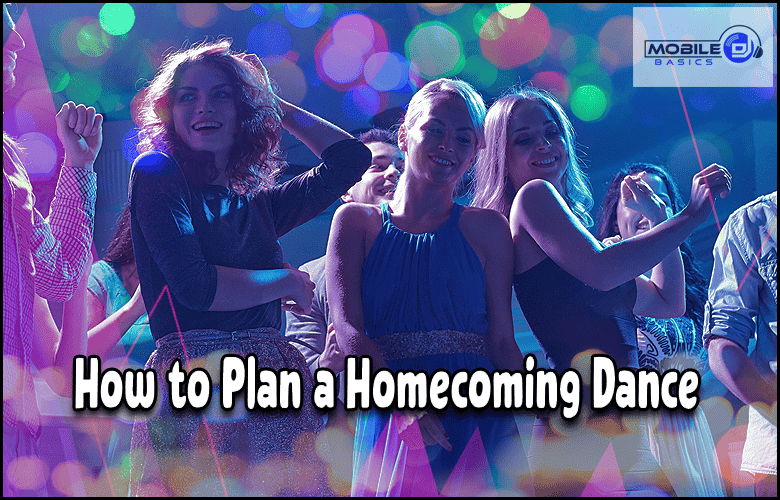 Last Updated on September 11, 2023 by Ryan Conlon | 🕒 5 min Read Time
---
Learning how to plan a homecoming dance can be an exciting yet daunting task. This annual event ignites anticipation and excitement across campuses, uniting schools and creating cherished memories.
The question remains – how do we transform a typical venue into an enchanting setting that will be remembered for years to come?
Our comprehensive guide will cover all you need to know, from budget management to venue selection, music choices, and beyond.
Ready to create an unforgettable event that speaks to every attendee, from the outgoing athletes to the quiet creatives?
Welcome to your ultimate guide on how to plan the perfect homecoming dance.
How to Plan a Homecoming Dance
Planning a High School homecoming dance is no easy feat – from the decorations to the DJ, there's so much to think about! For some students, that special night takes months of preparation.
But with careful planning and organization, organizing an unforgettable homecoming dance can be more straightforward than you think.
In this guide, we'll walk you through everything you need to know for planning the perfect homecoming celebration — from deciding on a budget to creating your own decorations and even finding a fun activity for after-dance entertainment.
So roll up your sleeves and get ready – it's time to plan an amazing event!
---
Understanding the Basics of a Homecoming Dance
Homecoming is a longstanding tradition in many high schools and universities across the United States, and it typically involves a variety of festivities, including sports games, parades, pep rallies, and, of course, a dance.
These events aim to foster a sense of school spirit and pride, as well as to welcome back alumni.
The dance is an opportunity for students to socialize, celebrate their school, and create memories that will last a lifetime.
---
Forming a Homecoming Planning Committee
Organizing a homecoming dance is a complex task that requires careful planning and coordination. Forming a dedicated homecoming planning committee can significantly streamline this process.
Importance of the Committee
Without a dedicated team, it can be challenging to manage the various elements required for such an event.
A well-structured committee will ensure that the planning process is organized, that tasks are completed on time, and that the event runs smoothly.
Forming a planning committee should be one of the first steps in organizing a dance.
Size of the Committee
A committee of around 10-15 members often works well.
This size is large enough to divide the tasks effectively, yet small enough to facilitate easy coordination and decision-making.
Benefits of a Committee
Division of Tasks: A committee ensures that the tasks are divided among different people, making the process more manageable. Each member can focus on a particular aspect, such as budgeting, decorations, entertainment, or publicity, ensuring that each detail receives the necessary attention.
Diversity of Ideas: A committee brings together individuals with different perspectives and ideas, promoting creativity and innovation. This diversity can lead to more exciting and unique homecoming dances.
Shared Responsibility: When a group of individuals share the responsibility of planning, it reduces the pressure on any single person. It also ensures that multiple people are aware of the progress and can step in if necessary.
Teamwork and Leadership Development: Participating in the committee allows students to develop their teamwork and leadership skills. They can learn about decision-making, negotiation, project management, and more.
---
Setting a Budget for the Dance
A budget may seem like a complicated and daunting task, but it's essential to ensure that the evening remains within financial means while still allowing for a memorable experience.
To begin with, start by determining a maximum amount of money that can be spent on the dance.
This will provide a clear guideline for decision-making, such as choosing between an expensive dress or a modest one.
Additionally, creating a list of all expenses, such as tickets, transportation, and decorations, is crucial, keeping in mind any additional costs.
By planning ahead and being mindful of expenses, setting a budget will not only alleviate stress, but it'll also aid in making the night unforgettable.
1. Determine Your Total Budget: Your total budget will largely depend on your school's funds allocated for the event, fundraising efforts, and ticket sales predictions. It might be helpful to look at the budgets from previous years as a reference.
2. List All Expenses: Identify all potential costs associated with the dance. Common expenses include venue rental, decorations, DJ or band, security, refreshments, invitations, photography, and contingency funds for unexpected costs.
3. Allocate Funds: Once you have your expense list, allocate a portion of your total budget to each item. It's best to overestimate costs slightly to avoid any surprises. For example:
Venue: 25% of the budget
Decorations: 15% of the budget
DJ/Band: 20% of the budget
Security: 10% of the budget
Refreshments: 15% of the budget
Invitations and other expenses: 10% of the budget
Contingency fund: 5% of the budget
4. Get Quotes: Reach out to potential vendors and venues to get quotes. This will give you a better idea of what the actual costs will be and allow you to adjust your budget accordingly.
5. Track Expenditure: As you start spending, track every expense. Regularly compare your actual spending with your budget to ensure you're staying on track. If you find you're overspending in one area, you'll need to adjust other parts of your budget to compensate.
6. Review and Adjust: Regularly review your budget and adjust as necessary. Unexpected costs can arise, and you'll need to be flexible and creative in managing your budget.
Remember, the goal is to create a memorable event, not an expensive one. There are always ways to cut costs without sacrificing the quality of the event.
For example, you could use student volunteers for certain tasks, opt for DIY decorations, or negotiate better deals with vendors.
---
Choosing a Homecoming Theme
Here's how you can choose a homecoming theme:
Brainstorm Ideas: Gather your planning committee and start a brainstorming session. Encourage everyone to share their ideas, no matter how wild they might seem. Consider popular culture, classic themes, or creative new concepts.
Consider Your Audience: Remember, your aim is to choose a theme that will appeal to a wide range of students. It's important to consider the diverse tastes, interests, and cultures of your student body.
Survey the Students: To make sure the theme is well-received, consider conducting a survey among the students. You could present the top three or five ideas from your brainstorming session and have students vote for their favorite.
Check Feasibility: While a "Night in Paris" or "Under the Sea" theme might sound great, it's important to ensure it's feasible within your budget and resources. Some themes might require more elaborate decorations or specific venues.
Reflect School Spirit: A homecoming dance is all about school spirit, so consider themes that can incorporate your school's colors, mascot, or other unique characteristics.
Think About Decorations, Attire, and Music: The theme you select will guide the decorations, attire, and possibly even the music at the dance. Ensure the theme you choose can be incorporated into these aspects.
Make a Final Decision: Once you've gathered ideas, checked feasibility, and received input from students, it's time to make a decision.
Remember, the key to a great homecoming theme is to keep it fun, inclusive, and engaging.
---
Selecting a Venue
Finding the right location is key to ensuring a successful homecoming dance, where students can create unforgettable memories.
Whether it's a school gymnasium or a spacious ballroom, the venue needs to accommodate a large number of students and provide a lively atmosphere for everyone to enjoy.
From decorations to lighting, every detail matters when it comes to setting the mood for the perfect homecoming dance.
It's important to plan ahead and consider all options to ensure that the venue matches the vision the students have in mind and provides a safe and enjoyable environment for everyone to celebrate together.
---
Organizing Entertainment
Organizing entertainment for a homecoming dance is no easy feat. It requires careful planning, creativity, and a deep understanding of what students want to see and hear.
From picking the right DJ or band to selecting the right lighting and special effects, there are countless details that need to be taken into consideration.
After all, a homecoming dance is a big event that students have looked forward to for months, and it's important to make sure that they have an unforgettable experience.
With the right mix of music, dancing, and fun activities, it's possible to create an atmosphere that everyone will enjoy and remember for years to come.
---
Deciding on Decorations
As the excitement for the upcoming HOCO dance grows, so does the pressure of choosing the perfect decorations to create a memorable atmosphere.
A variety of options are available, from balloons and streamers to lights and props.
The decorations should not only align with the theme of the dance but also complement the venue's architecture and color scheme.
Perhaps a grand entrance adorned with string lights and a photo booth decorated with sparkling backdrops would enhance guests' night.
Whatever decorations are chosen, they should create a sense of unity and excitement among students, making for an unforgettable homecoming dance.
---
Final Preparations
As the date of the homecoming approaches, there are several final preparations to ensure everything goes smoothly.
Here's a handy checklist to help:
One Week Before the Event
Confirm with Vendors: Double-check all bookings, including the venue, caterer, DJ or band, and decorators. Ensure they are clear about the event's date, time, and requirements.
Revisit Your Budget: Check your budget status and finalize all payments that need to be done in advance.
Check Decorations: If you're using DIY decorations, make sure they are completed and ready to be set up.
Tickets Sales: Push for last-minute ticket sales. Ensure that everyone who wants to attend has bought their tickets.
Review Security Plan: Make sure your security plan is in place, and all volunteers or hired security personnel know their roles.
Two Days Before the Event
Organize Transportation: If necessary, confirm any transportation arrangements, like buses or shuttles.
Food and Beverages: If you're providing food and drinks, confirm the final guest count with the caterer.
Finalize Setup and Breakdown Schedules: Everyone involved should know what time they need to arrive for setup and when to start cleaning up after the event.
One Day Before the Event
Venue Setup: Depending on your agreement with the venue, you may be able to start setting up. Arrange tables and chairs, set up decorations, and perform a walk-through to visualize the event flow.
Tech Check: Test all equipment, especially the sound system. Ensure the DJ or band has everything they need.
Prepare a 'Day Of' Box: Pack a box with items that may be needed on the day, like extra tickets, a copy of the guest list, a first aid kit, duct tape, scissors, etc.
Day of the Event
Set Up: Finish any remaining setup tasks. Make sure everything is clean, tidy, and in place.
Brief Your Team: Hold a final briefing with your committee, volunteers, and any hired staff. Ensure everyone knows their roles and responsibilities.
Welcome Guests: As guests arrive, ensure there's a system in place to welcome them, check tickets, and provide any necessary information.
Remember, despite the best planning, events often have unexpected hiccups. The key is to stay flexible, keep a positive attitude, and focus on creating a fun and welcoming atmosphere for everyone.
---
What makes a good homecoming dance?
A good homecoming dance brings together the entire school community, turning an ordinary high school dance into an unforgettable party that radiates school spirit.
The perfect blend of a captivating homecoming theme, the excitement of the homecoming court announcements, and the energy of the dancefloor can make a homecoming dance truly memorable.
The planning of a homecoming dance starts with innovative homecoming proposal ideas.
Creative 'hoco' proposals or 'prom' proposals not only add excitement in the run-up to the dance but also bring an element of romance and camaraderie among students.
Whether it's a sweet, funny, or grand gesture, how to ask someone to homecoming becomes part of the event's charm.
The crowning of the homecoming queen and king, part of the homecoming court tradition, is another highlight that can make a homecoming dance stand out.
The anticipation built up around this event adds an element of intrigue and engagement.
To ensure a successful event, every aspect of the high school homecoming dance must be meticulously planned, from the homecoming proposals to the homecoming theme ideas, and finally, to the actual execution of the event.
The goal should be to create an inclusive environment where every student, whether they're on the homecoming court, part of the football team, or just there to enjoy the dance, feels a part of this special high school event.
In the end, a well-planned school dance leaves students with cherished memories that last a lifetime.
---
Homecoming Planning – Summary
Planning a high school homecoming dance requires careful coordination and teamwork.
The process typically begins with the formation of a homecoming committee, usually led by the school's Student Government Association and complemented by class officers and other student leadership groups.
Collaboration is essential, and many schools also involve the school's Parent Teacher Association and even professional event planners for their expertise.
Key steps include developing a budget with the help of the student government treasurer, creating a basic to-do list, and assembling a homecoming planning checklist.
Both of these resources help committee members stay organized and on track. Additionally, the committee must liaise with the school's facilities services to secure a venue, typically the school gym, and transform it into a vibrant dance floor for the formal dance.
The committee is also responsible for boosting school spirit, often through a homecoming spirit week, and coordinating other school events related to homecoming.
Funding typically comes from student government money and ticket sales, requiring careful budgeting overseen by a faculty adviser.
The successful organization of a homecoming dance is a testament to effective student leadership, teamwork, and school community engagement.
---
FAQ
Q1: How far in advance should we start planning a homecoming dance?
A1: Ideally, planning should start at least 4-6 months before the date of the dance. This allows time for securing a venue, deciding on a theme, and making necessary arrangements.
Q2: How do we select a suitable theme for homecoming?
A2: Choosing a theme can depend on many factors, such as popular trends, school traditions, or the general preference of the students. Surveying the student body for theme ideas can be a great way to make an inclusive decision.
Q3: How much budget do we need to plan a homecoming dance?
A3: The budget can vary greatly depending on the scale of your event, the cost of the venue, decorations, entertainment, etc. Consider fundraising or seeking sponsorships to help cover costs.
Q4: What are some cost-saving tips when planning homecoming?
A4: You can save costs by opting for DIY decorations, getting student volunteers for tasks instead of hiring professionals, and seeking donations or sponsorships from local businesses.
Q5: How should we manage ticket sales for the homecoming dance?
A5: Tickets can be sold during lunch breaks, at school events, or online. Early bird pricing or discounts for couples/group purchases can help boost early sales.
Q6: How can we ensure that the homecoming dance is safe and enjoyable for everyone?
A6: Ensure all school rules are enforced, hire professional security if necessary, and plan for plenty of adult chaperones. It's also important to make sure the event is inclusive and accessible to all students.
Q7: What should we do if there are last-minute cancellations or changes?
A7: It's crucial to have a backup plan in case of last-minute changes or emergencies. This could include backup vendors, alternative entertainment options, or additional volunteers who can step in if needed.
Q8: What kind of music should be played at the homecoming dance?
A8: The music should cater to a wide range of tastes. You can survey students for song requests, hire a DJ that understands the music preference of your demographic, or create a playlist that includes a mix of popular tunes and classic hits.
Q9: How can we get students more involved in the homecoming dance?
A9: Encourage student involvement by creating committees or subcommittees for various tasks. You can also hold contests for theme selection, decoration ideas, or even DJing.
Q10: How do we ensure the homecoming dance is a memorable event?
A10: Focus on creating a fun and inclusive atmosphere. A unique theme, good music, delicious food, and engaging activities can all contribute to making the event memorable.
---
Conclusion
With careful preparation, planning a homecoming dance can be an enjoyable and exciting experience.
From sorting out the venue to picking the perfect music playlist, there is a lot of work that goes into making sure that everyone's needs are being taken into account.
However, when taken one step at a time, it doesn't have to be overwhelming! Make sure to involve all important stakeholders in the process to ensure their approval and satisfaction.
Once you've got all of your ducks in a row, the end result will be well worth it. Your school will get to enjoy a homecoming dance that's full of great music, fantastic food and tons of fun!
Don't forget to take plenty of photos—you won't want to forget this special occasion!
So if you are looking forward to creating a night that no one will ever forget, just remember that with some good planning and dedicated organization you can make it happen!
---
Read More
---
---
How to Plan a Homecoming Dance: Venue, Music, and More (2023)
From discovering new songs to getting more gigs, I'm excited to share the wealth of knowledge I've gained through many years of DJing. [email protected]