Last Updated on October 16, 2023 by Ryan Conlon | 🕒 3 min Read Time
---
Ready for Black Light Party Planning? Black light parties are so much fun, but they can be a little tricky to plan. If you want to ensure your event is successful, there are some things you should consider in advance.
Should you buy black lights or rent them from a DJ or production company? What kind of music will you play or will you hire a DJ? How many people should you invite? These are all important questions to answer if you want your party to be a success.
Here are some steps that will help make sure your black light party or black light school dance goes off without a hitch! Consider having a Black Light Prom theme.
Black Light Party Guide
When you hear the words "black light party," what comes to mind? For many people, the first thing that comes to mind is a wild and crazy celebration filled with neon clothes, glowing body paint, and outlandish accessories.
While it's definitely true that these types of parties can be a lot of fun, they also require some planning in order to make sure everything goes off without a hitch.
That's where this guide comes in! Read on for all the information you need to plan an amazing black light party.
Step One: Choose the Location
The first step in planning any party is choosing a location. When it comes to black light parties, you want to make sure you have plenty of space for people to move around and dance. A large room or hall is ideal. If you don't have access to a space like that, consider renting a hall or using a room at a local club or bar.
Step Two: Decorate the Space
Once you've chosen the location, it's time to start decorating! Black lights work best when everything in the room is either white or neon. So be sure to cover all the walls with white paper and hang as many neon decorations as you can find. You can also buy special Black Light Party kits that include everything you need.
Step Three: Glow-in-the Dark Party Decorations
Don't forget the glow-in-the dark decorations! Blacklights work best when everything in the room is either white or neon. So be sure to cover all the walls with white paper and hang as many neon decorations as you can find. You can also buy special Black Light Party kits that include everything you need.

Step Four: Rent the Black Lights
When planning your black light party, you have a few different options for acquiring black lights: you can buy them, rent them from a DJ or production company, or borrow them from friends or family.
Each option has its own set of pros and cons, so it's important to consider all of your choices before making a decision. The easiest option is to see if you DJ company can provide them.
Step Five: Supply the Food and Drink
When it comes to food and drink, keep things simple. Black light parties are all about fun, so you want to focus on snacks and drinks that will please your guests.
If you're serving a meal, go with something easy like pizza or hamburgers. And be sure to have plenty of soft drinks, juices, and water on hand.
As for snacks, try serving fruit skewers, popcorn, or cookies decorated with glow in the dark icing.

Step Six: Plan the Activities
Now it's time to start planning some activities! Black light parties are all about having fun, so be sure to include a variety of games and activities.
Pool noodles, inflatable balls, and other pool toys are always a hit at Black Light Parties. You can also set up a photo booth or play some music and have a dance party.
Step Seven: Hire a DJ
Now that you have everything planned, it is time to find the right DJ for your Black Light Party! There are many things to consider when hiring a DJ.
First, make sure they have experience with Black Light Parties. Some DJs may not know how to work the lights and music in order to create the desired effect.
Second, ask what type of music they will be playing. You want to make sure that there is something for everyone at your party.
A good DJ will be able to play a variety of genres so that no one is left out. A School Dance DJ will be the one that mainly DJs High School and Jr High Events. They will have the right music for your party. New up to date music with the current TikTok dances.
Finally, ask about their prices. DJ services can vary greatly in price, so make sure you are getting what you expect for your money.

Step Eight: Send Out Invitations
Last but not least, be sure to send out invitations well in advance so that everyone has enough time to plan ahead.
Black light parties are the perfect way to end the school year, so be sure to invite your classmates, teachers, and parents!
Now that you know how to plan a Black Light Party, it's time to get started!
Just follow these five steps and you're guaranteed to have a night your guests will never forget!
---
What is a Black Light Party?
A Black Light Party is a party where people dress up in fluorescent clothes and dance to music with a lot of bass. Black lights are used to make the clothes glow, and they create an interesting effect when mixed with UV paint.
Some Black Light Parties also have Glow Sticks, which add more color to the scene. Black light parties are popular among young people because they're a fun way to let loose and have some laughs. They're usually held in dark rooms, gyms, or warehouses, so that the black lights can really shine.
If you've never been to one before, be sure not to miss out! You won't regret it.
---
What Do You Wear to a Black Light Party?
– UV Reactive Material
– Glow In the Dark Clothing
– Neon Clothing
Black lights are a staple of blacklight parties, as they make anything fluorescent stand out. Black light party goers often wear bright clothing in neon colors so that their outfits glow under ultraviolet lighting.
Some people also choose to apply glowing body paint or stickers for an extra burst of color and vibrancy. People who want to look more casual might opt for accessories like sunglasses, jewelry or hats with built in UV reactive material instead of full on clothes.
To find the best blacklight outfit however you will need some help, let's take a closer look at what kind of items work well with this style:
Black light shirts are great because if you're not into wearing just all black, they will still glow under the light.
Black light reactive material is usually a bright green or blue and it can be found on clothing, backpacks, hats and shoes.
Glow in the dark makeup is also popular at these kinds of events; it comes in many different colors and styles so you can really express yourself.
If you're looking for something a little more subtle, try neon clothes which will give off a soft light under the black light.
White clothes are not ideal for black light parties as they don't stand out as much as other colors do, but if that's all you have then go ahead and wear them! Just make sure to add some UV reactive accessories to help them stand out. Check out our article on White Out Parties
No matter what you choose to wear to your next black light party, just make sure you have fun and get ready to glow! You could also have a black light Homecoming dance theme.

---
Conclusion
Black Light Parties are a lot of fun and the planning process doesn't have to be difficult. All you need is some inspiration from this article, a few basics like black lights, glow sticks, balloons and confetti in your favorite colors plus music that will get people on their feet! Get out there and throw an unforgettable event that everyone will remember!
---
---
---
Read More
---
Pins for Pinterest
If you like what you see, feel free to share some love on Pinterest ❤️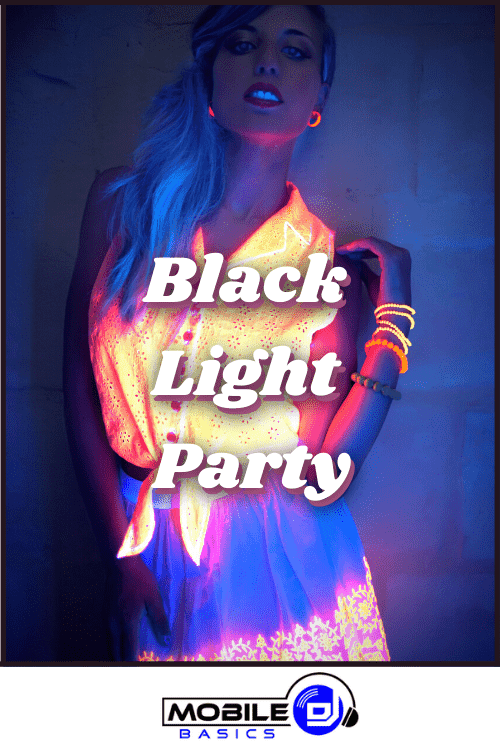 Your Black Light Party Successful Planning Guide 2023
From discovering new songs to getting more gigs, I'm excited to share the wealth of knowledge I've gained through many years of DJing. [email protected]