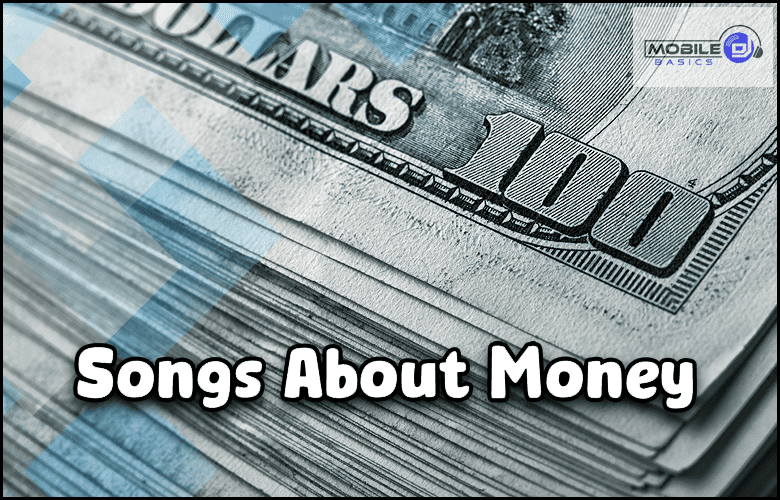 Last Updated on May 17, 2023 by Ryan Conlon
Songs about money have been around for as long as music itself.
From the old-timey blues classics of Ray Charles and Bessie Smith to contemporary hip-hop hits from Kendrick Lamar and Cardi B, musicians throughout history have used their unique perspective on life to craft songs that capture the complexity of our relationship with money.
This article will explore some of these iconic songs, taking a look at how they discuss different aspects of money management over generations – talking about wealth, debt, greed, materialism, and financial hardship through stories crafted with infectious beats and inspiring lyrics.
Best Songs About Money

Money has long been a theme in popular music.
We all want more money and fret over how to make enough of it, so it's only natural that our favorite musicians are here to provide the soundtrack –– or maybe even offer advice!
From early Jazz and Blues tunes about hard times up until modern Hip Hop odes to wealth, songs about money come in many shapes and sizes.
As much as this is an essential topic for discussing finances themselves though, there's no denying that often the best thing we can do is put these overriding anxieties into melody with some awesome tracks that focus on cold hard cash.
So from folk ballads to pop hits, let's take a look at some of the most iconic money songs throughout musical history…
Most Popular Songs About Cash

Money
50 Cent – I Get Money
AC/DC – Moneytalks
Lil Wayne – Got Money
BIA – WHOLE LOTTA MONEY
Kanye West – Gold Digger
T.I. – Whatever You Like
Puff Daddy – It's All About The Benjamins (Remix)
Tim McGraw – The Last Dollar (Fly Away)
THE SUPREMES – Money (That's What I Want)
Lil Dicky – $ave Dat Money
Naughty By Nature – Here Comes The Money
John Anderson – Money In the Bank
The Beatles – Money (That's What I Want)
Pink Floyd – Money
Jim Jones – We Fly High
Calloway – I Wanna Be Rich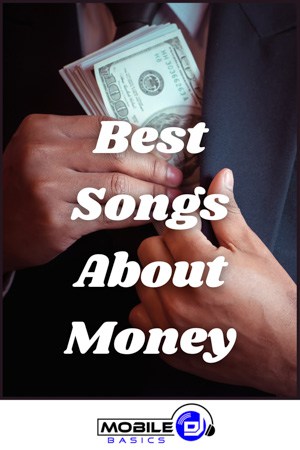 50 Cent – I Get Money
"I Get Money" is a 2007 rap single, in which the award-winning artist boasts about his lavish lifestyle and immense wealth.
The song is known for its catchy beat and confident lyrics, which highlight 50 Cent's business acumen and entrepreneurial spirit.
The track was released as part of the rapper's third album, Curtis, and quickly gained commercial success, peaking at #20 on the Billboard Hot 100 chart.
Notably, the chorus of "I Get Money" features a sample from the 1983 song, "Top Billin'" by Juice Crew member Audio Two.
The song's music video, which features scenes surrounded by extravagant cars and luxury goods, has also become iconic in pop culture.
Overall, "I Get Money" is a powerful anthem that celebrates the fruits of financial success and the hard work required to achieve it.

---
Recent Hits that Sing About Money
In the world of music, money has always been a popular topic for artists to sing about.
Recently, there have been a flurry of hits that revolve around financial success.
From Cardi B's "Money" to Drake's "In My Feelings," these chart-topping tracks have all celebrated the love of cold hard cash.
One particularly memorable hit from 2020 was "WAP" by Cardi B and Megan Thee Stallion, which was praised for its unapologetic message about women embracing their sexuality and power while dripping in diamonds and designer clothes.
While some may criticize these songs for encouraging materialism, others appreciate them for their catchy beats and unapologetic attitude towards money.
As long as music exists, we'll never stop singing about the alluring pull of wealth and prosperity.
Recent Hits That Showcase Wealth and Luxury Lifestyle
LISA – MONEY
Yung Gravy – Betty (Get Money)
Cardi B – Money
BRS Kash – New Money
Jack Harlow – First Class
Wizkid – Money & Love
Popcaan – Money Speak
Calvin Harris – New Money
Poundside Pop – Money & Problems
A$AP Mob – FYBR
NuMoney – Money Speaks
Yelawolf – "Money"
Mustard – Ballin'
Co Cash – oLd Me, nEw MoNeY
Andy Grammer – I Need A New Money
TAELA – L.A. MONEY DREAMS
Blake Shelton – Money
JID – Money
LISA – MONEY
LISA, the South Korean singer, has made waves in the music industry with her hit track "Money".
The song, which was released in 2021, has become a fan-favorite due to its catchy tune and relatable lyrics.
LISA's performance in "Money" is nothing short of impressive.
Her rap skills shine as she delivers powerful verses about living large and splurging on the finer things in life.
The music video is equally stunning, featuring vibrant visuals that perfectly complement the track's upbeat tempo.
The song has been received well by audiences around the world, with many praising LISA for her vibrant performance and relatable lyrics.
"Money" has also earned the singer critical acclaim, with many music critics hailing it as one of the best tracks of the year.
With her undeniable talent and impressive track record, it's clear that LISA is a force to be reckoned with in the music industry.
Her success with "Money" is just the beginning, and fans are eagerly anticipating what she has in store for them next.
---
Best Tracks About Money and the Dangers of Greed
Money is something that many people obsess over, and it's no surprise that it often makes an appearance in music.
Some of the best tracks are those that highlight not only the positives of having it, but also the inherent dangers of greed. Take for instance Kendrick Lamar's "Money Trees".
This track touches on both the desire for financial gain as well as the consequences of letting such a desire control one's life. Similarly, Pink Floyd's "Money" offers a scathing critique of capitalism and the dangers of prioritizing wealth above all else.
These tracks and others like them serve as a reminder that while money may be important, it's crucial to maintain a healthy perspective and not let greed consume us.
Greed: The Dark Side of the Pursuit of Wealth
Shania Twain – Ka-Ching! (Red Version)
The O'Jays – For The Love of Money
Michael Jackson – Money
T.I. – About The Money
John Rich – Shuttin' Detroit Down
DMX – Stop Being Greedy
Tom MacDonald – "Dirty Money"
Ann Wilson – Greed
Cyndi Lauper – Money Changes Everything
Ozzy Osbourne – The Almighty Dollar
Ronnie Dunn – Cost Of Livin'
Freddie Dredd – Greed
Meja – All 'Bout The Money
LUCKI – Greed
Shakin' Stevens – All You Need Is Greed
Godsmack – Greed
Oliver Tree – Cash Machine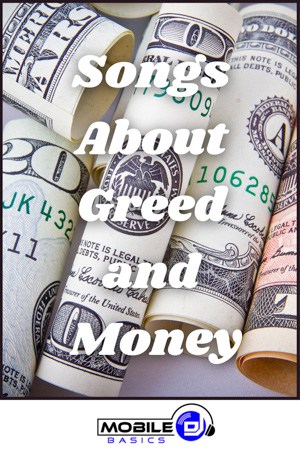 When it comes to best songs about money, the Pet Shop Boys have certainly left their mark. Their hit, "Opportunities (Let's Make Lots of Money)," has become an anthem for those chasing financial success.
However, there are numerous bands spanning different genres that have explored the love of money in their music, including Pink Floyd, Jennifer Lopez, Young Thug, Daryl Hall, ABBA, and Cyndi Lauper.
But it's not just about the material world and accumulating wealth. Some artists have also touched on the notion of free money and its consequences.
For example, "Free Money" by Patti Smith comments on the shallowness of materialism and encourages listeners to find fulfillment elsewhere.
With so many songs about money out there, it's hard to determine the best.
But whether it's a reflection on society's obsession with wealth or a critique of the love of money itself, these songs continue to resonate with audiences worldwide.
Shania Twain – Ka-Ching! (Red Version)
Shania Twain's "Ka-Ching! (Red Version)" is a lively and upbeat track that delves into the perils of materialism and the dangers of greed.
The singer employs a range of clever wordplay and metaphors to paint a vivid picture of a world driven by consumerism and excess, warning listeners of the pitfalls of prioritizing money over values.
The song, released in 2002 as part of Twain's "Up!" album, has become an anthem for those who question the widespread obsession with accumulating wealth at any cost.
With lyrics like "We'll be burning through the money just like we got plenty," Twain reminds us that there is no end to the chase for money and consumer goods, and that the more we have, the more we want.
But beyond the catchy melody and catchy chorus, "Ka-Ching! (Red Version)" also offers a powerful social commentary on the way money can corrupt individuals and societies as a whole.
By highlighting the contrast between the "little guy" struggling to make ends meet and the "big fish" who live like kings, Twain calls for greater awareness of the inequality and injustice perpetuated by the global economy.
Overall, "Ka-Ching! (Red Version)" is a thought-provoking and timely track that challenges us to rethink our relationship with money and the role it plays in shaping our lives and the world around us.
---
Songs That Talk About Money Problems
Money problems are a universal concern that affects everyone from time to time, regardless of their financial status.
Many artists have used music as a platform to raise awareness about the challenges of financial instability.
Songs like "Can't Buy Me Love" by the Beatles and "Mo Money Mo Problems" by The Notorious B.I.G. are just a few examples of how music has provided a voice for those facing money troubles.
These songs showcase the struggles that come with living paycheck to paycheck and the consequences of not being able to afford the basic necessities in life.
Whether you're in debt or just trying to make ends meet, these songs offer a relatable perspective to audiences who are facing similar struggles.
Music That Explores the Struggles of Money Problems
LunchMoney Lewis – Bills
Max Frost – Money Problems
The Notorious B.I.G. – Mo Money Mo Problems
Galantis – No Money
Aloe Blacc – I Need A Dollar
Simply Red – Money's Too Tight
Que. – Rich Problems
Blac Youngsta – Money
Shy Glizzy Ft. Yo Gotti – Money Problems
Abba – Money, Money, Money
FTB Prodigy – Money Problems
Teddy Swims – Broke
The Steve Miller Band – Take The Money And Run
Playaz Circle – Duffle Bag Boy
Drake – Money Problems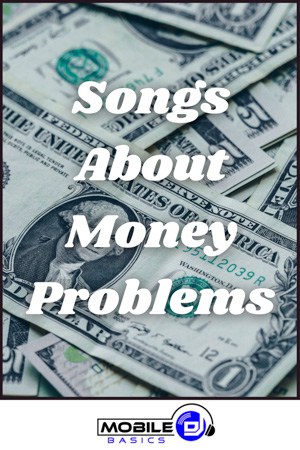 When it comes to the best songs about money, there are plenty of hip hop artists who have made their mark in the genre.
The Grammy for Best Rap Solo Performance has been won by various artists for their songs related to money, such as "Gold Digger" by Kanye West feat. Jamie Foxx and "Mo Money Mo Problems" by Puff Daddy and Mase.
Notorious B.I.G. ft. Puff Daddy also delivered a classic hit with "It's All About the Benjamins."
These songs often feature background vocals and catchy beats that make them enjoyable to jam out to.
Overall, the best money songs tend to come from skilled rap and hip hop artists who know how to capture the luxurious lifestyle that comes with wealth.
LunchMoney Lewis – Bills
LunchMoney Lewis is an American singer-songwriter who gained widespread popularity with his hit single, "Bills".
The song talks about the struggles of the common man who is constantly burdened by the rising costs of living. It portrays the daily grind of having to work hard, yet never having enough to make ends meet.
The song has a catchy beat and a relatable message, which makes it an instant hit with listeners.
Its lyrics describe the importance of paying bills, and the consequences that come with not being able to.
The song's upbeat tempo and feel-good vibes make it a perfect anthem for anyone who's going through tough financial times.
In addition to its commercial success, "Bills" has also been critically acclaimed for its social commentary and artistic expression. LunchMoney Lewis' powerful vocals and poignant lyrics make it one of the standout tracks on the album, and a reflection of the struggles faced by many in today's world.
Overall, "Bills" is an exceptional song that not only highlights the challenges of modern-day society, but also offers a message of hope and resilience.
Its universal appeal and catchy hooks make it a timeless classic that continues to resonate with audiences of all ages.
---
Songs About Being Owed or Owing Money
We've all been there – exchanging money with someone and then feeling like we're in a weird power dynamic.
Maybe we lent a friend some cash, or maybe we're hoping for that paycheck to finally come through.
Whatever the case may be, there are countless songs that capture the weirdness and tension of being owed or owing money.
From Johnny Cash's "Understand Your Man" to Destiny's Child's "Bills, Bills, Bills" these tracks perfectly encapsulate the unease and discomfort that come with financial transactions.
Listening to these songs can make us feel less alone in our struggles with money, and remind us that everyone has been in a sticky situation with cash at one point or another.
The Bitter Melodies of Debt
Ol' Dirty Bastard – Got Your Money
Bone Thugs N Harmony – 1st of tha Month
Rihanna – Bitch Better Have My Money
Khalid – Young Dumb & Broke
Ryan Mack – Broke
Destiny's Child – Bills, Bills, Bills
Wyclef Jean – Sweetest Girl (Dollar Bill)
Bruce Springsteen – Pay Me My Money Down
The Chainsmokers – You Owe Me
Joe Budden – Broke
Caamp – All the Debts I Owe
Tall Rob – Debt Free Song
Eminem- Tired Of Being Broke
Nasty – Tired Of Bein Broke
Nas – You Owe Me
Gary Clark Jr. – Don't Owe You A Thang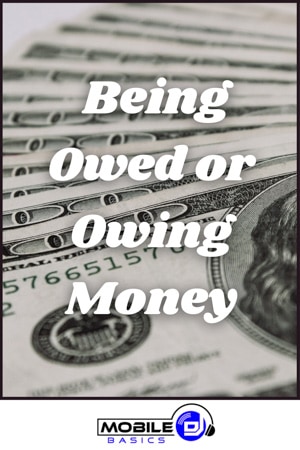 Ol' Dirty Bastard – Got Your Money
Ol' Dirty Bastard's hit single 'Got Your Money' instantly became a fan favorite as it perfectly captured the essence of demanding what's rightfully owed.
The track features a catchy hook and lively production, all the while showcasing ODB's signature eccentricity and playful persona.
Released in 1999, 'Got Your Money' reached #33 on the Billboard Hot 100 and went on to be certified gold.
Its timeless message of standing up for oneself in financial matters continues to resonate with audiences to this day.
If you find yourself in a situation where cash flow is a little tight, turn up this classic and let Ol' Dirty Bastard's energy fuel you towards getting what you're owed."

---
Songs About Achieving

Success

There's nothing like the feeling of achieving success, and often times what comes with that feeling is a desire to celebrate.
For many of us, that celebration might look like turning up your favorite song and singing at the top of your lungs.
Luckily, there's no shortage of songs that capture the excitement and joy of reaching our goals – from Gloria Gaynor's iconic "I Will Survive" to DJ Khaled's "All I Do Is Win.
Whether you're polishing off a project at work, acing your final exams, or pushing through a grueling workout, these tracks offer the perfect soundtrack to celebrate your hard-earned success.
So turn up the volume, let the melodies move you, and bask in the glow of your achievements.
Inspiring Anthems of Success and Victory
50 Cent – Straight To The Bank
Madonna – Material Girl
Wale – 600 Benz
Nas – Hate Me Now
Ne-Yo – Miss Independent
Destiny's Child – Independent Women
Horace Brown – One for the money
Jennifer Lopez – Louboutins
Ricochet – Daddy's Money
DJ Khaled – I'm The One
James Brown – I Got Money
Fergie – Glamorous
Whitney Houston – Million Dollar Bill
Trey Songz & Drake – Successful
Lady Gaga – Money Honey
Kid Ink – Money and the Power
Leikeli47 – Money
Chris Brown – Look at Me Now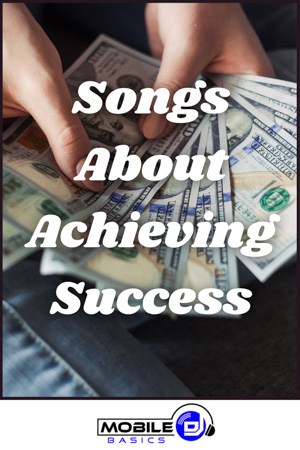 Songs about money have always been popular among music lovers.
"She Works Hard For The Money" By Donna Summer is a classic example of a song that empowers hard-working individuals who strive to make a living.
On the other hand, "Rich Girl" by Hall and Oates talks about how money can corrupt one's values and morals, particularly if it is inherited from an old man's money.
Meanwhile, "Money makes the world go round" by Liza Minnelliis an extremely popular song that highlights how money is everywhere, and it influences every aspect of our lives, including politics, economics, and culture.
It's an insight that rings true across time and is possibly more relevant now than ever before.
These songs provide different perspectives and insights into the role of money in our lives and society. Whether we work hard for it or have it handed to us, money can have a profound impact on how we live our lives and the choices we make.
As such, the best songs about money continue to be a rich source of inspiration for musicians and listeners alike, resonating with audiences young and old.
50 Cent – Straight To The Bank
Released in 2007, the song features the trademark confident flow and brash attitude that has defined 50 Cent's career.
With lyrics like "I'm laughing straight to the bank with this (ha-ha-ha)" and "I'm so hood, I can't help it, I'm so rich, I don't care," the song radiates a sense of pride and swagger.
It's no wonder that "Straight To The Bank" has become a staple of workout playlists and motivational soundtracks.
From the catchy beat to the memorable chorus, this song is all about going after what you want and taking charge of your destiny.
So if you're looking for a dose of inspiration to help you tackle your own goals and dreams, "Straight To The Bank" is definitely worth a listen.

---
Best Songs About Being Rich
Everyone has daydreamed about living a luxurious, lavish lifestyle at some point.
You know, the kind of lifestyle where you can luxuriate in a pool of money (if it was a thing).
There would be endless shopping sprees, exotic households in exotic destinations, and every whim satisfied by the snap of your fingers.
Well, music has always been an excellent outlet for these kinds of fantasies. Whether it's hip hop or pop, songs about being rich continue to be incredibly popular across various genres.
These songs serve as an escape to a world where money can buy everything, and it's evident in the lyrics that artists are often dreaming of the same.
From Cardi B's "Money" to Bruno Mars's "24K Magic," it's incredible how these songs can transport us to a world where financial worries don't exist, even if just for a moment.
Songs About Living the High Life
Maren Morris – Rich
Gwen Stefani – Rich Girl
Jermaine Dupri – Money Ain't a Thang
Lil Wayne – Right Above It
Hall and Oates – Rich Girl
Lil Wayne – Rich As Fuck
Chris Janson – "Buy Me A Boat"
Ace Hood – Cash Flow
Kenny Chesney – Rich and Miserable
50 Cent – Money
Rihanna – Pour It Up
Justin Moore – Get Rich Or Drunk Trying
Good Charlotte – Lifestyles of the Rich & Famous
YG – Scared Money
DR Period – Money
50 Cent – Piggy Bank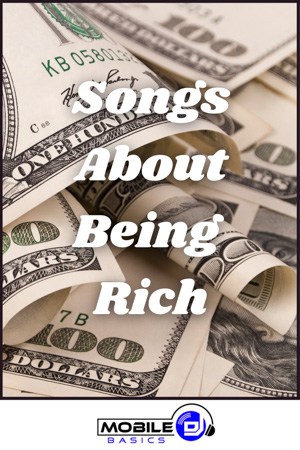 My financial advisor, always stresses the importance of distinguishing between credit and debit.
While both affect your finances, credit builds your credit score and can lead to increased opportunities for loans and even better mortgage rates, whereas excessive debit can quickly lead you into debt.
It's key to track both your income and expenses to ensure you have a clear picture of your financial health, and prioritize savings and investment accordingly.
Whether you choose to invest in stocks or bonds, a diverse portfolio can provide a solid foundation for wealth-building.
Of course, it's important to be responsible with loans and payments, and potentially consider insurance to protect against unexpected expenses.
And while taxes may not be our favorite topic, it's essential to have a solid understanding of how they impact our income and investments.
But it's not all numbers and calculations – sometimes a catchy song about money can give us a perspective shift on the role it plays in our lives.
From classic tunes like "Money, Money, Money" to modern hits about counting money, there's no shortage of songs about wealth and money's power.
However, it's important to remember that true wealth is measured in more than just dollars and cents.
Maren Morris – Rich
Maren Morris' 2018 hit single "Rich" sheds light on the glamorous and luxurious lifestyle that comes with being wealthy.
The song's upbeat and catchy melody, combined with Morris' powerful vocals, creates a lively and enjoyable listening experience.
As the song's title suggests, "Rich" revolves around the theme of affluence.
Morris sings about having the ability to buy expensive cars, jewelry, and clothes, and living in high-end neighborhoods and hotels.
However, beneath the surface, "Rich" also touches upon the issue of privilege and economic inequality.
Morris acknowledges that not everyone can afford the same luxuries and opportunities that she has been blessed with.
She sings, "Me and Diddy drippin' diamonds like Marilyn," implying that being rich is a prerequisite for being accepted and valued in certain social circles.
Overall, "Rich" strikes a balance between celebrating the pleasures of material wealth and recognizing the limitations and challenges that come with it.
Its lyrics are relatable to those who have experienced the perks and drawbacks of money, and its upbeat tempo makes it a perfect addition to any party playlist.
---
Songs About Working Hard for Money

There's nothing quite like the satisfaction of earning your own paycheck, and many musicians have written songs to celebrate the hard work that goes into earning a living.
From classic soul anthems like Otis Redding's "Hard to Handle" to country ballads like Johnny Cash's "Sixteen Tons," these songs remind us that every dollar we earn is a result of our own determination and effort.
Whether you're punching the clock at a 9-to-5 job or hustling to make ends meet as a freelancer or entrepreneur, these songs about working hard for money are the perfect soundtrack to keep you motivated and inspired.
So next time you're feeling exhausted and burnt out, put on some tunes and remember that all your hard work will pay off in the end.
Songs That Emphasize the Value of Hard Work
50 Cent – Big Rich Town
Ludacris – Money Maker
Ne-Yo – She Got Her
Jay-Z – Dead Presidents
Waka Flocka Flame – 50K Remix
Wu-Tang Clan, Method Man & Redman – If Time Is Money
Donna Summer – She Works Hard For The Money
Waka Flocka – Can't Do Gold
Bruno Mars – 24K Magic
The Beatles – A Hard Day's Night
Screaming Trees – Dollar Bill
Dire Straits – Money For Nothing
Rick James – Money Talks
Juicy J – Bandz A Make Her Dance
Adam Calhoun – Clean Money
Wu-Tang Clan – Cash Still Rules/Scary Hours
Akon – I'm So Paid
Creed Fisher – Life Of A Workin' Man
Fleetwood Mac – Shake Your Moneymaker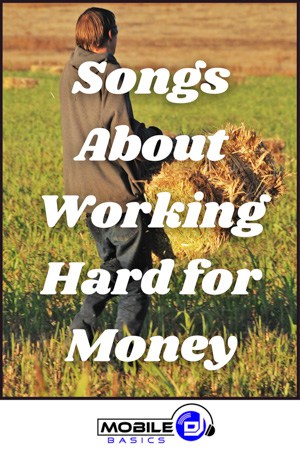 Rap songs have been known to glorify the pursuit of money, with lyrics often riddled with boasts of expensive cars, designer clothes, and lavish lifestyles.
"Money Money Money" has been a recurring theme in many rap songs, emphasizing the importance of financial success and making it rain.
50 Cent – Big Rich Town
"Big Rich Town" is a powerful anthem about the rewards of hard work and dedication in the pursuit of wealth.
The track, which features vocals from Joe, explores the gritty realities of life on the streets, highlighting the hustle and determination required to rise above poverty and attain financial success.
With its trademark fusion of hip-hop and R&B, the song paints a vivid portrait of the struggles and sacrifices that underpin the American dream, showcasing impeccable storytelling skills and lyrical prowess.
For anyone looking to draw inspiration from the world of music, "Big Rich Town" is a must-listen, offering a powerful reminder of the rewards that await those who never give up in their pursuit of greatness.

---
Songs That Embody the Idea of Not Needing Money

As money continues to play a major role in our daily lives, it's easy to feel envious of those who seemingly have it all.
However, there are certain songs that remind us that we don't necessarily need money to be happy.
Bob Marley's "Three Little Birds" is a perfect example; the reggae beat and uplifting lyrics urge us to "don't worry about a thing / 'cause every little thing gonna be all right."
In a similar vein, the Beatles' "Can't Buy Me Love" emphasizes the importance of love over material possessions.
And of course, the aptly named "Cheap Thrills" by Sia critiques the toxic impact of greed and consumerism.
These songs, along with others, serve as a reminder that true contentment comes from within—not from our wallets.
The Beautiful Symphonies of Life That Money Cannot Buy
MACKLEMORE – THRIFT SHOP
Beatles – Can't Buy Me Love
Jordan Davis – Money Isn't Real
Yelawolf – Country Rich
Kenny Loggins – Danny's Song
Prince – Money Don't Matter 2 Night
Sia – Cheap Thrills
The Lacs & Nate Kenyon – Dirt Road Dollars
Runaway June – We Were Rich
Chris Stapleton – Millionaire
Miranda Lambert – Country Money
Little Big Town – Rich Man
Kip Moore – Beer Money
Niko Moon – GOOD TIME
Trace Adkins – Marry For Money
Tracy Byrd – Lifestyles Of The Not So Rich And Famous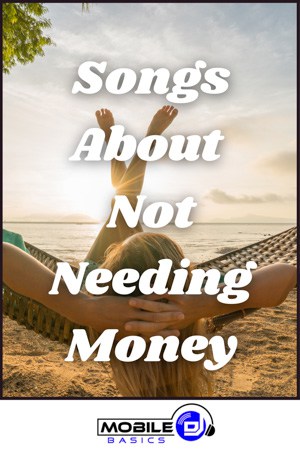 If you're in the mood for some upbeat tunes about making bank, you can't go wrong with the British new wave band Pet Shop Boys and their classic song, "Opportunities (Let's Make Lots of Money) (Version 2)."
The official music video is a trip, featuring the duo in flashy suits and surrounded by money-themed props.
On the other end of the spectrum, you've got "Dirty Sexy Money" by David Guetta & Afrojack and "The Struts," both of which were huge hits on the mainstream rock chart.
These songs aren't about making money, but about spending it on the finer things in life – namely, dirty and sexy experiences.
MACKLEMORE – THRIFT SHOP: A Quirky Ode to Second-Hand Style
In their 2012 hit song "Thrift Shop," Macklemore take us on a fun and funky journey through the world of thrift shopping.
The song exudes a carefree and nonchalant attitude towards material possessions, celebrating the idea that you don't need to spend a lot of money to look good.
Macklemore's clever lyrics paint a vivid picture of a thrift store adventure, where he finds unique and quirky items like a tiger-print onesie, a velour jumpsuit, and a broken keyboard.
He emphasizes the notion that a person's style is not defined by how much money they spend, but rather by their creativity and individuality.
The catchy beat and playful melody add to the song's infectious energy, making it a hit among listeners of all ages and backgrounds.
"Thrift Shop" has become an anthem for those who value uniqueness, sustainability, and smart spending.
In a music industry dominated by flashy symbols of wealth and excess, Macklemore and Ryan Lewis offer a refreshing perspective on fashion and consumerism.
By reshaping the narrative around second-hand items and sustainable fashion, they inspire us to embrace our own personal style, regardless of our budget.
---
Songs About the Connection Between Money & Influence
Money determines the power dynamics in society, and it's no wonder that it's an evergreen topic in music.
Many songs explore the connection between money and influence, delving into the sneaky ways the wealthy wield their power.
From the iconic "Mo Money Mo Problems" by the Notorious B.I.G to Madonna's "Material Girl," artists have used music as a platform to reflect on the greed and influence that often exist in the same sphere.
The link between money and power in our society is undeniable, from a powerful hip-hop chorus to a sad ballad.
Songs that Explore Wealth and Power
Kanye West – POWER
Scarface – Money And The Power
Rick Ross – B.M.F.
Wale – "Bag Of Money"
Snoop Dogg – Boss' Life
The LOX – Money, Power & Respect
Meek Mill – Flexin On Em
Yung Baby Tate – I Am
Fat Joe – Ballin'
Rick Ross – Money Dance
Rick Ross – Three Kings
Key Glock – Ambition For Cash
Rich Homie Quan – Flex
Jonah Hill ft Jay Z – Money Power Women Drugs
Rick Ross – All The Money In The World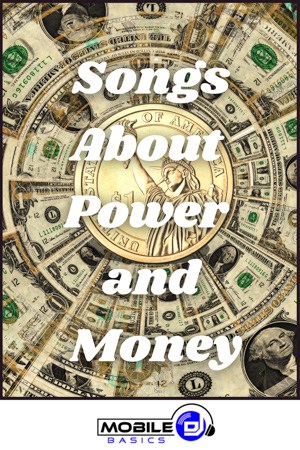 Cash rules everything around me, or so the Wu-Tang Clan famously proclaimed in their hit song from 1993.
Since that time, countless other artists have explored the theme of money in their music, from Jay-Z's "Money Ain't a Thang" to Cardi B's "Money Bag".
Money, money, money still reigns supreme in the music industry as demonstrated by the abundance of songs about riches, opulence, and living like royalty.
The allure of wealth and prosperity remains a powerful force that fuels many artists' creative pursuits.
While many of these songs focus on the pleasures of having money to spend, others are more critical of the obsession with material wealth.
Some artists use their music videos to critique consumer culture, drawing attention to the ways in which we are encouraged to constantly be spending money on products and services we do not actually need.
The rise of streaming services has also changed the way in which music is consumed, with more and more listeners turning to online platforms like Spotify and Apple Music to discover new music.
As a result, the importance of studio albums has diminished somewhat, with many artists choosing instead to release stand-alone singles or EPs.
Overall, regardless of their stance on money and materialism, songs about cash, wealth, and spending continue to be an integral part of the music industry, continuing to draw listeners in with their catchy hooks and soaring choruses.
Kanye West – POWER
Kanye West's POWER is a powerful and thought-provoking song that delves into the intimate connection between money and influence.
Backed by a pulsating beat and an evocative chorus, West's lyrics paint a stark picture of the allure of wealth and power, while also examining the cost that comes with it.
The song is a testament to West's unique ability to blend cultural commentary with infectious music, making POWER a memorable and impactful addition to any playlist.
Whether you're a fan of hip-hop or simply interested in exploring the deeper themes of modern music, POWER is a must-listen that is sure to leave a lasting impression.

---
Songs About Making Money

Money has always been a popular topic in music, especially in songs about making it. From rags to riches stories to flaunting wealth, these songs resonate with many listeners.
Popular songs like "Money" by Cardi B and "Money Maker" by Ludacris celebrate the hustle and the grind of those aiming for financial success.
Other songs, such as "For the Love of Money" by The O'Jays and "Money, Money, Money" by ABBA, critique the obsession with wealth and the consequences of relentlessly pursuing it.
Whether you're pursuing financial success or questioning the value of money, there's a song out there that speaks to your experience.
Money-Making Anthems
Rick Ross – Hustlin'
Clipse – Grindin'
Usher – I Don't Mind
Lil' Wayne – Money On My Mind
Cassidy – I'm A Hustla
The Flying Lizards – Money
JAY-Z – Money, Cash, Hoes
50 Cent – Chase The Paper
A-Trak & Dillon Francis – "Money Makin'"
Ace Hood – Hustle Hard
Dj Khaled – Out Here Grindin
Pusha T – Millions
Money Man – Big Money
Richie Evans, Rick Ross – Can't Knock the Hustle
Lil Wayne – Grindin'
2 Chainz – Spend It
Blake Shelton – Minimum Wage
DJ Khaled – I'm On One
Lil Twist – New Money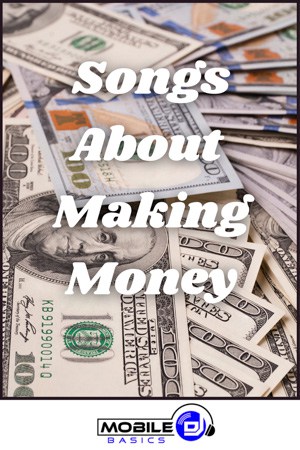 Rick Ross – Hustlin'
When it comes to songs about making money, Rick Ross' "Hustlin'" is a classic that cannot be ignored.
Released in 2006 as the lead single from his debut album "Port of Miami," this track became an instant hit and helped solidify Ross' place among hip-hop's elite.
The song's production features a heavy, pounding beat that's perfect for Ross' signature deep voice to ride over.
The lyrics detail Ross' rise from a street-level drug dealer to a top-tier rapper who's become wealthy through his hard work and perseverance.
With lines like "Everyday I'm hustlin', every day I'm hustlin'" and "I'm the biggest boss that you've seen thus far," "Hustlin'" is an anthem for anyone who's chasing their dreams and looking to achieve financial success.
Furthermore, the song's success was a catalyst for Rick Ross' career and helped establish him as one of the premier artists in hip-hop.
"Hustlin'" was certified gold and received critical acclaim from music critics, earning a coveted spot on numerous year-end "best of" lists.
Its legacy is a testament to Rick Ross' talent and vision as an artist.
---
Songs About Betting or Winning Money

From Elvis Presley's "Viva Las Vegas" to ABBA's "The Winner Takes It All," music has delivered countless renditions of life as a high-roller.
For some artists, it's the thrill of the game, while for others, it's a chance to reflect on the consequences of chasing Lady Luck too hard.
Either way, these tunes have long been a staple of our playlists, and their catchy hooks deliver an infectious buzz that's hard to ignore.
When you're feeling lucky (or unlucky), there's no better soundtrack than the songs that put it all on the line.
Fortune and Luck Songs
Kenny Rogers – The Gambler
DJ Khaled – All I Do Is Win
Sam Smith – Money On My Mind
Molly Hatchet – Beatin' the Odds
Bread – Lay Your Money Down
Lady Gaga – Poker Face
Morgan Wallen – Money On Me
Jerry Reed – When You're Hot, You're Hot
Jet – Put Your Money Where Your Mouth Is
Juice Newton – Qween of Hearts
Ronald Isley – Put Your Money On Me
Miguel – Sure Thing
Jay Rock – WIN
Billy Joel – Easy Money
Doja Cat – Vegas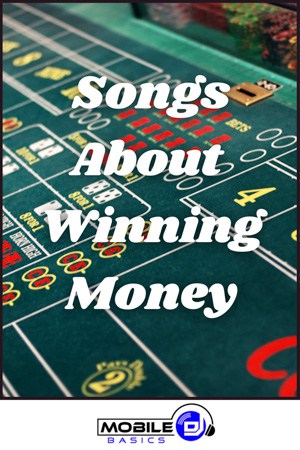 Kenny Rogers – The Gambler
Kenny Rogers' classic hit "The Gambler" is a timeless ode to the art of betting and poker playing.
Released as a single in 1978, the song became a massive hit and remains one of Rogers' most iconic songs to this day.
The song tells the story of a chance meeting on a train between the narrator and a seasoned gambler who gives him some sage advice on how to live life: "You've got to know when to hold 'em, know when to fold 'em, know when to walk away, and know when to run.
The catchy chorus and memorable melody have made "The Gambler" a staple of pop culture, and the song has been covered by countless artists over the years.
The song's lyrics are full of colorful imagery and witty wordplay, including lines like "Every hand's a winner and every hand's a loser" and "The best you can hope for is to die in your sleep".
The song's themes of risk-taking, winning and losing money, and living life to the fullest have resonated with audiences for decades, and continue to inspire listeners to this day.
In summary, Kenny Rogers' "The Gambler" is a classic song about the thrills and dangers of gambling, featuring vivid lyrics and a catchy melody that have made it a beloved favorite of music fans around the world.
---
Positive Songs About Money

While money can't buy happiness, it certainly doesn't hurt to have some in the bank. Positive songs about money can inspire us, motivate us, and remind us of our goals.
From "Price Tag" by Jessie J to "Can't Hold Us" by Macklemore & Ryan Lewis, these songs remind us that hard work pays off and that the reward can be sweet.
They encourage us to dream big and never give up on our aspirations.
So go ahead, turn up the volume and let the positive vibes and lyrics about money inspire you to reach for the stars.
Positive Songs About the Joy of Wealth
Big Sean – Blessings
Barenaked Ladies – If I Had $1,000,000
Khalid, Disclosure – Know Your Worth
Mac Miller – Donald Trump
Travie McCoy: Billionaire
Jessie J – Price Tag
Rich Gang – Dreams Come True
T.I. – Live Your Life
Fabolous – Life Is So Exciting
Aretha Franklin – Money Won't Change You
Kirko Bangz – Rich
Jadakiss – We Gonna Make It
Macklemore & Ryan Lewis – Make the Money
OneRepublic – Good Life
Barrett Strong – Money (That's What I Want)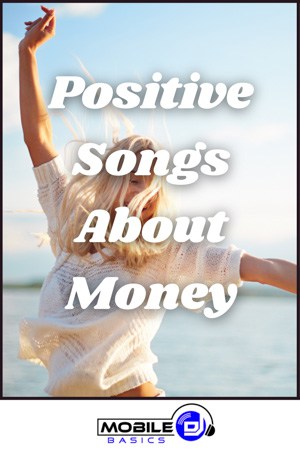 When it comes to notable songs about money, there are a few that come to mind. "One in a Million" by Pet Shop Boys is an exciting and lively song that celebrates the pleasures of being wealthy and the influence it brings.
"I'm Rich" is another huge hit fro T Pain that celebrates the rapper's success and financial abundance.
"Money Talk"and "Look Like Money" by Lil Kim are classic hip-hop anthem that features the rapper flaunting her wealth and assets.
"Money Don't Matter 2 Night" by Prince & The New Power Generation is a soulful ballad that offers insight into the true worth of money in the larger context of life.
There have been numerous songs about money over the years, but one that immediately comes to mind is "If I Had $1,000,000" by the Bare Naked Ladies.
This infectious tune was released in 1992 and quickly became a classic, with its catchy melody and humorous lyrics about the things one could buy with a million dollars.
The song appeared on the band's debut album, "Gordon," and has been a fan favorite ever since.
Despite its lighthearted tone, "If I Had $1,000,000" touches on deeper themes about the power and allure of money, making it a thought-provoking and entertaining addition to the canon of songs about wealth.
Of course, no list of songs about money would be complete without mentioning "Money" by Pink Floyd, a timeless classic that explores the pitfalls and dangers of greed and materialism.
---
Songs With Money in the Title

Songs with money in the title have been around for decades and continue to be popular today.
From classics like "Viva La Money" by Tina Turner to more recent hits like "Billionaire" by Bruno Mars and Travie McCoy, these songs often explore themes related to wealth, power, and materialism.
Some use money as a symbol of success or freedom, while others critique the ways in which it can corrupt and separate people.
No matter what the message, songs with money in the title have the ability to capture our attention and imagination, leaving us humming their catchy tunes long after they've finished playing.
Songs Featuring Money in Their Titles
Fabolous – Money Goes, Honey Stay
Willie Nelson – If You've Got the Money I've Got the Time
Future – Blood On the Money
Mint Condition – If Trouble Was Money
Kendrick Lamar – Money Trees (TikTok)
Tina Turner – Viva La Money
PINK – I Got Money Now
Marianne Faithfull – Love & Money
Rush – The Big Money
My Chemical Romance – Vampire Money
Electric Light Orchestra – Easy Money
Sheff G – "We Getting Money"
Badfinger – Money
Lil Uzi Vert – Money Longer
Sheena Easton – Madness, Money And Music
Troy Ave – All About the Money
Eric Clapton – There Ain't No Money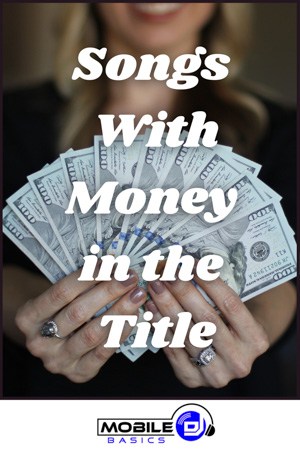 Some of the most iconic rock bands in history have written songs about money that have catapulted them to the top of the charts.
Groups like Queen, with their hit "Money (That's What I Want)" and California rock band The Eagles with "Life in the Fast Lane" have used the guitar, bass, drums, and stage to create unforgettable performances that have gone down in music history.
Tribute bands have also taken on the task of replicating these acts, with tribute bands to Queen and other rock legends performing at events and shows across the UK and beyond.
Albums and tours have showcased the best of these tributes, with Wikipedia offering a wealth of information about their members, groups, and events.
When it comes to songs about money, these tribute bands and rock acts have managed to capture the spirit of the genre while creating unforgettable music.
---
Conclusion
All in all, money has always been a source of inspiration for songwriters.
From classic anthems to indie tunes to modern hip hop tracks, there is no shortage of great songs that have money on their minds.
Money itself may not buy you happiness, but when considering these songs it's clear that music can be the perfect expressway between your wallet and your heart. As Bruce Springsteen said, 'Money can't make you rich.'
But these remarkable songs will surely bring you some joy as they raise thought provoking questions about why we value wealth so highly throughout our lives.
While certain aspects of the topic may divide us, this list just goes to show how music has a way of unifying us in both good times and bad.
---
Read More
---
---
---
Pins for Pinterest
If you like what you see, feel free to share some love on Pinterest <3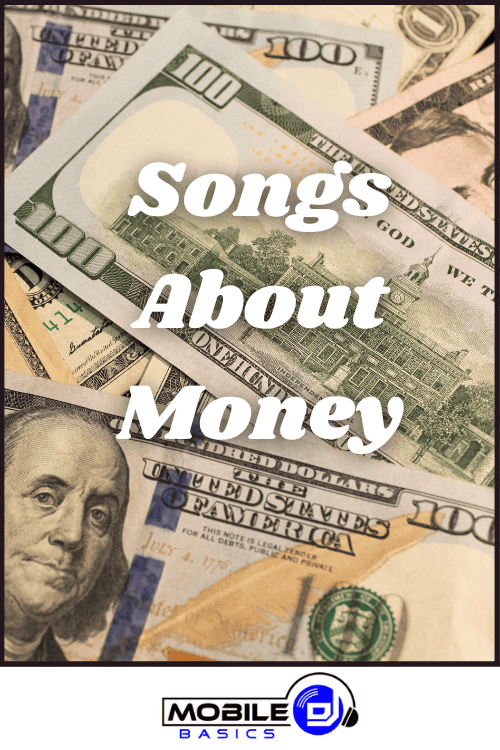 232+ Top Songs About Money 2023 | Ultimate Playlist | Hip Hop to Pop
From discovering new songs to getting more gigs, I'm excited to share the wealth of knowledge I've gained through many years of DJing. [email protected]