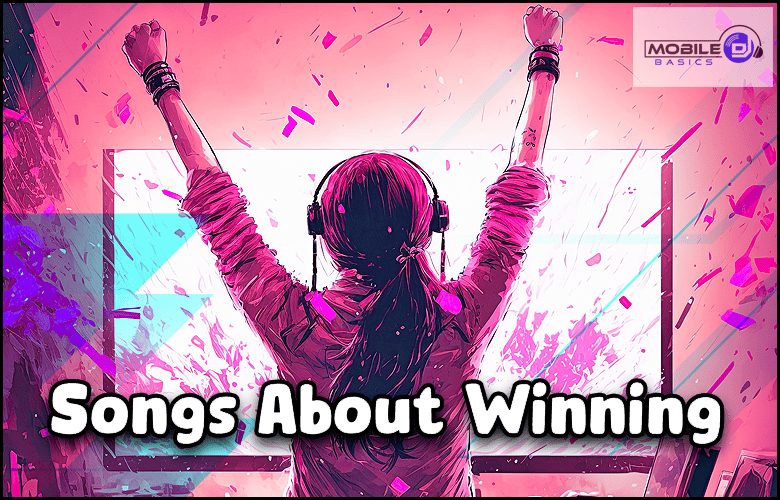 Last Updated on October 21, 2023 by Ryan Conlon | 🕒 8 min Read Time
---
From popular hits to classical anthems, we've got you covered with the top songs about winning that will energize your spirit and create the perfect soundtrack for your triumphs.
Experience the ultimate rush of winning and celebrate your victories to the fullest with some upbeat tunes!
So go ahead, add some spice to your victory laps and revel in the euphoria of achieving your goals with the perfect tunes!
Best Songs About Winning

Who doesn't love a good victory? There's something particularly elating about achieving your goals or triumphing over adversity.
When it comes to celebrating success, the ultimate way to commemorate is with music!
From Queen's "We Are The Champions" and Journey's "Don't Stop Believin'" to Bruno Mars' "The Lazy Song" and Aerosmith's "Dream On", there is a seemingly endless supply of popular songs that capture the feeling of winning big.
Celebrate Your Victories with These Triumphant Songs
Sia – Unstoppable
Fall Out Boy – Champion
Queen – We Are The Champions
The Score – Born For This
The Script – Hall of Fame
Jamie Foxx – Winner
Kool & The Gang – Victory
Carrie Underwood – The Champion
DJ Khaled – All I Do Is Win feat. Ludacris, Rick Ross, T-Pain & Snoop Dogg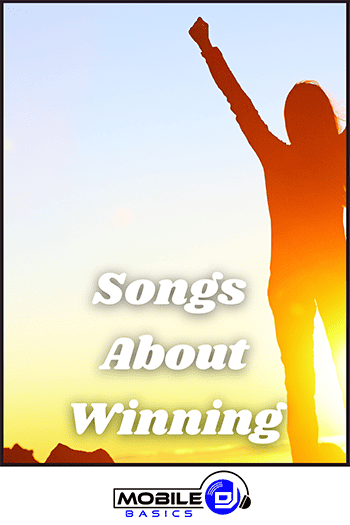 Music is a powerful force that has the ability to motivate and uplift us.
While there are undoubtedly countless songs talking about winning, these few mentioned above are some of the most popular and inspiring.
Whether you need an extra boost of motivation or just want something fun to listen to on your morning commute, these songs should have you feeling like a winner in no time!
And who knows? Maybe one day one of these songs will become your very own theme song for when life gets tough and you need a burst of energy.
No matter what happens, always remember that you have the strength and resilience to bounce back from any situation.
So get out there and show the world what a true champion looks like!
Sia – Unstoppable
Sia's hit song "Unstoppable" is an anthem of triumph and perseverance that celebrates the power of human resilience and inner strength.
The song became an instant sensation upon its release, with its catchy chorus and empowering lyrics inspiring listeners across the world to embrace their true potential and rise above any obstacles in their way.

---
Best Upbeat Celebration Songs
Whether your event is a wedding, engagement party, birthday party or any other special occasion – music is one of the essential elements when it comes to celebrating.
To get everyone on their feet and really create an upbeat atmosphere – you need to pick just the right songs for your celebration.
In this section we will be exploring some of the best upbeat songs about winning that are perfect for getting everybody up on their feet and dancing!
So let's jump in and explore what options are available so you can find just the right vibe for your upcoming celebrations or award ceremony.
Top Picks for Songs About Celebrations
Sia – The Greatest
Rare Earth – I Just Want to Celebrate
KSHMR & Zafrir – Winners Anthem
Pitbull – Celebrate
Bill Conti – Gonna Fly Now
Panic! At The Disco: Hey Look Ma, I Made It
Whitney Houston, Jordin Sparks – Celebrate
Starship – Nothing's Gonna Stop Us Now
Kwesi Arthur x Teni – Celebrate
Lady Gaga – Applause
Flo Rida – Good Feeling
Alesso – Heroes
Sheppard – Geronimo
K'NAAN – Wavin' Flag
Knife Party – Power Glove
Calvin Harris – Let's Go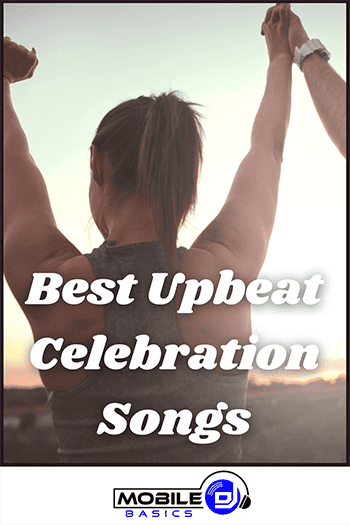 Award ceremonies are a great way to recognize all of the hard work and dedication done by a person or organization.
We hope that through this section, people were able to help find some upbeat celebration songs that can make the event even more special.
With so many options, there's bound to be a great song that fits each ceremony perfectly.
Music has the power to bring people together no matter the occasion.
The right songs can really make an award ceremony come alive!
Celebrate achievements in style while we all groove away with trophies and these upbeat tunes.
Sia – The Greatest
Sia's "The Greatest" is an upbeat celebration song that has captivated audiences throughout the world.
This catchy tune features the pop artist's signature powerful vocals and a thumping beat that is sure to get your feet tapping.
The song's lyrics are an ode to life's triumphs and perseverance in the face of adversity, making it an anthem for anyone who has ever faced a challenging situation.

---
Songs With Win or Winning in the Title

To honor this momentous triumphal spirit, many musicians have written songs highlighting winning; from empowering anthems about battling tough odds to celebratory ballads praising victorious accomplishments.
The best tracks encompassing win-themed lyrics
ABBA – The Winner Takes It All
Popcaan – Win
Santana – Winning
Pastor Mike Jr. – Winning
Ireland Boys – WINNER
Pet Shop Boys – Winner
Ryan Innes – Born To Win
Rob Cantor – I'm Gonna Win
The Rolling Stones – Winning Ugly
Chris Brown – Winner
Bobby Bare – The Winner
Wande – WINNING
Bee Gees – You Win Again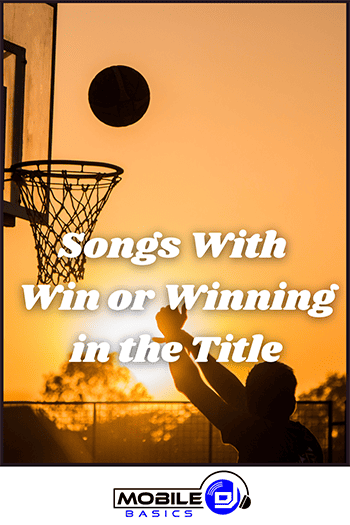 Overall, there's a lot of great music out there that references winning or has the word 'win' in the title.
Some of the best songs are more upbeat and motivational, while other focus on the triumphal nature of success.
While catchy beats and vibrant song lyrics are important in good music, it is also nice to consider what these tunes may symbolize – whether it's perseverance or a result of hard work, each song is an inspiration that motivates us to keep striving for greatness.
We just have to believe we are able to win!
Whatever you're looking for in a song related to winning, there is sure to be something perfect for you on this list.
So take some time to listen through some of the amazing tunes, and start feeling motivated today!
From the empowering anthem "Roar" by Katy Perry to the classic hit "I'm Still Standing" by Elton John, from the catchy tune "All Star" by Smash Mouth to the motivational track "All I Do Is Win" by DJ Khaled, from the renowned ballad "My Way" by Frank Sinatra to the patriotic song "As Good as I Once Was" by Toby Keith – these songs exude a sense of victory and triumph.
---
Songs About Success and Hard Work
They say that success isn't easy, but with the right attitude, motivation and willpower anything is possible.
Music has long been associated with inspiring us to reach for our goals and strive towards greater heights of accomplishment.
From classic anthems celebrating victory to modern jams encouraging progress, here are some of the best songs about celebrating success and dedicating oneself to hard work! Artists like
Celebrating the Power of Grit and Determination
Drake – Started From The Bottom
50 Cent – I Get Money
Panic! At the Disco – High Hopes
T.I. – Whatever You Like
Future, Juice WRLD – Hard Work Pays Off
Jim Jones – We Fly High (Ballin')
MACKLEMORE & RYAN LEWIS – WHITE WALLS
Nipsey Hussle – Victory Lap
Katy Perry – Rise
Rush – One Little Victory
Skillet – Feel Invincible
Wiz Khalifa – Celebrate
Rick Ross – Hustlin'
Ryan Innes – Born To Win
Clipse – Grindin'
Jermaine Dupri – Money Ain't a Thang
The common themes found throughout the different genres provide powerful messages that we all need to embrace: work hard no matter what the obstacles and never give up even against seemingly unbeatable odds.
Achieving success is indeed possible when one puts their mind to it and has the courage to take risks and persevere.
Even if you face difficult moments, take solace from these soulful tunes that remind us of our power and greatness.
Nothing is out of reach when you truly believe in yourself and work diligently for what you desire most in life.
With these lessons fresh in our minds, may we all strive to reach new heights through dedication and hard work!
Drake – Started From The Bottom
"Started From The Bottom" is a hip hop song by Drake that describes his rise to success in the music industry.
The song was released in 2013 as the lead single from his album "Nothing Was the Same."
In the song, Drake tells the story of his humble beginnings and how he worked hard to get to where he is today.
He raps about starting from the bottom, working at a store, and living in a small apartment.
However, he refused to give up and continued to strive for success.
The song's catchy hook and motivational lyrics have made it one of Drake's most popular and well-known tracks.

---
Related Posts
---
Best Songs About Winning at Love
Experience the power of love's victory with this captivating playlist of songs that will make your heart soar.
From the iconic sounds of Ed Sheeran's "One Love" to the soulful melody of Whitney Houston's "I Will Always Love You," these songs perfectly capture the indescribable feeling of finding and celebrating love's triumphs.
You'll feel inspired and empowered with every beat, as you reminisce about your own love journey and the moments of triumph that brought you closer together.
So raise a glass and cheers to your own love story with these timeless hits, guaranteed to leave you feeling invincible.
Heartwarming Tracks Celebrating Love
RUELLE – I Get To Love You
Toosii – Favorite Song
Travis Greene – Love Will Always Win
Carrie Underwood – Love Wins
Stephen Sanchez – Until I Found You
Jasmine Rae – When I Found You
Forest Blakk – Fall Into Me
Lukas Graham – Love Someone
Shania Twain – You Win My Love
Ed Sheeran – One Life
Coffey Anderson – Better Today
Spencer Crandall – My Person
Jason Mraz – I'm Yours
Colbie Caillat – I Do
Whitney Houston – I Will Always Love You
Songs about winning at love can be some of the most uplifting and motivational songs around.
Whether they are rap songs or rock songs or worship songs, these amazing songs celebrate the human spirit and the positive power of self-confidence.
Some of these songs have even won academy awards for their positive message and inspiring lyrics.
RUELLE – I Get To Love You
RUELLE's "I Get To Love You" is a soulful ballad that captures the essence of falling in love and the joyous feeling of finally finding that special someone.
The song showcases RUELLE's impressive range and ability to convey raw emotion through her music.
With its uplifting and hopeful message, "I Get To Love You" has become a popular choice for weddings and romantic occasions.

---
Songs About Achieving Success

Nothing inspires us like the feeling of victory. Bringing a creative project to completion, achieving our goals, and overcoming obstacles – there's nothing quite like it!
As Churchill once said: "Success is not final, failure is not fatal: it is the courage to continue that counts".
We all need a bit of motivation from time to time; we need encouragement & inspiration to take the plunges required to win in life.
Music has a way of stirring up emotion within us that can often be just what we need for making progress and climbing higher ladders.
If you're looking for some songs about winning in life that evoke feelings such as strength, hope & perseverance then read on!
Empowering Songs About Overcoming Life's Obstacles
Imagine Dragons – On Top Of The World
Mike Perry – ONE LIFE
Dylan Scott – Livin' My Best Life
OneRepublic – I Lived
Ben Rector – Living My Best Life
Post Malone – Congratulations
MACKLEMORE – NEXT YEAR
American Authors – Best Day Of My Life
OneRepublic – Good Life
Daughtry – Undefeated
The Score – Stronger
Bruce Springsteen – Thunder Road
Kelly Clarkson – Invincible
Avicii – The Nights
The Score – Unstoppable
Kanye West – Good Life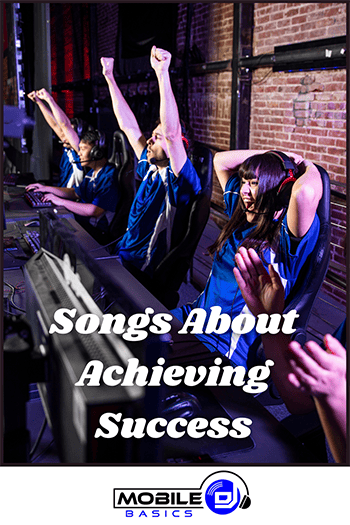 As human beings, we all seek success and winning in life. It can be hard to stay encouraged and motivated while on a journey towards personal victory.
Music can have a powerful effect by lifting us up during the discouraging moments, pushing us past the obstacles that stand in our way, and providing the jubilation of victory at the end.
Whether it's an upbeat song to get you amped for your goals or an inspirational anthem that reminds you why success is worth it, music is an incredibly powerful tool for achieving your dreams.
That's why songs about winning are so important—they can keep us going when things seem impossible and give us hope when we feel like giving up.
Imagine Dragons – On Top Of The World
Experience the Thrill of Victory with "On Top of the World" by Imagine Dragons.
The upbeat tempo and cheerful lyrics encourage listeners to keep pushing forward and achieving their goals.
The band members draw from their personal experiences and struggles to create a relatable and uplifting message.
The song's success reflects the universal appeal of its message about overcoming adversity and embracing success.

An empowering song can do wonders for a person's mood and mindset, and it's incredible how much a song can influence one's emotions.
A great song tells a compelling story, while uplifting lyrics and motivational melodies can provide the listener with the inspiration they need to take on the world.
---
Songs About Being the Best
Everybody wants to be the best. Whether it's showing off your skills at work, competing for a spot on the school sports team, or just feeling on top of the world in general—there's nothing quite like being at number one.
And what better way to express yourself and feel great than by blasting some tunes about being the best?
Inspiring Anthems About Being the Best
Joe Esposito – You're The Best Around
Alicia Keys – Girl on Fire
Demi Lovato – Confident
Neoni & Burnboy- Champion
Elton John – I'm Still Standing
Beyoncé – Run the World (Girls)
Pat Benatar – Invincible
Bob Dylan – Paths of Victory
The Killers – The Man
Black Eyed Peas, Anitta, El Alfa – SIMPLY THE BEST
David Eisley & Bob Kulick – Sweet Victory
MACKLEMORE & RYAN LEWIS – CAN'T HOLD US
Survivor – Eye Of The Tiger
Tina Turner – The Best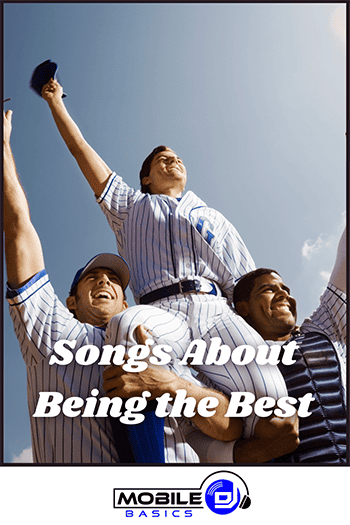 Whether that's in a sporting event, in academics or any other life goal, music is often an important factor in helping us reach those heights.
Songs about greatness and achievement can help to keep our spirits high and give us that extra boost to take on our goals.
Listening to this type of motivational music can help bring out our inner confidence and inspire us to push ourselves further than we ever thought possible.
One such song is the Rocky theme song, which has played a major role in many successful sporting events over the years.
It captures the feeling of conquering adversity and achieving success that is so essential to the human experience.
Another example is the Australian singer-songwriter, Sia with the hit song 'Chandelier', which speaks to the sacrifices that must be made in order to achieve success in love.
Other great songs about winning at love include "Stronger" by Kelly Clarkson, featuring Ludacris, as well as "How Do You Like Me Now?!" by Toby Keith.
These songs talk about the importance of perseverance and never giving up, even in the face of difficult challenges. They are uplifting and inspiring, and can be a powerful force for change in our lives.
Ultimately, songs about winning at love are all about celebrating the power of the human spirit to overcome adversity and achieve great things.
Whether you're writing songs yourself, or simply basking in the glory of those who have achieved success, these amazing songs can be a powerful tool for inspiring self-confidence and positive change.
Listening to songs that reflect our moods and experiences can be hugely beneficial for both our mental and physical well being. As uplifting as it is fun, striving for greatness is a journey worth experiencing – accompanied with tunes just as inspiring.
We hope this list helped provide you with the positive energy your goals deserve!
Joe Esposito – You're The Best Around
Joe Esposito's "You're The Best Around" is a classic song about being at the top of your game, with a high-octane arrangement and powerful lyrics that inspire listeners to push harder and strive for their goals.
Originally released in 1984 as part of the soundtrack for the movie "The Karate Kid," the song quickly became an anthem for anyone seeking to be the best at whatever they do.

---
Sports Songs About Victory/Winning
Nothing brings excitement and cheer quite like a good sporting event.
Whether it's the roar of the crowd, the anticipation of who will win, or just being part of an experience that united many, there is something special in watching your favorite team chase victory.
With all this celebration around wins and triumphs in sports, it's no surprise that some incredible songs have been created to commemorate them.
In this sectiont we're going over some fun and upbeat sports songs about victory and winning!
Sports Pump Up / Hype Songs
Jay Rock – WIN
Kendrick Lamar HUMBLE (WELLS Remix)
Shepherd – Gametime
Lil Wayne – Right Above It
Archie Eversole ft. Bubba Sparxxx – We Ready
Flux Pavilion – I Can't Stop
Eminem – Not Afraid
Vangelis – Chariots Of Fire
Nelly – Here Comes The Boom
Kanye West – POWER
Whitney Houston – One Moment In Time
Pitbull – I Believe That We Will Win
Flo Rida – My House
The Score – Legend
Fat Joe – All The Way Up
Fall Out Boy – Light 'Em Up
Diplo – Welcome To The Party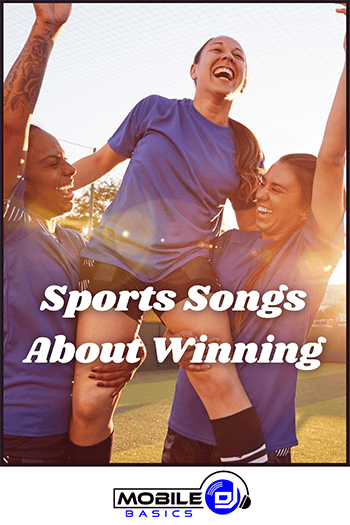 This article is a great source of information for finding the perfect pump-up song to embody the winning spirit. A pump-up song can make all the difference in bringing a team together and motivating them to achieve success, as numerous sports teams have proven time and time again.
Whether you're looking for an upbeat tune to celebrate a team win or an inspiring melody that captures the essence of achievement, this article is the perfect resource.
It is undeniable that sport songs have come a long way as they continue to be embraced by athletes and fans alike.
With such an array of musical styles, themes and messages, you can create the soundtrack to your cheer, win or championship dreams.
It can be said that these lyrics offer us the power to reflect on our own wins – even in failure sometimes! – celebrate big moments with others, and persevere when times get tough.
It's no wonder then why sports songs about victory are so popular – they capture so much of what it means to strive for excellence on and off the field or court.
As we all know, sporting events provide plenty of unforgettable moments.
Remembering them through music will ensure that those summer afternoons will never be forgotten!
Jay Rock – WIN
Jay Rock's "WIN" is a hip-hop triumph anthem that has become a popular rallying cry for athletes and fans alike.
The song's powerful beat and Jay Rock's aggressive delivery create an intense energy that evokes the spirit of competition and overcoming adversity.
"WIN" has been used in a variety of sports contexts, from pump-up music for pre-game warmups to victory celebrations after championship wins.
Overall, "WIN" has become a go-to song for sports teams and fans looking to celebrate their victories and inspire themselves to achieve greatness.

As the annual
Super Bowl
approaches, fans and teams alike gear up for the ultimate showdown in American football.
But it's not just the game itself that gets people excited – it's also the accompanying traditions.
From the victory songs that teams blast in the locker room after a win to the iconic first gold trophy that players dream of lifting above their heads, every detail of the Super Bowl is steeped in history and emotion.
And let's not forget the celebration songs for fans to blast as they revel in the glory of their team's victory.
But the Super Bowl isn't just about football – it's also an opportunity for pop stars to shine with their halftime performances and the chance to create a new Oscar winning song.
With so much culture and excitement surrounding this iconic event, it's no wonder that millions of people tune in every year to witness the thrill of victory and the joy of celebration.
---
What is the 80s song about winning?
In the 1980s, music was everything, and every song wanted to capture a specific mood or feeling.
From Bon Jovi's classic anthem "Livin' on a Prayer" to Queen's iconic sports anthem "We Are the Champions"or Europe's "The Final Countdown" there was a song for every occasion.
But perhaps the most famous song about winning was "Eye of the Tiger" by Survivor.
Fueled by a driving beat and lyrics about rising up to the challenge, this song encapsulated the spirit of competitiveness, pride, and inspired generations of athletes to dig deep and fight for their dreams.
Even today, "Eye of the Tiger" remains a timeless classic and a reminder that with hard work and perseverance, anyone can come out on top.
The Chariots of Fire theme song is a classic uplifting victory song that inspires greatness, while a rock song like "Eye of the Tiger" by Survivor can instill a powerful and motivational feeling in its listeners.
The music video of the iconic song "Eye of the Tiger," which was featured in the film Rocky III, not only talks about having a winning mindset and achieving sweet success, but also shows overcoming adversity with the perfect motivating beat- making it the perfect song to fuel any winning ambition.
On the other hand, a gospel song such as "Oh Happy Day" can also bring a sense of triumph and joy to those who hear it, and a pop song like "Roar" by Katy Perry is an uplifting and empowering song that celebrates personal strength and determination.
Ultimately, there are countless great songs out there that can inspire and motivate us towards victory and success.
---
Best Songs About Triumph and Winning

There's nothing quite like the feeling that comes with achieving a hard-earned victory, and luckily for us, there are countless songs that capture that emotion perfectly.
Whether you're pumping yourself up before a big game or celebrating a personal milestone, these songs are the perfect soundtrack for any moment of triumph.
So turn up the volume, feel the beat, and bask in the glory of your victories – because when it comes to these songs, the only thing better than listening to them is singing along at the top of your lungs.
The most popular song about winning is Queen's "We Are The Champions", with over 1.2 billion streams on Spotify.
The second most popular song about winning is Survivor's "Eye of the Tiger", with over 813 million streams on Spotify.
The third most popular song about winning is Eminem's "Lose Yourself", with over 775 million streams on Spotify.
The fourth most popular song about winning is Oasis' "Wonderwall", with over 745 million streams on Spotify.
The fifth most popular song about winning is Journey's "Don't Stop Believin'", with over 691 million streams on Spotify.
The sixth most popular song about winning is Queen's "We Will Rock You", with over 618 million streams on Spotify.
The seventh most popular song about winning is Queen's "Bohemian Rhapsody", with over 599 million streams on Spotify.
These songs remind us that success is achievable and offer the motivation we need to keep pushing forward, no matter the odds.
Whether you need a pep talk before a big game or simply want to feel empowered, these songs about winning are the perfect soundtrack to celebrate your own moments of victory.
---
What are some common themes in victory songs?
From celebratory anthems to inspirational ballads, songs about winning are full of themes that resonate with listeners.
One common theme is the importance of perseverance.
Additionally, lyrics often underscore the feeling of triumph that comes with overcoming obstacles.
Achieving victory is commonly depicted as a representation of self-improvement and discovering oneself, demonstrating that with the correct mindset and attitude, anything is achievable.
Multiple well-known and famous bands and artists, including Little River Band, Michael Jackson, Three Dog Night, Twisted Sister, Paul Stanley, and Bachman Turner Overdrive, have produced hit songs related to winning.
Furthermore, these winning tracks often reveal appreciation and thankfulness towards those who encouraged and supported them throughout, further underscoring the communal and collaborative aspect of success.
---
Songs of Victory: Celebrating Success Through Music
Different places, names, and even countries have produced tunes that celebrate victory and success.
From classic rock anthems to modern pop hits, the content and style of these songs vary widely.
For example, one famous example might be "We Are the Champions" by Queen, which has become a go-to victory anthem for sports teams and other winners.
Another reason that winning songs are so popular is that they often evoke strong emotions and memories of past triumphs.
Many people have fond memories of celebrating with friends and family after a big win, and the right song can bring those feelings flooding back.
Some songs also feature specific types of instruments, such as the guitar solos in "Eye of the Tiger" by Survivor or the soaring vocals in "The Power of Love" by Huey Lewis and the News.
Whether the version of a winning song is a live recording or studio-produced, its voice can carry the power of a moment in history.
---
When it comes to boosting your confidence, there's nothing quite like listening to music that celebrates the triumph of success.
That's why we've compiled the ultimate list of songs about winning that are sure to uplift your spirits and make you feel invincible.
To truly grasp the power of these songs about winning, it's worth looking at the charts to see just how much they've resonated with audiences over the years.
From iconic solo singers to legendary groups, these artists have captured our hearts and minds with their odes to victory.
Whether you're looking to create the perfect workout playlist or simply seeking a dose of inspiration, these songs are guaranteed to get your blood pumping and your heart racing.
Their popularity speaks for itself – millions of people have listened to them, danced to them, and found solace in their motivating messages.
So why not add them to your own playlists and join the throngs of fans who have found strength and courage through these incredible tunes?
---
Conclusion
These songs have been carefully curated to bring out the winner in you, by motivating and inspiring you to overcome any obstacle, strive for excellence, and celebrate your achievements.
With powerful lyrics, upbeat rhythms, and electrifying melodies, these best songs about winning are the perfect soundtrack to your triumphant journey.
From timeless classics to contemporary hits, these top-notch tunes will keep you motivated, focused, and pumped up to achieve greatness.
Whether you're an athlete, entrepreneur, student, or simply seeking to reach your goals, these songs will inspire you to conquer every challenge and rise up to your full potential!
---
Read More
---
---
---
Pins for Pinterest
If you like what you see, feel free to share some love on Pinterest ❤️
107 Ultimate Songs About Winning to Boost Your Confidence (2023)
From discovering new songs to getting more gigs, I'm excited to share the wealth of knowledge I've gained through many years of DJing. [email protected]