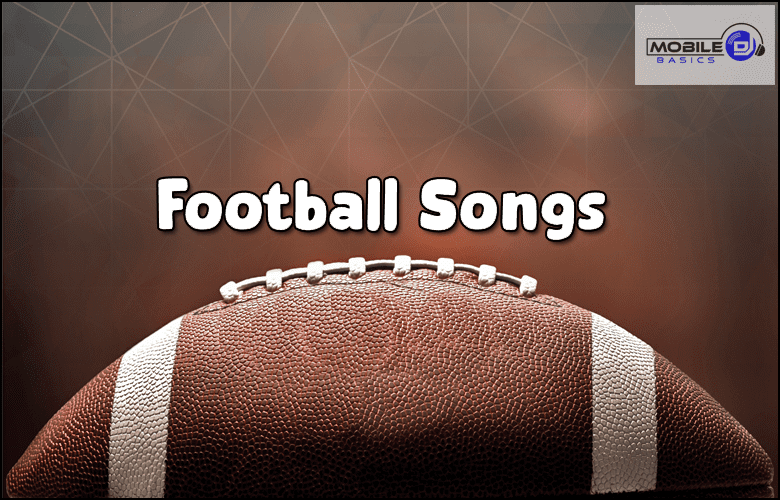 Last Updated on May 9, 2023 by Ryan Conlon
If you're a football fan or not, there's no denying the power of a great sports anthem. From "We Will Rock You" to "Rock and Roll Part 2", these songs get people pumped up for the big game. In this article, we'll take a look at some of the best football songs of all time and some new ones.
Not only do you get excited for your team, but there are also some great new songs that come out in the fall.
Everyone loves a good NFL Sunday Night game with their favorite snacks and a couple beers! So if you're looking for something exciting this coming football season then check out these popular football songs.
We are going to discuss why they work so well. So whether you're rooting for Minnesota Vikings or any other team, for that matter, grab a beverage and get ready to rock out!
---
New Football Hype Songs
Today, we're taking a look at some of the newest and most popular tracks that are sure to get you excited for game day.
Whether you're a die-hard fan or just looking for something to get you pumped up before heading out to tailgate, these tunes have got you covered.
So put on your team colors and get ready to cheer them on to victory!
Skrillex & Rick Ross – Purple Lamborghini
Judah & the Lion – Let Go.
Flux Pavilion – I Can't Stop
G Eazy – No Limit
Shepherd – Gametime
Fat Joe – All The Way Up
Steve Aoki – Turbulence
Jay Rock – WIN
DJ Snake – Turn Down for What
Lil Wayne – I Do It
Joey Bada$$ – THE REV3NGE
Dillon Francis, DJ Snake – Get Low
Diplo – Welcome To The Party
Flo Rida – My House
Trick Daddy ft. Lil Jon – Let's Go
2 Chainz & Wiz Khalifa – We Own It
AUSTIN JAMES – You & Me Forever
T. Powell – Clear Eyes Full Heart Can't Lose
Juice WRLD – Bad Boy
Kendrick Lamar HUMBLE (WELLS Remix)
These tracks are sure to get your blood pumping and have you ready for some excitement!
Skrillex & Rick Ross – Purple Lamborghini
Purple Lamborghini by Skrillex and Rick Ross is one of the most popular songs being played in NFL stadiums these days. The hype it brings to the game is undeniable. If you're unfamiliar with the song, check out the music video – it's worth your time.

---
Classic Football Songs
As the weather turns cooler and football season ramps up, now is the perfect time to brush up on your classic football songs. Whether you're a newcomer to the sport or a longtime fan, these tunes will get you in the mood for cheering on your favorite team.
There's nothing quite like the feeling of hearing your favorite football team's song blasting through the speakers as you enter the stadium on game day.
Whether it's "Welcome to the Jungle" or "Paradise City" these tunes get fans pumped up and ready to cheer on their team.
Here are some of the most iconic football anthems of all time. Enjoy!
House of Pain – Jump Around
AC/DC – Thunderstruck
DJ Khaled – All I Do is Win
Guns N' Roses – Welcome To The Jungle
Metalica – Enter Sandman
Fall Out Boy – Light 'Em Up
Macklemore – Can't Hold Us
Bush – Machinehead
Prince – Let's Go Crazy
Guns N' Roses – Paradise City
AC/DC- TNT
Hank Williams Jr – Are You Ready for Some Football?
Saliva – Click Click Boom
Archie Eversole ft. Bubba Sparxxx – We Ready
Nelly – Here Comes The Boom
No matter what time of year it is, there's always a good football song to get you in the mood. Whether you're rooting for your favorite team or just enjoying some good old-fashioned competition, classic football songs are sure to get you excited.
House of Pain – Jump Around
While not originally a football song, "Jump Around" by House of Pain has become one of the most popular anthems played at stadiums and sports events around the world. The infectious beat and lyrics are guaranteed to get any crowd pumped up, no matter what the occasion.
If you like the song or not, you have to admit that this song is pretty darn catchy!

---
Country Songs About Football
Think about your favorite football team. Now, think about the songs that come to mind when you think of them. Odds are, at least one of those songs is a country song.
Football and country music have always gone together like Thanksgiving and pumpkin pie.
In this section, we're going to take a look at some of the best football-themed country songs ever written. So pull up a chair, pour yourself a cold drink, and get ready to read about some great tunes!
Kenny Chesney – Boys of Fall
Carrie Underwood – The Champion
Morgan Wallen – Had Me By Halftime
Colt Ford – Tailgate
Brad Paisley – Country Nation
Brantley Gilbert – Friday Night
Billy Ray Cyrus – Nineteen
Mitch Rossell – God, Girls, and Football
Randy Houser – Senior Year
Kenny Chesney – I Go Back
Cole Swindell – Right Where I Left It
Brooks & Dunn – Indian Summer
Eric Church – What I Almost Was
James Otto – The Ball
Granger Smith – Tailgate Town
Cole Swindell – Home Game
Brantley Gilbert – Lights of My Hometown
Lee Brice – Parking Lot Party
Billy Currington – Drinkin' Town With A Football Problem
Luke Combs – Beer Never Broke My Heart
Chris Young – Underdogs
Country music doesn't get quite the same love as other genres in mainstream America, but that doesn't mean it isn't popular. In fact, according to Billboard, country is the most popular music genre in the United States.
So what happens when country and football meet? You get some pretty amazing country football songs.
---
Sunday Night Football Songs
Are you ready for some football? Sunday night is the biggest night of the week for NFL fans, and what better way to get pumped up for the game than with some classic football songs?
Faith Hill – Waiting All Day for Sunday Night
Carrie Underwood – Waiting All Day for Sunday Night
Carrie Underwood – NBC Sunday Night Football 2020 Theme
Sunday night football is one of the highlights of the weekend for many people. Whether you're watching from home or at a bar with friends, there's nothing quite like experiencing the game together. So put on your favorite jersey and get ready for some touchdown tunes!
---
Monday Night Football Songs
MNF is a time-honored tradition. Whether you're watching at home or at the stadium, there's nothing quite like it. And while the game is always exciting, the opening theme song is my favorite part. I love hearing that catchy tune get everyone pumped up for the match up.
But have you ever wondered what the song is actually called? Or who sings it?
Here are a couple form the past Monday Night Football
Bob's Band – SCORE
Johnny Pearson – Heavy Action
Hank Williams Jr – All My Rowdy Friends Are Coming Over Tonight
Did you know that the Monday Night Football theme song was originally written for a different NFL television show?
The song was created for ABC's "Monday Night American Football" series in 1970, but it wasn't chosen as the show's opening theme.
Instead, the instrumental version of "Heavy Action" by Johnny Pearson was used as the opening theme.
However, when Monday Night Football moved to ESPN in 2006, they decided to use the original song as the opening theme. The song has been updated a few times over the years, but the core melody remains the same.

---
Classic Sports Songs
It's no secret that sports fans love to crank up the tunes while they're watching their favorite games. And what could be a better way to get pumped up for the action than by listening to some classic sports songs?
Whether you're a fan of basketball, football, or any other sport, these songs will have you ready to cheer on your team!
So without further ado, here are some of the best classic sports songs ever written. Enjoy!
Queen – We Will Rock You
Europe – The Final Countdown
Zombie Nation – Kernkraft 400
Van Halen – Jump
Gary Glitter – Rock 'n' Roll (Part 2)
Survivor – Eye of the Tiger
The White Stripes – Seven Army Nation
Eminem – Lose Yourself
The Alan Parsons Project – Eye in the Sky
DJ Snake – Turn Down for What
Queen – Another One Bites The Dust
2 Unlimited – Get Ready For This
Drowning Pool – Bodies
Neil Diamond – Sweet Caroline
Darude – Sandstorm
SportsCenter Theme
There's just something about classic sports songs that gets us fired up. Whether it's the underdog story or the pump-up music, these tracks always seem to get us excited for game day. Here are some of our favorite classic sports songs that will have you pumped up in no time!
Queen – We Will Rock You
Queen's 'We Will Rock You' is one of the most classic sports anthems of all time. This great song has been used by sporting events and teams around the world for decades, and there's a reason why it remains so popular.
Queen's powerful melody and vocals combined with hard-hitting drums make for an unbeatable combination that is sure to get any crowd pumped up!

---
What is the best football anthem?
There are many great football anthems out there, but for my money, the best one is AC/DC's Thunderstruck. It just has such a powerful and adrenaline-pumping sound that it gets you pumped up for the game no matter what team you're rooting for.
If you're looking to get yourself in the mood for some football this weekend, then make sure to crank up Thunderstruck on your playlist! It Also makes a great drinking game.

---
Why Do they Play the Same Songs at All Football Games?
When you go to a football game, do you ever hear the same songs over and over again? If so, you're not alone. Many people wonder why the same songs are played at all football games.
Some think it's because certain songs are football anthems, while others think the same song is used for every game to save money on licensing fees.
The stadiums may have obtained licenses from ASCAP, BMI, and SESSAC. The fee to use the music at a stadium is based on the size of the venue and other factors such as the type of event.
Here are some of Football Songs you hear over and over again at Football Games:
– "We Will Rock You" by Queen
– "Rock & Roll Part II (The Hey Song)" by Gary Glitter
– "Crazy Train" by Ozzy Osbourne
Football stadiums have to pay song royalties for every song played, so it's no coincidence why the same songs are used during Football games.
Do you think that playlists should be more diverse? Or do you like hearing the same songs at Football game after Football game?
---
Conclusion
If you're looking for a few songs to get your blood pumping before the big game, this article has compiled a list of all-time American football favorites and some new football hype tracks that are guaranteed to make you want to cheer on your team.
All these tunes will have everyone in the stands singing along or at least bobbing their head! You may not be able to recall every football song on our playlist right now but we guarantee they'll stick with you after hearing them just once.
---
Read More
---
---
---
Pins for Pinterest
If you like what you see, feel free to share some love on Pinterest <3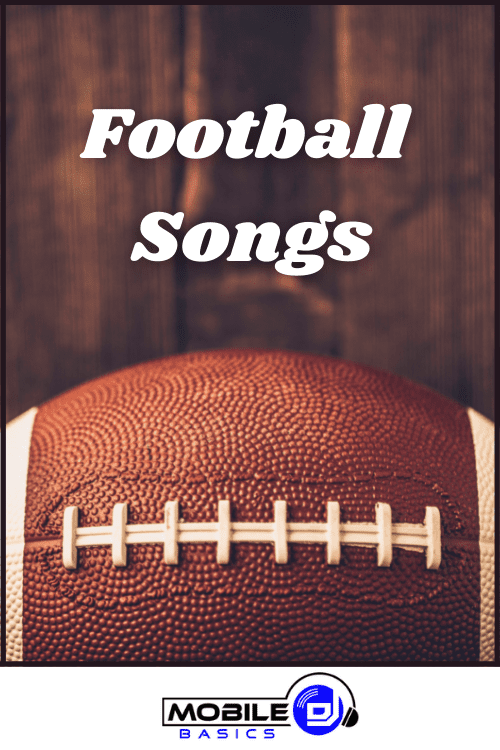 Exciting New Football Songs | New Football Hype Songs 2023
From discovering new songs to getting more gigs, I'm excited to share the wealth of knowledge I've gained through many years of DJing. [email protected]