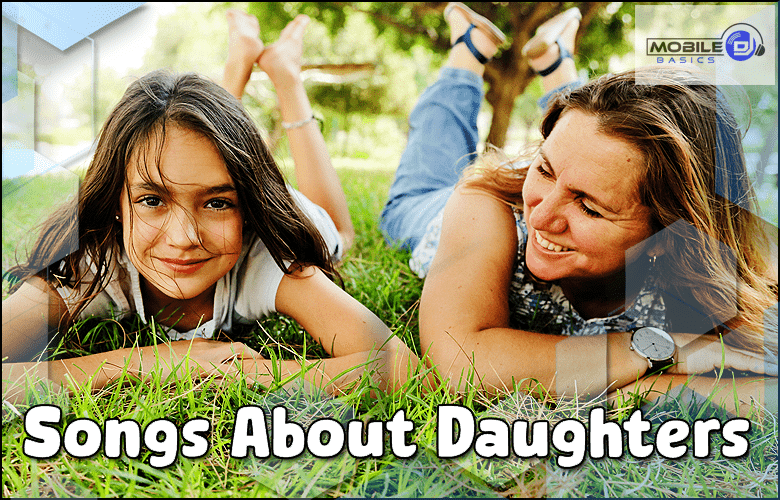 Last Updated on September 8, 2023 by Ryan Conlon | 🕒 6 min Read Time
---
Songs about daughters have been a source of inspiration for countless artists throughout the years.
Whether it's a ballad celebrating the love between a father and his little girl or a powerful anthem celebrating the strength and resilience of a daughter, these songs always manage to strike a chord with audiences of all ages.
From the beautiful melodies of classic tunes to the contemporary sounds of modern pop hits, there are endless options when it comes to the best daughter songs.
Music has a special way of capturing the universal emotions that come with the relationships between parents and their daughters, making these songs timeless and impactful pieces of art.
So next time you need a song for your daughter, look no further than this list!
Songs About Daughters

There are songs that talk about daughters everywhere. From the country songs that make you cry because they remind you of your own daughter to the pop songs that tell us how much someone loves their daughter, there is no shortage of songs dedicated to this one person.
Songs from Kane Brown, Taylor Swift, Adele, Trey Songs, and Brett Young.
This list is going to focus on the more recent songs that talk about daughters
Lee Brice – The Best Part Of Me
Will Dempsey – Best Parts of Me
Tim McGraw – 7500 OBO
Logan Mize – Prettiest Girl in the World
Brett Young – Lady
MAGIC! – Rude
Trey Songz – I Know A Love
Kane Brown – For My Daughter
NLE Choppa – Letter To My Daughter
Little Big Town – The Daughters
Adele – Sweetest Devotion
Drew Baldridge – She's Somebody's Daughter
Taylor Swift – Never Grow Up
Meaghan Smith – Always Daughter
Nipsey Hussle – My Daughter's Face
Maine Musik – Daughters
Jack Johnson – My Little Girl
Brantley Gilbert – Man That Hung The Moon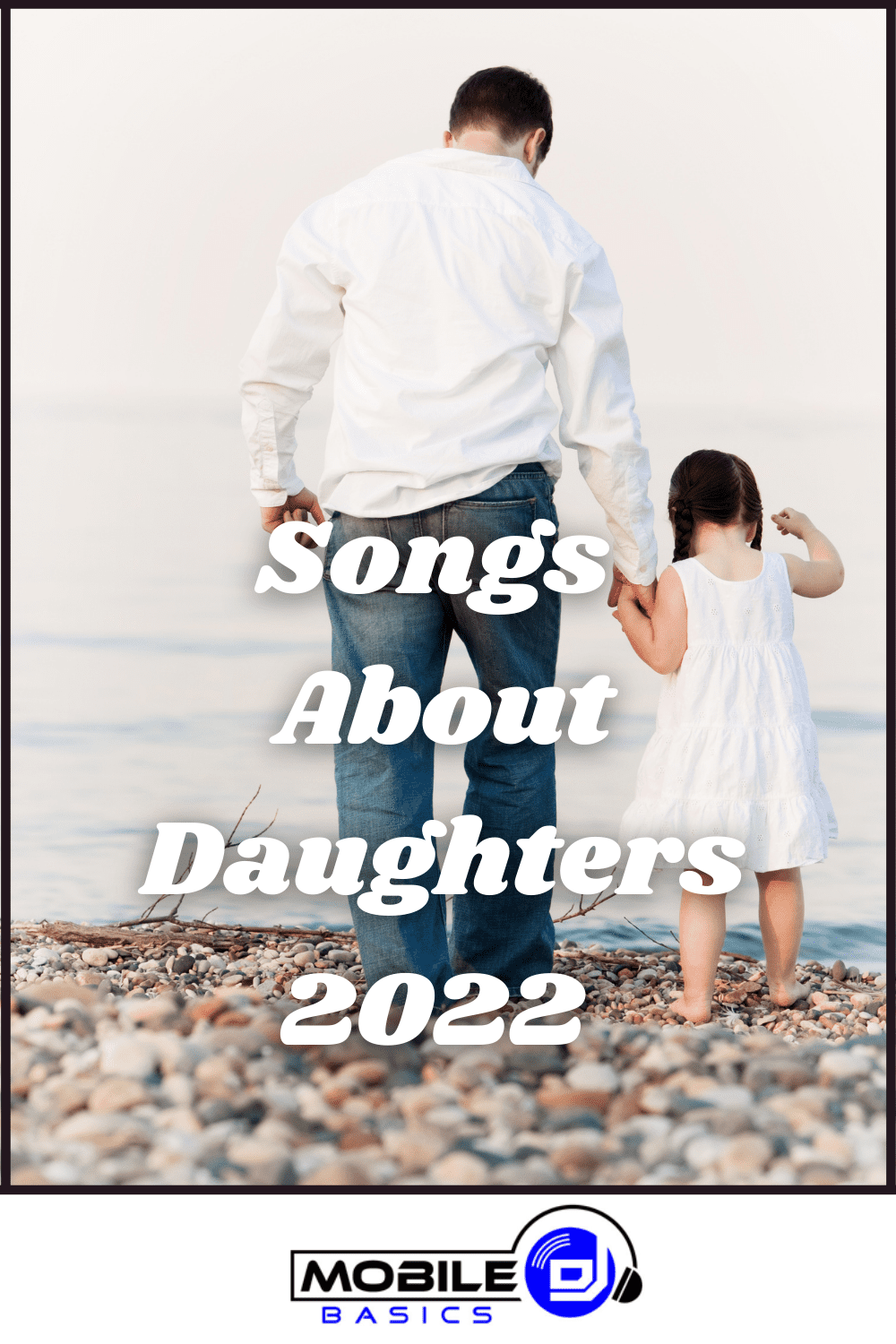 Lee Brice – The Best Part Of Me
This song is about the love between a father and his daughter. It tells of how he will always be there for her, no matter what happens in life. The lyrics are touching and sweet, which makes it perfect to play at weddings or other family events.
If you're looking for songs that would make great additions to your DJ collection, this one should definitely be on the list!

---
Songs about Moms and Daughters

DJing is all about mixing different songs together to create a unique experience for the listener. But sometimes, certain songs just seem to fit together perfectly, no matter what genre you're playing.
In this section, we'll take a look at some of the best mother daughter songs ever written. Whether you're looking for something heartfelt or celebratory, we've got you covered.
In My Daughter's Eyes by Martina McBride and I hope you Dance by Lee Ann Womack have been the classic songs for years but take a look at some new mother daughter songs from Anne-Marie and Kacey Musgraves.
Songs Talking About Mothers and Daughters
Kacey Musgraves – Mother
Michael Bublé – Forever Now
Brandi Carlile – The Mother
Carrie Underwood – Mama's Song
Aimee Zimmermann – I'll Always Be your Mom
Jessica Andrews – Who I Am
Faith Hill – You Can't Lose Me
Celine Dion – A Mother's Prayer
Fleetwood Mac – Landslide
Martina McBride – In My Daughter's Eyes
Carole King – Where You Lead
Trya Juliette – My Precious Baby Girl
Faith Hill – There You'll Be
Christina Aguilera – Oh Mother
Martina McBride – Every Mother's Dream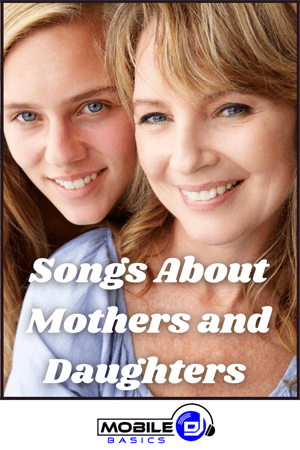 Anne-Marie – Her
In "Her," she sings about the strong connection between a mother and daughter. "I think of an angel and all I see is her " "Your voice in my head and It tells me I'm beautiful" she sings, emphasizing the importance of that relationship.
---
Father and Daughter Songs

A father-daughter relationship is one of the most important relationships in life; it shapes who we grow up to be. It's an experience that should never go unappreciated or forgotten.
These songs will help remind us how much dads matter! New songs like – Jason Blaine – Dance With My daughter, and Jax – Like My Father – would make a great wedding song for a father-daughter dance.
Songs Talking About Dads and Daughters
Steven Curtis Chapman – Cinderella
Jason Blaine – Dance With My Daughter
Lainey Wilson – Those Boots
MaRynn Taylor – Dads and Daughters
Chad Kaney – Daddy's Little Girl
Kippi Brannon – Daddy's Little Girl
Cody Johnson – God Bless the Boy (Cori's Song)
Paul Simon – Father And Daughter
Kylie Morgan – Good Hands
Olivia Vedder, Eddie Vedder – My Father's Daughter
Miley Cyrus And Billy – I Learned From You
Jason Blaine – Dance With My Daughter
Jewel featuring Dolly Parton – My Father's Daughter
Michael Buble – Daddy's Little Girl
Sara Evans – You'll Always Be My Baby
Abby Anderson – Daddy
Zac Brown Band – I'll Be Your Man (Song For A Daughter)
Bob Carlisle – Butterfly Kisses
Jax – Like My Father – Check Out Our Songs About Dads
There are so many songs out there about dads and daughters, but here are our favorites. We hope you enjoy them!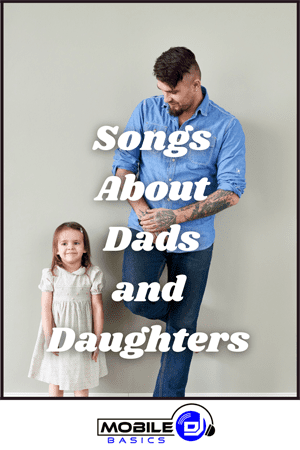 Steven Curtis Chapman – Cinderella
As a father of five daughters, Steven Curtis Chapman knows a thing or two about writing songs about his daughters. His track, Cinderella, is full of inspiration and will make you stop and think about the powerful role daughters play in our lives.
Whether your daughter is 5 or 25, these songs will resonate with you.
---
Country Songs About Daughters
As any mobile DJ can tell you, country music is one of the most popular genres among wedding crowds. And while there are plenty of songs about Family, Friends, Dogs, Sons, there are also a fair number of tunes that celebrate daughters.
Try a country song classics like – Loretta Lynn – Coal Miner's Daughter or Lee Ann Womack – I Hope You Dance – the list keeps growing.
Here Are Some of Our Favorites
Tim Mcgraw – My Little Girl
Walker Hayes – if father time had a daughter
Taylor Swift – The Best Day (Taylor's Version)
Reba McEntire – You're Gonna Be
Dan + Shay – When I Pray For You
Trace Adkins – You're Gonna Miss This
Heartland – I Loved Her First
Kenny Rogers – Handprints on the Wall
Martina Mcbride – She's a butterfly
Trace Adkins – Then They Do
Thomas Rhett – To The Guys That Date My Girls
Reba McEntire – I'll Be
Sugarland – Baby Girl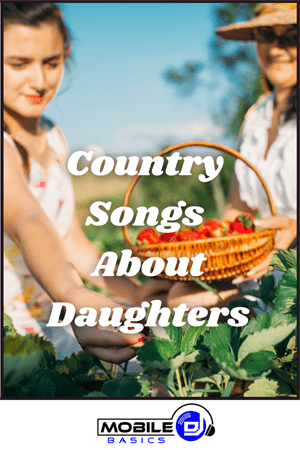 Tim McGraw – My Little Girl

There's simply no denying the fact that dads play an utterly crucial role in their daughter's life. For most dads out there, watching their little girl grow up happens in the blink of an eye, and they want nothing more than to spend as much time as possible with their precious offspring.
There's really no feeling quite like the love a father has for his daughter, and it's something that will stick with them for their entire life.
For Tim, his deep understanding of the father-daughter dynamic is reflected in his music.
His songs celebrate the beauty of this special relationship, capturing the essence of what it means to be a dad and sharing words of advice, wisdom, and hopes for their little ones.
Tim's music is filled with the kind of lessons that he wants to share with his kids and all children out there.
From the first time a dad holds his newborn daughter to the day she leaves home, every moment is precious, and every memory cherished.
And as they grow, dads are there to teach them how to navigate the world, from shooting hoops to fixing things when they break.
But perhaps the most important lesson a dad can teach his daughter is how to love fiercely, just like they do.
Regardless of what the future may bring, the memories of childhood and the time spent with their loved ones will always hold a special place in a dad's heart.
---
Classic Hits About Daughters
Daughters are often celebrated in music, particularly with classic hits that have stood the test of time.
Artists like The Beatles, Cat Stevens, and Elton John have all paid tribute to the special bond between fathers and daughters through their music.
As we approach Father's Day, many people look back on the memories they've shared with their dads and reflect on what makes them the best father they could ask for.
For daughters, their fathers are often the most influential figures in their entire life, shaping their worldview and providing guidance throughout their journey to becoming a grown woman.
It's no surprise, then, that father-daughter dance songs are a staple of weddings around the world. These dances are a touching way for the daughter's to honor their fathers and express their love and gratitude.
From "In My Life" by The Beatles to "Father and Son" by Cat Stevens and "Your Song" by Elton John, classic hits have captured the essence of the father-daughter or mother-daughter relationships and the importance of cherishing every moment together.
Timeless Songs Talking About Daughters
The Temptations – My Girl
Wilco – My Darling
The Shires – Daddy's Little Girl
Bruce Springsteen – When You Need Me
John Mayer – Daughters
Stevie Wonder – Isn't She Lovely
The Stylistics – You're A Big Girl Now
Otis Redding – That's How Strong My Love Is
Holly Dunn – Daddy's Hands
Halestorm – Dear Daughter
Loudon Wainwright III – Daughter
Michael Bolton – Fathers & Daughters
Ben Folds – Gracie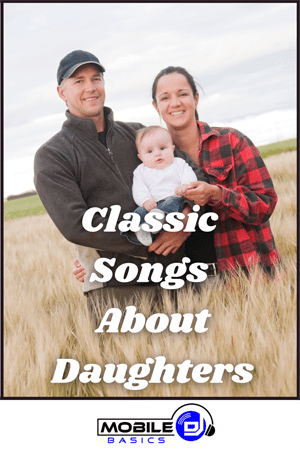 Here are some classic tracks that will make your daughter feel loved and appreciated. Whether you're a mobile DJ looking for new material or just want to learn more about these timeless tunes, read on for our picks for the best songs talking about daughters.
The Temptations – My Girl
The Temptations is one of the most successful groups in American music history. "My Girl" was the group's first single and it became a huge hit, reaching number-one on both the Billboard Hot 100 and R&B singles charts.

---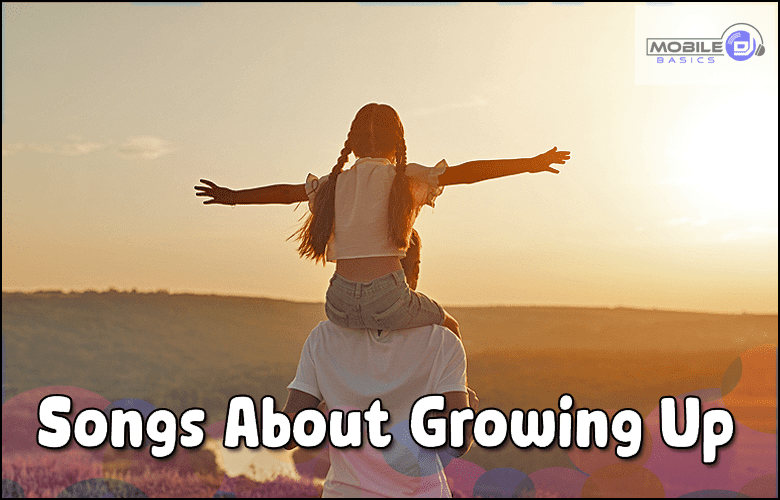 Songs About Daughters Growing Up
As parents, you love to see your daughters grow up into strong women with their own identities.
It can be hard to find just the right song to reflect how we feel about this amazing process, so today I've put together a list of tunes that capture the range of emotions you experience as our little girls morph into young women.
Whether you're dancing around your kitchen or driving in the car, these songs will make you feel everything from proud to sentimental.
Songs About a little Girl Growing Up
Nichole Nordeman – Slow Down
Chuck Wicks – Stealing Cinderella
Miley Cyrus – Butterfly Fly Away
Darius Rucker – It Won't Be Like This For Long
Lonestar – Let Them Be Little
Kenny Chesney – There Goes My Life
Martina McBride – Teenage Daughters
Carrie Underwood – Little Girl Don't Grow Up Too Fast
Billy Dean – Let Them Be Little
ABBA – Slipping Through My Fingers
Billy Ray Cyrus – Ready, Set, Don't Go
Kenny Rodgers – Through the Years
Kenny Chesney – Don't Blink
Trace Adkins – Just Fishin'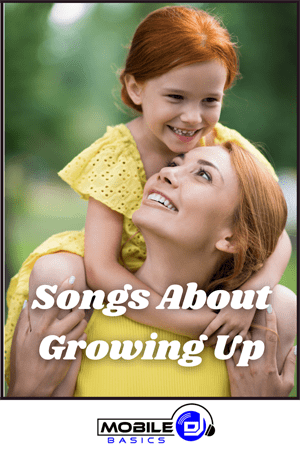 Nichole Nordeman – Slow Down
There's something about Nichole Nordeman's song "Slow Down" that just tugs at your heartstrings.
Almost as if she was singing directly to you, Nordeman's lyrics cut through the noise and remind us to take a step back and enjoy the simple things in life – like spending time with our daughters.
Take time to reflect on the importance of slowing down and savoring those moments we share with our loved ones.

---
Songs About Protecting Daughters
It is said that a parent's love for his daughter is unconditional, and this sentiment is perfectly captured in the great songs about daughters growing up.
These songs evoke feelings of pride, joy, and love, and serve as a reminder of the special bond between a father and his daughter or Mother and her daughter.
Whether it's the lyrics of a song that describes the protective nature of a father, or the melody that captures the essence of a daughter's growth and development, songs about being proud of daughters never fail to move and inspire.
So if you're looking for the perfect song to celebrate the incredible bond between a father and his daughter, look no further than the unforgettable melodies and heartfelt lyrics of songs about protecting daughters.
Celebrating the Unbreakable Bond
Walk Off the Earth – I'll Be There
Andy Grammer – Best of You
Forest Blakk – If You Love Her
Lauren Daigle – Rescue
The Chainsmokers & Kygo – Family
Charlie Puth – One Call Away
Alan Jackson – You'll Always Be My Baby
Ciara – I Got You
The Red Jumpsuit Apparatus – Your Guardian Angel
John Legend – Right By You (for Luna)
When it comes to songs about protecting people you love, there is a wealth of options to choose from.
From poignant songs that explore the complexities of father-daughter relationships to heartfelt ballads that speak to the deep love of a mother, these tracks capture the unique bond between parent and child.
Some of the best songs about daughters include tear-jerkers that delve into the hope and dreams a father has for his daughter as she grows and remembers the memories shared over the years.
Whether it's a daughter's wedding dance song or a country father and daughter anthem, these songs are sure to strike a chord with anyone who has a special daughter in their life.
Walk Off the Earth – I'll Be There
If you're looking for a beautiful song about a daughter's relationship with her father, "I'll Be There" by Walk Off the Earth is definitely worth a listen.
This heart-warming track is all about the unconditional love and support that a parent feels towards their child, making it the perfect gift to share with your own daughter.
Watch as a father navigates the highs and lows of raising his teenage daughter, proving that their bond is truly a miracle and a treasure to behold.
The song lyrics speak volumes about the importance of supporting and protecting our daughters, making it a perfect addition to any playlist dedicated to these strong, resilient young women.
Overall, "I'll Be There" is a beautiful tribute to the special bond that exists between fathers and daughters, and a must-listen for anyone looking for music that celebrates this unique and powerful relationship. Take a look at the music video.
---
What is a good song to dedicate to your daughter?
As a mobile DJ, you have probably been asked to dedicate a song to someone special. Whether it's your daughter, wife, mother, or friend, finding the right song can be tricky.
Here are some suggestions that will surely touch your loved ones' hearts.
Songs to Dedicate to Daughter
Rascal Flatts – My Wish
Beyoncé – God Made You Beautiful
Jackson 5 – I'll Be There
The Hound + The Fox – You Are My Sunshine
Carrie Underwood – I'll Stand By You
Ray LaMontagne – You Are The Best Thing
The Beach Boys – God Only Knows
Bruno Mars – Count On Me
Queen – You're My Best Friend
James Taylor – How Sweet It Is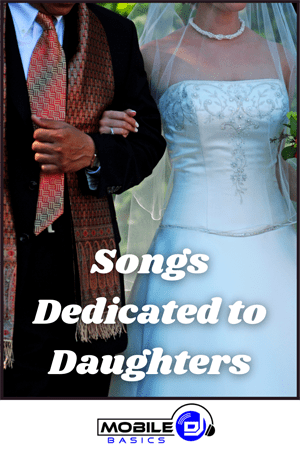 Rascal Flatts – My Wish
I'm sure that we can all agree that Rascal Flatts has some pretty awesome songs. But, in my opinion, their song "My Wish" is especially amazing.
This song always makes me think about my daughter and fills me with happiness. I know that I'm not alone in this sentiment, because there are other dads out there who feel exactly the same way about their daughters.

---
R & B Songs About Daughters
There's something special about R & B songs that talk about daughters. Maybe it's the way they evoke emotions with their lyrics, or the way they make us remember our own relationships with our moms and dads. Whatever it is, these tunes are worth taking a listen to.
Here Are some of Our Favorites
Beyoncé – Blue
Lionel Richie – Ballerina Girl
Nas – Daughters
Brian McKnight – Marry Your Daughter
Chris Brown – Without You
Stevie Wonder – Isn't She Lovely
Leona Lewis – Footprints in the Sand
Natalie Cole and Nat King Cole – Unforgettable
Peabo Bryson and Regina Belle – A Whole New World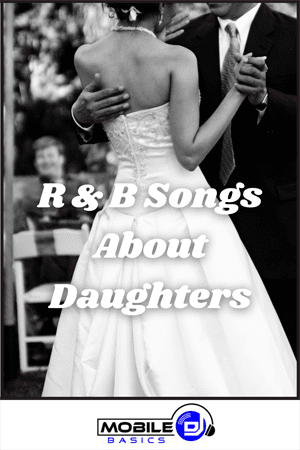 Stevie Wonder – You Are the Sunshine of My Life
There are so many amazing songs about having daughters out there. Today, we're going to take a look at one of our favorites: Stevie Wonder's "You Are the Sunshine of My Life."
---
Conclusion
It's clear that daughters have an incredibly special place in their parent's hearts, and their bond is celebrated through wonderful and touching songs.
From country hits to soulful ballads, there is a unique song to express your love for your daughter exactly how you wish, without having the added pressure of saying it in real life.
So if you want to show your daughter just how precious she is, why not take her out on a special day and treat her to brunch before giving her an extra special gift––a playlist of all the songs that remind you of how much you care about her.
This article is full of great ideas for a wedding song that you can use as walk down the aisle, first dance, father/daughter mother/daughter dances, and more!
Be sure to check out our list before making any final decisions on which songs are played at your wedding. We hope this helps you find exactly what you're looking for!
---
Read More
---
---
---
Pins for Pinterest
If you like what you see, feel free to share some love on Pinterest ❤️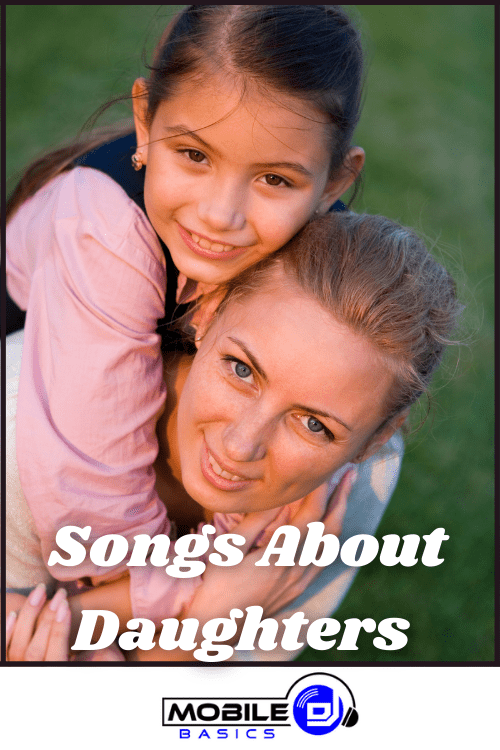 Heartwarming Songs About Daughters | 81+ Charming Songs 2023
From discovering new songs to getting more gigs, I'm excited to share the wealth of knowledge I've gained through many years of DJing. [email protected]