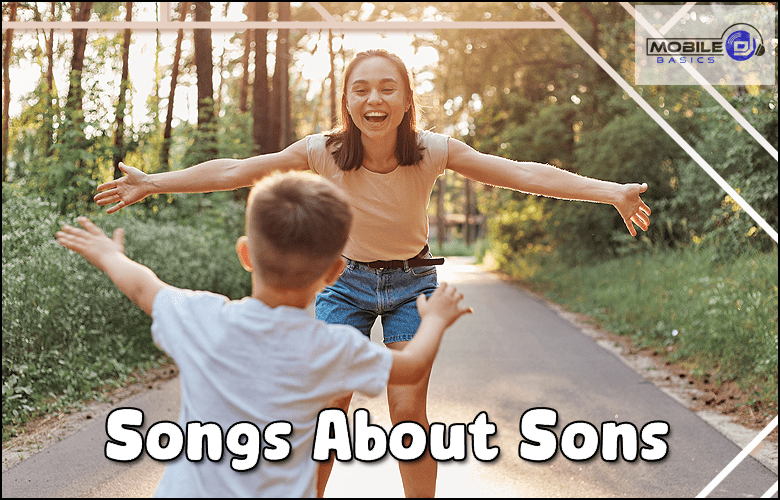 Last Updated on October 21, 2023 by Ryan Conlon | 🕒 5 min Read Time
When planning your wedding, one of the most important tasks is to create your wedding song list. This list will include all of the songs you and your guests will dance to at the reception.
While there are many classic love songs that would make excellent additions to a wedding song list, sometimes it can be fun to choose songs about sons instead.
Here are a few suggestions for songs about sons that could be added to your wedding song list.
New Songs About Sons
We all love to celebrate our loved ones on their special days, and a marriage is no exception. Looking for new wedding songs about sons? You're in luck! We've gathered some of the latest and greatest tracks that celebrate this important relationship.
Whether you're looking for a sentimental ballad or an uptempo number, we've got you covered.
So check out our list and get ready to add some unforgettable tunes to your big day!
Eddie Montgomery – My Son
Lee Brice – Boy
DMX – Letter To My Son
Adele – My Little Love
Hosier – Dear Son's
Paul Bogart – Mothers & Sons
Thomas Rhett – Sixteen
Mumford & Sons – Beloved
Anthem Lights – You Will Always Be My Son
Michael Bublé – Forever Now
Beyonce Knowles – God Made You Beautiful
With so many popular artists releasing albums in recent years, there are tons of new songs out there with lyrics about being a father or mother. With songs from artists like – John Lennon, Celine Dion, Rascal Flatts, Rodney Adkins and Tim Mcgraw you will find a wide variety of songs from country music to new songs from recent years.
Eddie Montgomery – My Son
If you're a fan of country music, then you're probably familiar with the name Eddie Montgomery. He's one half of the country duo Montgomery Gentry, and he's just released a new solo single called "My Son." You can read about the making of the song here.
---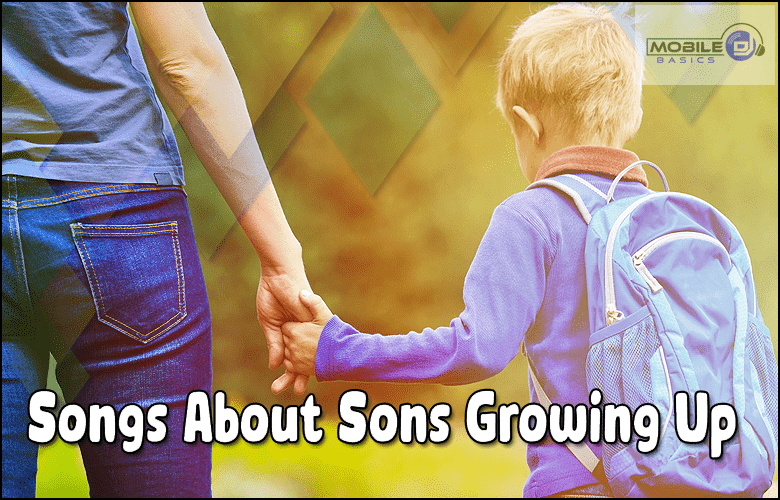 Songs About Sons Growing Up
It's hard to believe that our sons will grow up and become men, but it happens all too quickly. It can be bittersweet to watch them go from being little boys who are still dependent on us to adults who are ready for the world.
The best way we can support them is by teaching them how they should act as fathers and husbands someday – with love, respect, and kindness. What better way than through song? Whether you are an aging father or a son that has grown up, the songs on this list will speak to your heart.
Here are some songs about sons growing up:
Elvie Shane – My Boy
Nick Lachey – Another Day Is Done
Lauryn Hill – To Zion
Gloria Sklerov – The Man You've Become
Tim McGraw – Humble And Kind
Chris Young – The Man I Want To Be
Gary Allan – Tough Little Boys
Rascal Flatts – My Wish
Billy Currington – Walk A Little Straighter
Rod Stewart – Father and Son
Growing up is hard to do. I'm all grown up now, but looking back on my childhood it's amazing how much has changed since then. One thing that hasn't changed is the love I have for music. Some Country songs like – Trace Adkins – Then They Do and Trace Adkins – Just Fishin' – or songs like Carole King – Child Of Mine talk about daughters growing up. The ten song list above are about sons growing up.
We all know that our sons and daughters play a huge role in our lives. They are the ones we set up for success, help them to excel at their passions, and teach them how to be better people. From the time they are a baby boy to the time they are an adult. It's not always easy, but it is worth it!
Elvie Shane – My Boy
Elvie Shane is a new artist that has just released his first song called "My Boy." Shane's voice is soulful and powerful, and the lyrics are moving.
Lyrics:
He ain't my blood, ain't got my name
But if he did, I'd feel the same
I wasn't there for his first steps
But I ain't missed a ball game yet
And that ain't ever gonna change
I could never walk away
Yeah, he's my son and that's my choice
He ain't my blood, but he's my, he's my boy
This song is sure to be a hit. Listen to it now!
---
Songs With Son in the Title
When you think about songs with son in the title, what comes to mind? Likely some of your favorite classic rock tunes. While there are a good number of those, there are contemporary songs out there that also have son in the title.
Here are ten such tunes for your listening enjoyment!
STRUGGLE – LIKE FATHER LIKE SON
BigWalkDog – Son Of A Gun
Greg Holden – The Lost Boy
Mark Schultz – He's My Son
Don Trip – Letter To My Son
Domo Wilson – To My Son
Shayla Gessler – Letter to My Son
Blake Whiteley – Sons & Daughters
Sam Martin – Song for My Unborn son
Phil Collins – Father To Son
There's something about songs with son in the title that just make them sound good. Maybe it's the way they flow off the tongue, or maybe it's the inherent happiness that comes with a song about family.
Whatever the reason, these tunes are sure to get your feet moving and put a smile on your face. So put on your dancing shoes and get ready to groove to some of our favorite songs with son in the title!
---
More DJ Song Lists from this Website
We're continuing our series of DJ song lists from this website. If you missed our previous posts, be sure to check them out first! Today's list is focused on Songs About Your Sons that are perfect for any celebration.
Here is a list of other songs that will get your guests up and dancing in no time!
Every event is different, so it's important to find the right music for each one. What might be perfect for a wedding reception may not work as well at a school dance. For this reason, it's important to have access to new music that will mix well for your different events.
No matter how long you have been DJing, there is always more music to discover. Whether you are looking for inspiration or want to find specific songs, we have created DJ song lists to help you find the perfect tracks for your next gig.
---
Songs About Fathers and Sons
Dads are so important in our lives. They can be our best friends, and we can learn a lot from them. Fathers and sons have a special bond that is unique and can be very strong. There are many songs about fathers and sons out there, and we've made a list of some of our favorites for you.
Check these songs out!
Thomas Rhett – Things Dads Do
Rodney Atkins – Watching You
Zac Brown Band – My Old Man
George Strait – Love Without End, Amen
Bucky Covington – A Father's Love
Redlight King – Old Man
Brad Paisley – Anything Like Me
Phil Collins – You'll Be in My Heart
Will Smith – Just the Two of Us
Keith Urban – Song for Dad
When it comes to music about fathers and sons, there are plenty of classic tracks that come to mind. Whether it's a father-son duo like Andrea Bocelli/Matteo Bocelli, Paul McCartney/James McCartney, Bob Dylan/Jakob Dylan, The Jackson 5, or a solo artist like Bruce Springsteen or Eric Clapton, there's no shortage of great songs out there that capture the unique bond between dads and their kids.
Maybe it's a song about a father who is missing his son, or one about a son who is missing his father, these tunes will make you appreciate the special bond between fathers and sons.
Thomas Rhett – Things Dads Do
Dads are special. They always have been, and always will be. In times past, they were the backbone of society. They hunted and gathered food for their families, worked hard to provide shelter and clothing, and passed on their wisdom to the next generation.
Today, most dads still do all of those things (plus a million more), but they also roll up their sleeves and change diapers when needed, take the family camping or on a road trip, and play with their kids (even if they're not quite sure how).
One of the coolest things about dads is that they love doing anything and everything with their sons (and daughters too). And one of the coolest things about Thomas Rhett is that he has written a song all about the things that dads do.
---
Songs About Mothers and Sons
Moms and Sons. Two of the most important people in our lives. Both are cherished for their wisdom and unconditional love. Though they may seem worlds apart, there are many songs that capture the beautiful relationship between these two special people.
Here are some of our favorite Mother Son songs
Edwin McCain – Letter to My Mother
Boyz II Men – A Song for Mama
Backstreet Boys – The Perfect Fan
Caleb Beachy – I love this Dance
Ciara – I Got You
Good Charlotte – Thank You Mom
2Pac – Dear Mama
Donell Jones – A Mother's Love
Beyonce – Blue
Kelly Rowland – Mommy's Little Baby (A Lullaby)
Mothers are the most important people in our lives. They teach us how to be compassionate, kind, and strong. Mothers also have a knack for teaching their sons about life before they even know what is happening!
We thought it would be fun to take a look at some of the best mother son songs. From Tim McGraw's "Humble and Kind" to Kelly Rowland's "Mommy's Little Baby," these tunes celebrate the special bond between mothers and their children. Whether you're a mom or have a mom, we hope you'll enjoy listening to these mother son songs!
Edwin McCain – Letter to My Mother
McCain sings about the love and respect he has for his mother, even as he's left to make his own way in the world. The song is full of beautiful images and reflections on life, making it a perfect choice for any occasion.
Whether you're looking for something heartfelt to play at a family gathering or just want to listen to something amazing, "Letter to My Mother" is definitely worth checking out!
---
Classic Songs About Sons
When it comes to music, there are always certain songs that strike a chord (no pun intended) with us. Whether it's because of the lyrics, the melody, or the memories associated with them, certain tracks just speak to us on a deeper level.
In this section, we'll take a look at some old school classic songs talking about sons. From heartfelt ballads to up-tempo anthems, these tunes are sure to get your feet tapping and your heartstrings tugging.
Classic Songs Talking About Sons
Dusty Springfield – Son of a Preacher Man
John Lennon – Beautiful Boy (Darling Boy)
Kenny Rogers – Handprints on the Wall
Toby Keith – Heart to Heart
Lonestar – Let them be Little
Bruce Springsteen – When You Need Me
Harry Chapin – Cats In The Cradle
Billy Joel – Lullabye (Goodnight, My Angel)
Phil Collins – You'll Be In My Heart
Reba McEntire – When You Have A Child
Conway Twitty – That's My Job
Yusuf / Cat Stevens – Father & Son
Waylon Jennings – Between Fathers And Sons
Peter Gabriel – Father, Son
If you're like most people, the first time you heard "Son of a Preacher Man" was probably when Dusty Springfield belted it out in the '60s. While that song may be an oldie but goodie, many modern tunes also have son in the title. When you think of classic artist you might think of artists like John Lennon, David Bowie, Neil Young, Billy Joel, Bon Jovi, Stevie Wonder, Neil Diamond or Sheryl Crow. We wanted to share a small list of classic songs.
Whether it's a dad singing to his son or a guy who just can't help but write songs about his kids, these tracks will make you feel all warm and fuzzy inside.
As any parent knows, sons can be a joy and a challenge. They bring happiness with their smiles and mischief with their shenanigans. But they also bring headaches with their teenage years and heartache with their breakups. Though the tribulations of raising a son can sometimes be difficult, they are also worth it – just like these classic songs about sons.
Maybe you are a mom or dad, take a few minutes to listen to these classic tunes that will bring tears to any parent's eyes as they reminisce on how much love and care they've given their child throughout his or her life. Thanks for reading!
---
Conclusion
When you're looking for the perfect song to play at your wedding, it can be hard to decide on just one. You might want something that will make your guests feel sentimental and happy; or maybe you want a more upbeat tune with some fun lyrics.
The good news is there are plenty of songs about sons out there! We created a couple different lists of great options so you don't have to go searching all over the internet anymore.
Read through our list and let us know which song is your favorite or what other songs should be on this list! What are some of your favorite wedding day songs?
---
Read More
---
---
---
Pins for Pinterest
If you like what you see, feel free to share some love on Pinterest ❤️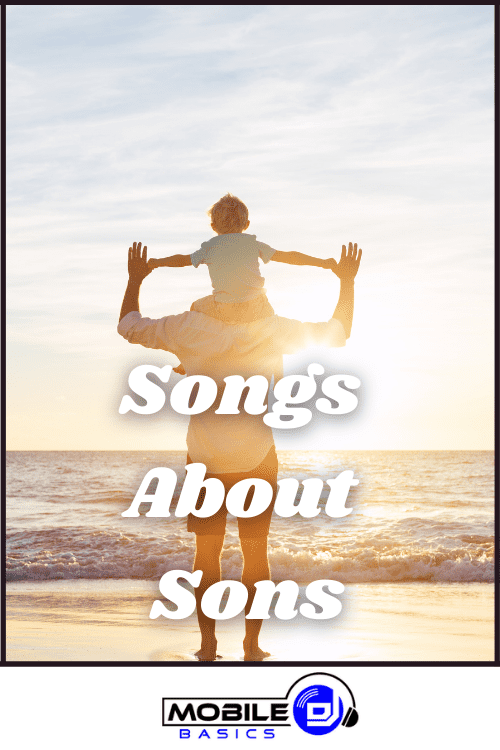 Songs About Sons 61+ | Discover These Wonderful Hits | Updated 2023
From discovering new songs to getting more gigs, I'm excited to share the wealth of knowledge I've gained through many years of DJing. [email protected]