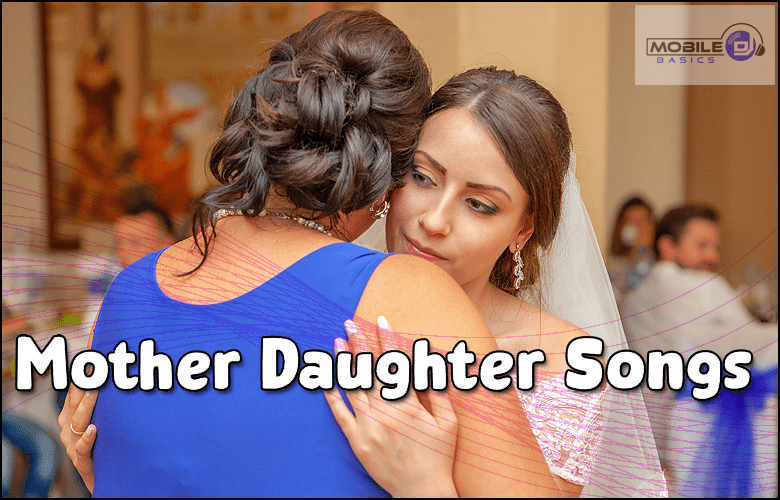 Last Updated on September 9, 2023 by Ryan Conlon | 🕒 7 min Read Time
---
Mother daughter dance songs play a pivotal role in creating unforgettable moments on the dance floor. These carefully chosen melodies—ranging from slow, touching tunes to spirited, upbeat rhythms—help forge an emotional bond between mothers and daughters, the likes of which no other setting can replicate.
If you're preparing for a special occasion such as a wedding, a Sweet 16 party, or seeking inspiration for the perfect tune to celebrate your unique bond, this blog post is your guide.
We've collated an extensive list of dance songs from beloved classics like "At Last" by Etta James to modern favorites like "Girls Just Wanna Have Fun" by Cyndi Lauper, all tailored to the mother-daughter duo.
These songs are arranged by genre for your convenience, helping you find the ideal soundtrack for any event. So without further ado, let's explore five top recommendations, each one specially handpicked to encapsulate the essence of the mother-daughter bond.
Mother Daughter Dance Songs
Choosing the perfect song for this special dance can be a tough decision, but one that should not be taken lightly.
The lyrics and melody must capture the essence of their relationship and evoke emotions that will make the moment magical.
With so many beautiful songs to choose from, it is important to pick one that means something special to both the mother and daughter.
Whether it's a classic ballad or a contemporary hit, the right mother-daughter dance song will have everyone wiping away tears and feeling all the love in the room.
Anne-Marie – Her
Anne Wilson – Mamas
Meaghan Smith – You've Got My Heart
Emma White – Mothers & Daughters
Taylor Swift – The Best Day (Taylor's Version)
Chris Lane – That's What Mamas Are For
JJ Heller – Hand To Hold
Michael Bublé – Forever Now
Nichole Nordeman – Slow Down
Kacey Musgraves – Mother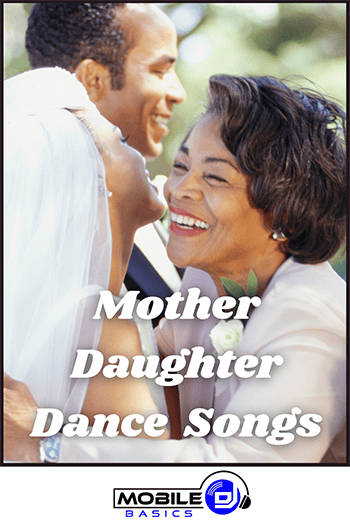 The mother daughter songs play a significant role in weddings, and they are often an emotional moment for both the mother and daughter.
Traditionally, the father daughter dance is a staple of wedding music, but in recent years, many brides have started including mother daughter wedding songs in their celebrations as well.
The mother's dream is often to see her daughter happily married, and what better way to celebrate that moment than with a beautiful mother daughter song?
There are many popular mother-daughter songs to choose from, including classic hits like "God Only Knows" by the Beach Boys and "You've Got a Friend" by Carole King.
Other well-known mother daughter wedding songs include "Mama's Song" by Carrie Underwood and "A Mother's Prayer" by Celine Dion.
Stevie Wonder's "Isn't She Lovely" is also a great choice for a mother daughter moment, with its sweet lyrics and upbeat tempo.
Anne-Marie – Her
Anne-Marie is a British singer-songwriter who has released several hit tracks in her career. One of her most notable songs is "Her," which is an emotionally charged ode to the relationship between a mother and daughter.
In the song, Anne-Marie reflects on the bond she shares with her mother and the profound impact that her mother has had on her life. They touch upon themes of love, sacrifice, and unbreakable bonds that are sure to resonate with listeners.
Additionally, the song features Anne-Marie's signature vocal style, which is both powerful and emotive.
Fans of Anne-Marie and those who appreciate heartfelt music that speaks to the human experience are sure to be moved by "Her." It is a touching tribute to the women who shape us and make us who we are.

---
New Mother Daughter Songs

Mothers and daughters share a unique bond that cannot be broken. From passing down generations of knowledge to providing an unyielding support system, the relationship between mother and daughter is effortless yet vital.
While relationships with our mothers may experience its ups and downs, especially during times of growth or while adapting to changes, nothing compares to how special these two women are in each other's lives.
And what better way for this moving relationship than through music?
Today we'll highlight some great new songs dedicated to the strong bond between mother-daughter pairs around the world; sit back, relax, and get ready to listen!
Riley Roth – When God Made You My Mother
for KING & COUNTRY – Unsung Hero
Britnee Kellogg – "Hey Mama"
Kerri Brown – A Letter To My Daughter
Tyra Juliette – My Precious Baby Girl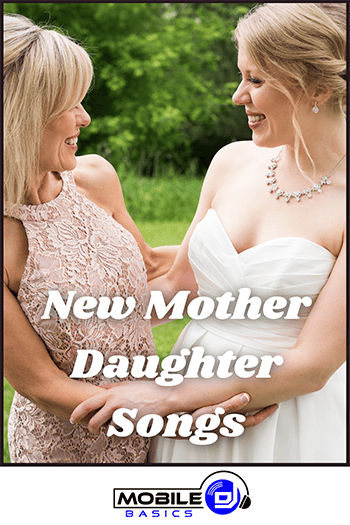 The bond between a mother and her daughter is a truly special relationship, one that deserves to be celebrated and cherished.
The celebration of this beautiful bond can be done through the creation of a memorable mother-daughter dance, which can be performed at various occasions such as weddings, quinceaneras, and other special events.
These dances are often set to happy and amazing songs that reflect the meaningful connection between the mother and daughter.
Some of these songs can include country songs for a more rustic feel, while others can be more modern and suitable for a contemporary dance performance.
The mother-daughter dance is usually performed as a follow-up to the father-daughter dance.
However, it is just as important and sentimental as the father dance, as it gives the daughter an opportunity to show her love and appreciation for her mommy.
Riley Roth – When God Made You My Mother
Riley Roth's "When God Made You My Mother" is a heartwarming song that captures the bond between a new mother and her daughter.
The lyrics are filled with love and appreciation for the sacrifices that mothers make in order to provide for their children.
The soulful melody of the song perfectly complements the emotional depth of the lyrics, making it an incredibly moving piece of music.
The song begins by expressing gratitude for the way in which mothers care for their children, highlighting the fact that they are responsible for shaping their children's lives in profound ways.
The chorus of "When God Made You My Mother" is particularly powerful, as it expresses the singer's belief that their mother was chosen by a higher power to guide and shape their life.
This sentiment is sure to resonate with many listeners, who have also experienced the profound impact that their mothers have had on their lives.
Its emotional lyrics and soulful melody make it a must-listen for anyone who appreciates the power of music to express deep emotions and connect people in meaningful ways.

---
Classic Mother Daughter Songs

Mother-daughter relationships are some of the most treasured and cherished connections a person can have in their lifetime. Bonding through shared experiences, joyful times, and even hardships is part of what makes these relationships so special.
Music has always been one way to express emotions and forge deeper bonds between loved ones — especially mothers and daughters!
This section will examine some classic tunes that could easily become the soundtrack to such an invaluable bond between two generations.
Get ready for plenty of nostalgia punctuated with beautiful lyrics as we look back at some of the best mother-daughter songs out there!
Celine Dion – Because You Loved Me
Christina Aquilera – I Turn to You
Josh Groban – You Raise Me up
The Jackson 5 – I'll Be There
Rascal Flatts – My Wish
Martina McBride – In My Daughter's Eyes
ABBA – Slipping Through My Fingers
Lee Ann Womack – I Hope You Dance
The Temptations – My Girl
Bette Midler – Wind Beneath My Wings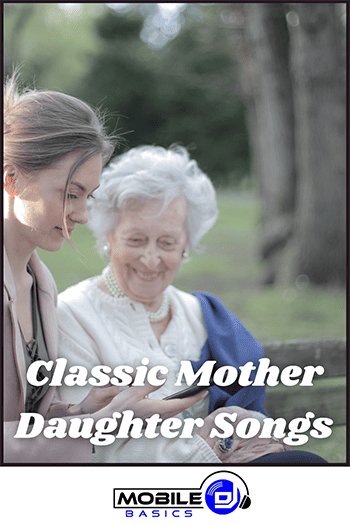 Classic mother daughter songs have always held a special place in our hearts, especially when it comes to the heartfelt mother daughter dance at weddings.
The chosen mother daughter song often sets the tone for the entire ceremony, and the right lyrics encapsulate the love, strength, and sunshine that mothers and daughters share in their lives.
Some of the most famous mother dance songs include "I'll Be There" by The Jackson 5, "Isn't She Lovely" by Stevie Wonder, "Unforgettable" by Nat King Cole and Natalie Cole, "A Song for Mama" by Boyz II Men, and "Have I Told You Lately" by Van Morrison.
These songs have become classics and continue to be popular choices at weddings and other special occasions.
Stevie Wonder's lyrics, in particular, resonated deeply with mother and daughter relationships. His classic hit "Isn't She Lovely" is a lovely song dedicated to his daughter, and it has become synonymous with the strength and bond between mothers and daughters.
Other iconic artists like Elton John, Rod Stewart, Wilco, Billy Joel, Christina Aguilera, Brett Young, Miley Cyrus, Elvis Presley, Phil Collins, and Tom Petty also wrote timeless classics that capture the love and joy surrounding the mother's role in her daughter's life.
Elvis Presley's "Can't Help Falling in Love" and Louis Armstrong's "What a Wonderful World" are other examples of songs that have become popular mother dance songs.
The joy and happiness in that moment create wonderful memories that will last a lifetime.
---
Country Mother Daughter Songs
Mothers and daughters share a special bond, one that is often difficult to describe in words. But music has a unique way of expressing the complexity of love and connection between mothers and daughters – whether it's delicate emotion or shared celebration.
Here are some touching country mother-daughter songs to capture that unique relationship in all its beauty.
From vulnerable moments between parents and children to joyous occasions, here's our favorite collection of heartfelt country songs about moms and their daughters.
Lauren Alaina – Like My Mother Does
Jamie O'Neal – Somebody's Hero
Craig Morgan – Tough
Sugarland – Mother
Carrie Underwood – Don't Forget To Remember Me
Garth Brooks – Mom
Faith Hill – You Can't Lose Me
Shenandoah – Mama Knows
The Band Perry – Mother Like Mine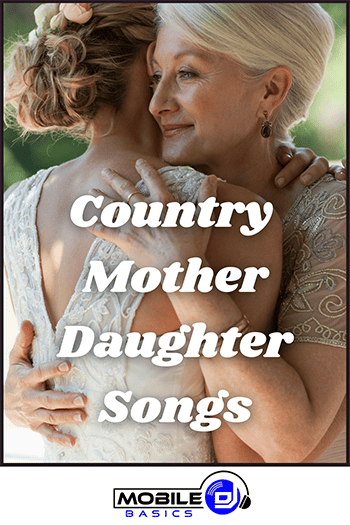 Country music has produced some of the most emotional and touching songs about the mother-daughter relationship. With lyrics that tug at the heartstrings and melodies that evoke deep emotions, these songs have won the hearts of millions of listeners worldwide.
The likes of Taylor Swift, Martina McBride, LeAnn Rimes, Carrie Underwood, Rascal Flatts, and Shania Twain have all contributed to this genre with their heartfelt and moving songs.
Taylor Swift "The Best Day" is a prime example of a touching song about a mother's love. In this beautiful track, Swift sings about the moments she shared with her mother, expressing her gratitude for being there for her through thick and thin.
Martina McBride "In My Daughter's Eyes" is another perfect example of a slow song with heart-felt lyrics that reflect the deep bond between mothers and daughters. In this song, McBride takes a moment to reflect on the different things her mother had done for her, acknowledging her mother's sacrifices and unconditional love.
Lee Ann Womack "I Hope You Dance" is a song dedicated to daughters, encouraging them to go out into the world and chase their dreams.
Meanwhile, Carrie Underwood "The Girl You Think I Am" is about a mother's insecurities as she watches her daughter grow up and face the challenges of becoming a woman.
Rascal Flatts "Bless the Broken Road" is another beautiful track that celebrates the connection between mothers and their daughters, confessing that every struggle and challenge in the past was worth it since it led them to their current situation.
Shania Twain "God Bless the Child" is a song of hope and inspiration, encouraging mothers to nurture their daughters and cherish their love.
Finally, Martina McBride "This One's for the Girls" is a fun, upbeat track that encourages young women to stay strong and affirm their self-worth.
With its deep, meaningful lyrics and soothing melodies, country music has produced some of the most memorable songs about this special bond.
These songs will remain just as relevant as ever, and will undoubtedly be played at many a daughter's wedding in the years to come.
Lauren Alaina – Like My Mother Does
Lauren Alaina is a rising country star who burst onto the music scene with her debut single "Like My Mother Does."
The track is a heartfelt tribute to the special bond between a mother and her daughter, celebrating the unconditional love, support, and guidance that only a mother can offer.
Released in 2011, "Like My Mother Does" quickly became a fan favorite and a chart-topping hit, earning Alaina critical acclaim and catapulting her to stardom.
The song's lyrics are deeply personal and reflective, detailing Alaina's own experiences with her mother and the imprint that her love has left on her life.
The music video for "Like My Mother Does" is equally touching, featuring intimate footage of Alaina and her mother interacting and sharing precious moments together.

---
Fun Mother-Daughter Dance Songs

Planning your wedding day is a moment you will likely remember for the rest of your life. From finding the perfect dress to selecting the most romantic vows, every detail matters.
One aspect that may hold particular importance for some couples is deciding on mother and daughter dance songs; something special that captures your unique bond!
Whether you're searching for an upbeat R&B tune or a more classic country ballad, picking out music does not have to be as intimidating as it sounds.
Find yourself inspired by ideas for unique songs that are sure to be remembered at your wedding!
Meghan Trainor and Kelli Trainor – Mom
Honey County – Got It From My Mama
Israa – hey mom
The Jackson 5 – I'll Be There
Boyz II Men – A Song for Mama
Queen Naija – Mama's Hand
Mac Miller – I'll Be There
Whitney Houston – Greatest Love of All
The Shirelles – Mama Said
Céline Dion – A Mother's Prayer
Queen – You're My Best Friend
Natasha Bedingfield – Unwritten
Lukas Graham – Mama Said
Spice Girls – Mama
Panic! At The Disco: Hey Look Ma, I Made It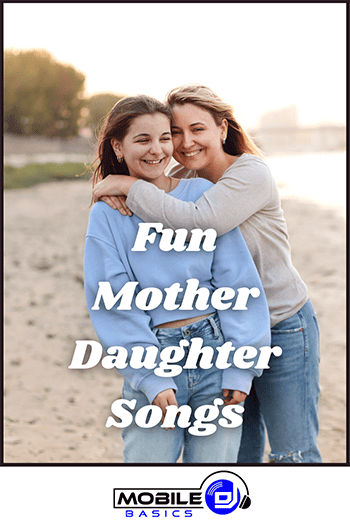 When it comes to planning a mother-daughter dance for a wedding, choosing the perfect song is crucial. From sentimental ballads to upbeat anthems, there are countless options to consider.
If you're searching for a great list of heartfelt mother daughter songs, look no further.
One of the most popular choices is Christina Aguilera's "I Turn To You," which has an emotional message of love and support.
Other great options include "Stand by Me" by Ben E. King and "My Girl" by The Temptations.
Another classic song that is often selected for mother-daughter dances is "In My Life" by The Beatles. This timeless track is a perfect example of a song that expresses the beautiful memories and sense of happiness that a mother and daughter share.
Additionally, "By Your Side" by Sade is a popular choice for those who want to emphasize the importance of support and encouragement throughout life's ups and downs.
For those who want a more upbeat song for their mother-daughter dance, "Girl on Fire" by Alicia Keys is a great option.
Mariah Carey's "Hero" is another great choice that encourages and inspires listeners to be their best selves.
Many individuals also opt for songs that have special meaning to them and their family.
Adele's "Sweetest Devotion" is a charming and heartfelt song that would be perfect for those who want to showcase a special memory or event.
Additionally, "I'll Be There" by The Jackson 5 is a classic tune that would remind everyone of a father or family member's unwavering love and support.
Whether you are a traditional or a modern bride, there is no shortage of mother-daughter hits to choose from.
From Rod Stewart's "Forever Young" to Fleetwood Mac's "Landslide," the possibilities are endless.
Above all, choose a song that reflects your relationship with your mother and the hopes you have for your future.
Meghan Trainor and Kelli Trainor – Mom
Meghan Trainor, an American singer-songwriter known for her pop and R&B-infused tracks, collaborated with her mother, Kelli Trainor, on the song "Mom".
The feel-good track is a tribute to the bond between a mother and daughter, celebrating the unconditional love and support that mothers provide.
Kelli Trainor is not only Meghan's mother but is also a talented musician, having previously worked as a piano teacher and church organist.
The two have always shared a love for music, and their collaboration on "Mom" showcases their musical chemistry and the special bond between them.
The song, released in 2016, has resonated with audiences worldwide, with its catchy chorus and relatable lyrics. It features Meghan's signature upbeat sound, with the added bonus of Kelli's beautiful harmonies on the chorus.
Its popularity amongst fans and critics alike is a testament to the incredible talent and creativity of both Meghan and Kelli Trainor.

---
Can the bride dance with her mother?
Weddings are a time to celebrate love and the joining of families. In the past, the father of the bride is the one who has the honor of sharing a dance with his daughter on her special day.
However, times are changing and many brides are opting to dance with a different parent, both parents or even a maternal figure.
After all, a wedding is about celebrating the love and bond between two people and all of the important figures in their lives.
No matter who the bride chooses to dance with, the moment will be a memorable one for all involved.
---
Significance of Mother Daughter Dance
This unforgettable dance is often incorporated into weddings, adding a sentimental touch to the occasion.
Don't miss out on this special opportunity to create a precious reminder of your unparalleled connection with your daughter, as she transitions into adulthood.
Celebrate the hard work and devotion that goes into raising a daughter with the mother-daughter dance.
---
Are there mother-daughter dances at weddings?
Weddings are joyous celebrations that bring family and friends together to celebrate the love between two people.
While many couples choose to have a first dance, it's not uncommon for them to also include special moments with their family members.
One common tradition is the mother-son dance, but what about a mother-daughter dance?
While it's not as common, some couples do choose to have a mother-daughter dance during their wedding reception.
---
Fun Mother Daughter Song Facts
For decades, songwriters have crafted lyrics of love, joy, sorrow, and gratitude for these special relationships.
Whether you are a mother or daughter looking for inspiration from wedding music, sentimental melodies or just curious about some fun facts surrounding these beloved tunes – get ready to dive into the wonderful history of Mother Daughter Songs!
1. The most popular mother daughter dance song is "My Girl" by The Temptations, with over 3 million views on Youtube.
2. The second most popular mother daughter dance song is "Butterfly Kisses" by Bob Carlisle, with over 2 million views on Youtube.

3. The third most popular mother daughter dance song is "A Song For Mama" by Boyz II Men, with over 1.5 million views on Youtube.

4. The fourth most popular mother daughter dance song is "What a Wonderful World" by Louis Armstrong, with over 1 million views on Youtube.

5. The fifth most popular mother daughter dance song is "I Hope You Dance" by Lee Ann Womack, with over 800,000 views on Youtube.
Celebrate the extraordinary bond between moms and daughters with songs dedicated to their relationship.
These songs often have a beautiful ballad-like quality, with heartfelt lyrics that speak to the tenderness and love that exists between mothers and daughters.
The lyrics are often thought-provoking, with themes such as growing up, coming of age, and the role of parents in their child's life.
Some of the most popular mother-daughter songs include classics like "I Will Always Love You" by Whitney Houston, "The Wind Beneath My Wings" by Bette Midler, and "I Hope You Dance" by Lee Ann Womack.
Many of these songs are just the way to express what daughters may feel about their mothers and how much they appreciate their love and support.
Moreover, mother-daughter songs are often included in wedding dance songs, as the perfect way to express the deep emotional connection between a bride and her mom.
These songs can also be used as a meaningful dance between moms and daughters during special events like Mother's Day.
Popular TV shows like Gilmore Girls have also used mother-daughter songs to capture the emotional bond shared between mothers and daughters.
Christina Aguilera's "Beautiful" is another great example of these songs that has touched the hearts of millions of people all over the world.
The upbeat songs further add to the celebration of this unique bond, while also sharing the tender and intimate moments that mothers and daughters share.
There is no denying that mother-daughter songs touch a special chord in the heart of anyone who listens to them.
These songs are a beautiful tribute to the unbreakable bond between a mom and her daughter, and are sure to bring a tear to anyone's eyes when they think of their own mother's eyes or dad listening to those songs with their mom.
They are an ode to the love, affection, and caring that mothers and daughters share with each other, and they remind us all of the beautiful relationship that truly exists between a mother and her child.
---
Tips for Choosing the Perfect Mother Daughter Dance Song
Choosing the perfect mother-daughter dance song can be a sentimental and meaningful moment for both of you.
Here are some tips to help you find the right song:
Reflect on your relationship: Think about the special moments, memories, and emotions you share with your mother. Consider songs that evoke those feelings and capture the essence of your bond.
Consider your personal preferences: Discuss musical genres, artists, and songs that resonate with both of you. It's important to choose a song that you both enjoy and feel a connection to.
Look for lyrics that resonate: Pay attention to the lyrics of potential songs. Choose a song with lyrics that express your love, gratitude, and appreciation towards your mother.
Match the mood: Decide whether you want a slow, romantic ballad or an upbeat and joyful song. Consider the overall mood you want to create during the dance and choose a song that aligns with that.
Keep it timeless: Opt for songs that have stood the test of time, as they tend to have a lasting impact. Classic songs often evoke nostalgia and carry a sentimental value.
Get inspiration from movies and TV shows: Look for iconic mother-daughter dance scenes in movies or TV shows. These can provide inspiration and help you discover songs that have already been beautifully paired with such moments.
Seek recommendations: Ask friends, family, or even your DJ for song suggestions. They may have insights and ideas that you haven't considered.
Remember, there's no right or wrong choice when it comes to selecting a mother-daughter dance song. It's all about selecting a song that holds significance for both of you and creates a memorable moment on this special day.
---
Conclusion
Though it may be challenging to select the right one, the emotional connection shared during this special moment is priceless.
There's no greater feeling than dancing with the woman who gave you life and this special occasion should be nothing short of spectacular.
Whether it's an old classic song, an up-tempo favorite or even a meaningful tribute piece; take the time and choose wisely to make this moment one you both can cherish forever.
Nothing is more rewarding than watching your little girl become a grown woman and expressing your bond through music and timeless melodies.
So go ahead, pick out that perfect tune and make sure the twinkle in both of your eyes stays forever frozen in time.
---
Read More
---
---
---
Pins for Pinterest
If you like what you see, feel free to share some love on Pinterest ❤️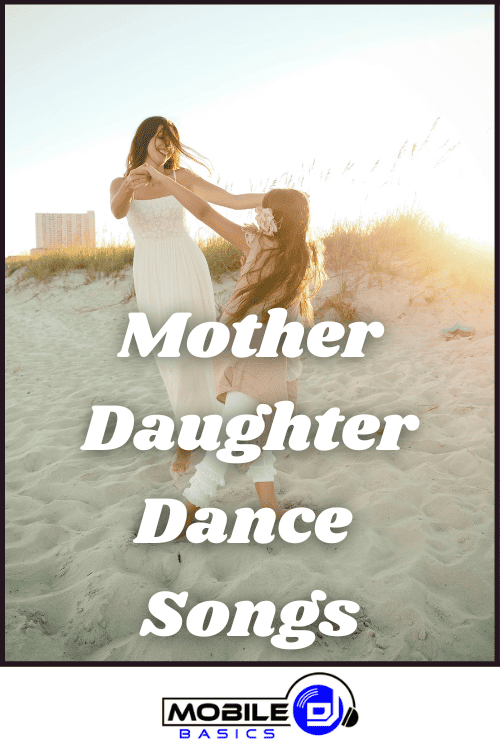 50 Mother Daughter Dance Songs | Embracing Love through Music
From discovering new songs to getting more gigs, I'm excited to share the wealth of knowledge I've gained through many years of DJing. [email protected]