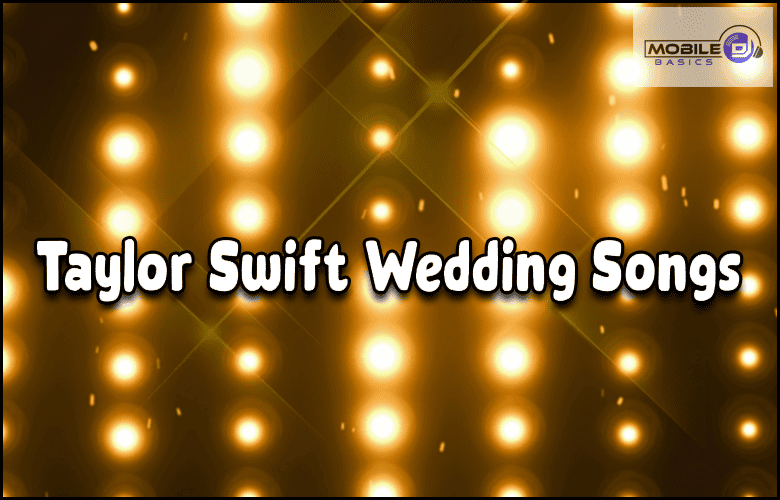 Last Updated on September 9, 2023 by Ryan Conlon | 🕒 5 min Read Time
---
Welcome to our ultimate guide to the Best Taylor Swift wedding songs! If you're a devoted Taylor Swift fan on the hunt for the perfect musical ambiance for your wedding, you've arrived at the right place.
Prepare to be captivated as we present a meticulously curated collection of wedding songs that embody the essence of Taylor Swift's extraordinary talent.
From heartfelt ballads to lively anthems, we'll explore the enchanting world of Taylor Swift's wedding-worthy tracks, ensuring your special day overflows with love, passion, and the unmistakable charm of her music.
Get ready to create memories that will last a lifetime with these truly magical tunes handpicked for your blissfully unforgettable wedding celebration.
Taylor Swift Wedding Songs
Taylor Swift's music is known for its heartfelt lyrics and captivating melodies. From love anthems to breakup songs, her music speaks to people in all stages of a relationship.
But when it comes time to celebrate your own love story, what better way than with beautiful Taylor Swift songs?
Whether you are walking down the aisle or just looking for the perfect song to add some romance to your special day, this list of romantic Taylor Swift tunes will set the mood perfectly!
Join us as we dive into her sweetest lyrics that make up some truly memorable wedding moments.
---
Brief Introduction of Taylor Swift
Taylor Swift is a household name, and for good reason. With her catchy tunes and relatable lyrics, the singer-songwriter has captured the hearts of millions around the world.
Swift got her start in the country music scene, but has since transitioned to a more pop-oriented style.
Her music has earned her numerous awards, including 10 Grammy Awards, making her one of the most decorated artists of her generation.
Beyond her music, Swift is also known for her philanthropy and advocacy work. She's been an outspoken advocate for LGBTQ+ rights, and has donated millions to various organizations and causes.
Taylor Swift is an unstoppable force – a talented, charming, and committed artist who doesn't shy away from making the world a better place. Her impact is undeniable.
---
Romantic Ballads for a Dreamy Wedding Ceremony
Imagine exchanging vows and declaring your love while Taylor Swift's soulful and sweet voice fills the air with emotion.
From classics like "Love Story" to newer hits like "Lover," her music captures the hearts of countless couples every day.
Elevate your wedding with the perfect blend of passion, tenderness, and heart by featuring Taylor's ballads in your ceremony.
Whether you're walking down the aisle or sharing your first dance as newlyweds, there's a ballad that can capture the essence of your love and make your special moments even more meaningful.
Wedding Prelude Music
Ours
LOVER (Wedding Version)
Processional Songs
Enchanted (Piano Cover)
invisible string
Recessional Music
Holy Ground (Taylor's Version)
Love Story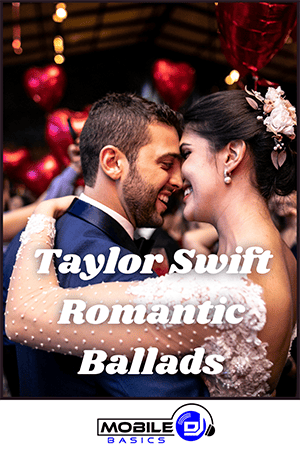 As one of the most popular and beloved wedding singers of all time, Taylor Swift's soulful and romantic ballads are the perfect way to celebrate the special bond between the bride and groom as they exchange their vows, share their first kiss, and embark on a journey of forever together surrounded by their loving family and friends.
Whether it's a fun and festive celebration full of joy, champagne, and cake or a more intimate affair marked by heartfelt gifts and cherished moments of connection, Taylor's memorable marriage-themed dance songs are sure to set the perfect tone for any wedding day.

---
Taylor's Heartwarming Love Songs for First Dance
Few moments are more enchanting than the first dance at a wedding. Eyes locked, hearts racing, and love emanating in every direction, newlyweds take to the dance floor to celebrate their new love story. Of course, choosing the right song to encapsulate this special moment can be a challenge.
Look no further than the heartwarming love songs of Taylor Swift. With heart-melting lyrics and soaring melodies, songs like "Lover," "Crazier," and "You Are in Love" make the perfect soundtrack for your first dance.
Setting the Stage for Romance
Lover (First Dance Remix)
Crazier
Enchanted
Mary's Song (Oh My My My)
This Love (Taylor's Version)
This Love (First Dance Remix) (Taylor's Version)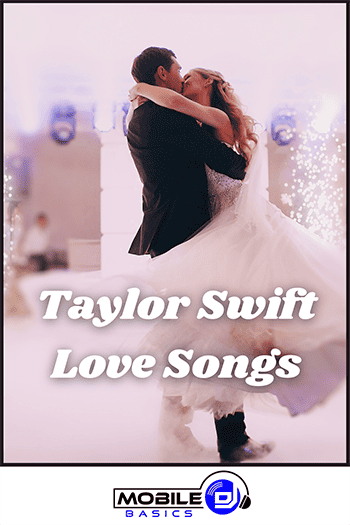 Taylor's Heartwarming Love Songs are perfect for a joyful and happy bridal party who want to get lost in the beauty of Taylor Swift's lyrics while swaying along to a mesmerizing instrumental beat at their wedding reception.
Whether it's the timeless classic "Love Story" or the upbeat "Shake It Off," Taylor's first dance songs have the power to elevate the mood of every wedding reception and turn it into a swift themed wedding, complete with swift bridesmaid dresses and a stunning wedding gown.
With Taylor's soulful voice and heartfelt lyrics, every wedding guest is sure to be enchanted with the happy couple and their beautiful first dance song.
---
Taylor's Father Daughter Dance Songs

Few moments in a father's life are as special as the father-daughter dance at a wedding.
When choosing a song for such a significant moment, the options can feel endless.
But for those who are fans of Taylor Swift and her impressive music catalog, there are several great choices for the father-daughter dance.
From "The Best Day" to "Never Grow Up" and "Today Was a Fairytale," her music eloquently captures the essence of a father's love for his daughter.
Never Grow Up
The Best Day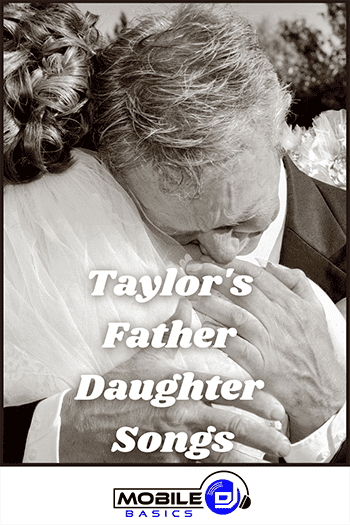 When it comes to finding the perfect Father Daughter Dance Song, Taylor Swift's country songs provide a range of options that combine tender lyrics with upbeat melodies perfect for dancing.
Something like "The Best Day" and "Never Grow Up" showcase Swift's affection for her own father and convey a message of love and appreciation that is sure to touch everyone present.
The song lyrics are beautifully crafted, capturing the essence of the relationship between a daughter and her father, while the rhythms of the music are both fun and poignant, making it easy for those who attend to express their emotions through the art of dancing.
---
Songs Perfect for a Mother Daughter Dance
Mother-daughter relationships are truly one of a kind, especially when love and music intertwine.
And when it comes to finding the perfect song for a mother-daughter dance, what could be a better source than Taylor Swift?
The talented musician has crafted some of the most heartwarming, feel-good hits that perfectly capture the powerful bond between Mothers and Daughters or Mother and Sons.
From "The Best Day" to "Never Grow Up," these songs are the ideal choice for any mother-daughter dance, evoking memories, laughter, and tears all at once.
With Taylor Swift by your side, you can be sure that your special moment will be unforgettable, just like the unstoppable bond between mothers and daughters. These songs are also great for a Mother Son Dance.
I'm Only Me When I'm With You
The Best Day
Never Grow Up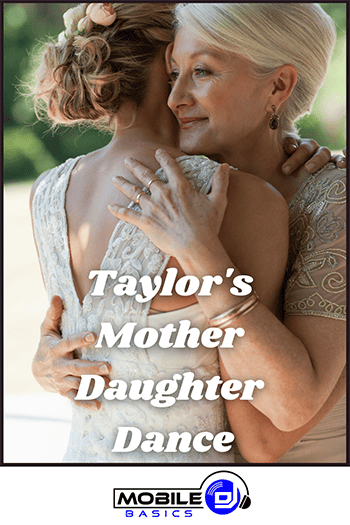 ---
Upbeat Taylor Swift Hits for Wedding Reception
Known for her catchy lyrics and upbeat melodies, Swift has captured the hearts of many with her music, making her an excellent choice for your special day.
From "Shake It Off" to "You Belong With Me," there's no shortage of upbeat hits to get your guests dancing. Whether you're a die-hard Swiftie or just appreciate her pop take on country music, these songs are sure to bring a smile to everyone's face and create memories that last a lifetime. .
Paper Rings
Shake it Off
You Belong With Me (Taylor's Version)
Love Story (Taylor's Version)
State Of Grace (Taylor's Version)
Our Song
Out Of The Woods
It's Nice To Have A Friend
ME!
gold rush
The Way I Loved You (Taylor's Version)
I'm Only Me When I'm With You
End Game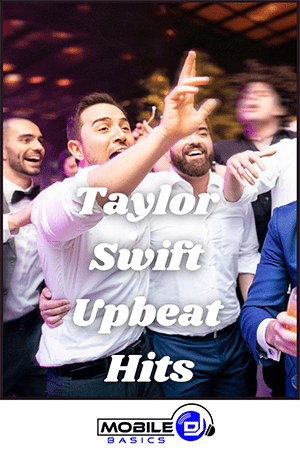 Get ready to turn up the energy on your wedding reception with a mix of upbeat Taylor Swift hits, like 'Mary's Song' and 'New Year's Day.'
From the moment the invitations are sent to the last photo on the dance-floor, these lively tunes inspired by true love and unforgettable stories will keep the lights shining, rain or shine.
With the perfect playlist, your celebration will be a true fairytale, where every guest feels like a prince or princess.
So, gather your bridesmaids, open the door to a night of festivities, and let the magic of Taylor Swift's music set the vibe for a memorable evening.
No need to panic about the wedding music; with 'Folklore' and 'Willow,' your reception will be the same – filled with joy, love, and amazing memories
---
Taylor Swift Songs for the Wedding Reception
Make your wedding day unforgettable with a reception filled with heartwarming music that celebrates your love and commitment.
Let the soundtrack of your special day speak directly to your heart and remind you of this momentous occasion.
Taylor Swift has written some of the most romantic and heartfelt songs that will make your special day even more memorable.
So why not add some Taylor Swift to your wedding reception playlist and dance the night away with your loved ones?
That's When (Taylor's Version) (From The Vault)
Sparks Fly
…Ready For It?
Blank Space
Mine
Jump Then Fall (Taylor's Version)
Fearless (Taylor's Version)
Dress
Speak Now
22
King of My Heart
Call It What You Want
How You Get the Girl
Taylor Swift's career is filled with experiences and inspiration that have fueled many romantic songs, making her music a perfect addition to any wedding reception playlist. From her album "Lover" to her single "Mary's Song,"
Swift sings about love, pain, and the beauty of shared experiences with a spouse or significant other. Her music has even been an inspiration for other artists like Ed Sheeran, who once credited her with helping him write "Lego House."
Swift's personal life has also been in the news recently, with rumors of a possible engagement to boyfriend Joe Alwyn, who has been a major influence on her latest album.
In addition to her music, Swift also shares advice and ideas through her Instagram page and newsletter, giving fans a glimpse into her life beyond the spotlight.
When it comes to choosing songs for the big day, "No One" and "Two Is Better Than One" are just a few examples of Swift's romantic tracks that are perfect for wedding events, while "Lights Out" and "Silence" set the mood for quieter moments like sidewalk chats or intimate parties.
---
Enchanting Melodies That Will Sweep You Off Your Feet
Taylor Swift is known for creating enchanting melodies that sweep her fans off their feet. With every song, she manages to captivate her audience with her unique voice and catchy lyrics.
Her music is a perfect blend of pop, country, and rock, which makes it accessible to all types of music lovers. Taylor has a way of making people feel like her music speaks directly to them, with lyrics that are relatable and personal.
Her soulful melodies and captivating storytelling have made her a household name, with fans around the world eagerly anticipating each new release.
If you want to experience the magic of Taylor Swift's enchanting melodies, just hit play on any of her countless hits and let yourself be transported to a world of beautiful music.
Begin Again
You Are in Love
Cornelia Street
Everything Has Changed
Daylight
Run
Long Live
---
Songs for Closing Your Enchanting Wedding
Taylor Swift has a knack for capturing the spectrum of emotions that come with love and loss, making her catalogue of music an ideal source of end-of-night ballads for newlyweds.
So whether you're looking to dance the night away with your partner or reflect on the joy of the day, Taylor Swift's closing songs are sure to provide the perfect soundtrack for your happily ever after.
Today Was A Fairytale (Taylor's Version)
Love Story (Disco Lines Remix)
Starlight (Taylor's Version)
Anti-Hero
Style
Wildest Dreams (R3hab Remix)
Gorgeous
Love Story (Elvira Remix) (Taylor's Version)
New Year's Day
I Think He Knows
New Romantics
Sweeter Than Fiction
Delicate
Taylor Swift's love songs have mesmerized fans worldwide, making her the undisputed queen of romantic songs, and some of Taylor Swift's love songs are among the best wedding songs that create a perfect ambiance for a romantic wedding, such as "Love Story," "Fearless," and "Mine" from her Fearless album.
If you're planning a bachelorette party, be sure to turn up the volume and sing along to her signature T Swift song, "Shake It Off," or sway to her soulful tunes, "Enchanted" or "The Way I Loved You," that perfectly capture the spirit of love with their beautiful and poetic Swift lyrics.
As the night draws to a close, play one of Taylor Swift's romantic songs like "Wildest Dreams," "Love Story," "You Are In Love," which will add an extra spark of love to the air and make the bridal couple fall in love all over again on their special day, while the bride's stunning wedding dress adds to the romantic appeal.

---
Is Wildest Dreams a good wedding song?
When it comes to selecting the perfect wedding song, there are so many options to choose from!
While some couples may opt for a classic ballad or an upbeat pop hit, others may choose to go in a completely different direction.
However, if you're considering Taylor Swift's hit song "Wildest Dreams," we would have to say that it's probably not the best choice for a wedding song. While the song is undeniably catchy and fun to sing along to, its lyrics don't quite fit the occasion.
Say you'll remember meStanding in a nice dressStaring at the sunset, babeRed lips and rosy cheeksSay you'll see me againEven if it's just pretend
"Wildest Dreams" is all about a passionate, whirlwind romance that's destined to come to an end. While the song may be perfect for a dramatic movie scene or a solo singalong in the car, we can't quite see it working as the first dance at a wedding reception.
It's always great to choose a song that has personal meaning to you and your partner, but when it comes to "Wildest Dreams," we say leave it off the wedding playlist.
---
FAQ
Q: Has Taylor Swift released any wedding songs?
A: Taylor Swift has not officially released any songs specifically marketed as wedding songs. However, she has a vast discography with songs that could be suitable for weddings, depending on personal preferences and themes.
Many of her love songs and romantic ballads have been used by couples for their wedding ceremonies and receptions
Q: What are some popular Taylor Swift songs that could be played at a wedding?
A: Here are a few popular Taylor Swift songs that are often considered for weddings:
"Love Story" – This song has a fairytale theme and is often associated with love and romance.
"You Belong with Me" – While not specifically a wedding song, its message of longing for someone's love can resonate with some couples.
"Begin Again" – This song speaks about starting fresh and finding new love, which can be fitting for weddings.
"Mine" – This upbeat song talks about a love and can be a great choice for a lively wedding reception.
"Today Was a Fairytale" – This song, featured in the movie "Valentine's Day," expresses the feeling of falling in love.
Remember, personal preferences and the overall theme of your wedding should guide your song selection.
---
Conclusion
Whether you choose her classic romantic songs or more upbeat numbers, her music always brings a smile to the faces in the crowd.
Every bride and groom deserves a unique moment at their wedding– and Taylor Swift is here to help make it happen. Her music creates an atmosphere that is both joyous and unforgettable, giving each couple a special memory they will cherish forever.
When you look back on your big day, you can count on Taylor Swift's timeless tunes creating moments that will live forever in your hearts.
---
Related Posts
---
---
---
Pins for Pinterest
If you like what you see, feel free to share some love on Pinterest ❤️
Taylor Swift Wedding Songs | From Romantic Ballads to Upbeat Hits 2023
From discovering new songs to getting more gigs, I'm excited to share the wealth of knowledge I've gained through many years of DJing. [email protected]