Who doesn't love a good dance party? They're fun-filled events intended for nothing but enjoyment. However, behind even the most laidback of parties, there's probably a dance party host grinding their teeth at last minute adjustments to put this fun-filled event into existence.
Some people haven't planned parties in a long time, or DJ's who've just booked their first gig would be the ones stressing out over the event. While it might be understandable, it is not as hard as it seems to be to make a party memorable and fun. Play the best party songs of all time and people will dance.
This is exactly why we're going to let you in on tips and tricks to planning upbeat party songs that are guaranteed to raise energy levels through the roof at your next event!
The Best Party Songs
80's Hit Songs
Def Leppard – Pour Some Sugar On Me
AC/DC – You Shook Me All Night Long
Bon Jovi – Livin' On A Prayer
Journey – Don't Stop Believin'
Cyndi Lauper – Girls Just Want To Have Fun
Outfield – Your Love
Prince – 1999
Michael Jackson – Billie Jean
Whitney Houston – I Wanna Dance with Somebody
Daryl Hall & John Oates – You Make My Dreams Come True
---
90's Hit Songs
Sir Mix-A-Lot – Baby Got Back
New Kids on the Block – Step By Step
Montell Jordan – This Is How We Do It
Nirvana – Smells Like Teen Spirit
Will Smith – Gettin' Jiggy Wit It
Spice Girls – Wannabe
Kris Kross – Jump
C+C Music Factory – Gonna Make You Sweat
Right Said Fred – I'm Too Sexy
Vanilla Ice – Ice Ice Baby
---
90's Hip Hop
DR Dre – Next Episode
Coolio – Gangsta's Paradise
Snoop Dogg – Gin & Juice
Jay Z – Hard Knock Life
Naughty By Nature – Hip Hop Hooray
Ice Cube – It Was A Good Day
The Notorious BIG – Hypnotize
Warren G – Regulate
2Pac – California Love
Wreckx-n-Effect – Rump Shaker
---
Classic Country Hits
Garth Brooks – Friends in Low Places
Billy Ray Cyrus – Achy Breaky Heart
Big & Rich – Save A Horse (Ride A Cowboy)
Rascal Flatts – Life Is A Highway
Zac Brown Band – Toes
Jason Aldean – Big Green Tractor
Alan Jackson – It's Five O'Clock Somewhere
Kenny Chesney – Summertime
Zac Brown Band – Chicken Fried
Kenny Chesney – She Thinks My Tractor's Sexy
---
Early 2000's Hit Songs
Chris Brown – Forever
Justin Timberlake – SexyBack
Rihanna – Please Don't Stop The Music
Black Eyed Peas – Let's Get It Started
Nelly – Hot In Herre
50 Cent – In Da Club
N Sync – Bye Bye Bye
Cascada – Everytime We Touch
Britney Spears – Toxic
Outkast – The Way You Move
---
2000's Club Songs
R. Kelly – Ignition
Jamie Foxx – Blame It
Lil' Jon – Get Low
Ne-Yo – Because Of You
Usher – Yeah
LMFAO – Shots
Trey Songz – Say Aah
Flo Rida – Low
Kanye West – Gold Digger
T-Pain – I'm Sprung
---
2010's Hit Songs
The Black Eyed Peas – I Gotta Feeling
Taylor Swift – Shake It Off
Miley Cyrus – Party In The U.S.A.
Justin Timberlake – Can't Stop the Feeling
DJ Khaled – All I Do is Win
Luis Fonsi – Despacito
Mark Ronson – Uptown Funk
One Direction – What Makes You Beautiful
DJ Snake, Lil Jon – Turn Down for What
Shakira – Hips Don't Lie
---
Group Dance Songs
Soulja Boy – Crank Dat (Soulja Boy)
Cupid – Cupid Shuffle
V.I.C. – Wobble
Mr. C – Cha-Cha Slide
Cali Swag District – Teach Me How To Dougie
Los Del Rio – Macarena
Rednex – Cotton Eye Joe
Marcia Griffiths – Electric Boogie
Village People – YMCA
The Chicken Dance
---
Current Country Hits
Blake Shelton – Happy Anywhere
Luke Bryan – One Margarita
Jon Pardi – Head Over Boots
Thomas Rhett – T-Shirt
Chris Lane – Big, Big Plans
Lee Brice – One Of Them Girls
HARDY – One Beer
Kane Brown – Cool Again
Jameson Rodgers – Some Girls
Luke Combs – Lovin' On You
---
Best Club Songs
UNK – Walk It Out
Lil Jon – Snap Yo Fingers
Ying Yang Twins – Salt Shaker
T-Pain – Buy U A Drank
Baby Bash – Cyclone
Yung Joc – It's Goin Down
DJ Unk – 2 Step Remix
Nelly – Air Force Ones
Terror Squad – Lean Back
Hurricane Chris – The Hand Clap
Crime Mob – Rock Yo Hips
Check Out >>> School Dance Playlist 2020 – Exclusive Songs For School Event DJs
Look At >>> Remarkable Wedding Songs That Should Absolutely Be In Your 2020 Wedding
Read More >>> How Do DJs Find New Music | Instantly Add Current Upbeat Songs 2021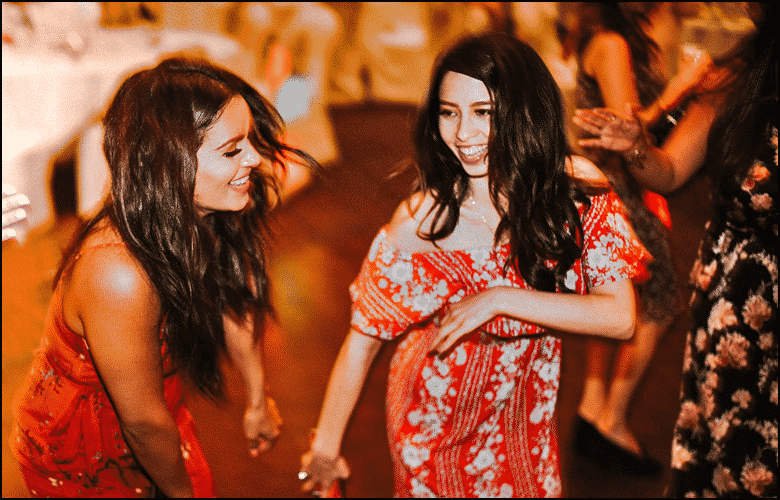 ---
Planning a Warm-Up Set:
What most expert DJ's suggest is playing a warm-up before the actual set. The actual set in this case refers to the set you've planned for when there's a significant amount of people on the dance floor.
Quite literally, a warm-up gets the crowd gathering on the dance floor and tapping their feet before you take it up a notch gradually to have them jumping up and down.
---
Reading the Room: What is The Spectrum
The Spectrum is probably one of the most interesting concepts there is in planning party songs for events. To start, let's revise the fact that not all parties are the same; we have graduation parties, house parties, wedding parties, and so forth. Every party suits a specific crowd and a specific vibe. This is where the spectrum comes into play.
If you're a party host, you probably have somewhat of a clue as to what the people in attendance would prefer their music to be like. For example; if it's more of an adult event or one with an older generation then you might want to get them tapping their feet to some old hits. Likewise, if it's a house party then you might prefer setting the pace with low to mid-level EDM in your warm-up playlist.
For example; if you're at a wedding and you start things off slow, but you notice it didn't grab anyone's attention you might want to up the beat and work your way up from there.
It is, nevertheless, crucial to understand that not all events cater to the same crowd. Graduation parties could be a suit and tie or they could be laid back, and that's just one example!
---
Should the warm-up be from the Billboard Top 100?
DJ's who have booked their first gig is probably looking for ways to get the party attendees fired upright on the get-go. However, that's not a smart move. Think about it, you play songs off of the Billboard Top 100 right as the first person walks through the door – You might have wasted some of your best songs.
However, this isn't to say you can not play anything from the Billboard Top100. Everything done in moderation is welcomed. You just need to be wary of the fact that you can't spend the entire night shuffling back and forth between the same Top Ten songs.
---
Pace Your Set
Pacing your set doesn't necessarily mean raising the volume by one with each song, nor does it imply going from smooth jazz to heavy metal. Once you're familiar with the vibe the party-goers are giving off and what they're responding to, you take it up a notch.
To go with an example; let's say it's a house party and people are gathering around. The first few people who are coming up are awkward around one another and are probably hanging around by the drinks table. What does that tell you?
For DJ's the rules are somewhat the same. You read the room and figure out the vibe. You plan whether or not the attendees will go rowdy or stay calm and then you set the pace with the music.
---
Play What's Trending: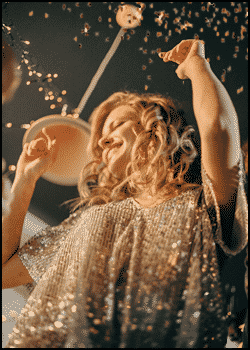 While it isn't advised to play what's trending right from the get-go, once you've set the pace and people are making their way onto the dance floor you can start playing what's trending. Again, you can start playing top 100 what's trending as your warm-up, but try keeping the top songs in your arsenal for when the party really takes off.
For example; back when Silento's song was on the charts, every party had to have to Watch Me (Whip/Nae Nae) playing. Simultaneously, everyone at the party knew they had to dance in an iconic manner when the song was playing. It was a classic example of triggering a feeling and then people reacting with what they associated with that feeling. For a party, we're aiming at channeling fun.
Always aim towards playing whatever is trending as the night goes on. Just when you feel like there is a sufficient amount of people on the dance floor, you bring out the secret weapon.
---
Remixes and Beat Drops
If you're a DJ, you're probably looking to be differentiated from a Spotify. How would you do that? By creating your own unique style. DJ-ing isn't just about playing music back and forth, it's also about pumping the crowd up. Most DJ's have actually made a career out of nothing more than remixing popular songs.
In this case, party goers love familiar songs, but they love familiar songs with a twist even more. To recall, you need to read the room and play music accordingly. For house parties, this is especially easy considering how they're just looking to get loud. As a DJ, you can channel that by playing a remix of a popular song – making it louder. Play the top 100 upbeat dance party songs.
---
Take Requests
Last, but not least: take requests. As either a party host or a DJ, you're supposed to let the party-goers decide the sort of music they're into. Understandably this could be achieved by reading the room and catching vibes, but it's sometimes pretty easy when the guests themselves request specific songs.
Is it something you anticipated? Probably not. However, is it necessary, absolutely! Again, the gist of the party might be obvious, but you can't understand what sub-sets within the party want to listen to. Perhaps the bride friends like a particular genre of music and they want that to be played during their dance party.
It's therefore perfectly reasonable to take requests, in fact, you should even specify that at the beginning of each party just to make sure people in attendance are comfortable enough to bring their choice forward.
Another great thing about taking requests is that it gives people a 'cheat code' of sorts at what sort of music the crowd is interested in listening to. If someone asks for nostalgic songs to play and more than a dozen people are vibing to the music, you pace it from there.
---
Conclusion
To make the dance party fun, there's nothing better than playing people's favorite party songs. Which again, is nothing to worry about provided you follow these tips and tricks to get the crowd off of their feet.
---
Read More
---
Pins for Pinterest
If you like what we see feel free to share some love on Pinterest <3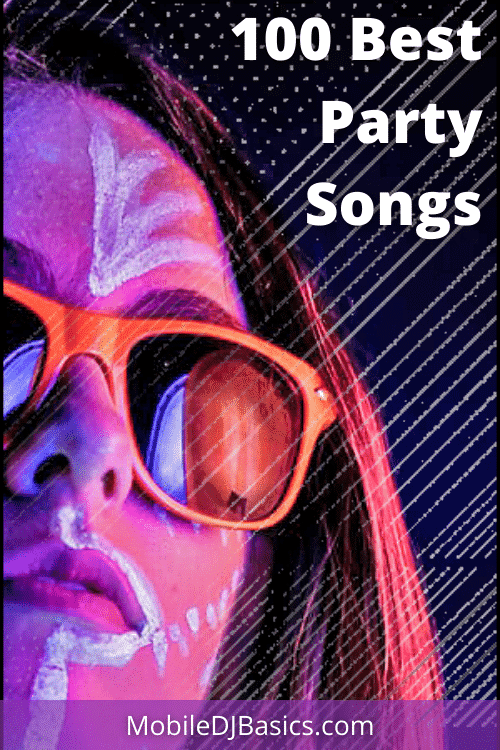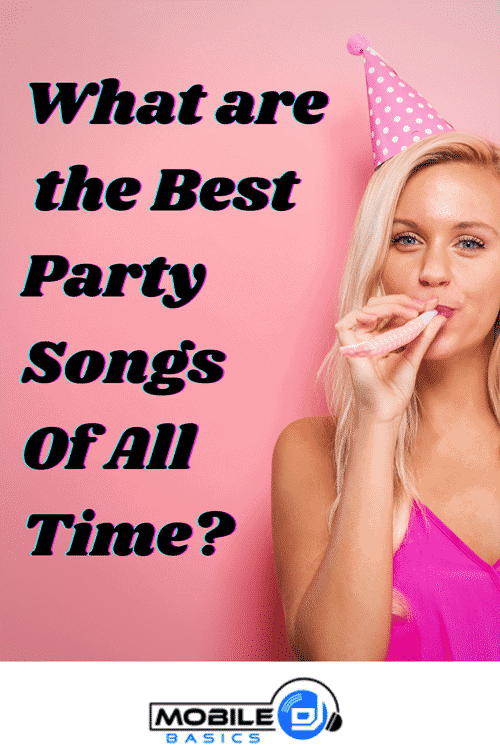 100 Upbeat Party Songs That Always Gets People Dancing – 2021