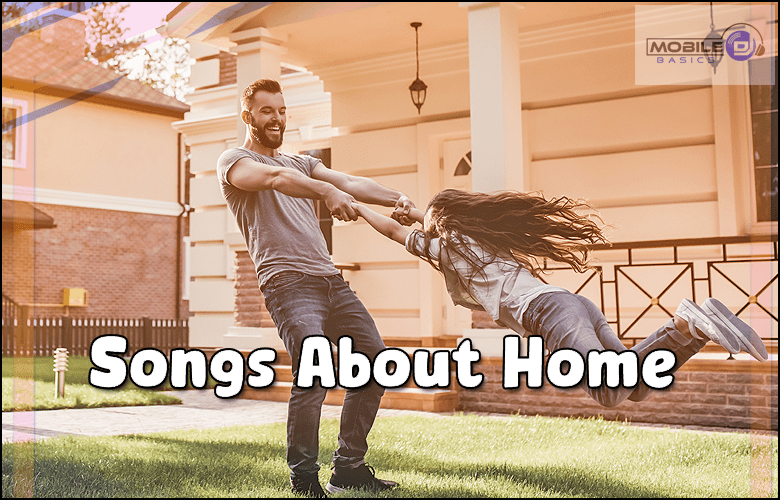 Last Updated on October 21, 2023 by Ryan Conlon | 🕒 5 min Read Time
---
What do you think of when you hear the word "home"? A place that reminds you of your childhood? Or is home something else entirely to you – maybe the place where you grew up, but now live far away from.
Home can mean different things to different people, which is why we're here – to give insight into songs about home for those out there who don't know what they should be listening to this time of year.
Best Songs About Home
Home is a place some people have in common. It's where we feel safe, loved and secure. The lyrics of songs about home can bring us back to places that make us smile and work as a reminder of the beauty and comfort of our homes.
Some songs are more literal while others use simple imagery to remind us what it feels like to be at home. What do your favorite songs about home sound like?
Music can evoke memories and feelings or help us feel connected to a place or time we've never been before.
In this article I'll be sharing with you country, pop, and rock songs about home by several artists like John Denver, Lynyrd Skynyrd, Kenny Chesney, Zac Brown Band, Florida Georgia Line, John Mellencamp and more!
Nick Jonas – Home
Phillip Phillips – Home
Chris Tomlin – Home
John Michael Montgomery – Home To You
Radical Face – Welcome Home
Mumford and Sons – Home
Phillip Phillips – Home
Alan Walker & Ruben – Heading Home
Blue October – Home
Russell Dickerson – Home Sweet
Michael Buble – Home
Scotty McCreery – Home In My Mind
Drake – Hold On, We're Going Home
Kanye West – Home
Taylor Swift – Christmas Tree Farm
Talking Heads – This Must Be The Place
Restless Road & Kane Brown – Take Me Home
Blake Shelton – That's What I Call Home
Machine Gun Kelly, X Ambassadors – Home
Songs about home are often the most sentimental. The lyrics can be quite personal, and may even trigger memories of childhood.
As you think back on your favorite songs about home, what pops into mind? For most people the first song they think of is "country roads take me home."
Do you remember where you were when you first heard them or who introduced them to you? What is it that makes these songs so special?
Edward Sharpe & The Magnetic Zeros – Home
This band is beyond happy, and it's contagious. When you listen to Edward Sharpe and The Magnetic Zeros' music, it just makes you want to dance around with your friends or loved ones for hours on end.
This is the kind of band that will make even the most introverted people feel like they are on stage performing their heart out in front of a crowd.
But what exactly does this band sound like? Well, imagine if Bob Marley had grown up listening to Radiohead records instead of reggae albums and then traveled back in time to meet Stevie Wonder on some funky mushrooms – these are the best words I can use to describe them!
---
There is nothing like the excitement of a new song on your playlist. Whether it's an old favorite, or something you've never heard before, there is always that one song that stands out and makes you want to get up and move.
Song playlists for DJs are important because they set the tone of their night; whether it be upbeat with high energy songs or slow and laid back. They can also make or break a good mix if chosen incorrectly!
Here are some ideas for creating different types of DJ playlists depending on what kind of feel you're going for:
---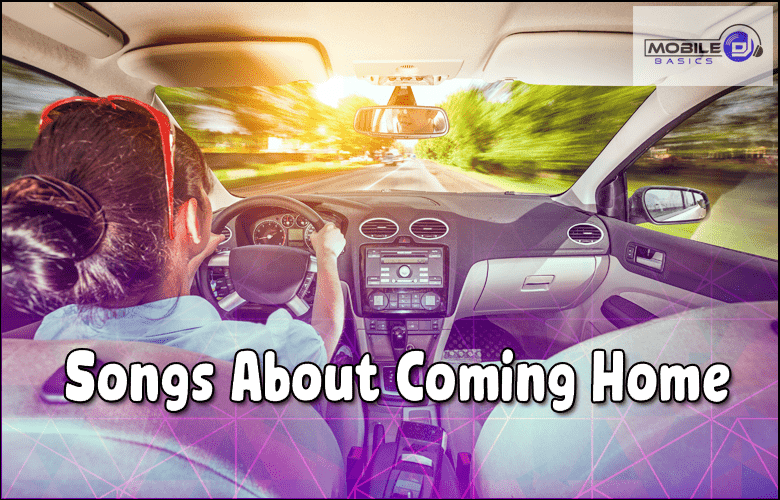 Songs About Coming Home
This is a list of songs that will make you want to come back home. Some are happy and some are sad some are just a melancholy song, but they all have one thing in common: memories of good times with family and friends.
The most important people in your life live there too, so this playlist will remind you how much you miss them even when you're away.
Skylar Grey – Coming Home, Pt. II
Ingrid Andress – More Hearts Than Mine
Daughtry – Home
John Denver – Country Roads
Diddy – Coming Home
Leon Bridges – Coming Home
MercyMe – Almost Home
Sawyer Brown – Six Days On The Road
Katie Melua – Heading Home
Bon Jovi – Who Says You Can't Go Home
Andy Grammer – Back Home
Bryan Adams – I will always return
One Republic – Come Home
The Scott Brothers – Hold On
Ronnie Milsap – She Keeps The Home Fires Burning
Everyone has a different idea of what home means. Some think that it's where they were born, some think that it's where their family is from, and some think about an idealized place in their minds.
But for many people the song speaks to the concept of home is tied to music. Listen to some of these songs next time you are homeward bound.
Skylar Grey – Coming Home
Skylar Grey is a singer-songwriter and rapper who has been on the music scene for over 10 years. In 2015, she released her debut album "Don't Look Down" which contains the beautiful song "Coming Home".
The otherwise happy song reached #1 on Billboard's Rock Songs chart as well as being nominated for a Grammy Award in 2016. The song has been use in countless soldier coming home videos on Youtube and TikTok.
---
Songs About A New Beginning
A new beginning is often a time for excitement, but it can also be scary. A new beginning can mean change in relationships, jobs, homes and many other aspects of life. The songwriter's job is to convey the emotion of the moment through their lyrics.
Daughtry – Start of Something Good
Gabrielle Aplin – Home
Ben Platt – Grow As We Go
Cole Swindell – Break Up In The End
Taylor Swift – Lover
Imagine Dragons – It's Time
Johnny Nash – I Can See Clearly Now
Tracy Chapman – New Beginning
Save Ferris – The World Is New
Avicii – Feeling Good
Taylor Swift – Begin Again
Rob Thomas – Someday
Jennifer Lopez – Feel The Light
American Authors – Best Day Of My Life
Chainsmokers & Coldplay – Something Just Like This
A new beginning can be a scary thing. It's an unknown path, and it doesn't always seem like the right decision. But sometimes we just need to take that step and see where it takes us- even if the future is uncertain.
So here are some songs that might help you find your way through this new chapter in your life.
What's your favorite song about making a new beginning? A new beginning could be about your first time in your own home instead of a temporary home.
Not every breakup song is about a new beginning. What about the one that reminds you of how much better your life is now than it was before? We want to know! Share with us what song makes you feel like everything will be OK and we'll put together a playlist for everyone.
Daughtry – Start of Something Good
Chris Daughtry's single "Start of Something Good" is a catchy, up-beat tune that will have listeners singing along to its infectious beat.
The song is the lead single off their upcoming album Baptized, which will be available for download.
---
Hometown Songs
If you've ever heard a song and thought "Hey, I know that place," or if you're one of those people who can't escape the feeling that your small town America hometown or your large city is your favorite place in the world, then this post is for you!
What's your favorite song to play at a party? It might be one of those songs that you grew up with, or one that reminds you of a special time in your life. So many personal memories. For some people, it could be their home town songs or a country anthem.
Kane Brown – Hometown
Morgan Wallen – More Than My Hometown
Lynyrd Skynyrd – Sweet Home Alabama
Bruce Springsteen – My Hometown
Montgomery Gentry – My Town
Adele – Hometown Glory
Harbor and Home – Minnesota
Granger Smith – Tailgate Town
Justin Moore – Small Town USA
John Mellencamp – Small Town
Kelsea Ballerini – half of my hometown
HARDY – HATE YOUR HOMETOWN
Eric Church – Give Me Back My Hometown
Lauren Alaina – Seen You In Your Hometown
Carrie Underwood – Thank God for Hometowns
Kyle Park – Don't Forget Where You Come From
Do you have a favorite song about your home town? What other songs do you associate with where you live? Do any of those songs remind you of the people who grew up with you, family reunion, ordinary family life or the things that happened to them when they were in school? We want to know what your favorite song is and why it's meaningful to you.
Kane Brown – Hometown
Kane Brown is a country singer from Georgia that has been making waves on the radio with his country pop style. He just released his debut album, "Closer" and it's packed with songs about his life and love stories. If you like country music, I'm sure you'll be able to find something in this record that relates to your life.
---
Songs About Leaving Home
Sometimes it's hard to leave home. Whether you are leaving for college, another city, or another country; goodbyes are never easy. Fortunately, some of our favorite musicians have written songs about moving on and starting fresh.
Many songs have been written about the experience of leaving home. Whether it is to leave for college, military service or just an extended vacation, there are many famous songs that capture this feeling. Here are some of the best known songs that talk about leaving home.
Kelly Clarkson – Breakaway
Switchfoot – This is Home
Fleetwood Mac – Go Your Own Way
Miley Cyrus – Ready, Set, Don't Go
Sidewalk Prophets – This is Not Goodbye
Halestorm – Dear Daughter
Abigail Paquin – To Say Goodbye
Adele – When We Were Young
Kelly Clarkson – Already Gone
Katie Armiger – Leaving Home
Andy Grammer – Don't Give Up On Me
Rascal Flatts – Here Comes Goodbye
Green Day – Time of your life
Kenny Chesney – There Goes My Life
Carrie Underwood – Don't Forget To Remember Me
Leaving home is a journey that everyone goes through at some point in their lives. It may be to go off to college or get married, but it's always an experience that one remembers for the rest of their life.
The songs on this list are songs about leaving home, whether they're songs about moving away from your hometown or simply moving out of your parents house. This list has many genres and artists represented so there's sure to be something for everybody here! Songs that talk about Alabama, West Virginia, green grass, country roads, the big city and new beginnings.
Kelly Clarkson – Breakaway
Kelly Clarkson's "Breakaway" is a simple song about how she felt after her first record deal. She said that the label wanted to make her into something she didn't want to be and this is what inspired this particular song. The lyrics are very personal and speak of a deep hurt, but also show a lot of hope for the future.
---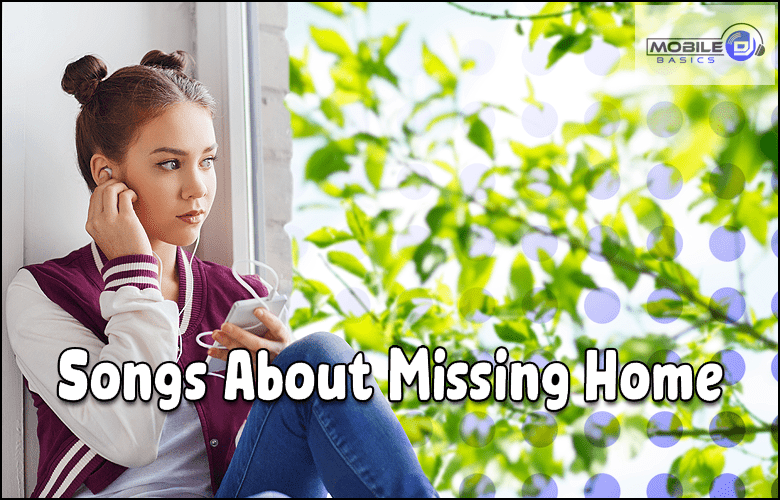 Songs About Missing Home
Do you ever get homesick? Do you know what it's like to be away from your family and friends for an extended period of time? What about when the holidays come around, do you find yourself thinking about home even more than normal?
Well I'm here to tell you that in this section we are going to show some songs that will give you that nostalgic feeling and make you feel at peace in your own skin.
Ed Sheeran – Castle On The Hill
Kane Brown – Homesick
Michael Bublé – Home
Blake Shelton – Home
Beach Boys – Sloop John B
Tom Rosenthal – Home
Dua Lipa – Homesick
Craig Morgan – Almost Home
Miranda Lambert – The House That Built Me
Kenny Chesney – I Go Back
Madison Beer – Homesick
Ed Sheeran – Photograph
Mercy Me – Homesick
Alan Jackson – Remember When
Tim McGraw – Meanwhile Back At Mama's
While many people think of home as a place, for some it's also the comfort that comes with hearing the perfect song. When you're constantly on the road and away from what you know, there are certain tracks that can make your heart feel like it's back in familiar territory.
Ed Sheeran – Castle On The Hill
"I was born and raised in a small town, where we all knew each other. I used to think that there's no place like home. What I didn't know was that this place would change so much. It doesn't feel the same as it did when I was younger." – Ed Sheeran
---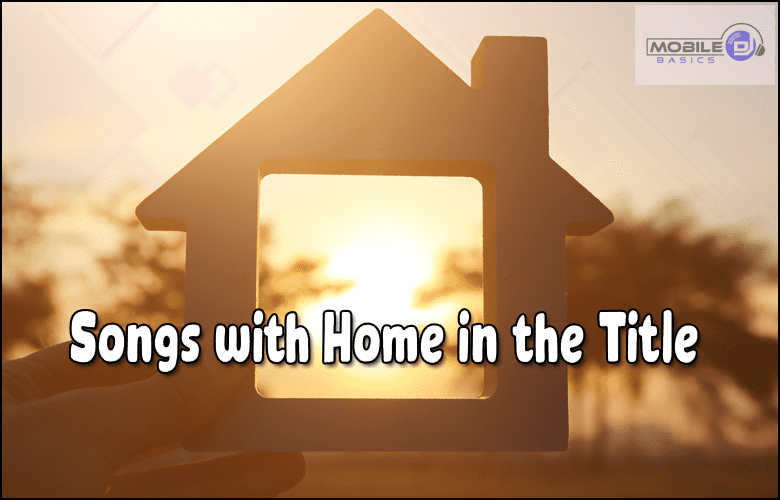 Songs With Home in the Title
A song with "home" in the title can be about any number of things. It could be a longing for home, an effort to bring someone back home or it could even simply be a love song about where your lover is from. Either way, here are some of the most popular songs throughout history that have "home" in their titles.
Phil Collins – Take Me Home
Eddie Money – Take Me Home Tonight
Passenger | Home
Chris Young – Gettin' You Home
Gaither Vocal Band – Home
The Rolling Stones – Goin' Home
Five Finger Death Punch – Far From Home
Supertramp – Take The Long Way Home
Mark Knopfler – Going Home
Bryan Lanning – This Is Home
Stephanie Mills – Home
Billy Joel – You Are My Home
Steven Curtis Chapman – Long Way Home
Maroon 5 – Won't Go Home Without You
Blind Faith – Can't Find My Way Home
Falling In Reverse – Coming Home
Tom Jones – Green Green Grass of Home
Bruce Springsteen – Long Walk Home
Motley Crue – Home Sweet Home
Foo Fighters – Home
Jason Derulo – Don't Wanna Go Home
Jack Johnson – Home
Ozzy Osbourne – Mama I'm Coming Home
Dan + Shay – Take Me Home For Christmas
Willie Nelson – Ride Me Back Home
What's your favorite song about home? Have you found any new songs that make you want to curl up in bed and reminisce on the good times, or are there some songs that make you fell out of place like a tourist in your own hometown? Maybe it's time for a road trip with the windows down.
Whether it is love of country, love of family, or just about being at peace with yourself – if home means anything to you, then I have the perfect songs about home playlists for you.
a long list of classic beautiful songs like Home Sweet Alabama by Lynyrd Skynyrd, Small Town by John Mellencamp, Country Roads by John Denver, Our House by Crosby, Stills, Nash, & Young, Mama, I'm Coming Home – by Ozzy Osbourne, Home by Michael Bublé, Take the Long Way Home by Roger Hodgson (Supertramp) – these songs bring back so many memories.
Phil Collins – Take Me Home
This song has been a favorite of DJs for years. With its upbeat tempo, it's perfect for the end of the night when everyone needs to go home and get some sleep before work or school in the morning. It's also great for getting people on their feet who are feeling sluggish.
---
Conclusion
There are few things as powerful as music. It can make us feel, it can make us cry and sometimes it's the only thing that gets you through a tough day or night with your family. The song "Home Sweet Home" is one of those songs we all know and love because they remind us what home truly means to each of us individually. What about you? Which song or country song bring back memories for you?
What is your favorite song and why? The answer to this question will vary from person to person. Some people like certain songs because they remind them of a specific time in their life, childhood home, or an important event, while others may enjoy the lyrics and message behind the music.
Songs like Home Sweet Alabama and Country Roads are more than just a song. They can remind people of an old house, small towns, playing rock band or fond memories of an old Lego house in your grandparents basement.
This article has given you some insights into the power of music. It's up to you how you want to use this information – do you want to create a soundtrack for your life? Or maybe, like me, find new meaning in songs about home that were always there all along?
---
Read More
---
---
---
Pins for Pinterest
If you like what you see, feel free to share some love on Pinterest ❤️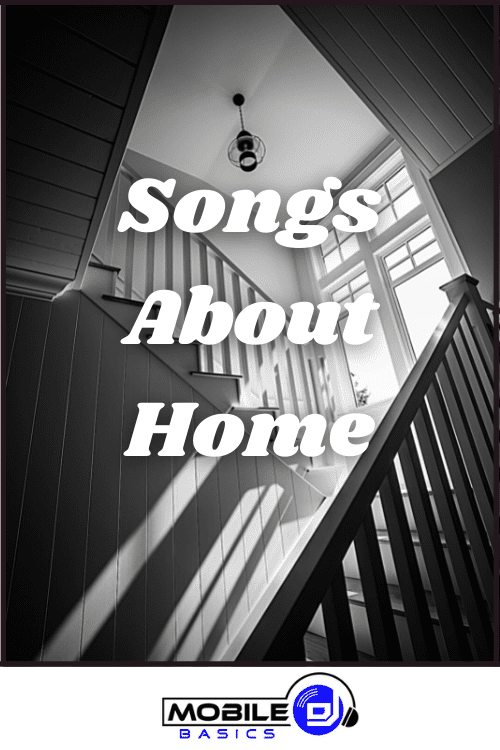 101+ Best Songs About Home | Magical Songs About Missing Home 2023
From discovering new songs to getting more gigs, I'm excited to share the wealth of knowledge I've gained through many years of DJing. [email protected]