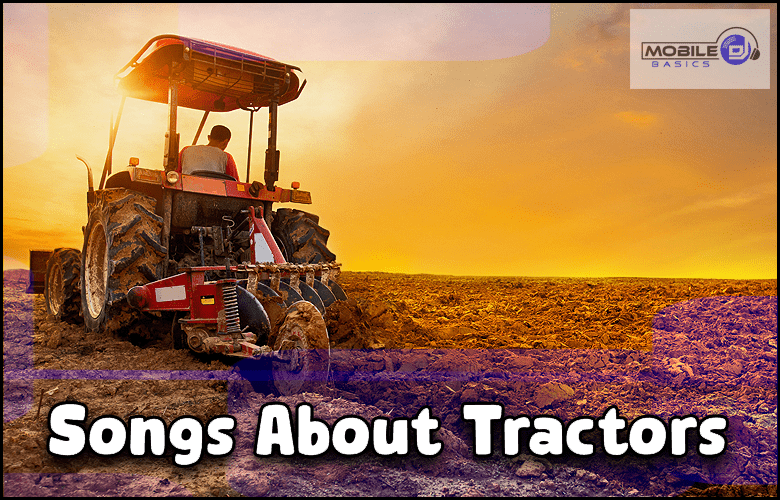 Last Updated on May 15, 2023 by
Ryan Conlon
Nothing quite captures the essence of country living quite like a song about tractors.
Whether it's the nostalgia of older generations reminiscing on growing up in rural or agricultural communities, or another way to pay tribute to hardworking American farmers, tractor songs have been part of our American culture for generations.
From tongue-in-cheek sing-a-long barnyard duets to soulful ballads celebrating the power and strength of these iconic pieces of farm equipment, many of us can relate to some aspect lyrics and music when it comes to musical stories about life on the farm.
In this article we'll take a look at some new and classic songs that celebrate both the joys and struggles associated with tractors over the years – so buckle up your seat belt, put your hat firmly upon your head and join us as we explore what makes these tunes stand out from all other tractor anthems.
Best Songs About Tractors
Tractors, the giant machines that plow the fields and reap the rewards of hardworking farmers, have inspired many artists to pen songs about them.
From country hits like "John Deere Green" by Joe Diffie and "International Harvester" by Craig Morgan to more pop-tinged tracks like "Big Green Tractor" by Jason Aldean, these songs bring comfort and a special kind of nostalgia to those who grew up in rural areas and know the vital role tractors play in the farming industry.
So the next time you see a tractor rolling through a field, just remember that it's not just a machine; it's a symbol of hard work, determination, and maybe even a little bit of romance.
Exploring the Endless Charm of Tractors
Joe Diffie – John Deere Green
Granger Smith – Tractor
Craig Morgan – International Harvester
Rodney Atkins – A Man on a Tractor
Davis Loose – John Deere Tractor Beer
Rodney Atkins – Friends With Tractors
Lonestar – John Doe On A John Deere
The Judds – John Deere Tractor
Tommy Atkins – Stuck Behind a Tractor
Kenny Chesney – She Thinks My Tractor's Sexy
Lianna Rose – I Want My Tractor Back
Craig Campbell – Tractor Songs
Zach Day – Big Red Tractor
Richie Kavanagh – A Ferguson Tractor
Richie Kavanagh – A Ride on a Tractor
Dustin Lynch – She Cranks My Tractor
Ritchie Remo or Marty Mone – Hit The Diff
Tim Hawkins – Pretty Pink Tractor
Jimmie Allen – All Tractors Ain't Green
Jason Aldean – Big Green Tractor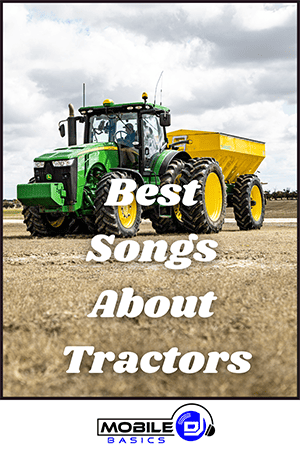 Tractors have been an indispensable part of the farming community for ages, enabling farmers to plow their fields and transport their goods with ease.
These marvels of machinery are more than just tools – they inspire a sense of pride, hard work, and rural living.
It's no wonder that tractors have found their way into the heart of music enthusiasts.
Joe Diffie – John Deere Green
Joe Diffie's country hit "John Deere Green" encapsulates the rural lifestyle through a nostalgic lens.
This country song follows a young man's love story that revolves around his John Deere tractor.
The tractor serves as the backdrop for various romantic encounters, from a first kiss to a proposal.
Diffie's smooth vocals bring the story to life, making listeners yearn for a simpler time.
"John Deere Green" is not only a love song but also a celebration of the American heartland and the hardworking individuals who keep it thriving.
---
Songs About Driving a Tractor

Few activities evoke the same feeling of nostalgic freedom as driving a tractor along an open field, with not a care on your mind.
Whether you're at home in the heartland or stuck in an urban sprawl, these songs about driving tractors will take you away to simpler times and landscapes far removed from everyday life.
Captivating Songs to Rural Life and Farming Heritage
Jason Aldean – Amarillo Sky
Kelsey Fitch – Lights Of A Combine
Lee Brice – Farmer
Colt Ford – Farm Life
Jake Rose – Tractor Town
Neil McCoy – The Last of a Dying Breed
Charlie Allen – "American Farmer
Sam Unruh – Life of a Farmer
The Henningsens – Why I Farm
Montgomery Gentry – Daddy Won't Sell the Farm
Luke Bryan – Here's To The Farmer
Joey + Rory – Farm to Fame
Robert Mizzell – The Farmer
Kris Anderson – This Old Farm
High Valley – On The Combine
Rodney Clawson – In My Blood
Murray McLauchlan – Farmer's Song
Larry Fleet – A Life Worth Living
George Strait – Heartland
Luke Bryan – Welcome To The Farm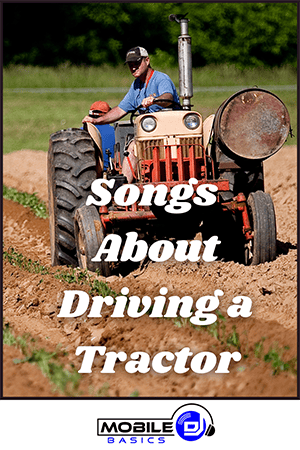 Whether you're a farmer plowing your fields or just a country music fan, there's nothing quite like cruising around on a tractor.
From classic country to modern hits, these songs will have you tapping your toes and singing along as you hit the dirt roads.
And did you know that tractors provide one of the most important jobs in agriculture? They help cultivate crops, plant seeds, and haul heavy loads.
Jason Aldean – Amarillo Sky
"Jason Aldean's Amarillo Sky is a powerful country song that paints a picturesque narrative of a farmer's life and their struggles to make ends meet while working on their land.
He dreams of the city lights, better opportunities and a higher standard of living.
However, he remains dedicated to his land, knowing that it's the only way to sustain his family.
Jason Aldean weaves a poignant narrative through his powerful lyrics and use of melody.
The song's emotional core can move anyone who has faced adversity while striving for better.
Overall, Amarillo Sky's powerful storytelling and soulful narrative make it a must-listen for anyone looking for inspiration with the ups and downs of life."
---
Songs Celebrating the Beauty of Agriculture
Today, it's all too easy to take for granted the wonders of modern-day agricultural production.
But with most of the world's people relying on farms and other forms of food cultivation for their everyday sustenance, it's worth taking a moment to reflect on just how incredibly beautiful creating something from virtually nothing can actually be.
To commemorate this fact of life, here are some songs that celebrate everything amazing about agriculture – its productive power, determination in spite of difficult conditions, and natural connection between healthful sustenance and lasting happiness!
Songs That Celebrate the Bounty of the Land
Blake Shelton – Corn
Luke Combs – When It Rains It Pours
Luke Bryan – Rain Is A Good Thing
Alabama – High Cotton
Chris Janson – Corn
Chris Cagle – I'll Grow My Own
Jeff Corle – Empty Barn
Johnny Cash – Farmer's Almanac
Craig Morgan – "Corn Star"
John Denver – Thank God I'm a Country Boy
Alabama – Song of the South
Chris LeDoux – Simple as Dirt
Shooter Jennings – Daddy's Farm
Buddy Brown – Back at the Barn
Derek Ryan – The Cows On The Hill
Chris Stapleton – Scarecrow In The Garden
Travis Tritt – Where Corn Don't Grow
Tim McGraw – Where The Green Grass Grows
Hobo Jim – The American Farmer Song
Luke Bryan – Harvest Time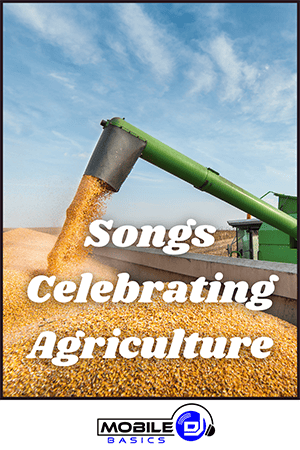 Country songs about tractors have always been a favorite among country music fans.
Transport yourself to a beautiful countryside with the official music videos of these songs that capture the struggles, toil, and triumphs of farming life.
Watch as families work together on their farms, showcasing the power of love, resilience, and hard work.
From the diesel-powered machines used for sowing and reaping to the fertile soil that provides the perfect growing environment, there are so many songs that perfectly capture the essence of country life and the important role of tractors on the farm.
Blake Shelton – Corn
Blake Shelton is a country music superstar who has amassed an impressive list of hits throughout his career.
One of his most well-known and beloved tracks is "Corn," a catchy tune that celebrates the beauty of agriculture and the joys of living in rural America.
With its upbeat tempo and lively lyrics, "Corn" has become a favorite among fans of country music, and has helped to cement Shelton's status as one of the genre's most talented and beloved performers.
Shelton's powerful vocals and infectious energy make "Corn" a must-listen for anyone who loves country music and the great outdoors.
---
The Enduring Importance of Tractors in Rural Life
Step into the heart of rural living with visions of a farmer confidently steering their tractor over wide open fields or a farmer's daughter exploring the sprawling pasture lands.
These powerful machines are not only picturesque symbols of farm life but crucial tools for farmers to cultivate their land and nourish their livestock.
With their simple design and rugged dependability, tractors can withstand even the toughest of conditions.
They are also highly versatile and can be used for a variety of tasks, from plowing fields and planting crops to hauling hay and manure.
Tractors have even found their way into popular culture, appearing in music videos and Hollywood films.
The band Van Zant, for example, released a song called "Charlene" about a woman who loves her farmer boyfriend and the life they share on the farm.
But tractors are not just a romantic image.
They are an essential part of life in rural areas, where each other's success is often dependent on the success of those around them.
Fathers pass down their knowledge of how to maintain and operate tractors to their sons and daughters. Women and girls learn to drive them just as easily as their male counterparts.
In small towns across the country, the sound of tractors at work is a common background noise.
When it comes to vehicles in general, tractors might not be at the top of most people's best albums list.
But in places like Nashville and the woods of rural America, tractors are a common theme that connect people in a unique way.
They represent a chance for farmers to build a better life for themselves and their families, and to take pride in the work they do every day.
---
What country singer has a song about a tractor?
Country music is known for its catchy melodies and relatable lyrics that touch the hearts of millions of fans around the world.
One thing that seems to be a popular theme in this genre is tractors. Some of the most iconic country songs about tractors include "International Harvester" by Craig Morgan, which has become an anthem for farmers and anyone who loves the sound of a humongous machine tilling away in the fields.
Another tractor-themed song that has become a fan favorite is "John Deere Green" by Joe Diffie.
It tells the story of a young couple who falls in love while working on their family farms and the powerful role that tractors play in their lives.
When looking for songs about tractors, one cannot ignore the classic track "Farmer's Daughter" by Rodney Atkins, which even has its own official music video.
This upbeat song describes the life of a third-generation farmer, who takes pride in working on his family farm and driving his trusty tractor.
With its catchy chorus and upbeat rhythm, the song paints a vivid picture of the joys of farming and the simple pleasures that come with living off the land.
With these songs, it's no wonder why country music continues to dominate the charts with tales of everyday life.
---
What are some popular songs that feature tractors in their lyrics?
There are countless tractor's tunes about that are perfect for singing songs while working in the fields.
Some well-known tractors songs include "Little Tractors" by Roger Reed and "The Tractor Song" by Super Simple Songs.
Even nursery rhymes like "Old MacDonald Had a Farm" feature tractors as essential tools in farm work.
Tractors songs have become an important fixture in the culture of the rural communities where they are used.
Tractors have been a source of inspiration for many country singers over the years, resulting in some timeless hits.
A few examples of popular county songs about tractors include "John Deere Green" by Joe Diffie, "International Harvester" by Craig Morgan, and "Big Green Tractor" by Jason Aldean.
---
What is the significance of tractors in country music?
Tractors aren't just machines, they are a driving force behind farming that symbolizes hard work, perseverance, and dedication.
Country music admires the rural lifestyle and highlights the significance of agriculture, which is why tractors have become iconic within its genres.
The lyrics of tractor songs touch on love, loss, and nostalgia, whilst vividly painting our beloved farm vehicles, evoking a deep and emotional reaction.
---
How have songs about tractors evolved over the years?
The first songs about tractors emerged in the 1950s and 1960s, when the agriculture industry was booming in America.
Some songs like "Back 40 Back" by Luke Combs and "Country Girl" by Caroline Jones celebrate the strength and resilience of women in agriculture, while others like "Take a Back Road" by Rodney Atkins and "Best Thing Since Backroads" by Jake Owen use tractors and trucks as a metaphor for escaping the city and embracing the rural way of life.
---
Conclusion
It's incredible how many genres, sub-genres, and musical eras have been touched by the powerful influence of tractors – from the Big Band swing of "Old MacDonald Had a Tractor" to modern country classics such as "Tractor Man."
The universal fascination with tractors has no doubt been influenced by their main purpose: farming.
Whether you're in the mood to laugh, cry or just reflect on life while sitting on your tractor, there's something out there for everyone.
With its iconic shape and unique sound, a tractor is more than just an instrument; it's a musical metaphor representing success and struggle all at once.
From the folk songs of yesterday to today's pop country ballads, there's something special embedded within our collective relationship with tractors – something that resonates through time and speaks to our shared experience of what really matters most in life.
---
Read More
---
---
---
Pins for Pinterest
If you like what you see, feel free to share some love on Pinterest <3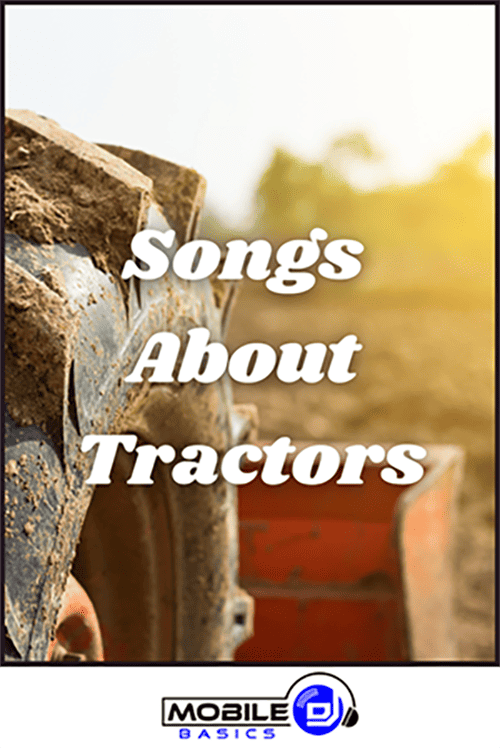 Songs About Tractors | Country Classics to Upbeat Modern Hits 2023
From discovering new songs to getting more gigs, I'm excited to share the wealth of knowledge I've gained through many years of DJing. [email protected]