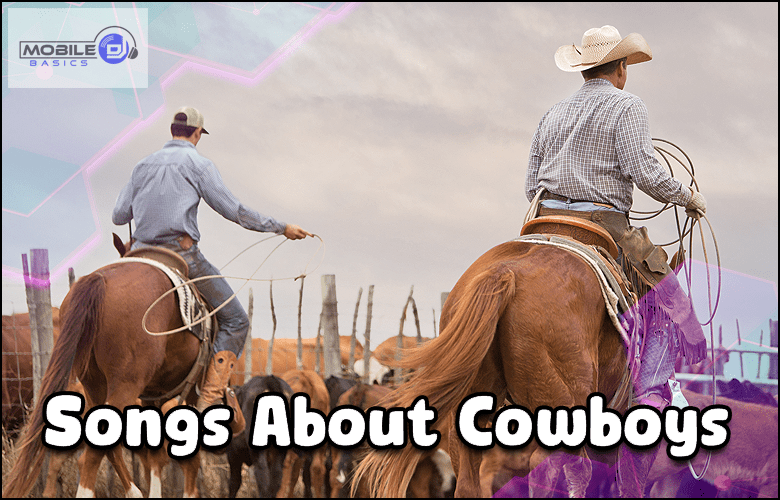 Last Updated on October 21, 2023 by Ryan Conlon | 🕒 4 min Read Time
---
When most people think of country songs, images of cowboys come to mind.
While there are many songs about cowboys that focus on their ruggedness and toughness, there are also a number of tunes that depict them in a more romantic light.
Whether they're riding off into the sunset or spending time with their loved ones, these cowboys know how to stir up some strong emotions.
Check out some of the best country songs about cowboys below!
Best Songs About Cowboys

Have you ever listened to a song and thought about the cowboy life? I know I have. There is something about the cowboy lifestyle that seems romantic and intriguing.
Maybe it's the wide open spaces or the freedom to ride a horse wherever you want.
Whatever it is, I can't get enough of songs about cowboys!
Today, I'm going to share some of my favorite tunes with you.
Country Songs About Being a Cowboy

When you think of country songs, the first thing that comes to mind is usually a cowboy. These songs explore what it means to be a cowboy, both physically and emotionally.
They reflect on the life of a cowboy, their struggles and their victories.
Listen to these songs and enjoy the ride!
Tim McGraw – The Cowboy In Me
Jason Aldean – Rock And Roll Cowboy
Willie Nelson – We Are the Cowboys
Casey Donahew – What Cowboys Do
Dustin Lynch – Cowboys And Angels
Chris LeDoux – This Cowboy's Hat
Cody Johnson & Reba McEntire – Dear Rodeo
Jon Pardi – Ain't Always The Cowboy
Jake Brooks – This Cowboy's Hat
Cody Johnson – The Only One I Know (Cowboy Life)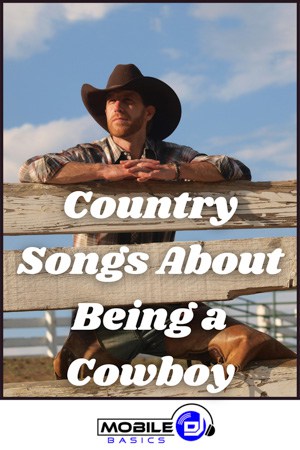 Tim McGraw – The Cowboy In Me
Tim McGraw's single "The Cowboy in Me" speaks to an appreciation for the romantic ideals that accompany the cowboy lifestyle and how it can still exists within a modern context.
As McGraw sings, there's "a little bit of Hank Miller inside each one of us."
This sense of nostalgia creates a longing in the listener to return to simpler times, when life was uncluttered and daily survival wasn't so uncertain.
Ultimately though, Tim McGraw's song reminds us that even though times have changed, being a cowboy at heart is something we can never completely shake off.

---
What are some New Cowboy Songs?

What do current cowboy songs sound like? This is a question that might have different answers for different people, but we'll take a look at some of the most popular modern country songs that could be considered "cowboy" tunes.
Whether you're a fan of traditional country music or not, there's no denying the enduring popularity of cowboy culture in America. And as long as there are cowboys out there, there will be new cowboy songs being written!
So what are some of the latest and greatest examples?
Here are our favorite New Cowboy songs:

Kelsea Ballerini – LOVE IS A COWBOY
Miranda Lambert – If I Was a Cowboy
Ben Gallaher – Still A Few Cowboys Left
Tracy Lawrence – When The Cowboy's Gone
Midland – Adios Cowboy (The Last Resort)
Matt Castillo – Cause He's A Cowboy
Maddie Carpenter – Cowboy
Cody Jinks – Hippies and Cowboys
Taylor Swift – cowboy like me
Wesley Brown – Like a Cowboy
Parker McCollum – Like A Cowboy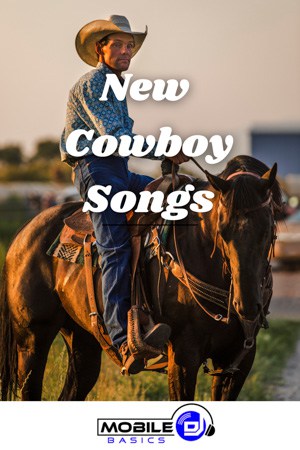 Kelsea Ballerini – LOVE IS A COWBOY
Kelsea Ballerini has some great country songs "Love Is A Cowboy" and "Space Cowboy"
Both songs are about cowboys, a theme that is familiar to Ballerini's previous music. Fans who have been waiting for new music from the singer will not be disappointed.
These two songs are sure to become hits among country fans.

---
Cowboy Love Songs

There's something undeniably romantic about the idea of a cowboy. Maybe it's the ruggedness, the horseback riding, or simply the wide open spaces.
Whatever it is, there's no denying that cowboys make great love song icons.
From classic country ballads to more modern takes on the genre, these songs are sure to touch your heart.
So enjoy this collection of the best cowboy love songs ever written!
Dustin Bird – Cowboy Stay
Clay Walker – I'd Love To Be Your Last
Hannah McFarland – Run out of Cowboy
Kacey Musgraves – Space Cowboy
Randy Houser – Like a Cowboy
Jessie James – My Cowboy
Leah Turner – Cowboy's Love
Coffey Anderson – Cowboys Like Me
Josh Ward – A Cowboy Can
Patsy Montana – I Wanna Be A Cowboy's Sweetheart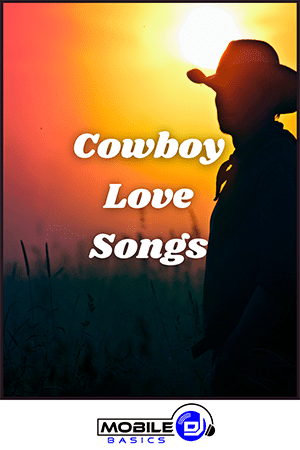 ---
Classic Songs About Cowboys

What comes to mind when you think of classic songs about cowboys? For many people, the tunes that first come to mind are old-fashioned and romanticized portrayals of life on the farm.
From Toby Keith's "Should've Been A Cowboy" to The Dixie Chick's "Cowboy Take Me Away", these tunes transport listeners to a simpler time when life was all about living in the country and roaming the open range.
These Classic Cowboy Songs are worth checking out.
The Chicks – Cowboy Take Me Away
Chris LeDoux – The Ride
Reba McEntire – I Want a Cowboy
Gene Autry – Back in the Saddle Again
The Highwaymen – The Last Cowboy Song
Waylon Jenings – Mammas, Don't Let Your Babies Grow Up to Be Cowboys
George Strait – The Cowboy Rides Away
Chris LeDoux – This Cowboy's Hat
Toby Keith – A Few More Cowboys
Glen Campbell – Rhinestone Cowboy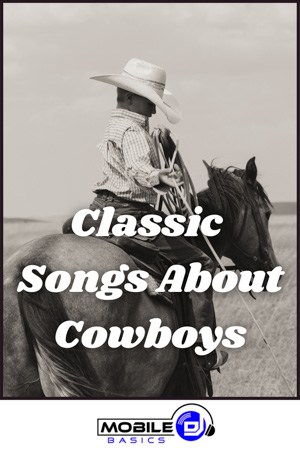 The Chicks – Cowboy Take Me Away
Did you know that one of the most popular country songs of all time is about a cowboy? The Chicks' "Cowboy Take Me Away" is a classic song about falling in love with a cowboy.
If you're looking for a romantic song to listen to, this is definitely the one for you! It's sure to make you feel like you're out on the open range, horseback riding and soaking up the sun.
---
Cowboy Party Songs
Are you planning a cowboy themed party and looking for the perfect music? Here is a list of the best cowboy party songs to get your guests up and dancing!
From country classics to modern hits, there's something for everyone on this list.
So put on your boots, hat, and jeans, and get ready to dance the night away!
John Michael Montgomery – Cowboy Love
Ronnie Dunn – Let The Cowboy Rock
Blanco Brown – The Git Up
Randy Travis – Cowboy Boogie
Carrie Underwood – Cowboy Casanova
The Bellamy Brothers – Dancin' Cowboys
Jon Pardi – Cowboy Hat
Rhett Akins – Every Cowboy's Dream
Garth Brooks – Good Ride Cowboy
Big & Rich – Save A Horse (Ride A Cowboy)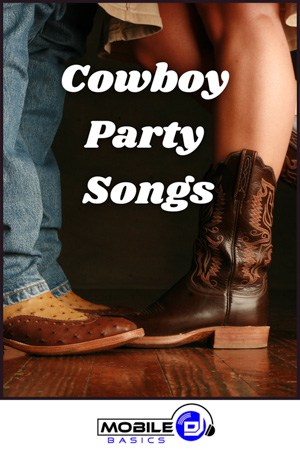 ---
Songs About Cowgirls
Music often tells stories of fearless women and the legacy of being a cowgirl is no exception.
Songs about cowgirls celebrate the grit, courage, and strength of these amazing women – whether they be on horseback herding cattle or just living out their dreams.
Here are some new and classic songs:
Midland – Cowgirl Blues
George Strait – How 'Bout Them Cowgirls
Randall King – Hey Cowgirl
Brooks & Dunn – Cowgirls Don't Cry
Heidi Pack – Cowgirl
Chad Cooke Band – Cowboy's Cowgirl
David Adam Byrnes – Keep Up With A Cowgirl
Stephen Wesley – Cowgirl
Amanda Kate Ferris – Cowgirl Kryponite
Chris Cagle – Let There Be Cowgirls
Kacey Musgraves – Dime Store Cowgirl
Vince Gill – What The Cowgirls Do
Ian Munsick & Cody Johnson – Long Live Cowgirls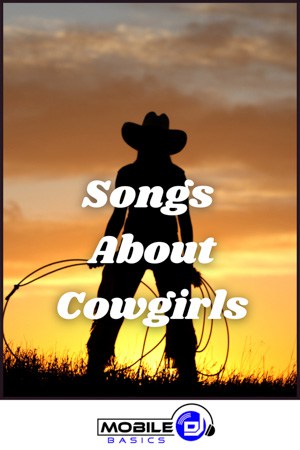 Midland – Cowgirl Blues
Midland's "Cowgirl Blues" is an infectious, upbeat ode to modern cowgirls everywhere.
Taking its place alongside popular songs about life on the ranch, it celebrates living with hard work and a positive attitude in the face of adversity.
Through clever lyrics and a catchy chorus, the song shows admiration for independent women who are unafraid to get their hands dirty and own their dreams.

---
Songs with the word Cowboy in the lyrics
There are some great songs with the word "cowboy" in the lyrics.
Whether it's about a cowboy lover or just being a cowboy, these songs will have you tapping your toes and singing along.
Check out some of my favorites below!
Kylie Morgan – I Only Date Cowboys
Oliver Tree – Cowboys Don't Cry
Sunny Cowgirls – Cowboy
Jamie Ray – MAGIC CITY COWBOY
Jamie Ray – COWBOY GANGSTA
Colter Wall – Let's All Help the Cowboys (Sing the Blues)
Kid Rock – Cowboy
Paula Cole – Where Have All the Cowboys Gone
Van Andrew – Sad Cowboys and Rock and Roll
Casey Donahew – He Ain't a Cowboy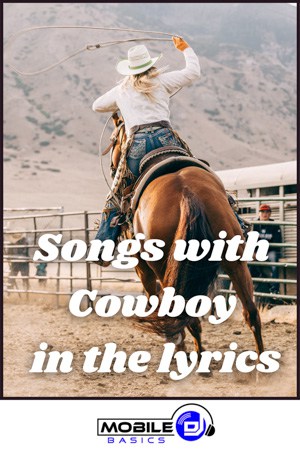 ---
What are the most timeless songs about cowboys?
What comes to mind when you think of cowboys? For most people, images of dusty trail riders on horseback come to mind. Or, maybe you think about the old west and the lonesome cowboy spending months on end out on the range.
While there are certainly many songs about cowboys that fit this description, there are also a number of timeless classics that celebrate the cowboy lifestyle in a more general sense.
In this section, we'll take a look at some of our favorite classic cowboy songs
Dolly Parton – A Cowboy's Way
Chris LeDoux – Cowboy Sings
Collin Raye – Latter Day Cowboy
Garth Brooks – The Cowboy Song
Paul Bogart – the Cowboy Way
Willie Nelson, Neil Young – Are There Any More Real Cowboys
Chris LeDoux – Stampede
Dan Seals – God Must Be A Cowboy At Heart
Garth Brooks – Rodeo and Juliet
Chris LeDoux – Whatcha Gonna Do With a Cowboy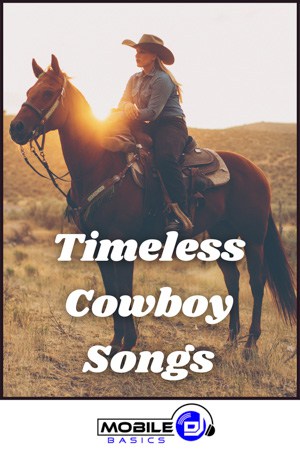 ---
Songs About Missing a Cowboy
There is something so timelessly romantic about a cowboy's love; honest, strong and always ready to ride off into the sunset. But this sort of fabled narrative doesn't always mean happy-ever afters – we're often faced with the heartbreaking reality of saying goodbye.
Whether it is due to death or the inevitable fact that no relationship would last forever, country music and male/female artistes alike have penned some truly heartfelt songs about missing a cowboy.
Autumn Brooke – Hey Cowboy
Jamey Johnson – Lead Me Home
Casey Donahew – A Cowboy's Prayer, Promise Land
Scotty McCreery – How Ya Doin' Up There
Rich Corley – Ballad of the Old Cowboy
HARDY – Give Heaven Some Hell
Darryl Worley – I Miss My Friend
Luke Bryan – Drink A Beer
Kenny Rogers – Goodbye
Jamey Johnson – The Last Cowboy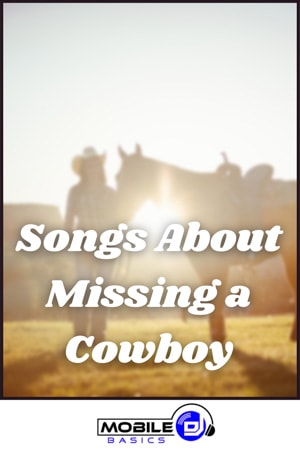 Autumn Brooke – Hey Cowboy
Autumn Brooke's heartbreaking ballad, "Hey Cowboy," is a tribute to a love that still lingers in the mind and soul, long after the cowboy has been gone. The track features haunting lyrics full of pain and longing against a tender melody that almost makes you ache.
Brooke captures the essence of loss and heartache as she reminisces on her time with her cowboy.

---
What is the stereotypical cowboy song?
When one thinks of a stereotypical cowboy song, the classic element of Americana is often immediately brought to mind.
Rich in nostalgia, the traditional country folk that typically accompany these songs are intertwined with stories of ranches, horses, and love lost.
Classic cowboy songs typically have rhythmic guitar chords that combine with hauntingly melodic vocals creating an unmistakable feel of the Wild West or life on a farm.
The recognizable repetitive melodies are usually joined by nostalgic versus that take us on a journey through imagery of rugged mountainsides and rolling desert plains.
Sure to bring a tear to the eye or perhaps cause your toes to tap along; the typical sounds associated with cowboy music will surely never go out of style.
So close your eyes, stop for a moment, and let yourself take a ride through the Wild West in all its glory as you reminisce on this iconic genre's timeless melodies.
---
What songs do they play at the rodeo?
As a DJ, one of the first things I'll always notice is the musical selection.
Of course, at any major rodeo event there's going to be country music blaring from the speakers–an anthem for those who love to ride horses and bulls. But what really catches my ear are the subtle variations from event to event.
For example, at some venues you can hear modern pop songs playing during barrel racing events or classic rock between bull rides.
Classic western tunes will always be on heavy rotation as well; not only do they provide entertainment for fans, but they pay tribute to the sport's cowboy roots.
All in all, it's a colorful soundtrack that captures the spirit of the show and keeps spectators entertained before, during and after each performance.
As far as I'm concerned, there's no better way to enjoy a good ol' American rodeo!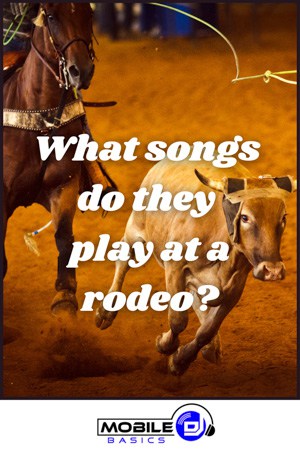 ---
Conclusion
If you're looking for a list of songs about cowboys, look no further! This blog post has a great selection of tunes to help you get in touch with your inner cowboy (or cowgirl).
So saddle up and ride off into the sunset with one of these great songs about cowboys.
---
Read More
---
---
---
Pins for Pinterest
If you like what you see, feel free to share some love on Pinterest ❤️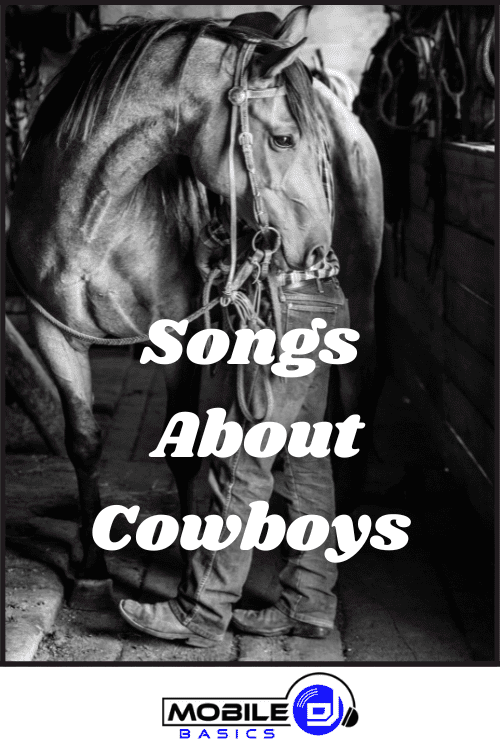 Best Songs About Cowboys | Discover New and Classic Hits 2023
From discovering new songs to getting more gigs, I'm excited to share the wealth of knowledge I've gained through many years of DJing. [email protected]