Last Updated on October 21, 2023 by Ryan Conlon | 🕒 6 min Read Time
---
It's not often that you hear a song about a farmer, but there are actually quite a few songs out there that pay tribute to the hardworking men and women who grow our food.
Whether they are singing about the joys of farming or lamenting the struggles of rural life, these songs offer a unique perspective on one of the most important jobs in our world.
Best Songs About Farmers
Farmers play an important role in our society, and often go unnoticed. They work hard make a living and to produce the food that we eat every day. That's why it's important to celebrate them with songs about farmers!
These tunes will make you appreciate everything that these dedicated individuals do for us.
So sit back, relax, and enjoy some music about farming!
What is a Popular Song about Farmers?
What do you think of when you hear the words 'popular song'? For many people, the first thing that comes to mind is a catchy tune with upbeat lyrics that tells the story.
Songs from artists like Tim McGraw, Garth Brooks, High Valley, LANCO, Brothers Osborne, and others. But it's unlikely that farmers are the subject matter of most popular songs.
Lee Brice – Farmer
Tim McGraw – Down On The Farm
Luke Bryan – Welcome To The Farm
Chris Cagle – I'll Grow My Own
Luke Bryan – Here's To The Farmer
Kelsey Fitch – Lights Of A Combine
Jason Aldean – Amarillo Sky
High Valley – Farm Girl
Derek Ryan – Thank God For The Farmers
Alabama – High Cotton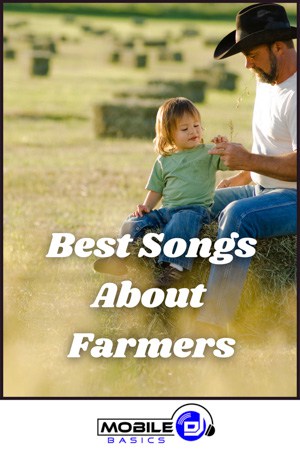 What comes to mind when you think of a popular song about farming?
Some may think of many country songs with lyrics about hay bales and fields, while others may think of folk songs with lyrics about plowing and seed planting.
Regardless of what genre the song falls into, there is no doubt that popular music has a long history of celebrating rural life and the people who make their living from the land.
Lee Brice – Farmer
While the song may not be as explicit in its lyrics about agriculture as other songs about farming, it is still a tribute to those who work hard to provide food for others.
The chorus of the song says it all:
Steady as a fence post
Shoot you straighter than a corn row
The world needs 'em, God knows
That's why he made the farmer
This song is a great reminder of the important role that farmers play in our society.
Thanks, Lee Brice, for giving us this tribute to farmers!

---
New Songs about Farming and Farmers
There's something about farming and farmers that makes for great music.
Maybe it's the hard work, the dedication, or the peace of being in nature.
Whatever it is, musicians have been writing songs about farming and farmers for centuries.
Here are some of our favorite new songs about life on the farm:
Sam Unruh – Life of a Farmer
Jeff Corle – Empty Barn
Blake Shelton – Corn
Chris Janson – Who's Your Farmer
Robert Mizzell – The Farmer
Jake Brooks – Farmer's Song
Holly Spears – Farm Girl
Chris Stapleton – Scarecrow In The Garden
Derek Ryan – The Cows On The Hill
Chris Stapleton – Scarecrow In The Garden
Mason Brown and the Shiners – American Farmer
Dallas Davidson – God Made A Farmer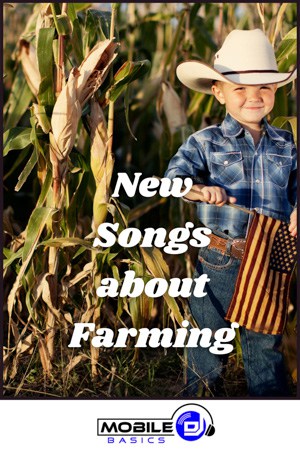 I think there are a few reasons for this resurgence of interest in farming.
First, agriculture is a part of our history and our heritage. For centuries, farmers have been the backbone of our society. They provide us with the food we eat and the fiber we wear. They are essential to our way of life.
Second, farms are beautiful places. There is something special about seeing acres of bright green crops waving in the wind or hearing the chatter of farm animals as they go about their day.
Finally, farms represent a simpler time – a time when people worked hard but also took time to enjoy life's simple pleasures. I think many of us long for those days gone by, when life was more simple and people were more connected to their communities and their surroundings.
I hope you will take some time to explore some of the great music being written about farming.
Sam Unruh – Life of a Farmer
Have you ever wondered what a farmer's life is like? Wonder no more, because Sam Unruh has written songs about it!
From raising livestock to tilling the earth, these songs will give you a glimpse into the life of a modern-day farmer.

---
Songs About the FFA (Future Farmers of America)
If you're a fan of country music, you've probably heard a few songs about the FFA. These patriotic tunes celebrate the hard work and dedication of America's farmers.
Whether they're singing about life on the farm or the annual convention, these artists have captured the spirit of FFA in their lyrics.
So put on your cowboy boots and Blue Jackets and join us as we take a look at some of the best songs about the FFA!
Sam L. Smith – Blue Jackets
Tenille Townes – In My Blood
Steve Azar – American Farmer
Brian Lumley – Member of the FFA
Josh Abbot Band – FFA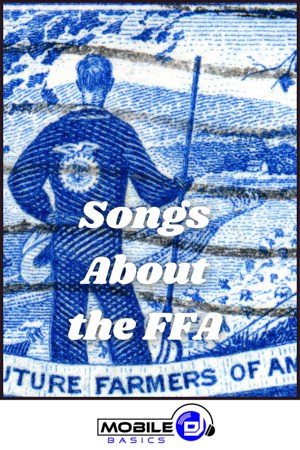 FFA is a great way to get started in the agriculture industry. It provides opportunities for young people to develop their skills and knowledge in an agricultural career.
Through FFA, students can learn about production agriculture, business and livestock management, marketing, finance, food science and more.
FFA members also have the opportunity to compete in contests and exhibitions, attend leadership conferences and meet other people with similar interests.
Membership in FFA is open to high school students who are interested in agriculture or want to pursue a career in agriculture.

---
Classic Songs About Farmers

There are few things more quintessentially American than farming. From the early days of our country, farmers have been an integral part of our society and culture.
And while the tractor has replaced the horse and plow in many cases, farming is still a vital industry in America.
In honor of all the hardworking men and women who farm our land, today we're taking a look at some classic songs about farm life from years ago.
Whether you're a farmer yourself or just appreciate everything they do for us, these songs will have you singing along in no time!
Timeless Farming Songs
Craig Morgan – International Harvester
George Strait – Heartland
Lonestar – John Doe On A John Deere
Murray Mclauchlan – Farmer's Song
Rodney Atkins – Farmer's Daughter
Trace Adkins – Brown Chicken Brown Cow
Chris LeDoux – Simple as Dirt
Alabama – Song of the South
John Denver – Thank God I'm a Country Boy
Fiddlin' John Carson – The Farmer Is The Man That Feeds Them All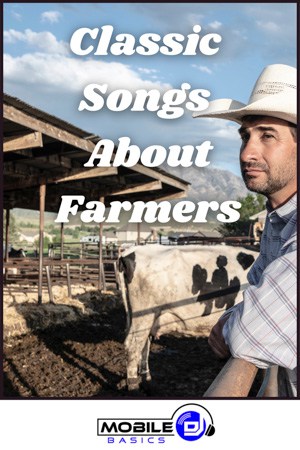 Is there anything more American than a farmer? The iconic image of a man or woman out in the fields, tilling the earth and growing our food is one that has been around for centuries.
And while farming may have changed a lot over the years, the songs about farmers remain classics.
Craig Morgan – International Harvester
Many of today's country music fans might not know that Craig Morgan has a song about farmers. "International Harvester" is a classic song about the hard work and dedication that farmers put in every day to provide for their families.
This song is a tribute to all the farmers out there who work tirelessly to make ends meet.
Thanks, Craig Morgan, for reminding us just how important they are!
Lyrics
Cause I'm a son of a 3rd generation farmer
I've been married 10 years to a farmer's daughter
I got 2 boys in the county 4-H
I'm a lifetime sponsor of the F.F.A.
Hay! That's what I make
I make a lotta hay for a little pay

---
Songs with Farm in the Title
Whether it is a song about working on a farm, haystacks, scarecrows, farm life in general or just something with the word 'farm' in the title – there are quite a few songs that have been released over the years that focus on all things agriculture.
Here are some of our favorites!
Shooter Jennings – Daddy's Farm
Jason Meadows – Farm Girl
Lee Matthews – The Farmer Wants A Wife
David Nail – Grandpa's Farm
Jeff Corle – When I Sell the Farm
Colt Ford – Farm Life
Joey + Rory – Farm to Fame
Guns N' Roses – Down on the Farm
How Farms Work – Daddy Won't Sell The Farm
Bob Dylan – Maggie's Farm
Paul McCartney & Wings – Junior's Farm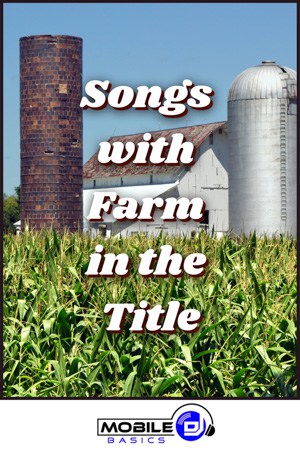 ---
What are the songs associated with agriculture?
Everywhere you look, there are songs about agriculture. While some of these tunes may be older than others, they all reflect the importance of farming in our society.
Whether it's a song about harvesting wheat or one that pays tribute to the hardworking farmers themselves, these tracks offer a unique look at this integral part of our lives.
Check out some of the most popular agricultural songs and see for yourself what makes them so special!
Tim McGraw – Where The Green Grass Grows
Luke Bryan – Rain Is A Good Thing
Marty Stuart – Farmer's Blues
John Mellencamp – Rain On The Scarecrow
Craig Morgan – "Corn Star"
Don Henley – Praying for Rain
Montgomery Gentry – Daddy Won't Sell the Farm
High Valley – On The Combine
Travis Tritt – Where Corn Don't Grow
Chris Janson – Corn
Hobo Jim – The American Farmer Song
Luke Bryan – Harvest Time
Alison Krauss & Union Station – The Boy Who Wouldn't Hoe Corn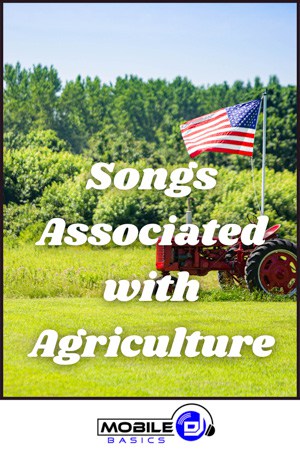 Songs about agriculture are often quite cheerful and upbeat. They talk about the beauty of planting crops, the hard work that goes into harvesting them, and the satisfaction of eating fresh food.
These songs remind us of the important role that agriculture plays in our lives, both as a source of livelihood and as a way to connect with nature.
Tim McGraw – Where The Green Grass Grows
It's hard to think of a more American song than Where The Green Grass Grows by Tim McGraw. The song quickly became an iconic representation of rural life and agriculture.
There's just something about the melody and lyrics that capture the spirit of farming life and country living. We love this song, and it always puts us in a good mood! We hope you enjoy it too.
Lyrics
I'm gonna live where the green grass grows
Watch my corn pop up in rows
Every night be tucked in close to you
Raise our kids where the good Lord's blessed
Point our rockin' chairs towards the West
And plant our dreams where the peaceful river flows
Where the green grass grows

---
Songs About Tractors
There's something about tractors that just captures the hearts of farmers and tractor enthusiasts alike. Maybe it's their big, burly build or the comforting rumble of their engines.
Whatever it is, there's no shortage of songs about tractors.
Here are our favorites:
Jason Aldean – Big Green Tractor
Joe Diffie – John Deere Green
Kenny Chesney – She Thinks My Tractor's Sexy
Davis Loose – John Deere Tractor Beer
Granger Smith – Tractor
Zach Day – Big Red Tractor
Lianna Rose – I Want My Tractor Back
Dustin Lynch – She Cranks My Tractor
Tim Hawkins – Pretty Pink Tractor
Jimmie Allen – All Tractors Ain't Green
Rodney Atkins – Friends With Tractors
Rodney Atkins- A Man On A Tractor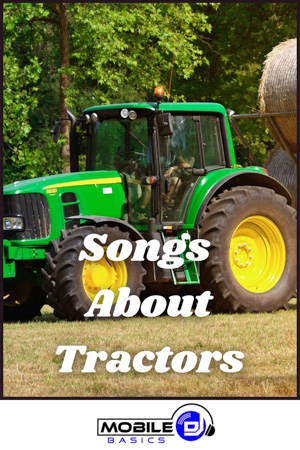 When you think of tractors, what pops into your head? The sound of the engine, the smell of diesel fuel, or maybe the sight of a giant machine working in a field?
For farmers and tractor enthusiasts alike, these machines are more than just equipment—they're sources of livelihood and passion.
Jason Aldean – Big Green Tractor
Jason Aldean's hit country song "Big Green Tractor" has prominent implications for songs about farmers.
This romanticized, easy-going soft rock track is a powerful reminder of the hard-working spirit of a farmer's life and the mechanical use that helps them get the job done every day.
Jason Aldean skillfully crafts lyrics around the imagery of his tractor as patient, faithful companion something to be loved and taken pride in – extending out to songs about farmers altogether.
Through this widely successful and popular songs, Jason Aldean pays tribute to those who work the land and gives recognition to farmers.
Kenny Chesney – She Thinks My Tractor's Sexy
From songs about farmers plowing the fields at dusk to songs about sexy tractors, Kenny Chesney's "She Thinks My Tractor's Sexy" is one of our favorites.
The song is a great homage to a rural lifestyle and speaks to the power of how something seemingly simple – getting behind the wheel of an old tractor – can sometimes bring us so much joy.
The lyrics are fun and catchy, and definitely worth a listen if you're in need of some uplifting upbeat country music.
---
What are the most well-known songs about farmers?
When it comes to songs about farmers, some of the most popular and well-known tunes include songs such as "The Farmer in the Dell" and "Old McDonald Had a Farm."
These songs have been around for generations – from grandparent to parent to kid – not only due to their catchy melodies, but because they tell stories of a different era.
While times have changed significantly since the first songs were written about farming life, these songs have endured, holding a special place in people's hearts.
---
Sentimental Songs about Farmers?
What do country songs about farmers have in common? They're all sentimental ballads that make you feel something.
Whether it's the nostalgia of remembering a past farm life, or the appreciation for all the work modern farmers do to put food on our tables, and make a living, these songs never fail to tug at our heartstrings.
So, if you're looking for a song that pays tribute to America's farmers, then you should definitely check out these tracks!
Paul Harvey – So God Made A Farmer
James Wesley – Thank a Farmer
The Henningsens – Why I Farm
Kris Anderson – This Old Farm
Rodney Clawson – In My Blood
Sawyer Brown – Cafe On The Corner
Brett Giddens – God Bless the Farmer
Neal McCoy – The Last of a Dying Breed
The Judds – John Deere Tractor
Kyle Park – Don't Forget Where You Come From
Larry Fleet – A Life Worth Living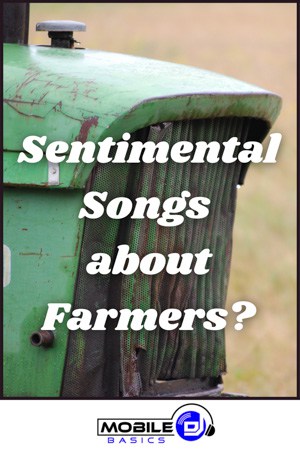 Did you know that there are numerous songs out there that pay tribute to farmers and farm life? While the lyrics may be sentimental, they nevertheless paint a beautiful picture of the hardworking men and women who work hard day and night.
Paul Harvey – So God Made A Farmer
You've probably heard the song "So God Made a Farmer" by Paul Harvey.
It's a beautiful tribute to farmers, and it's one of my favorite songs. I love the way it celebrates the hard work and dedication that goes into farming.
And I think it's amazing that Paul Harvey was able to capture the spirit of farming in such a moving way.
---
What are some songs that mention farmers?
Many songs have been written about farmers throughout history, and these songs vary in style and genre.
One of the most notable songs about farmers is "Farmer's Song" by Bob Dylan. This folk tune gives a poetic homage to the lives of farmers, portraying them as hard-working individuals with strong connections to the land.
Additionally, songs like "Farm Girl" by Holly Spears and "Take Me Home, Country Roads" by John Denver also mention farmers in their lyrics, showcasing how integral they are to rural culture.
With each special song dedicated to our farming friends, we can celebrate their contribution to society and recognize their way of life.
---
Why Does Farming Inspire So Many Songs?
Farming has always been a cornerstone of society and songs about farmers are a reflection of how important these hardworking folks are to us all.
Thanks to these songs, we can better understand the struggles and triumphs that come with living a rural lifestyle.
For some, songs about farmers pay homage to the people who grow our food and often risk so much in exchange for an honest, hard-earned livelihood.
For others, these songs provide poetic insight into what it means to be part of nature itself, existing as one with Mother Nature.
Either way, songs that touch on farming inspire deep respect and admiration because they allow us to understand our connection with the land and appreciate it in profound ways.
---
Will Farming Songs Continue to be Popular in the Future?
Music has always been celebrated in culture and songs about farming are no exception.
From songs telling tales of hardworking individuals to songs helping to boost morale, farmer songs can be found throughout the different eras of music.
With current music reflecting the needs of today's generation, an interesting concept to consider would be how songs talking about farmers and their livelihood will continue to resonate with this audience in the future.
Along with labor, songs celebrating nature and rural life could provide a much needed break from the more fast-paced life popular songs currently describe.
Songs that go beyond the everyday experiences help provide unique perspectives and act as a reflection of various aspects of society that should continue to be explored, especially when it comes to songs about farming.
---
Conclusion
There are many new and classic songs that have been written about farming.
Some of these songs date back to the early 1900s, while others are more recent.
No matter when they were written, these songs all capture the heart and soul of what it means to be a farmer. They tell stories of hard work, dedication, and love for the land.
If you're looking for some good tunes to listen to while you work on your farm, or just want to hear some great stories about farming, check out these classic songs about agriculture.
We hope you enjoy them as much as we do!
---
Read More
---
---
---
Pins for Pinterest
If you like what you see, feel free to share some love on Pinterest ❤️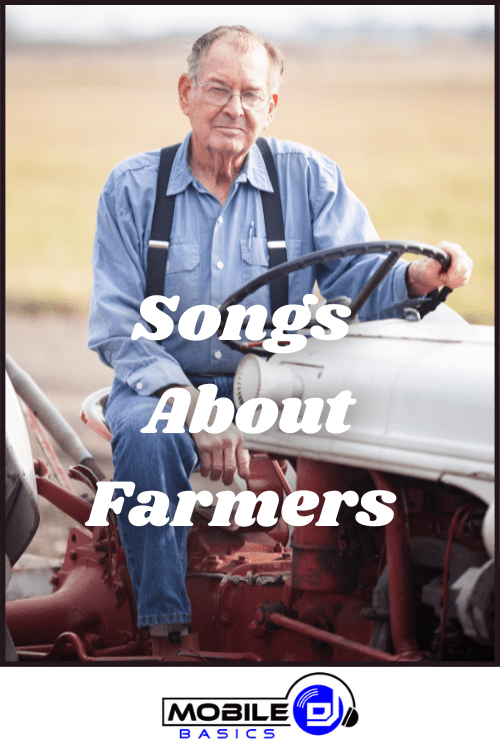 Songs About Farmers and the Music They have Inspired 2023
From discovering new songs to getting more gigs, I'm excited to share the wealth of knowledge I've gained through many years of DJing. [email protected]