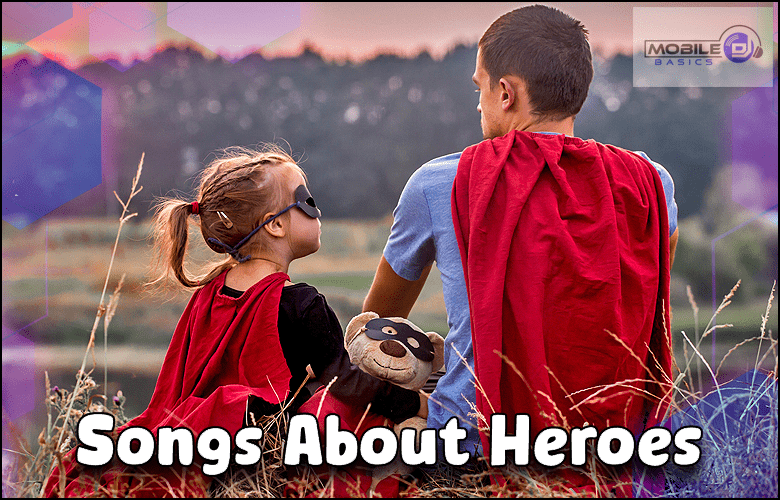 Last Updated on October 21, 2023 by Ryan Conlon | 🕒 7 min Read Time
---
Songs about heroes have played a pivotal role in narrating tales throughout the evolution of music.
In today's world, the spotlight on songs honoring heroes has intensified, serving as a means to exalt those who exemplify greatness.
From subtle nods to ordinary champions to comprehensive ballads dedicated solely to the valiant servers, the reservoir of songs about heroes remains ample.
Across epochs, bands, vocalists, lyricists, and producers have meticulously composed distinctive melodies that pay homage to those who have risen to the occasion and heeded the call for aid.
Whether it's a warrior stationed overseas or law enforcement officers safeguarding home turf, these actual champions frequently kindle our spirits with their valor and unwavering commitment.
The compendium of hero-centric songs is extensive and encompasses some of the most eminent maestros across diverse musical genres.
Regardless of one's musical inclination, a treasury of noteworthy compositions celebrating heroism is undoubtedly available.
From timeless rock anthems venerating gallant uniformed individuals to contemporary chart-toppers detailing the feats of everyday gallantry we encounter incessantly – the profusion of musical tributes lauding our heroes knows no bounds.
Amidst the plethora of iconic melodies spotlighting the audacious figures in our lives, each instance of tuning into the radio becomes an opportunity for any listener to resonate with gratitude for these remarkable souls.
Best Songs About Heroes
There are so many inspiring and heroic people out there that often go unrecognized.
Music has long been a tool to recognize the valor of these inspiring individuals and tell their stories.
From folk songs to modern-day anthems, songs about unsung heroes have been uniting us through music for centuries.
From early American folk ballads celebrating the bravery of soldiers during war, to modern-day pop songs about everyday heroes, music has always found ways to honor those we should always remember.
Whether it's about someone who sacrificed their life for a greater good or a regular Joe who has made extraordinary contributions to society, these songs remind us of what really matters in life – honoring those who make the world a better place.
Tunes Celebrating Courageous Heroes:
Foo Fighters – My Hero
The Score – Legend
Peter Gabriel – Heroes (Used in Stranger Things)
Alesso – Heroes (we could be)
Family of the Year – Hero
Bonnie Tyler – Holding Out For A Hero
Sam Tinnesz – Legends are Made
Zayde Wolf – Heroes
Andy Grammer – My Own Hero
Fleetwood Mac – Heroes Are Hard to Find
Enrique Iglesias – Hero
Weezer – Hero
Ben Rector – Heroes
John Legend – Wonder Woman
Amanda Cook – Heroes
Skillet – Hero
Martin Garrix & JVKE – Hero
The Chainsmokers & Coldplay – Something Just Like This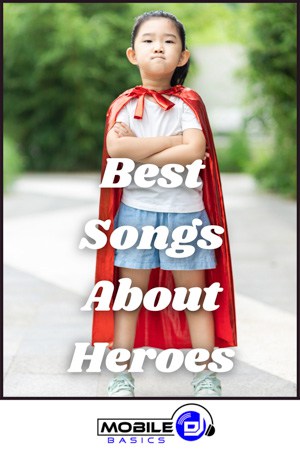 The world is filled with heroes both big and small – from those who make the ultimate sacrifice to everyday heroes that go the extra mile.
Our song lists reflect the admiration we have for these special individuals, and they serve as a source of inspiration to us all.
From ballads to anthems, artists from all genres have used their music to highlight heroic feats, whether it's in remembrance of a fallen soldier or recognition of an ordinary person doing extraordinary things.
This article is a celebration of our musical heroes – those figures who use their talent to remind us of what it means to be truly heroic.
Foo Fighters – My Hero
The Foo Fighters' hit single "My Hero" is a heartwarming tribute to everyday heroes and the power of hope. Released in 1997, the song became an instant classic, with its earnest lyrics and inspiring melody.
The powerful chorus—"There goes my hero/Watching him as he goes/There goes my hero/He's ordinary"—reminds us that anyone can be a hero if they have enough courage to stand up for what is right.
In addition, the song has become a staple for many sports teams around the world, with fans singing it during games in support of their favorite players.
"My Hero" has even been featured in numerous films and television shows over the years, further cementing its status as an iconic anthem about heroism and courage.

---
Songs About Being Strong
We all face challenges in life and sometimes we need a little motivation to remind us that we are stronger than we think.
Music is an incredible source of inspiration and strength, so here are some inspiring songs to help you stay strong during tough times.
From rock anthems to pop ballads, these tracks celebrate overcoming adversity and standing tall in the face of adversity.
They will empower you with their positive messages, reminding you that no matter how difficult things may seem at times, you can get through anything if you remain determined and resilient.
So sit back, relax, and enjoy these empowering songs about being strong!
Songs About Overcoming Adversity and Being Strong
Cash Cash – Hero
Rachel Platten – Fight Song
David Guetta – Titanium
Sara Bareilles – Brave
The Score – Unstoppable
Alicia Keys – Girl on Fire
The Script – Hall of Fame
Sia – Unstoppable
Andy Grammer – Keep Your Head Up
Katy Perry – Roar
Idina Menzel – Brave
Kelly Clarkson – Stronger (What Doesn't Kill You)
Michael Franti & SpearHead – Hey Hey Hey
Imagine Dragons – Whatever It Takes
From anthems of perseverance like Katy Perry's "Roar" to uplifting pop tunes like "Stronger (What Doesn't Kill You)" by Kelly Clarkson, each of these songs celebrates the power of staying strong through hard times.
Whether it's a timeless classic or a modern classic, each of these songs will remind you that no matter what life throws at you, you can find strength within to persevere.
Cash Cash – Hero
Cash Cash feat. Christina Perri's song "Hero" is an empowering anthem about strength and courage in the face of difficult times.
The song has a catchy beat and inspiring lyrics, which include lines such as "I can be my own superhero" and "I'll find my way whatever comes." It speaks to our inner strength and ability to overcome obstacles, while also encouraging us to rely on our friends and family during hard times.
Furthermore, the song's music video features a diverse cast of everyday heroes, showing us how people of different backgrounds can be strong together.
Through this track, Perri and Cash Cash have created an uplifting message about being brave in spite of whatever life throws at us.
With its positive vibes, "Hero" is the perfect addition to any playlist of songs about being strong.

---
Best Inspirational Hero Songs of All Time
When one thinks of heroes, the mind is typically drawn to people who have done incredible and inspiring things.
Music has always been a powerful source for conveying stories about these incredibly brave and powerful people, and there are some truly standout inspirational songs that deserve to be heard.
An Exploration of Uplifting Music:
Mike Posner – Live Before I Die
Andra Day – Rise Up
Keala Settle – This is Me
Hillsong Worship – Who You Say I Am
Katy Perry – Rise
Imagine Dragons – On Top Of The World
Joe Esposito – You're The Best Around
Sia – Never Give Up
The Script – Superheroes
Carrie Underwood – The Champion
Sheppard – Geronimo
Kesha – This Is Me
Imagine Dragons – Rise Up
Rhett Walker – Believer
The Score – The Champion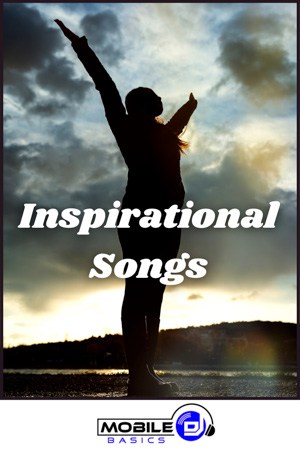 Whether you're looking for a rousing classic rock anthem or a tender power ballad, this list has something for everyone.
Let these uplifting songs be your source of strength and inspiration as we recognize and salute heroes everywhere who continue to fight for justice, peace and equality.
Mike Posner – Live Before I Die
Mike Posner's "Live Before I Die" is an inspirational song that encourages listeners to live life to the fullest.
The song contains inspiring lyrics such as "Yo, you never know when it's gonna be your time/ So make sure that you shine."
This upbeat track is an uplifting call to action for everyone to make the most of their lives, something many can relate to.
Mike Posner has used his own life experiences as an example — getting bitten by a snake in 2019 and having multiple surgeries, but returning to finish his tour months later.
This song is sure to inspire many more people for years to come!

---
Songs With Hero in the Title

These songs often tell stories of courageous individuals who put their courage on the line in order to do what is right and fight for what they believe is just.
They evoke feelings of strength and bravery, reminding us that no matter how hard life gets, there are heroes among us who will always be ready to face any challenge head-on.
Whether it's a soldier fighting for their homeland or a parent trying to make a better future for their family, these songs remind us all that we can be heroes too.
So next time you're feeling down, turn up your favorite hero-themed song and let its powerful message inspire you to make a difference – you never know what greatness awaits!
Tracks Featuring This Iconic Word
David Bowie – Heroes
Mariah Carey – Hero
Smash Mouth – Everyday Superhero
Chad Kroeger – Hero
Nickelback – Hero
Foreigner – Juke Box Hero
Hayd – Superhero
Richie Havens – Working Class Hero
UNSECRET – HEROES NEVER DIE
Tina Turner – We Don't Need Another Hero
The Heavy – Short Change Hero
Taylor Swift – Anti-Hero (TikTok)
David Crosby – Hero
Janji – Heroes Tonight
The Beach Boys – Heroes And Villains
Willie Nelson – My Heroes Have Always Been Cowboys
Token – Still Believe in Heroes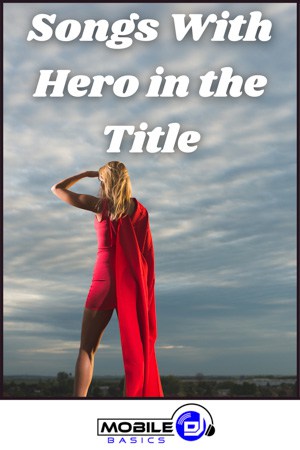 These powerful tracks evoke feelings of courage and strength, often speaking to personal struggles with lyrics that resonate on many levels.
Other songs like Crash Test Dummies – Superman's Song, Trey Songz – Wonder Woman, Jamie O'Neal – She's Somebody's Hero, and Paul Thorn – Even Heroes Die have superhero themed lyrics.
Additionally, many of these songs relate to broader themes such as freedom, justice, and courage; providing a cathartic experience that uplifts not just individuals but entire communities and the average ordinary everyday superhero.
---
Songs About Protecting People
These songs about watching out for friends and family often carry a positive message of selflessness and courage, while also expressing a sense of vulnerability.
With heartfelt lyrics, intricate melodies and uplifting beats, artists strive to communicate that protection is an essential part of being human.
Whether it be about standing up for an injustice or just lending a helping hand when needed, these songs demonstrate our commitment to caring for one another.
They serve as a reminder of the powerful bond we form when look out for each other's best interests – no matter how small or grand the gesture may be.
By celebrating the idea of protecting others, these superhero songs continue to inspire listeners around the world and remind us that compassion and courage go hand in hand.
Songs About Standing Up for Friends and Family
Lauren Daigle – Rescue
Andy Grammer – "Don't Give Up On Me"
The Red Jumpsuit Apparatus – Your Guardian Angel
Rachel Platten – Stand By You
Kim Walker-Smith – Protector
Jason Mraz – I Won't Give Up
Zedd – Find You
Walk Off the Earth – I'll Be There
Kodaline – Brother
H.E.R. – Hold Us Together
Jackson 5 – I'll Be There
Andy Grammer – Best of You
The Pretenders – I'll Stand By You
Guy Sebastian – Standing With You
NEEDTOBREATHE – Brother
The Chainsmokers & Kygo – Family
Protecting the people around us is a cause that deserves our attention, dedication, support and respect.
Amid all the incredible songs out there talking about love and loss, protest and peace; there is another dimension to music that can often go overlooked—the sentiment of protection.
Lauren Daigle – Rescue
Rescue, by Lauren Daigle, is a powerful and inspirational song about being saved from life's struggles.
The uplifting and hopeful track speaks of the power of God's protection and His promise to never leave us alone.
The lyrics take listeners on a journey through tough times as well as hope-filled moments, reminding us to never give up because He is always with us.
The chorus builds on the message of security and safety in His presence: "Your love will be my guide / You will be my rescue." With strong pop-gospel influences, Rescue showcases Daigle's stunning vocal range and her ability to deliver an emotional experience with her music.
Overall, the song serves as an anthem that encourages listeners to find solace in God's unfailing love and protection.
This track is sure to give comfort to those who need it most, while also delivering a powerful message that will stay with listeners long after they finish listening.

---
Songs About Military Heroes
This song list about military heroes is a tribute to the brave men and women who have served our nation in the armed forces.
These songs honor the strength and courage of our fallen unsung heroes, as well as the dedication and patriotism of those who serve today.
Through these unforgettable melodies, we can remember those we have lost and appreciate the sacrifices they made for our country.
The lyrics offer inspiring messages of loyalty, valor, and respect for all members of the military community.
Join us as we recognize these selfless service members with this heartfelt playlist of patriotic songs celebrating their heroism.
A Salute to Military Songs Celebrating Service & Sacrifice
Coffey Anderson – Mr Red White and Blue
Jo Dee Messina – Heaven Was Needing A Hero
Trace Adkins – Empty Chair
Toby Keith – American Soldier
Montgomery Gentry – Something To Be Proud Of
Mitch Rossell – A Soldier's Memoir
Trace Adkins – Still A Soldier
Lauren Teel – Why I Stand
Justin Moore – The Ones That Didn't Make It Back Home
Brandon Davis – More Than A Flag
Nathan Fair – Fallen Soldier
John Michael Montgomery – Letters From Home
Kevin Whelan – The Flag I'm Fighting For
Josh Turner – Soldier's Gift
The Chicks – Travelin' Soldier
Buddy Brown – STOP WHEN YOU SEE A UNIFORM
Brantley Gilbert – One Hell Of An Amen
Darryl Worley – I Just Came Back From War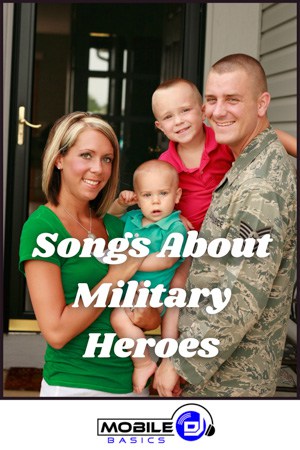 The brave men and women who dedicate their lives to protecting the freedom of our nation are true heroes.
Of all of the selfless acts that make up their service, one gesture stands above all others: protection from external threats.
They deserve to be celebrated for this valiant act, and time has seen a plethora of songs arise as homage to military heroes – stirring melodies that span decades and genres alike.
Coffey Anderson – Mr Red White and Blue
Coffey Anderson's song "Mr Red White and Blue" is a powerful, inspirational country ballad in tribute to military heroes.
The lyrics poignantly capture the shared sacrifice of those who serve their nation and the pride that comes with it.
Anderson's celebration of patriotism resonates in each verse as he sings about men and women who "gave up their tomorrow for our today."
Through its vivid imagery and stirring music, the song paints an emotionally charged portrait of the brave souls who have gone before us.
Anderson's heartfelt delivery conveys an immense respect for those in uniform, making it an apt selection for a compilation of songs honoring military heroes.

---
Songs About Everyday Heroes
Songs About Everyday Heroes have captivated audiences for decades. From the best songs celebrating fictional heroes like Flash Gordon or the Incredible Hulk to songs about real life heroes, like Paul McCartney "Magneto And Titanium Man" there is no shortage of popular songs that honor those who protect and serve.
One notable song appeared in the film Spider-Man (2002) and celebrates the struggles and sacrifices of ordinary heroes, "Hero" by Chad Kroeger (featuring Josey Scott).
David Bowie "Heroes" is a classic anthem that celebrates the power of courage, while Bonnie Tyler "Holding Out For A Hero" tackles the themes of perseverance and determination.
Even characters from comic books like Peter Parker (Spider-Man), Clark Kent (Superman), and Bruce Banner (The Hulk) have songs dedicated to their superhuman gifts.
The Spin Doctors "Jimmy Olsen's Blues" pays homage to the supporting character from the Superman comics, while Tina Turner "We Don't Need Another Hero (Thunderdome)" from Mad Max 3 conveys the message that heroes are not always the ones who wear capes.
Of course, there are also many fans of "Everyday Superhero" by Smash Mouth, which celebrates ordinary heroes who may not be able to leap tall buildings, but who make a difference in their own unique way.
Overall, these songs highlight the essential role of everyday heroes and superheroes in our world, inspiring us to believe in our own inner strength and ability to make a positive impact.
---
Songs About Moms Being Heroes
This list celebrates the incredible women that tirelessly work to protect and guide their families, no matter the cost.
From reassuring classics like "Hero" by Mariah Carey to modern anthems like "Mama" by Meghan Trainor, this list covers a wide range of genres and emotions that capture this powerful sentiment.
These songs provide us with an opportunity to recognize the brave mothers in our lives and take a moment to thank them for all they do.
The lyrics show appreciation for moms who have been there through both good times and bad; offering support, discipline, and wisdom.
Let these songs be a reminder of how brave we can be when it comes to facing challenges as parents. So turn up the volume, listen closely to the words, and remember why mothers are true everyday heroes!
An Ode to Our Moms and the Heroes Within Them
for KING & COUNTRY – Unsung Hero
Chris Lane – That's What Mamas Are For
Jamie O'Neal – Somebody's Hero
Meghan Trainor ft. Kelli Trainor – Mom
Calum Scott – No Matter What
Tim McGraw – I Called Mama
Bette Midler – Wind Beneath My Wings
Dax – "Dear Mom"
Queen Naija – Mama's Hand
Michael Bublé – Mother
Waylon – He's Her Life
JJ Heller – A Mother Like You
Riley Roth – When God Made You My Mother
John Laudon – Hero Of My Life
Alan Jackson – Where Her Heart Has Always Been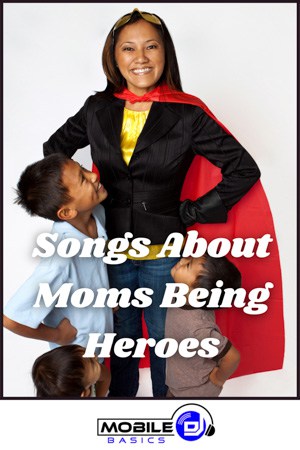 Whether she's the archetype of a superhero or simply the person you turn to when you need an extra bit of love and comfort, mothers can always be counted on as heroes.
From protecting us from danger to providing us with hints of encouragement and acceptance, moms are incredibly valuable in our lives.
As such, there have been many songs written about just how heroic moms truly are!
for KING & COUNTRY – Unsung Hero
For KING & COUNTRY's 'Unsung Hero' is a beautiful and profoundly moving tribute to mothers everywhere.
The song speaks to the sacrifices that mothers make for their children, and how their grace, strength, and unconditional love often go unrecognized.
The song also speaks of how grateful we should be for the incredible care our mothers provide.
It has a gospel-like sound with powerful vocals from Luke and Josh Smallbone singing about his mother and inspiring other listeners to show appreciation for their own moms.
It's an anthem for all of us to honor those who gave us life and sacrificed so much for us."

---
Songs About Dads Being Heroes
This compilation of Songs About Dads Being Heroes is sure to bring out the emotion as we celebrate fathers and their contributions throughout history.
It celebrates dads in all shapes, sizes and roles; from the working-class dad putting in long hours at the office, to the stay-at-home dad who makes sure his kids always come first.
Whether they provide tireless support in times of need or provide a shoulder to cry on, these songs pay tribute to dads everywhere.
Heroes of Fatherhood
Owl City – Not All Heroes Wear Capes
Jax – Like My Father
Jennifer Hart – Half The Man
Camila Cabello – First Man
Zac Brown Band – My Old Man
Jon Baker – Thank you for being my Dad
Bruno Mars – Count on me
George Strait – The Best Day
Robert Ray – My Superman (Grandpa's Song)
Ashley Marina – You'll Always Be My Hero
Miley Cyrus – I Learned From You
Emerson Drive – A Good Man
Reba Mcentire – The Greatest Man I Never Knew
Dolly Parton – Daddy's Working Boots
Paul Overstreet – Seein' My Father In Me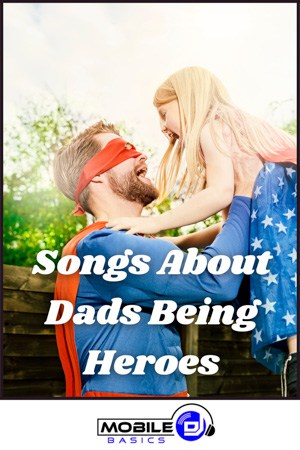 Fathers have been our heroes since time immemorial and these songs are here as a thank you for everything they do—big or small—for us every day.
So take a moment and listen to some great tunes that express appreciation for those special guys in our lives.
Owl City – Not All Heroes Wear Capes
Owl City's "Not All Heroes Wear Capes" is a song that celebrates the heroism of fathers.
It begins with a story about how two children are too scared to go out into the night until their father takes them by the hand and leads them safely back to bed.
The chorus is uplifting, singing "Not all heroes wear capes, some drive minivans and work day in and day out"— a reminder to cherish all of the uncelebrated heroes in our lives.
The upbeat tune goes on to describe how dads take their kids fishing, help with school projects, and stay up late when they're sick; they even teach us the most important lessons—like how to live life fearlessly.
Ultimately, this superhero song reminds us of the power of parental love—a vital source of strength for any family.

---
What songs have been written about heroes?
There is a wealth of songs that pay tribute to heroes.
Some of the most popular include Smash Mouth -" Everyday Superhero," David Bowie's "Heroes," and John Lennon's "Working Class Hero."
Other notable songs about heroes include Mariah Carey's "Hero," Bon Jovi's "Livin' on a Prayer," and Lynyrd Skynyrd's "Simple Man."
All of these iconic tracks honor those who have dedicated their lives to making the world a better place for those around them.
Songs about heroes often contain optimistic messages and life lessons, encouraging listeners to be brave and selfless in their own lives.
The powerful lyrics found in these types of songs can inspire hope, courage, and strength in those who listen.
Additionally, they also serve as an opportunity to recognize and celebrate the heroic efforts of individuals throughout history.
---
Who are some of the artists that create songs about heroes?
Heroes heroes heroes! Many artists have drawn inspiration to create heroic songs honoring intrepid, noble, resolute, dauntless, bold, daring, valorous, confident, and plucky individuals who've made a difference in the world.
From Heroes by Tove Lo, Heroes by David Bowie, Superman (It's Not Easy) by Five for Fighting, to Kryptonite by 3 Doors Down, heroes have consistently been a popular theme for musicians.
Even Broadway has embraced this theme, with Rise Above featured in Spider-Man: Turn Off the Dark as a tribute to all out there.
But the list does not conclude there! A definitive edition of William Ernest Henley's Invictus poem was employed by heavy metal titans Metallica in their hit song The Unforgiven.
Not All Heroes Wear Capes by Metro Boomin, Heroes (We Could Be) by Alesso, and Heroes and Villains by The Flaming Lips contribute to an impressive array of artists who've composed heroic songs.
These ageless classics strike a chord with listeners as they pay homage to accomplishments of fearless and inspiring figures.
While we honor heroes past and present, we can rejoice in these individuals through the potency of music.
Whether it's Who Says You Can't Go Home by Bon Jovi, Hero by Mariah Carey, or We Are The Champions by Queen, songs about heroes will persist in invigorating us for years to come.
So let's elevate our voices and sing in tribute to those who personify audacious and boundless spirit of heroism.
---
Conclusion
There are many songs about heroes, and each one has a special meaning.
The sheer diversity of the songs that were chosen to celebrate heroes from different backgrounds and walks of life is testament to the fact that people have an innate desire to come together and pay homage to those who have made a difference in their lives.
Take the time to listen to some of these songs, and think about what makes a hero. One of these songs might just become your new theme song.
You might be surprised at how much you have in common with the people who are celebrated in these songs.
---
Read More
---
---
---
Pins for Pinterest
If you like what you see, feel free to share some love on Pinterest ❤️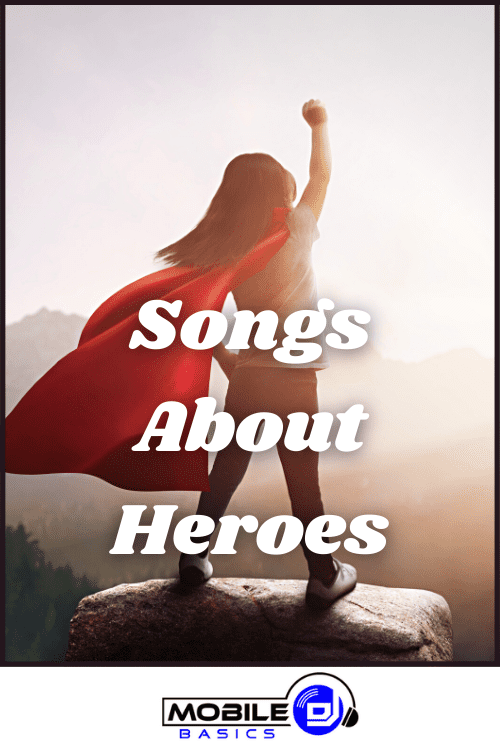 120+ Songs About Heroes | Celebrating a Hero Through Music 2023
From discovering new songs to getting more gigs, I'm excited to share the wealth of knowledge I've gained through many years of DJing. [email protected]