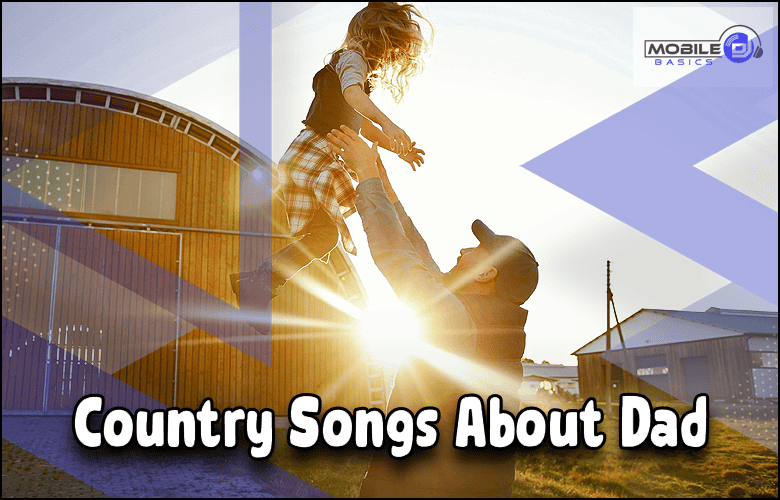 Last Updated on August 29, 2023 by Ryan Conlon | Read Time 5 min Read Time
Country Songs About Dad have long been a staple in the genre of country, honoring the men who raised us, taught us tough life lessons, and were our role models throughout our formative years.
These emotional songs have the power to tug at our heartstrings, bringing tears to our eyes as we reminisce on cherished memories and the bond we share with our fathers.
From classics like "Daddy's Hands" by Holly Dunn to modern hits such as "My Old Man" by Zac Brown Band, country has consistently provided poignant tributes to the impact of fatherhood.
Through the power of lyrics and melody, the Best Country Songs About Dad capture a unique and special relationship, reminding us all of the irreplaceable role our fathers play in our lives.
Country Songs About Dad
Dad. A figure of strength, a teacher with wisdom, a treasured friend who always offers advice and unconditional love – no matter how old we get, the bond between parent and child will never fade away.
In tribute to these special individuals, Country has crafted countless songs devoted to celebrating fathers everywhere.
Whether they are tear-jerking ballads or uplifting anthems, the stories of these heartfelt melodies capture the complex emotion of having such a strong role model in our lives.
From poignant classics to modern hits that evoked memories of cherished times together – here is our country list of songs about Dad that speak from deep within your soul
Honoring Fatherhood: A Collection of Songs from Country Artists

Paul Overstreet – Seein' My Father In Me
George Strait – A Father's Love
Tim McGraw – 7500 OBO
Thomas Rhett – Things Dads Do
Zac Brown Band – The Man Who Loves You The Most
Emerson Drive – A Good Man
Matt Stillwell – Hey Dad
Cody Johnson – God Bless the Boy (Cori's Song)
Tim Mcgraw – My little Girl
Reba Mcentire – The Greatest Man I Never Knew
Country has a special way of perfectly capturing the raw emotions and deep sentiments often felt in life.
When it comes to the relationship between fathers and their children, several country artists have created timeless and meaningful songs that celebrate this unbreakable bond.
From Tim McGraw's tear-jerking "My Little Girl" to Lee Brice's soulful "The Best Part of Me," these songs about dad beautifully showcase the love, sacrifice, and unwavering support that fathers provide to their children.
Whether you're looking for a touching Father's Day tribute or simply want to express your appreciation to the special dad in your life, these heartfelt songs are the perfect way to do so.
Paul Overstreet – Seein' My Father In Me
Paul Overstreet's touching ballad "Seein' My Father In Me" tells the story of a son who recognizes his father's vital influence in his life.
Overstreet, a veteran country singer and songwriter, penned the tune as a tribute to his own father, who instilled in him crucial values and lessons during his upbringing.
The song features emotive lyrics that evoke the memories of a father-son bond, with lines such as "I'm seeing my dad in a different light, he's still helping me, even though he's not in sight."
Overstreet's heartfelt delivery and the song's memorable melody have made it a staple in country music playlists, especially around Father's Day.

---
Best Country Father's Day Songs
When it comes to celebrating the important men in our lives, Father's Day is a perfect opportunity to show how much we appreciate all that they do.
From fishing trips to playing catch, dads make growing up a blast and sometimes even offer wisdom at critical junctures of life.
One way you can honor your father this June is by uniting your family with some of the most beloved country hits for Father's Day.
These tracks capture different aspects of being a father: from the joys and struggles as well as what it means to step into parenthood for newly expecting fathers or those who are facing tough changes as their children grow up quickly.
Emotional Country Ballads for Father's Day
George Strait – The Best Day
Riley Roth – When God Made You My Father
Logan Mize – "Prettiest Girl in the World"
Eric Church – Cause My Dad Did
Luke Bryan – Build Me A Daddy
Tom Nitti – P.S. I Love You Dad
MaRynn Taylor – Dads and Daughters
Kellie Pickler – The Letter To Daddy
Kylie Morgan – Good Hands
Tyler Hubbard – Miss My Daddy
Songs about dads have been a staple of the genre for decades, with many famous country singers like George Jones and Willie Nelson writing touching ballads about the special bond between a father and his children.
From dad country tunes that make you happy and laugh as you reminisce about your childhood memories with dad to sad country music that brings tears to your eyes, these songs about dads cover a range of emotions.
Whether you're in need of dad songs for a wedding or funeral, or just missing your dad, there's a country song that can help express your feelings and pay tribute to his father's enduring memory.
George Strait – The Best Day
George Strait's "The Best Day" has cemented its place as one of the most beloved Country Father's Day songs ever created.
The lyrics describe a loving relationship between a father and his son, highlighting the intimate moments that they shared together.
Written by the legendary songwriter Dean Dillon, "The Best Day" was released in 2000 as part of George Strait's album "Latest Greatest Straitest Hits."
Since then, it has become a hit amongst fans of country around the world. Its popularity stems from its relatable message and the heartfelt delivery by the "King of Country Music" himself.
George Strait's "The Best Day" remains a timeless classic and a perfect tribute for any loving father and his dedicated family.

---
Country Songs that Teach Us About Fatherhood
Country has always been a powerful medium for powerfully conveying stories of beloved fathers, be they their own experiences or those of everyday people from around the world.
Whether you are a proud papa yourself or just someone looking to appreciate what moms and dads everywhere do day in and day out, we've selected some songs that provide insight into the highs and lows, joys and struggles that come with being a dad – proving why it truly is one of life's greatest roles!
Songs That Reflect on a Dad's Impactful Presence
Rodney Atkins – Watching You
Chris Lane – Ain't Even Met You Yet
Chad Kaney – Daddy's Little Girl
Randy Travis – My Daddy Never Was
Thomas Rhett – Sixteen
Lee Brice – Boy
Zac Brown Band – I'll Be Your Man (Song For A Daughter)
Billy Currington – Walk A Little Straighter
Elvie Shane – My Boy
Kenny Chesney – Don't Blink
Rodney Atkins – Watching You
The heartwarming Country song "Watching You" by Rodney Atkins shares the story of a father and his young son in a touching way.
The song emphasizes the father's influence on his son's behavior, as the father's actions are carefully observed by his impressionable child.
Atkins's Watching You is a testament to the impact fathers have on their children and how their every action shapes their children's lives.
It has become a beloved classic as it continues to teach and inspire fathers around the world about the importance of their role in raising their children.

---
Country Songs Celebrating Parenthood

Nothing brings more joy and happiness than the love a parent has for their child. Parenthood is one of life's greatest gifts, yet it also comes with challenges.
Every parenting journey will carry its own unique story, but country dad songs can provide us all with a tangible connection to this shared emotion.
This section seeks to explore some of the most well-known songs that celebrate parenthood and reflect on what makes each contribution so special.
We hope you'll enjoy this heartwarming look at how parents have expressed their innermost feelings in song over many generations!
Songs That Capture the Bond Between Dads and Kids
Kane Brown – For My Daughter
Lonestar – Mr. Mom
Alan Jackson – You'll Always Be My Baby (Written for Daughters' Weddings)
Lee Brice – The Best Part Of Me
Jason Blaine – Dance With My Daughter
Heartland – I Loved Her First
Kenny Chesney – There Goes My Life
Billy Ray Cyrus – Ready, Set, Don't Go
Trace Adkins – Then They Do
Darius Rucker – It Won't Be Like This for Long
These songs bring back memories of a happy childhood, playful moments with friends, and the pride that comes from having a strong father figure.
"Tough Little Boys" From Gary Allan celebrates the resilience instilled by fathers, to "Even Though I'm Leaving" from Luke Combs talks about a father's unwavering love and support, these songs evoke emotions that make you want to both laugh and cry.
They remind us that a good father-daughter or father-son relationship is truly something to cherish and sing about in the country world.
Randy Travis & Kenny Chesney – He Walked on Water, With lyrics like "He walked on water but he never once showed me how / You found Jesus and he's changed you / And I'm really happy for you, I'm sorry if I ever doubted what faith could do,"
Trace Adkins' "You're Gonna Miss This" perfectly captures the bittersweet memories of growing up and realizing the sacrifices parents make.
Whether you're looking for old classics or new hits, country songs about dads are a testament to the power of familial love and the last name that binds us together.
Kane Brown – For My Daughter
Kane Brown's heartfelt and emotional song, "For My Daughter," is a touching tribute to his daughter, Kingsley Rose Brown.
The lyrics are a poignant reminder of the joys and challenges of parenthood, with Kane singing about his hopes and dreams for his daughter's future.
---
Related Articles
---
Country Songs That Express Deep Appreciation for Fathers
From the steel-stringed ballads of past eras to today's more contemporary anthems, country artists have come up with countless tunes that express appreciation for dads everywhere.
Here we'll explore some of these great about fatherhood and reflect upon the love, respect, and emotion they evoke when heard.
Whether it's rightfully acknowledging a dad who has gone above and beyond or simply appreciating everything he does on a daily basis – this compilation will provide you with the perfect tribute to your pop!
Songs Depicting a Father's Unconditional Support
Scotty McCreery – How Ya Doin' Up There
Gabby Barrett – The Good Ones
Cole Swindell – Dad's Old Number
Luke Bryan – Drink A Beer
Matt Stillwell – Hey Dad
HARDY – Give Heaven Some Hell
Klye Jennings – The Ballad of a Man Named Dad
Bryan Martin – Oilfield Dad
Brad Paisley – He Didn't Have To Be
Drew Green – Good Ol' Man
When it comes to country songs, there's no shortage of emotional ballads and storytelling lyrics about the bond between fathers and their children.
Whether it's a song about dads passing down life lessons to their offspring, reminiscing about your father's unwavering support and encouragement, or a tribute to his father's hard work and dedication to his family, there's a perfect song out there for everyone.
From stay at home dads who are raising their kids with love and care to the best songs that honor the timeless traditions of fatherhood, these country tunes make for a beautiful addition to any playlist, whether it's for a heartwarming Father's Day tribute or a sentimental moment at a wedding.
Scotty McCreery – How Ya Doin' Up There
Scotty McCreery's "How Ya Doin' Up There" is a heartfelt country song that expresses deep appreciation and love for fathers.
The song starts with Scotty reminiscing about all the times he spent with his dad, and how his father taught him valuable lessons in life.
As the song progresses, Scotty's emotion builds, and he realizes that even though his dad is no longer with him, he still feels his presence and knows that he is watching over him.

---
Country Classic Songs About Fathers

From many of the country classic songs that we continue to hear throughout the years, it's clear that dads hold a special place in our hearts.
Country has long been recognized as one of the most expressive genres when expressing how much we love, respect and appreciate those who have shaped us into who we are today – especially fathers.
We've all known someone whose dad has had an immensely profound influence on their life – so it's only fitting to recognize these relationships with some heartfelt lyrics from songs dedicated to dads everywhere.
Here is a list of songs that perfectly capture this deep admiration for fathers, and why they remain classics on any country enthusiast's playlist!
Classic Country Hits Celebrating Fatherhood
Confederate Railroad – Daddy Never Was the Cadillac Kind
Loretta Lynn – They Don't Make 'em Like My Daddy Anymore
Dolly Parton – Daddy's Working Boots
Alan Jackson – Drive (For Daddy Gene)
Willie Nelson – That Silver Haired Daddy Of Mine
George Strait – So Much Like My Dad
Conway Twitty – That's My Job
Holly Dunn – Daddy's Hands
Alabama – Roll On (Eighteen Wheeler)
Ricky Van Shelton – Keep It Between The Lines
Confederate Railroad – Daddy Never Was the Cadillac Kind
Confederate Railroad's "Daddy Never Was the Cadillac Kind" is a heart-wrenching country classic that tells the story of a father who isn't quite what his son had hoped for.
The song's tender lyrics and sweet melody have made it a favorite among country music fans for decades.
It captures the essence of a father-son relationship that isn't always picture-perfect, but is still filled with love and fond memories

---
Honoring Dads Through Country Music

When it comes to celebrating fatherhood, nothing beats a good old-fashioned country song!
Fathers come from all walks of life and each have their own unique stories of triumph, disappointment, and unconditional love.
Over the years, country has provided countless songs that celebrate the bond between fathers and their children with touching lyrics, inspirational messages, and heartbreaking stories.
From Reba McEntire's classic 'The Greatest Man I Never Knew' to Randy Travis' 'Three Wooden Crosses', if you're looking for an anthem to salute your Dad or simply need some inspiration about what it means to be a dad then you've come to the right place.
Country Music's Dedication to Dads
Zac Brown Band – My Old Man
Brantley Gilbert – Man That Hung The Moon
Sawyer Brown – The Walk
Tyler Wood – Dad
Will Day – Dear Dad
Trey Pendley- Daddy's Son
Keith Urban – Song For Dad
The Shires – Daddy's Little Girl
Dani & Lizzy ~ Dancing in the sky
Kenny Rodgers – Goodbye
Zac Brown Band – My Old Man
Zac Brown Band's hit song is a heartfelt tribute to fathers everywhere.
The song describes the sacrifices and hard work that fathers often undergo to provide for their families, as well as the role they play as mentors and guides in their children's lives.
With a simple yet evocative melody and lyrics that capture the emotional essence of fatherhood, "My Old Man" has become a beloved anthem among country fans and serves as a poignant reminder of the importance of family and legacy.
Whether you're a new father or a seasoned patriarch, this song is sure to resonate with anyone who loves and honors the role of fatherhood.

---
Is father's Day always the third Sunday of June?
Father's Day is a special occasion that many families look forward to celebrating with the main men in their lives.
But, is Father's Day always on the third Sunday of June? The answer is yes!
This day is historically celebrated on the third Sunday of June in most countries, including the United States.
So, let's make sure to mark our calendars and show our fathers how much they are loved and appreciated on this special day!
On this happy Father's Day, friends gather around the campfire to sing songs about dads, strumming their guitars and reminiscing about hunting trips and other cherished memories.
These heartfelt tunes celebrate the unbreakable bond between fathers and their children, highlighting the joys and struggles of raising a family in the great outdoors.
---
Conclusion
Through these beautiful and touching Songs for Daddy, we see the depth of love and respect children have for their fathers, as well as the lessons and memories that last a lifetime.
From simple moments like fishing trips to the profound impact of a father's life lessons, these songs remind us that the bond between father and child is one of the strongest and most meaningful relationships in life.
---
Related Posts
---
---
---
Pins for Pinterest
If you like what you see, feel free to share some love on Pinterest <3
95 Country Songs About Dad | Fatherly Lessons to Heartfelt Confessions
From discovering new songs to getting more gigs, I'm excited to share the wealth of knowledge I've gained through many years of DJing. [email protected]