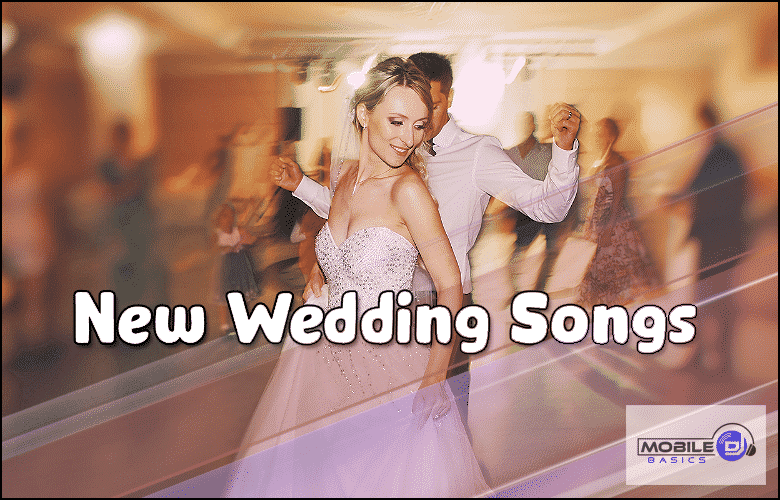 Wedding songs are the best part of every wedding. They set the mood for your big day, and they can be enjoyed by everyone in attendance. If you're planning a wedding, it's important to choose music that will please all guests.
It may seem challenging to find new music for a wedding reception, but there are many different options that can keep things interesting! This article is going to give you some helpful ideas about what types of music work well for weddings as well as specific song choices that both younger and older generations will love.
New Wedding Songs for 2022

Finding new music for weddings can be tough, but we've got some great ideas to help you out.
It's finding the most popular wedding songs that are fresh and modern or classic love songs from the past, our song lists of suggestions will have your guests up on their feet!
You want your wedding day to be a fun and memorable experience for all of those in attendance, but what about the music?
Whether you're looking ahead at 2022 or just need some inspiration from this year.
The following list will help make sure you don't miss any great songs for your wedding guests' listening pleasure at your upcoming wedding dance.
New First Dance Songs
There are so many things to think about when planning a wedding, from the venue to the catering to the guest list. One of the most important decisions you'll make is what song will be your first dance as a married couple. If you're struggling to find a song that feels just right, here are some new options that might inspire you.​
Here are some of the best new first dance wedding songs

Kane Brown – Worship You
John K – ilym
Kate Vogel – I Wanna Love You Forever
Jake Scott – Favorite T-Shirt (Acoustic)
Justin Bieber – "Off My Face"
Luke Combs – Forever After All
Forest Blakk – Fall Into Me
Dan + Shay – Glad You Exist
Troye Sivan – Angel Baby
Justin Bieber – Hailey
Dan + Shay – Steal My Love
Shawn Mendes – Summer Of Love
Conor Maynard – Crowded Room
JP Saxe – More of You
Ashe & FINNEAS – Till Forever Falls Apart
Ryan Hurd, Maren Morris – Chasing After You
Surf Mesa, Madison Beer – Carried Away (Love To Love)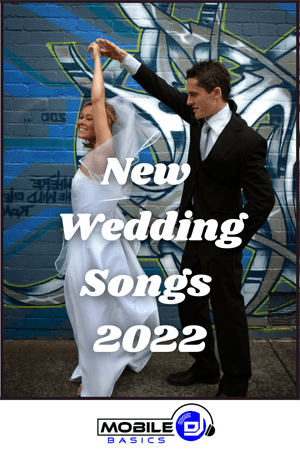 Mobile DJs know how important it is to stay up-to-date with the latest wedding music. With new songs being released all the time, it can be difficult to keep track of what's popular and what's not. Luckily, we've done that work for you!
Kane Brown – Worship You
What are you waiting for? Get this new Kane Brown song off your playlist and put it on repeat. This song is the perfect jam to get you pumped up for any event! It's a great way to start your day or end your night out with friends. With lyrics like "Get down on one knee, I'll worship you," and "I'm gonna tell all my friends about how we met," this will be stuck in your head all day long!
---
New Father Daughter Songs
When it comes to wedding dances, there are a few classics that always come to mind. The father-daughter dance is one of those dances that is always special, and the songs you choose for it can make or break the moment. If you're looking for some new father daughter wedding dance songs, we've got you covered. Check out our list below!
Jax – Like My Father
Thomas Rhett – Things Dads Do
Camila Cabello – First Man
Gabby Barrett – The Good Ones
Lee Brice – The Best Part Of Me
Tim McGraw – 7500 OBO
Logan Mize – Prettiest Girl in the World
Kane Brown – For My Daughter
Brantley Gilbert – Man That Hung The Moon
The Father Daughter dance is a tradition that many families look forward to during wedding planning. It's a time to celebrate the special bond between a father and daughter. We've gathered some of the best songs that will create an unforgettable moment for your wedding day.
Jax – Like My Father
Jax's new song about her dad. The song is called "Like My Father" and it's definitely a tearjerker. In the song, Jax talks about how much she misses her dad and how he was such an important part of her life. She also talks about the lessons he taught her and how she hopes to honor his memory by living her life the way he would want her to. If you're planning a wedding, be sure to add Jax's new song to your playlist!

---
New Wedding Dance Songs
It's no secret that wedding receptions can sometimes feel a little stale, especially when the same tired songs are played over and over again. If you're looking for some new and upbeat dance songs to freshen up your reception. We've put together a list of some of our favorite tracks that will have your guests up and dancing.
Ed Sheeran – Shivers
Harry Styles – As It Was
ACRAZE – Do It To It
Lizzo – About Damn Time
Jack Harlow – First Class
Michael Bublé – Higher
Charlie Puth – Light Switch
Lil Nas X – THATS WHAT I WANT
Elton John, Dua Lipa – Cold Heart (PNAU Remix)
Elle King – Drunk (And I Don't Wanna Go Home)
As a bride planning your wedding, you may be looking for new, upbeat songs to add to your reception playlist. Keep your guests dancing all night with songs like these!
Ed Sheeran – Shivers
If you're looking for a fun, modern song to add to your wedding song list, Ed Sheeran's "Shivers" is perfect! The upbeat tempo and catchy lyrics will get your guests dancing, and the romantic message will leave them feeling inspired. So if you're looking for something fresh and new, be sure to check out this amazing track!

---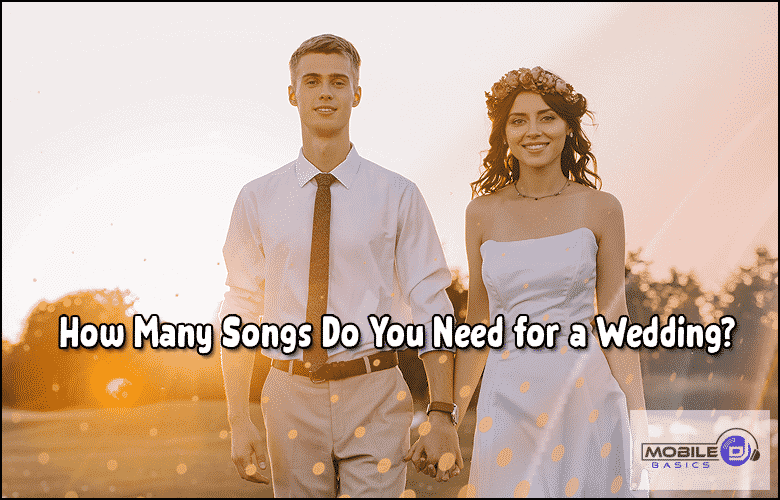 How Many Songs Do You Need for a Wedding Reception?
You might be wondering how many songs you need for your wedding reception. The answer to that question really depends on the format of your reception and how long you want it to last. A general rule of thumb is that you'll need about one song every 4 minutes for a typical four-hour reception. That means you'll need around 60 songs if you don't want any breaks in the music.
Righteous Brothers – Unchained Melody is 3:37 and Saweetie – Best Friend is 3:21
And if you want to keep the party going all night long, you'll need around 75 songs. Of course, you can always add more or fewer songs as needed.
Just be sure to have enough variety to keep your guests dancing all night!
We think that all of your guests should be able to enjoy at least one song they really like. They may not have time to dance or stay on the floor for an entire song, but we want them to feel included and know that they are important enough to warrant their own favorite song.
---
What is the most popular wedding song right now?
What is the most popular wedding song right now? According to a recent study, it's "Marry You" by Bruno Mars. The upbeat love song topped the list of most requested wedding songs in 2017, beating out classics like Canon in D and Ave Maria. If you're getting married soon, you may want to consider adding this tune to your playlist!
Although there are many popular songs for a wedding, another one that seems to be most popular right now is "All of Me" by John Legend. This love ballad has topped the charts and been played at weddings across the country. If you're looking for a timeless song to play at your wedding, "All of Me" is a great choice.
But the song that is being requested more than any other is "A Thousand Years" by Christina Perri. If you're looking for a popular and romantic song to play at your wedding, this might be the best choice!
---
Keeping Up the Tone
When selecting the best wedding songs, don't forget to create a balanced wedding playlist. You don't want a really upbeat folky song following a really slow and romantic one. In addition, choose a wide variety of romantic wedding reception songs that are specifically for you and your husband, but also don't choose too many romantic love songs. You want the atmosphere to be light and joyful but not too romantic.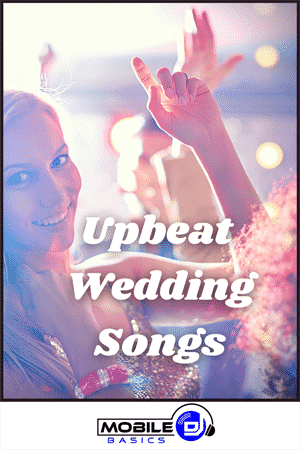 When it comes to wedding music, there are a lot of choices to make. Do you want classic wedding songs, or something more upbeat? What type of music will set the tone for your ceremony and reception? If you're looking for some upbeat tunes. Here are some of our favorite wedding songs that will get your guests dancing!
Justin Timberlake – Can't Stop the Feeling
Mark Ronson – Uptown Funk
Taylor Swift – Shake It Off
Rihanna – Please Don't Stop The Music
The Black Eyed Peas – I Gotta Feeling
Beyoncé – Crazy In Love
OutKast – Hey Ya!
Usher – Yeah
Flo Rida – Low
The Weeknd – Blinding Lights
DR. Dre – Next Episode
Billie Eilish – Bad Guy
Beyonce – Single Ladies
Britney Spears – Toxic
Luis Fonsi – Despacito
Keep in mind the volume of the music. The DJ should keep a average volume of the music in general. The volume should be raised when you are ready to "get the party started". Note that during the dance, mix in some slow songs.
Justin Timberlake – Can't Stop the Feeling
"Can't Stop the Feeling!" is already one of the best party songs out there. The song has an upbeat tempo, catchy lyrics, and a great beat that makes everyone want to get up and dance (or at least clap along). It is perfect for any occasion where you are looking to have some fun like weddings or parties. If you are throwing your own wedding reception or party soon then look no further than this amazing song that will be sure to keep people on their feet all night long.
---
Think Outside the Box
Even though it is guaranteed that your wedding is going to be unique, you should also make sure that the music is too. Take as much as the time needed to search music, to dive into your and your partner's personal taste. Get inspired by some new music as well, that might seem interesting to include in your wedding playlist.
You can still play classic wedding songs like Stevie Wonder, Michael Jackson, Elvis Presley, Etta James, AL Green, Righteous Brothers, Diana Ross, Lionel Richie, Marvin Gaye, Whitney Houston, John Legend, Colbie Caillat, Jason Mraz, Norah Jones, Ed Sheeran, Bruno Mars, Ben Folds Five, Michael Bublé and Justin Timberlake.
Most importantly, talk to your family and friends about some potential traditional music you might want to add. In this case, you might need to consult bands they might know and include songs they find fitting. If the music is unique and a bit alternative, your wedding might turn out to be more entertaining than you imagined.
---
Conclusion
I would like to briefly draw attention to the tips I have provided. Taking into consideration all of the factors above, wedding planning includes finding the best wedding songs for your wedding dance.
Remember to choose wisely, to take your time and to organize the wedding playlist thoroughly.
If you like a song – Play It
Think outside the box, surprise your partner and everybody else with your musical choices and create the musical background you wanted to create. By choosing special, meaningful, and unique songs for your wedding will surely be a wedding to remember.
Create this special wedding playlist then, play it at your wedding, and enjoy your wedding day.
Your wedding day is one of the most important moments of your life, so you'd better cherish the day and accompany it with great new wedding songs!
---
---
---
Read More
---
Pins for Pinterest
If you like what you see, feel free to share some love on Pinterest <3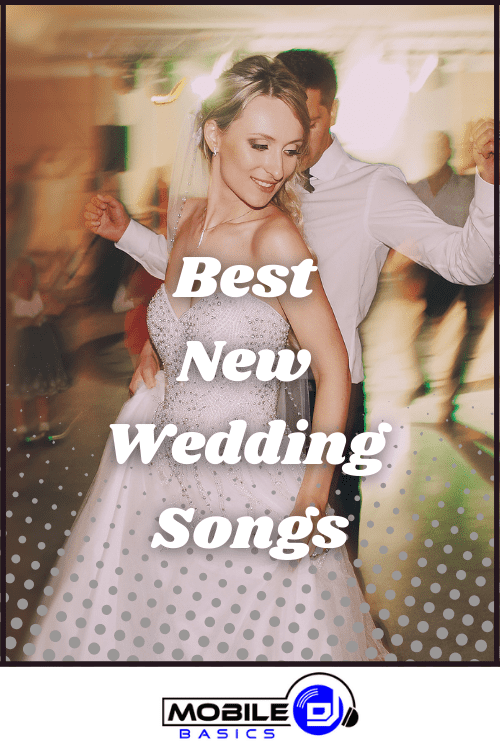 Best New Wedding Songs | Absolutely Should Be In Your 2022 Wedding