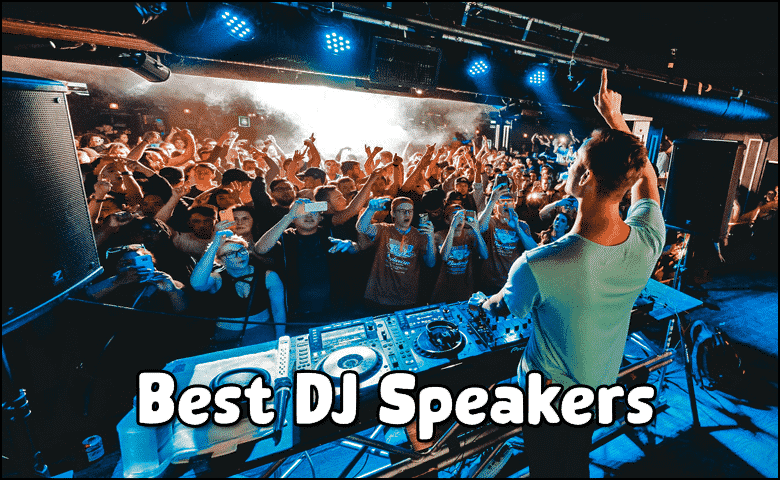 What are the Best Speakers? The Best Powered DJ Speakers are the ones that are versatile for all your DJ events. Backyard parties, Sweet 16s, small weddings, medium-sized venues, or large venues. Getting your hands on the high-quality DJ speakers is essential – but it's also a bit of a challenge.
The powered speakers you pick will make or break your performance's quality, elevating the sound quality your audience enjoys or dragging it down and ruining the experience.
Thankfully though, there are quite a few options out there to pick and choose from when it comes to speakers for DJs. The trick is sifting through your choices. But that's why we have put together this quick guide. Ready to dive right in? Let's get to it.
---
The 10 Best Powered DJ Speakers

---
QSC K 10.2
A super compact powered speaker still capable of pumping out an unbelievable sound, this highly portable choice can crank out 2000 W of power without breaking a sweat. Utilizing DMT (Directivity Matched Technology) that is proprietary to this system, you're going to be able to about seamless intensity levels across all of your speakers when paired with a DSP set up.
Both of these systems make this speaker easy to optimize, too. You won't have to fiddle around with your board a whole lot to get the kind of sound you're looking for – even if you're adjusting things track by track. The versatility of this speaker often goes underappreciated, too.
Super reliable, super portable, and one of the most versatile options money can buy, it's not hard to see why so many performing and professional DJs choose this speaker on a regular basis. QSC Webite Link
---
QSC K12.2
Consistently rated as one of the best DJ speakers available by professional and performing artists, this particular option's power and performance are top-tier.
Not only does the speaker offer some of the best in class audio performance in a (relatively) compact form factor, but it also has a legendary reputation for rugged durability and reliability – essential if you're going to be lugging this around a lot.
The DSP management of this speaker system provides fantastic clarity with a wide dynamic range. You'll be able to use this on all of your songs and across all of your mixes without hesitation, pumping out crystal clear mid and high frequencies with resounding and powerful lows, too.
Capable of putting out 132 dB with a frequency that adjusts down to 45 Hz, there's nothing else quite like this option on the market today. In the bass department, your audience is going to feel like it got hit in the chest with a solid punch every time the built-in subwoofer burps.
Putting out 1000 W of continuous power (with the ability to crank that up to 2000 W at the performance) will change the way you performed forever. QSC Website Link
---
QSC K8.2 with QSC KW181Sub
The most remarkable thing about this ultra-compact speaker is that it has been re-engineered from top to bottom, refreshing the K Series from QSC totally (just like every other Two Series speaker we reviewed above). Doubling the wattage output from 1000 to 2000 is just one of the significant upgrades that this particular unit enjoys over the previous version.
The idea of having this kind of power in a speaker as compact as this one used to be thought of as almost impossible – especially when you magic to the crystal clear audio it's capable of putting out, too. The dispersion on this speaker is fantastic, another pleasant surprise considering just how small it is.
The bass is powerful and thumps, the mids and highs sound fantastic as well, and the build quality is everything you would expect to be from the folks at QSC. QSC Website Link
---
Yorkille YXL10P
One of the big reasons people are so hesitant to get their hands on compact speakers is that most sound kind of "flimsy," especially when you start to crank the power and volume up.
Luckily, that's not something you'll have to worry about with this Yorkville option.
Very much an active powered DJ speaker, a single driver is calling all the shots behind this unit that produces crystal clear and high fidelity audio across the board.
Explicitly designed with DJs in mind, you get three different channels to pick and choose from. You can take advantage of Bluetooth wireless streaming capabilities and have EQ push-button controls that allow you to utilize your custom presets whenever you like (on-the-fly, too).
The build quality is top-tier (the entire case is 100% polypropylene, super strong, and super durable), and you'll always feel your money was well invested in this DJ speaker.
---
Mackie SRM450
This Mackie SRM 450 speaker has a couple of advantages over some of the other choices for the best DJ speakers on the market right now, but the biggest one has to be its versatility. The built-in amplifiers, combined with thermal and overload protection, allow you to really adjust and dial in this speaker's sound quality in a way that's not possible with some other options.
Usually, this feature is available on speakers two or three times as expensive as this one, too. The dispersion pattern is one of the widest on this list, but the overall evenness of the dispersion pattern is top-tier, too. You won't have to worry about things sounding "out of whack" when running your audio through this powered speaker.
The SRM 450 is super lightweight (compared to some of the other options on this list); this 12 inch speaker is very impressive. Some have trouble feeding too much bass into them without a low-cut switch, but other than that this is a game changer.
---
[wptb id=695]
---
EV ZLX12
A two-way powered DJ speaker, you'll get to take advantage of 1000 W (via Class D amplification) tucked into a relatively portable 12 inch speaker when you choose to go in this direction. Weighing in at 35 pounds (but including a 12 inch subwoofer), you'll be able to put out a frequency response between 65 Hz and 18 Hz with a maximum decibel level that can have 126.
A DSP is built right in (totally accessible through the rear panel with push-button and rotary controls), and the LCD display is easy enough to use even in low light conditions. There are many I/O options in the back. The build quality is right up there amongst the very best of the bunch.
You definitely will have a hard time finding too many things to complain about when it comes to this powered speaker. The super affordable price point supports a lot of its (albeit minor) shortcomings.
---
JBL EON 610
Another active powered DJ speaker, this action from JBL, takes advantage of the FOH speaker technology. The brand has become legendary for a while, crafting a stage monitor set up that is very impressive. The wedge shape of this JBL choice makes it easy to set up, especially since it takes advantage of a high headroom active monitor that will produce crazy sound to fill even the largest of spaces.
Though the speaker is only 10 inches large, it has fantastic clarity and sonic detail that will produce at mid and high frequencies like nothing else out there. The bass on this DJ powered speaker is a little bit lackluster compared to some of the other choices. But all you have to do is pair this with a subwoofer (a dedicated subwoofer), and you eliminate those issues.
The Bluetooth capabilities on this speaker are intended to be used only for EQ adjustments. Many people see that this speaker is Bluetooth enabled and think they will be able to stream over that wireless protocol. That's not the way things are set up. The JBL EON app does make it easy to adjust the EQ wirelessly – much more accessible than physical setups, that's for sure.
---
TurboSound iQ10
A powered, two-way speaker that provides for a wide variety of applications thanks to its dynamic range. The 10 inch low-frequency driver and low mass voice coil provide a fantastic response and higher temperatures of sound than what you'll find with many other choices on the market today.
Specifically created with portable applications in mind, it's not hard to understand why so many performing DJs (and bands, for that matter) have fallen head over heels in love with all that this setup has to offer. A Class D amplifier puts out 2500 W at peak output, and you'll enjoy a fantastic amount of control over overall performance through the sophisticated but easy-to-use DSP.
The dynamic EQ allows you to unlock the full range of sound output options on this speaker, with presets that make managing your new set up even more straightforward.
---
Yamaha DZR10
Brand-new as of early 2020, Yamaha produced yet another top-tier option for their powered portable speaker space with this particular model. Offering fantastic sound qualities across the board (and every range), the thing that makes these Yamaha speakers unique is the Dante connectivity option that ties all of your Yamaha speakers together. Bringing your soundscape into a cohesive unit is next to impossible without something like the Dante connectivity from Yamaha.
This technology choice transforms your speakers into a "mesh network" that you'll have granular control over. This produces a much more cohesive sound, a much more consistent sound, and better sound clarity at every level than what you'll find with disparate units.
The mid-range delivery is fantastic. The low-end extension is incredible for its size. The fully editable parameters with the DSP make this a dream for serious amateur DJs and professionals alike.
---
Mackie Thump12
If bass so heavy you feel it in your bones is what you're looking for, you'll want to get your hands on this Mackie Thump 12 inch set up ASAP. The name – Mackie Thump Series – definitely tries here, with these powered DJ speakers providing some sense of bass(all at relatively affordable price points, too).
The high output bass is made possible through a three-band EQ that you can dial in to find the right sound profile for your needs, with a dynamic range across the board that is also totally customizable. You get 1000 W Class D performance packed into this relatively compact format as well, with precision two-way crossovers, transducer time alignments, and so much more "under the hood" as well.
The Mackie Thump12 is a good DJ speaker for small to medium size shows – it stacks up favorably against the cheaper competition for sure.
---
[wptb id=698]
---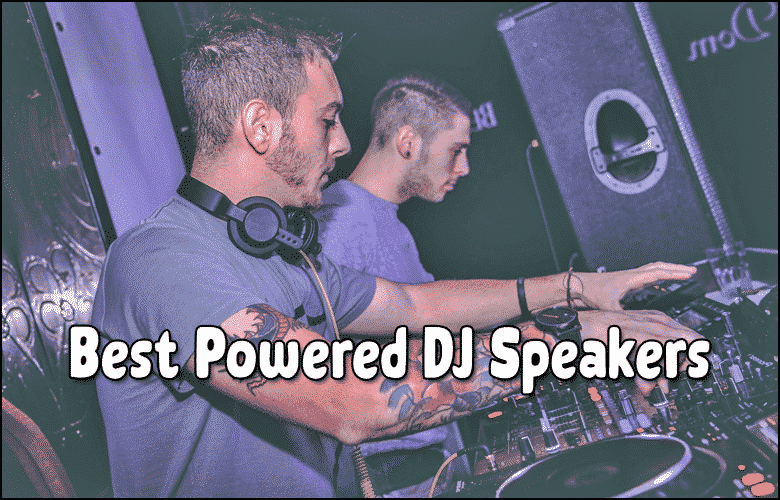 ---
What to Look for in Powered DJ Speakers
Before we get into the "medium potatoes" of our Mobile DJ speaker recommendations, we must highlight a couple of critical factors you'll want to look for in your name speakers. You can jump back to the recommendations
here. What speakers would I buy? Click here.
---
Audio Quality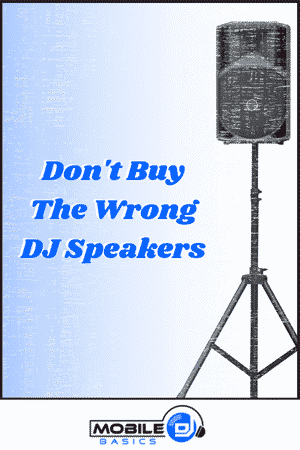 Right out of the gate, you need to choose powered DJ-specific speakers that have a top-tier audio quality.

We are talking about choosing equipment with studio speaker qualities, capable of maintaining accurate playback at both low and moderate volumes, and capable of playing at louder volumes when you are playing live shows.
Active speakers are (usually) appreciated more by performing DJs, if only because you don't have to hook them up to amplifiers the way you do with passive systems. They are usually a little more expensive but often well worth the extra cost since you don't have to buy new amplifiers and haul them around, too.
You'll need the bass on your speakers to pump. It would help if you had a quality power supply, a well-designed subwoofer system, and enough range at the lower levels to produce accurate sound, too.
High-frequency quality shouldn't be overlooked in favor of plenty of bass, either.
You'll want your highs and mids to sound crisper and to sound clear, with just the right amount of audibility, so that everything sounds distinct without sounding muddled. A dynamic range across your DJ speakers is a big bonus, too. You want to be able to reproduce all of the sound that you are mixing accurately.
---
Speaker Setup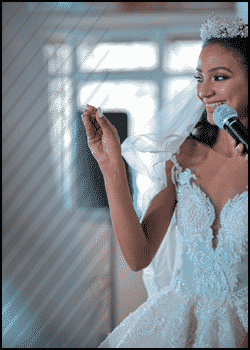 As far as speaker setup is concerned, it's a good idea to get your hands on speakers that "play nicely" with other components of your sound system.
Speakers on top of a subwoofer with a pole to differentiate the two are one way to go. It is usually the top option for performing artists who want the powered pa speakers to fill their venue with sound. You will not have speaker stands that people will trip on.
Subwoofers separate from your tweeters are also a good idea, using smaller speakers with larger subwoofers to handle the bulk of your sound distribution.
Obviously, you want to think about the kind of venues you are going to play to find the correct speaker setup for your needs, but there are plenty of all-in-one packages out there that can cover all your bases – many of which we highlight in a bit of bit.
---
Size and Weight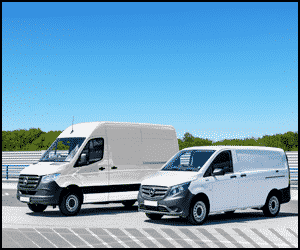 Your DJ speakers' size and weight will play a significant role in how happy you are lugging them around from one venue to the next, throwing them up on speaker stands.
Especially if you don't have a full-blown production group handling the heavy lifting for you. There's a world of difference between 10 inch, 12 inch, and 15 inch speakers, even if they don't appear to be all that far apart from one another dimensionally.
A 10 inch speaker is significant – significantly – lighter than a 12 inch speaker, and the difference between a 10 inch and a 15 inch set up is night and day.
Depending on the speaker's size, you want to make sure that your support stands (tripods and the like) are up to the task at hand. There's nothing worse than tossing a 15 inch speaker set up on a tripod system speaker stand designed for lighter 10 inch powered speakers, only to have everything collapse when you least expect it – ruining your tripod AND the speakers themselves.
---
Portability
Portability goes hand-in-hand with the size and weight recommendations above, though you can get larger (and heavier) powered DJ speakers when they have built-in movement systems to take advantage of.
Large subwoofers with wheels on the back (permanent wheels that you can rely on) are easy to move around and set up compared to midsize subwoofers and speakers you have to toss around with nothing but your arms. What are you going to use to transport the speakers –
Check out our article about Vehicles – Best Vehicles for DJs | Should You Buy or Rent | 2021 Think about everything you have to set up on your own (most DJs have to handle setting up all of their equipment). It becomes immediately apparent how important portability is for all of your sound equipment.
Powered speakers that can be handled by a single person comfortably are the way to go.
---
Why Should DJs Use Powered Speakers?
Using the right gear is one of the best ways to transforming any profession, and DJs are no exception. To help avoid unnecessary embarrassment while entertaining people, DJs must consider investing in the right powered speaker.
The right powered speaker will always offer top-notch audio quality; it's portable, easy to set up: and performance is overwhelming. Interestingly, a powered DJ speaker is cost-effective, easier to use, and highly convenient than the active speaker's counterparts.
The reason to consider this option is that everything you need to create sound – can be found on the speaker. You only require an ideal audio cable to connect to it.
---
What DJ Speakers Should You Not Buy?
Landing the best DJ speaker that will give you long-lasting performance and high-quality audio isn't a walk in the park. You must navigate through specifications; compare different brands and price ranges. To save you from frequently buying and avoid pissing off your audience.
Stay away from brands such as Behringer EUROLIVE, Alphasonik, Pyle, Rockville, and PRORECK.
---
Conclusion
If I had to spend my money on DJ speakers today – I would only spend it on QSC K10, K12, or K8 with a sub, Yorkville YXL10P, or The classic Mackie SRM450. Please note Bose is not on this list. They are trash.
If you only have $300 to spend on speakers for your DJ company. Find a company that will rent you QSC powered speakers. The rental price should be around $25 per speaker. Do some DJ shows and Save up to invest in your company.
---
Read More
---
Pins for Pinterest If you like what you see, feel free to share some love on Pinterest <3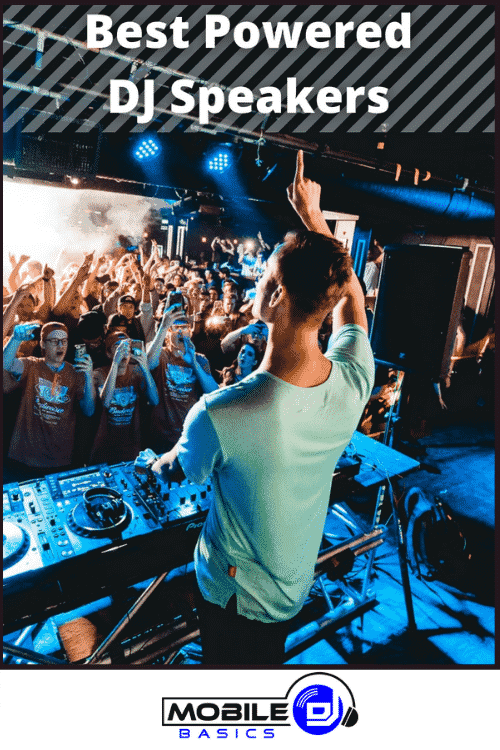 11 Of the Best Powered DJ Speakers 2023 | I Would Only Buy 1 thru 5
From discovering new songs to getting more gigs, I'm excited to share the wealth of knowledge I've gained through many years of DJing. [email protected]