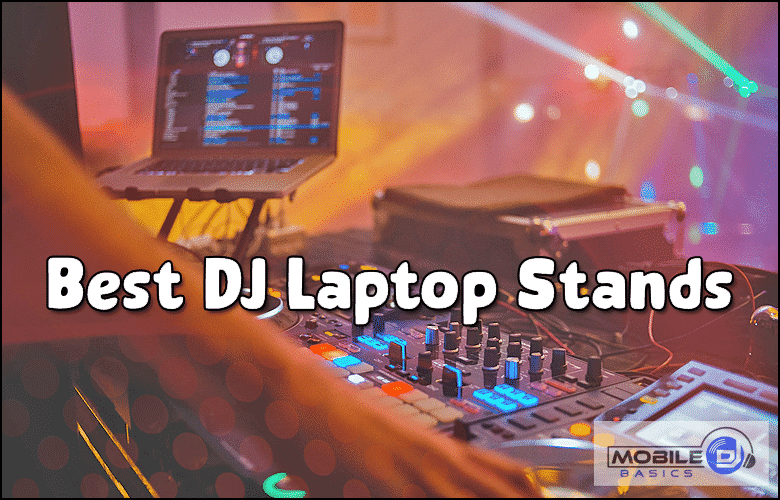 As a DJ, you know just how important the perfect setup is. You have invested in a top-of-the-line DJ laptop, top-performing digital software, and professional-grade headphones. The best laptop stands undoubtedly aren't the glitziest of DJ equipment but make all the difference in functionality and performance.
DJ Laptop Stands
When your computer is mounted correctly, you can focus on the essential things, like dropping massive beats and watching the crowd go wild.
Choosing a non-slip stand that will work with your setup can be overwhelming, but no worries – we've compiled a list of some of the best DJ laptop stands. If you are touring, mixing at home, or need an ergonomic laptop stand for work – we have a solution.
There is a perfect stand out there, ready to withstand the rigors of mixing and life on the road, and we're going to guide you to the right one. Crane Stand Plus is an excellent example of a great laptop stand.
Let's go over common topics on what qualities make the best DJ stands before diving into some of our top picks.
---
A Stand is Just A Stand, Right?
WRONG! A high quality, Heavy-Duty, stable, and durable stand is worth the investment. No DJ wants to have their equipment fail in front of an intimate crowd or hundreds of excited concertgoers. Luckily, there is no shortage of DJ stands on the market.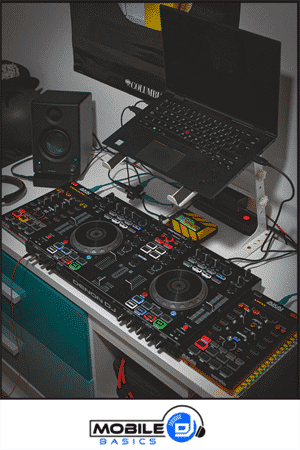 The right laptop stand can maximize your space. Provide added security when you are in the moment, spinning at a wild show.
Your laptop/ DJ gear stand will be with you on the road and in the booth. Set up and broken downtime and time again.
The right laptop stand simplifies a DJs job. It keeps your laptop at the perfect height. It folds up if you need it to, for wherever you are headed next.
Remember, you are investing in yourself—your career. You wouldn't go out and buy just any DJ computer, would you? Or headphones? What about your DJ mixer? A laptop stand isn't as glamorous but is just as important.
Finding the right laptop stand for you might not be as difficult as you think. Sure, there are many things to consider, such as weight, portability, and cost. All of that is in reach, right here in this article.
---
Positioning
Whether you are touring all over the globe or working from home, positioning is of utmost importance. If your laptop is at the right height and angle, mixing tracks or returning emails is much more comfortable.
As a DJ, the ability to adjust your laptop stand's height is a great option to have as every venue is different. Heck, every night you put on a show, there are unique requirements. Having a DJ stand that works with you and not against you makes your job so much easier.
---
Durability
Mobile DJs work hard, set up and break down equipment, hit the road, and play show after show. Even if you use a light-weight Macbook, a secure, easy-to-use, durable stand is one of the essential pieces of equipment you can buy.
Investing in a robust and Heavy Duty laptop stand typically means you have years of use before having to replace it.
---
Dual Laptop/Controller Capability
Just like mobile DJs need to be able to effectively multi-task, so do laptop stands. For some setups, you might need to be able to use your stand for more than just supporting your computer. A laptop stand that can accommodate accessories, such as synthesizers or MIDI controllers, is an excellent option for those times.
---
Best DJ Laptop Stands
Top 6 Laptop Stands
The best overall stand goes to the Odyssey DJ L Stand 360 Ultra for its aesthetics, flexibility, and durability. Weighing in at just two pounds, we are talking about an incredibly lightweight piece of equipment that also folds flat.
Mobile DJs will revel in arms and legs that rotate 360 degrees. The adjustable base extends to 16 inches, and arm-end hooks extend an additional half inch. The laptop stand's innovative design guarantees you have the perfect height and angle every time you set it up.
The configuration options are second to none. Bonus – it locks into place and has rubber grips, so your laptop isn't going anywhere.
Sale
Odyssey LSTAND360 DJ Gear Stand
Weighs only 2 lbs
Folds flat
Folded dimensions: 12.5" X 1.25" X 11.5"
360 Degree rotating arm and base for multiple angle adjustments
Adjustable frame height
---
Pyle Portable Folding Laptop Stand
Whether you're a DJ playing every music venue across the states or working in a studio, the Pyle Portable Folding Laptop Stand is a highly versatile, reliable option no matter where you are mixing.
The Pyle Portable Folding Laptop Stand is our best portable stand for several reasons. It is entirely customizable and only weighs 3.3 pounds. And for those of you who hate putting things together – don't worry! This stand arrives fully assembled – it's turnkey.
The stand has a four-prong, rotating tray to accommodate your laptop, DJ mixer, iPad, or even turntables. A secondary shelf is an easy add-on when you need extra storage space. The stand extends to a gracious 16.7 inches.
The ergonomic standing design comes with anti-slip legs, so you have nothing to worry about when dropping a beat.
Sale
Odyssey LSTAND360 DJ Gear Stand
Weighs only 2 lbs
Folds flat
Folded dimensions: 12.5" X 1.25" X 11.5"
360 Degree rotating arm and base for multiple angle adjustments
Adjustable frame height
---
Samson LTS50
If you are looking for a tripod base for your laptop, look no further than Samson's LTS50 Laptop Stand. Portable and sturdy, the eleven-pound stand supports a whopping 30-40 pounds. If you need a spot for your mixer or other accessories, this stand is perfect.
It's extendable from 30 to 47 inches, allowing you to mount your laptop and other tools right at your fingertips. The 15 x 11-inch silicon tray securely holds your computer, and with an extension of 47," you can see it perfectly while you mix.
Pyle Portable Folding Laptop Stand - Standing Table with Adjustable Angle, Foldable Height and Four Prong Anti-Slip Tray for iPad, Tablet, DJ Mixer, Workstation, Gaming and Home Use - PLPTS55
FOUR PRONG TRAY: This is a reliable laptop stand due to its secure four prong tray that holds the device. It can be used with iPad or tablet, laptops, DJ mixer, turntables, and more. Perfect for home, gaming, school or business use
ADJUSTABLE HEIGHT: The standing table has a telescoping height adjustment to accommodate all needs. The adjustable height length is 12.6'' - 16.7'' inch. The tray's angle can also be rotated for comfort and convenience
ANTI-SLIP FOLDABLE DESIGN: Made with anti-slip legs and no loose parts to avoid accidental slides or falls. The ergonomic standing design has a foldable dimension of 10.6 x 12.6 x 1 inch and 10.6 x 9.4 x 12.6- 15.7 inch unfolded dimension
DISASSEMBLES FOR PORTABILITY: The unit comes assembled and ready to use but it could also be disassembled easily. It is portable, lightweight, sturdy and flat foldable. It is best used when traveling or in other shorter monitor eye-level situations
DURABLE CONSTRUCTION: Constructed with heavy duty durable materials for unmatched quality. It also has an engineered laptop shelf with the exact dimensions of 8.6'' x 9'' inch
---
Pyle Universal Laptop Projector Tripod Stand
The Pyle Universal Laptop Projector Tripod Stand is versatility defined. With the ability to accommodate your laptop and projectors, music notes, sound media equipment, and a whole gamut of other equipment, it will keep you organized and efficient.
The tray itself is a unique and flexible feature of this laptop stand. With tilting abilities, you will be able to make sure that it is at the perfect angle, no matter where you are.
A collapsible frame is perfect for life on the road. While constructed of durable metal, the stand is lightweight. The stand comes in two options: 16″-28″ or 28″-41″, so you will be able to adjust to the perfect height.
Samson LTS50 Laptop Stand (SALTS50)
Lightweight laptop stand with steel-construction and sleek black finish
15" x 11" silicon surface holds laptop securely in place
Tilt control on laptop surface for optimal viewing
Adjustable up to 4. 5' in height
Locking latches and a pin lock for increased support
---
Ultimate Support HyperStation QR
Are you looking for a DJ laptop stand that has super strength but isn't overwhelmingly heavy? At seven pounds, the Ultimate Support HyperStation QR is light yet incredibly resilient. With a telescopic main body and quick-release locks, you adjust, lock, and mix on into the night.
The stand comes with a second-tier shelf and supports arms to hold your valuable DJ equipment securely in place – both features are adjustable.
The Ultimate Support HyperStation QR stand attaches to microphone stands as well. It's an excellent feature for when you are working in a studio.
The stand folds, so it is portable when traveling from gig to gig. Throw it in a backpack, and don't worry about any damage – the stand is made out of die-cast aluminum.
---
Numark Laptop Stand Pro
The Numark Laptop Stand Pro is a lightweight, secure option that folds up quickly as you travel from parties to festivals to studios. The Numark is reliable if you want a durable yet foldable stand to keep your laptop or other equipment safely in place during a gig.
When a venue has limited space, you need equipment that will work for you. The 2.6 pound Numark is easy to set up and break down and is built to last.
DJs can even mount the Numark DJ Laptop Stand Pro to walls – a great feature when working with producers or music executives.
---
[wptb id=701]
---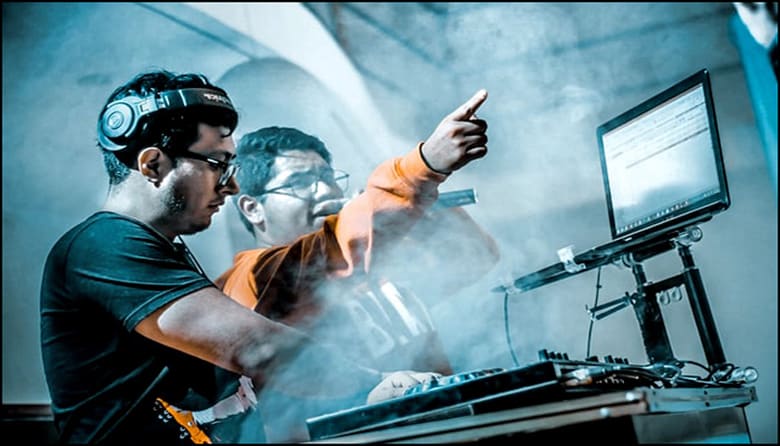 A DJ Laptop Stand is Worth The Investment

A heavy-duty laptop stand is a critical part of any mobile DJ setup. While it might be easy to buy the cheapest stand out there to save some cash, it might come back to haunt you when a show goes awry because your equipment failed. By simply investing in gear that works, you can avoid embarrassment.
Do the research and choose the best DJ laptop stand for your setup. The functionality and quality of your laptop stand are reflections of you and your work. Look for heavy-duty, high-quality, non-slip rubber feet, steel frame, and height adjustment.
Mobile DJs who travel from city to city and venue to venue need equipment that will stand up to the rigorous lifestyle.
Choosing a laptop stand that is gig-tested means you only have to worry about keeping the crowd on their feet and excited.
---
Types of DJ Laptop Stands
We've discussed several laptop stand options available on the market today. Understanding what choices are out there will help you make the best decision possible.
Free-Standing Table Stands: Free-standing table laptop stands can be used on any table or desk with a stable, flat surface and are a great portable option. These types of stands have legs that usually come with rubber grips for added security.
Free-Standing Tripods: Tripods are ground level, which is what some DJs prefer when performing. Best DJ Laptop Stands for Tall People
Desk-Mounted: Laptop stands that clamp to desks or other surfaces, freeing up space you may need for other purposes.
It's also important to consider the laptop stand's construction and its features.
Metal: While metal is incredibly durable, it is heavy. If weight is an issue when traveling, metal may not be the best choice. If not, it's a great option.
Steel: Steel is durable as well and a lot lighter. Look for portable DJ laptop stands made of powder-coated steel if weight is a significant concern.
Aluminum: Aluminum is an excellent choice as it is lightweight but is prone to dent.
Shelves: If you need a stand for more than just your laptop, such as a drum machine, think about purchasing a multi-tiered stand. It's a great way to save space and work efficiently.
---
Features to Look For
Before you purchase a laptop stand, think through what you need it to do for you. Here are some thoughts to consider before pulling the trigger on a laptop stand:
WHAT ARE YOU USING IT FOR: The type of DJ laptop stand you need depends on what you plan on using it for. Do you travel? Do you work in a studio? Do you need it for your laptop, or do you need storage for other equipment?
DURABILITY: Mobile DJs need equipment that travels well and stands up to the test of time. Laptop stands are no different – they go everywhere with you and hold one of your most prized-possessions – your laptop. Be sure to consider what the laptop stand is made of (metal? steel?) or whether it has slip-preventive features (locking mechanisms).
LAPTOP SIZE: Laptop stands to accommodate different size computers. Make sure you consider your laptop's size when researching stands.
ERGONOMICS: Ergonomics means you are working as efficiently as possible. Make sure your computer is at the perfect eye level, so you are most effective. Consider where your laptop will be placed – on your DJ table or a desk at home – and if it's versatile if you switch up locations.
---
---
How High Should a Laptop Stand Be?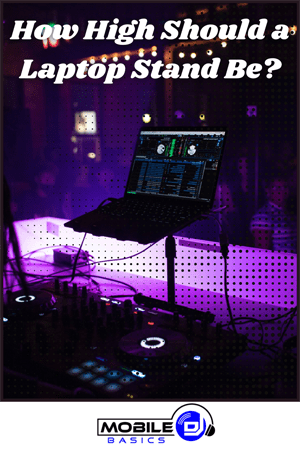 Health professionals recommend that your eye level is one to two inches beneath the top of your laptop screens. Simply put, you should be comfortable when you look at your laptop.
You shouldn't experience any neck, wrist, or shoulder pain when you use your computer. You should be able to look at your laptop with ease, without craning your neck or slumping over. If you are in pain after a gig or mixing session, try playing around with the laptop's height.
The best DJ laptop stands allow you to adjust your computer height to a comfortable level. It makes a world of difference in your overall physical and mental health when you feel great.
---
Choosing a DJ Laptop Stand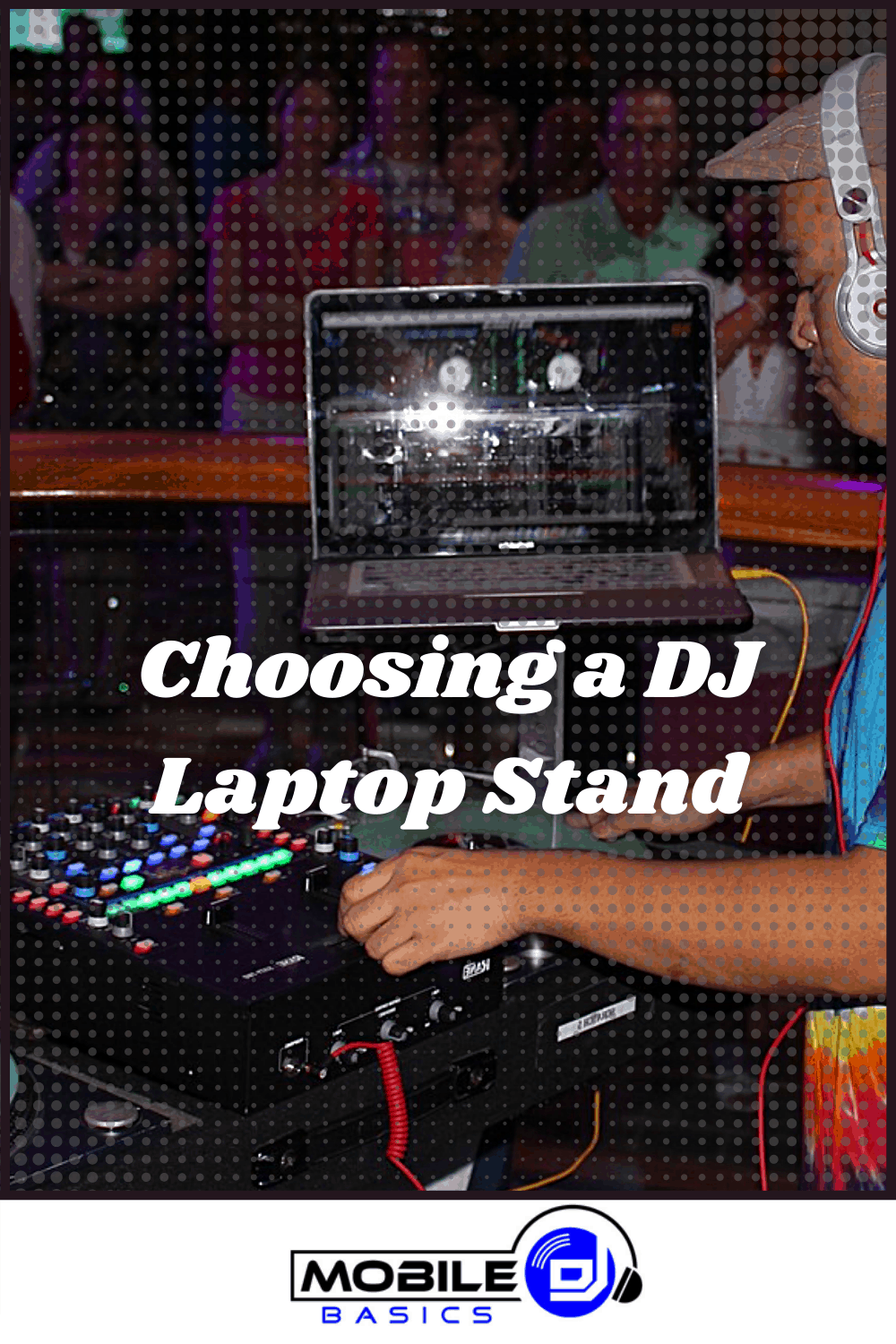 Choosing the best DJ laptop stand can be overwhelming. There are a lot of great products on the market. This buyer's guide breaks it down for you, making the process a bit less intense. Here are a few reminders as we wrap things up:
Think through why you need the laptop stand in the first place.
Consider what you will be doing while using the laptop stand and where you will be doing it.
Think about your equipment (mixers, synths, etc.) and what laptop stand matches up best.
Remember the saying "measure twice, cut once"? It applies here. Be sure to know what size your computer is and check against the laptop stand you are considering.
Measure the ideal height for positioning your laptop, and make sure the stand is accommodating.
Think about different gig layouts. Do you need an adjustable, tilting stand? A space-saving stand?
---
Can a Laptop Stand Really Make a Difference?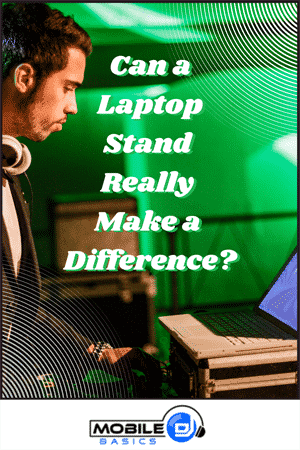 Ok, if we haven't convinced you yet, maybe it's not possible. But having the right equipment, including the best laptop stand, can make or break your performance. And if you want sold-out shows with memorable performances, make sure you have the right gear to do it
The right laptop stand will help you up the ante on stage.
Here's how:
Professionalism: First and foremost, when you have gear that is functional, accessible, and durable, your look professional. The more experienced you are, the better you perform, and the more gigs you score. A laptop stand isn't going to get you all of this, but it certainly helps.
Practicality: When you are performing in different venues, you need a laptop stand that is practical and functional. Every space is different, and having equipment that adjusts well will make your job much more comfortable.
Ergonomics: Your laptop stand determines how comfortable you are. No DJ wants to strain their neck during a set – it's unprofessional and affects your performance.
---
Best DJ Laptop Stand for Tall People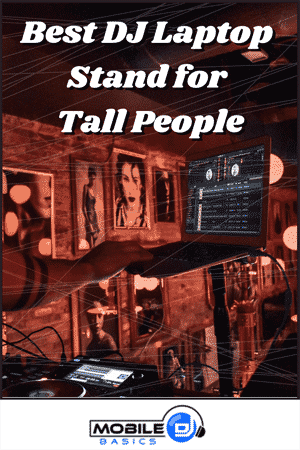 All DJs love dropping a great beat at the right time. But not everyone knows how hard it is when you have to drop that beat from such a great height, and your equipment just wasn't made for you.
Luckily, we have the perfect laptop stand for all the tall DJs: the Samson LTS50, which extends up to 47 inches in height. With this stand, you will no longer be crouching, stooping, or arching your neck to see comfortably and operate your laptop correctly.
Having the right equipment for you is essential to staying in the zone and mixing with ease and fluidity wherever you are playing. Adjust the height of the stand to fit you.
All this extra height comes at no extra cost to its weight of only 4kg. The stand also has excellent quality with a sleek black finish, tilt control, a gripping silicon surface, and locking latches for safety and support.
Samson LTS50 Laptop Stand (SALTS50)
Lightweight laptop stand with steel-construction and sleek black finish
15" x 11" silicon surface holds laptop securely in place
Tilt control on laptop surface for optimal viewing
Adjustable up to 4. 5' in height
Locking latches and a pin lock for increased support
---
---
Conclusion
Looking for the best laptop stand is exciting. Almost as exciting as the anticipation before you drop a beat in front of hundreds of screaming fans.
There is so much to consider when purchasing a DJ laptop stand, and hopefully, this buyer's guide provides excellent insight. Investing in an ergonomic, versatile, and durable laptop stand is an excellent decision for DJs on the road or in the booth.
The right gear makes all the difference in your performance. When you are well-prepared and ready to go on stage, your adoring fans will notice.
---
Read More
---
---
Pins for Pinterest
If you like what you see, feel free to share some love on Pinterest <3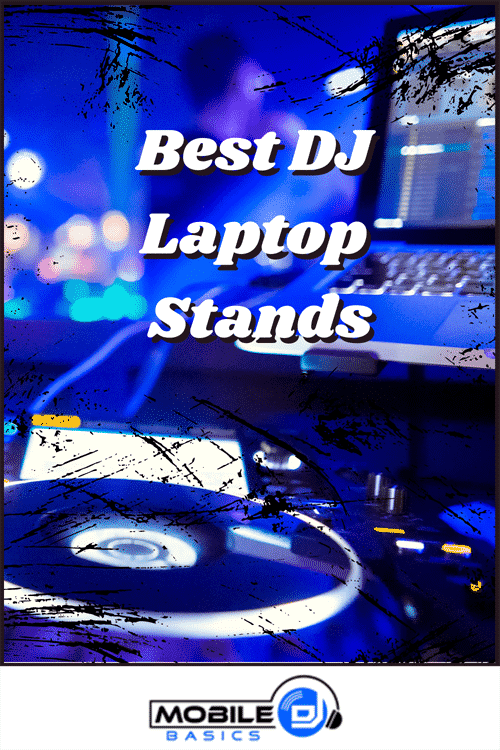 The Best DJ Laptop Stands For The Money – Helpful Guide 2023
From discovering new songs to getting more gigs, I'm excited to share the wealth of knowledge I've gained through many years of DJing. [email protected]