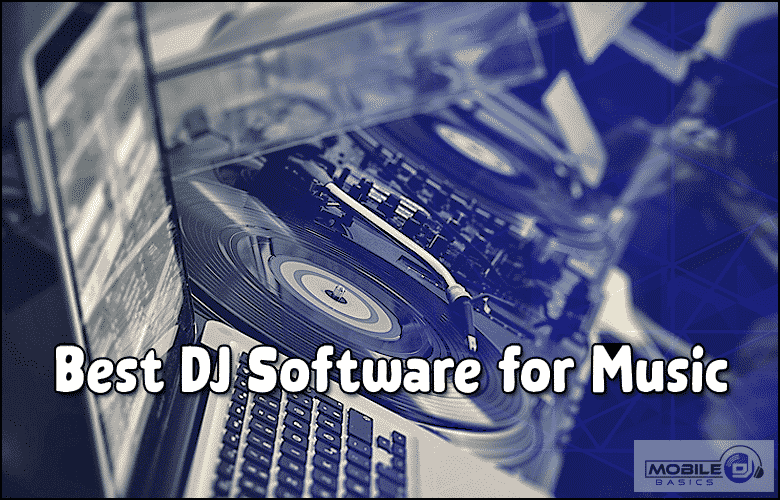 When it comes to DJ software, there are several options on the market. On this page, we will run you through the most popular easy-to-use options that are available. Before we do that, though, we will teach you how to find the perfect computer software for your music production needs.
Click Here To Jump To The Best DJing Software Options
---
How to Choose the Perfect DJ Software
If you want to DJ using your computer, three things are a requirement:
DJ Software
DJ Controller
Headphones
While you can use a lot of software without the DJ controller, it probably isn't an ideal experience if you want to take your DJ skills to the absolute next level. A lot of people will purchase their software based on the controller that they have. However, this isn't something that we recommend.
Software is much more critical.
Choose that first, then find the suitable controller for the job.
The thing is that there is no one 'best' DJing software on the market. What may work for one person may not necessarily be right for another person. There are a few things that you will need to think about here.
Firstly, think about the type of music you are producing. Each piece of software on the market will cater to different music genres. While there is nothing that says the software can't be used with all genres, the whole design of the software will suit specific genres, e.g., a piece of software for house music may be different for DJing techno music.
The simplicity of the software will probably be your primary focus. When you are DJing up on stage, you probably do not have time to fiddle around with countless controls. You want to ensure that everything is intuitive and that you will be able to bang out that next track quickly – This will ensure everybody can get entertained. The software that we talk about on this page has all been designed with beginners in mind, which means you know it will be remarkable for simplicity.
While the software will not be the main component of sound quality, it will play an important role. The music will be filtered through the software, after all. You will also want to ensure that the software is low latency. It keeps everything sounding great.
Don't forget about the features too. You want software that is brimming with features, particularly on the effects front.
Finally, you will want to think about the type of hardware that the software will integrate. While we said that the controller choice should come after you choose software, you still need to ensure that the software works with quality hardware and, perhaps more importantly, you can get hold of that hardware for an affordable price.
Don't forget the headphones – Honest Best DJ Headphones Product Reviews
---
The Best DJ Software Options

So, now that is out of the way, we want to start looking at some of the best DJ software options on the market. Each piece that we talk about here has seen use in a professional DJ environment. Some of your favorite DJs will likely use the software on this list. This means that you know everything here is going to be great. Let's dive in, shall we?
---
DJay
We will start with a simple piece of easy-to-use software, and one that we feel both beginners and professionals will get a lot of use out of it. This is because DJay is one of only a few pieces of DJing software on the market that will integrate with Spotify, which, of course, makes it a bit easier to get your hands on some banging tunes.
This software is dead simple to use, even if it is not exactly brimming with the same number of features as other DJing software pieces out there. However, in all fairness, DJay will be a lot cheaper than most of these options.
We love about DJay, and the reason we believe that it would work best for beginners because you do not need to purchase any additional hardware to make it work. Sure, you can pick up a controller if you want, but we know that many beginners may not exactly want to be spending a lot of money right off the bat. Luckily for them, everything about DJay can be controlled from your mobile device.
Check out – Can You DJ Using Spotify? Not anymore, unfortunately.
---
Serato DJ
In the professional scene, Serato DJ is one of the most famous pieces of software out there. If you can name a favorite professional DJ, they will probably have used Serato DJ. This is because it is brimming with features, and it isn't too difficult to understand how everything in the Serato DJ Lite or Pro software works.
We have selected Serato DJ for this list because the sound quality it pumps out is nigh on unbeatable. There will be no lag with the controls either. This means that you can make quick changes to the tracks 'on the fly'. This is probably why Serato DJ is used so extensively in the professional scene.
Perhaps the only real downside to Serato DJ is that it can only be used with Serato controllers, and they can get pretty expensive. See why we recommended that you choose the software then the controller? If you had anything other than Serato controllers, you would be missing out on what is easily one of the best software pieces in the business.
Jump To – Serato DJ Lite vs Serato DJ Pro
---
Virtual DJ
Virtual DJ is a DJ software that you should only really be using if you are a beginner. Most people will graduate from Virtual DJ at some point because it doesn't have the most features. However, it is an affordable piece of software.
The reason why we included Virtual DJ on this list is due to its simplicity. It will allow you to learn the basics of being a DJ in a non-threatening environment.
---
Traktor DJ
If EDM is your scene, then Traktor DJ is a DJ software that has been designed especially for you. While you can easily use Native Instruments Traktor Pro for all types of music, nearly every feature built into the software has been designed with EDM in mind.
If you already have your controllers or other DJ gear bits, you should probably check out Traktor DJ. This is because there are very few DJ controllers on the market that it doesn't work.
We love just how much you can customize Traktor DJ too. While the layout can be confusing for some people, it will take only an hour of playing about with the software to get it looking and functioning just like you want. This means that your DJ escapades are going to be made a whole lot easier!
---
Ableton Live
Some people will not see Abelton Live as DJ software, and we suppose that is true to an extent. However, if you are in a live DJ environment, there is nothing better than Ableton Live. It will allow you to mix your tracks easily.
It isn't ideal if you are learning the ropes to being a DJ, but once you are being hired for those big gigs, you will probably want to have Ableton Live in your arsenal. It will ensure that you can consistently pump out those great tracks.
---
Mixxx
All of the software that we have talked about so far will have some cost involved with it. Not Mixxx. This software is entirely free, and therefore it will be ideal for those who have a budget to stick. It should be compatible with most controllers on the market.
The problem with Mixxx is that you probably shouldn't be using it if you are new to DJing or have no idea about using computers.
This is because it doesn't quite work correctly out of the box, and it can take hours, sometimes days, of tinkering about with Mixxx to get it to the point where you can produce the incredible music that you want. Although, we do suppose that on the plus side, Mixxx is highly customizable.
---
Cross DJ
There are both free and paid versions of Cross DJ available. If you enjoy your music to be a bit more on the effects-heavy side of things, then Cross DJ is going to be ideal for you. This is another piece of software that can be controlled from your mobile device, which may help you save a bit of cash.
---
Best Free DJ Software
Currently, there are a plethora of premium DJ apps in the market. While they serve professionals and heavy-users well, they're not that great for hobbyists or those only starting in the scene. Luckily, there are many excellent free DJ software to use and practice DJing skills. Accordingly, in this guide, we'd listed the seven best free DJ software available.
Mixxx is excellent for both professionals and hobbyists. It has the necessary features such as BPM, Key Detection, Sync, and a ton of effects. Also, it supports different MIDI, HID devices, and Vinyl records. Above all, it's entirely free and open source for the community.
The Serato DJ Lite is another well-rounded free DJ software. If you're a beginner, you'll appreciate the program's track streaming feature from such platforms as Beatport LINK, SoundCloud, and TIDAL. Also, its website offers tutorials to help every user get started. Lastly, it sports all vital functions that you might need.
Zulu DJ has a more easy-to-understand interface compared to similar programs. As such, it allows users to mix tracks, apply effects, assign BPM, change tempo, sync tunes, and many more effortlessly. On its website, you'll find a ton of listed features, so it's best to check it out.
While considered freeware, Anvil Studio offers many features. To name a few, it supports loops, instruments, MIDI devices, metronome, file management, and professional mixer tools. Should you want something free yet powerful, look no further than Anvil Studio.
If you want free and simple DJ software, please take a look at DJ Mix Lite. While it doesn't have the more advanced functions like its paid version, it does the job regarding tracks crossfading and beat matching. Besides, it serves not just casual DJs but also users who only want to mix CDs or cassettes.
6. KraMixer
KraMixer is one of the oldest free DJ apps. Since 2010, it offers excellent features, namely, mixing different audio sources, WAV and MP3 files compatibility, computer performance optimization, split mode view, automatic BPM generator and sync, editable effects, and many others. While it has so many buttons and components, the app still managed to present an easy-to-use interface.
Last on the list is probably the best free DJ app currently in development. Offered by Apple, the GarageBand is entirely free and available on iPhone, iPad, and Mac devices. It has a fully-featured recorder, editors, effects, and digital and external instruments support. It's well-maintained by Apple and features a gorgeous, user-friendly, and highly-optimized interface as a bonus.
---
Final Thoughts about Free DJ Software
If you're a casual user who only wants to learn a thing or two about DJing, then the DJ Mix Lite and Serato DJ Lite are ideal options. However, if you're going to experiment with advanced features, any of the recommendations minus the two mentioned above will do.
Finally, should you need all necessary and extra features, active support and development, fantastic performance, and a modern interface, then Apple's Garageband is tough to beat.
---
Serato DJ Lite vs Serato DJ Pro
The choice of DJ software is one of the most important purchasing decisions that a DJ could make. It could make or break the music that you mix and create, depending on the features available.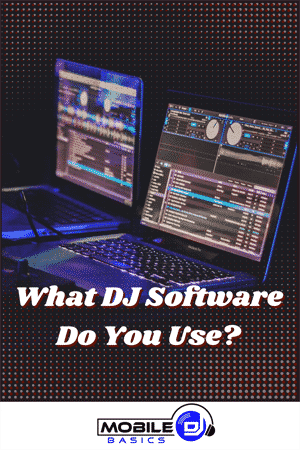 Let's focus on Serato, which is one of the most popular DJ software. Now, let's compare two of its products – Serato DJ Lite vs. Serato DJ Pro. Let's focus on some salient points between the two Serato DJ software:
1) Price. Serato DJ Lite is free, and Serato DJ Pro costs $129 US dollars or $9.99 monthly. If you're a newbie DJ, you will jump at the opportunity of software that doesn't cost you anything.
But as time goes by and you elevate your DJ skills, you would want additional features not present in Serato DJ Lite.
2) Playlists. Serato DJ Lite can't support playlists, but Serato DJ Pro does.
If you're a DJ who's serious about your craft, you know how important it is to have a ready playlist when playing for an audience or friends.
You don't want to make decisions spontaneously on what to play.
3) Built-in Key Analysis Software. This software allows you to know songs with similar keys that blend well together. You would want the transition of songs to be smooth, and Serato DJ Pro has this feature while Serato DJ Lite doesn't.
4) Slip Mode. Serato DJ Pro has this feature, while Serato DJ Lite does not. This feature allows passionate scratch DJs to use scratch on heavy music such as EDM and trap music.
5) Cue Points. Serato DJ Lite allows 4 cue points, while Serato DJ Pro supports 8 cue points. Veteran mixers will be appreciative if they have several cue points to choose from.
VERDICT
Only one thing is going for Serato DJ Lite, and that is the fact that it is free. But if you are a DJ who is passionate about playing great music, the additional features featured on Serato DJ Pro will make it win, hands down.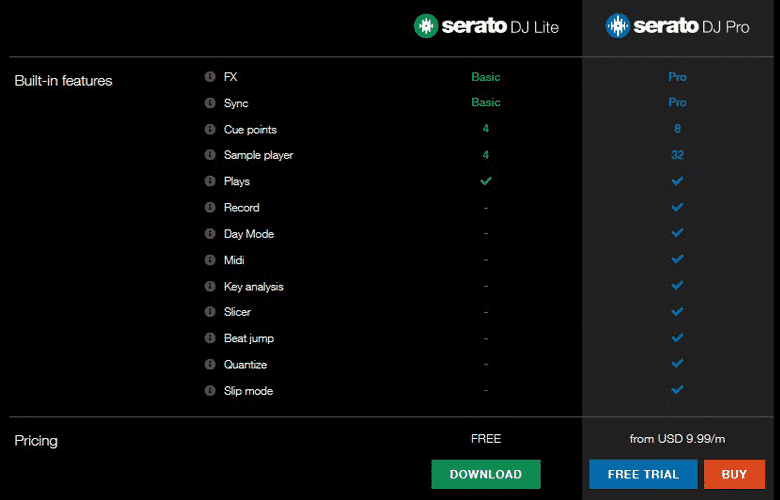 ---
What Software Do Most DJs Use?
While the above recommendations are excellent, some DJs prefer one software over others due to specific reasons.
Serato DJ and Serato DJ Pro are two of the best and widely-used DJ applications. While the competition lacks many features, Serato DJ offers more for professionals alike. Besides, since it's very polished software, DJs don't have to mind bugs, lagging, and issues when they're out and about in the field.
Moreover, as Serato had been around for years, the developers made enough adjustments and updates to make it an almost perfect tool for DJs. Should you want a reliable, pleasing to use, powerful, and flexible, then Serato DJ is the way to go.
---
Which DJ Software is Best for Beginners?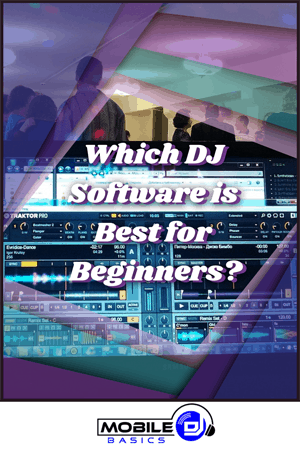 If you're a beginner, the complicated interface and operations of most DJ software are challenging at first.
Luckily, many DJ applications allow newcomers on the scene to learn and progress. The following are two examples:
DJ Mix Lite. If you're looking for an introduction, then the DJ Mix Lite would be an ideal choice. Considering it has a minimal yet functional interface, you won't get lost in the sea of buttons or virtual levers.
Instead, you'll get streamlined DJ software that runs light on your computer.
While it's not as complex as the competition, it has essential features like track mixing, crossfading, beats, support for standard audio files, and many more.
Zulu DJ. If you're a beginner, then trying out with something free is the best option.
As such, with cross-platform support, free usage, and a simplified interface, the Zulu DJ is an excellent tool for learners. It has all essential features like track mixing, pitch adjustments, beat syncing, and MIDI controller support.
---
Can I DJ with just a Laptop?
Yes, you can be a DJ with only a laptop. Since DJ software incorporates all features found on physical mixers, turntables, and other instruments, you can have anything you need to mix or create a song.
While the processing capabilities of laptop matters, you only need to find something that can run your DJ software of choice without hiccups.
---
Which is the Best DJ app?
If you're on the Apple ecosystem of devices and love a professional-looking, regularly updated, and free DJ tool, then Garageband is hard to beat. However, should you want the most reliable, cross-platform, flexible, and powerful DJ software available, look no further than Serato DJ.
---
Conclusion
There are a lot of different pieces of DJ software on the market. You must choose the one that is perfect for your DJing needs. Once you have the ideal DJing software, everything will be a lot easier for you.
---
---
---
Read More
---
Pins for Pinterest
If you like what you see, feel free to share some love on Pinterest <3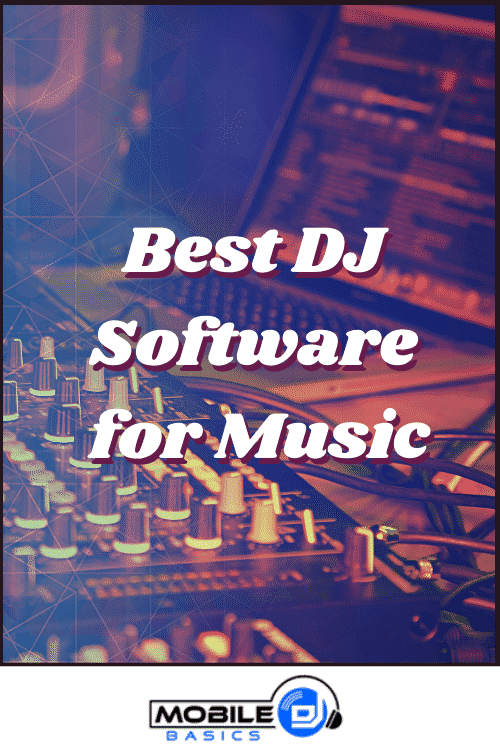 Best DJ Software for Music | Highly Effective Free and Paid Options 2023
From discovering new songs to getting more gigs, I'm excited to share the wealth of knowledge I've gained through many years of DJing. [email protected]