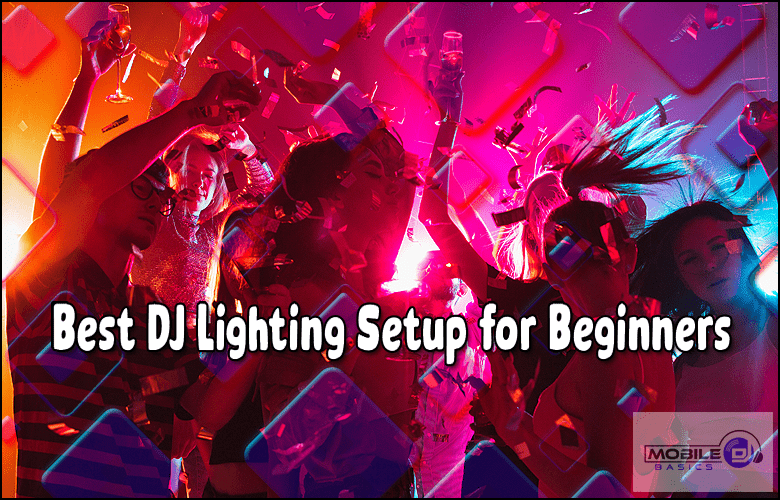 No one wants to be the DJ with a bad setup. If you're just starting out, it can be difficult to know what equipment is best for your needs. You might find yourself wondering if you need a lighting controller, or why it's important to invest in quality cables and adapters.
What's the best DJ lighting setup for beginners? If you're looking to buy your own lights this year, but don't know which equipment is best then I'm here to help. In this blog post we'll go over what types of lights are available and how they differ from each other, as well as some tips on how to set up a basic light show that can be taken with you anywhere.
In order to have the most flexibility when it comes time for your event, it might be worth investing in a few more pieces of equipment than the basics so you can do more interesting things with stands, cases, and all necessary cables.
With this article, we will help new mobile DJs get started on their first gig by providing some of the most reliable tips for building a solid DJ lighting setup that will last them through years of successful performances!
---
What to Do First
You've been dreaming of the perfect DJ Lighting Setup, but have no idea where to start. Well look no further! We're here to help you find just what you need with our helpful guide on how best to buy DJ lighting for any budget!
The First step is focusing on safety. It's important to buy quality DJ lights and cables. Be careful where you place your DJ lights and tripod stands. The most important thing of all will be your own personal safety and the safety of others as you explore this new hobby!
Second, figure out your spending limit because this will let us know which type and how many lights are in store for you within that price range.
Third, how are you going to transport the lights? Car, Van, Trailer?
Fourth, The cheapest DJ lights are often a bad idea for mobile DJs. They're the type of guy that will work when you're just starting out, but they won't be up to snuff come time for your larger gigs- and if it's not quality equipment then what is?
Save up until you can buy better ones or find someone who rents them; don't spend money on something inexpensive unless there really isn't anything else available.
---
Best DJ Lighting Setup for Beginners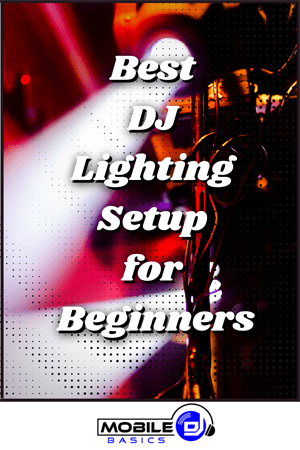 In today's digital age, the demand for DJs has increased exponentially.
As a result of this high-demand occupation in need of skilled professionals to fill these coveted roles, there are many different factors that should be taken into account while looking for DJ gear like lighting setups and other equipment so you can continue your journey as an aspiring professional or seasoned veteran alike.
With technology constantly evolving and innovation happening every day – it is important to keep up with what new gadgets might have been created just when you were about ready give up on finding something useful enough to suit your needs!
---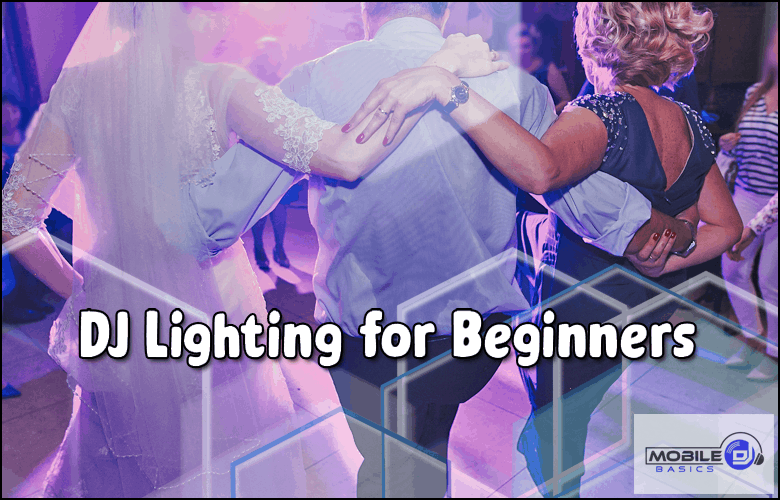 Getting Started
The best lighting setup for mobile DJs is the one that you can transported and setup with ease. Whether this includes a bunch of DMX fixtures or just a couple with out using a controller, here are some pointers to help get you started.
Basic DJ Lighting Equipment
The first thing you should do is fill the dance floor with color. LED Wash Lights are the perfect first lights. FYI Any LED par under $50 on amazon will barley fill your bedroom with enough light.
1.Very Basic Lighting Setup – Small Party
For those looking for an easy to set up and portable dj setup, look no further. This very basic lighting kit is perfect for small basements or garage parties anytime of the year!
2 Lighting Stands
4 Led Par – RF Remote
No Controller
2. Basic Lighting Setup – Small Wedding/Party
For a small event, you need to have an easy setup with lights that can be used in any setting. Start by using two light stands on either side of the DJ area or dance floor where people will want to dance; make sure not all 8 lights are shining at the same place. You should avoid shining them right into areas where nobody is dancing. You don't need to light the bar or the tables where people are mingling.
2 Lighting Stands
8 LED Par – RF Remote
No Controller
3. Lighting Setup – Small Wedding/School Dance
This is the perfect package for a small wedding or middle school dance. Start with two light stands and eight LED lights with an easy to use remote, and 4 effect lights!
2 Lighting Stands
8 LED Par – RF Remote
4 Effect Lights
No Controller
4. Lighting Setup Re-imagined
If I was starting over today – This is what I would look at buying first – Great for Most Events
This can be the most versatile DJ lighting setup for any event. It's high-quality and affordable, making it perfect for all your needs! You don't need to buy a Gig bar or Cheap Amazon LEDs when you can just purchase 2 lights and a base – and build out from there by adding more as needed – which makes this option completely feasible for a DJ on a budget.
3 Light Stands
6 LED Pars RF Remote or Chauvet BTair
No Controller
3 Flat Base On-Stage stands – You do not need to be another DJ that has two lights stands right next to the DJ Booth – Change it up.
---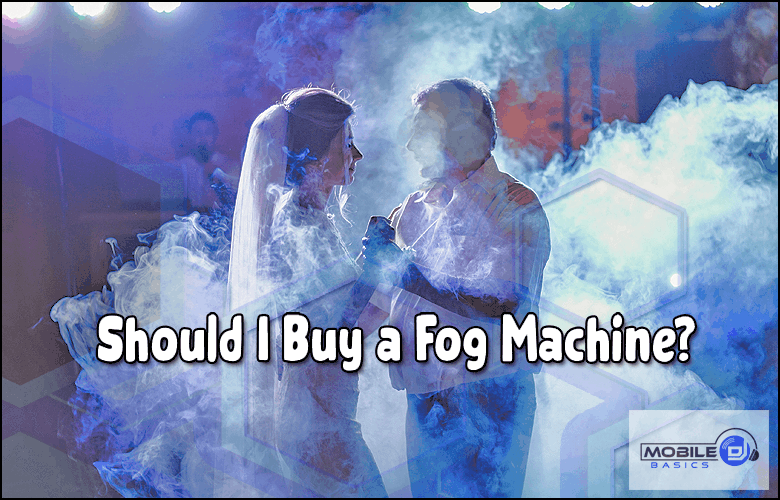 Should I Buy a Fog Machine?
Yes You should buy a fog machine. Every DJ should have a fog machine But don't worry about which one to buy in the beginning of your DJ career. If you're DJing a house party or garage party then a fog machine would be great but most school dances and weddings don't allow them.
Buy a cheap fog machine from Walmart after Halloween ($30). The cheap fogger and cheap fluid will gum up after a while and you will need to clean it or replace it with another one.
We talk about the 7 different type of DJ lights in our article DJ Lighting 101 The Basics | Easily Discover New DJ Lights. Some of these lights only look good with haze. When you are starting out – Spend your money on lights that light up a dance floor and look good with out haze.
---
Soft Cases – Pelicans – Plastic Tubs
After you spend the money on new lights – you need to protect your lighting equipment while on the go with durable cases that will keep things safe from damage during travel. You can find quality protective soft cases for all sorts of gear. Pelicans and Plastic tubs can also help you pack all you need for your setup.
Also having cases for you lights and cables will help you pack, setup and tear down faster. You will be able to find the cables you need faster if you are organized.
---
Look Professional – Keep it Neat.
Investing in the right DJ Lighting will help you look more professional and ready to handle any size show that comes your way.
You can use a variety of methods to make your lighting setup look professional, but there are some simple tricks that will help you from an electrical standpoint.
-Gaff tape is the obvious choice for this since it helps keep cables on the floor and out of reach so no one trips over them when they walk by or walk behind the DJ booth to make requests.
-Investing in a few pieces of Velcro will also help you look more professional. The Velcro can be used to secure cables after you wrap them up. Velcro strips are available at any hardware store and come in colors that allow you choose something that matches with your setup best!
I prefer using Tie Line to tie up my cables after I wrap them.
Sale
Pro Gaffer Gaffers Tape, 2 in x 55 yd, Black
11-mil thick black matte cloth gaffer's tape with rubber adhesive conforms well to irregular surfaces for labeling, and temporary securing and sealing applications
Adhesive removes cleanly from most surfaces
Tape resists abrasion and can be torn by hand
Can be used outdoors and withstands temperatures from 50 to 200 degrees F
Measures 2" wide and 55 yd. long
---
Cables – Extension Cords
When I started DJing I did work for a guy that would buy extension cords in every color possible. What-ever was on sale – 12, 14, 16, 18 gauge – it did not matter to him.
Black extension cords and black cables will make you look more professional DJ and less like your setup was thrown together last minute.
The dark color of the cables and cords will make your setup look more clean, professional, and put-together.
---
DJ Booth Options
As a mobile DJ, you should be responsible for creating the perfect atmosphere at any event. The booth may not seem like an important part of that equation but it is!
To do this, your booth should be aesthetically pleasing and professional to attract customers. It also needs to fit in just about any venue without too much hassle setting up or taking down.
DJ Table
There are a lot of ways to make your DJ setup look professional and stylish, but one way that often gets overlooked is covering the table with an elegant black cloth. If you are providing your own table also bring a black table cloth to cover it.
Portable DJ Booth
What are you using for your DJ equipment? Take a look at Gator Cases DJ Booth, it works great for about $350. The table is additional $150. It has wheels so it's easily transportable because it weighs 44 pounds by itself without equipment inside of it!
This type of DJ booth will help keep your gear protected from hazards like spills on the ground around your equipment as well as being able to stand upright.
DJ Facade
Sale
Pyle DJ Booth Foldable Cover Screen - Portable Event Facade Front Board Video Light Projector Display Scrim Panel with Folding Steel Frame Stand, Stretchable Material - PDJFAC12 (48"x24.2"x46" White)
ADD COOL VISUAL EFFECT: The dj facade front board display scrim panel by Pyle not only provides a clean look to your dj setup it can also serve as a video projector screen to add cool light visual effects to your music for more fun
STRETCHABLE LYCRA MATERIAL: This foldable concealment screen has a steel alloy panel stand and is made of thick and stretchable white lycra spandex material for a smooth and cool presentation and it is also machine washable for easy cleaning
FOLDING DESIGN: This dj booth cover effortlessly folds open and close for a quick and no hassle setup and each panel stand has a sturdy rubber feet so it stays on place. Perfect for covering speaker or dj keyboard mixer keeping them out of sight
LIGHTWEIGHT AND PORTABLE: With a total folded size of 27.6" x 47.7" x 3.80 inches this product is so easy to carry around making it ideal for on stage or in studio use or for outdoor event like a music festival or concerts where a dj booth is needed
48" x 24.2" x 46" TOTAL OPEN SIZE: Each panel of this dj booth screen measures 24.2" X 46" inches with a total open / assembled size of 48" x 24.2" x 46" inches (W x H x D) making it perfect for dj equipment and cable management and concealment
---
Don't Forget Your Contact Info
If you're looking to make a lasting impression with your audience, then it's time to take your marketing strategy mobile. The first step is getting the QR code on your business cards – that way people can get in touch with you and find out more information about what they saw at an event or gig without having to ask for it verbally.
Here are some of our tips on how to get started:
1) Add a QR code to all outgoing business cards
2) Include contact info (e-mail address, phone number, website URL)
3) Consider using social media links as well for those who want quick access
4) Link up your DJ Instagram, TikTok, YouTube, and DJ Facebook Page
5) Get creative! You could have different codes for different purposes and events
You spent some money on new lights. Your DJ setup is looking great and a potential client asks how they can get a hold of you for their event. Be prepared to give them your contact info. Make it easy for them to find you.
---
Conclusion
We hope this guide will help beginners create the perfect lighting setup for their unique needs so that they can save money and time on equipment while still getting professional quality results! Helping you choose the right lights, we'll start with step one: finding your Best DJ Lighting Setup for Beginners.
---
Read More
---
---
Pins for Pinterest
If you like what you see, feel free to share some love on Pinterest <3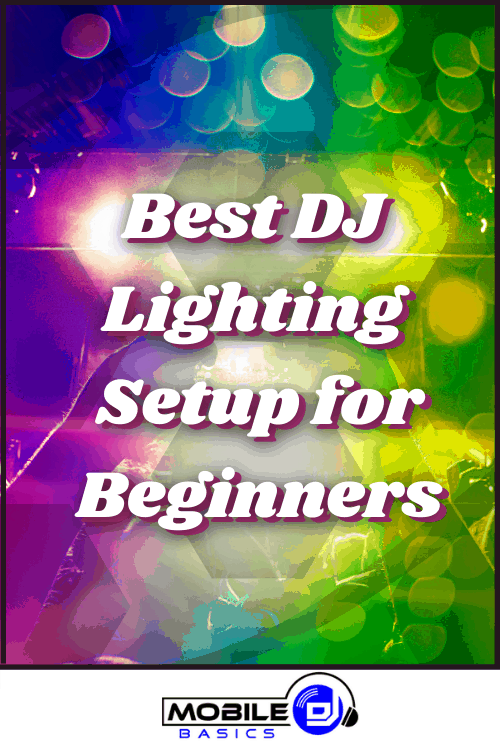 Best DJ Lighting Setup for Beginners 2023
From discovering new songs to getting more gigs, I'm excited to share the wealth of knowledge I've gained through many years of DJing. [email protected]