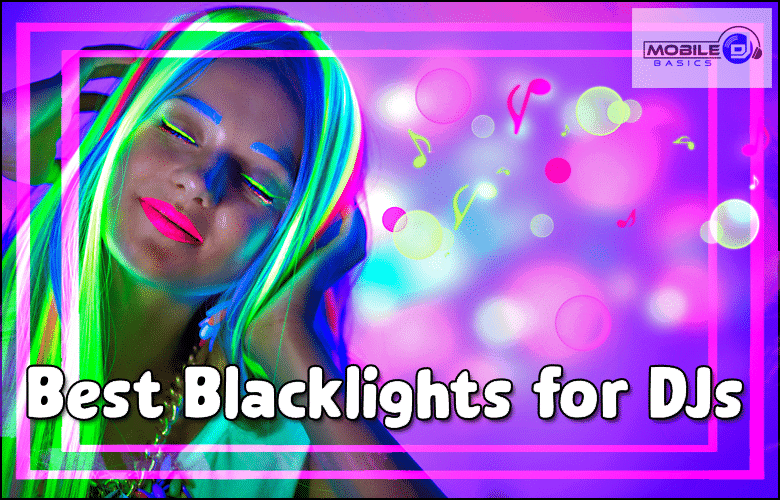 Being a DJ involves much more than just creating a good playlist and using good speakers; to be successful, many DJs need to dedicate a lot of resources to other pieces of equipment, including their lighting, to keep their audiences engaged and entertained.
Part of what makes blacklights so great is their versatility, and depending on the type of audience you have and what kind of music you plan to play, there are different types of blacklights that will work best for you. Read on to help identify what kind of blacklights are best for DJs.
---
Best Blacklights for DJs
We'll share some popular and proven examples that mobile DJs can consider using to help with their performance.
All of these lights can be found on Amazon, and their quality is validated by their numerous, strong reviews.
Depending on your own needs, you should also consider looking at other retailers and buying options.
If you're an inexperienced mobile DJ, you can also think about renting your UV lighting equipment temporarily, so you get an idea of what works best for you. We like Wildfire and ADJ Products. Still have a dozen of the Elation UV wash.
ADJ ECO UV BAR PLUS IR (IR Remote No DMX)
ADJ BAR20, UV LED (DMX)
American DJ UV PANEL (No DMX)
American DJ UV Canon (No DMX)
ADJ UVLED 24 or Black-24BLB (No DMX)
Chauvet LED Shadow Blacklight (DMX)
Blizzard Lighting LB Bar (DMX)
Blizzard LoPro CSI (DMX)
Wildfire BlueBar 60W (No DMX)
DMX Control
---
6 Cheap Best Blacklights for DJs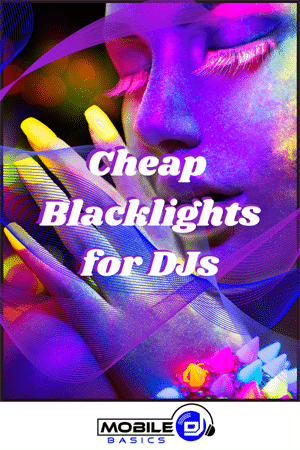 Most of the cheap Blacklights do not offer DMX control. You turn them on and leave them on.
This light bar is great for mobile DJs because it can be used in a lot of different situations. It's big and powerful, and it's priced at $40 for a pack of 2.
Lightweight and easy to use
50,000-hour lifetime
LED technology
It's designed to create visual effects based on the blacklight
This light is great for most glow-in-the-dark reactive pigments and is easy to tow around, but at a little over 9 pounds, it is a little heftier than some of our other options.
Sale
FAISHILAN Black Lights LED Black Light Bar, IP65 Waterproof BlackLights Glow in The Dark Party for Blacklight Party Halloween Bedroom Body Paint Stage Light Fluorescent Poster
【Powerful Black Light】: Each black light for bedroom 24W fluorescent blacklight include 24 pcs high quality led chips. black lights for glow party light up to 50,000 hours of long life,Our black light bar can light up your glow party 20x20ft area.This black light party bar wavelength: 385-400 NM.This black light posters for room 24W black light bar fixture with 120-degree wide beam angle,our blacklight party supplies can make glow lights for party in dark.
【Black Lights For Glow Party】The working voltage is 100-240V,24W Black Light Bar, 48 LEDs black light lamp with Switch, Plug and 55 in Cable, Light Up 40x20ft, for Stage Lighting, Body Paint, Glow in Blacklight Party, Fluorescent Poster, Halloween.the aluminum alloy shell has an efficient heat dissipation design, which is reliable and durable, and provides you with satisfactory lighting effects.
【Blacklight】Fluorescent Glow Party Supplies : the black light can glow in the dark which is unique design for most reactive pigments, paints and dyes with black light. The led black lights work fairly cool for body paint and other visible fluorescent materials.This glass panel and advanced optics provide exceptional black light bar color and high efficiency. Ideal for illuminating painting, pigments, glow in the dark party, fluorescent poster, game room, vending booth, showroom.
【Easy to Use Black Lights】Black light fixture: the black light poster include 5.0ft/1.5m cord(with plug&switch). This blacklight lamp for glow in the dark can be used anywhere with a power outlet. Wiring is not necessary.Black light posters for room is the perfect choice for bedroom, paint party, neon party, glow party, church, birthday parties, stage lighting, Christmas events, Halloween,bar and band performances.
【Wide Application Blacklight Bar 】: Glow light backdrop are great idea for Halloween and Christmas glow parties. Just mount on equipment at gym, studio, Club, churches, wedding, birthday party, galleries, disco, KTV, museums room etc. Ideal for illuminating painting, pigments, dyes, glow in the dark party, fluorescent poster, game room, vending booth, Christmas Blacklight.
Similar to the lightbar, this flat par serves as a powerful source of blacklight that is very versatile at the same time. This will fit right into any mobile DJ setup, and it's priced at $36.
It can be controlled by a wireless remote
LED technology
It has various modes of use
Low power consumption
These are very lightweight at under two pounds each. They illuminate a variety of photoreactive pigments and effects.
Black Lights, U`King 72W 36LED UV Blacklight with Glow in The Dark Party Supplies by DMX and Remote Control for Stage Lighting
EXCELLENT HIGH POWER UV BLACKLIGHT: 36ledx2-watts, premium quality and powerful ultraviolet led, wavelength: 395-400nm, UVA level.
FLEXIBLE DESIGN: This black light can be easily controlled by wireless remote and any kinds of DMX controllers The lights flicker and change patterns with the beat of the music).
MULTI-PURPOSE: UV light with 6 modes effect: Strobe mode; Static Color Mode; Fade Mode; Auto Mode; DMX mode; Sound Activated Mode; speed can be controlled.
EASY INSTALLATION: 360°Adjustable brackets for easy position, ideal for glow parties, clubs, Birthday, Glow Bar, holidays decorations, Neon lights and Stage Lighting.
SPECIAL EFFECTS: Black lights create stunning atmospheres at gigs and parties, Ideal for glow parties, clubs, bars, gyms, and holidays decorations etc.
When you compare this floodlight to the previous U'King floodlight, it's much smaller, but it's still very versatile. This also means it's less expensive, with the max price being at $30.
This price changes with the power wattage
Wide Beam
It's very portable
It's also waterproof
Again, this is a lightweight, very portable option. It's not a bright UV light, but that's not its intention. The idea of this light is to illuminate glow-in-the-dark pigments.
YQL Outdoor UV Black Light,10W Ultra Violet LED Flood Light,Blacklights for DJ Disco Night Clubs,UV Light Glow Bar,Blacklight Dance Party,Stage Lighting,Glow in The Dark Party Supplies,Curing
NOTE1 - Please understand the true purpose of this luminaire, this is a UV lamp. Main use: UV glue curing. In the party, the uv light-emitting paint on the face or body or on the clothes will produce a fluorescent effect, and the ornament with the fluorescent agent will produce a fluorescent effect to create a party atmosphere.
NOTE2 -Not recommended as a lighting fixture, because it is UVA band, visible light is very weak. Its brightness is not reflected in the intensity of visible light, but the strength of the fluorescence reaction.
Product parameters -10W Full Power UV blacklights, Wavelength 395nm±5nm, waterproof IP66, security UVA level, wide voltage AC85V-265V, 120 degree luminescence angle.150 degree adjustable lamp body bracket,to achieve a large area of ​​black light irradiation,can Be used outdoors and indoors,with us plug.
Application Scenario - Birthday DJ club party bar disco beon party,concert show,plays,events and gallery,UV LED bar,bedroom,UV light bar,night clubs,aquarium lighting,UV Art,blacklight dance performances.Can be a perfect substitute UV Blacklight bulb,black light Led strip,UV bar light,ulvioviolet light strip.
Portable,Safe and Easy to Install - Aluminum alloy shell,tempered glass,lightweight and durable,commercial grade waterproof,high end luminescent chip and driver,safe and reliable.can be easily installed on any surface or pillar. Sales warranty service -The warranty Period of 12 months,you also get our super friendly customer service and lifetime technical support .So please feel free to contact us if you have any questions or requests.
This UV LED blacklight doesn't fall under one of the main types we listed earlier, but this light can still be very useful for a mobile DJ. This little mover comes in at around $99, and it can do a lot depending on how you use it.
RGBWA + UV
7 x 18 Watt LEDs
LED technology
It can sync to the beat of the music
DMX Controllable
It's easy to control
Move and Aim the light where you want using a DMX controller.
This is another type of UV blacklight floodlight, but this model is a lot more versatile due to its design and its various models. It's also relatively less expensive; the lowest power model is only $17.
It has different models that have different power levels for different prices
It has a lot of different lighting effects
Wide Beam
It's very portable and easy to install
LED Black Light, Exulight High Power 30W LED Flood Light 85V-265V AC for Party Supplies Curing Glue Fishing Aquarium Halloween DJ Disco Birthday Wedding Stage Lighting with US Plug (30)
★【Long Life Span 】30W Hight Power LED Flood light, works with 85V-265V AC, energy- saving and long life span for more than 50000+ hours. High quality chips which is much brighter and more durable than normal chips.
★【Great Lighting Effects】The Black light Wavelength 385nm to 400nm, no harm to human eye and skin, great for illuminating most blacklight reactive pigments, paints and dyes, plus many glow in the dark products. 120 degree wide beam angle that covers a large area, creates a special lighting effects.
★【Portable and Easy to Install】 Totally plug & play, this led flood light can be taken to anywhere for any glow in the dark parties or body paint events. 180 degree adjustable lamp body that can be mounted to any surfaces or be supported by bracket.
★【Black Light fot Parties】Widely Application for Aquarium, Fishing, Special effects, Glow Party, Gyms, Art painting, Halloween, Clubs, Music, Dance, Performance stage and others. Ideal for indoor or outdoor application.
★【What You Will Get】30W Black Light, 1.5M US plug power cord is included, friendly customer service and 12 month warranty. Please feel free to contact us, if you have any questions.
This is an example of good LED strip lights that mobile DJs can consider using, and what makes them great is that you can install them in your own way. They're also not very expensive, with a price of $20 for 33 feet.
They're flexible to stick in many spots
They're dimable, so you can control their brightness
You can cut certain parts apart without affecting the whole strip
Those are the top 6 on our list, and there are plenty of variations on the market that are similar to these. If you're a DJ in the market for UV LED blacklight equipment, it's a good idea to be familiar with what is out there and how to choose what is best for you.
YeeSite 33ft UV LED Black Lights Strip Kit with Remote Control, 600 Units Lamp Beads, 12V/3A Flexible Blacklight Fixtures for Fluorescent Dance Party Body Paint Stage Lighting (10M)
DIMMABLE BLACK LIGHTS: Powerful black light strip with 18-Watt 16.5ft 300 units 3528 SMD LEDs for each pack, total 36-Watt 33ft 600 units 2 pack. 50,000 hours of long life, high power efficiency.
SPECIAL DESIGN: Every 3 lamp beads can be cut at will as a unit, and will not affect the rest strips, or connect up another strip to extend the length.
FLEXIBLE TO STICK: Blacklight strip, suitable for indoor. Flexible to stick in about any location, from indoors: cabinet, wall, floor, bedroom, living room to outdoors: boat, table or just about anywhere.
SAFE TO USE: 395~405nm wavelength, safer to human body. Great for fluorescent body paint, poster, birthday party and galleries, also be used for glow in the dark party supplies.
EASY TO OPERATE: Just plug and play. This strip light working is 12V 3A power supply, extremely low heat. 3M strong adhesive tape and 10pcs fixed setting as an auxiliary role.
---
Types of Blacklights for DJs
In general, there are three main types of blacklights, similar to regular light sources:
Fluorescent
Incandescent
LEDs (light-emitting diodes)
Within these categories are more variations, but these are the popular types to use.
There are even special types of UV blacklights that use lasers and mercury vapor, but these aren't as commonly used, especially for mobile DJs. By knowing the general uses for these types of black lights, you can evaluate which kinds you can use for your DJ venue, and it'll help give you an idea of how to set them up and use them.
When it comes to comparing the main types, it's usually grouped into UV LED Blacklight vs. conventional Blacklight lighting types (i.e., fluorescent and incandescent).
LED Blacklights

Conventional Blacklights


Uses diodes to produce their light
More recently developed and technologically advanced
Considered the best type of light source
Uses Less Energy
Can be DMX Controlled

Fluorescent runs electricity through a gas in order to light up
Incandescent works by heating up a wire filament to produce light
Technology is based on older concepts
Still commonly used
Now that we've talked about the general types of UV blacklights, we can now discuss more specific examples for each type. Then, we can further discuss some factors you should keep in mind when buying blacklights, and we can then look at good recommendations.
---
6 Models of Blacklights
These UV lights may seem a bit obscure, but they can work in a variety of lighting setups for mobile DJs, especially if you need to stay within budget.
Some key characteristics of florescent tube blacklights:
They're less expensive but reliable
They have a variety of models
Their power consumption can be minimal compared to others
They are fragile and break easily.
Florescent tubes range from $4 to $16, and they serve as a decent light source.
These types of fluorescent are more recognizable, and they still serve as a good alternative as a UV light source. They're generally more expensive, ranging from $12 to $80, but that comes with more power.
They're more compact
They consume more power
They're easier to install
Not good for large venues
Also a plus: they are don't break as easily. So what you may pay more for upfront can save you the expense – and hassle – of replacing fragile tubes.
U-Shaped Fluorescent Blacklights
These black lights are very similar to the tube fluorescent blacklights. You may choose this over fluorescent tube black lights due to power consumption or light connections available.
They have a wide variety of power consumption
They have a wide variety of pin connections
They're usually colored white as opposed to black for fluorescent tubes
Good for large venues
U-shaped blacklights usually fall within a price range of about $10 – $15.
These lights are the most recognizable out of all the blacklights, and with their simple comes simple installment and use.
They're cheap but use a lot of power
They have various shapes
They're very easy to work with
It's also the least expensive option, usually costing about $5 a bulb.
This kind of blacklight is rarer than the other types, and they also pose a small hazard due to their presence of mercury gas.
It uses a lot of power (175 Watts) when compared to the other black lights
It's small and easy to install
It provides great UV lighting for its size
These light bulbs generally cost about $15 – $55 each.
As we lightly mentioned before, LEDs are typically the best option when it comes to lighting sources, but we will continue to discuss this later.
They have a similar structure to the fluorescent tube blacklights
Their power consumption is reasonable
They have different colors
Great for large venues
The superiority of LED options is reflected in their price, coming in at around $20 for a blacklight bar. But you can also get individual LED Black Light bulbs for about $5 each.

---

Best Blacklights for UV Paint
UV paint is one of those timeless trends that will never go out of fashion. They can be used in all sorts of scenarios. From a cool retro party, stage lighting effects or in artistic spaces to scientific purposes.
People of all ages love this type of UV lighting because they're always cool and fun, plus they're really easy to create. If you're looking to create a space with UV pain but can't decide which type of black lights are the best for UV paint, then this article is for you.
The two most common blacklights in the market are LED blacklights and fluorescent black lights.
In the past, fluorescent lights were the first and best option to have better results but, nowadays, with all the technological advances, there are new UV LED lights that provide amazing results.
Therefore, a lot of people are preferring to go with this new UV LED technology.
Fluorescent Blacklights
You can never go wrong by choosing fluorescent black lights. They're usually cheaper than LED lights, so they're a great option if you're tight on a budget and if it's your first experience with UV paint. If you're only planning to use them on a short-term basis, then think no more, these are the best ones for you.
LED Blacklights
On the other side, LED lights are known to have a higher efficiency than fluorescent blacklights. They have a longer lifetime and don't burn like fluorescent lights. Instead, after about 25,000 hours of use (sometimes more), they start to diminish gradually, giving you a head start to get new ones.
One of the top benefits of choosing UV LEDs is that they don't have any mercury or other toxic materials that are usually used to make fluorescent black lights. So, if your lamp ever falls down and break, you can clean it up worry-free and without any special equipment.
Most LED Blacklights do Not work with invisible paint.
---
Considerations for DJs Using Blacklights
Now that you're familiar with the basics behind blacklights, we can now talk about the ways that mobile DJs use black lights for their services. It's obvious that being a DJ involves much more than just simply playing music, and their choice of lighting can really make an impact on their performance and connection to the audience.
Deciding what kind of UV black light to use incorporates several aspects, and there are a lot of different types that can meet your needs. Taking the time to plan out your performance can greatly help with making sure you choose the right kind of blacklight. Below, we'll discuss the main things to consider when using black lights
Your Own Equipment and Budget
The most important initial step for a mobile DJ to do is determine what kind of base setup they want that they'll be able to transport.
The key is to choose a setup that's flexible and versatile, and there are plenty of UV options to choose from when it comes to black lights.
One specific example is choosing a kind of black light that can easily be integrated into other lighting systems, so it makes it easier for the DJ to move around.
It's easy to want to go overboard, but every DJ has a budget. The good news is that there are options available at all price points. When budgeting, also consider the lifetime operating cost of your setup.
Be Aware of Operating Costs
Purchasing black light equipment costs money in and of itself, but it also costs money to actually run and use the black light. And different types of black lights have different power levels, so certain types will require more power to run than others, and that plays a huge part in the overall operating cost.
Because of operating cost, what initially may seem like the least expensive option could actually be very expensive in the long run because of how often you use it.
All you need to do is just make a detailed plan noting how much it'll cost to operate your black light and figuring out how often you'll use it. You may find yourself in a situation where you can use a less expensive black light for a certain amount of time before you need to upgrade in order to save money. It all depends on your specific needs, and you just need to be aware of this when deciding how to use your black lights as a mobile DJ.
Equipment Location
As important as your best setup is, what will ultimately matter is how your equipment is going to function at your performance.
As mentioned before, it's important to have a flexible set of equipment to use, but you need to then make sure that the location where you're going to be performing is going to be compatible with your equipment. If you find that your equipment won't be compatible, you then have to figure out how to get the equipment if needed.
Evaluate the physical location and the power access already available.
Learn and follow any large venue guidelines that are required for your setup.
This can simply be done with careful thought and planning, but this should be done beforehand, so you know what type of UV black lights to use and don't have any surprises the night of your event.
Ambiance and Audience
Once you've figured out a way to actually implement your black lights, you can now focus on using them to enhance your performance. Choosing your black lights and getting them to work is one thing; using them in a way to connect to your audience is another.
Most notably, you need to consider:
Location: Whether the event will be outside or not
Existing light: How much light exposure will be present in general
Physical space: How you'll be able to orient your black lights for the event
Determining these factors will help you decide what kind of mood you want to create for your performance, and checking these factors before your performance can help you decide what kind of UV black lights you should bring in the first place.
Many mobile DJs have to decide what kind of ambiance they want to create, usually generalized between high-energy vs. soothing/relaxing. Black lights can help create a wide variety of different atmospheres, and it's up to the mobile DJ to choose which one is best.
For example, a lot of times, you'll see black lights used in dark clubs where people are encouraged to wear certain colors so that it creates a nice visual effect inside. The DJs take advantage of the UV violet glow that it produces, and there are plenty of other ways to create nice visual effects.
[wptb id=3592]
---
Choosing the Best Type of DJ Blacklight
We've discussed the various types of UV black lights, but the world is starting to prefer one certain kind of blacklight more and more.
Up until recently, fluorescent blacklights were the main option, but because LED technology has developed very rapidly, LED black lights have now become the industry standard.
The rapid advancements have led to numerous advantages, and many mobile DJs use LED black lights simply because it's the best and most versatile option available.
Why LED Might Be the Best Black light Option for DJs
LED blacklights have three main advantages over fluorescent lights:
Greater efficiency
Longer lifetime
No harmful mercury
DMX Control
Efficiency, durability and safety all come at a higher cost, however. Black light LEDs are usually more expensive than fluorescent lights.
But you need to remember that the operating cost will also determine the long-term price of these black light sources, so you need to evaluate how long and how often you plan to use your UV black lights.
---
LED Black light Types
If you decide to end up using LEDs for your black light, you now have to decide which specific type of LED fixture you will use.
Which fixture you choose will again depend on your own personal situation, but this should be easier for a mobile DJ to evaluate once they've already determined the other aspect of their blacklight setup.
There are four main types of LED fixtures:
Strip light – Most versatile but lacks light power
Lightbar – Like a strip light, but more permanent. Not great for mobile DJs.
Wall washers – Indirect illumination, better for a large venues with a large area. Uses more power.
Floodlights – Good directing light at a large surface. Uses more power.
In some ways, many of these fixtures share various similarities, but each one has its own intended use and certain advantages.

---
Conclusion
Choosing the best blacklight set up as a mobile DJ can be much harder than it appears, but with the right preparation and dedication, you can find certain types of black lights that will help fit your needs. In most cases, LED blacklights will be your best option because of the various benefits that they can provide. Wildfire makes the best blacklights but they are not in most peoples budgets.
No matter what your DJ situation is, there's a black light out there that should help bolster your performance.
---
---
---
Read More
---
Pins for Pinterest
If you like what you see, feel free to share some love on Pinterest <3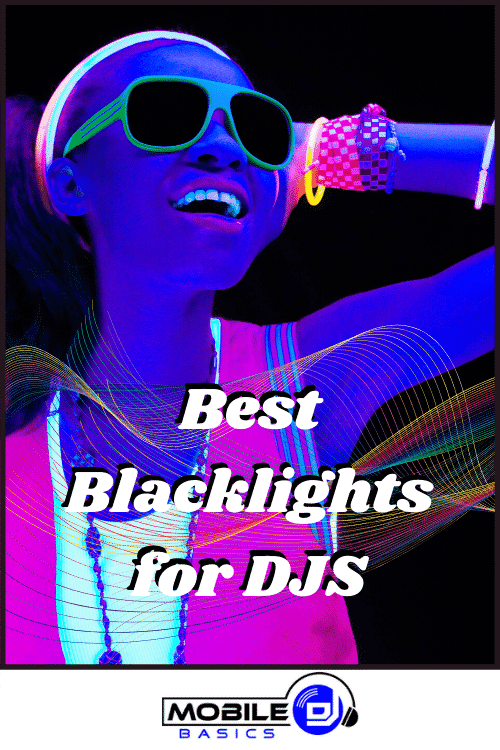 Best Blacklights for DJs | Complete UV Light Buying Guide 2023
From discovering new songs to getting more gigs, I'm excited to share the wealth of knowledge I've gained through many years of DJing. [email protected]