DJs elevate experiences with the thump of the DJ speakers, a high-energy charisma, and exceptional lighting. The right DJ can orchestrate a mob mentality to party and that is why excellent DJs are highly-coveted for events. One of the many tools in a DJs arsenal is DJ lighting and the mastery level skill of incorporating it into the show to add fuel to the fire and feed the crowd's positive energy to exhaustion and beyond.
There is a variety of different types of lighting that serve different purposes to build up energy, release it, and back it back down. DJs use lighting to set the atmosphere and mood in a complicated science that encourages our behavior or lack thereof. A stunning visual display can draw a crowd and keep them engaged and mesmerized.
What DJ Lighting Do I Need?
DJ Lighting has as much personality as the DJ does and the type of lighting will depend on:
The style of the DJ
The funds available
The space allowed in the environment
DMX Control
So, there is no one way to set up a lighting system, the possibilities are extensive. This is where the science of a DJ comes in. If the lighting doesn't match the music or if you are overdoing it, it can have the opposite effect of being depressing, not good for a nightclub or wedding environment. Setting a positive flow is essential.
There are basically 3 kinds of lighting that DJs utilize to do this.
Effect Lighting
Wash Lighting
Uplighting
---
My Lighting Recommendations 2021
Wash lights
Blizzard Hotbox EXA
Chauvet DJ SlimPAR Q12
ADJ COB Cannon Wash
ADJ12P Hex IP
Elation Sixpar 200
This RGBAWUv  fixture light offers 12 different LEDs and an electronic strobe and is daisy-chaining capable. One of the cool features is that it does support DMX. The Elation Sixpar 200 is easily mounted to the floor or hung from a rig.
---
Moving Wash Lights
ADJ American DJ Inno Pocket Z4
Chauvet Professional Rogue R1 Wash
ADJ Vizi Wash Z19
Blizzard Stiletto Ray-Z
Blizzard Flurry Z
This intelligent light produces evenly dispersed bright colors with 3 zones of LED control making it incredibly appealing. Sharp 16-color beams allow for a wide coverage of every dark corner and all over the dance floor. The fade/pulse effects are seductive and with the way it moves, it can engage and play with the audience with ease.
---
Strip Lights/LED Bar
Blizzard Tough Bars
Chauvet EZlink Strip Q6 BT
ADJ American DJ Ultra Hex Bar 6
Chauvet EPIX Strip Tour 50
Blizzard Pixelstorm 240
The Blizzard Pixelstorm 240 is a 1-meter long pixel bar packed to the hilt with color serving as an excellent wash fixture with its 96 red, 72 green, and 72 blue lights it is a sight to behold. The effects of this lighting fixture hypnotize a crowd and the ease of control is staggering with DMX capability. It is fully equipped with 25 built-in programs for the program and sound activation mode making it a DJs best friend.
---
LED Lekos – Gobo Lights
Chauvet DJ EVE E-100Z

Pro – Zoom
Con – They Do Not take the same gobo as a regular ETC leko

Blizard Oberon™ Profile NZ
ADJ Encore Profile Pro Color
Chauvet DJ Freedom Gobo IP
Chauvet DJ EZGobo
Chauvet DJ gobo zoom usb

Pro – Rotating Gobo
Highlighted Features
LED Ellipsoidal shines a hard-edged, warm white spot in any direction
Easily highlight areas by altering the projected beam with framing shutters
Flexibility to project from any distance using the manual zoom
---
Batter Powered Lights
Chauvet Wellfits
ADJ Element HEX
---
Blacklights
Blizzard LB Bar
ADJ UV COB Cannon
Chauvet DJ COREpar UV
---
My Favorite Hazers
Stage Hazer Reviews – LDRyanConlon.com
Hazers and foggers look great but most nice places will not let you use them with out a Paid fire watch. Find out before your event if you can use haze and if it will be a problem. Since most places do not allow haze I would buy lights based off of that. If the light need haze to look good – I would buy something else. A moving wash light will look better without haze compared to a moving spot.
---
What Is Effect Lighting
Effect lighting is like a web, it's organized chaos. These types of lights point in every direction, to every corner in the place, and illuminate the atmosphere, tables, stage, and especially the dance floor. Incorporating fogs or creating a haze is common in order to see the lights slicing through them which adds to the appeal.
---
What Is Wash Lighting
Wash lighting refers to more of a direct spotlight that is used to cover a specific area such as the stage or an elite couple at a table, or even using it as a directional guide to the nearest bathroom, which comes in extremely handy. These lights allow us to see something that is important to be seen as a centerpiece to the chaos.
---
What Is Uplighting
Uplighting is when you see lights from the floor shooting upward onto walls or anything that accentuates the room and makes it look a bit more dynamic and interesting. For example, your wedding colors are red and gold, uplighting directed to the walls will blast them with red and gold streams, immediately adding depth and vitality to a white wall or boring room while personalizing it to your event.
---
Lighting Control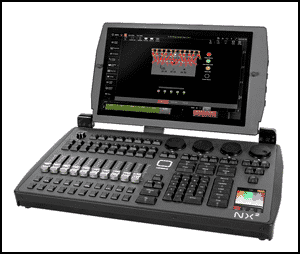 When we think of DJs, we usually have an image of a headphoned silhouette bouncing in front of a large panel controlling the music and lights. On that motherboard, would be the DMX control that allows you to match the lighting to your music and be the master of all things that are DJ. DMX control hooks all of your fixtures up to one panel to easily give commands. DMX control usually comes in 3 modes:
Sound activated
DMX controlled
Program mode
Sound Activated
This is when the lights are set to respond to the sound. Setting the sensitivity knob at the beginning of the show will let the fixtures take over to match the music with little to no effort.
DMX Controlled
The DJ will set a pre-program sequence for the show and man the lighting for the entire event. This control requires the most labor, but it also provides for the best atmosphere and substance that you won't get with sound activation.
Program Mode
The program mode allows you to choose the color and effect to repeat the same sequence for the duration of the event. To change it you would need to reprogram it or turn it off.
---
Different Kinds of Lights
DJs have several different kinds of lights hooked up to the DMX control in order to simultaneously create a surreal, pumped environment to make people forget the real-world troubles for a little while. Some of these are:
Intelligent Lighting/Moving Heads
These lights are used in Effect and Wash lighting because they are a busy set of lights with high maneuverability and act as a living force to the event. Moving lights offer light beams that fly through the crowd and actively participate in the event, changing the entire atmosphere by binding it all together. The lights change their course in multiple directions to include everyone.
Gobo Lights
These lights are usually fixed on walls or a ceiling to project images or designs. These lights are vital to personalizing the event and setting boundaries for the wild intelligent lighting to give the room some focus. These lights are usually solid beams of different colored lights that can either flash the color or remain fixated.
Miscellaneous Lights
DJs can add any type of personalized lighting fixture to complement their show such as disco balls, mirrors, or anything else. Shining a light on a disco ball will splatter light through every crevice in the room and can give a starry, retro look.
LED lights are fantastic in these effects and require less energy and put off far less heat than most other lights which is important when you have a crowded, high-energy room.
---
Conclusion
There are several combined factors that make a perfect storm of DJ lighting for any wedding, school dance or club scene. The DJ is the conductor that brings all of it together in one harmonious visually pleasing event that invites us to move our bodies to the dance floor. Lighting is critical in elevating the experience and with the right ingenuity, can make the night that much better.
Lighting can oftentimes depend on the DJs technical prowess. There are products that take the work down and feed off the DJs skill from novice to seasoned, there are plenty of ways to keep the party going.
---
Read More
---
---
Pins for Pinterest
If you like what you see, feel free to share some love on Pinterest <3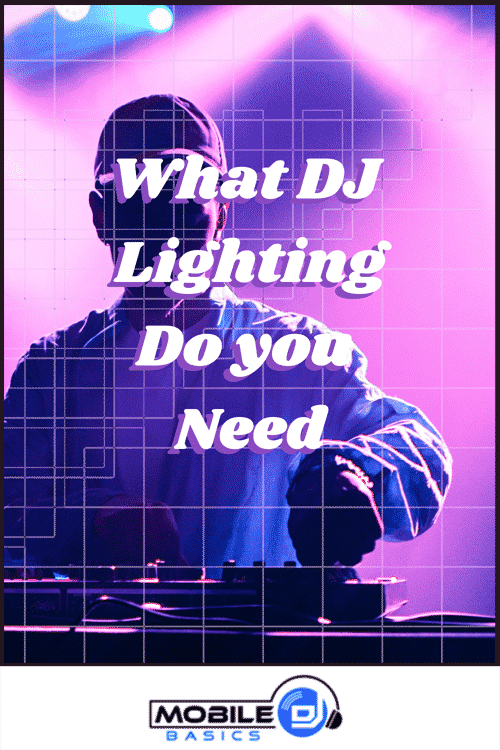 Beautiful DJ Lighting You Need Starting Out 2021 – Fundamentals