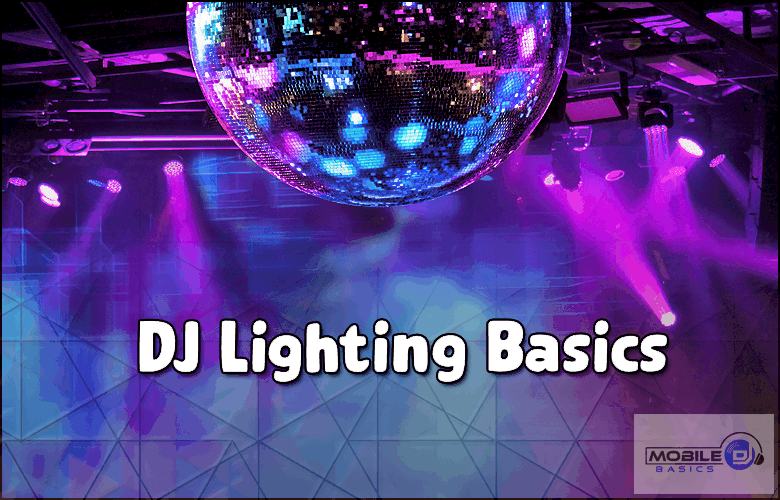 DJ Lighting is a very important aspect of any DJ setup. Not only does it add the ambiance and atmosphere that makes any show come alive, but it also helps your audience see you so they know where to look on stage.
When selecting lighting, there are many factors you can take into consideration: where will the lights be positioned? How bright do I want my lights? What colors should I use?
What DJ Lights Do I Need?
If you're new to the world of DJing or just looking for some help with your lighting setup, then this article is perfect for you. We'll cover what equipment beginners should use and how to set it up so that it can be effective.
Whether you are looking to start as an part-time DJ or have aspirations to become a Full-Time someday, there are some things in life worth investing time into – this being one of them!
So take these few tips from me:
Do you have a vehicle that can fit all your equipment?
Research which DJ lights will work with your computer software or hardware setup
Look at videos to see what type of lighting you like best
Read reviews before buying to make sure it's what you want
Don't forget about cables, stands, or cases if needed
Choosing the right type of light for your DJ lighting setup can be a daunting task. It is important to make sure that it will provide enough illumination without being too bright, but there are many options out there and not all lights work well in every setting.
This blog article gives an overview on different types of DJ lighting so you can decide which one best suits your needs as a beginner or even experienced professional!
---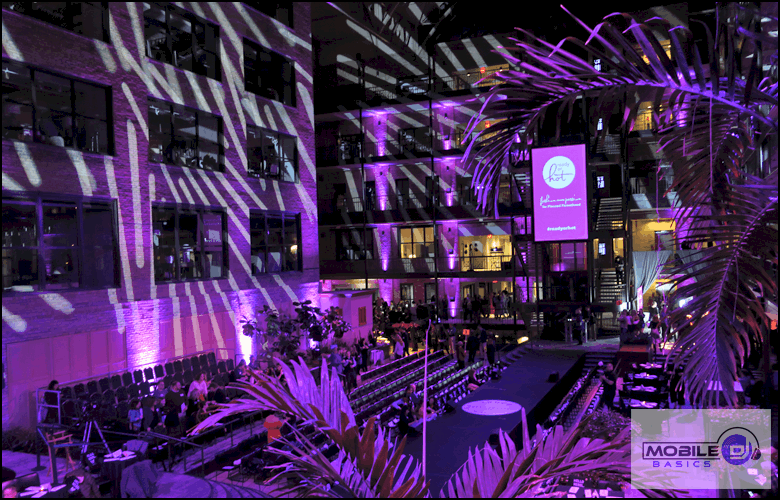 Different Types of DJ Lights
When you are beginning to DJ, it can be difficult deciding what kind of DJ lights to purchase. You want to make sure that the light is bright enough for your venue, but not too bright for your audience. This blog will help you understand different types of lights and how they may or may not work best in a beginner setting.
Wash Lighting

Effect Lighting
Uplighting
Gobo Lighting
Decor Lighting
Spot Lights
Specialty Lighting
---
Wash Lighting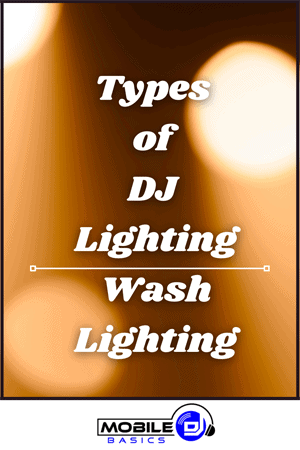 The first thing that you should buy when starting out with lighting is LED wash lights. These versatile fixtures can be used for uplighting and dance floor lighting, so they will never go unused!
Plus, the price tag won't break your bank account like other more expensive options would. Start off by buying two to start. After each event buy 2 more. 6 – 12 is a great total to have. These lights are affordable and will make you money at ever event you do.
You can't get a good dance party going without awesome lighting. What better way to liven up an event then with led wash lights?
Not only will it light the whole floor, but most of these LED fixtures are also sound activated so you won't need a controller.
---
Effect Lighting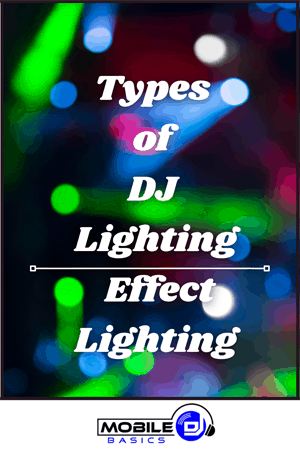 How do you light up a room? With the right music and great lighting, of course! And as a mobile DJ for weddings and corporate events with over 18 years, I've seen it all. Lighting effects are an important element to any party or event, but what about those that want more than just plain old white lights?
Lighting effects is one of the most important elements when it comes to entertaining your guests. DJ lights can change the mood from casual to formal and can be used for various purposes such as highlighting certain areas of your venue or even adding color-changing effects.
There's no better way to make your party stand out from others than by using these colorful, energetic and fast-moving lights!
From a DJs perspective, lighting can be the difference between an average show and one that is truly spectacular. How do you make sure your audience has as much fun at your show as possible? One way to appeal to their senses with effect light!
Effect lights are colorful, energetic and fast-moving – they're what will keep people on the dance floor until last call so get some today!
---
Uplighting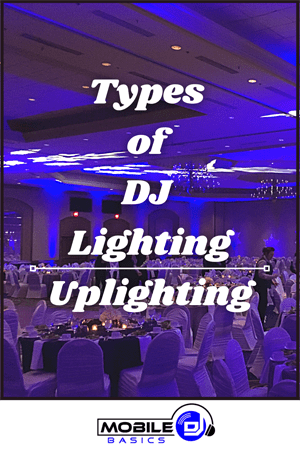 Imagine the mood and atmosphere you want at your event. Now, imagine that space with uplighting to highlight its shape from above (hence "uplight"). Uplighting can help transform any space, and is a great way for DJs to compete with your competitors.
The best DJ uplights are battery-operated and wireless. With no cables you don't have to worry about tripping over cords or having your guests trip all over them!
This can be a large investment. You will need 12 – 18 – 24+ uplights depending on your venues. If you don't want to spend all that money on uplights. Rent them from a local DJ/production company.
---
Gobo Lighting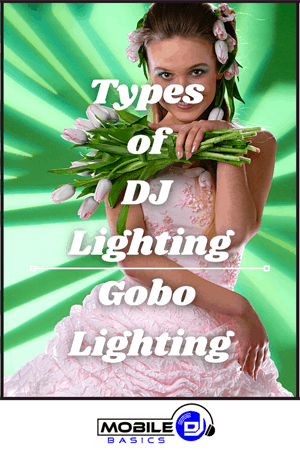 In a lighting fixture, Gobos are stenciled circular discs that create projected images or patterns. The term is short for "Go Between Optics", which refers to the location of these items in front of light sources so they can be seen by an audience; this area between optics and what it's illuminating is where you'll find your gobo!
ETC Lekos were once the most popular form of lighting for static gobos, but as LED technology evolved throughout history they have been replace with LED options.
New gobo technology has come a long way since the days of ordering shape-cut pieces from companies like Rosco. Now, with LED light fixtures and transparency film you can create custom shapes to add drama or just make your event more interesting in general!
If you're looking for a way to create an awesome ambiance, whether at a wedding or nightclubs alike, then Gobos are the perfect choice. They project not only simple messages and names but also elaborate scenery too!
Freedom Gobo IP is more than just another light projector because it's wireless and battery-operated which give you freedom indoors or outdoors with no cabling needed.
Chauvet DJ EZgobo Just made lighting easier – With a simple press of the button, you can choose any design to bring your event space alive. Freedom Gobo IP has an option for LED monograms and logos as well as other designs that will make your special day unforgettable!
---
Decor Lighting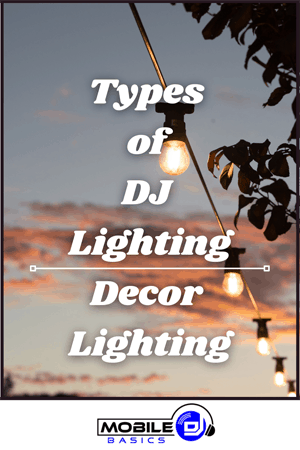 Create a magical ambiance with the help of festoon lights (String Lights).
When you are searching for your perfect lighting fixture, keep in mind that there is an entire range to choose from including battery-powered outdoor twinkle string lights and chandeliers to traditional plug-in light strands.
Outdoor Festoon Lights: These patio party and wedding essentials come assembled or as individual sockets so they can be hung up anywhere!
With their low energy consumption, these LED bulbs will also last long into your event day without worry about being too hot or bright on anyone's eyes nearby.
Newer models are color changing and can be operated with a remote.
Brightech Ambience Pro - Waterproof LED Outdoor String Lights - Hanging, Dimmable Vintage Edison Bulbs, 48 Ft Commercial Grade Patio Lights Create Cafe Christmas Ambience In Your Backyard, 2W 15 Bulbs
Energy Saving Outdoor LED String Lights: 24 ft long string lights with 7 hanging 2 watt bulbs spaced 3 feet apart. Brightech porch string lights are approved for residential and commercial Christmas lighting and they never get hot even after being on for hours. Connect up to 20 strands end to end. 2700 K soft white LED string lights. (Please NOTE: Bulbs are made for use with 110v only.)
Commercial Grade Weatherproof Patio String Lights: Brightech's Ambience Pros hanging lights string has our own WeatherTite technology - withstood winds up to 50MPH, rain & snow. The rubberized flexible heavy-duty cord withstands the wear of indoor and outdoor use. The core is UL listed. Confidently leave these lights on display year round.
Flexible Installation & Widely Used LED Patio Lights: Brightech outdoor decorative yard lights are the perfect decoration for balcony terrace, garden, bistro, bedroom, living room, pergola, gazebo, tent, barbecue, city roof, market, cafe, umbrella, dinner, wedding, birthday, party, Xmas, etc. Brightech string lights are easy to assemble, plug to play. You can string them straight, or wrap them in trees for unique shapes.
Classic Cafe Ambience: Brightech indoor outdoor string lights use vintage Edison Bulbs. Install this hanging lights string with old-fashioned filaments to give off a warm, old-time glow so that you can come home after a busy day and enjoy your very own retreat. Make your pergola, porch or other space to be an enticing, relaxing and soothing winter holiday retreat with Brightech LED outdoor lights.
A Thoughtful Present for Every Stage of Life: Searching for a remarkable gift? Look no further! Our commercial grade string lights are the ideal gift for students, mothers, fathers, partners, spouses, children, kids, or parents for Back to School, Off to College, Graduation, Halloween, Christmas, Birthday, Winter Holiday, Mother's Day, Father's Day, Wedding, Anniversary and Business Achievement
---
Spotlights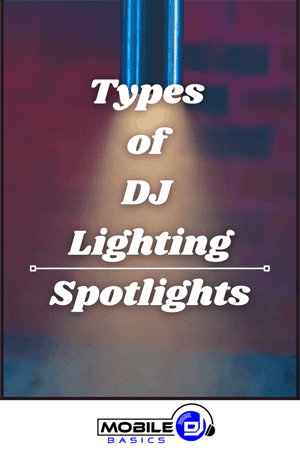 The DJ lighting at your wedding is important for creating the perfect ambiance. You might want to consider adding table spot lights in order to highlight individual tables and bring them into focus.
The right battery led spot can make all the difference when it comes down to special occasions like weddings or other formal events such as banquets, galas, exhibitions – you name it!
Table spots are just one option if you're looking for a way that will light up some of the most prominent spots on any banquet room's tabletop without disturbing guests who may be sitting there while keeping an eye out on their plates and drinks from across the dining space – not forgetting about chandeliers too which often cascade downwards over every guest seated below.
Freedom Centerpiece will be the perfect addition to any event. It is elegant and wireless, so you can set it up anywhere without worrying about cords or plugs! Freedom Centerpiece also features polarized lenses which eliminate unwanted glare from guests who may have sensitive eyes that need protection in order to enjoy your party decorating skills.
This innovative centerpiece includes 4 units – so they're compatible with most table arrangements, and you can add this chic design next time to your head table!
CHAUVET DJ Freedom Centerpiece Wireless, Battery-Operated uplight
Elegant, centerpiece up-light highlights floral and other decorative elements
100% true wireless, battery-operated, with built-in D-Fi transceiver
Polarized lenses eliminate unwanted glare
Rated for outdoor use and impervious to table spills
Full wireless control and can match entire room décor effortlessly
---
Specialty DJ Lights
Strobe Lights
The modern DJ does not use strobe lights because they are too distracting. The flashing light can cause seizures in some people, while others might find the bright flashes annoying or overwhelming. Most lights will have a strobe function. You no longer need to buy a light that is only a strobe light.
Lasers
Don't waste your money on buying a laser light set-up; there are many other, more affordable options available to help create mood in any kind of venue or event space! They will look good in a basement or garage party where it is dark and you have fog. But for most paying jobs. You will not need it.
Disco Balls
Do DJs still rely on disco balls to light up their dance floors?
I can't help but wonder if time has passed this trend. When the 1980s and 1990s rolled around, it was all about using these shiny silver or gold spheres of mirrors in nightclub settings as a way to create that perfect ambience for dancers and party-goers alike. These days though, artists have been donning LED lights instead which are both brighter than regular bulbs and more cost effective too!
Blacklights
Blacklights have been around for decades and they're still heavily utilized by DJs today to enhance the look of their setups as well as in dark clubs where visibility might otherwise be less than stellar.
Blacklight Dances and Glow Parties are still very popular for High School and Jr High Dances.
Best Blacklights for DJs | Complete UV Light Buying Guide
---
---
How Many DJ Lights Should You Buy?
Lighting is a key component for any event. It sets the mood and can help make or break your party. DJs should definitely invest in good lighting, but how many lights do they need?
Well, this depends on the size of the venue that you're DJing at.
For larger venues it's important to have more than 8 light because if someone is up close to your booth then their face will be in shadow. In smaller venues, you don't need as many lights because people are further away from your set-up.
If you are just starting out – 2 light stands with 4 lights per stand.
Best DJ Lighting Effects Setup for Beginners
---
Do DJs Bring Their Own Lights?
Some DJs, like myself, bring their own lights because they have the best lighting for any occasion.
Although many DJs use their own lights for a show, there is no law requiring them to do so.
Some prefer the freedom of bringing and setting up light rigs themselves while others feel that it's less work when they're already carrying around heavy DJ gear like Mixer, DJ Booth and Speakers.
---
How Do I Control My DMX Lights?
There are many different light controllers on the market that will help with this process but not all work for everyone's needs – they're just too complicated or limited in function when it comes down to what type of controller you need.
If you are just starting out – Look for a lighting system that is easy and can be controlled from your phone or tablet. Chauvet BTAir is a nice system for most DJs.
If you want to spend the time and learn ShowXpress, MyDMX, Onyx, Or any other Lighting Controller. Don't try to learn it the day of your event. Keep it simple
---
Conclusion
If you're a new DJ, then an investment in quality DJ lighting equipment is key. With the right type of DJ lights, your show will stand out from other DJs and have vibrant colors that last through years of use! The last thing any new DJ wants is to spend money on something subpar only to find out it breaks or falls apart after just one use.
You should buy your DJ lights from companies like ADJ, Chauvet DJ and Blizzard lighting. These are reputable sellers of quality DJ gear that have excellent customer service to ensure you get the perfect lighting effects for any event.
---
Read More
---
---
Pins for Pinterest
If you like what you see, feel free to share some love on Pinterest <3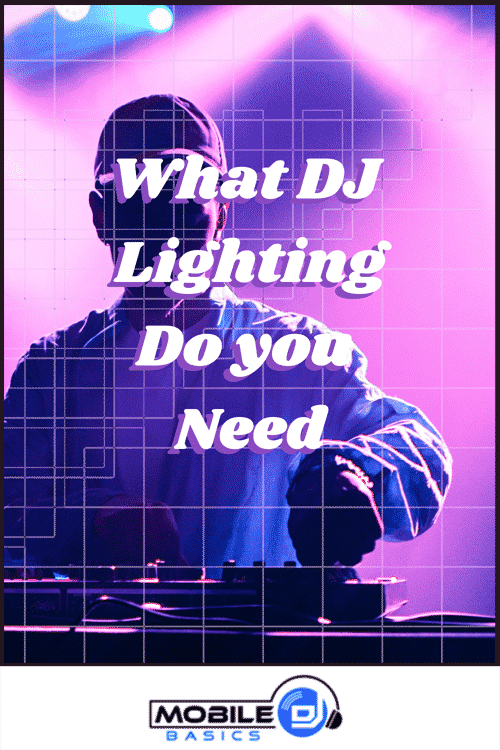 DJ Lighting 101 The Basics 2023 | Easily Discover New Popular DJ Lights
From discovering new songs to getting more gigs, I'm excited to share the wealth of knowledge I've gained through many years of DJing. [email protected]