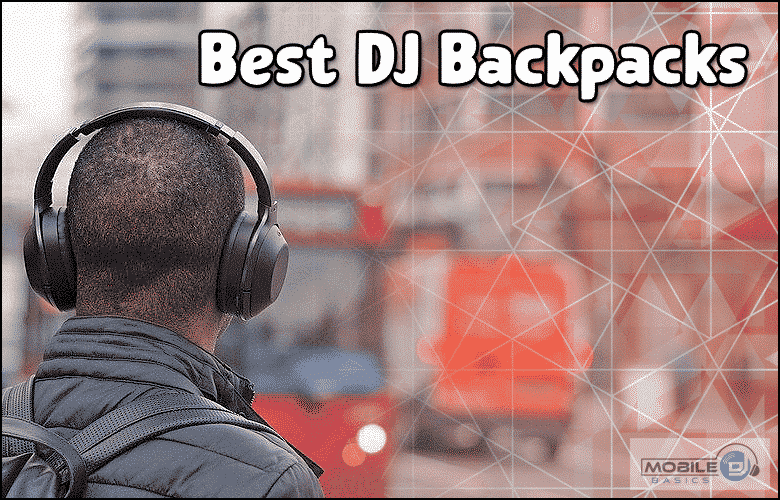 DJ Backpacks Resource Guide

(Almost) Everything You Need to Know About Buying the Best DJ Backpack
While you need a lot less tech to pull off a DJ gig these days than ever before, the tools, technology, gizmos, and gadgets you do need are pretty sensitive – and you want to be sure that you keep them close to you while you travel.
Unfortunately, finding the best DJ backpacks designed with this kind of DJ gear in mind can be a bit of an uphill battle.
You want something compact, something comfortable, and something well-made. But you also need something that can pack away your DJ controller and mixer, DJ laptop stands, your laptop or tablets, your cables, digital DJ gear, your cords, and your headphones – plus a whole lot more – comfortably, too.
With so many different options out there to pick and choose from (many of them promising the moon and the stars) it's tough to get your bearings.
Luckily, with the help of our DJ backpack guide, you'll find it a whole lot easier to land the perfect backpack for your gear by the time you're done with the details below.
Ready to jump right in?
Let's do it!
---
Our Favorite DJ Backpacks on the Market
Magma Riot DJ Backpack XL
Don't be fooled by the aesthetic of this Magma Riot DJ Backpack XL.
Sure, it looks like a piece of roll away carry-on luggage – but there's a lot more going on "under the hood" than meets the eye.
For starters, this bag offer some of the most storage space you'll find in the DJ backpack world today.
It's rectangular shape might not be the prettiest thing out there, but it means there's a lot more space for your stuff – even if the bag itself isn't much bigger than a traditional backpack.
Secondly, there's a lot of added storage space and smart storage compartments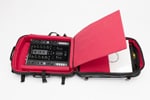 designed with DJs in mind inside. There's a full-blown DJ mixer/DJ controller main compartment at the very back of the bag, all kinds of zippered and sleeve pockets, padded back, and the whole bag itself is made from 100% waterproof material.
Sale
MAGMA DJ Bag Riot Backpack XL
Fits Pioneer DJM-S11 & S7, Reloop ELITE, Rane Seventy-Two MKII, Denon Prime GO, Pioneer DJM-900 NXS2, Akai MPC Live II, Pioneer DDJ-400, DDJ-SB3, NI Maschine + & MK3, and many more DJ & Producer gear...
External (H/W/D): 22" x 14.5" x 3.5" / Internal: 20" x 12.5 x 3" (controller compartment)
Heavy duty and 100% waterproof Tarpaulin material and Lockable and PVC-coated (waterproof) zippers
Zip-Around-Expansion-System" increases packing capacity of main compartment also Versatile interior layout with removable foams, divider and protection panel
Separate, fully padded laptop compartment up to 17" and Two accessory pockets with numerous mesh pouches and organizers
---
Odyssey Backspin 2 DJ Backpack

The name of the game with the Odyssey Backspin 2 has to be expandable storage.
At first glance, this backpack looks super compact.
But as soon as you start to zip things open and expand different storage compartments you soon discover just how much you can fit inside of this bag without it ballooning.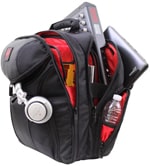 You'll be able to fit a laptop, a DJ controller/mixer, DJ Laptop Stand, two pairs of headphones, all of your cables and cords, and still have room for a sweatshirt or two because of the expandable storage this DJ backpack revolves around.
---
Orbit Concepts Jetpack Prime
Easily one of the most impressive DJ backpack money can buy, everything (and we mean EVERYTHING) about this backpack revolves around carrying your DJ equipment smartly and comfortably.
All of the internal storage compartments are designed to offer customized packets for your stuff, with a laptop compartment, multiple zippered pockets, mesh slip pockets, room for DJ gear, headphone compartments, and more all tucked inside of the backpack barrel.
Recommended by professional and amateur DJs all over the world, Orbit Concepts Jetpack Prime just might be the best DJ backpack on the planet.
Orbit Concepts Jetpack-Cut-BLK DJ Backpack for Portable Turntables, 7" Records and Accessories
Pockets to hold a speaker, batteries, faders, mobile devices, scratch records, and a whole lot more
Built in record sleeve design to hold 7" vinyl records
Waterproof nylon, high quality zippers, rip stop lining, customizable and versatile pockets
Strong buckles, thumb loops, back padding air mesh, fun with flares and netted side pockets
---
Orbit Concepts Jetback Slim
Super slim, think of this backpack as the younger brother of the Orbit Concepts Prime bag we just mentioned a moment ago.
Not quite as big, not quite as feature-rich, and with not quite as much storage inside this is still a great choice for those that need to carry around their gear on the go.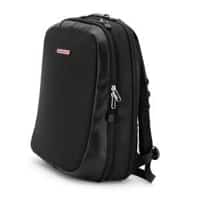 The Orbit Concepts Jetback Slim water resistant ballistic nylon and ripstop materials surround the exterior of this bag but there's still plenty smart storage space within.
You'll have room for a laptop and maybe a DJ controller (one or the other, really), room for your DJ headphones, some cords and other DJ gear, but things start to get a little tight in a hurry inside of this form factor.
Digital DJ that travels will love that the laptop compartment is 100% TSA approved. This means you'll be able to leave your laptop packed and still zip it through the security line at the airport without headache or hassle.
---
Pelican Urban Elite
The folks at Pelican make some of the most durable gear anywhere in the world and they have made a backpack that lives up to their legendary reputation with the Urban Elite for sure.
This is, after all, the company responsible for making high-end firearm cases for the US military.
If it's good enough for our special forces to carry their weapons into some of the most dirty, disgusting, downright inhospitable places on the planet but the odds are good that a Pelican backpack will keep your DJ gear high and dry, too.
This bag is a little bit on the heavier
side of things but that's because it is fully watertight, fully padded, and 100% crushed proof. It has a waterproof rating of IP 67 (guaranteeing to keep the contents dry even if submerged under 3 feet of water for 30 minutes) and there aren't too many bags out there that can promise that.
Smart storage is layout throughout the three internal compartments, with the most secure compartment located in the "plastic shell" that's closest to your back when you are wearing it.
If you've got the budget, this is definitely one of the DJ backpacks you'll want to zero in on.
Pelican S115 Elite Sport Backpack (Black)
Built-In Watertight, Crushproof Case
Top-Loading, Fast Access - TSA Ready & Under Seat Convenient; Three airmesh lid organizer pockets for fragile accessories
Slim case for use with Ultrabook laptops up to 15", also 17" Apple laptops. Weight-8.65 lbs (3.9 kg)
Pressure Equalization Valve - Prevents Vacuum Lock. Watertight to 1 meter for 30 min - O-Ring Gasket Sealed (Case portion only. Backpack is not watertight)
Large sized padded divider compartment - Holds multiple bodies, lenses, flash, etc.
Other Pelican Options
Budget Friendly – Pelican U140 Elite Backpack
Most Secure – Pelican S115 Elite Sport Backpack
---

What to Look for in a New DJ Backpack?
There are a couple of things you need to look for in a DJ specific backpack.
These features will make or break how you feel about your new DJ backpack and whether or not you decide to keep bringing it with you on the road or scrap it altogether in favor of something else.
Smart Storage Space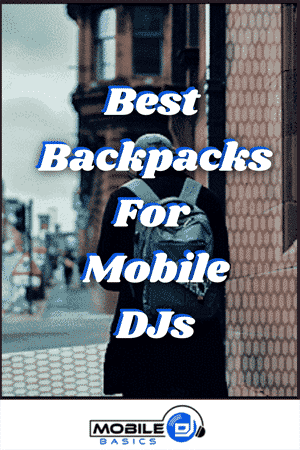 For starters, you have to make sure that your new DJ backpack has plenty of internal storage space – but that it's smartly organized storage space, too.
It's not enough to have duffel bag sized storage compartments that are "loosey-goosey".
All of your stuff will get chopped into the main compartment without any protection at all. That's the last thing you want to do when you have sensitive high-tech digital gear to transport.
No, you'll want multiple compartments specifically designed to carry very specific parts of your DJ load out.
You'll want a main compartment for your DJ controller/mixer, a compartment for your laptop and tablet, and individual compartments for cables, flash drives, media and anything else you might be packing away.
Extra pockets and webbing are a nice feature, too. They give you the ability to further extend the storage on your backpack pretty easily, giving you room to hang headphones, mics, and more DJ gear outside your bag.
---
Comfortable to Carry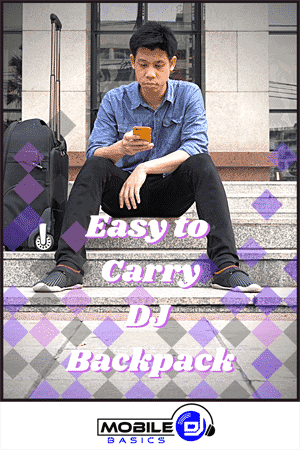 You'll also obviously need to find DJ backpack that is comfortable to carry.
There are a lot of DJ backpacks out there that looks super comfortable, like they are made of marshmallows, but are an absolute nightmare to carry for any longer than 15 minutes at a time. The backpack straps dig into your shoulders.
On the flip side, there are DJ backpacks that look like they would break your back the second that you slid them over your shoulders that are a dream to wear for hours and hours on end – especially if you are traveling.
If you have the opportunity, try out a couple of DJ backpacks for yourself. Look for good backpack straps and a Padded Back.
Get a feel for how they sit on your body, how they distribute the load when fully packed, and whether or not you could see yourself wearing them for an hour or two (or longer).
Comfort is king when you're buying a DJ backpack. Check out Magma Riot DJ Backpack
---
Engineered with Security in Mind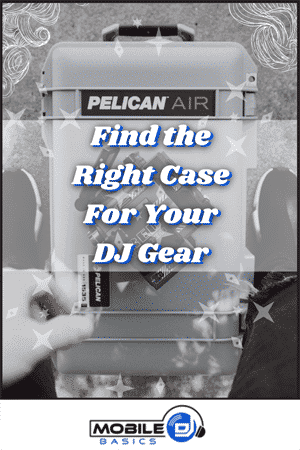 Modern backpacks (especially those engineered to carry delicate and expensive technology like backpacks will be) have a pretty good handle on security.
But your bag needs to take that to the next level.
It's a good idea to look for a bag that will protect from water, wind, and weather – and that's just to start.
You'll also want to look for a DJ backpack that's designed to protect against drops and accidents, too. This is, after all, going to be the bag responsible for carrying some of your most sensitive DJ equipment.
The whole reason you're keeping it in a DJ backpack is to keep it close to your person so that you can better protect it. The bag needs to help you there, too.
Lastly, it's not a bad idea to look for a DJ bag that has a couple of extra security features built in, too.
Zippers designed to accept locks, abilities to hide or protect main compartments inside of the laptop bag itself, and other security features are always going to be a plus.
---
Made of Durable Materials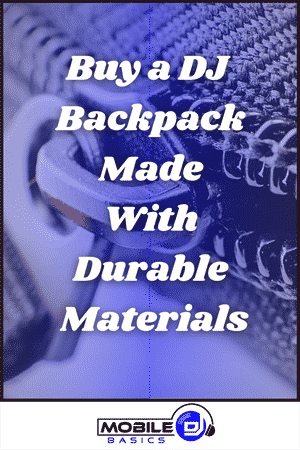 Every quality DJ backpack on the market today is going to be made of top-tier materials, but it is still something that you are going to want to double verify.
There's a lot of great DJ backpacks out there may of nylon and polymer materials, including denier materials, and even some made of stuff like Kevlar and the like.
Durability is a huge bonus.
Look for something that's designed to last a couple of years without obvious signs of wear and tear whenever possible. Ripstop material does a great job at protecting your delicate electronics, too. Gore-Tex or other waterproofing materials aren't a bad idea to invest in, either.
The bottom line is pretty simple. You don't want to trust the flimsy cotton or canvas laptop bag with your most sensitive and important DJ equipment.
Spend a couple of extra dollars to get your hands on a DJ backpack made with high-end material. It's not a decision you'll ever come to regret.
---
Great Reputation and Warranty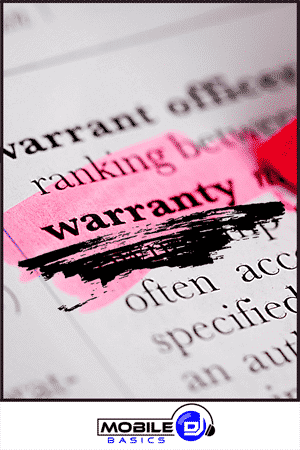 Lastly, it's not a bad idea to look for DJ backpack from companies that have great reputations in the industry as well as those that have top shelf warranties.
We are, at the end of the day, still talking about something man-made here. There's always going to be quality control questions with anything mass-produced, but reputable backpack companies are going to minimize those issues as much as possible.
On top of that, a rock solid warranty protects your investment later down the line, too.
Pelican, Orbit Concepts, Odyssey, and Magma are DJ backpack companies that provides quality products to the mobile DJ community. They have a reputation for being one of the best on the market but they also offer an excellent warranty with their product.
With so many options out there, it can be difficult to know which one will give you everything you want and need in a portable bag for your DJ controller, mixer, laptop and other DJ gear. One way to find out is by reading reviews like these!
---
How to Protect DJ Equipment
Mobile DJ equipment is fragile (and expensive!), so you want to protect your gear when you're transporting them to your next gig. Here are some tips for preventing any damage that can affect their sound quality and lifespan.
Protect Your DJ Headphones
Don't just stick your headphones into a big bag! Warp up the cord and put in a carrying case. Some people also like to use a padded hard case, where they can put both the DJ headphones and other cables.
Label Equipment
Print out labels with your company's name and logo, and your contact information. It makes you look more professional and also prevents any mix-ups. You may not be the only DJ performing at the event, and it's easy to mix up boxes during transportation, set-up, and pack-up.
Coil Your Cables Properly
Rolling up cables the wrong way can damage the wires, which will affect the signal transmission and the sound quality.
Use the "Over Under Technique" (also called counter-coiling or flip-coiling). This not only protects your cables but prevents tangling. You'll find plenty of tutorial videos that clearly demonstrate how to do it, but essentially you twist the cable in one direction while making the first loop and then untwist as you make the second.
---
Conclusion
A DJ backpack or travel bag might not help protect your DJ equipment and other fragile electronics whenever you're transporting them for a performance or gig.
Spend some money on a good DJ backpack or DJ bag. It will last you a long time. And it will keep your gear safe.
---
Read More
---
Pins for Pinterest
If you like what you see, feel free to share some love on Pinterest <3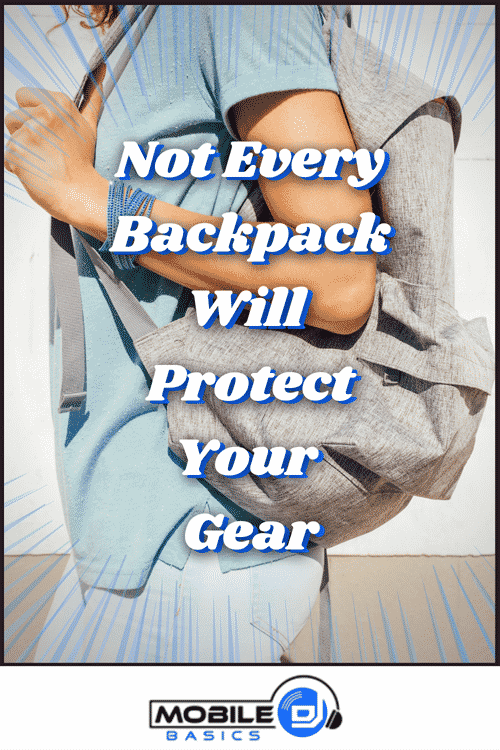 Best DJ Backpacks – Stop Buying Cheap Gear – Handy Resource Guide 2023
From discovering new songs to getting more gigs, I'm excited to share the wealth of knowledge I've gained through many years of DJing. [email protected]