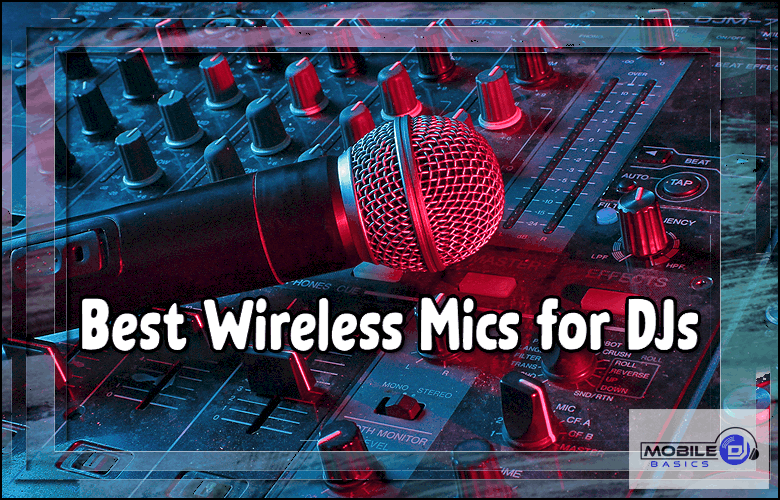 DJs are always looking for a way to improve their performance and sound quality.
Do you find yourself tired of the cords getting in your way when you're trying to mix your music?
Do you want to be able to mix without worrying about tripping over a cord or disconnecting it from something else?
If so, then investing in a wireless microphone system might just be for you.
There are many different factors that contribute to a great DJ set, but one of the most important is how you use your microphone.
With all the different types of microphones available, it can be difficult choosing which mic is best for you.
This article is all about the top-rated quality wireless microphones for DJs on the market today!
---
Top 10 Best Wireless Microphone for DJs
A microphone is something every mobile DJ should have on hand because it's portable, reliable, and can be used in many different situations.
Wireless microphones seem to be the go-to option for many mobile DJs. But with so many options out there, how do you know which one is best for you?
In order to determine the best quality wireless microphones systems for DJs, you need to take into consideration the size, weight and battery life of the microphone.
This article will help you find the perfect mic for your needs.
We've compiled a list of some of our favorite wireless microphones in order from most expensive to cheapest by brand:

Shure Wireless Mic System
Shure wireless microphones are a great way to ensure that your presentation will sound as good as you want it to.
They are very easy and fast to set up with the receiver, which can give you more time for other aspects of your presentation like speech and body language.
Here is a list of our favorite Shure Wireless Mics.
Shure ULX-D2 Digital Wireless Handheld Microphone Kit
Shure QLXD24/SM58 Digital Wireless Handheld Microphone
Shure SLXD24/B58 G58 Wireless Vocal System
Shure SLX24/BETA58-G4 Handheld Wireless System
Shure ULX-D Digital Handheld Wireless Transmitter
Shure ULX-D2 Wireless Mic System
For vocalists, presenters, and cameras who need to focus their audio for big audiences in big spaces, the Shure ULX-D2 Digital Wireless Handheld Microphone Kit with SM58 Capsule is a quick way to get clear sound. Bring every word of the speech or performance right into your audience's ears clearly and without distraction.
Shure ULXD2 Digital Handheld Wireless Transmitter with Beta 87A Microphone, G50 470-534 MHz Band
30 Hz–20 kHz range with flat frequency response (actual response is microphone dependent)
AES 256-bit encryption for applications for which secure transmission is needed
Proprietary Shure Gain Ranging optimizes the system's dynamic range for any input source, eliminating the need for transmitter gain adjustments
Shure Lithium-Ion rechargeable battery pack provides over 12 hours of battery life, precision metering in hours and minutes with 5 segment battery fuel gauge, and zero memory effect
Rugged metal construction
Shure QLXD24/SM58 Mic System
Be enchanted by wireless sound. The Shure QLXD24/SM58 rackmount digital wireless handheld microphone system can give you true peace of mind, whether you are performing in a concert hall or just taking the stage for your karaoke night at the local bar.
This professional-quality unit is equipped with an RF system that provides rock-solid connectivity and exceptional clarity, so your voice will always cut through—even in environments where other systems might struggle to deliver quality sound.
Shure QLXD24/SM58 Handheld Wireless System with SM58 Vocal Microphone, G50
Includes SM58, QLXD4, microphone clip, power supply, 2 AA batteries, battery contact cover, two 1/2 wave Antennas, 2 BNC cables, zipper bag, 2 BNC bulkhead adapters, rack mount kit, and user guide
With an interchangeable SM58 microphone cartridge, the QLXD2/SM58 handheld wireless microphone Transmitter is ideal for wireless vocals in presentation spaces, music venues, and houses of worship
Half-rack QLXD4 digital wireless receiver quickly Finds open frequencies and deploys them to transmitters via the one-touch sync function
Offers up to 9 hours of continuous use with 2 AA Alkaline batteries (included) or up to 10 hours of continuous use with a Shure SB900 lithium-ion rechargeable battery (not included)
Ethernet networking enables networked channel scanning and wireless workbench software integration for remote control of receiver settings from Pc/Mac; remote monitoring and control from iOS devices Also is available via the Shure Plus channels mobile app
Shure SLXD24-B58 Wireless Systems
The Shure SLXD Wireless Vocal System works as the perfect tool to replace cords with wireless connection. From lecture halls and houses of worship, to stages large and small, SLXD is able to effortlessly connect with virtually any environment.
With a suite of versatile wireless mic system configurations in single half-rack or dual full-rack receivers, handheld or bodypack transmitters, there are multiple options for vocal and lavalier microphone systems that are perfect throughout different settings.
The Shure UHF antenna distribution allows simplified antenna connections without running lengthy RF cables, while remote antennas enable easy adjustments when needed.
Shure SLXD24/B58 Wireless Microphone System with BETA58A Handheld Mic
WIRELESS FREQUENCY BAND SELECTION: Before purchasing, please ensure that the wireless frequency band you select works in your area (refer to Shure website for details > search Shure Wireless Frequency Finder).
WHAT'S IN THE BOX: (1) SLXD2 handheld transmitter with the Beta 58A supercardioid dynamic microphone capsule and (1) SLXD4 single-channel receiver with antenna and rackmount accessories, (1) zippered bag and (2) AA batteries
DIGITAL WIRELESS TECHNOLOGY: Digital predictive switching diversity. 44 MHz tuning bandwidth (region dependent). 32 available channels per frequency band (region dependent). Up to 10 compatible systems per 6MHz TV band; 12 systems per 8 MHz band. RF Scan and IR Sync to quickly find an open frequency and link the transmitter to a SLX-D receiver. Easy pairing of transmitters and receivers over IR scan and sync.
BATTERY LIFE: Up to 8 hours from 2 AA batteries. Upgrade to the optional Shure SB903 Lithium-ion rechargeable battery to monitor battery charge status in hours and minutes, as well as battery life and health statistics.
SOUND QUALITY: Crystal clear 24-bit / 48 kHz digital audio. Extended 20 Hz to 20 kHz frequency response (microphone dependent) for natural and clear sound. Stable digital RF signal transmission. 120 dB dynamic range - excellent for vocals & acoustic and wind instruments.
Shure SLX24/BETA58-G4 Wireless Microphone Systems
Shure's SLX24/BETA58 system is perfect for large concerts, houses of worship and other venues that can't or don't want to put in costly structural modifications. The handheld mic has an ergonomic asymmetric design that provides users with a comfortable grip.
Vocalists will love the Shure BETA58 because it captures all their subtleties without creating distortion or feedback.
If you're setting up a public address system, be sure to allocate plenty of time for setup: installation takes minutes and your sound technicians' jobs just got easier! With automatic frequency scanning, predictive diversity circuitry, low-profile antenna connections and RF interference rejection (antenna must not be exposed to direct sources), incoming interference is virtually
Shure SLX24/BETA58-G4 Wireless Microphone System (G4/470-494 MHz), Includes SLX4 Receiver, SLX2 Handheld Transmitter and Beta 58 Microphone
Shure SLX4 Receiver - SLX2 Handheld Transmitter - Beta 58 Microphone - Shure Warranty
Sync Between Transmitter & Receiver: The SLX series transmitters and receivers feature an infrared sync feature which allows settings such as frequency and channel to be transferred remotely
UHF Diversity: The SLX4 receiver features UHF diversity reception. Dual receivers compete for the strongest possible reception, reducing noise and dropout due to RF interference
Mic & Line Level Output: The SLX4 receiver features an XLR mic level and 1/4" phone line level output
Extended Battery Life: The SLX2 handheld transmitter operates up to 8 hours on 2 AA size batteries
Shure ULX-D Wireless Microphone Systems
When it comes to quality digital handheld wireless systems, no one can compete with the Shure ULXD2. This system features a cardioid dynamic capsule that rejects feedback and significantly cuts down on background noise– making it an ideal choice for presenters, vocalists, or anyone looking for high-quality vocals.
Additionally, to get you singing with top-notch clarity and warmth, this device has been designed with brightened midrange and bass roll off. If you're after a dependable digital system that sounds professional both in studio environments and live performance settings then check out the budget wireless ULXD2 today!
Shure ULXD2/SM58 Wireless Handheld Microphone Transmitter with Interchangeable SM58 Cartridge, H50 Band
This transmitter requires a Ulxd4 receiver to complete the system. Note: when purchasing separate wireless components, please match their frequency bands to ensure proper system operation
The Ulxd2 is a handheld wireless transmitter compatible with ULX-D digital wireless Systems
Interchangeable Shure microphone cartridge. This transmitter model includes the SM58 microphone cartridge
With a rugged yet lightweight aluminum body and integrated antenna, The Ulxd2 delivers uncompromising audio quality and RF performance, AES 256-bit encryption for secure transmission, and advanced recharge ability options for professional sound Reinforcement applications
30 hz–20 kHz range with flat frequency response (actual response is microphone dependent)

Audio-Technica Wireless Mic System
With the introduction of new, wireless technology, it is no longer necessary to be tethered to a power outlet or audio cable in order to use your microphone. Audio-Technica's newest line of microphones are designed for sound engineers and other professionals who need hands-free mobility.
Audio-Technica ATW-3212N/C710 3000 Series Wireless Handheld Microphone System
Audio-Technica ATW-3212/C710DE2 3000 Series Wireless Microphone System
Audio-Technica ATW-2120bI Wireless Handheld System
Audio-Technica ATW-3212N/C710 Wireless System
The Audio-Technica ATW-3212N/C710 combines a rackmount receiver with selectable frequencies with an easily mountable transmitter, and the ability to quickly switch between two backup frequencies in just seconds.
If you're mobile DJ, it's perfect for saving setups from interference, but if you're performing at a fixed location this is the ultimate peace of mind system that will let you mix sound wirelessly through your mixer without any worries about signal loss.
Audio-Technica ATW-3212/C710DE2 Wireless Systems
The Audio-Technica ATW-3212/C510 is a 3000 Series (4th generation) rackmount wireless handheld microphone system with professional features for enhanced reliability and control.
With an intuitive interface and wide 60 MHz tuning range, the system delivers comfort and natural audio to presenters, clergypeople, lecturers, performers leading business or educational settings as well as houses of worship or musical stages alike. Simple operation through its easy to read dual-mode OLED screen ensures user versatility in specific situations while true diversity reception minimizes potential dropouts.
It's an excellent addition to any company's mic arsenal.
Audio-Technica ATW-2120bI Wireless Microphone Systems
The Audio-Technica ATW-2120bI 2000 Series Wireless Microphone System is a professional high quality, great value, easy to set, user friendly, wireless microphone with frequency control, automatic band switching, and Tone Lock squelch system.
The UHF receiver features ten available frequencies for interference free reception and can be tuned to specific channels in the U.S. or overseas without purchasing additional accessories).
You can plug balanced XLR into any input of the lightweight handheld mic as well as micing up instruments with 1/4″ inputs on either side.

Sennheiser Wireless Mic System
Sennheiser has been a leader in the wireless microphone industry for nearly 50 years. Their products are used by some of the biggest names in music, such as Madonna or Beyoncé.
Sennheiser wireless microphones are the perfect option for any mobile DJ. They give you the freedom to move around while still being able to use your microphone.
Here are some different types of Sennheiser wireless microphones to choose from:
Sennheiser EW 100 G4-ME2/835-S Wireless Combo Microphone System
Sennheiser EW 300 G4-865-S Handheld Wireless Microphone System
Sennheiser XSW 2-835-A Wireless Combo System with Handheld Mic & Lav Mic
Sennheiser EW 100 G4-ME2/835-S Mic System
There's no such thing as a perfect announcement. But if you're looking for the best way to avoid random mic feedback, vocal cutting-out, and headphone bleed into your in ear monitor system¸ then all you need is the amazing Sennheiser EW 100 G4-ME2/835-S Wireless Combo Microphone System!
The Sennheiser EW 100 G4-ME2/835-S is a highly robust and reliable wireless microphone system. It can be set up in less than two minutes to offer high quality audio. All our systems are designed with the most uncompromising standards of excellence and longevity that the professional demands.
Sennheiser EW 100 ew 100 G4-ME2/835-S-A Wireless Microphone System
Rugged all-in-one wireless system for singers and presenters
Transmission range: up to 100 meters/ 300 feet
Easy and flexible wireless synchronization between transmitter and receiver via infrared
State-of-the-art live sound on A lightweight aluminum transmitter with integrated mute switch
Up to 20 compatible channels
Sennheiser EW 300 G4-865-S Wireless Systems
Known as the reliable and trustworthy workhorse of microphones, this mic system introduces a new generation. With improved features like great battery life for up to 12 wireless mics in range at one time, or 330 ft transmission through only 4 walls from your closest receiver; this is second-to-none.
A flexible choice when you need to mix proximity with power. Portable enough for you to move around the room during meetings and concerts both big & small, dual transmitters give you more freedom than ever before!
Now, I'm not trying to intimidate you because this wireless series has been designed for everyone from amateurs and professionals alike with an adjustable supercardioid MME 865 Mic capsule that lets you make crystal clear sounds like a pro right outta the box.
EW 300 G4-865-S Wireless Handheld Microphone System - GW1 Band
Easy to use, fast setup time
Integrated network port allows control, monitoring and setup via Sennheiser Control Cockpit and WSM Software
Broad range of products and existing accessories (such as microphones) allows usage in any kind of environment
Up to 88 MHz bandwidth, up to 32 channels
Increased RF output power (10/30/50 mW)
Sennheiser XSW 2-835-A Wireless Microphone Systems
With the great value of the Sennheiser XSW 2-835-A Wireless Handheld Microphone System with e835 Capsule, DJs. MCs and presenters can avoid wires all together.
With 12 compatible channels without having to worry about scrambling to find an available channel thanks to automatic frequency management and synchronization, this system is designed for tougher live stage conditions.
It features easy connection when paired with any XLR or microphones that uses a cardioid polar pattern like the e835 capsule which eliminates feedback sensitivity and bass response EQ incline in order t provide intelligibility even through high acoustic environments. It's time your voice soared like never before!
---

Wired Vs Wireless Microphones
The question that many DJs are facing today is whether they should be using wired or wireless microphones?
Wireless mic systems are one of the most sought-after pieces of equipment in a mobile DJ's arsenal.
It is no wonder why: wireless technology has improved to such a degree that it is nearly impossible for anyone to tell the difference between wired and wireless audio quality.
What's the difference between wired and wireless?
– Wired microphones have a cord to plug into your sound system or PA system, while wireless microphones use a transmitter to send the signal wirelessly.
– Wireless microphones are more expensive than wired because of their need for batteries that can be replaced; but they're also more convenient in some respects, as you don't need to worry about tripping over any cords on stage!
---
Benefits of a Wireless Microphone
Many people starting out in mobile DJing do not realize how important it is to have a wireless microphone as part of their setup, but microphones offer some great benefits that can make all the difference between an average performance and an epic show.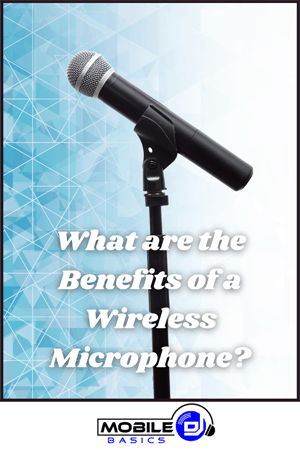 Standard benefits:
Easy to Use.
You will look more professional
Get rid of the cord and use a wireless microphone.
Perform without worrying about tripping over wires.
Emotional benefits:
Be free to move around on stage or dance floor.
Feel more confident speaking in front of large audiences.
Eliminate the hassle of untangling cords every time you want to perform
Perform in front of a large audience without worrying about tangled cords.
---
How to Choose the Right Wireless Microphone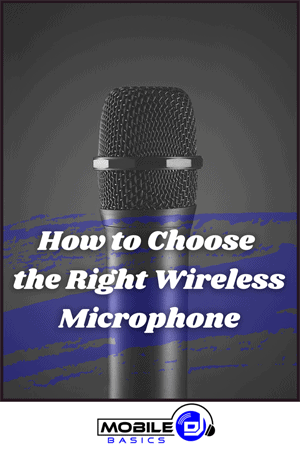 We live in a digital age where music is not just played on the radio or at parties anymore.
It can be found anywhere, and it's often being used as background noise to help people enjoy their time spent working, studying, or commuting.
This makes the job of mobile DJs who provide entertainment for these events even more important because they have to make sure that they are providing quality sound with no interruptions.
For this reason many professional mobile DJs will choose wireless microphones in order to ensure that all of the guests can hear them clearly without worrying about cords getting tangled up during their performance
The best wireless mic is the one that will make you sound your best, not just because it's a high quality mic but also because the receiver has a strong signal.
When looking at wireless mics, consider transmitters that use 2.4GHz or 5GHz frequencies and have low latency for better response time.
Make sure to buy from reputable brands with great customer service like Shure, Audio-Technica, and Sennheiser so you don't have any trouble working out any kinks in your wireless mic system when you're on stage performing!
---
How do I Choose a Wireless Microphone?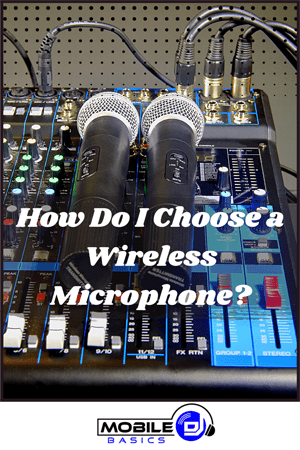 Choosing the right wireless microphone for your needs is an important decision.
There are many factors to consider, including your budget and what you plan on using it for.
We've broken down some of the most popular options below so that you can find one that fits your needs best!
If you want to save money and don't need a professional quality wireless mic, then skimping out on the higher-end brands is acceptable.
But if your DJ gigs are more important than saving some dough or just getting into the hobby for fun, investing in a high-quality brand as soon as possible will be worth it.
Wireless microphones are becoming increasingly popular in the DJ industry as they allow DJs to move around freely on stage, while still being able to sing and rap without having their microphone cut out.
However wireless mics come with a hefty price tag so it is important for you to know what features make them worth your money.
---
Best Wireless Microphone Brands
Here's our breakdown of the Best Wireless Mic Brands: Shure, Sennheiser, Audio-Technica
Shure is by far the most popular brand in professional audio equipment due to its quality and performance. They offer both wired and wireless mics with amazing sound quality but are on average more expensive than other brands.
Sennheiser offers some of the best sounding mics on this list as well great durability at an affordable price point which they combine with high build quality that make it easier to withstand tough conditions such as rain and sweat.
Audio-Technica is known for their great sound quality at an affordable price point which they combine with high build quality that make it easier to withstand tough conditions such as rain and sweat
Of course there are many other options available but these three brands in particular have stood out among all others.
---
What to Look for When Buying a Wireless Mic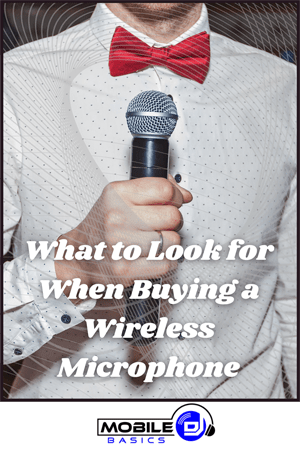 Some things to think about:
-The audio quality of your wireless mic is going to be affected by the distance between you and the speaker, so if you're planning on being far away from where people are listening, don't buy a mic with bad range.
-If it's important that everyone can hear what you have to say, then make sure your transmitter has enough power for it not only reach every receiver but also provide clear sound at all distances.
-Your signal may interfere with another nearby device if they use the same frequency as yours. Make sure there aren't any other devices close by before you decide to buy.
-If you're planning on using your wireless microphone for a long time without stopping and moving around, then make sure it has enough battery life so that won't be an issue. Something like 10 hours might sound great but realistically, it's not going to work out well.
-It's good if the mic also comes with its own stand or clip because this way you can mount it anywhere at any angle
-The next thing to look at is what type of mic you want: handheld, clip-on, headset or lavalier? Each has its own benefits and drawbacks but most importantly, they should be matched with the right type of transmitter (usually belt pack) so that no interference occurs during transmission.
---
What is the Best Frequency for Wireless Microphones?
As a mobile DJ, you may be wondering what the best frequency for wireless microphones is. There are many factors that go into this decision and I will try to break them down as simply as possible.
First, let's talk about the frequency. RF frequencies are measured in kilohertz (kHz) and generally start at 300 kHz and go up from there.
The FCC has a guideline for allowable ranges of these frequencies which you can check out here: Link to FCC guidelines.
When you're buying the best wireless microphone, it's essential that your frequency matches the receiver.
Depending on where and how you will be using it, there are many frequencies to choose from: A (433.92 MHz), B (694.88MHz), C (806.46MHz) or D(990-995). with most professional microphones operating in UHF at 900MHz or higher.
The larger the range of transmitted signal strength, the better – meaning more distance for an increased amount of people before interference starts happening.
In general, if you plan to use this mic only within 20 feet maximum then I would suggest going with either C or D because they have much less risk of interference from other electronics.
A wireless mic system is a great investment for any DJ because it makes setup and tear down time at gigs much quicker. If you have the budget, I would recommend going with a higher-end system that will be more reliable.
---
DJ Tips to Help You Buy the Best Wireless Mic

-If you are a DJ on the go, then you will want to make sure that your microphone is wireless. This makes it easier for you to move around and keep things organized without having cords get in your way.
-If you're looking for great sound quality when using wireless microphones with DJs, then be sure not to purchase one of the cheaper options since the sound quality will be noticeably worse.
---
Conclusion
It's important to know what you're looking for in a best wireless microphone. Do you need one that is compatible with your DJ equipment?
Does it have the right frequency range and features for sound quality, durability, or price point? How about compatibility with other brands of audio gear like speakers?
In this blog post we've provided some helpful information on how to find the best wireless microphone for DJs by considering these factors as well as others related to personal preference.
We hope this article will help make choosing your next purchase easier!
---
---
Read More
---
Pins for Pinterest
If you like what you see, feel free to share some love on Pinterest ❤️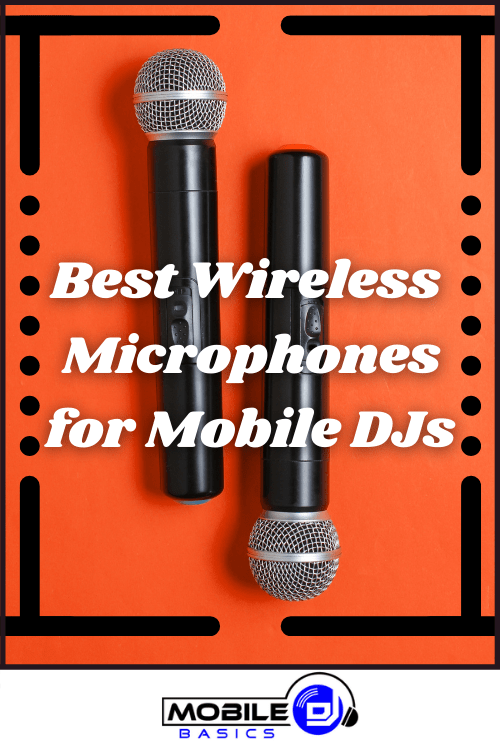 Best Wireless Microphone for DJs 2023 | Avoid Cheap Wireless Mics
From discovering new songs to getting more gigs, I'm excited to share the wealth of knowledge I've gained through many years of DJing. [email protected]