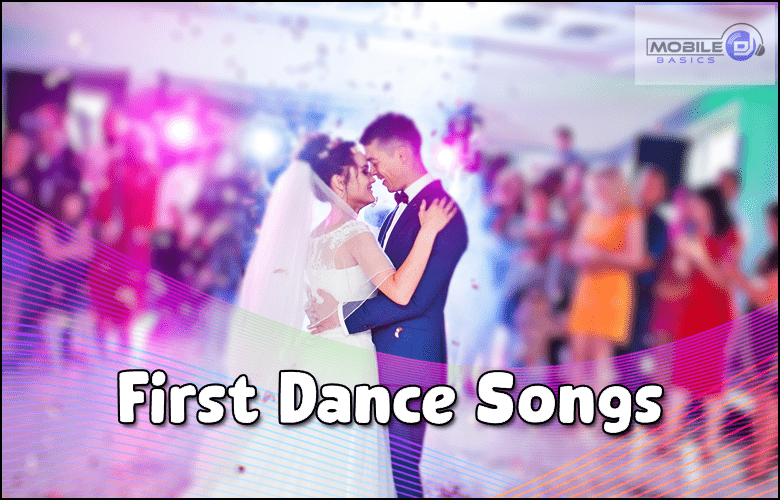 Last Updated on October 21, 2023 by Ryan Conlon | 🕒 7 min Read Time
---
First Dance wedding songs are a quintessential part of any wedding reception. The first dance of the newlyweds is an emotional moment that kick-starts the celebration of their union.
Every couple wants to choose the perfect song that reflects their love and brings back happy memories for years to come.
From classic ballads to modern pop hits, the options for first dance songs are endless.
In this article, we will explore the history of first dance songs, provide some tips for choosing the best song, and offer some popular selections to inspire you.
New First Dance Songs
Selecting a song for your first dance as a married couple is a significant decision that can set the tone for your entire wedding celebration.
With countless new songs being released every day, it can be challenging to find the ideal one that resonates with you and your partner.
While there are many timeless wedding songs to choose from, you might be interested in exploring more contemporary options like Coffey Anderson's "Better Today" or Jordan Davis' "Slow Dance In A Parking Lot.
Whether you prefer a classic or modern sound, finding the perfect song to celebrate your love is an essential part of creating a memorable wedding experience.
Songs To Set the Tone for Your Reception
Ed Sheeran – One Life
Justin Bieber – Holy
Andy Grammer – I Am Yours
Ed Sheeran – Afterglow
Forest Blakk – Fall Into Me
Lukas Graham – Love Someone
Taylor Swift – Lover (First Dance Remix)
Surf Mesa, Madison Beer – Carried Away (Love To Love)
John K – ilym
Kate Vogel – I Wanna Love You Forever
Conor Maynard – Crowded Room
Surf Mesa – ily (i love you baby)
Luke Combs – Forever After All
Dan + Shay – Steal My Love
Jake Scott – Favorite T-Shirt (Acoustic)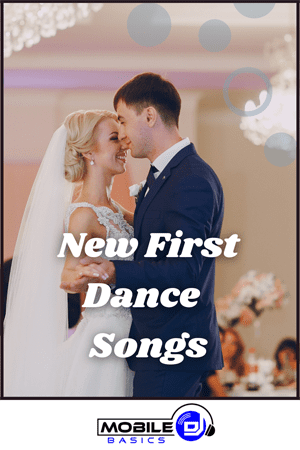 Choosing the perfect first dance wedding song is a crucial part of any wedding ceremony, as it sets the tone for the entire event.
Wedding music has the power to capture the emotions of the moment, and can transform a wedding into the best wedding ever.
For those who are planning their dream wedding, selecting a romantic wedding song can be an incredibly important and personal decision, one that will be remembered for years to come.
Ed Sheeran – One Life
"One Life" features Sheeran's signature acoustic guitar and vocals, and the lyrics speak to the idea of making the most of the time we have with the people we love.
The lyrics are heartfelt and emotional, with lines like "I won't waste this love, I'll make it count" and "I just want to love you, while I still have the chance".
These lyrics are sure to resonate with a bride and groom who want to express their love and commitment to each other on their wedding day.
Overall, Ed Sheeran's "One Life" is a beautiful and heartfelt song that would make an excellent first dance at a wedding.
---
Best Couple's First Dance Songs
Your first dance as newlyweds is an incredible moment that will stay with you both throughout your marriage.
Choosing the perfect first dance song for such a special occasion can be quite difficult, but with so many beautiful songs out there it doesn't have to be!
Here are some of our favorites from traditional classics to modern hits.
Whether you opt for something timeless or something contemporary, these amazing tunes are sure to get you and your friends and family on the edge of their seats!
Wedding Songs for a Heartfelt Moment
Christina Perri – A Thousand Years
Edwin McCain – I'll Be
Berlin – Take My Breathe Away
Ed Sheeran – Thinking Out Loud
Elvis Presley – Can't Help Falling In Love
Selena – Dreaming of You
Lonestar – Amazed
Peter Cetera – Glory of Love
Savage Garden – Truly Madly Deeply
John Legend – All Of Me
Eric Clapton – Wonderful Tonight
Train – Marry Me
Chris DeBurgh – Lady In Red
Keith Urban – Making Memories Of Us
the Righteous Brothers – Unchained Melody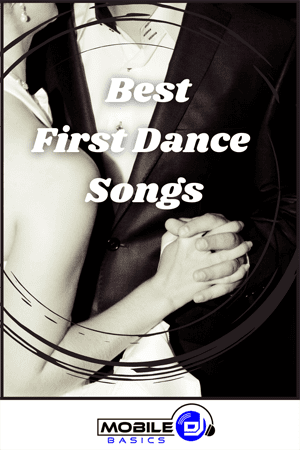 When it comes to selecting a First Dance Wedding Song, couples often turn to google for guidance in choosing a song that reflects unity and celebrates the beginning of their new journey as partners.
Slow songs are a popular choice for such an occasion, incorporating romantic lyrics that often result in an intimate slow dance.
Popular artists that often grace the playlists of weddings include Alicia Keys, John Legend, Lady Gaga, Jack Johnson, and John Mayer.
For those who prefer a more classic vibe, artists such as Nat King Cole, Stevie Wonder, Righteous Brothers, and Louis Armstrong also offer timeless hits that are perfect for a slow dance.
Christina Perri – A Thousand Years
Christina Perri's hit single "A Thousand Years" is a popular choice for couples looking for the perfect first dance song at their wedding.
Originally written for the Twilight Saga: Breaking Dawn – Part 1 soundtrack, the song tells a timeless tale of love that transcends time itself.
With its gentle piano melody and Perri's soulful vocals, "A Thousand Years" perfectly captures the emotional intensity of a couple's first dance.
The song's popularity has only grown since its release in 2011, and it has become a staple at weddings around the world.
---
First Dance Country Songs
As one of the most significant moments of your life, you want it to be perfect; Nothing can set the mood like an amazing song choice!
If you're especially patriotic or simply prefer country music, these top five country songs are sure to help make yours a memorable moment you'll cherish for years to come.
So whether your style is classic or modern, get ready for an unforgettable first dance and find out which songs might fit perfectly with this special occasion.
Country Romance: Best First Dance Songs
Chris Lane – Big, Big Plans
Brett Young – Change Your Name
Scotty McCreery – This Is It
Kane Brown – Good as You
Russell Dickerson – Yours
Blake Shelton – Nobody But You
Chris Stapleton – Joy Of My Life
Thomas Rhett – Marry Me
Kane Brown – Heaven
Luke Combs – Beautiful Crazy
Blake Shelton – God Gave Me You
LANCO – Greatest Love Story
Chris Young – Who I Am with You
Jason Aldean – Got What I Got
Blake Shelton – Happy Anywhere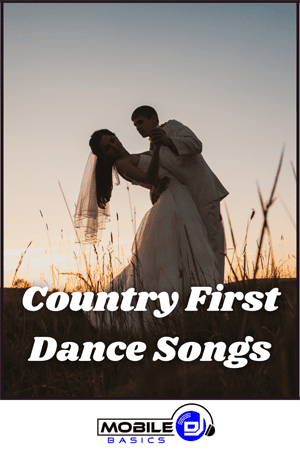 When it comes to selecting a first dance song, couples often consider slow song and romantic songs that capture the essence of their new beginning together.
From popular first dance songs to lesser-known types, the content of the music is crucial in setting the mood for a special moment.
It's important to gather information and explore different options with your best friend or spouse-to-be, ensuring that the chosen song aligns with your personal taste and relationship.
Whether opting for an English version or a rendition from international musicians, the quality of the band or artist can make all the difference in creating a memorable first dances experience.
Chris Lane – Big, Big Plans
Chris Lane's hit country song "Big, Big Plans" has taken the wedding industry by storm and has become a favorite for first dance songs.
The song was released in 2019 and quickly climbed the charts, reaching the number one spot on the Billboard Country Airplay chart.
The romantic lyrics of the song, which tell the story of a man proposing to his future wife and making big plans for their future together, have resonated with audiences.
Lane, who is a North Carolina native, got his start in music by auditioning for the reality TV show 'American Idol'. He didn't make it past the auditions, but he continued to pursue his dream of becoming a country singer.
With its catchy melody and heartfelt lyrics, "Big, Big Plans" is sure to remain a beloved country first dance song for years to come.
---
First Dance Classic Country Songs
You've finally done it! After months (or maybe even years) of planning, you're about to walk down the aisle and exchange vows with the love of your life.
If you're a fan of classic country music, there are plenty of romantic options to choose from.
Songs like George Strait's "I Cross My Heart" and Brad Paisley's "Then" are sure to fill the place with happy couples.
For something a little more sentimental, consider Vince Gill's "Look at Us" or Alan Jackson's "Remember When."
Classic country first dance songs are sure to create lasting memories.
Sammy Kershaw – Love of My Life
George Strait – I Cross My Heart
Dierks Bentley – Come A Little Closer
Alison Krauss – When You Say Nothing At All
Shania Twain – From This Moment On
Lady Antebellum – Can't Take My Eyes Off You
Tim McGraw – It's Your Love
Randy Travis – Forever And Ever, Amen
George Strait – Carrying Your Love With Me
Sara Evans – I Could Not Ask For More
Rascal Flatts – Bless the Broken Road
The Chicks – Cowboy Take Me Away
LeAnn Rimes – How Do I Live?
John Michael Montgomery – I Can Love You Like That
Brad Paisley – She's Everything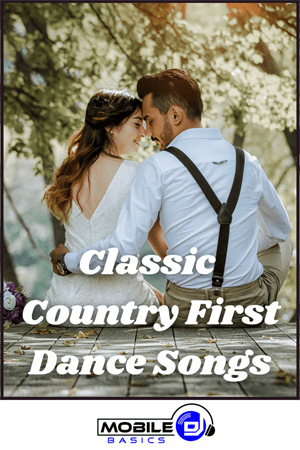 The First Dance Song signify the celebration of the newly married couple's unity and marks the start of their relationship as husband and wife, where the bride and groom are surrounded by their loving family and friends while dancing in unison, creating a beautiful and memorable moment for everybody, including the proud parents of the happy couple.
Songs like "I Cross My Heart" by George Strait and "Forever and Ever, Amen" by Randy Travis are perfect for couples who want a touching and romantic first dance.
Sammy Kershaw – Love of My Life
Sammy Kershaw's "Love of My Life" is a classic country ballad that tells the story of undying love and commitment between two souls.
As one of the most iconic country love songs of all time, "Love of My Life" has been a staple at weddings and special events since its release in 1993.
Its emotional depth and melodic composition make it a perfect choice for Classic Country First Dance Song list, and a guaranteed hit for any couple looking to add a touch of country charm to their special day.
---
Classic Wedding First Dance Songs
A good wedding first dance should capture the mood and sentiment of their big day; it should also be meaningful, romantic and timeless.
Whether you're looking for slow classics or more modern hits that will get your guests out on the floor—we've got you covered with this list of classic marriage ceremony first-dance songs.
From oldie love songs to recent favorites, we've rounded up some great choices to ensure your special night is as magical as possible.
Songs That Will Never Go Out of Style
Frank Sinatra – The Way You Look Tonight
*NSYNC – This I Promise You
Bryan Adams – Heaven
Etta James – At Last
Titanic – My Heart Will Go On
Peter Gabriel – In Your Eyes
Edwin McCain – I Could Not Ask For More
James Taylor – How Sweet It Is (To Be Loved By You)
Journey – Faithfully
Bon Jovi – Always
K C and Jojo – All My Life
Phil Collins – A Groovy Kind Of Love
Rod Stewart – Have I Told You Lately That I Love You
Lifehouse – You and Me
Elton John – Can You Feel The Love Tonight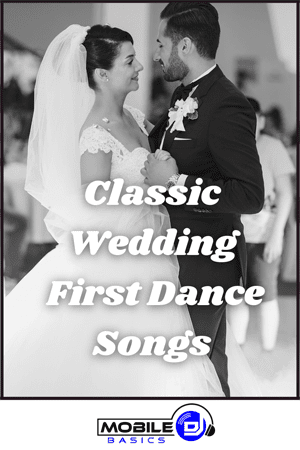 When searching for ideal songs for your wedding, consider opting for unique songs with beautiful lyrics that hold a special meaning to you and your partner – like Queen "Your my Best Friend", Ray LaMontagne's "Lucky" or Jason Mraz and Colbie's "Lucky" for a romantic touch, or the Isley Brothers' "Living for the Love of you" for an upbeat song to get your guests on the dance floor.
For something a little more upbeat, try "I Got You (I Feel Good)" by James Brown. This classic soul song will have everyone grooving along.
Whatever your taste may be, the sweetest thing is having a memorable first dance to an unforgettable playlist of wedding songs.
When it comes to first dance songs, there are a few classics that always stand out. "The Way You Look Tonight" by Frank Sinatra is a timeless choice.
Frank Sinatra – The Way You Look Tonight
Frank Sinatra's "The Way You Look Tonight" is a timeless classic and an ideal choice for a first dance at weddings.
"The Way You Look Tonight" has won numerous accolades, including an Academy Award for Best Original Song in 1936 and a Grammy Hall of Fame Award in 1999.
So if you're planning a wedding and are in search of a timeless and classic song, look no further than Frank Sinatra's "The Way You Look Tonight" for an unforgettable first dance.
---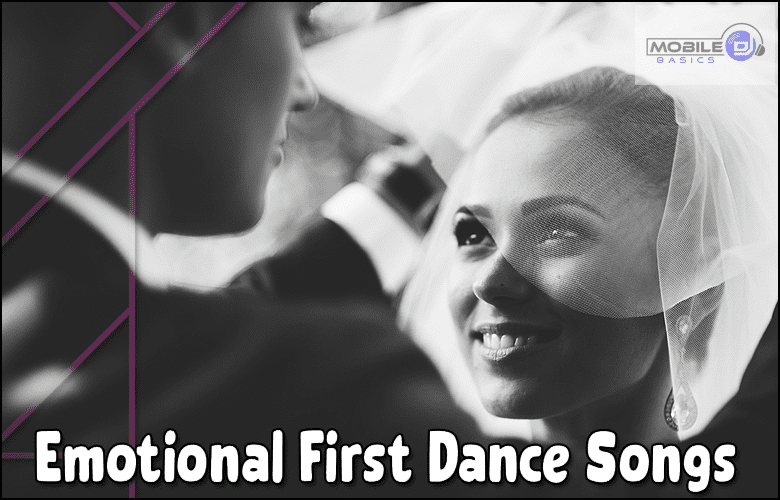 Emotional First Dance Songs
When it comes to your first dance as a married couple, there's no denying the huge amount of emotion that accompanies the moment.
Taking part in your first dance is one of those life events that will be talked about for years to come; because you want it to be perfect and meaningful, picking just the right song is essential.
That's why we've put together this list of emotional first dance songs – all designed to make sure you get maximum impact from your special moment!
Whether you like slow ballads or upbeat classics, these tunes are certain to provide the perfect soundtrack for a beautiful memory.
First Dance Songs for a Romantic and Emotional Moment
Whitney Houston – I Will Always Love You
Calum Scott, Leona Lewis – You Are The Reason
Dan + Shay – Glad You Exist
Faith Hill – Breathe
Frankie Valli and The 4 Seasons – Cant Take My Eyes Off You
Norah Jones – Come Away With Me
John Michael Montgomery – I Swear
Calum Scott – Heaven
Blane Howard – Promise to Love Her
James Blunt – You're Beautiful
Colbie Caillat – I Do
Ella Henderson – Yours
James Arthur – Say You Won't Let Go
Adam Sandler – Grow Old With You
Aerosmith – I Don't Want to Miss a Thing
Choosing the perfect first dance wedding song can be a daunting task, but with the help of Spotify and thousands of tracks available, you're sure to find 'your song'.
When it comes down to picking the right one, there are a few things to consider, such as whether the lyrics express your love for each other, the rhythm of the song matches with your dance abilities, and the sentimentality of the song reflects the love you share.
Some popular first dance songs include 'Better Together' by Jack Johnson, 'Kiss Me' by Ed Sheeran, 'Let's Stay Together' by Al Green, 'The Luckiest' by Ben Folds, and 'Endless Love' by Diana Ross and Lionel Richie.
Other romantic options are 'Adore You' by Harry Styles, 'Halo' by Beyoncé and even 'Crazy Love' by Van Morrison.
For those who prefer more contemporary choices, artists such as Alicia Keys, Justin Timberlake, Katy Perry, and Ellie Goulding have great options.
If you're looking for a song to dance with your father or mother, Frankie Valli 'Can't Take My Eyes Off You' and Frank Sinatra'The Way You Look Tonight' are lovely choices.
As for the wedding band, there are a plethora of options available ranging from the classic tones of Nat King Cole and Cyndi Lauper to the more modern sounds of Arctic Monkeys and Snow Patrol.
A few other great choices are 'I'm Gonna Be (500 Miles)' by The Proclaimers and 'By Your Side' by Sade.
To set the mood on the dance-floor, consider adding some romantic decorations such as wine, lights, and golden hour accents.
And remember the advice given by Prince, "Let's go crazy, let's get nuts." This moment is about celebrating the love you have for each other, so dance like no one is watching to your special song.
Whitney Houston – I Will Always Love You
Whitney Houston's iconic rendition of "I Will Always Love You" has proven to be a timeless classic and a perfect choice for a tear-jerking, yet romantic first dance.
Originally written and recorded by Dolly Parton in 1974, Whitney Houston brought the song to new heights with her powerful and emotive delivery in 1992.
The song was featured in Houston's film debut with The Bodyguard, which went on to become one of the highest-grossing films of the year. "I Will Always Love You" not only topped the charts and earned Houston numerous awards, but it also became one of the best-selling singles of all time.
Its timeless appeal and emotional resonance make "I Will Always Love You" a fitting tribute to a love that will endure.
---
Modern First Dance Songs
Gone are the days where people defaulted to traditional ballads – contemporary couples want something modern and upbeat that truly reflects them as a pair!
So if you're looking for something fresh and fun for your wedding day, this section post will show you some of the best modern first dance songs out there, so you can pick one that really speaks to you both. Read on for some inspiring tunes!
Here are of our favorite first dance songs
Shawn Mendes – Wonder
Imagine Dragons – Not Today
Shane Filan – Beautiful In White
Kina Grannis & Imaginary Future – I Will Spend My Whole Life Loving You
Lauv – I Like Me Better
Bruno Mars – Marry You
Troye Sivan – Angel Baby
Restless Road – Growing Old With You
Lumineers – Just Like Heaven
Kodaline – Wherever You Are
PUBLIC – Make You Mine (Put Your Hand in Mine)
Jason Mraz – Lucky
Gryffin & Chris Lane – Hold You Tonight
Parker Twomey – I'd Be Your Man
Michael Bublé – Everything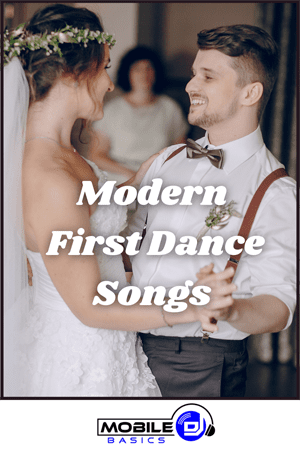 These songs are often chosen because they are sentimental to the couple or because they have special meaning to the relationship.
However, some couples simply choose a first dance song that they both enjoy and that makes them feel happy.
Regardless of the reason, modern first dance songs are becoming increasingly popular among newlyweds.
Parker Twomey – I'd Be Your Man
Parker Twomey's "I'd Be Your Man" belongs to the popular genre of modern first dance songs, perfect for adding a touch of contemporary flair to any wedding reception.
With its upbeat rhythm and catchy melody, this song is perfect for couples looking for a fun and engaging dance routine.
What sets this track apart from other contemporary first dance songs are the heartwarming lyrics that convey a deep sense of commitment and devotion.
Parker Twomey's soulful vocals underscore the message of love and willingness to go the extra mile for one's partner, making it an ideal choice for couples looking to embark on their lifelong journey together.
Overall, "I'd Be Your Man" is a perfect blend of modern beats, soulful lyrics, and engaging vocals that make it an ideal choice for any modern first dance.
---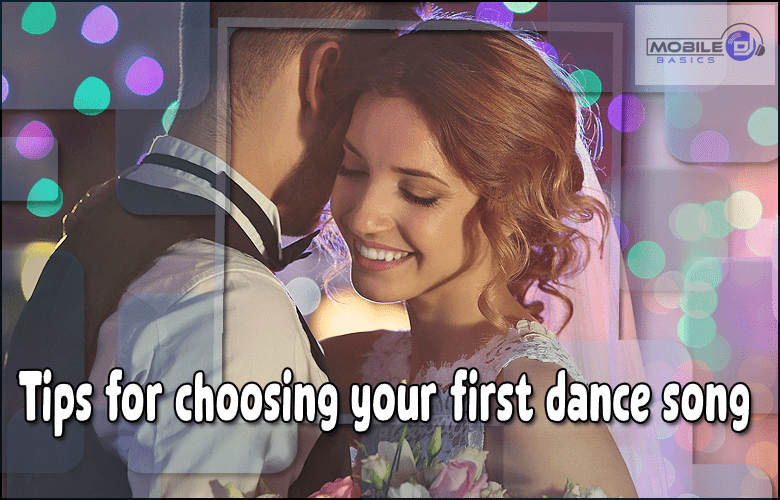 Tips for choosing your song for a first dance

The first dance should be one of the most special and memorable parts of any wedding.
As much as it is a fun tradition to incorporate into your reception, selecting the perfect song for such an important occasion can be daunting.
Nerves can kick in at this stage, especially if you're not used to dancing in public!
But with some careful thought and consideration put into finding just the right track, your first dance will turn out magical; something that both you and your guests will remember forever.
How to Choose a First Dance Song with the Right Vibe
To make the process easier, check out these useful tips for finding your ideal first dance song:
Reflect on your relationship: Think about the songs that hold special significance in your relationship. Maybe there's a tune that reminds you of a memorable moment or a song that you both love.
Consider the lyrics: The lyrics of a song can tell a story and capture the emotions of your relationship. Choose a song with lyrics that reflect your love story and the emotions you want to convey.
Think about the tempo: Decide whether you want a slow and romantic song or an upbeat tune that will get the party started.
Get inspiration from different genres: Don't limit yourself to just one genre of music. Explore different styles like pop, country, or classic rock to find the perfect song for your first dance.
Practice dancing to the song: Once you've narrowed down your options, practice dancing to the song to see if it feels right for you and your partner.
Choose Your First Dance Song with Confidence – There Are No Rules!
---
Conclusion
Whether you choose a classic favorite or go in an entirely unexpected direction, just make sure that it meaningfully expresses what your relationship means to you both.
Even if it's slow and sultry, upbeat and modern, romantic and timeless—enjoy each other's company as you practice for your big day!
And don't forget to take pride in making a special memory with music. After all, no two couples are exactly alike—and neither should their first dance songs be!
---
Read More
---
---
---
Pins for Pinterest
If you like what you see, feel free to share some love on Pinterest ❤️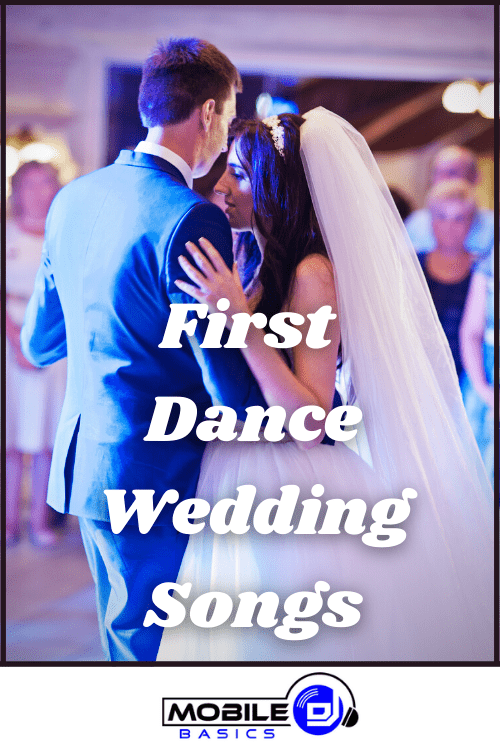 First Dance Wedding Songs to Sweep You Off Your Feet 2023
From discovering new songs to getting more gigs, I'm excited to share the wealth of knowledge I've gained through many years of DJing. [email protected]