Last Updated on September 8, 2023 by Ryan Conlon | 🕒 5 min Read Time
---
Music is often referred to as the universal language, and when it comes to songs about family, it's no exception.
Whether it's a ballad about the love between a parent and child, or a catchy tune about siblings sticking together, there's nothing quite like a song that celebrates the connections we share with those closest to us.
Country crooners and pop divas alike have belted out tunes that explore the ups and downs of family life, reminding us that blood truly is thicker than water.
And while every family is different, there's something incredibly comforting about knowing that we're not alone in experiencing the joys and challenges of this bond that ties us all together.
Songs About Family
Family is a central part of our lives- it's the place where we are nurtured, loved and encouraged to grow. Music has long been a way for us to express our love and appreciation for those special people in our lives- be they parents, siblings, or close relatives.
Whether sung by famous performers or local bands, songs about family members can help remind us that despite life's challenges and struggles we can always rely on them as an enduring source of support.
In this article, we'll explore some of the best modern songs about family – from upbeat celebration tunes to more solemn rumination pieces – so get ready to make some lasting memories with your nearest and dearest!
Take a look at these new songs talking about Family
The Chainsmokers & Kygo – Family
David Guetta – Family
Kanye West – Family Business
Rick Ross – Family Ties
Mingos – My Family
Lil Wayne – Family Feud
JAY-Z – Family Feud
The Isley Brothers – Friends and Family
Drake – Keep The Family Close
Chance the Rapper – Family Matters
Gang Starr – Family and Loyalty
Willie Nelson – Family Bible
Boosie Badazz – Love Yo Family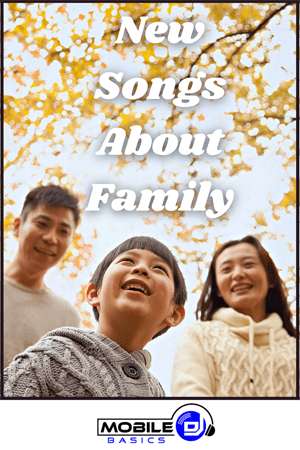 Although family oriented songs have been around for a long time, there has been an increase in their popularity in recent years.
This is likely due to the fact that more and more people are looking for ways to celebrate their family roots.
You can find a song to dedicate to your loved ones or simply want to reminisce about past memories, these tunes are sure to hit home.
Ingrid Andress – More Hearts Than Mine
"More Hearts Than Mine," Ingrid Andress' hit song, is a heartwarming tribute to the joys of family. This catchy anthem reminds us to appreciate and cherish our loved ones always by our side.
You'll find yourself humming this tune all day long! Watch the music video below to experience the magic of "More Hearts Than Mine".
---
Sister Sledge – We Are Family
One of the most popular family unit in history, Sister Sledge's "We Are Family" is a timeless anthem that has been covered by many artists over the years.
The song was originally released in 1979 and reached number one on both the Billboard Hot 100 and R&B charts.
It won a Grammy award for best R&B Performance by a Duo or Group with Vocals. In 2013 it was named to Rolling Stone magazine's list of The 500 Greatest Songs of All Time at #293.

---
Country Songs About Family

Mobile DJs are always looking for new music to mix, but finding the right country music can be difficult. Kids grow up and move away.
Artist like Taylor Swift, Tim McGraw, Kenny Chesney, Carrie Underwood, Miranda Lambert all have a great song about growing up, family bonds and leaving home.
Keep the family close, next time you go home spend time with family. You gonna miss them when they are gone.
Some of these country songs will make you cry while others will make you want to get up and dance! Who doesn't love a little bit of happiness mixed in with their sadness?
There are many country songs about family. Some songs are about the joys of being together, while others may focus on more difficult aspects of family life.
Regardless of the topic, these songs often strike a chord with listeners because they ring true for so many people.
Here are some examples of well-known country songs about family
Zac Brown Band – Family Table
Leann Rimes – Family
Kacey Musgraves – Family Is Family
Caylee Hammack – Family Tree
Dolly Parton – Family
Craig Campbell – Family Man
Ricky Skaggs – Nothing Beats A Family
Little Big Town – Welcome To The Family
Trace Adkins – Then They Do
Rodney Atkins – These Are My People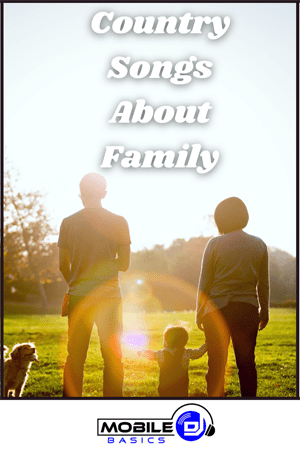 It's not a surprise that many mobile DJs often mix in country songs into their sets. After all, who can resist the upbeat tempos and charming lyrics of country tunes?
In fact, some people might even say that country music is the perfect genre for weddings and other special events.
If you're looking for some new country songs to add to your set, check out these tunes from some of today's hottest artists. You'll have everyone on the dance floor in no time!
Zac Brown Band – Family Table
One of my favorite bands to play for crowds that are looking for a fun and laid-back vibe is Zac Brown Band. Their music has something for everyone, and their shows are always full of energy.
If you want to create an enjoyable atmosphere at your next event, I suggest giving them a try
---
The Cranberries – Ode To My Family
The song "Ode To My Family" is about how families are an important part of society, but they're not always perfect; there will be times where we disagree with our family members.
That's what made this song so impactful on me- even if people don't agree all the time, they'll still stick together through thick and thin because blood is thicker than water!
---
Songs With Family in the Title
Throughout your life, you form relationships with different people who are all special and unique, but nobody is the same as the bond between family.
Whether it's a brotherly bond or an unbreakable connection with your parents, there's something incredibly special about having family in your life – which is why so many songs have been written to celebrate these relationships!
So let's take a journey through some of our favorite tunes that mention family in their lyrics – from classic hits to modern classics – as we appreciate all the wonderful ways that music can remind us of home.
Here are a few of our favorite songs with "family" in the title!
Bone Thugs-N-Harmony – Family Tree
P!nk – Family Portrait
Noah Gundersen – Family
Amy Grant – Family
Megadeth – Family Tree
Whitney Houston – Family First
Mary J. Blige – Family Affair
Blink 182 – The Family Next Door
MxPx – Family Affair
Lily Allen – Family Man
Jill Scott – Family Reunion
Diana Ross – Family
Baby Keem- Family Ties
Senses Fail – Family Tradition
Sister Sledge – We Are Family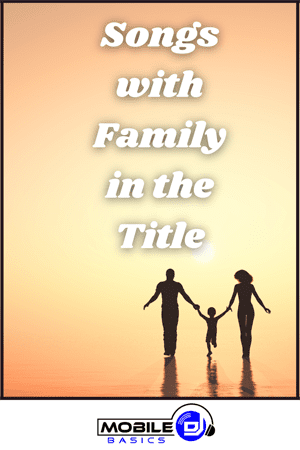 Family is a big part of our lives. We all have different families, but they are all important to us in one way or another. For mobile DJs, family can also be an important part of their music.
Kelly Clarkson, Lee Ann Womack, Christina Aguilera, Luther Vandross, Kate Bush, Elliott Smith, Harry Chapin, Josh Groban, Sly and the Family and other musicians have a great music career singing songs about fatherly love, children growing up or raising kids.
Family is a dynamic organism, with each member adding their own distinct version to its unique narrative.
From the constant exchange of information to the sound of laughter and occasional fights, every experience helps to shape the family's identity.
Parents serve as the backbone of the household, offering guidance and support for their children and extended family.
Siblings often share a close bond, brought together by a shared childhood and the occasional sibling rivalry.
Grandparents, aunts, uncles, and cousins all play important roles in creating a sense of community within the family, offering their own unique perspectives and support.
Ultimately, a family is a unit that can provide its members with a sense of belonging, regardless of the challenges or differences that may arise.
Bone Thugs-N-Harmony

Bone Thugs-N-Harmony is a group of five rappers from Cleveland Ohio. They have released six albums with all their songs being produced by the same producer, DJ Uneek.
The music video for this song shows each member of Bone Thugs-N-Harmony with clips from their lives and interviews about what they are most proud of in life.

---
Songs for Your Extended Family
Music is a powerful tool that can be used to bring people together. It has the power to not only create harmony and unity, but also an atmosphere of celebration and joy.
There are many songs that have been written for this purpose, but few if any specifically for chosen family gatherings.
If you're looking for something upbeat and fun or reflective and moving, these tracks will help set the tone for your forever family. So put on some tunes and enjoy spending time with your new friends!
Isabela Merced – I'll Stay
Andy Grammer – I Choose You
Rina Sawayama, Elton John – Chosen Family
Alicia Keys – Blended Family (What You Do For Love)
Garth Brooks – Thicker Than Blood
Steven Curtis Chapman – When Love Takes You In
Casting Crowns – So Far to Find You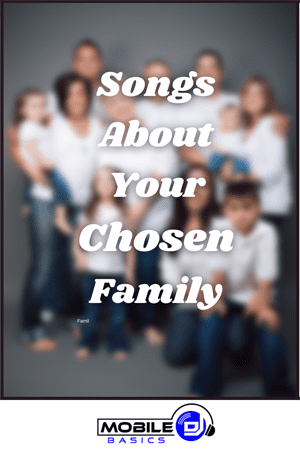 There are different types of families, but no matter what, they all share an unbreakable bond that connects someone to anyone within the unit.
From parents who record every important moment in our lives, to siblings who share the same amount of love and memories, each person in the family has a unique role in shaping our lives.
Some family traditions may involve playing the guitar and singing songs in English, while others may gather around the dinner table to discuss the menu and how to make the most out of the money they have.
Whatever the situation may be, family always remains the most valuable asset in anyone's life.
Whether your family is blood-related or not, they're still your family. And just like with any other family, you want to make sure they feel loved and appreciated.
Rina Sawayama, Elton John – Chosen Family
Lyrics:
We don't need to be related to relate
We don't need to share genes or a surname
You are
You are
My chosen Chosen family
So what if we don't look the same?
We been going through the same thing
You are
You are
My chosen Chosen family
---
Isabela Merced – I'll Stay
We all know the saying "family comes first." But what happens when your family is nowhere to be found? Isabela Merced's song "I'll Stay" from the movie Instant Family explores that question.
As an adoptive mother, she knows all too well that no matter what, family always comes first.
Her powerful voice and emotional lyrics will touch your heart and remind you of the importance of family.
Listen to her perfect song and let it fill you with warmth and happiness.

---
Best Family Songs Upbeat

Music plays an incredibly important role in our lives and it can bring memories flooding back with a certain song or beat.
Finding the right songs to play at family gatherings that evoke a sense of joy and happiness can be tough work, but fortunately there are plenty of fantastic upbeat and family-friendly tunes out there for you to pick from.
We've compiled a list of some of the best occasion songs ever put onto CD – from classic summer favorites, through to more modern dance numbers – so keep reading if your playlist could do with some uplifting tunes!
TobyMac – Family
TobyMac has been a musician for years and is well known as one of the top Christian Hip-Hop artists.
The Christian artist is known for blending rock and hip-hop styles to create soulful music that uplifts the spirit. Family is no exception.
Whether you're a longtime fan or just discovering TobyMac's music, Family is sure to inspire and encourage you.

Ziggy Marley – Family Time
In an interview with Billboard, Ziggy said, "There's nobody more important to me than my family…It was important for me to have an album that represents that." If you're looking for some feel-good music to listen to with your family, check out Ziggy Marley's 'Family Time'

---
Classic Songs About Family
Songs are a big part of family life. They can bring back happy memories from the past, or help to create new ones.
Whether you're driving in the car, gathered around the dinner table, or just taking a walk together, these tunes will have everyone feeling good.
Music is often about love and loss, happiness and sadness. But sometimes, it's also about family. These classic songs celebrate the bonds that tie us together, no matter what might come between us. Whether you're related by blood or by choice, these tunes are sure to speak to you.
Artist like John Mayer, Cat Stevens, Eric Clapton, Mariah Carey, Paul Simon, Paul Mccartney, Christina, Stevie Wonder have wonderful songs about unconditional love and precious moments. John Lennon Beatiful Boy this a moving song talks about John Lennon's Son. Family is in a lot of songs.
So sit back, relax, and enjoy a trip down memory lane with some of the best family-themed songs ever written.
Family Themed Songs
Sly & The Family Stone – Family Affair
The O'Jays – Family Reunion
Jackson 5 – I'll Be There
Grover Washington Jr. – Just The Two of Us
Bruce Springsteen – Family Song
Jon Mayer – Daughters
Fleetwood Mac – Family Man
Bon Jovi – Who Says You Can't Go Home
Ramones- We're a Happy Family
Hank Williams Jr – Family Tradition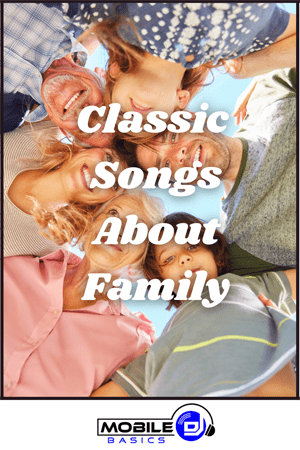 Here are some of the most classic songs, interpretations by different artists and generations alike. Whether you grew up listening to these tunes or singing them to your children, they'll always bring back happy memories.
A Classic song like Dear Mama, Father's Eyes, Hey Jude, Hey Brother and Sister Christian are all songs talking about family.
Christina Aguilera's "Oh Mother" is a sweet yet sad song about the complicated relationship between a mother and daughter.
Despite its bittersweet tone, it ultimately serves as a positive song about healing and forgiveness within a family.
On the other hand, "Daddy Sang Bass" by Johnny Cash celebrates the unity and joy of a large family, with lines like "All my sisters and my brothers, still I'm glad to be here.
With the next family reunion just around the corner, it's impossible not to think about just how different siblings can be, yet how each family member brings something unique to the table.
Whether it's a love song or a calm sound, music has an incredible power to bring families together and celebrate the bonds that hold them together.
Sly & The Family Stone – Family Affair
Family is an important thing in life, and Sly Stone's music celebrates this.
His song Family Affair has a strong message about the importance of family that not only encourages people to get together more often, but also reminds us how much we can enjoy it when we do.
The lyrics are very simple and straightforward, telling listeners that "family means love." This is something all of us can relate to on some level or another.
A lot of people have families they don't see enough so being reminded about the importance of spending time with them will be encouraging for many readers out there!

---
Conclusion
The songs we've shared help make family more tangible and accessible, recognizing that there is no one-size-fits-all definition of what a family should be.
A song about family gatherings, your mother in law, absent father, Mother's love, your own dad, a father figure, raising children, children's songs, or the family home – family love is in so many songs.
Songs about families help us to better understand the many different people we come across and how their lives are similar or different from our own.
Whether you're looking for song lyrics, reading music reviews, or scrolling through artist sites like Spotify, make sure to keep an eye out for any possible mentions of your favorite subject -family!
---
Read More
---
---
---
Pins for Pinterest
If you like what you see, feel free to share some love on Pinterest ❤️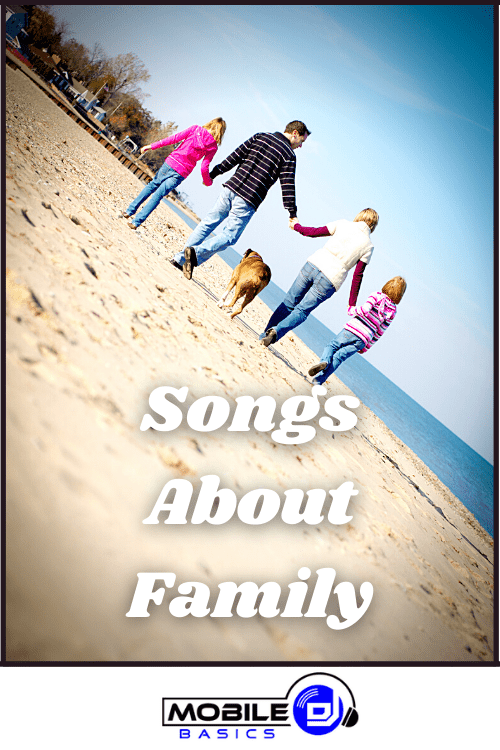 Songs About Family | Recent Chart-Toppers to Reliable Classics (2023)
From discovering new songs to getting more gigs, I'm excited to share the wealth of knowledge I've gained through many years of DJing. [email protected]