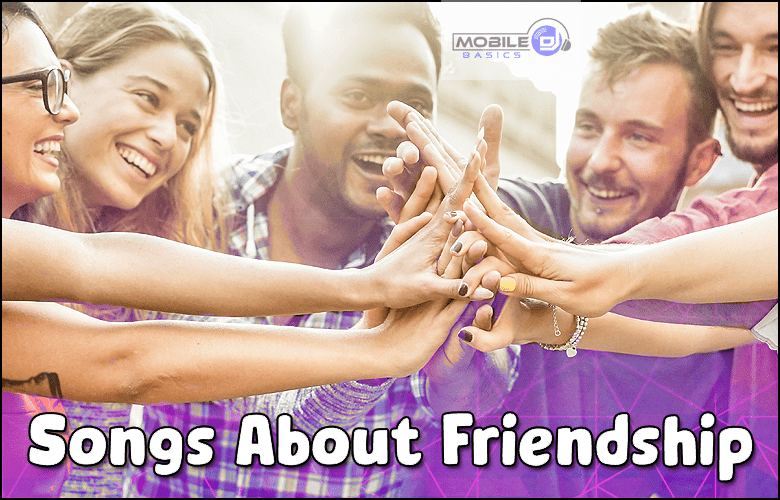 Last Updated on October 21, 2023 by Ryan Conlon | 🕒 8 min Read Time
---
Songs about Friendship are a powerful way to celebrate the bonds we share.
Whether it's cheering on our best friends' triumphs, providing support during difficult times, or sharing moments of uncontrollable laughter, these experiences remind us of the value of our relationships.
So why not immerse ourselves in music that beautifully captures this connection?
From catchy pop tunes to touching ballads, let's discover a collection of heartfelt songs about friendship that will make you appreciate your nearest and dearest even more!
Songs About Friendship
What sweet songs are you blasting in your car to celebrate the end of the week? Might it be EDM songs, or maybe pop music that gets you pumped up for a night out with friends? If so, then this article is perfect for you.
We've compiled some of the most iconic songs for a great playlist.
Including popular tunes like "You're my best friend" – Queen, "I've Got Friends in Low Places" – Garth Brooks, "That's What Friends Are For" – Dionne Warwick and "It's Nice To Have A Friend" – Taylor Swift.
Whatever your favorite type of song may be, we have something for everyone!
Check out our list below and enjoy these feelings all over again.
Top Best Friend Songs
Coi Leray – TWINNEM
Justin Bieber – Friends
Kanye West – Real Friends
Rex Orange County – Best Friend
Jack Harlow – Already Best Friends
Matt Maher – What a Friend
LSD – No New Friends
Billie Eilish – bury a friend
Post Malone – Best Friend
Weezer – Any Friend of Diane's
Grandson – Best Friends
Olivia Rodrigo – hope ur ok
Neon Trees – New Best Friend
Chris Young, Kane Brown – Famous Friends
Lady A – Friends Don't Let Friends
Meghan Trainor – Friends
Blake Shelton – Friends
Sophia Grace – Best Friends
Cloud Cult – Good Friend
Hillsong Young & Free – Best Friends
The Zombies – Friends Of Mine
5 Seconds of Summer- Best Friend
Miranda Lambert – We Should Be Friends
Taylor Swift – It's Nice To Have A Friend
WILLOW, THE ANXIETY, Tyler Cole – Meet Me At Our Spot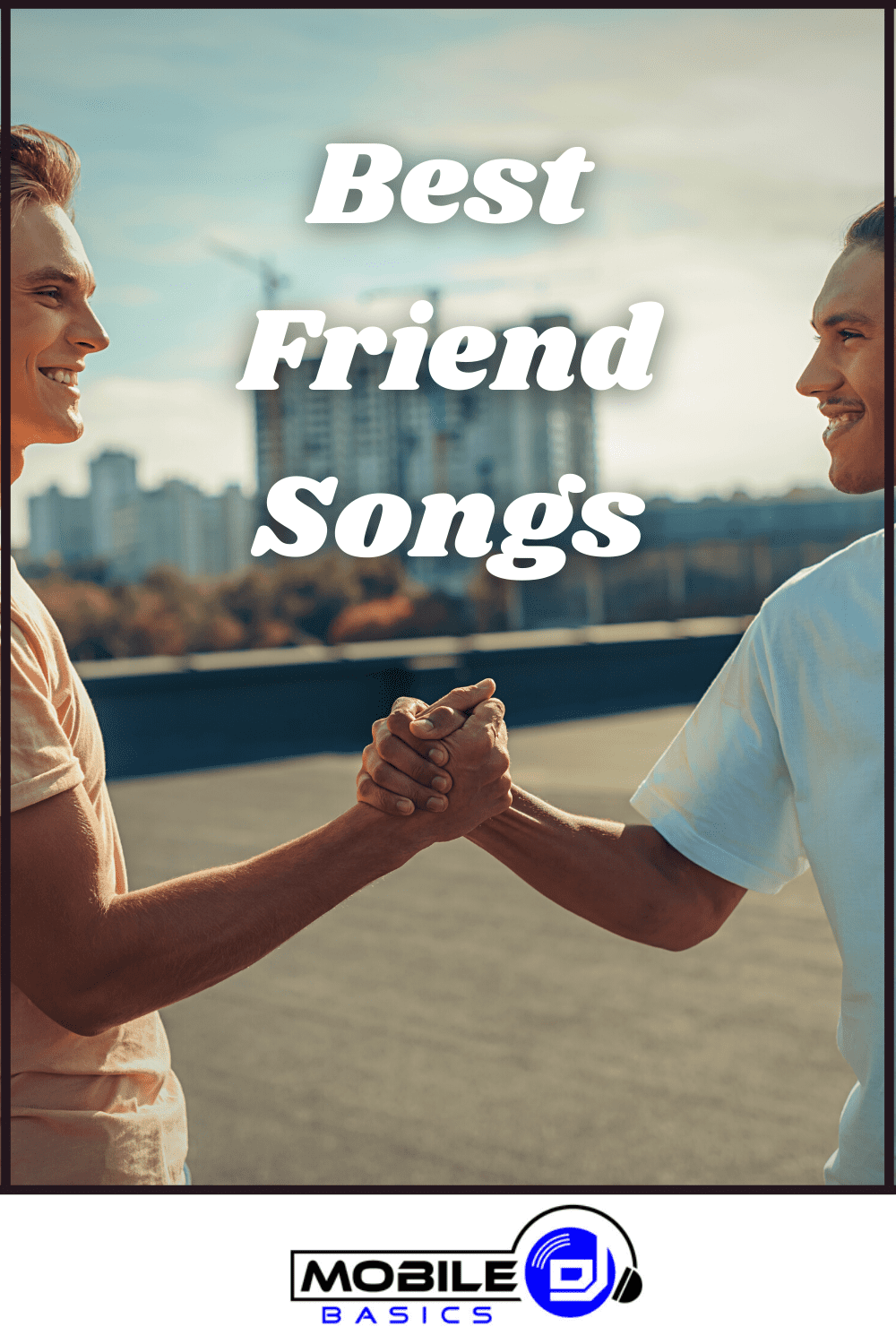 Taylor Swift – It's Nice To Have A Friend
Taylor Swift's "It's Nice To Have A Friend" is a heartwarming song about the beauty of having genuine and caring friendships. The track, which is included in her 2019 album "Lover," features a unique and soothing blend of instruments, including a xylophone, steel drums, and a harp.
The lyrics of the song are simple yet powerful, as Taylor sings about the joys of having someone to share life's ups and downs with.
She highlights the value of loyal and supportive friends who will always have your back, no matter what.
The song also touches on the importance of trust and intimacy in friendships, as Taylor croons about knowing someone so well that you can communicate without even speaking.
The music video for "It's Nice To Have A Friend" is equally touching, as it portrays a whimsical and dreamlike world where two childhood friends grow up together and eventually fall in love.
The video features stunning visuals of underwater scenes and a magical forest, perfectly capturing the essence of friendship and romance.
Overall, "It's Nice To Have A Friend" is a beautiful and poignant song that celebrates the power of genuine human connections.
Whether you're going through tough times or simply enjoying the good moments in life, this song serves as a reminder of the importance of having people by your side who truly care.
---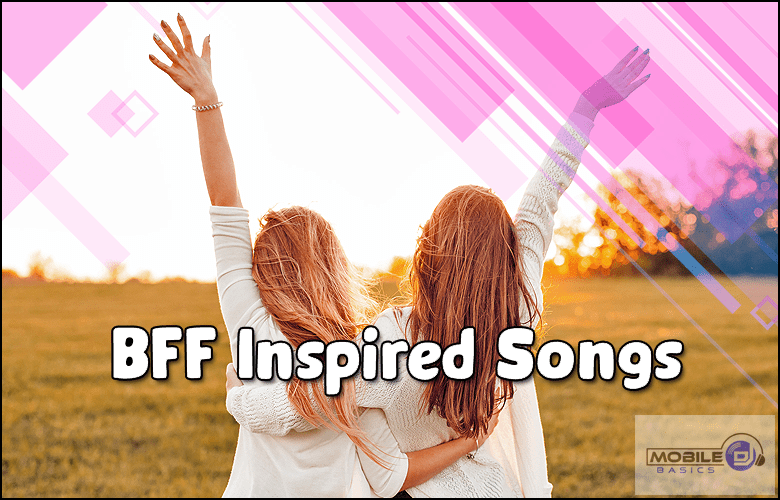 BFF Inspired Songs
BFF is a term used to describe one's favorite friend, and it can be hard for people to find great friends in the hustle and bustle of life. But when you do find your BFF, they are always there for you no matter what.
Music has the power to bring people together even more than ever before with its ability to provide an emotional connection that makes listeners feel like they're on some kind of journey together.
These best BFF inspired bestie songs are perfect for any occasion where you want your guests or partygoers to feel connected through music that will make them reminisce about all those great memories they've had with their closest buddies!
Best Friend Forever Inspired Songs
the 4onthefloor – All My Friends
The Rembrandts – I'll Be There For You
Ben Rector – Old Friends
Rancid – Fall Back Down
Bruno Mars – Count on me
Icona Pop – Girlfriend
Demi Lovato – Gift Of A Friend
Tim McGraw – My Old Friend
Jason Mraz – Lucky
Fifth Harmony – Me & My Girls
Weezer – My Best Friend
Cher Lloyd – Oath
Miley Cyrus – True Friend
Rascal Flatts – Me And My Gang
Michael W Smith – Friends
Rhett Akins – Friends for life
Grouplove – Tongue Tied
Lily Allen- Friend Of Mine
Chris Stapleton – Friendship
Vitamin C – Graduation (Friends Forever)
Red Hot Chili Peppers – My Friends
Tim McGraw – My Best Friend
Maren Morris – Good Friends
Dandy Warhols – We Used To Be Friends
New Found Glory – My Friends Over You
Tracy Lawrence – Find Out Who Your Friends Are
Garth Brooks – Friends in Low Places

When it comes to celebrating best friendships, there's no better way than with music. There have been songs over the years, spanning different genres and artists.
One of the most popular songs about friendship is The Rembrandts biggest hit, "I'll Be There for You". This song became synonymous with the TV show Friends, which featured a group of day one friends navigating life together.
Beyond this iconic track, there are plenty of other noteworthy picks for best friendship songs. Graduation Friends Forever Vitamin C is a classic choice for reminiscing on high school memories.
Meanwhile, Lady Gaga "Hair" is an upbeat anthem about being yourself with your closest friends.
Bruno Mars has also contributed to the best friendship genre with his song "Count on Me", which encourages listeners to support their friends through thick and thin.
And let's not forget about hip hop duo Whodini's 1984 hit "Friends", which highlights the importance of genuine friendship.
If you're in the mood for some rock, you can turn to David Bowie and Freddie Mercury's iconic collaboration, "Under Pressure".
This song explores the pressures of life, but ultimately serves as a reminder that our friendships can help us weather any storm.
No matter what your taste in music is, there's sure to be a few best friendship songs that resonate with you and your crew.
the 4onthefloor – All My Friends
Everyone's friend group shifts and changes as we grow up, and it can be hard to figure out where you fit in with your friends.
This song talks about how no matter what happens, you always have at least one person who will stay by your side through thick or thin.
Even if all of your other friends leave, there's still someone who won't change their mind about you even after everything else has changed around them.
---
Being a mobile DJ, you know the importance of having a wide variety of songs to play and keep your audience interested in what you're doing.
So if you're looking for new tunes or want some help picking out new music to add into your repertoire, here are some of our other song lists.
---
What is a Song That Represents Friendship?
With just a few words, the song "Friends" by Justin Bieber captures what it means to be friends.
The lyrics are simple enough for even children to understand and they have an uplifting tone that can cheer up anyone's day.
What other songs do you think represent friendship? Take a look at the music video.
BFF songs can be found throughout the history of music.
Some bestie songs capture a specific moment in time that captures what it feels like to have a friend or how important friends are, while others tell stories from a more abstract perspective.
Songs about our four legged friends 45+ Songs About Dogs
---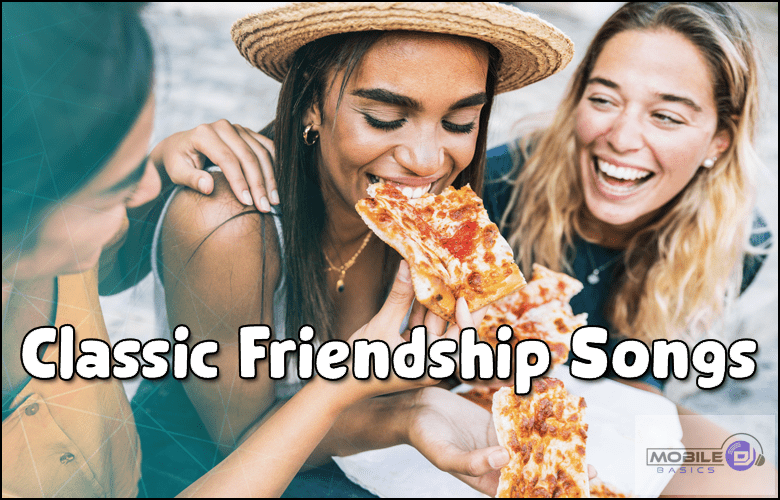 Classic Friendship Songs
You know, one of those nights where you're spilling your guts out on the dance floor. Or maybe even just when you're sitting around with some new friends or old friends talking about life.
Well, I've got a list with the perfect song for ya that's guaranteed to bring back memories and make any time more memorable!
Classic Songs about Friends
Andrew Gold – Thank You For Being A Friend
Queen – You're My Best Friend
Rolling Stones – Waiting On A Friend
Johnny Cash – Fair Weather Friend
Hank Williams jr – All My Rowdy Friends
Roy Acuff – Just a Friend
Elton John – Friends
Bette Midler – Wind Beneath My Wings
The Beach Boys – Friends
Simon & Garfunkel – Old Friends
War – Why Can't We Be Friends?
Roy Rogers – A Four Legged Friend
Jefferson Airplane – My Best Friend
Bette Midler – My One True Friend
Dionne Warwick – That's What Friends Are For
The Beatles – With A Little Help From My Friends
Queen – You're My Best Friend
Queen's "You're My Best Friend" is a timeless classic that celebrates the beauty and importance of friendship.
Written by bassist John Deacon, the song features a catchy melody, powerful harmonies, and touching lyrics that resonate with music lovers everywhere.
Released in 1975, this song quickly became a fan favorite and a staple of Queen's live shows.
It's no wonder that it's still loved by people of all ages and backgrounds today.
What makes Queen's song truly special is the genuine emotion behind the lyrics.
Deacon wrote the song as a tribute to his wife, who he considered his closest and most trusted confidante.
The line "I feel like I'm walking on air when we talk" perfectly captures the feeling of true friendship and the sense of joy and comfort that comes with it.
---
A Classic Friend Song
I'm sure you've heard of the Golden Girls by now. The show and theme song has been on Netflix for a while and I'm pretty sure everybody is obsessed with it! If not, don't worry – this section will fill you in.
The Golden Girls Theme Song (Andrew Gold – Thank You For Being A Friend) is about friendship and how important it is to have friends that are there for you when times get tough.
Whether they're your close friend who helps you study or your girl crew who takes care of each other at night, we all need people like that in our lives!
And if we're lucky enough to find them then we should cherish them and never take them for granted because not everyone gets the chance to be blessed with such an incredible gift.
---
Best Friend HipHop Songs
What is the first song that comes to mind when you think of your friend? If it's not on this list, maybe it should be added!
When you think of rap songs you think of Jay Z, Lil Wayne, Kanye West, Big Sean, Rick Ross, DJ Khaled, Bruno Mars, TLC and maybe Destiny's Child.
Rap music is one of the most popular genres in today's society so there's no shortage of options for songs.
Rap and R&B Most Iconic Friendship Songs
TLC – What About Your Friends
Snakehips – All My Friends
J. Lo – Hold You Down
Brandy – Best Friend
PARTYNEXTDOOR – Best Friends
The Carters – Friends
Young Thug – Best Friend
Tokyo Vanity – That's My Best Friend
Keyshia Cole – Best Friend
50 Cent – Best Friend
Mario – Just A Friend
J. Cole – Best Friend
EC Marv – That's My Bestfriend
Yelawolf – Best Friend
Pharrell Williams – Best Friend
Kelly Price – Friend Of Mine
Trey Songz – Can't Be Friends
Mariah Carey – Anytime You Need A Friend
TLC – What About Your Friends
It's easy to get caught up in the rigors of daily life. But, if you forget about your friends and family, it can be more difficult to cope with those struggles.
TLC is here to remind you that it's important not only to take care of yourself but also the people around you.
---
EDM Songs About Friendship
If you're looking for some new music to enjoy with your close friend, these EDM songs are just what the doctor ordered. As we grow older and our friends start moving away or getting married, it's important to remember how much they mean in our lives.
Here are some tracks that will make you want to text them right now–or at least invite them over for a dance party!
Classic and New EDM Friendship Songs
SOFI TUKKER – Best Friend
Marshmello & Anne-Marie – FRIENDS
Knife Party – 'Internet Friends'
Zedd – Stay The Night
Afrojack – As Your Friend
Daft Punk – One More Time
Marshmello – Summer
Madeon – All My Friends
SKRILLEX – WITH YOU, FRIENDS
Marshmello, Bastille – Happier
3 Speaker High – Make Me Dance All Night
The Chainsmokers with Kygo – Family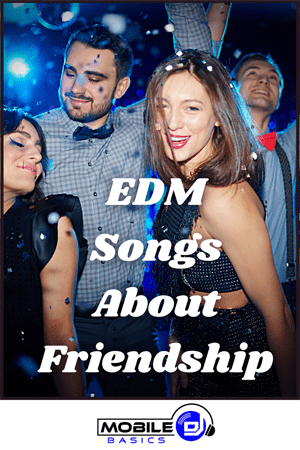 SOFI TUKKER – Best Friend
SOFI TUKKER is a group of two artists, Sophie Hawley-Weld and Tucker Halpern. They are both producers who met at Brown University in Providence, Rhode Island.
Their first single was released on February 3rd 2017 off their debut EP titled Treehouse .
The video features the pair as they do anything from play with dogs to dance around New York City – it's perfect for those days when you need some good vibes.

---
Songs About Being More Than Friends
It's not easy to find songs about being more than close friends.
There are plenty of love songs about romantic relationships, but what about the ones that tell you that your friend might actually be your soul mate?
We want to share some of our favorite music for those who don't know where to start.
More Than Just Friends
JORDY – Just Friends
Maddie & Tae – Friends Don't
Chris Lane – Big, Big Plans
Jonas Brothers – Just Friends
Julia Michaels – What A Time
Carolyn Dawn Johnson – Complicated
Rod Stewart – A Friend for Life
The Weeknd – Tell Your Friends
Megan & Liz – Just Friends
Emily Osment – Let's Be Friends
24kGoldn – More Than Friends
Machine Gun Kelly – my ex's best friend
Meghan Trainor – Just a Friend To You
Jason Mraz – More Than Friends
Emerson Drive- Last One Standing
Todd Rundgren – Can We Still Be Friends
Songs about being more than friends are a common sentiment in the music industry.
These songs discuss the transition from being just friends to becoming a couple and experiencing romantic love. They often showcase the complexity of feelings towards a special friend and the struggle to confess those emotions.
Teen Vogue has highlighted the impact of these songs, particularly in young adults, who often turn to music for guidance through challenging relationships.
Artists like Ariana Grande have produced popular songs such as "Thank U, Next," where she acknowledges the importance of self-love and moving on from past experiences.
On the other hand, songs like "Best Friend" by Saweetie and Doja Cat showcase the blurred lines between platonic and romantic feelings.
These songs resonate with listeners who have found themselves in similar situations, and their popularity only continues to grow.
JORDY – Just Friends
JORDY's song, "Just Friends," is a heartfelt tribute to the confusing and often painful experience of being more than friends with someone. In the video, JORDY himself sings and plays guitar under a sunny blue sky, surrounded by friends and lovers alike.
The song's lyrics touch on themes of longing and unrequited love, as JORDY laments the fact that he and his romantic interest are only "just friends."
With its catchy chorus and emotionally resonant verses, "Just Friends" is a perfect choice for anyone looking for a powerful and relatable song about the complexities of relationships that exist beyond mere friendship.
---
Classic Artists That Make You Think of Friendship
It's great to have true friends, but it's even better when you share the same taste in music. Music is a universal language that can be enjoyed by all types of people. It has been said that "music speaks without words."
A playlist is an easy way to show your appreciation for someone or just give them some encouragement during their day. You don't have to spend money on expensive gifts because you could pick out five songs and create an amazing friendship playlist instead!
Songs about good friends from classic artists like Queen, Randy Newman, Stevie Wonder, Bill Withers, James Taylor, Gladys Knight, Carole King, Cyndi Lauper or Thin Lizzy. We hope this list helps with ideas on what artists are perfect for friendship playlists!
Randy Newman – You've Got A Friend In Me
We all know and love Randy Newman's song "You've Got A Friend In Me" from the Disney movie Toy Story.
But what you may not realize is that he has been writing music for Disney since 1968 with 16 Academy Award nominations and six wins!
---
Songs About Missing Your Friend
If you have ever lost a friend, then you know the feeling of missing them. The person who was once by your side is now gone and there are days when it feels like they never existed.
This song list will cover some songs that might help you get through those tough times.
Missing a friend is hard. We all go through it at some point in our life, and we need to hear songs about missing your friends!
Songs About Losing a Friend
Wiz Khalifa – See You Again
Justin Bieber – Ghost
HARDY – Give Heaven Some Hell
Puff Daddy – I'll Be Missing You
Cole Swindell – You Should Be Here
FINNEAS – I Lost A Friend
Kenny Chesney – Knowing You
Darryl Worley – I Miss My Friend
Lee Brice – Friends We Won't Forget
Tyrese – My Best Friend
Kellie Pickler- My Angel
Lewis Capaldi – Someone You Loved
Calum Scott – You Are The Reason
Michael Jackson – Gone Too Soon
Crash Test Dummies- At My Funeral
Simple Plan – Gone Too Soon
Alex Warren – One More I Love You
Home Free – Go Rest High On That Mountain
Sarah McLachlan – In the arms of an angel
Machine Gun Kelly – play this when i'm gone
Ellie Goulding – How Long Will I Love You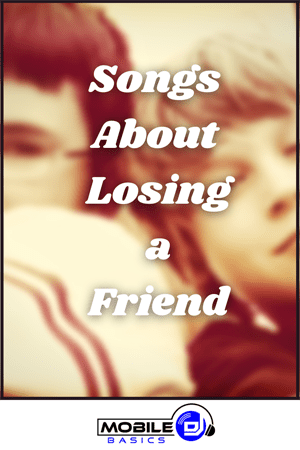 Losing a friend can be a heartbreaking experience. It can be as sudden as a falling out or as gradual as growing apart due to circumstances beyond our control.
The loss a friend can leave us feeling alone, confused, and empty. However, there are songs that offer comfort and remind us of the value of true friendship.
Songs about losing friends often celebrate the special bond that existed between two individuals, memorializing the memories shared and the good times that were had.
"You've Got a Friend" by Carole King is a classic song that captures the essence of a true friend who is always there through thick and thin.
Andy Grammer "Good to be Alive (Hallelujah)" speaks to the power of positivity and the joy of reconnecting with an old friend over a glass of wine.
The soulful voice of Bill Withers in "Lean On Me" reminds us that friends are valuable assets that we can always lean on in tough times.
Martina McBride "Anyway" speaks to the idea that even though friendships may end, we should still cherish the good memories and hold onto the love we shared.
Overall, songs about friendship, even when they touch on loss, remind us that friends are special and the bonds we share can never truly be broken.
Wiz Khalifa – See You Again
Wiz Khalifa's emotional rap ballad "See You Again" stands out as a poignant tribute to a departed friend.
Written in honor of late actor Paul Walker, the song's lyrics touch on the pain of loss while also celebrating cherished moments of friendship and the hope of seeing each other again someday.
Featuring soulful vocals from Charlie Puth and a heart-rending melody, "See You Again" struck a chord with audiences around the world and became one of the best-selling singles of all time.
The song's music video, featuring footage from the Fast & Furious franchise and Walker's poignant send-off, further amplified the impact of the song's message of friendship, love, and remembrance.
Wiz Khalifa's "See You Again" is a powerful ode to the bonds that connect us, even in the face of loss.

---
Songs About Bad Friends
It's heartbreaking when you find out your new friend is not really your friend. Whether it be because they've betrayed you, or hurt you in some way, there are songs about bad friends that will make the pain go away.
So if this has ever happened to you before and you're looking for a little bit of relief, then these songs about bad friends are perfect for you!
Songs About Fake Friends
Camila Cabello – Real Friends
Biz Markie – Just a Friend
Sigrid – Fake Friends
Tate Mcrae – Dear Ex Best Friend
Selena Gomez – Lose You To Love Me
Olivia Rodrigo – favorite crime
2Pac – I Ain´t Mad At Cha
Kiana Ledé – Ur Best Friend
Olivia Rodrigo – Deja vu
Kelly Clarkson – Low
Bebe Rexha – FFF
Gabby Barrett – I Hope
James Blunt – Goodbye My Lover
t.A.T.u – Friend or Foe
Melanie Martinez – Lunchbox Friends
Eric Clapton – When You Got a Good Friend
A Great Big World – Say Something
Hot Chocolate – Sometimes It Hurts To Be A Friend
The Killers – Jenny Was A Friend Of Mine
Tate McRae – friends don't look at friends that way

Songs about fake friends are often inspired by real-life experiences of those who have faced the harsh reality of toxic and abusive relationships.
Whether it's a rough patch in a close friendship or a complete betrayal by someone you thought was your ride-or-die, the emotions that come along with these experiences can leave a permanent mark on one's heart.
These songs talk about the pain of realizing that someone you once trusted has shown you their true colors and left you questioning all your relationships with others.
Trust issues, tears, and a broken heart are common themes in these emotional anthems that reflect the hard lessons of life.
One significant aspect of these songs is how they often resonate with individuals who have also had similar experiences, whether it's in high school or later in life.
It is no secret that relationships and cliques in high school can be brutal, leading to friendships that are as unstable as they are superficial.
In such instances, songs about fake friends can offer meaningful advice and comfort to individuals who may be going through a similar experience.
These lyrics remind us that true friends are those who are there for you through your bad days and good days alike, and that we shouldn't have to deal with abusive or toxic behavior from those we consider our BFFs.
Overall, songs about fake friends are a testament to the power of music to express some of the rawest and most difficult emotions of human existence.
These songs offer us a chance to reflect on our relationships and friendships, and they remind us that we should never settle for anything less than people who uplift and support us.
Olivia Rodrigo – traitor
Olivia Rodrigo is a singer/songwriter from the United States. She has been writing music for as long as she can remember and performing since her parents put a guitar in her hands at age five.
Her new single, "Traitor" tells the story of a girl who was betrayed by her friend after they swore to be friends forever. The song's video was released on October 21st and features scenes from the girls' childhood friendship interwoven with scenes from their present day betrayal.

---
Conclusion
To wrap up this blog post, we can conclude that friendship is an ever evolving concept, even within the music sphere.
Many pop songs about friendship have come out of multiple decades to showcase the importance of having trusted people in our lives.
From the bluesy soul vibes of B.B. King's "Let The Good Times Roll" to Taylor Swift's "The Best Day", each song expresses a unique appreciation and love for friends and family alike.
So, this begs the question: What are some of your favorite songs about friendship that make you think of the people you care most about?
Whether it's a joyful jam or a heartfelt ballad, let us know in the comments and make sure to share it with your friends so more can appreciate these timeless tunes!
---
Read More
---
---
---
Pins for Pinterest
If you like what you see, feel free to share some love on Pinterest ❤️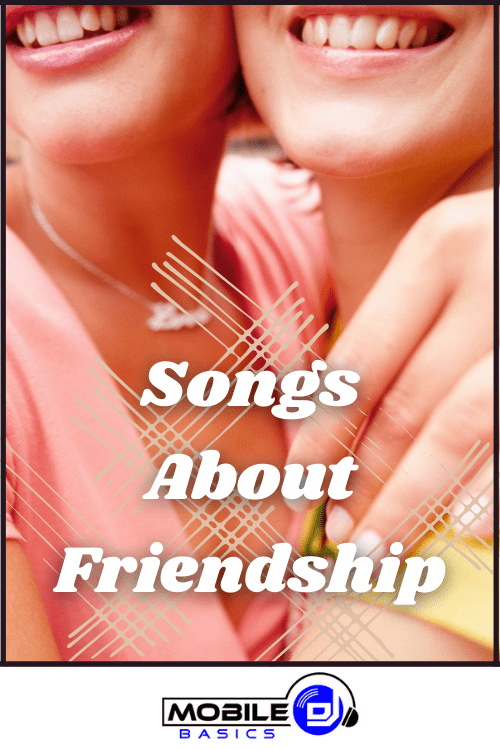 150+ Best Songs About Friendship | Ultimate Best Friend Songs 2023
From discovering new songs to getting more gigs, I'm excited to share the wealth of knowledge I've gained through many years of DJing. [email protected]