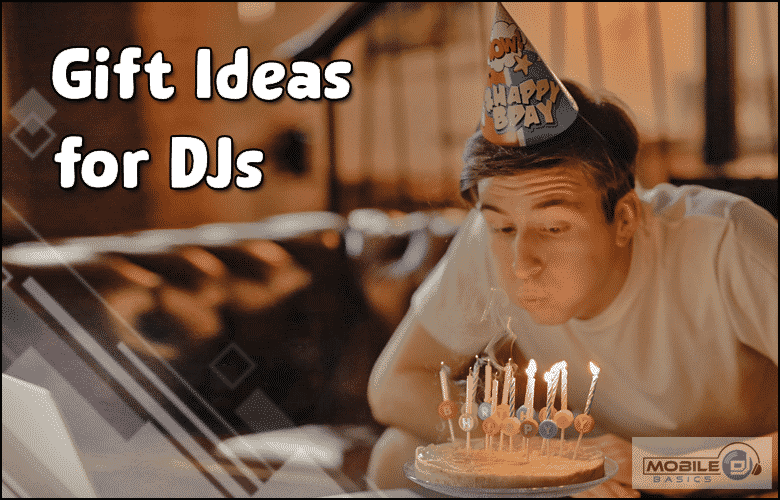 Last Updated on October 16, 2023 by Ryan Conlon | 🕒 5 min Read Time
---
You might ask – What do you get a DJ for Christmas? Or their Birthday. Looking for the perfect gift for a DJ can be hard. We put together a couple lists to help find the best gift ideas for DJs.
No matter the situation, there is no point in buying your DJ a mug or t-shirt related to DJing when you can get them something that will be beneficial to their work.
Not only will it help them in their career, but also, every time they are DJ a gig they can use your gift and think of you!
---
Finding The Best Gift Ideas for DJs
You don't have to worry any longer about trying to come up with the perfect DJ gift guide.
We've compiled a list of different DJ gifts that will be perfect for any Mobile DJ.
They range in different price points and categories to fit just about any Bar/Club or Wedding DJ's needs.
From gifts that just make sense to ones that you wouldn't have ever thought of, this small yet effective list is sure to include the perfect gift idea for any DJ.
The Best DJ Gifts are the ones that they will use to make their job easier.
These are the Best Gifts for a DJ
Not sure if these DJ gifts are the right fit for a mobile DJ? No worries, we've delved into each gift idea and explained how they benefit the DJ and what price range they fall into.
Simply pick the one, or the few, that best fit your gift-giving needs and your DJs tastes.
---
These Are Our Favorite Gifts for Mobile DJs
Anti-Fatigue Floor Mat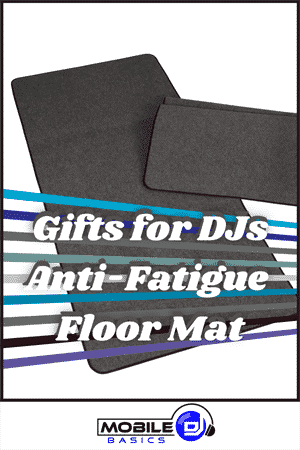 An anti-fatigue floor mat is perfect for those DJs that are standing for long periods of time.
They are designed to reduce the fatigue you feel from standing in one spot for too long.
So, if you hear a wedding DJ complaining about how their legs or feet hurt after a gig, this is one of the best options for them.
You can find these mats in a variety of materials to best fit the DJs needs and aesthetic. A few different types of materials include:
Rubber
Wood
Carpeting materials
Vinyl
These mats range in prices from $20 to $100 depending on quality and material used.
Therefore, they are likely to fit into just about any gift-giving budget. Here are the Best Selling Anti-Fatigue Mats on Amazon.
---
Spotify Gift Card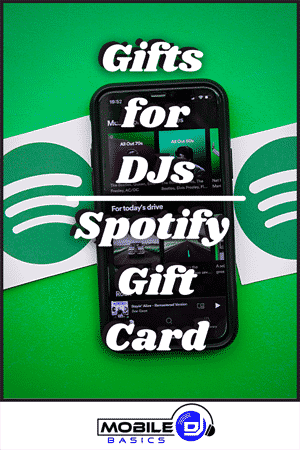 Many DJs use Spotify as their source of music streaming.
However, no one wants ads to play during their events, so DJs have to pay for Spotify premium to play ad-free playlists.
A Spotify gift card will pay for a premium subscription. The great thing about this DJ gift is that you can choose how much money you want to put on it. It's definitely within whatever price range you may have.
The only thing to be aware of with this gift is if the DJ is using a military or student subscriptions, they can not use a Spotify gift card.
Gift cards can only be used on Spotify subscriptions that are regularly priced.
DJ can use Spotify to enjoy music or to find new songs for their events.
---
Every DJ Needs a Portable SSD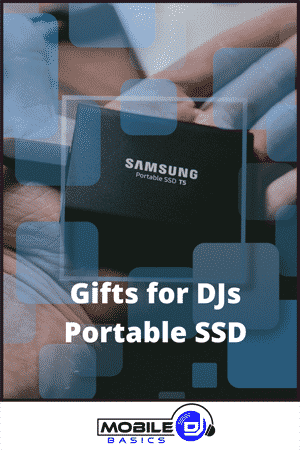 One of the best DJ gifts is a Portable SSD (Solid State Hard Drive) DJs use portable SSD drives quite often.
These USB drives are used to store music quickly with the benefit of being able to move them from place to place much more easily than traditional SSD drives or the hassle of multiple CDs.
A great option to consider is the SanDisk 1TB Extreme Portable SSD (Check the Price on Amazon) This portable drive is small yet durable. Your DJ can book gigs outdoor and not have to worry because the drive is also water and dust-resistant.
It can also outperform most competitors within its price range and is trusted by big-name artists like Kygo.
However, this gift is a bit more expensive in the $100-$200 range, so keep that in mind.

---
Headphones Are a Great DJ Gift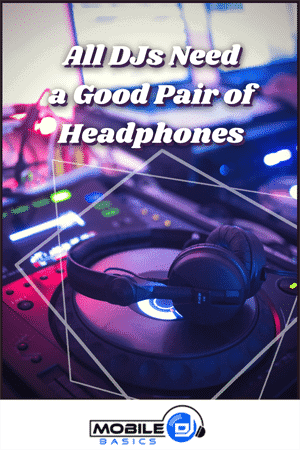 When you picture a DJ, most of the time you picture them with their iconic DJ headphones pressed to one ear.
Every DJ uses headphones to help them cue the next song and ensure it matches the beat of the one playing. A good set of headphones is a great gift option.
A good set to consider is the Audio Technica ATH-M50X. These comfy Professional Studio Monitor Headphones provide excellent sound quality accompanied by a durable design.
You can choose between three different colors for your DJ. Also, each pair comes with three detachable cords that match your chosen color.
The best part is you can get these headphones for under $200.
Other Popular headphones are the Pioneer DJ HDJ-X5-K – Pioneer DJ HDJ-X7-K – Pioneer DJ HDJ-X10-K

Check out our article about –
Honest Best DJ Headphones Product Reviews | Over The Ear
---
Tile – Tracker – Keep Track of Your DJ Equipment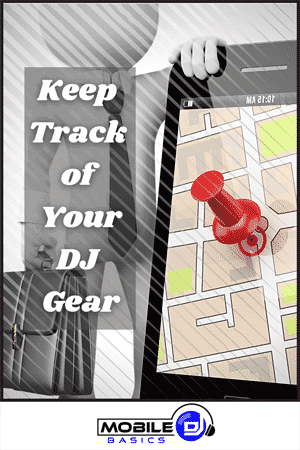 You typically see Tile Trackers used to find your keys or even your phone. A Tile is a Bluetooth device that is connected to your phone.
You simply stick it to whatever you want and it will keep track of the location and also ring the tile when you push a button on your phone.
Besides keys and wallets, you can stick a Tile Tracker to just about anything.
This is great for DJs who might lose small items or other accessories. Throw one in your DJ Bag or in your headphone case.
It is also good for DJs because they have a lot of expensive equipment.
By placing a $25 Tile Tracker on their gear, they can potentially track down the much more expensive equipment if stolen or lost. View all Tile options on Amazon
---

Best Gifts for a DJ Under $50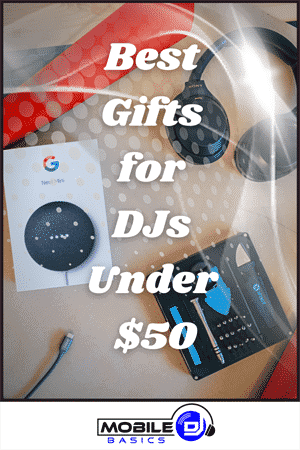 You might be thinking "best gifts for a DJ? What about DJ Gear like – a new controller or some headphones?" But we're not just talking about any DJ, are we? We're talking about the best gifts for mobile DJs.
You could buy them gag gifts or something anyone would moderately enjoy, but why not buy them something they will actually use?
Something that maybe they wouldn't think to buy for themselves even. Maybe something they didn't even realize they needed.
The perfect gift for any DJ can be hard to find but we have compiled a list of gifts from $20-50 that will make an excellent present for your favorite DJ!
---

What Should I Get a DJ for Their Birthday?
The Perfect T-shirt
I know that we mentioned the fact that a DJ related t-shirt isn't a good idea. But what no one is talking about is how difficult it is for a DJ to be in places that are sometimes too warm and poorly ventilated.
It's part of the gig, one that they have to live with, but your gift can make their life a bit easier.
How? By giving them a shirt that will help them stay cool. These are usually aimed at runners or at people who are into endurance sports, but some of them would look really good on a DJ, and they would feel a lot better.
Here is one of the many options that you have. Sweat Defense Undershirt
Socks – Yes Socks
Another gift that brings comfort would come in the form of socks, even it it sounds weird.
Yes, you read that right. We talked about the fact that DJs would appreciate an anti-fatigue floor mat because they have to stay in one place for a long period of time and their feet end up hurting at the end of the day.
Compression socks, aimed at athletes, help alleviate that pain and your favorite DJ will be able to go about his job without any discomfort. Yes, they can also look cool in them.
This is an example of what you can find on Amazon, and they would be a great gift for a DJ.
Compression Socks Best for Circulation
Speakers
DJs are all about sound, and while some of them won't be able to take their speakers along on jobs, they do enjoy a high quality of sound when they practice or when they just relax.
If your DJ friend has a car, he definitely would love it to sound nice, so you should choose a pair of great car speakers like those produced by Pioneer or JVC.
Here is a great pair of car speakers that any DJ would love.
Books about Being a DJ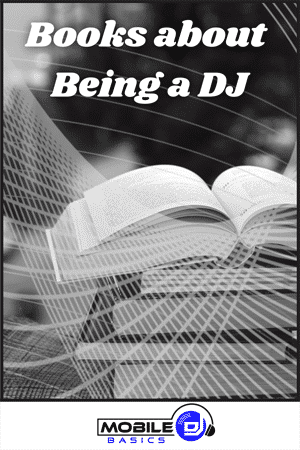 There are many books that could be an inspiration for DJs.
Some of these are aimed at newbie's, some are for the more advanced and there are also a few books that are a collection of DJ stories.
The common thread among these reads is that each one has something unique to offer readers who want more information about being a DJ or just enjoy reading!
You know your DJ best, and you should choose something that would be suited for his taste.
Here are some of the options on the market.
Best DJ Books Every Professional Should Know | Buying Guide
Hold ; Charge
DJs are always on the go, always changing location and performing. But, in
order to offer their best performance, they need the proper gear, and they even need to put their gadgets somewhere.
A headphone stand that also has a USB charging station can be a life saver.
Check out this great product from Amazon, that would be great for anyone, but a DJ would absolutely love. USB Charger Headphone Stand
Encourage Proper Hydration
While DJs are not known for their healthy lifestyle, you can hope for and
encourage one. While everyone is having fun at parties, weddings or in clubs, they must work, sometimes without a break, for hours.
This is why it's important for them to stay hydrated, and a water bottle that won't spill should do the trick. You can find one aimed at DJs here.
Since the gift doesn't go near our $50 budget, you can also add some vinyl disk coasters and an Isotonic drink for those long nights in the club.
A Sound Mixer – the DJ staple
Since you are thinking about finding the perfect gift for a DJ, you probably believe that someone who is already a DJ has no need for a sound mixer, since they already have one. Right? Well, you can never know what can go wrong.
Bad wiring at the location they will work at can lead to a short-circuit, which will translate in to them not being able to play until they replace the gear, and that is definitely not going to happen during the same night.
A high-quality portable audio mixer can save their job. You can find one within your budget here.
The Modern Version of a Disco Ball
There is nothing that screams DJ more than a disco ball. These have been around even before the DJ notion appeared.
Nowadays, you can find electronic alternatives that project light and that can synchronize it to the sound of the music.
These may not be appropriate for a club that has much more high-tech lighting options, but it could be great for a DJ who attends parties and weddings in smaller locations.
Check out this one here, and see if it's a good match for your DJ.
A DJ Bag
Any DJ needs a large bag to fit all their gear inside it. If you ever witnessed a DJ unpacking their tools and spreading them on the workspace, you must have thought that the bag is just like a magician's hat, because there are so many things in it, that they couldn't possibly fit.
Here is a large bag to suit the needs of your friend. Maybe if you are lucky they will show you how they learned to pack so well. Take a Look at – Best DJ Backpacks – Stop Buying Cheap Gear – Handy Resource Guide

---
Conclusion – Best Gifts for DJs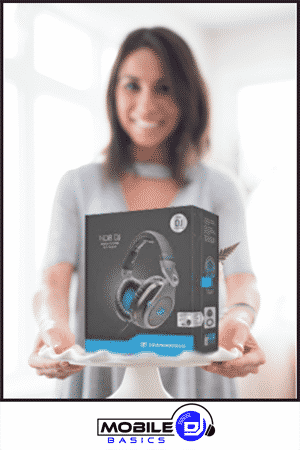 Whether you are looking for a quick, cheaper gift like a Spotify gift card, or a more expensive gifts like a pair of DJ headphones, we are sure DJs will love anything from this list.
Especially the customizable products like headphones or floor mats that can be made to perfectly fit their style and needs.
DJ Software like Serato DJ can also be a great gift idea. They might not like Serato DJ.
DJ Equipment might be hard to buy if you are not a DJ. High quality DJ gear can get to be very expensive. And you should not buy things like cheap DJ headphones. They will break and not last.
You can always just give money. So they can save up to buy the better quality equipment – Like Pioneer DJ Headphones.
The SanDisk 1TB Extreme Portable SSD is a top-performing portable drive for its price range.
While the audio Technica ATH-M50X performs better than Beats and it is less expensive. We have researched a variety of options and are sure these will meet all your DJing needs.
Even if you are a DJ and are looking for great ideas to give yourself or other DJ friends, we highly recommend the chosen products talked about in this gift guide.
---
Read More
---
---
Pins for Pinterest
If you like what you see, feel free to share some love on Pinterest ❤️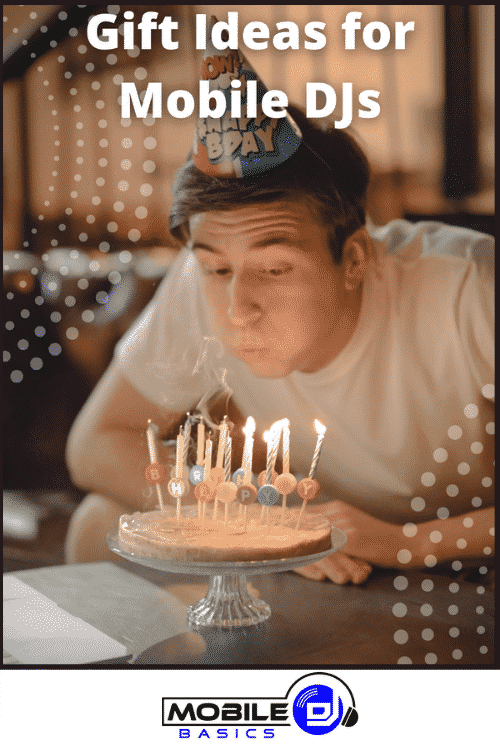 Top Gift Ideas for DJs: Creative and Innovative Gifts {2023}
From discovering new songs to getting more gigs, I'm excited to share the wealth of knowledge I've gained through many years of DJing. [email protected]