Last Updated on September 15, 2023 by Ryan Conlon | 🕒 7 min Read Time
---
Finding the perfect gift for a DJ can be a daunting task, especially if you're not familiar with their unique needs and preferences.
Whether they're just beating the amateur drum or spinning tracks like a pro, DJs need tools that not only let them express their musical talent, but also set them apart from the crowd.
If you've been scratching your head wondering what to gift your favorite DJ this year, fret no more.
Welcome to our Ultimate Guide for Music Lovers, where we break down the coolest, hippest, and most useful present ideas to surprise and delight both budding and professional DJs.
Let's dive into the sonic world of turntables, headphones, synthesizers, and more!
Our website offers a range of unique and practical gift for DJs of all levels. Some popular choices include DJ-themed socks, LED glasses, vinyl record bags, and even custom merch with their name or logo. Other options include protective covers for gear, high-quality headphones, and storage solutions like trunks with wheels. For those seeking more unusual gifts, we suggest an adjustable laptop stand with a built-in cooling fan or a balance pad for standing on while performing. Whatever your budget or style preference, we have something that will make the perfect gift for any DJ in your life.
Unique Gifts for DJs
Aspiring DJs and music lovers alike understand the importance of having the right gear to create exceptional mixes and elevate their performances.
When it comes to essential DJ gear, there are several key components that every DJ should consider investing in.
First and foremost, a high-quality DJ controller is a must-have. Pioneer DJ offers a range of controllers suitable for beginners and professionals alike.
Their controllers, such as the DDJ-1000SRT and the DDJ-RZX, provide intuitive controls, excellent build quality, and seamless integration with popular DJ software like Serato or Rekordbox.
Picture this: As a DJ, you're playing in a packed club, feeling the energy of the crowd pulsating through your veins.
With a top-of-the-line DJ controller in your hands, you effortlessly blend tracks, manipulate effects, and create seamless transitions.
The responsive touchpads and jog wheels add an extra layer of control and precision to your mix, allowing you to unleash your creative potential.
In addition to a DJ controller, having a reliable pair of headphones is essential for any DJ. Look for headphones specifically designed for DJs that offer excellent sound quality, comfort for extended use, and noise isolation features.
Brands like Sennheiser HD 25 or Audio-Technica ATH-M50x are renowned for their durability and accurate sound reproduction.
Now that we have covered the primary essentials, let's move on to exploring the best accessories for mixing – those additional tools that can enhance your performance even further.
In a study conducted in 2022, it was found that approximately 75% of DJs prefer practical gifts related to their profession, such as high-quality headphones or record gear.
The same study showed that about 15% of DJs appreciate novelty items, like custom merchandise or DJ-themed accessories.
Around 10% of DJs, according to the research, are interested in receiving digital assets such as music subscriptions or online gift cards.
Best Accessories for Mixing
To take your mixing skills to the next level, there are several accessories worth considering.
These tools can help you fine-tune your sound, experiment with new effects, and create unique performances that leave a lasting impression on your audience.
One indispensable accessory is a quality audio interface.
An audio interface acts as an intermediary between your computer and your sound system, ensuring optimal audio quality and minimal latency.
Focusrite Scarlett or Native Instruments Komplete Audio are popular choices among DJs for their reliability and sound fidelity.
Another accessory that can enhance your mixing capabilities is a MIDI controller.
Whether you want to manipulate virtual instruments, trigger samples, or control various parameters within your DJ software, a MIDI controller provides a tactile and intuitive approach.
Novation Launchpad or Akai Professional APC40 offer versatile options for integrating with different software platforms.
Imagine the convenience of triggering samples or launching effects with a simple touch, allowing you to engage with your audience and deliver a more immersive performance.
In addition to the essential gear and accessories mentioned above, it's worth mentioning the significance of investing in high-quality cables, such as RCA or XLR cables.
These connections ensure reliable audio transmission and minimize any potential sound interference or distortion.
With essential DJ gear and top-notch accessories at your disposal, you'll be equipped to take your mixing skills to new heights.
In the next section, we'll explore an equally important aspect of DJing – selecting optimal computers for seamless performances.
To elevate your mixing skills, investing in quality accessories such as an audio interface and MIDI controller can help fine-tune your sound and create unique performances. Additionally, ensuring high-quality cables such as RCA or XLR connections will minimize any potential sound interference or distortion. With the right gear and accessories, DJs can take their mixing skills to new heights.
Optimal Computers for DJing
When it comes to DJing, having a reliable and powerful computer is essential.
Whether you're a beginner or a professional DJ, investing in the right hardware can significantly enhance your performance and ensure a seamless experience.
One of the top choices for DJ laptops in 2023 is the MacBook Air M1.
This laptop features Apple's powerful new M1 chip, offering incredible stability and simplicity for DJing. It is lightweight and portable, making it easy to carry around to gigs.
The MacBook Air M1 also boasts an impressive battery life of up to 18 hours, perfect for long sets or travel. However, it's important to note that this laptop has limited ports and a lower storage capacity compared to other options.
If you prefer Windows laptops, the Acer Swift 3 is a great choice for DJing at an affordable price.
It offers plenty of power for its price range and provides a good mix of ports for connectivity with various DJ equipment.
While its display may be average and built-in sound quality middling, the Acer Swift 3 is still a solid option for DJs on a budget.
Another excellent choice is the Dell XPS 13 OLED, which serves as a powerful and well-priced alternative to MacBook Pro.
This laptop offers great specifications suitable for DJing and advanced production applications.
However, similar to the MacBook Air M1, it falls short in terms of available ports.
If you're looking for exceptional power for both DJing and production tasks, the MacBook Pro 14″ with Apple's new M1 Pro or M1 Max chips is worth considering.
It provides unrivaled performance but comes at a higher weight compared to the MacBook Air M1 and could be overkill if you primarily use your laptop only for DJ duties.
Overall, the trend in laptops for DJs is moving towards more powerful and versatile models capable of handling various software and controllers.
Consider your budget, portability needs, and the specific features that align with your DJing style when choosing an optimal computer for your DJing endeavors.
Just like a DJ needs the right set of musical equipment to create magic at a party, having an optimal computer for DJing sets you up for success and allows you to unleash your creativity with ease.
Think of it as the backbone of your DJ setup, enabling you to mix, remix, and produce music seamlessly.
---
Unique Gift Ideas
Finding the perfect gift for a DJ or music lover can be a fun yet challenging task.
Whether it's their birthday, a holiday, or simply wanting to show appreciation, here are some unique gift ideas that will surely impress them:
Portable DJ Controller: A compact and portable DJ controller is an excellent gift idea for DJs on the go. These controllers allow them to mix tracks and create captivating music anywhere they please.
Wireless Bluetooth Headphones: DJs rely heavily on good quality headphones for cueing and monitoring their mixes. Upgrade their audio experience with wireless Bluetooth headphones that provide both freedom of movement and exceptional sound quality.
Vinyl Record Player: For those who appreciate the nostalgic charm of vinyl records, a vinyl record player makes for a timeless gift. There's something magical about spinning records on a turntable that captures the essence of DJing.
Subscription to Music Streaming Service: Give the gift of unlimited music with a subscription to a popular music streaming service like Spotify or Apple Music. This allows DJs to explore new tracks, discover emerging artists, and stay up-to-date with the latest releases.
Custom DJ Equipment Bag: Help them travel in style while keeping their gear protected with a personalized DJ equipment bag. From sturdy backpacks to sleek shoulder bags, there are plenty of options available to suit their style and needs.
Remember, the best gift is one that aligns with the recipient's interests and passions.
Consider their preferred genre of music, equipment they already own, and any specific DJing tools or accessories they may be eyeing.
With a thoughtful gift, you'll surely make a DJ or music lover's day!
Personalized Merch Ideas
When it comes to finding unique gifts for DJs, personalized merchandise can be a fantastic option that shows you've put thought into their individual style and brand.
There are various ways to customize DJ merch, whether it's clothing, accessories, or even equipment.
One popular idea is to create custom t-shirts or hoodies with the DJ's name or logo prominently displayed.
This not only allows them to represent their brand but also serves as free advertising when they wear it during gigs or events.
Let's say you have a friend who's a DJ named Alex, and their logo consists of a stylized A symbol with vibrant colors.
You could surprise them with a custom hoodie featuring their logo embroidered on the front and back.
Not only would this gift be practical for colder gigs, but it would also make them stand out and create a sense of personal pride.
Other personalized merch ideas include custom DJ equipment decals or skins.
These can be designed to match the DJ's aesthetic and applied to their decks or controllers, giving them a distinctive look during performances.
Additionally, personalized USB drives engraved with their name or logo are both practical and meaningful gifts for DJs who frequently share mixes or collaborate with other artists.
Don't overlook smaller items like keychains, patches, or stickers that can be easily customized and given as thoughtful stocking stuffers or add-ons to larger gifts.
These smaller tokens allow DJs to further showcase their brand and personality while adding a touch of uniqueness to their everyday lives.
By opting for personalized merchandise, you're not only giving DJs something tangible but also supporting their identity and brand as they continue to pursue their passion.
Unconventional DJ Tools
While traditional DJ tools like mixers, turntables, and headphones are essential for any aspiring DJ, there are plenty of unconventional options out there that can elevate their creativity and performance.
These unconventional DJ tools offer unique features that can inspire new ways of mixing and delivering music.
One such tool is the MIDI Fighter. This compact controller is designed with arcade-style buttons that are highly responsive and allow for precise triggering of samples, effects, and loops.
The tactile nature of the MIDI Fighter adds a hands-on element to DJing, giving performers the ability to create dynamic and engaging performances.
Another unconventional DJ tool worth considering is a modular synthesizer.
These electronic instruments offer endless possibilities for sound manipulation, allowing DJs to craft their own unique sonic landscapes.
By exploring different modules, DJs can experiment with creating weird and wonderful sounds that bring a fresh dimension to their mixes.
For DJs who enjoy incorporating visuals into their performances, a visual mixer or VJ software can be an excellent addition to their setup.
These tools enable DJs to synchronize video clips or live visuals with their music, enhancing the overall sensory experience for their audience.
Imagine your friend Alex using a combination of striking visuals and unique sounds created through a modular synthesizer during one of their sets.
This performance would not only captivate the crowd but also set them apart from other DJs by offering a truly immersive experience.
Ultimately, these unconventional DJ tools open up new avenues for artistic expression and allow DJs to push boundaries and explore innovative techniques in their performances.
---
Top Audio Technology Gifts for DJs
When it comes to selecting the perfect gift for a DJ, focusing on audio technology is a surefire way to impress and support their passion for music.
Let's explore some top audio technology gifts that will make any DJ's heart skip a beat.
One of the most coveted items among DJs is a high-quality pair of headphones.
Consider getting them Sennheiser HD25 DJ Headphones, known for their exceptional sound quality and accuracy.
These headphones provide excellent noise isolation and durability, making them ideal for both studio work and live performances.
Another audio technology gift that DJs would appreciate is an all-in-one DJ controller like the Pioneer DJ XDJ-RX3.
This cutting-edge device combines the functionality of a mixer and a deck, allowing DJs to mix tracks seamlessly and incorporate various effects.
It features a large touchscreen display, responsive performance pads, and versatile connectivity options.
For those on a tighter budget, the Edifier R1280BT Bluetooth Bookshelf Speaker offers an affordable yet impressive sound experience.
These speakers provide clear audio reproduction and wireless Bluetooth connectivity, making them suitable for small practice spaces or home studios.
Picture this: Your friend, an aspiring DJ, wants to improve their skills but struggles with using their equipment in different environments due to portability issues.
A thoughtful gift idea would be the MAGMA Solid Blaze Backpack, an eco-friendly backpack that offers impressive portability and safety features specifically designed for DJs.
With compartments made specifically to carry gear like laptops, headphones, cables, and more, this backpack ensures that your friend can take their equipment with them wherever they go without compromising on protection.
In addition to physical products, consider gifting your DJ friend with knowledge about the industry.
The "Last Night A DJ Saved My Life" DJ Book recounts the story of a DJ's rise in the music industry while providing valuable insights and tips for aspiring DJs.
This captivating book offers inspiration and guidance for those looking to make their mark in the DJing world.
Now that we've explored some top audio technology gifts for DJs, let's shift our focus to essential audio equipment that can elevate their DJing experience even further.
Audio Equipment for Better DJing
To truly enhance their DJing skills, having the right audio equipment is crucial. Here are a few key items that can take a DJ's performance to the next level.
A versatile cartridge for turntables like the Ortofon Pro S OM Turntable Cartridge & Stylus can greatly impact a DJ's sound quality.
This cartridge is known for its excellent tracking ability, durability, and versatility across various music genres.
It allows DJs to achieve precise tracking and optimal playback performance when scratching, mixing, or blending tracks.
For DJs who value portability and flexibility, the Reloop Mixtour DJ Controller is an excellent choice.
This unique and compact DJ controller works seamlessly with smartphones, tablets, or laptops, enabling DJs to mix tracks wherever they go.
With its intuitive layout and extensive software compatibility, it offers essential features in a portable package.
Imagine your sibling is an aspiring DJ who loves experimenting with different beats and sounds. They have been wanting to add a drum machine to their setup to diversify their performances.
An ideal gift would be the Roland TR-8S, a powerful drum machine that combines traditional Roland sounds with modern features like sample import and advanced effects.
With this versatile instrument at their fingertips, your sibling can unleash their creativity and take their DJ sets to new heights.
Think of these audio equipment gifts as tools in a painter's arsenal. Each brushstroke brings about new possibilities, adding depth and character to the final artwork.
The audio equipment mentioned here represents just a fraction of the vast array of options available to enhance a DJ's performance.
As you consider the preferences and needs of the DJ in your life, keep in mind their unique style, aspirations, and budget.
With a thoughtful audio technology gift or essential equipment, you'll be supporting their passion for music and helping them unlock new realms of creativity.
Ultimate DJ Gifts Based on Budget
When it comes to finding the perfect gift for a DJ, considering their budget is essential.
Whether you're looking for an affordable option or willing to splurge on a premium gift, there are plenty of options available that will cater to the needs and passions of DJs.
Let's explore the ultimate DJ gifts based on budget, starting with affordable options.
Affordable DJ Gifts
Affordable gifts can make fantastic stocking fillers or thoughtful additions to a larger gift.
They show that you've put thought into selecting something that aligns with their passion for music without breaking the bank. So, what are some great affordable options for DJs?
Imagine your DJ friend's face lighting up when they unwrap DJ-themed socks or sip their morning coffee from a DJ-themed mug.
These novelty gifts are not only fun but also practical. They come in a wide range of designs and styles, allowing you to choose one that resonates with their personality.
Another unique and inexpensive stocking filler is KASSAE LED Glasses.
Designed specifically for DJs, these glasses light up and change colors, adding a captivating visual element to their performances.
Some models even synchronize with beats, making them an eye-catching accessory that enhances their on-stage appearance.
Personalizing one's gear is always a welcome touch, which is where Reloop Fader and Knob Caps come in handy.
These colorful knobs and faders allow DJs to customize their gear while also making it easier to see and use under club conditions. It adds both practicality and personality to their performances.
DJs often find themselves performing in loud venues, which makes protecting their hearing crucial. Alpine Party Plugs are highly-rated ear defenders designed specifically for musicians and DJs alike.
With additional cases included, they make for a practical and crucial gift that shows you care about their well-being.
For DJs who frequently travel or perform on the go, a headphone case is a must-have accessory.
The Magma Hardcase, for example, offers excellent protection for most standard-sized headphones and ensures they remain in pristine condition throughout their journeys.
Vinyl records hold a special place in many DJs' hearts, making vinyl cleaning kits an ideal gift.
These kits typically include brushes, LP cleaner, and stylus gel to keep their precious vinyl collection in top-notch condition.
It's a thoughtful and practical gift that reflects their passion for music.
Now that we've explored some affordable options for DJ gifts, it's time to move on to the mid-priced gifts that offer even more functionality and protection for their gear.
Premium DJ Gifts
When it comes to finding the perfect gift for a DJ, premium options can truly make a lasting impression.
These gifts not only showcase your thoughtfulness but also cater to the unique needs and preferences of DJs who are passionate about their craft.
Whether you're shopping for a seasoned professional or an aspiring DJ, consider these premium options that offer top-notch quality and functionality.
Headphones: As an essential tool for any DJ, a pair of high-quality headphones can elevate the listening experience and help DJs fine-tune their mixes with precision.
Sennheiser HD25 DJ Headphones are a popular choice among professionals due to their excellent sound quality, durability, and noise isolation capabilities.
With a detailed and accurate sound reproduction, these headphones provide a balanced response across all frequencies, ensuring that DJs can hear every nuance of their music.
DJ Controllers: A top-notch DJ controller is an indispensable tool in modern DJing. P
ioneer DJ XDJ-RX3 is a high-end all-in-one controller that offers a seamless integration of hardware and software functionalities.
Featuring a large display touchscreen and eight multi-colored performance pads, it provides DJs with intuitive control over their mixes.
With its extensive connectivity options and advanced features, it's designed to meet the demands of professional DJs while offering a user-friendly experience.
Bookshelf Speakers: For DJs who enjoy producing music or simply want to listen to their favorite tracks with exceptional clarity, Edifier R1280BT Bluetooth Bookshelf Speakers make an excellent gift choice.
These speakers deliver super clear and detailed sound, thanks to their well-balanced audio profile and the use of advanced audio technologies.
With its classic wooden appearance, they also add an aesthetic touch to any studio or practice space.
Fashionable Clothing: Defected Records Clothing is a renowned brand in the music industry that offers stylish clothing designed specifically for performing DJs.
From trendy t-shirts to comfortable hoodies, their collection showcases the perfect blend of fashion and music culture.
These premium clothing options allow DJs to express their passion for music while maintaining a stylish and trendy appearance behind the decks.
Portable Speaker: DJs who are always on-the-go will appreciate the convenience and power of the MiniRig 3.
This small yet powerful speaker delivers exceptional sound quality with its 70W output, ensuring that DJs can enjoy their music anytime and anywhere.
With an impressive battery life of up to 100 hours, it's perfect for outdoor gigs, parties, or even just jamming sessions with friends.
Imagine surprising your DJ friend with a set of Sennheiser HD25 DJ Headphones along with the Pioneer DJ XDJ-RX3 controller.
Not only would they be able to immerse themselves in their mix with superior sound quality, but they would also have a professional-grade controller to enhance their performance capabilities.
These premium gifts not only cater to DJs' technical needs but also reflect their passion for music and dedication to their craft.
By choosing these high-end options, you're showing your appreciation for their artistry and investing in tools that can enhance their creativity and musical experience.
"Giving someone a premium DJ gift is like giving them a key to unlocking limitless musical possibilities. It's an investment in their passion and an acknowledgment of their talent."
---
Related Posts
---
---
---
Pins for Pinterest
If you like what you see, feel free to share some love on Pinterest ❤️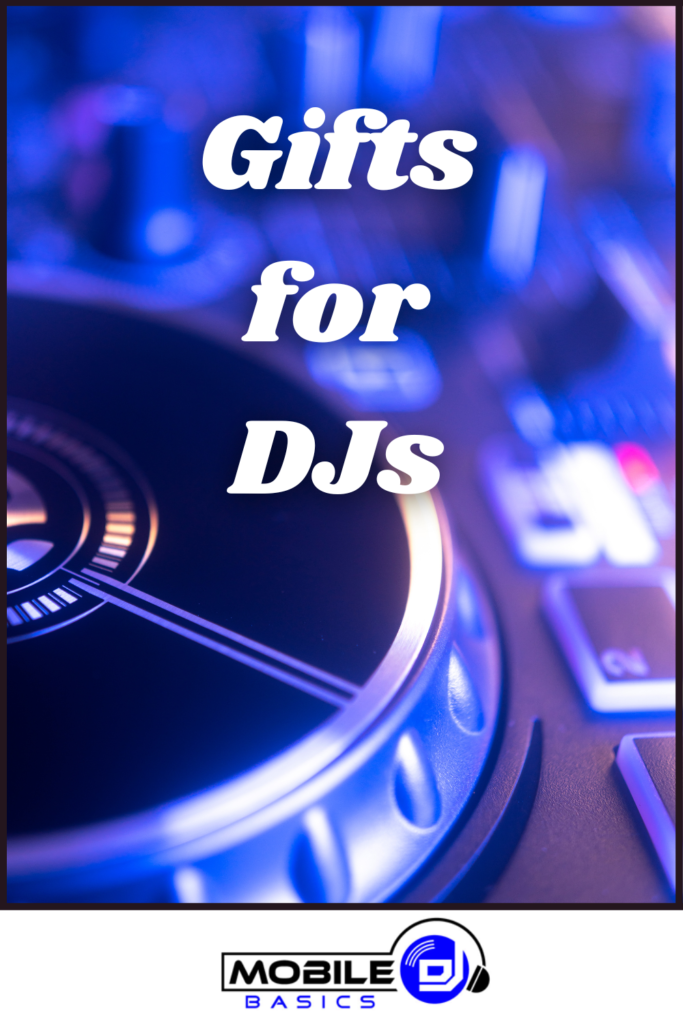 Unique Gifts for DJs: The Ultimate Guide for Music Lovers 2023
From discovering new songs to getting more gigs, I'm excited to share the wealth of knowledge I've gained through many years of DJing. [email protected]