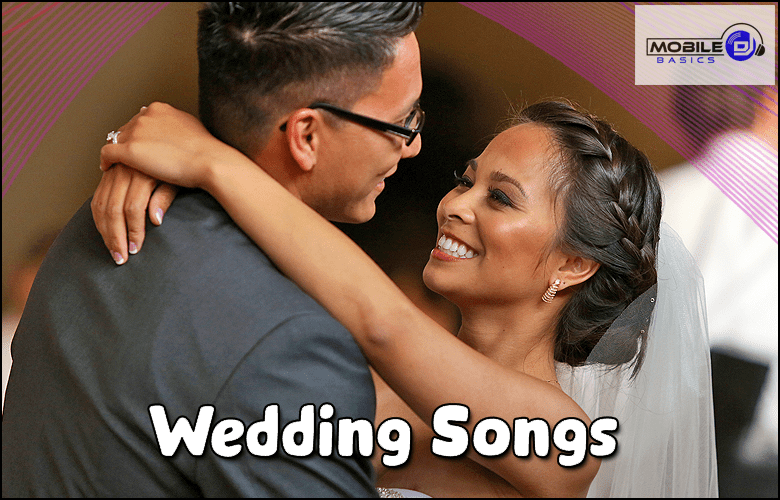 One of the most important things to think about when planning your wedding is what music you want to have playing.
The right songs can help to set the tone for your big day and create lasting memories for you and your guests.
But with so many options out there, finding the perfect playlist can be a daunting task. To help you get started, here is a quick guide to finding the right songs for your wedding.
Wedding Songs
Before the big day, make sure you have a good playlist. The perfect music can really set an atmosphere for any occasion and your wedding will be no exception!
Some people prefer more rap or country tunes while others like jazz standards at their reception – whatever suits YOUR taste.
Whether you're looking for something classic or contemporary – ballads to up-tempo tunes, here are our top wedding songs of all time.
---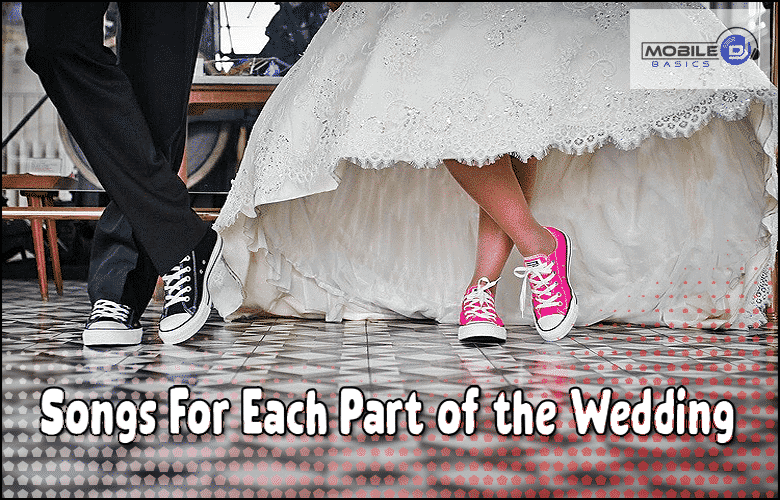 Songs For Each Part of the Wedding
Weddings are one of the most important days in a couple's lives. The day is filled with excitement, anticipation, and celebration. One of the key parts to any wedding celebration is the reception!
What do you need for your perfect reception? You need great music! Which wedding songs should you play during each part of the evening?
Let's talk about what kind of songs you should choose for each part of the wedding – Romantic Ballads, Getting ready songs, First Dance Songs to the Last Dance.
Use the best songs of all time for your wedding.
Play the Hits – No time for filler music.
Keep Your Guests Dancing all Night to some classic tunes, love songs and some brand new wedding songs.
---
Getting Ready Playlist

Get ready for your wedding with your favorite songs. You need to put a getting ready list together. Pick the perfect songs for before the wedding.
Bruno Mars, Lizzo, Stevie Wonder, Lady Gaga, Spice Girls, Imagine Dragons, Marvin Gaye, Elton John, Jason Mraz, Katy, Perry, Lil Jon, Billie Eilish, Lil Nas X, Beach Boys or Guns n Roses – What ever you want. It is the party before the party.
Play these songs when you are getting ready for your wedding.
John Legend – Love Me Now
One Direction – What Makes You Beautiful
Pharrell Williams – Happy
Jason Derulo – Marry Me
Colbie Caillat – I Do
Selena Gomez – Rare
Jason Mraz – I'm Yours
Rachel Platten – Stand By You
Kygo – Happy Now
Chris Lane – For Her
Maroon 5 – Girls Like You
Ariana Grande – Side To Side
Bruno Mars – That's What I Like
Justin Bieber – Intentions
Sara Bareilles – Brave
BLACKPINK – Ice Cream
The Chainsmokers – Roses
American Authors – Best Day Of My Life
Taylor Swift – Love Story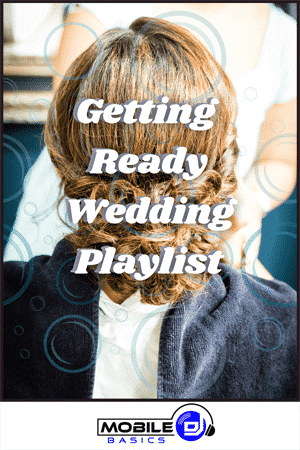 One Direction – What Makes You Beautiful
The song "What Makes You Beautiful" by One Direction is a wedding staple. This song will have everyone on the dance floor and it's perfect for your first dance as newlyweds! It also has that cute factor that makes this an adorable choice for your reception.
---
Bride and Groom First Dance Songs
It's time for your first dance as husband and wife! After taking into consideration what I have mentioned above for choosing the most meaningful song for you, the song should be as romantic love song as it gets. It is one of those moments in life that music needs to beat as much as your heart.
There are many songs that can be chosen for the bride and groom to dance to, but finding one that is perfect can be a tough decision. Here are some songs you should consider.
Popular First Dance Songs
Ed Sheeran – Afterglow
Taylor Swift – Lover (First Dance Remix)
Blake Shelton – Nobody But You
Niall Horan – Black And White (Stripped / Audio)
Brett Young – Change Your Name
Chris Lane – Big, Big Plans
Blake Shelton – Happy Anywhere
Harry Styles – Adore You
Dan + Shay – Glad You Exist
Calum Scott, Leona Lewis – You Are The Reason
Chris Stapleton – Joy Of My Life
Justin Bieber – Holy
JP Saxe – If the World Was Ending (Clean)
Surf Mesa – ily (i love you baby)
Andy Grammer – I Am Yours
Russell Dickerson – Yours
Jason Aldean – Got What I Got
Florida Georgia Line – Second Guessing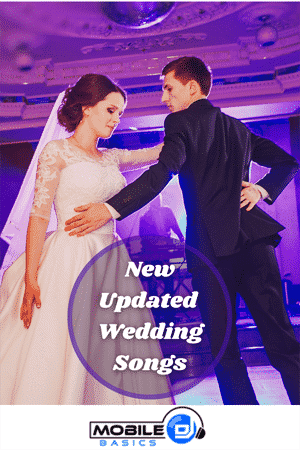 Take a breath, feel the love and dive into the super-romantic wedding songs of all time.
Blake Shelton – Nobody But You
If you love the song, "I'll Name The Dogs" by Blake Shelton (Songs About Dogs) and are looking for a new country wedding song to use at your upcoming nuptials, we think we've found it for you. This sweet tune is called "Nobody But You." It's from his latest album and he sings of how nothing but that special someone will do. We think this would be an ideal addition to any playlist on your big day!

---
Classic First Dance Songs
It's one of the biggest moments in any wedding reception – when the bride and groom take to the dance floor for their first dance. The wedding song they choose should be meaningful, special, and sentimental. It's usually a slow song that makes everyone feel nostalgic.
Old songs like Joe Cocker – You are so Beautiful or Adam Sandler – Grow Old With Me.
Here is a list of classic first dance songs for any occasion:
Frankie Valli – Can't Take My Eyes Off of You
Edwin McCain – I'll Be
Frank Sinatra – The Way You Look Tonight
Celine Dion – Because You Loved Me
Edwin Mccain – I Could Not Ask For More
KC and Jojo – All My Life
Lifehouse – You And Me
the Righteous Brothers – Unchained Melody
Selena – Dreaming of You
Journey – Faithfully
Lonestar – Amazed
Diana Ross & Lionel Richie – Endless Love
Etta James – At Last
Elvis Presley – Can't Help Falling In Love
Aerosmith – I Don't Want to Miss a Thing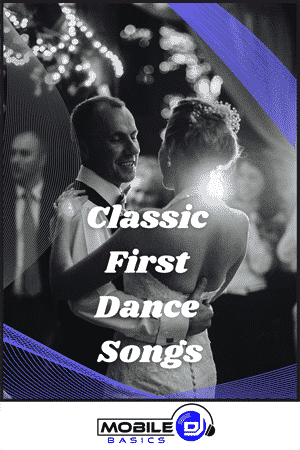 There are some tried-and-true classics like "Unforgettable" by Nat King Cole, "Wonderful Tonight" by Eric Clapton, "What a wonderful world" by Louis Armstrong or "Can't Help Falling In Love With You" by Elvis Presley, but you might need help choosing other suitable tunes for the big day.
Edwin McCain – I'll Be
Edwin McCain's "I'll Be," is one of the most romantic songs ever written. This song was released in 1998 and quickly became a hit. This song has been covered by multiple artists over the years but no matter who sings it, this tune always brings back memories of that special day.
---
Classic First Dance Part 2
Do you remember the first time you slow danced with your partner? It is a moment that should be cherished and remembered. If it was memorable, then you will want to share this memory with your guests at one of your weddings or other celebrations.
While wedding planning, you're likely to come across a long list of "must-dos" and traditions to follow. One such tradition is the first dance between the bride and groom. Though there are no set rules for choosing first dance songs, many couples opt for classic tunes that are both timeless and romantic.
If you're stuck on what song to choose, here are some popular classics that will make your first dance unforgettable. Other artist include Michael Buble, Ellie Goulding, Jack Johnson, Phil Collins, Fleetwood Mac, and The Beach Boys.
Here are some song ideas
Ed Sheeran – Thinking Out Loud
John Legend – All of Me
Ben Folds – The Luckiest
Adele – Make You Feel My Love
Christina Perri – A Thousand Years
Sade – By Your Side
Train – Marry Me
Blake Shelton – God Gave Me You
Tim McGraw – It's Your Love
Savage Garden – Truly Madly Deeply
Peter Gabriel – In Your Eyes
Peter Cetera – Glory of Love
Berlin – Take My Breathe Away
Chris DeBurgh – Lady In Red
Alison Krauss – When You Say Nothing At All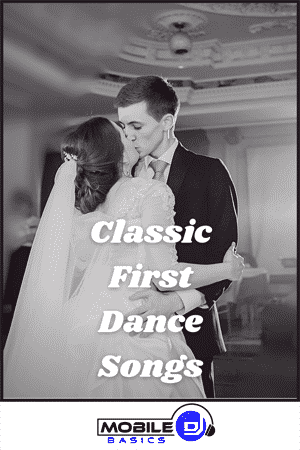 When choosing a wedding song for this special dance, there are many songs from decades past that can work well.
John Legend – All of Me
Mr. Legend has one of the most amazing voices in music. His tone is perfect for a wedding song, and his latest release "All of Me" will definitely be on our list to play at weddings this year.
---
Other DJ Song List from this site
Wedding receptions are one of the most exciting events for DJs to perform at. It's a chance to show off their skills while meeting new people and having fun.
The following playlists will help you pick songs that will get the party started and keep it going all night long!
---
Father Daughter Dance
If you have the chance to dance with your father, I guarantee that it is going to be way more emotional than you imagined with the proper song.
Depending on how close you are with your father and what kind of relationship you have, you could have one of those slow and sweet dances with the song " I Loved you First" in the background.
Father-Daughter Wedding Dance Songs
Charlie Puth – One Call Away
Brett Young – Lady
Tim McGraw – My Little Girl
Camilla Cabello – First Man
Kane Brown – For My Daughter
Chris Brown – Without You
Steven Curtis Chapman – Cinderella
The Temptations – My Girl
Trey Songz – I Know A Love
Lee Brice – The Best Part Of Me
Frank Sinatra – Way You Look Tonight
Paul Simon – Father & Daughter
Bob Carlisle – Butterfly Kisses
Nat King Cole – Unforgettable
Kenny Chesney – There Goes My Life
Alabama – Daddy's Little Girl
MaRynn Taylor – Dads and Daughters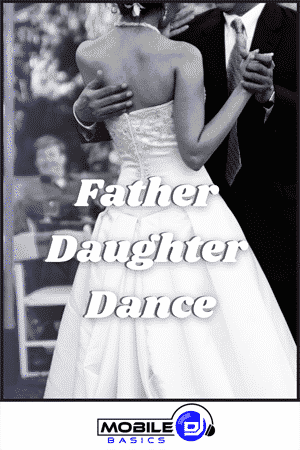 A Father Daughter Dance is a traditional event that many families have in their communities. It's a perfect opportunity to show your daughter how much you love her and appreciate the time you spend together.
Most people don't know, but there are quite a few rules for this dance. The father and his daughter should enter the floor alone before any other members of the family join them on the floor.
Frank Sinatra – Way You Look Tonight
"You look like a million bucks. You're beautiful, and I'm lucky to know you." – The Way You Look Tonight is the perfect song for your wedding day! It has an upbeat tempo that will make your guests want to dance all night long. Plus, it's one of the most popular songs in history because many people think it's romantic!
---
Mother Son Dance
The Mother-Son dance is a tradition that has been around for over 100 years. It all started in the 1920's when parents wanted to show their sons how proud they were of them and wanted to give them a chance to express themselves.
Enrique Iglesias – Hero
Ciara – I Got You
Garth Brooks – Mom
Rascal Flatts – My Wish
Carrie Underwood – Mama's Song
Chicago – You're the Inspiration
Lee Ann Womack – I Hope You Dance
Reba McEntire – He Gets That From Me
Chris Young – The Man I Want To Be
Boyz II Men – A Song For Mama
Reba McEntire – He Gets That From Me
Kenney Chesney – Thank god for kids
Josh Groban – You Raise Me Up
Tyler James Band – Mama's Boy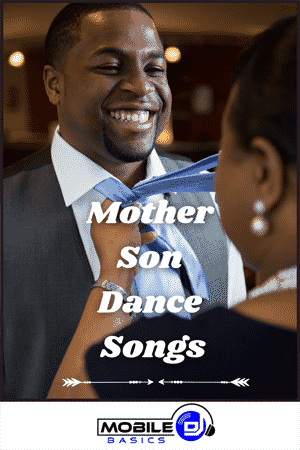 This was also because mothers did not want their son going off on the war front, so this gave families an opportunity to spend time together before they had to say goodbye.
80+ Songs About Mom | Terrific Songs for Incredible Mothers
Boyz II Men – A Song For Mama
Boyz II Men is a famous 90s R&B group. One of their most popular songs is "A Song for Mama." It's an emotional song, and many people at weddings ask to hear this song as it often brings tears to the eyes of even the toughest men.
As we know, the lyrics are about the love that a son has for his mother and how he wants her to be happy and well taken care of. If you're looking for a Mother Son Song with meaning, this one should definitely be on your list!
---
Mother Daughter Dance
You may be wondering what a mother daughter dance is. It is simply a dance event where mothers and their daughters can celebrate their relationship by dancing together. Songs like Shania Twain – You're Still the One or James Taylor – How Sweet It Is.
This can be a very special experience for both of them, and it's one that you'll likely never forget. If you're thinking about having a mother daughter dance, here are some songs to help make it perfect.
Kacey Musgraves – Mother
Lee Ann Womack – I Hope You Dance
Céline Dion – Because You Loved Me
The Band Perry – Mother Like Mine
Taylor Swift – The Best Day
Josh Groban – You Raise Me Up
Céline Dion – A Mother's Prayer
Frank Sinatra – The Way You Look Tonight
Tom Petty – Wildflowers
Sugarland – Mother
Carrie Underwood – Mama's Song
Halestorm – Dear Daughter
Bette Midler – Wind Beneath My Wings
Beyoncé – God Made You Beautiful
Reba McEntire – You're Gonna Be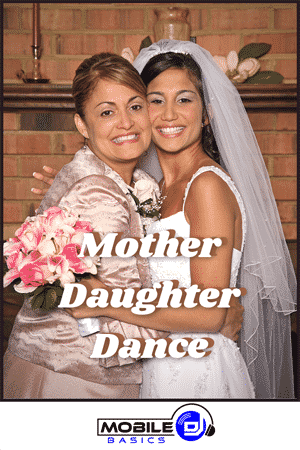 The first mention of this "dance" comes from a poem written by George Gordon Byron, Lord Byron, called "To Mary – On Her Leaving The Lake Country."
Kacey Musgraves – Mother
Kacey Musgraves is the artist behind the song "Mother," which is a popular choice for weddings. She has also been nominated for five Grammy awards and won two of them, one in 2015 and another in 2016. Her most recent album, Golden Hour, was released on March 30th and received praise from critics.
---
Wedding Party Dance

It always makes the bride and the groom happier when people have started dancing and having fun! Here, it is useful to say that you need to take into account the ages of the people attending your wedding, and – if you have a specific one- the theme of your wedding.
Think of songs like Justin Timberlake – CAN'T STOP THE FELLING and Rihanna – We Found Love ft. Calvin Harris and other songs from Billboard Hot 100 music charts.
LMFAO – Party Rock Anthem
DJ Snake, Lil Jon – Turn Down for What
Miley Cyrus – Party In The U.S.A.
Taylor Swift – Shake It Off
Lil John – Get Low
Backstreet Boys – I Want It That Way
Sir Mix-A-Lot – Baby Got Back
WALK THE MOON – Shut Up and Dance
NSYNC – Bye Bye Bye
DJ Khaled – All I Do is Win
LMFAO – Shots
Drake – In My Feelings
Nelly – Hot In Herre
Darude – Sandstorm
blink-182 – All The Small Things
Rihanna – Only Girl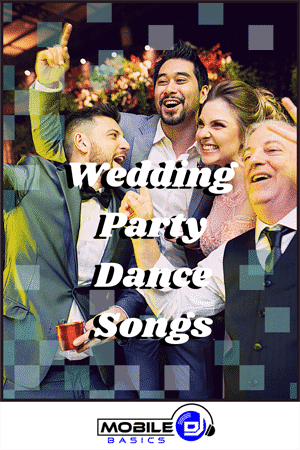 If you have invited a lot of young people, you should include some modern songs as well, in order to get them dancing too! New Songs listed on our School Dance Playlist and Tiktok Songs
LMFAO – Party Rock Anthem
Well, if you are looking for the perfect song to get people on the dance floor this could be just what you need. "Party Rock Anthem" by LMFAO is a good choice. It has everything that makes a great party song; catchy lyrics, upbeat beat and lots of fun!
---
Classic Wedding Songs
No matter what decade you grew up in, there are classic wedding songs that will always hold a special place in your heart. Artists like Luther Vandross , Ben E King, Donna Summers, Sam Cooke, Otis Redding, or Al Green. These tunes are perfect for any wedding, whether it's a traditional ceremony or something more modern and nontraditional.
Classic wedding song ideas like Natalie Cole – This Will Be (An Everlasting Love), Dirty Dancing – Time of my Life, and Righteous Brothers – Unchained Melody. Or faster songs like Beyonce – Single Ladies and Bruno Mars – Just The Way You Are .
Here are some of our favorite classic wedding songs to get you started!
Cyndi Lauper – Girls Just Want To Have Fun
Otis Day – Shout
Billy Idol – Mony Mony
Marcia Griffiths Electric Slide
Vanilla Ice – Ice Ice Baby
Roy Orbinson – Pretty Women
Neil Diamond – Sweet Caroline
Lynyrd Skynyrd – Sweet Home Alabama
Abba – Dancing Queen
Michael Jackson – Billie Jean
AC/DC – Shook Me All Night Long
Van Morrison – Brown Eyed Girl
Journey – Don't Stop Believin'
Whitney Houston – I Wanna Dance with Somebody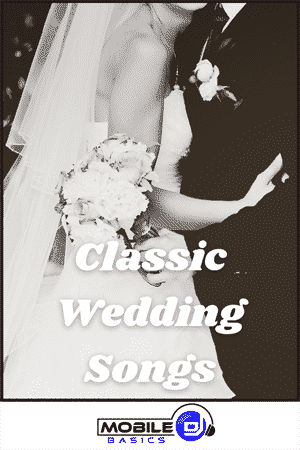 Most people would say that slow songs like "Unchained Melody" or "At Last" are great choices for the reception.
However, if you want to get your guests on the dance floor (and have some fun!) then try picking up-tempo tunes like "Don't Stop Believin'" by Journey."
Otis Day – Shout
Do you want to know the perfect song for your wedding? The answer is Otis Day's Shout. It was written by Otis Blackwell and originally recorded by James Brown in 1959. It was then released on the album "James Brown Sings Raw Soul."
There are many reasons why this song is a great choice for your wedding dance, but let me give you 3 of them: 1) it has that classic Motown sound 2) it will get everyone up out of their seats 3) it is guaranteed to put a smile on people's faces.
---
Crowd Favorites
We're not talking about your average, run-of-the-mill favorites like: "Oh my god I love that song." We're talking about the songs that make you want to drop everything and dance. Songs with the power to bring people together from all different backgrounds and cultures. The songs that make us feel good inside.
Los Del Rio – Macarena
DJ Casper – Cha Cha Slide
DJ Unk – 2 Step Remix
Cupid – Cupid Shuffle
Ray Anthony – Hokey Pokey
Marcia Griffiths – Electric Boogie
The Chicken Dance
V.I.C – Wobble
Cali Swag District – Teach Me How To Dougie
Chubby Checker – The Twist
Billy Ray Cyrus – Achy Breaky Heart
Soulja Boy – Crank Dat (Soulja Boy)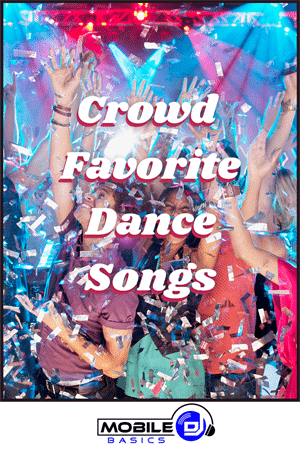 A wedding is the perfect time to dance with your friends and family, so be sure to pick songs that everyone wants to hear.
---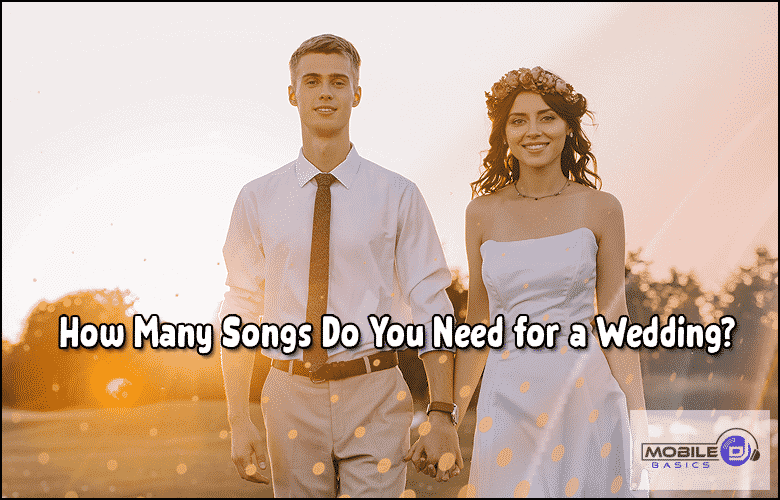 How Many Songs Do You Need for a Wedding Reception?
You might be wondering how many songs you need for your wedding reception. The answer to that question really depends on the format of your reception and how long you want it to last. A general rule of thumb is that you'll need about one song every 4 minutes for a typical four-hour reception. That means you'll need around 60 songs if you don't want any breaks in the music.
Righteous Brothers – Unchained Melody is 3:37 and Saweetie – Best Friend is 3:21
And if you want to keep the party going all night long, you'll need around 75 songs. Of course, you can always add more or fewer songs as needed.
Just be sure to have enough variety to keep your guests dancing all night!
We think that all of your guests should be able to enjoy at least one song they really like. They may not have time to dance or stay on the floor for an entire song, but we want them to feel included and know that they are important enough to warrant their own favorite song.
---
What is the most popular wedding song right now?
What is the most popular wedding song right now? According to a recent study, it's "Marry You" by Bruno Mars. The upbeat love song topped the list of most requested wedding songs in 2017, beating out classics like Canon in D and Ave Maria. If you're getting married soon, you may want to consider adding this tune to your playlist!
Although there are many popular songs for a wedding, another one that seems to be most popular right now is "All of Me" by John Legend. This love ballad has topped the charts and been played at weddings across the country. If you're looking for a timeless song to play at your wedding, "All of Me" is a great choice.
But the song that is being requested more than any other is "A Thousand Years" by Christina Perri. If you're looking for a popular and romantic song to play at your wedding, this might be the best choice!
---
Keeping Up the Tone
When selecting the best wedding songs, don't forget to create a balanced wedding playlist. You don't want a really upbeat folky song following a really slow and romantic one. In addition, choose a wide variety of romantic wedding reception songs that are specifically for you and your husband, but also don't choose too many romantic love songs. You want the atmosphere to be light and joyful but not too romantic.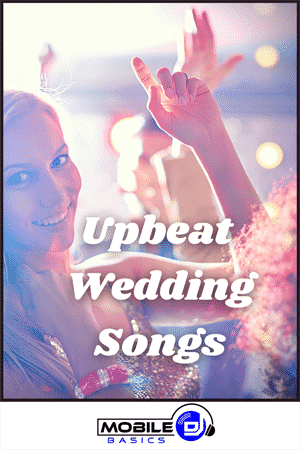 When it comes to wedding music, there are a lot of choices to make. Do you want classic wedding songs, or something more upbeat? What type of music will set the tone for your ceremony and reception? If you're looking for some upbeat tunes. Here are some of our favorite wedding songs that will get your guests dancing!
Justin Timberlake – Can't Stop the Feeling
Mark Ronson – Uptown Funk
Taylor Swift – Shake It Off
Rihanna – Please Don't Stop The Music
The Black Eyed Peas – I Gotta Feeling
Beyoncé – Crazy In Love
OutKast – Hey Ya!
Usher – Yeah
Flo Rida – Low
The Weeknd – Blinding Lights
DR. Dre – Next Episode
Billie Eilish – Bad Guy
Beyonce – Single Ladies
Britney Spears – Toxic
Luis Fonsi – Despacito
Keep in mind the volume of the music. The DJ should keep a average volume of the music in general. The volume should be raised when you are ready to "get the party started". Note that during the dance, mix in some slow songs.
Justin Timberlake – Can't Stop the Feeling
"Can't Stop the Feeling!" is already one of the best party songs out there. The song has an upbeat tempo, catchy lyrics, and a great beat that makes everyone want to get up and dance (or at least clap along). It is perfect for any occasion where you are looking to have some fun like weddings or parties.
If you are throwing your own wedding reception or party soon then look no further than this amazing song that will be sure to keep people on their feet all night long.
---
Think Outside the Box
Even though it is guaranteed that your wedding is going to be unique, you should also make sure that the music is too. Take as much as the time needed to search music, to dive into your and your partner's personal taste. Get inspired by some new music as well, that might seem interesting to include in your wedding playlist.
You can still play classic wedding songs like Stevie Wonder, Michael Jackson, Elvis Presley, Etta James, AL Green, Righteous Brothers, Diana Ross, Lionel Richie, Marvin Gaye, Whitney Houston, John Legend, Colbie Caillat, Jason Mraz, Norah Jones, Ed Sheeran, Bruno Mars, Ben Folds Five, Michael Bublé and Justin Timberlake.
---
Wedding Songs: Tips & Advice
Ever heard a song at a wedding reception that seemed to you absolutely perfect for the moment? That's the beautiful magic of the right wedding songs. And now, your wedding is approaching, and you have to choose the best wedding songs.
Choose wisely then, because the power of the best wedding songs can make your special day even more special!
The day that we "tie the knot," we experience intense emotions. Love and joy are in the air! Wedding songs allow us to express and to feel these emotions even more deeply. In other words, the correct wedding music is certainly boosting our psychology to the maximum. It sets the proper tone, not only for the bride and the groom but also for the audience.
Good wedding songs are our musical escort and company throughout the whole wedding. Regarding the meaning and the importance of a good wedding song, it is important to mention that they can express the emotions we have for our loved ones.
It could be a wedding song that describes the kind of relationship you two have, and more importantly, a song that describes the person each one is when you are together. You would be the luckiest if you found a wedding song that gives voice to the feelings you have towards each other!
---
How do I pick songs for my wedding?
When it comes to picking songs for your wedding, you may feel overwhelmed since there are so many options. There's the first dance song, bridal party entrance jams, Father Daughter Dance and Mother Son Dance! You want it all to be perfect but how do you pick just the right tunes?
Firstly, don't stress too much about choosing – I'm sure that will come naturally when planning a big day like this one. If selecting an overall vibe or theme helps narrow down what kind of music works best then go ahead and play with those ideas in mind.
If you're still feeling lost, start by thinking about the kind of music that makes you happy and reflects who you are as a couple. From there, it's easy to begin assembling your dream soundtrack! Here are a few tips:
Consider what type of event you want – formal or relaxed? A mix of oldies but goodies and modern chart toppers might be perfect for a fun party atmosphere while slower love songs may work better at a more traditional wedding ceremony.
Think about who will be attending – do you want everyone up on their feet dancing or would you prefer something more mellow that people can listen to quietly while chatting? There's no right or wrong answer, just what will make you and your guests happiest on the day.
Do some research – browse our wedding playlists for inspiration or take a look at your favorite artists to see if they have any romantic ballads that would be perfect.
Include songs from different eras – it can be really fun to have a few blasts from the past amidst all of the modern tunes. If there's a song that has special meaning to you as a couple, don't be afraid to include it even if it's not exactly contemporary.
Keep in mind the atmosphere you want to create – Are you looking for something cheerful and upbeat or dreamy and sentimental? The music you choose can help set the tone.
Most importantly, have fun exploring your options and don't forget to celebrate the journey! As well as being a huge part of our wedding day itself, music will be an important part of how we remember that special time in both your lives.
So there you have it – a few tips to get you started on the road to picking your perfect wedding songs. Just relax and take it one step at a time, remembering that the most important thing is that they reflect who you are as a couple.
And in the end, if you're still stuck or need some help narrowing things down, here are some of our song lists. Happy listening! 🙂
---
Should you the DJ play requests or or stick to what is on your playlist?
When it comes to wedding DJing, one of the most common questions is whether or not to play requests. Some DJs refuse all requests, while others take them on a case-by-case basis. So, what's the best way to handle requests at weddings?
There are pros and cons to both playing requests and sticking to your playlist.
Playing requests can be a great way to win over the crowd, since this means they will get songs that are important to them and it's likely they'll have more fun as a result! You also won't risk upsetting guests if you choose not play their favorite song, so by taking requests on board you're less likely to have any drama.
However, taking requests can also be time-consuming and it's easy to get bogged down in playing songs that may not be a good fit for your set. If you're playing a mix of older and newer music, for example, someone might request a Polka which doesn't quite fit with the vibe you're trying to achieve. If it is early in the night that Polka might be the best way to let the older people in the crowd get out on the dance floor.
However, if you don't take requests then there's a risk that people might not have as much fun since they won't get to hear the songs they love most.
There's no right or wrong answer when it comes to playing requests at weddings – it all depends on your preferences and the preferences of the couple getting married.
---
Create a Do Not Play List
When creating your wedding DJ Do Not Play list, be sure to consider the overall feel of your wedding and the type of music your DJ will be playing.
You don't want your list to be so restrictive that it's impossible for your DJ to follow, but you do want to make sure they know which songs are off limits.
---
Conclusion
Finding the right music for your wedding reception dance can be difficult. The best thing to do is take a close look at what songs are most popular in weddings and see which ones you like best. Once you find some good contenders, make sure they match with your style of wedding – whether it's modern or traditional.
Remember to have fun! This day will go by fast so enjoy every second!
---
Read More
---
---
---
Pins for Pinterest
If you like what you see, feel free to share some love on Pinterest <3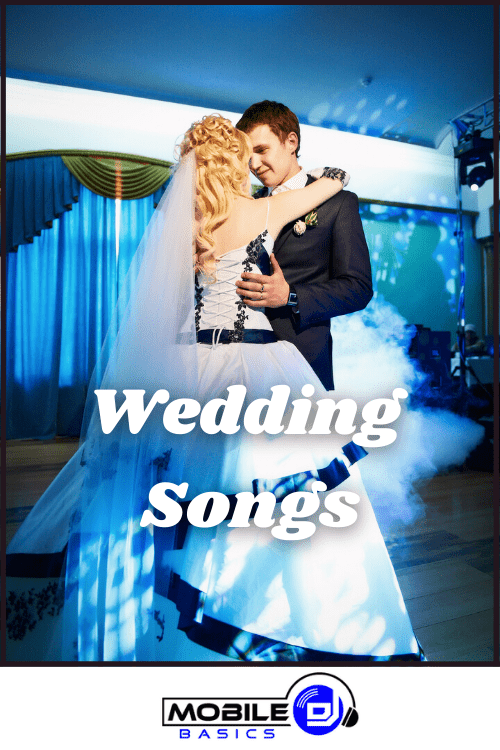 Wedding Songs 2023 – Finding the Right Song for Your Big Day