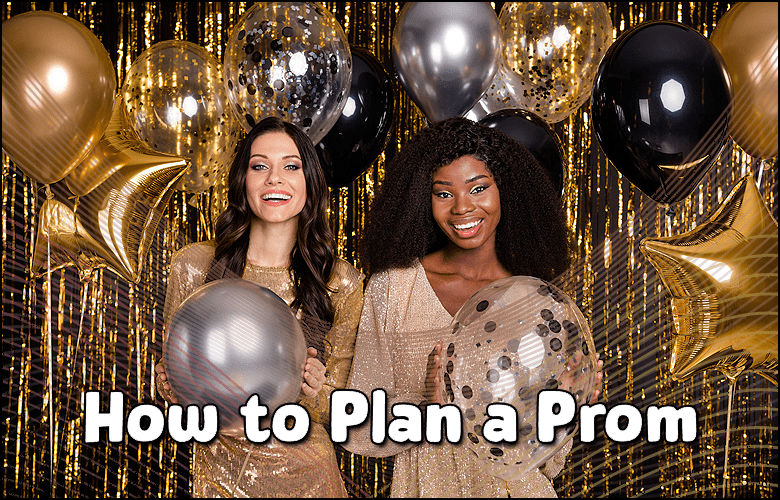 Last Updated on September 11, 2023 by Ryan Conlon | 🕒 5 min Read Time
---
When thinking about what goes into planning a high school prom dance, it may seem like a daunting task. But with careful organization and some creative thinking, even the most challenging prom planning can be a breeze.
In this post, we'll outline some tips to help make your prom planning as stress-free as possible. Get started on making your dream prom come true!
How to Plan a Prom
Prom is an exciting time for high school students and parents.
It's a night to let loose and have fun with friends.
If you're in charge of planning the prom, there are a few things to keep in mind.
In this article, we've outlined the different things you'll need to take into account when planning your prom.
=>First, you'll need to choose a committee to help with the planning process. This group will be responsible for finding a venue, choosing a theme, and deciding on menu options. If you don't want food at your prom, they can also help with hiring a band or DJ.
=>Next, you'll need to find a venue for your prom. This can be tricky, so make sure you start looking early! The venue needs to be decorated, too.
=>You'll also need to choose a prom theme! This can help with the decorations and general feel of prom night. (A prom king and queen will also need to be chosen – keep reading for more details!)
=>If you want food at your prom, you'll need to decide on menu options. If not, you won't have to worry about this part!
=>Finally, hire any entertainment like a band or DJ (or both), plus other prom night necessities like photo booth rentals and decorating services!
Prom is supposed to be one of the best nights ever, so take it seriously when planning. You can even start promoting prom in advance with posters around school before prom season really kicks off!
Once prom night comes, make sure to enjoy yourself and have a great time! Good luck with your prom planning 🙂
---
Prom Planning – Details
Prom season is upon us! If you're a high school student or teacher tasked with planning your prom, don't worry, you're not alone. This post will give you all the information you need to make your prom dreams a reality.
From finding a location to picking out decorations, we've got you covered. Keep reading for our top tips on how to plan the perfect high school prom dance.
---
Choose a Prom Committee
Are you in charge of planning your school's prom? If so, it's important to choose a committee to help you with the planning. The committee can be made up of teachers, parents, administrators, or students. Whomever you choose, make sure they are organized and motivated to help make your prom a success!
Prom committees will work on things such as decorations, food, and transportation. Prom committees can be made of both elected students and teachers.
Every prom committee needs a prom chair, prom co-chair, prom secretary, prom treasurer, and a prom decorating committee.
The prom decorating committee must have at least three members. Prom chairs and co-chairs are elected by their classmates along with the prom secretaries and treasurers.
The primary focus is on the students and what they want for their big night. The prom committees will meet after school to decide how they want to conduct the event.
---
Start Planning Prom Early
The planning process for prom generally begins in October, when it's important to schedule enough time so that the committee may – plan a budget, obtain a venue and DJ.
The student leaders should also raise funds needed with their school administration before beginning any other aspects of this event such as choosing an awesome theme!
When is Prom?
High school proms are most often held in the final few months of a student's high school career, generally April to June. High school proms are social gatherings that take place every year in the United States near the end of high school. Most schools restrict entry to seniors only, with juniors and sophomores permitted at certain schools.
---
Set a Date
When planning your high school prom dance, set the date ahead of time so people have enough notice and can prepare. Try setting a deadline at least six months in advance to make sure you're not squeezing it too close!
---
Pick a Location and Venue
The perfect location for your prom is a deciding factor in choosing which venue to rent. Make sure you think about what kind of atmosphere or environment best suits the evening.
When looking for a prom location, there are a few things to take into consideration:
Questions You Need to Ask
How many people are attending prom?
If there aren't too many people going (less than 100), then any location is fine. If there are more people, then you might want to consider a banquet hall or catering hall since those locations accommodate larger crowds.
Other factors to take into consideration are the actual physical structure of the prom venue . Is it big enough? Does it have everything you need? Are there any hidden fees?
Some of these questions may seem irrelevant but they can impact your overall experience at your high school prom so taking some time before choosing where you will go prom is necessary. There are plenty of great locations out there for anyone who takes the time to look.
Is it going to be held at the high school?
Sometimes, prom is hosted right on the premises of your high school. This means you don't have to worry about transporting all those formal dresses and tuxes from one location to another! You also don't have to pay anything extra for renting a facility from someone else.
That being said, if you want to rent out a nice hotel or restaurant for prom night, then you'll need to get permission from the school principal to do so.
Are students planning on going out to eat before the dance, or will there be a catered meal?
This question is specifically for proms where the prom location isn't located on school grounds. Some students do choose to go out to eat before prom, while some proms will feature a formal dinner.
If prom night includes a formal meal, then there are plenty of catering halls out there that can accommodate your entire prom group. These places usually have great food options and even better prices.
---
Decide on a Prom Theme
Every prom has a prom theme , but not every prom theme is for you. When choosing your prom theme, keep in mind what will make you and your friends happy, as well as the time and money that will be involved.
Of course, prom themes can change depending on where you live or prefer to have prom done, so this article may have some ideas that won't work for everyone.
Themed proms can range from being extremely simple all the way up to very complicated. The most important aspect of determining whether a certain prom theme would work is thinking about how much time and effort is involved with making it actually happen.
A themed prom doesn't have to have an elaborate backdrop or decor — it's just about being creative with your attire and going all out with the theme. If you want a prom that is inexpensive and simple, here are some prom themes you can consider:
White Out Prom
This White Out Party theme works well for those who want to keep things simple. White attire, white prom decorations, and white prom favors are the only requirements of this prom theme. You'll also want to have a prom picture backdrop with a white background.
Reflections of Nature Prom
This prom theme requires the use of live flowers to give prom a natural look and feel. Garlands can be made from fresh flowers, green leaves, vines, and other foliage. For prom favors, consider giving out small potted plants .
Glow in the Dark Prom
This UV prom theme is perfect for those who want to make prom as fun as possible. Glow sticks, Black lights, glowing light up toys, and glow in the dark makeup are all options to include with this prom theme.
We have other Prom Themes listed here.
There are other ways that underclassmen (freshman, sophomores, juniors) can enjoy prom without even attending prom! Ask for volunteer to help setup decorations.

---
Entertainment
Finding the perfect DJ for your prom is not an easy task. You want someone who will make it feel like a special and memorable night, but at the same time you need them to keep things moving smoothly so that everyone has fun!
Hire a School Dance DJ
Find a DJ Company that DJs School Events
The DJ is without a doubt one of the most essential components. Make sure your prom dance floor is full all night long by hiring a great Prom DJ company.
Proms aren't cheap; we get it. But hiring a prom DJ for one night should run about $1,000 – $5,000, depending on how big your event is and how over the top you want to go.
Prom DJs should offer a variety of packages that include everything from lights and sound equipment to photographers, dancers and photo booths. Some may even include special lighting effects like gobos, low fog machines or bubble machines during prom slow songs.
Hire a prom dance DJ who has experience with proms. These professionals typically know how to play requests and create prom music mixes that people actually want to listen to all night long. They should also be able to read the crowd at your prom and keep them dancing until the very end.
Ask about lighting options as well. Many prom DJs offer light packages that can help enhance any school dance decor, helping your prom truly stand out.
---
Photo Booth or Photographer
Whether you're renting a photo booth or hiring a photographer, prom pictures are a must-have. But what's the best option for your budget and needs? Here's a breakdown of some of the pros and cons of each option..
1 – Photographers
Trained and experienced prom photographers can offer a wide range of personalized prom picture packages, such as formal studio shots, casual promenade pictures (walking prom photos), and candid prom night photos.
They will also carry professional equipment for photographing in low light conditions and high-speed action shots. Prom photographers often provide touch-up options like retouching skin blemishes or ink spot removal after prom pictures have been taken. All you have to do is pick up the prints from the photographer's local studio a few days after prom night.
2 – Photo Booth
Photo booths are a cost effective way to immortalize your memories from prom. The rental fee usually includes unlimited digital copies of all photo strips produced by photo booth attendant on site, so you don't have to worry about running out of copies or remembering a camera.
Photo booths also provide fun prom accessories like tutu's, boas, and prom glasses, so you'll have unique prom party pictures from the get-go. Prom photo booths provide you with unique pictures to add a personalized touch to your memories.
Option 3 – Hire a Photographer and Rent a Photo Booth
When it comes to planning your prom, there are a lot of things you have to consider. One of the most important is your budget. While you may want to splurge on a professional photographer, you may also want to invest in a photo booth. Here are four reasons why you should do both.
1) You'll have more photos to choose from. Having both a professional photographer and a photo booth will give you more options when it comes to picking out your photos.
2) You'll be able to capture more memories. A professional photographer can capture great posed shots, but with a photo booth you'll get candid shots that will really capture the fun of the night.
3) You'll have more variety in your prom pictures. With both a professional photographer and a photo booth, you'll get candid shots as well as posed shots, giving you more variety to choose from when picking prom pictures.
4) You won't forget the details of prom season with both forms of photography. Whether you're getting glamour shots or capturing candids at the dance, both professional photography and an onsite photo booth will give you plenty of prom memories to choose from.

---
Promote Your Prom!
Promotion should begin early on at least six months before prom actually takes place. The earlier the promotion starts rolling out, the more excited people will be for prom as they get closer to it!
Once the prom committee has brainstormed some prom themes, they can begin planning exactly how the event will look (the decor, prom's invitation, etc.). Planning prom takes a lot of time and effort from prom committee members, but it is worth it when prom finally arrives!
Make a promotional prom video about the selection of the theme
Announce the date that has been chosen for prom
Offers discounts to students who purchase their tickets early.
Promote the Prom with Banners and Social Media
Push the ticket sales as soon as possible. This will ensure a more successful turnout!
Create a promotional video giving people a preview of what they might expect at prom.
As Prom planners, you must ensure that your Prom is a success. You must make sure that everything, from the decorations to the food, is flawless. The easiest approach to guarantee that the event goes well is to promote it.
---
Conclusion
The perfect prom is a lot of work, but it's worth the effort! Make sure you plan well in advance so you have time to get everything done.
You don't want to be scrambling at the last minute trying to find all your decorations or decide on an alternative menu if there are dietary restrictions among your guests.
Take care of these things now and enjoy yourself later by focusing on hanging out with friends instead of stressing about details that can wait until after the big night arrives.
And remember-it's always better to over plan than under plan because then there will be no surprises when it comes to finalizing every detail for this once in lifetime event!
---
---
---
Read More
---
Pins for Pinterest
If you like what you see, feel free to share some love on Pinterest ❤️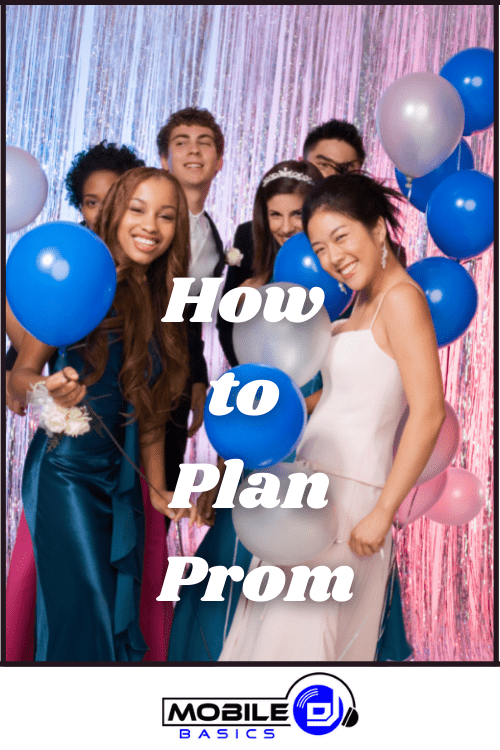 How to Plan a Prom – Tips for a Perfect Evening 2023
From discovering new songs to getting more gigs, I'm excited to share the wealth of knowledge I've gained through many years of DJing. [email protected]