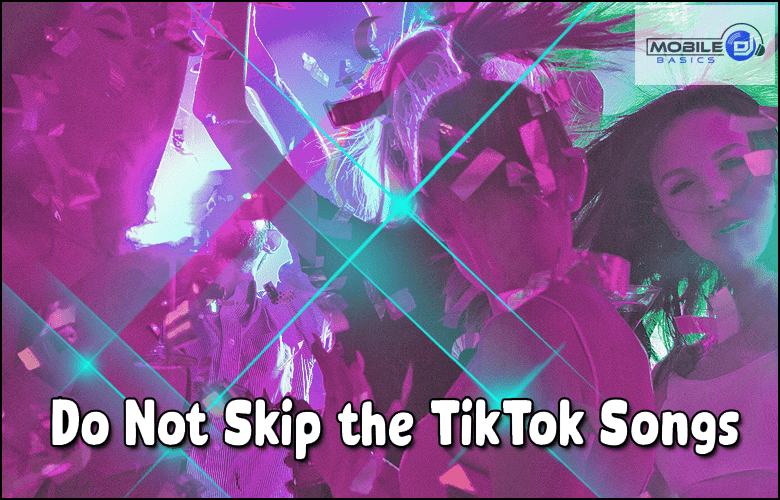 Last Updated on September 8, 2023 by Ryan Conlon | 🕒 2 min Read Time
---
Music has always been an important factor when it came to generating atmosphere within a given space. A song can set up feelings of happiness or sadness depending on the type of music you listen to.
The importance of TikTok Songs at events has become increasingly more prevalent in the last few years. At weddings, birthdays, school dances, and even company parties, people are using TikTok songs to make these events fantastic memories they will never forget.
However, finding the ideal new song isn't always simple; that's why we created this guide!
DJs Don't Skip the TikTok Songs!
TikTok songs are an especially popular choice for events because their unique qualities help set the mood you're looking for. For example, the genres of TikTok music range from classic rock to hip-hop or something in between, meaning that you'll be able to find a song that fits exactly what you want.
In addition, TikTok is popular with teens and young adults, meaning that they will appeal to the majority of your party.
Lastly, These songs can vary in style and tempo, which means you'll be able to find the right song for your event!
Now that you've found out how wonderful TikTok songs are at events, it's time for you to plug some into your next one!
---
How to Choose the Right Music for Your Event
Every event has a soundtrack, but how do you choose what music will go best with your theme? Take some advice from the pros with these tips.
When choosing the right kind of music for an event, it not only contributes to the mood of the night but also reflects on your own style and taste. If you are having a party at home or in a bar, you can pick any song that fits your taste.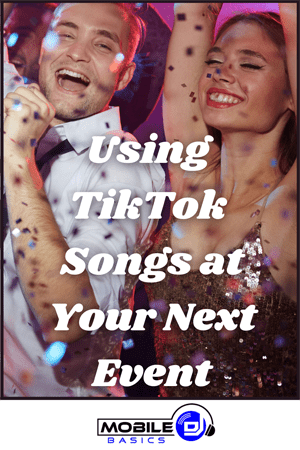 However, if you are planning an event which is being held in public spaces such as High Schools or Middle Schools, then there are certain guidelines that have to be followed while selecting the songs for that particular event; otherwise it could cause issues.
It is important to keep in mind that the song has to reflect your taste and at the same time it also has to be age appropriate, so no one feels uncomfortable.
The songs chosen for your event should not offend anyone with its lyrics or any other content, as it can lead to legal issues.
For example, if you are organizing an event outside a school campus then there is no reason that music containing strong language or offensive lyrics should be played.
Talking about genres of music, you can choose anything from rock n roll, disco dance tunes to epic movie soundtracks. But make sure you choose songs which will be liked by your audience.
If you are organizing an event for a more mature adult audience then the style of music that is popular with today's youth may not appeal to them, so it is important to find out what actually suits their musical taste.
It is vital that you keep in mind that all these points do not apply if the song has already been decided upon by someone else or it has been bought for your event at a professional level.
---
What are TikTok Songs?
TikTok is an app that allows people to create and share short videos with music. TikTok has become very popular in the last few months. It has over 500 million users worldwide.
People usually do lip syncing or perform different types of challenges on this platform. You can follow social media stars to see their TikTok videos too!
There are many musical artists who have joined TikTok recently to promote themselves as well as gain more followers and increase their number of views on YouTube too!

---
How to Find Trending Songs on TikTok
Here is our List of Trending TikTok Songs We updated this list whenever we find a new songs.
If you are looking for more trending songs on TikTok, you can try using social media or YouTube. You can also use TikTok discover tab and search hashtags related to your song genre. The discover tab will show you videos made using the same song. This way, you can search for songs that are trending on TikTok.
You can also follow popular users in order to get updates when they have uploaded songs that are trending. Some users post songs that are trending before they become viral. So it is worth following them in order to find trending songs on TikTok.
By following these steps, you can easily find trending songs on TikTok! If the song is currently not popular, there is nothing to worry about because with time it will trend!

---
Conclusion
Music is a powerful tool that can set the tone for any event. By choosing TikTok songs for your next party, you can be sure that you're tapping into the latest trends and pleasing the majority of your guests.
In addition, using TikTok songs gives you a variety of style and tempo options to choose from, making it easy to find the perfect song for your event!
DJs Don't Skip the TikTok Songs | Find New Trending Songs 2023
From discovering new songs to getting more gigs, I'm excited to share the wealth of knowledge I've gained through many years of DJing. [email protected]