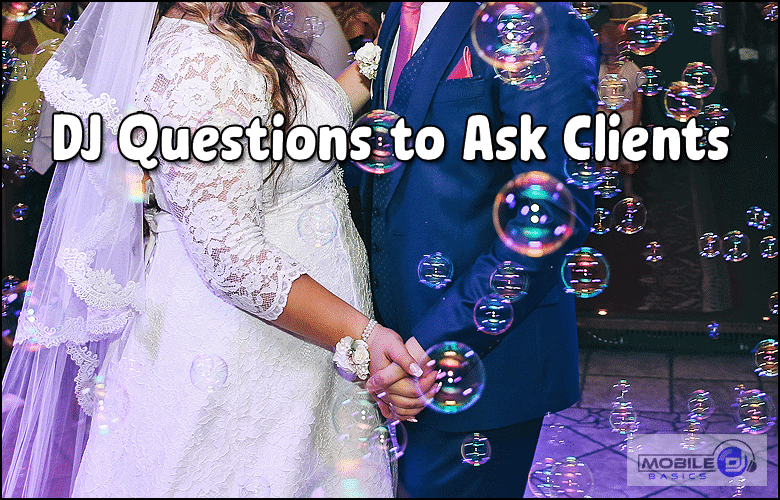 When you get booked to DJ an event, the host will probably have plenty of questions for you. They'll want to know about logistics, pricing, equipment, and maybe some music selections. But you should also have a fair number of DJ questions to ask clients.
The best DJs know their clients and adapt based on the event. It would help if you gathered plenty of info to rise above the pack and separate yourself from the house party teens working out of their garage. We've put together a list of some of the top questions you should be sure to ask your clients to make sure that the event is the best it can be.
---
Who, What, When, Where, Why
This may feel like a given and will likely be covered through any standard booking arrangement, but take advantage of these expected details and try to dig deeper. Names and places are great, but let's see if we can do a little bit better.
Who Is the Event For and Who Is the Host?
Find out more than just the name of the person that booked you and wrote the check. If you have a website and schedule online bookings, it might be a great idea to add some form fields to gather information about the guests.
Is there a guest of honor or particular individual folks are gathering to celebrate? If it's a more significant corporate event, maybe try to find out who some of the executives are so you can be sure to shout them out if you see them. In the back of some hotels, they will have a picture of the person planning the corporate event. This will help the staff know who is in charge of that event.
And if it's a wedding, go further than just the bride and groom. Try to learn the names of parents, wedding party members, and other vendors if possible.
What Is the Event?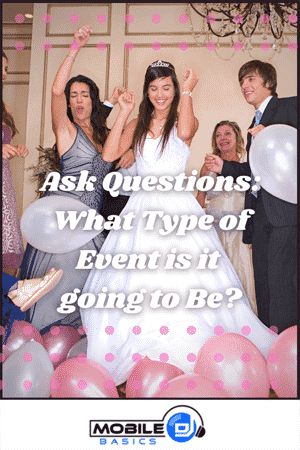 Weddings, School Dances, Holiday Parties, Proms, Birthday Parties, Graduations, House Parties, College Parties, Tailgate Parties, Fashion Shows, Quinceanera, Store Opening, Barn Dance, Corporate Meetings, Office Parties, Beach Party, Bar and Club nights, Product Launches, Sweet 16s, bar/bat mitzvah, backyard BBQ or what ever it might be. You should know what type of event they are trying to book.
What Is Everyone Celebrating? Sometimes this will be abundantly obvious, like a wedding reception has a clear celebration in mind. But corporate and commercial events need some more clarification. Is there a particular milestone, the company, is celebrating or a specific employee achievement?
Holiday parties will also be pretty obvious, but it would help learn more about how the company addresses holiday celebrations and vernacular around the office. This way, you can be sure that you're not accidentally throwing in Merry Christmas at a Jewish deli's holiday party.
When Is the Event?
Obviously, time is crucial information and will probably be one of the first things you get settled. But it's great to go even further. Try to learn more about the timeline for the whole event so you can contribute to set up and tear down. This will prepare you for a smoother day-of if you have a clear picture of the broader timeline.
Where Is the Event?
Once again, this is among the first details exchanged. Use it as an opportunity to learn more about the Venue. The design and layout will affect sound quality, and you'll need to plan your speaker arrangement accordingly.
Ask the host or the Venue if you can check it out sometime before the event and familiarize yourself with the Venue. This added measure of preparedness goes a long way to ensuring a smooth event and a five-star review.
Why Are They Hiring a DJ?
This question might catch folks a little off guard but can be super helpful in filling out your vision for the event. Try to find out the host's goal for the event and how you can best support that. Does the host want people up and dancing non-stop or looking for a vital rise and falling to the momentum.
Most client's probably haven't overthought about why they want a DJ besides the fact that they would like the event to have music. Trying to work through this sort of goal with them will help make a specific and memorable experience for everyone.
---
Keep It Organized
You can also look at software like DJ Event Planner Vibo or HoneyBook to help organize all this information. Best DJ Event Software Options | Wedding Management and Planning
---
Beyond the Groundwork, Dig Deeper
Now that all the major logistics and a few extras have been explored, it's time to go even further into some of those areas. Familiarizing yourself with all the details below definitely can make or break your event.
What's the Crowd Like?
Once you've got a sense of the host and VIPs, definitely try to learn about the general crowd. You can think of this like demographic information for the audience.
What's the general age of the crowd? Having a sense for the age range can immediately direct you towards the genres and decades of music to play.
Is the crowd particularly conservative or liberal? Without getting too political, it may be worth your while to figure out if the crowd leans strongly in one direction to make sure you don't play anything that grossly offends anyone.
Do folks want to be there or have to be there? This is a strange one but essential when it comes to corporate events. Knowing whether the guests chose to be there or are obligated to be there can influence your choices. Story – I provided music and Karaoke for a DNR Holiday Party – It was on a Friday during lunch, and everyone had to go back to work after the 1-hour lunch. No One Danced
How many people will be there? Crowd size is another crucial factor in your planning. There's a massive difference between DJing for 500 people and 50 people.
Will there be drinking at the event? I have done too many Dry weddings. They are not my favorite.
What is the Sound Setup Like?
If the venue supplies gear, you want to know what you are working with. There's nothing worse than planning for one system and finding an entirely unfamiliar one in front of you at the last minute.
The host may not have any idea how to answer this if the Venue is supplying the system.Try to get the venue info from the host and communicate with them yourself. Find out all the specs you can, and maybe, if you're lucky, you can even pop over and check it out in person before the event.
If you are expected to supply your gear for the event, it is still essential to check in with the Venue about space. Most Venues have a dedicated area that they expect a DJ to set up in. If you're bringing your gear, you'll need to know everything about how big the space is to how many outlets you have access to. Again, seeing the Venue before playing is a huge help.
Stop by the Venue and see where you will be loading in. Most likely, it will be in the back of the building. When you stop by the Venue, ask when the building will be open and when you can start loading in.
Best Vehicles for DJs | Should You Buy or Rent
---
Info for School Dances
Middle school dances are different from High School Dances. Homecoming is different from Prom. Finding the right professional DJ is hard for most schools. Sometimes they use the same DJ (year after year) for all their dances – other schools have different groups that plan each dance. When you finally get a call from a school that you have been advertising to.
Ask Questions
How did they find you? -Website, Social Media…
Find out why they contacted you
When is Their Event
Ask – What did the last DJ do that they did not like?
Find out if there is a Theme for the dance
Ask if there are any special songs for their school
Ask for song requests in advance
Find out when their next dance is
School Dance Songs | Exclusive School Dance DJ Song Lists
---
Important Info For Wedding Receptions
Trade shows, marketing events, product launches, and corporate parties are events where someone might hire you. But when most people think of hiring a DJ in their everyday life, it is for a wedding reception. Wedding's need to be handled with care and treated differently than a startup launch or corporate New Year's Eve party.
What Should a Mobile DJ Wear | Successful People Dress the Part
Will There be a MC?
When the Bride and Groom hire you for the event, there are tons of things to clear up. One of the most important is whether there will be a separate emcee in charge of the whole thing. Some couples go for a different emcee, while others look for the DJ to be both.
If there will be an emcee, you'll want to find out their name and info and coordinate with them to ensure smooth transitions from music to speeches.
If you are going to be DJ and emcee, you want to learn so much more than just what kind of music they like. You'll be responsible for introductions, segues, speeches, toasts, and whatever else, so there is an essential list of names and info to gather.
What are the bridesmaid's and groomsmen's names?
What are the parent's names?
What is the officiant's name?
Is there a song of particular significance to the couple?
Are there any guests that couldn't make it but send their best wishes?
Are there any nicknames the couple uses?
That's just a tiny taste of some of the things you should familiarize yourself with to be the greatest master of ceremonies. It's also helpful to coordinate the timeline of certain events with the couple in advance, like a first dance, best man and maid of honor speeches, cake cutting, and anything else they would like their guests' attention drawn to.
How To MC a Wedding | Get Creative | Be Relaxed | 7 Essential Tips
What Entertainment Will Your Guests Like?
The couple should know their guests well enough to give an idea of what will keep the party going. Some crowds will be more into swing music and jazz, while others will be more into hip hop and rap.Knowing which audience will be at which wedding is crucial to creating the right atmosphere.
This goes beyond just picking music too. Understanding the style of entertainment the guests react to extends into your pacing and announcements as emcee. While a younger crowd may appreciate some crude humor, an older group might be more interested in a classic style. Be sure to adjust all of your dials appropriately.
Would You Like Additional Entertainment?
It could be great to offer lighting packages, photo booth deals, visual effects, and any other fun tricks you may have if you have them available. Music is excellent, but a little party lighting goes a long way to filling guests with the confidence to bust a move.
Photo booths are also a fun touch to add to any reception. If you don't have the means to have one personally available, maybe reach out to another vendor in your area and offer a special promotional deal to clients that book you together. This can be a great networking tool and help bring in additional business.
Are There Important Songs to be Played at Certain Times?
Most couples choose something for a first dance. Sometimes there is the father-daughter dance and mother-son dance. Couples usually know what song they want for these moments, but if not, it's an opportunity for you to jump in.
During your planning, work with the couple to pick these songs. If they're unsure, ask them about their relationship and have suggestions ready. The same goes for the parent dances. Ask them about their parents' relationship and try to pump up some memories that might be special and relate to a song.
Remarkable Wedding Songs That Should Absolutely Be In Your Wedding
---
How Involved Do You Want Your DJ?
This is important information for every event you do. Each client will have a different expectation regarding your active involvement, and you must know what that is. Being over-involved could get annoying, and being under-involved could be disappointing. By setting clear expectations from the beginning, you are hopefully avoiding this pitfall.
If the client expects a lot of involvement, then be sure you have some plans in place. The client may expect you to be motivating people out to the dance floor, and sometimes playing "Hey-Ya" or "The Electric Slide" isn't enough to get butts out of seats. Be sure to plan out some fun and upbeat banter to try and keep the party alive.
If the client expects minimal involvement, then don't push it. While it may not be your style, it is always annoying feeling like someone is constantly interrupting the momentum for another witty quip or to hype up something. Less is more in these sorts of events, so keep off the mic.
---
What Is the Plan If There Is an Emergency?
Emergency preparedness is always a good idea. While unlikely, you never know just when something could go wrong, and it is always better to be prepared. People will probably look to you for instructions, so be ready.
Talk through some different scenarios with the host and familiarize yourself with emergency exits. Find out if the host would like you to take charge in an emergency or if they would like you to try and get a mic to someone else. If the power goes out, then the mic issue is not as important, but it is still likely that folks will be looking your way, so know what to do.
---
Is There Anything I Should Be Aware Of?
While it may feel intrusive, it's important to know if there are any particular guests to look out for, songs to avoid, or situations to avert. Potential disasters are lurking around every corner, and the more you know, the better equipped you are to prevent them.
For instance, it would be important to know if any guests may get unruly and how you can best handle them. Or, and this is quite possible, how would they like you to feel any guests who try to take the mic for themselves.
Another frequent issue worth clearing up is what to do if guests continue asking for songs that you have otherwise excluded. If there are songs the host explicitly said no to, then it is best to respect that, but maybe find out if there is flexibility around styles or songs so you can accommodate those requests.
---
Other Questions to Ask Clients
Make Sure To Wrap Things Up Nicely
Once you've been through all the critical questions on your checklist, it is always a good idea to ask the client if they have any further questions for you. Some clients may feel overwhelmed by the sheer amount of information they face, so maybe have a list of clients ' frequently asked questions to try and jump-start this conversation.
How Did You Hear About Me?
Understanding how your client's found your services is crucial to driving more traffic your way. After all, you are running a business and are always looking to get more business. Did they hear about you from a friend, social media, wedding websites, blogs? There are more ways than ever to connect with clients, and you'll want to be sure you are maximizing your exposure.
If you find that most of your clients are coming through a particular blog, then it might be worth your time to reach out to that blog thanking them. Building those brand relationships helps to create more and more exposure.
Please Rate and Review My Business
Once you've wrapped things up and nailed the event, you must get the client to leave a rating and review. More ratings and reviews on popular wedding planning websites like The Knot help to bump you higher up in search queries, leading to more bookings.
Encouraging your guests to leave ratings on Facebook and other social media pages can also be tremendously helpful for promoting your business. Create a standard email that you send to the client after each successful event with links directing them to different places to leave ratings and reviews. It is easier for them and more consistent for you.
---
Conclusion
There Are No Wrong Questions When Preparing For An Event
Ultimately, the more info you have, then the more likely you are to succeed. Always aim to gather more information from the client than you think you may need. The basics of who, what, when, where, and why are crucial, but think bigger and dig deeper.
Your planning process will move along smoother than ever, and each client will be more impressed than the last with your prep work. Each of these better impressions can only lead to more business for you! Also, Knowing what type of event right away can help you say NO to that event. IF you do not like school events – Don't do school events. The same goes for any other type of event.
---
Read More
---
---
Pins for Pinterest
If you like what you see, feel free to share some love on Pinterest <3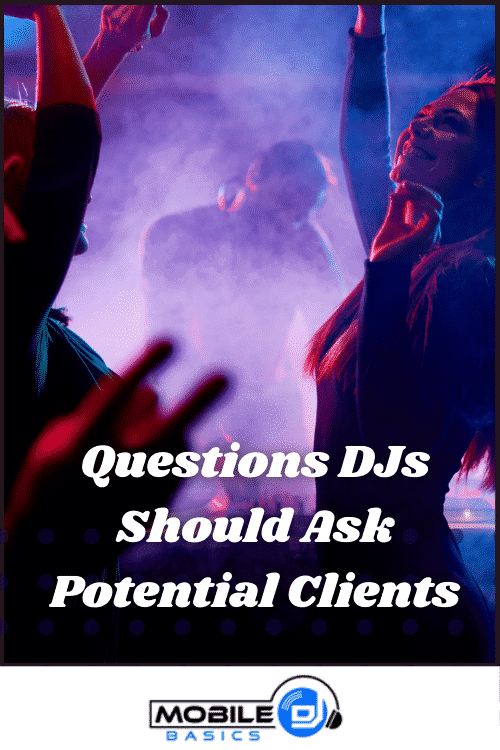 5 Important Questions to Ask Clients Before You Say Yes to Their Event
From discovering new songs to getting more gigs, I'm excited to share the wealth of knowledge I've gained through many years of DJing. [email protected]