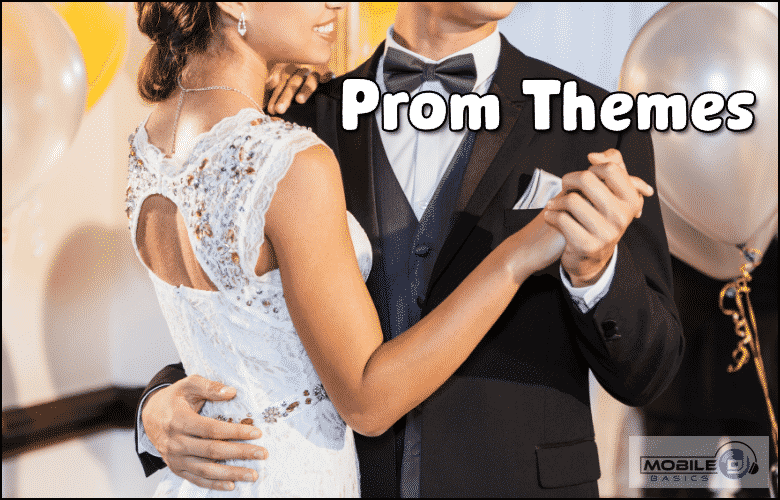 In celebrating the prom's fantastic life transition, you can use some of the fantastic ideas for Prom Themes and Prom After Party Themes. The prom event is all about enjoying rare moments with peers and loved ones and creating beautiful memories. You, therefore, want to go for a prom theme that matches your wild imaginations or realistic experiences and aspirations.
To guide your selection, you may utilize our well-researched Prom Themes. You will find these ideas valuable to your prom experience and your planning for prom events.
Prom Songs         School Dance Playlists         Summer Songs        TikTok Songs
---
Popular Prom Themes
Our ideas for your Prom include your party themes and Prom after-party themes, including the lighting, decor, and other peripherals. You may already have preferences about some common aspects, which means our prom theme ideas will build over your preferences.
This guide aims to provide a variety of prom theme selections and direct you towards an excellent pick for your prom event or experience. Feel free to try out the ideas, share them, and provide feedback on your experience. Now, we should dive into the fantastic theme ideas for your Prom.
---
List of Prom Theme Ideas 2021
The first step in selecting your theme is to give it some thought or take a minute to reflect on the meaning of a prom party to you, your peers, or loved ones. In most cases, you will bump across unique ideas but still require a theme to organize them.
So, let's dive straight into providing you with our recommended ideas or organizing whichever idea you may have.
Disco Party
Red Carpet
Island Vibes
Candy Land
Movie Premiere Night
Outer Space
Masquerade
Cloud 9
Winter Solstice
Science
80's Flashback
Glow Party
VIP
Country Nights
In conclusion, you are now up-to-date with prom ideas that apply to the year 2021. Feel free to use them now and in the future because there is no expiry date for these themes.
---
Classic Prom Themes

Classic Themes portray past events, works of art, or cultural elements that many people like or appreciate.
City of Lights
Winter Wonderland
Mardi Gras
Happily Ever After
Let the Good Times Roll
Fairytale
The Great Gatsby
A Night in Paris
Saturday Night Fever
Starry Night
A Magical Night
Above The City Lights
70's Disco Party
Casino Night
Now that you have a great selection of classic themes, you may find more about the themes and the era they represent. Digging more into a theme makes it a better experience for you as a creator.
---
When is Prom 2021?
Prom 2021 will be different for most schools in the US and around the world. Due to the COVID-19 pandemic, most high schools in the US have canceled prom. For other schools, however, prom will be held online through a virtual prom event.
Prom usually happens in spring, at the end of the school year. Therefore, Prom 2021 will occur within April, May, or June, depending on the school. It is typically held as seniors are preparing to graduate. Some schools may hold prom as early as March, with most schools holding the event in April.
For schools that are holding virtual prom, the venue may be different. Still, traditions will uphold, such as asking dates for prom, wearing formal attire, having hair and makeup done, musical performances, as well as voting for the prom and queen. Voting for prom king and queen for most schools is done online before the actual virtual prom.
---
---
Planning Your Prom Dance
To plan your prom dance, you only need to prepare by ensuring the stage is set, your photo booth is ready, and the decor is outstanding. Your lighting should always have various colored lights unless you are doing a luxury or ice-based theme.
The photo booth should have numerous backdrop options, easy to select with background wallpapers or curtains. The decor is your free zone of expression, and you can go as far as you prefer on this one.
---
Finding the Right DJ For Your Prom
Find the right DJ can be challenging. Some schools use the same DJ year after year. If the DJ company you use for your school dances is a great DJ – Continue to use that company. But if you are looking for someone new. You will need to do some research.
Check out the mailers that other DJ companies have sent the school. A principal or vice-principal might have a folder with them in their office.
If you are still looking for a DJ, it is time to go to Google. Search DJ in your area. Check out DJ companies on the first five pages of google. Look at their websites and check out their social media – Instagram and YouTube. If they do not have Instagram or YouTube, maybe take them off your list of potential DJs that you will use.
You are looking for a DJ that is not just a wedding DJ. You are looking for a DJ that does Sweet 16s, Quinceanera's, High School, and Jr High Dances. This DJ will know what music you are looking for and what music your advisors do not want them to play.
New Songs for Prom – Best New Prom Songs 2021 | Create a Memorable Prom Dance
---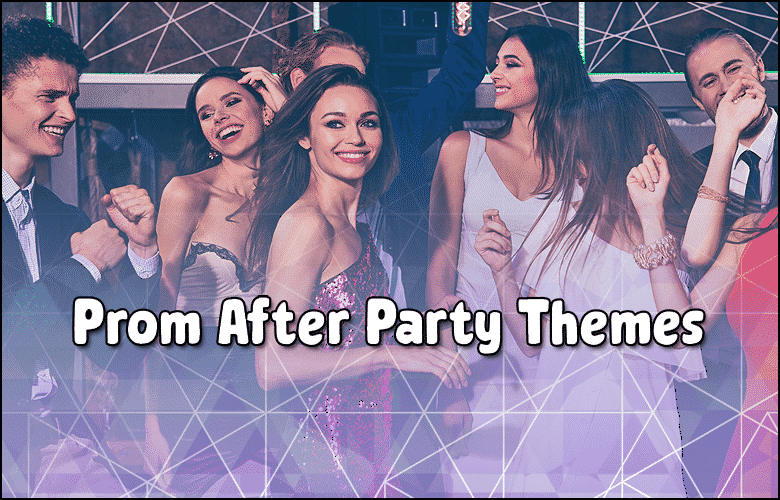 Prom After-Party Themes
Are you looking for a cool after-party theme?
The after-party is a significant part of prom. You can use indoor themes that range from bright-colored options with shooting lights and disco balls or go for subtle choices that focus on country music or slow jams.
Whether it's because of the school prom, or just because you're tired of going to the same old party every time, this blog post can help you find some new ideas. Check out these awesome prom after-party themes!
They Include: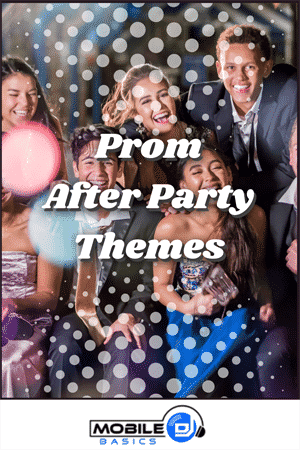 80's Movies
90's Music
Mardi Gras
Glow Party
Now you can see that the after-party prom themes are very flexible, and you can always try anything that you believe suits your crew. Go ahead and try our recommended themes.
You can use any of them at your convenience and share the ideas to understand how your students love them.
80's Movies
80's had a lot of great movies. To give you an easy option that you can amplify and put on wallpapers for the theme, the punch-card computer is a great way for a throwback to the 80s. The movies include The Back to the Future, Karate Kid, Goonies, E.T., Top Gun as awesome examples for you to use.
90's Music
RnB, Boy Bands, Classic Rock All were a party of the 90's. Prom Theme music from the 90s Include Spice Girls, Nirvana, TLC, Will Smith, MC Hammer and Boys II Men. 90's music artists loved dark sunglasses and bright colored jackets. You can use these depictions for your music and music art.
Mardi Gras
The most famous Prom Theme is Madi Gras because all you need is a set of celebratory clothing and fancy garments. Be sure to include flowery attire and crowns, music, and folk dances. You will, definitely, have fun with this theme.
Glow Party
The glow party utilizes brightly colored lights on a dark background, and the lights in the dancing area or stage region should appear to burst up or create a multicolored beam diverging into the sky. You will find this idea unique and great for prom parties and prom after-party themes.
If you are attending the glow party-themed prom, bright clothes and neon sunglasses are great to make you visible.
---
What Are Good Homecoming Dance Themes?
Formal Themes for High School Homecoming Dances
You may apply them at the end of their semester or year. The Red-Carpet Affair is one of them, and you can use a small red carpet at the doorstep. You may also use the City Lights theme on your front end or purchase a city skyscape wallpaper if your students share similar interests.
City Lights
All That Jazz
Diamonds are Forever
Viva Las Vegas
Hollywood Nights
Winter Wonderland
Starry Night
Black and White
Fire and Ice
New York New York
Masquerade Ball
Castle in the Sky
Hollywood Awards Night
Now that you understand formal themes for high school homecoming go ahead and find out how the student's experience may inform your preparations for a homecoming dance. Your homecoming themes should always reflect the spirit of unity and love.
---
What Are Good Themes for School Dances?
Non-Formal Themes for Back-to-school, Homecoming Dances and Other Events
We have selected outstanding non-formal themes for back-to-school for you.
Twist the Night Away 50's
LUAU
Glow Party
Barn Dance
Cosplay
Red White and Blue
Nautical
Beach Party
Sock Hop
60's Tie-Dye
Tailgate Party
Whiteout
Flannel Frenzy
Hypebeast
Miami Night Club
Your selection of school dance themes can create an atmosphere of enchantment and enjoyment. Feel free to ask your friends' opinions on your dance themes. If your dance party has a big audience, you will need to coordinate your selection with other people in planning the dance party.
---
Tips for a Prom Dance DJ
Congratulations – you've just been booked by a school to be their DJ for prom. It's an excellent way to earn money, and you'll also play a big role in making the event fun and memorable for everyone.
Here's what you need to do to avoid any miscommunication and last-minute problems that can be frustrating both for you and your audience.
How To Prepare for a Prom Gig
Make a Song Request Form
You can use this not just for prom night but for any gig you book in the future. It helps guide your music choices so that you can create the appropriate "vibe" and ensure their satisfaction. After all, music is a very personal preference, so it's essential to understand what they want (or don't want) from the very beginning.
Your music form can include:
Top song choices. They may have favorite songs or preferred artists. For prom gigs, you may want to ask to talk to student representatives, someone from the Prom Committee, or a student council member.
Do Not Play List.Schools can be conservative, and they may frown upon some songs because of the artist's language. (You may disagree with them, but they're the client, so you have to respect their choices.)
Special song requests. There may be songs that they want to hear or may need to set the tone for a particular program portion. These songs might be part of their Prom Theme.
Ask About the Program Flow
That will save you the trouble of last-minute requests or hurried instructions on the prom night itself.
Ask about the program flow and formalities like speeches, special announcements, etc., that you need to workaround. Ask if any of these will need your help—say, introduce people or invite people to watch the fireworks display? It's best to be clear about these things from the very beginning.
Ask About the Dress Code
Prom night is a formal occasion, so you may want to dress up a bit. While you don't have to go there in a tux, torn jeans and a band shirt doesn't seem appropriate for the occasion. To be safe, ask the school about the dress code and what they prefer you to wear.
These are just some of the things you can do to ensure a smooth event. Communication is critical, both to manage—and meet—your client's expectations.
Do you know what DJs wear to events? – What Should a Mobile DJ Wear 2021 | Successful People Dress the Part
---
Conclusion
You now have fantastic prom themes 2021 and after-party prom theme ideas that you may implement for your event or party. Share the ideas with your friends and loved ones to better understand the experience you will create with such ideas. You should also feel free to recommend this guide to others that need ideas for prom events and prom parties.
We also love when you contact us requesting any additional posts or expressing your experience with our themes. Go ahead and tell us about it in the Contact Us area of this website. We hope that you will have a great experience planning prom.
---
---
Read More
---
Pins for Pinterest
If you like what you see, feel free to share some love on Pinterest <3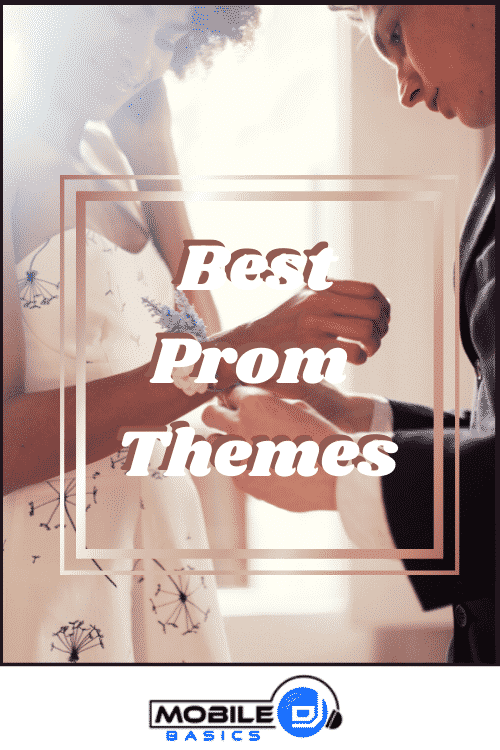 15 Prom Themes 2021 | Fun Prom After Party Theme Ideas