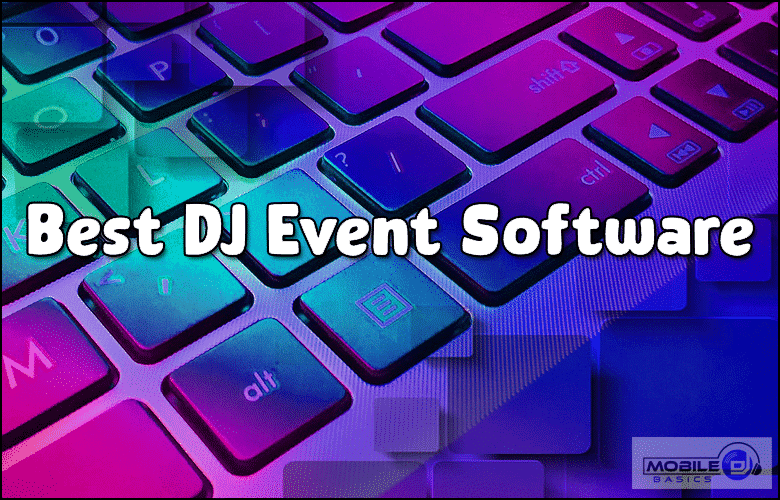 If you are a DJ that plays for weddings or other events or is thinking about starting a business in the wedding planning industry, you might be in the market for DJ event software for planning and management. There are many software options out there for programs that can help you stay organized when planning, managing, and working events.
The best DJ event software for your business will be the one that fits your situation and meets your wedding planning and management needs. Look for features that make booking and communicating with you easy for the client and incorporate music and event information management.
We have selected some of the best web-based software programs on the market that you should consider for your business. Please keep reading to learn more about each's key features and what makes them stand out from the rest.
---
Top 5 Software Programs for Event Planning and Management
We have selected some of the top software programs you should use as a wedding or event DJ. We will give a quick overview of each program and let you know some of the critical features. Most have a free trial. We listed the price below.
Some programs are geared more towards DJs, as they have integrated music requests and playlist generation. Other popular programs don't necessarily have music-related features and are more focused on event management.
There are many software options available out there. Be sure to pick a program with features that you will use and be beneficial to your business.
---
DJ Event Planner
This event planner has something for everyone. Whether you run your own DJ business by yourself or have hundreds of employees, you can use DJ Event Planner and find a suitable price for you.
DJ Event Planner includes tons of features, even for the most basic package. Some of the features that are included in all of the available packages are:
Client portal – for requesting music, viewing the event timeline and contract, making payments, etc.
Calendar – to organize meetings and availability of equipment and employees
CRM – (Contact Relationship Management) system to optimize your time and prioritize your tasks
Business management tools – to keep track of events, clients, vendors, venues, equipment, and more.
Communication tools – email and contact system
Employee-related tools – for management of your help
Reporting – financial and other reports
Music management – for database and requests
With customizable features and prices ranging from $10-$50 per month, you can find an option that works for you.
---
Vibo
This event planning software has a significant emphasis on incorporating music requests from clients. Once you have an event set in the calendar, your clients will be able to add song requests from their version of the Vibo app on their phones.
Vibo matches their requests to your database and allows you to create playlists for the event. The program will also allow you to export the playlists to DJ software for the event easily.
Since this program focuses primarily on personalized song recommendations and playlist curating, they have fewer listed features in a clean and organized program. Some of the features include:
Business branding
Unlimited events and employees
Templates and planning forms
Mobile app
Song matching and playlist recommendations
Because this program is focused on music, everything is organized around it.
The program includes an event timeline, where you can select the playlists to be playing during each portion of the event. You can have event details, a timeline, and songs all in one place in the program. Pricing starts at $50 per month.
---
HoneyBook
This program is an all-in-one program for DJs and other event vendors. This program gives you an overall dashboard view where you can see critical tasks and reminders from your clients. You can view everything that you need for individual events as well.
Honeybook gives you great flexibility to prioritize tasks across all events or focus on one client at a time, depending on your needs.
Honeybook has a ton of features that make event management easy and keeps you organized. Some of these features include:
Paperwork – proposals, contracts, invoicing, and payment within the program
Easy scheduling – can automatically send meeting links for online meetings along with meeting confirmations and reminders
AutomationClient – for emails and tasks, customize workflows to keep you on track
Integration – compatible with other platforms like Zoom, QuickBooks, and Google
With prices from $9-$39 per month, you can find a HoneyBook plan that meets the needs of your business.
---
DJ Intelligence
This program is another that is geared toward DJs. This program can be customized and placed on any website so that you can incorporate your custom branding. With event and wedding planning and music management features, this program has everything you need to book and manage any event. Some of the key features include:
Planning form – to nail down details with your client
Event timeline – to stay on top of everything during the event
Client Area – allows clients to see all event details
Music database – for clients to select songs from your library
Guest music request form – so guests can request songs before the event
DJ Intelligence offers two subscriptions, from $110 to $200 per year.
---
GigBuilder
GigBuilder is another Mobile DJ event planning program that seems to have it all. With everything from event planning and scheduling to music management and web-based calendar Plus texting with your clients, you will be able to plan and manage events with maximum customer satisfaction.
Some of the critical features of GigBuilder are:
Business-wide dashboard and calendar
Event details and timeline
Text messaging system with clients
Event planning forms
Music management
GigBuilder is free to higher-level members of WeDJ or purchased for about $100 per year for the standard plan. There is also an option for a free trial.

Key Features to Look For | DJ Event Software
If you are in the market for DJ event planning and Mobile DJ software for your business, you should select a program that can do it all.
We've discussed specific software options and the features found in each. Now, here is our curated list of some of the most important and helpful features found in many software programs.
Calendar
Communication with other vendors, clients, and employees
Computer program and app
Event timeline
Music Database
Most event management programs will have all of these features, primarily if they are geared toward DJs. Some programs that are good for DJs are marketed for other event vendors and, therefore, might not have an integrated music database.
We will go over all of these significant features to decide which you want to prioritize when searching for a software program.
Integrated Calendar to Keep You Organized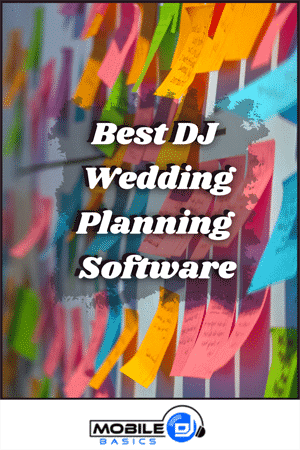 One of the essential features of event management software is an online calendar. Not only will you need to know your event night availability, but you will need to be able to schedule and manage your time not spent at events.
Make sure you go with DJ wedding software with an easily editable web-based calendar that multiple people can access, including your client and any employees you have.
This will help keep you organized and on top of your events and allow you to check availability for prospective clients quickly.
Some programs that are specific to DJs will also have ways to track your equipment in a calendar. This is not as important if you are the only DJ in your business.
However, if you are managing multiple DJs and sets of equipment, it might be nice to know where everything is at all times to be prepared for any situation.
Communication Tool | Easy Client Contact
Another critical task of planning an event is communication. You will need to communicate with your client, your employees, and possibly other vendors of the event you are playing. Being responsive and timely when communicating with clients is a great way to be more professional and show that you value their time.
An in-program communication tool should have a simple chat function to send quick messages or emails.
Some programs will also include a way to quickly send proposals, contracts, invoices, and payments between yourself and your client. With this feature, you will easily keep all client communications within one program, keeping everything organized and straightforward
Computer Software | App for Access Anywhere
Most of your communications, contracting, and planning for an event will likely be done on a computer. However, while you are out and about at meetings, events, or in your daily life, it will make everything easier and allow you to respond to messages quickly if you have an accompanying app on your phone.
This feature might seem unimportant and straightforward in the grand scheme of things.
Still, it can significantly improve your response times and allow you to access all critical information about your Mobile DJ business or the event while out at meetings or even while working the event.
Event Timeline to Keep Things on Track
It will be essential to have access to quickly both during the event and the planning process is the event timeline. As a DJ, you need to know when you need to be playing dance music, ambient music, or announcing special entrances, toasts, and dances during the event.
You should be able to quickly access a copy of the event timeline through your software, either on your computer or on your phone app. This way, you will be much less likely to be late or mess up the essential wedding traditions' timing at the reception.
Music Database to Make Selection Easy
As a Mobile DJ, you should prioritize software programs that include a music database. This feature will allow your clients to easily choose songs that they want to be played at the event, and you can curate the entire playlist or critical songs that you want to play within the program.
Keep in mind – that even if you use a specialty program to play music during the event, you can use a music database within the software to showcase what you have available to play, giving you an easy way to discuss music options with your clients.
This feature is a great way to bring both aspects of your business together, both playing music and managing events.
---
Benefits of an All-In-One Software
After learning about all of the possible features and looking at a few examples of these software programs, you might be wondering if there are other benefits that we haven't considered yet. Besides, the key features that we have mentioned, event management software programs can elevate your business to the next level by:
Automating contracts and payments
The convenience of having all necessary information in one place
Improved communications with clients
Increased professionalism
While these programs can be expensive and are an investment, they can improve nearly every aspect of your wedding business so that you can focus on creating events with a fun atmosphere and great music.
Automation
Automating contracts and payments is one way to manage your business while saving you time conveniently.
By generating contracts automatically, you reduce the risk of making a mistake or leaving a critical component out of the contract.
Online payments also make everything more accessible and more convenient both for you and your client.
By automating these parts of the business, you free up a lot of your time meeting new clients and planning and working on more events.
Convenience
Another essential benefit of these programs is that you can conveniently have all of the necessary information about the client and event in one place.
You will have quick access to vendor and venue information, the event timeline, and any client's special requests. This will make everything from the planning stage to the event itself run very smoothly, making it all very convenient for both you and the client.
Communication
One thing that clients value with their event vendors is efficient communication. Your client manages several vendors for their wedding or event and needs to know that they can send a message to you and get a reply in a reasonable amount of time.
With all of these event management programs, you can easily and quickly respond to your computer or phone messages, making you much more attentive and reliable in the client's eyes.
Improved communication systems make you look good to clients, but more open communication helps you figure out what your clients are looking for.
With frequent communication with your client, you will better understand the genres they like, what their guests might want to hear, and how to make the event the best it can be for them.
Professionalism
All of these event management programs' features and benefits will make you more organized and responsive, thereby increasing your professionalism. You can be a fantastic DJ that could play for a party of any audience and still be unsuccessful if you are bad at business.
These programs are intended to help you on the business side of things to focus on creating unforgettable events.
---
Some Wedding DJ Prefer Separate Programs
While there is a factor of convenience to consider with a software program that has pretty much everything you might need to be included, there are also benefits to keeping everything separate and not using one of the programs that we discussed.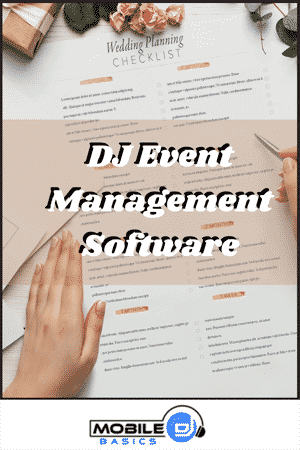 Before the days of all-inclusive software, wedding DJs and other event vendors had to work hard to stay organized by using separate programs for calendars, proposals, contracts, invoicing, and payments.
While there is much more potential for errors and miscommunication when using this method, there can be upsides.
Lower Cost
One of the most important benefits of this is that it can be cheaper. If you are just starting out as a mobile DJ, you might not be ready to invest in expensive event management software.
You might find that keeping things separate in free programs is best for you while getting your business off the ground.
Lower Risk
Another benefit of staying away from all-inclusive wedding planning software is that you avoid the possibility of one software issue ruining an entire event. If all communication, contract details, music playlists, and other details are kept in one program that gets corrupted, then your event and maybe your business will be in trouble.
Integration
Having separate pieces that integrate with other platforms you use regularly can also be a great plus. If you are hesitant about losing everything in one program, you may decide to choose one that integrates well with other platforms you already use so that everything is convenient for you – and kept in more than one place.
---
Conclusion – Best DJ Event Software
Event management software can be an essential investment for your DJ business. Whether they focus on music or not, these programs help keep you organized in the business aspect so you can focus on being a DJ.
While there are benefits to keeping your programs and event management in separate, free programs, especially while you are building your business, you should plan to purchase event management software as your business grows.
With so many options to choose from, you will be sure to find DJ event management software that has the perfect features and price point for your business.
---
Read More
---
---
Pins for Pinterest
If you like what you see, feel free to share some love on Pinterest <3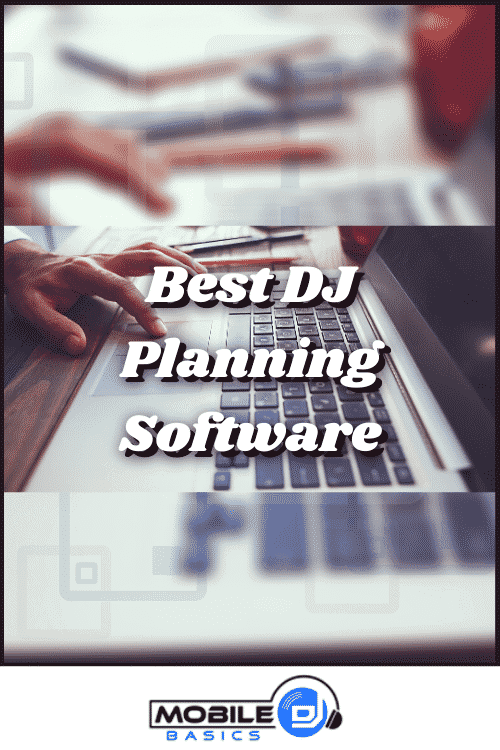 Best DJ Event Software Options | Wedding Management and Planning 2023
From discovering new songs to getting more gigs, I'm excited to share the wealth of knowledge I've gained through many years of DJing. [email protected]