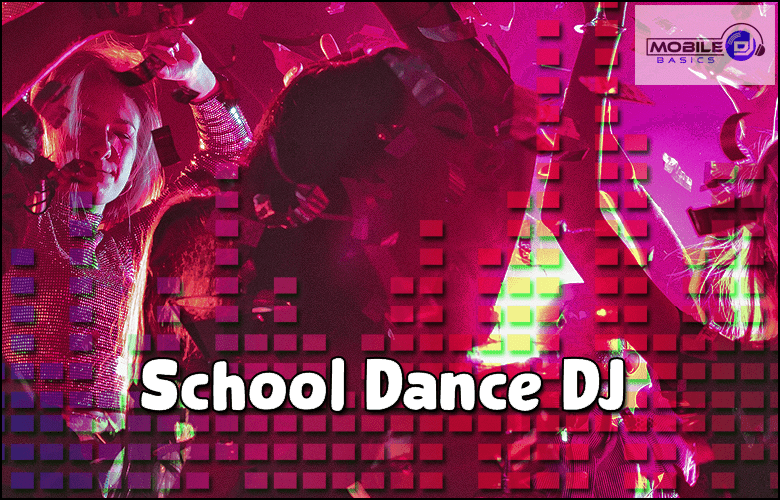 Last Updated on October 16, 2023 by Ryan Conlon | 🕒 3 min Read Time
---
School dances are a staple of high school experience. A School dance can be the best night of your life, or they could be something you wish you never had to think about again.
A School Dance DJ can play an important role in making sure that everyone has fun at the event and feels safe and secure. Here we will discuss what to look for in a DJ for your School Dance and tips on how to find one!
What is a School Dance DJ
When looking for a School Dance DJ, it is important to find someone who understands the atmosphere you are trying to create. Some DJs are more geared towards Clubs while others may specialize in Weddings and play hits from the past.
Make sure to discuss your preferences with any potential candidates to make sure they understand what you are looking for.
It is also important that your School Dance DJ is experienced and knows how to handle themselves in a high school setting. Many schools have strict policies when it comes to dances and DJs need to be aware of these rules ahead of time.
Furthermore, they should be prepared to deal with any issues that may arise during the event.
If you want your school dance to be success, finding the right DJ is essential. By keeping the above tips in mind, you are sure to find someone who can help make your night one to remember!
---
What to Look For in a DJ
When selecting a DJ for your next event, it is important to find one with experience in hosting successful performances. If they do not have any professional gigs under their belt then you're risking the chance of having bad music or technical difficulties during otherwise smoothly hosted events!
When you are in the market for a School Dance DJ, it's important to be specific about what exactly do want.
Here are a few tips:
The DJ should have an expansive collection of music that will appeal to a wide range of people. This means current top hits, throwbacks, and everything in between!
The DJ must be able to adapt to the crowd, and change up their music selection as needed.
The DJ should use clean versions of the music so that people can dance without feeling uncomfortable.
Does the DJ come with their own equipment or is there is an additional fee that has not been included in your quote.
The DJ needs to know how run their equipment in order for the night's festivities go off without any hiccups.
The DJ should always make sure to set up your equipment early with plenty of time before the dance starts, because anything can happen!
Before offering your school dance DJ this opportunity, double-check that they have the appropriate insurance!
It is also important to make sure that your school dance DJ has a good reputation! There are many out there so do your research ahead of time.
There is no one-size fits all in the world of DJs. What you should look for when hiring a school dance DJ, and how they create their music specifically tailored to fit your needs!

---
Questions to Ask The DJ
You should also ask the DJ some questions, such as:
What type of music do you specialize in?
Do you have a song list? Can I see it?
Have you ever DJ'd at our school before? If so, what was the feedback like?
Will you take requests on the night of the event?
Can we meet the DJ before the dance?
How many hours will you be playing for?
What is included in your price?
Are you insured?
What is your cancellation policy?
Do you have any references we can contact?
By asking these questions, you will be able to get a good idea of whether or not the School Dance DJ is right for your event.
And don't forget to have a contract in place so everyone knows what is expected of both the DJ and the school. Having a contract also ensures that there won't be any surprises come payment time.
A good School Dance DJ will have no problem signing a contract with their clients. So, be sure to ask about this before hiring someone!
Cancellation policies should also be discussed and agreed upon – this way, if something comes up and someone needs to cancel, everyone knows what to expect.
If they can confidently answer all of your questions and seem like they know what they're doing, then chances are you've found the perfect DJ Company for your school dance!
---
Meeting With the DJ
You will definitely want to meet with the DJ before you hire them. This meeting should be scheduled as soon as possible because you will have questions that need answered and it's the best way to get comfortable working together.
When meeting with potential School Dance DJs, be sure to ask about their experience with school dances and if they are familiar with any specific songs that you want played at the dance.
You'll also want to get an idea of their style so that you can make sure that it matches what you're looking for. It's important to remember that not all DJs are created equal, so be sure to do your research before hiring one!

---
Equipment
When it comes to finding a School Dance DJ, you want someone who has the right equipment and knows how to use it. You don't want a DJ who is going to show up with a small sound system that can't handle the crowd. Make sure you ask about the DJ's equipment before hiring them.
Sound system
Lighting
Backup equipment​ ​​​​​​ ​​
Microphone
A good sound system is essential for any school dance. You'll need a system that can cover the entire space and provide good sound quality. The last thing you want is for people to be unable to hear the music or to have complaints about the sound level.
Good lighting is also important for creating a festive atmosphere at your school dance. Choose lights that will create an inviting environment and make the room look pretty. Lighting can really set the mood for your event!
School Dance DJs need to be prepared in case anything goes wrong during their event so they must always have back up gear on hand. It is also important that School Dance DJs are trained how to use this equipment properly before using it at an actual School Dance.
For example, School Dance DJs should be aware of the different types of cables that go with each piece of equipment since if one cable breaks or malfunctions, everything linked will not function. They should be able to repair it themselves.
Finally, don't forget about the microphone! School dances often include speeches or presentations, so you'll need a good microphone to make sure everyone can hear them.
Having all of the necessary equipment will help ensure that your school dance goes off without a hitch! Be prepared and have fun!

---
Reviews
"We had such an amazing time at our school dance thanks to our School Dance DJ! He played all the latest songs and took requests from the students. The music was pumping all night!"
When it comes time to finding a DJ company, you want to make sure that you are getting the best possible service for your money. This means doing some research and reading reviews from past clients.
A great place to start is by checking out the website of the DJ. Most DJs have pages with information about themselves, their services, and even testimonials from happy customers.
---
Price
A School Dance DJ typically costs around $500 – $800. This price includes the cost of the DJ, setup and teardown time, and any necessary equipment. However, there are a number of options and upgrades that can be added on to this base price. Some of these options include:
Upgraded Lighting Effects
Upgraded Sound System
Black Light/UV Lights
Photo Booth
Photographer
Videographer
Dancers
Video Screens
These upgrades will increase the overall quality and experience provided by your DJ company. However, this comes at a higher total bill as well (typically somewhere around $200-$2000 more). If you want top notch sound and lighting effects then it's worth looking into what kind of equipment they use before hiring them!
It's important to remember that School Dance DJs are professionals, and they understand how much work goes into planning school dances. They want your event to be successful as well!
If you have any questions about what these DJ services include, don't hesitate to contact them directly for more information!
---
Conclusion
School dances can be a lot of fun, but they can also be pretty stressful for the organizers. By taking the time to plan ahead and choose the right DJ, you can minimize some of that stress and ensure that your dance is a success!
---
Read More
---
---
---
School Dance DJ – How to Find the Right DJ for Your 2023 Event
From discovering new songs to getting more gigs, I'm excited to share the wealth of knowledge I've gained through many years of DJing. [email protected]