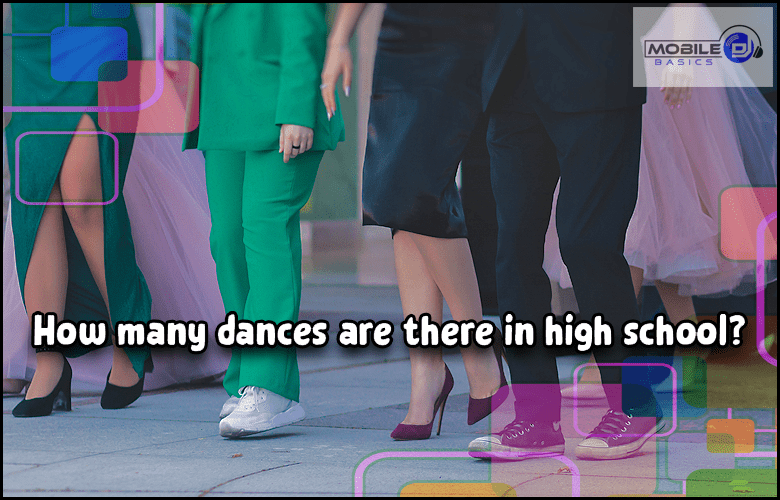 Last Updated on October 16, 2023 by Ryan Conlon | 🕒 5 min Read Time
---
High school dances are a time-honored tradition that provide a great way for teenagers to socialize, bond with friends, and express themselves.
From homecoming to the prom and everything in between, there is no shortage of high school dances available.
But how many dances are there really?
In this comprehensive guide, we'll explore the most popular high school dances taking place across the country.
Read on to gain insight into which ones are worth attending and which ones have lost their sparkle over time.
How many dances are there in high school?
High school dances are more than just a chance to show off your killer moves and have a good time – they're an opportunity to create unforgettable memories with your peers!
But did you know just how many different types of dances there are for teenagers to enjoy?
From fancy proms to laid-back candlelight dinners, and even powder puff football games, there's truly something out there for everyone!
In this article, we'll take a closer look at some of the most popular school dance events, so you'll be ready to hit the dance floor in style!
Get ready to dance, because the ultimate guide to high school dances starts now!
---
Back-to-School Dance
An Exciting Event to Kick Off the School Year.
As the summer fades away and the school year approaches, students everywhere are gearing up for one of the most eagerly anticipated events of the season – the back-to-school dance.
This lively and energetic celebration is a fantastic opportunity for students to let loose, make new friends, and start the year off on the right foot.
The back-to-school dance typically takes place during the first few weeks of school and is open to students of all grades.
It is usually held in the school gymnasium or auditorium, which is transformed into a festive and colorful party space.
The decorations and music are carefully chosen to reflect the unique character of each school, and students are encouraged to come dressed in their best party attire.
One of the most exciting aspects of the back-to-school dance is the chance to socialize with peers and meet new friends.
This event provides a relaxed and enjoyable atmosphere for students to interact with their classmates, which can help break down social barriers and foster a sense of community within the school.
Another key element of the back-to-school dance is the fun and energetic music.
The playlist is curated with popular and upbeat tunes that are sure to get students up and dancing.
Whether it's a classic throwback or a new chart-topper, the music is chosen to appeal to a wide variety of musical tastes and to ensure that everyone has a great time.
In conclusion, the back-to-school dance is a highly-anticipated event that brings students together to kick off the school year in style.
With a plethora of exciting activities, wonderful music, and opportunities to connect with peers, this event is not to be missed.
So get ready to party and make some memories that will last a lifetime!
---
Homecoming Dance

As the school year kicks off, schools across the country prepare for a beloved tradition – Homecoming.
The excitement of Homecoming week is contagious, as students don their school colors and gear up for the upcoming football game, parade, and of course, dance.
Homecoming is a time-honored tradition that dates back to the early 1900s, when universities and colleges would welcome back former students with a week of festivities.
Today, it has become a staple in high school culture, with schools planning elaborate events to bring students, alumni, and the community together.
Throughout the week, schools organize various activities, such as spirit days, pep rallies, and club events.
The highlight of Homecoming week, however, is undoubtedly the football game and dance.
Whether it's the thrill of the game or the anticipation of the dance, excitement always fills the air during Homecoming week.
The Homecoming dance itself is a time-honored event that students eagerly look forward to.
It's an opportunity for students to let loose and have fun with friends, classmates, and even their crushes.
The dance is typically held in the school gymnasium or a nearby venue, and the theme varies from year to year.
From classic themes like "Masquerade" and "Hollywood Glam" to more unique themes like "Enchanted Forest" and "Under the Sea," the Homecoming dance never fails to impress.
In conclusion, Homecoming is an exciting tradition that brings together students, alumni, and the community.
With its vibrant atmosphere, fun activities, and memorable dance, Homecoming is a time to create lasting memories and celebrate school spirit.
---
Sadie Hawkins Dance

Sadie Hawkins is a well-known tradition in many schools across the United States.
It is a dance where girls ask boys to be their dates, a reversal of the typical gender roles expected for school dances.
This tradition originated in 1938 from the comic strip "Li'l Abner" by Al Capp, in which Sadie Hawkins Day was a day when single women could ask single men to marry them.
In high schools, this tradition has evolved into a dance where girls ask boys to be their dates.
This unique approach to the traditional school dance has become a popular event, with many students eagerly awaiting it each year.
The Sadie Hawkins dance provides an excellent opportunity for students to ask someone they have been interested in for a long time, but have been hesitant to ask out.
The Sadie Hawkins dance usually takes place in the fall or winter, with students dressing up in their best clothes and wearing corsages or boutonnieres.
It is a great opportunity to socialize and have a fun night with friends and classmates.
The dance often includes activities such as photo booths or games, making it a memorable and enjoyable evening for all attendees.
Overall, Sadie Hawkins is a beloved tradition that defies traditional gender norms and provides a unique experience for students.
With its long history and continued popularity, it is sure to remain a staple of high school culture for years to come.
---
Winter Formal
High school is an exciting time filled with countless academic and social milestones.
From acing exams to attending football games, there are endless opportunities to make lasting memories.
One such event that stands out in the minds of many high schoolers is the Winter Formal.
This enchanting celebration, typically held during the winter season, is a magical evening filled with dazzling outfits, heartwarming music, and unforgettable dance routines.
As the night unfolds, students, their dates, and friends take to the dance floor to showcase their moves and create memories that will last a lifetime.
The Winter Formal is a time-honored tradition that has been a fixture in high schools across the country for decades.
It is an opportunity for students to dress up, let loose, and enjoy the company of their peers in a festive and elegant setting.
The Winter Formal is a dance that epitomizes the best of high school, bringing together students from all walks of life to celebrate unity, diversity, and friendship.
Whether you attend as a freshman or senior, the Winter Formal is a rite of passage that serves as a testament to the vibrancy and spirit of youth.
So, how many dances are there in high school?
While the answer may vary depending on the school and region, the Winter Formal is undoubtedly one of the most cherished and memorable dances.
With its elaborate themes, stunning decorations, and spirited atmosphere, it is no wonder why the Winter Formal is a defining moment in the lives of many middle school and high school students.
In conclusion, the Winter Formal is a special night that is eagerly awaited by students.
It is an occasion to celebrate life, friendships, and memories that will last forever.
---
Spring Fling

Spring Fling is an annual event that every high school student waits eagerly for.
The event is celebrated with great enthusiasm and excitement in schools across the country.
The Spring Fling is a celebration of life, love, and friendship.
It's a time when students come together to shake off the winter blues and welcome the new season with open arms.
This event is designed to bring the entire school community together, from freshmen to seniors, parents, teachers to staff members.
As the name suggests, Spring Fling is typically held in the spring season and is considered to be one of the biggest dances of the year.
The event is known for its lively atmosphere, beautiful decorations, and unforgettable experiences. The dance is also usually themed, making it even more exciting for its attendees.
Throughout the night, students get to show off their moves on the dance floor, surrounded by the vibrant sound of music and colorful lights.
Whether it's the classic slow dances or the latest trends, there's always something for everyone.
For those who aren't confident in their dancing abilities yet, dance instructors may be present to help them learn a few basic steps and join in on the fun.
Spring Fling is also known for its fashion-forward dress code, which ranges from elegant dresses to sharp suits, but can be anything from casual to formal wear, depending on the theme.
Some students even go as far as to coordinate their outfits with their date or their friend group, making it a fun and memorable experience.
Overall, Spring Fling is a highly anticipated event that every student would love to attend.
It's a night of music, dancing, and unforgettable memories that will be cherished for years to come.
---
Prom

As students approach the end of the school year, a highly anticipated event begins to take shape: Prom.
Prom is considered one of the most significant social events in high school, where students can dress up and spend the evening dancing with their friends and significant others.
It is a celebration that marks the end of a school year and the beginning of new possibilities.
Prom is typically held towards the end of the academic year, usually in late spring, and is attended by juniors and seniors.
The event includes elegant ballroom decorations, good food, formal attire, and, of course, dancing. Students often spend months in advance preparing for this highly-anticipated event.
From buying the perfect prom attire to learning some fancy dance moves, prom is a night to remember.
The music at prom consists of various genres, adapted to appeal to diverse tastes, such as hip-hop, pop, and rock.
While the DJ plays the latest hits, students dance in groups or with their dates, creating an exhilarating atmosphere.
Dancing styles can range from contemporary to traditional ballroom.
It's no wonder people often refer to prom as "the biggest dance of the year."
Prom is not only a celebration of the individual student's achievements, but it also has historical significance.
It originated in the early 20th century and was considered a formal event for high school seniors.
Prom has evolved over the years into the grand event it is today.
In conclusion, Prom is an invitation to celebrate the end of the school year and usher in the future. It is a night where memories are created that endure a lifetime.
The excitement leading up to the big night, the dedication that goes into preparation, and the thrill of the dance will stay with students forever.
---
School Dance Facts
On average, students participate in 3-4 dances per year. (No exact number)
Approximately 70% of high schools in the United States hold at least one school dance per year.
The most popular type of dance in high school is the prom, which is held in the spring of senior year.
An estimated 2.5 million students attend prom each year.
Homecoming dances are the second most popular type of dance, with an estimated 1.5 million attending each year.
Winter dances are the third most popular type of dance in high school, with an estimated 1 million attending each year.
Approximately 75% of high schools in the United States hold a homecoming dance each year.
Approximately 60% of high schools in the United States hold a winter dance each year.
Approximately 40% of high schools in the United States hold a Sadie Hawkins dance each year.
So now that you know the stats and facts behind most school dances, it's time to start planning!
Whether you're in charge of a school dance or attending one, preparation is essential.
With thoughtful planning, you can ensure not only a fun and enjoyable event but also a safe one.
---
Why are school dances important?
School dances are more than just a chance for teenagers to socialize and show off their dance moves.
These events are an important part of the school experience, providing students with a unique opportunity to come together and celebrate their school spirit.
School dances can help build a sense of community and unity among students, fostering positive relationships and creating a welcoming atmosphere where everyone can join in the fun.
Additionally, these events can help students learn valuable social skills, like how to communicate, cooperate, and work together as a team.
Through the excitement and energy of dances, students can create memories that they will cherish for years to come.
Benefits of School Events
School events come with various benefits that extend beyond just having fun.
First and foremost, they provide an opportunity for students to socialize and make meaningful connections with their peers. These interactions can help build communication and interpersonal skills, which are essential in both personal and professional settings.
Additionally, school events allow students to explore different interests and passions outside of the classroom, providing opportunities for growth and development beyond traditional academic pursuits.
Moreover, such events can boost school spirit, instilling a sense of pride among students, faculty, and the larger community.
Overall, school events can foster a positive and inclusive environment that supports learning and personal growth.
---
Do Canadian schools have dances?
Canada is known for its diverse culture, breathtaking nature, and friendly people. But one question that is often asked is whether or not Canadian high schools have school dances.
The answer is a resounding yes!
Canadian high schools have a long-standing tradition of hosting school dances, from proms to homecomings.
These events offer students the chance to dress up and celebrate their accomplishments, while socializing with their peers.
From slow dances to the latest pop hits, dances provide a fun and memorable experience for all who attend.
So if you are a student in Canada, don't miss out on your chance to strut your stuff on the dance floor!
---
Conclusion
So how many dances are there in high school?
In high school, there are typically a variety of dances to attend, including proms, homecoming dances, and other themed events.
From Homecoming to Senior Prom, these dances are essential pieces of the high school experience that will be remembered by all. Overall each school can have 2 – 5 dances a year.
Through the diverse range of dances available in this new era of dancing, students have more opportunities than ever before to show off their creativity and have fun!
Dancing brings people together in ways that cannot be explained and should not be forgotten – embrace the trend by attending at least one dance in high school and make it an unforgettable experience!
Let us know what your favorite dance is in the comments below.
---
Read More
---
---
---
How many dances are there in high school? Student Events (2023)
From discovering new songs to getting more gigs, I'm excited to share the wealth of knowledge I've gained through many years of DJing. [email protected]