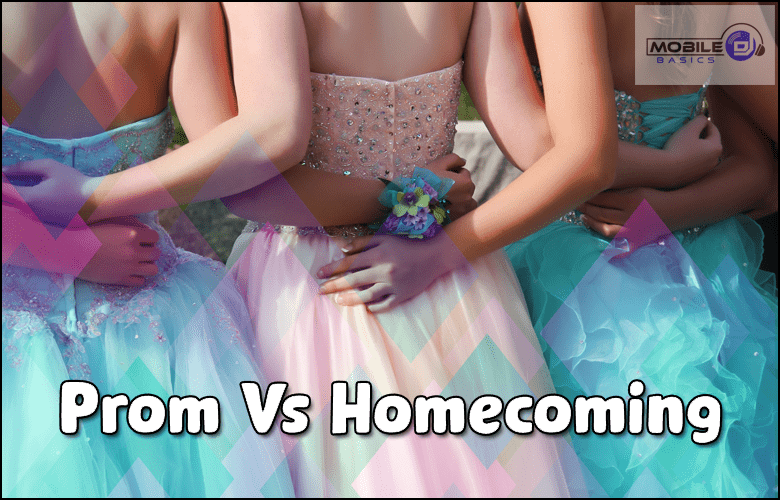 Last Updated on September 11, 2023 by Ryan Conlon | 🕒 3 min Read Time
---
Prom and homecoming are two popular events for high school students, but what's the difference between them?
Prom is typically seen as a more formal event, where homecoming is more casual. Prom usually involves a dinner or dance, while homecoming may involve a parade or football game.
Check out this post to learn more about what is the difference between prom and homecoming!
Prom Vs Homecoming
There's just something about prom that feels so incredibly special. Maybe it's the gorgeous prom or homecoming dresses, the dapper tuxedos, or the rushing excitement as you get ready to go.
Prom is definitely a night to remember! But what about homecoming? Is it any less special?
In some ways, I think homecoming may even be more special. Plus, there's usually a really fun after-party game plan too!
So which is right for you: prom or homecoming? Both have their own unique charms! 🙂
---
What is Prom?
Prom is one of the most highly anticipated events of the year for high school students. It is a chance to dress up in formal wear, spend time with friends, and dance the night away.
Although Prom can vary somewhat from school to school, it typically includes music, food, and plenty of photo opportunities.

When is Prom
Prom is typically held in the spring, around the months of April or May. This gives students a chance to enjoy the warm weather and get dressed up in their best clothes before the end of the school year.
Prom is usually held on a Saturday night, so that everyone can enjoy a night out without having to worry about school the next day.
Many schools will rent out a venue for their prom, such as a ballroom or banquet hall. Others might hold it at a local hotel ballroom or resort.
What is a prom king and prom queen?
In the past, high school proms typically crowned a king and queen. These were usually the students who were most popular and well-liked by their peers.
However, in recent years, there has been a movement away from this practice.
Some schools have replaced the king and queen with gender-neutral titles such as "royals" or "prom court." Others have done away with titles altogether.
---
What is Homecoming?
Homecoming is a long-standing tradition in many high schools, school alumni and communities. For high school students, it is usually a time to come back to their old high school and reconnect with old friends.
For college students, it may be a time to return to their hometown and show their family and friends how much they have grown.
Regardless of the context, homecoming is a time of celebration and a week long event. There may be special events, like parades, bonfires, football games, a school dance that can be a semi formal event or casual – people often wear clothing that shows off their school spirit.

When is Homecoming
Homecoming is an annual event that is held in the fall. It is typically held at the end of September or the beginning of October, and it coincides with the homecoming football game.
During Homecoming week, there are usually a variety of spirit days and other activities leading up to the big homecoming game and school dance.
On the day of the game, everyone wears their school colors and comes together to support their team.
Homecoming is a time to come together and celebrate your school spirit. It is a tradition that is enjoyed by students, alumni, and community members alike.
What does homecoming royalty do?
Homecoming royalty is typically made up of a homecoming king and homecoming queen, who are voted on by their classmates. Once crowned, the royal couple has a few duties to perform.
For example, they may be required to attend all homecoming week events, such as the pep rally and the homecoming games.
Do Freshman Go to Homecoming?
Freshman are sometimes allowed to go to homecoming, depending on the school. Some schools have a rule that only upperclassmen juniors and seniors can attend, but others include freshman in the fun.
Homecoming is a time to celebrate the start of the school year and show school spirit. It usually includes a Friday Night game, pep rally, and semi formal dance.
Prom is another event that is often exclusive to upperclassmen. It is a more formal affair, and couples sometimes wear matching outfits or rent limousines.
Hoco Meaning
The term Hoco is short for homecoming. Homecoming is a school dance that is in the fall, around the time of the football season. It's a tradition that dates back to the early 1900s, when colleges would invite alumni to come back to campus for a game.
These days, homecoming is often more about the dance than the football game. For many students, it's a chance to dress up and have a fun night out with friends.
And of course, it's also an opportunity to meet someone special or a chance to dance with your crush.
---
The Difference Between Homecoming and Prom

Homecoming and Prom are two of the most important events in a high school students social calendar.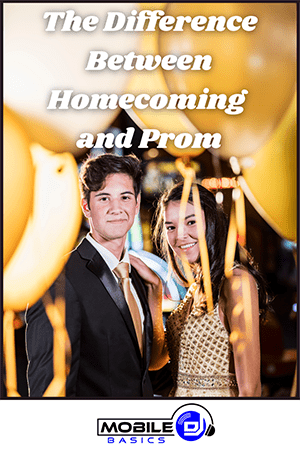 But what's the difference between the two?
prom is usually held at the end of the school year, while homecoming is during the fall.
Prom is also a formal event, where students typically wear a fancy prom dress,high heels, fancy sneakers, and suits. Homecoming, on the other hand, is more casual, with many students opting to wear their school colors or spirit wear.
Prom is also a "date night" where couples plan elaborate outfits and corsages/boutonnieres. Homecoming, on the other hand, is usually a group event, with students attending the game or dance with their friends.
---
Which event is more popular?
It's a question that has plagued high schoolers for generations: should you go to prom or homecoming? Both events have their pros and cons, but ultimately it comes down to personal preference.
Prom is often seen as a very formal event, with students dressing up in elaborate gowns and suits. Homecoming, on the other hand, is typically more relaxed, with students wearing casual attire.
Prom also generally takes place at the end of the school year, while homecoming is usually held earlier in the fall. As far as popularity is concerned, it's hard to say which event is more popular.
Some students prefer the formality of prom, while others prefer the laid-back vibe of homecoming.
---
Who typically attends each event
Prom is typically attended by high school juniors and seniors. Homecoming, on the other hand, is usually open to all students in a school, from freshman to seniors.
Both events typically involve dancing, music, and spending time with friends. Prom night may also include a dinner or other activities before the dance.
Homecoming usually takes place during the fall, while prom is typically held in the spring.
---
Which event is more expensive
There's no doubt that high school dances are a big expense. Between the tickets, the dress or tuxedo rental, and the pre-dance dinner, it's easy to see how the costs can add up. But when it comes to comparing prom and homecoming, which one is more expensive?
Let's take a closer look.
First, there's the cost of tickets. Prom tickets typically cost more than homecoming tickets, although this varies depending on the school.
Next, there's the cost of clothes. While prom dresses and homecoming dresses can be pricey, they don't have to be – there are plenty of affordable options out there. Tuxedo rentals, on the other hand, can be quite costly. Depending on your dance theme you might not need a tux or dress.
Finally, there's the cost of pre-dance activities. Prom typically involves a more formal dinner, which can add up quickly. Homecoming, on the other hand, often involves less expensive activities like going to a football or volleyball game the night before the dance.
While both prom and homecoming can be expensive events, prom is typically more costly overall.
---
What is the difference between homecoming and prom dresses?
Homecoming dresses and prom dresses both serve as formal wear for special occasions, but there are some key differences between the two.
Homecoming dresses are usually shorter than prom formal dresses, with hemlines that fall just above the knee. They are also typically less elaborate, with simpler silhouettes and fewer beads and sequins.
A prom dress, on the other hand, are usually floor length gowns with more elaborate designs or designer dresses.
While a homecoming dress can be worn in any color, a prom dress are often white or pastel-colored.
For a more casual event like homecoming, a shorter dress is usually appropriate, while a long, formal gown is better suited for prom.
Heels, Flats or Sneakers
For homecoming, many girls opt for comfortable shoes that they can dance in all night long. sneakers or flats are often the shoe of choice.
Prom night, on the other hand, is a more formal affair, and girls usually choose to wear high heels or dressier shoes.
---
How to choose which event to attend – Prom or Homecoming?
Whether it's Prom or High School Homecoming, these events are a cherished tradition for many students. But with so many dances on the calendar, how do you choose which one to attend?
Here are a few factors to consider:
Do you want to go with a date or group of friends? If you're planning on going with a date, Prom is typically the better option. Homecoming is often more casual, and it can be just as fun to attend with a group of friends.
What's your budget? Both Homecoming and Prom can be expensive, but Prom is typically the pricier option. If money is a concern, you may want to stick with Homecoming.
Are you looking for a night of dancing or an opportunity to socialize? If dancing is your priority, Prom is usually the better choice. Homecoming often includes other activities like football games or pep rallies, so it's more about socializing than dancing.
---
Conclusion
We hope this article has helped you understand the difference between prom and homecoming. Both events are a lot of fun, but they have different purposes.
We wish you all the best in your preparations for whichever event you choose to attend!
---
---
---
Read More
---
Pins for Pinterest
If you like what you see, feel free to share some love on Pinterest ❤️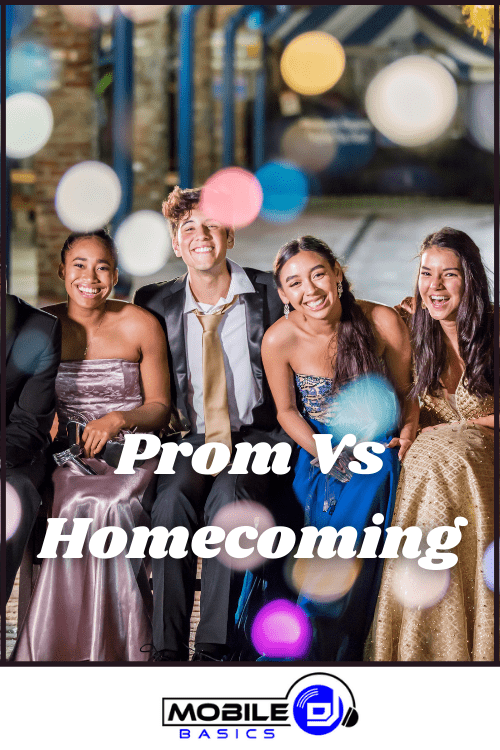 What is the Difference Between Prom and Homecoming? 2023
From discovering new songs to getting more gigs, I'm excited to share the wealth of knowledge I've gained through many years of DJing. [email protected]