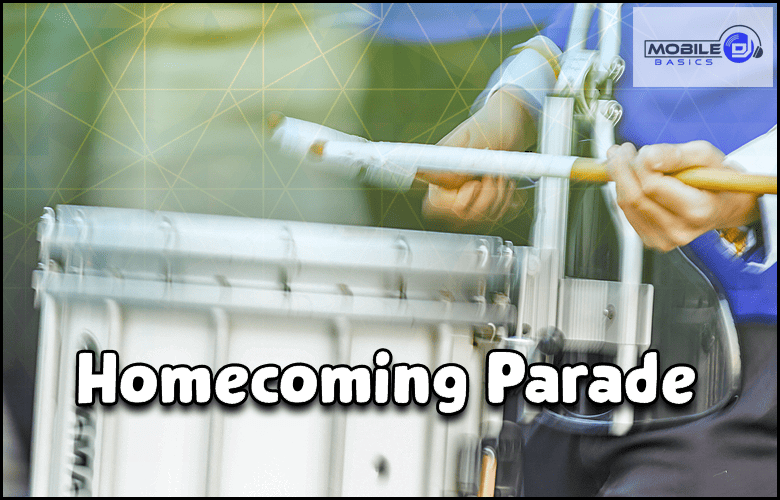 Ahhh, the smell of autumn in the air and excited high school students getting ready for their Homecoming Parade!
The planning, the preparations, and now the time has come when students can show off their pride and spirit.
From eye-catching floats to spirited marching bands playing upbeat tunes—it's sure to be a memorable parade for all.
Whether you're a student or parent looking for something special to do on an autumn day or just want to enjoy some vibrant entertainment before kickoff at your local game field —the Homecoming Parade during Spirit Week is full of surprises that will spark joy in everyone who attends it!
Homecoming Parade
The excitement was palpable as the marching band began to play, signaling the start of the Homecoming Parade.
Students stood in anticipation, lined up along the streets waiting for their classmates to pass by on the vibrant floats.
In a sea of school colors and cheers, friends waved to each other with uncontainable energy.
The football team proudly rode on their float, pumping up the crowd with chants and high-fives. Balloons and confetti flew through the air, creating a mesmerizing atmosphere of celebration.
As the last float drove by, the crowd burst into cheers knowing the night was far from over.
The parade was merely the beginning of a night full of unforgettable memories.
---
Exciting Activities to Make Your Homecoming Parade Unforgettable
Get ready to make your Homecoming Parade an unforgettable event! From vibrant floats to energetic performances, there are plenty of exciting activities to engage the crowd and boost school spirit.
Whether you're part of the marching band, cheerleading squad, or a club representative, this list of ideas will inspire you to create a memorable experience for participants and spectators alike.
So gather your school community, unleash your creativity, and get ready to celebrate in style at your Homecoming Parade!
Float Decorating: Gather a group of students, parents, and volunteers to decorate a parade float representing your school or a specific theme. Use colorful decorations, banners, and school spirit gear.
Marching Band Performance: Showcase your school's marching band by having them march and perform along the parade route. Include lively music and engaging routines to entertain the crowd.
Cheerleaders and Dance Teams: Feature your cheerleading squad and dance teams, who can perform high-energy routines and cheers throughout the parade, adding excitement and school spirit.
Sports Teams and Athletes: Include various sports teams and athletes from your school. Have them ride on floats or march alongside the parade route, wearing their uniforms and showcasing team spirit.
Homecoming Court: Highlight the members of the homecoming court by having them ride on a special float or walk along the parade route. Announce their names and recognize their achievements during the parade.
School Clubs and Organizations: Involve different clubs and organizations from your school, allowing them to showcase their activities and achievements. Each group can have their own creative floats or banners.
Community Involvement: Encourage local businesses, community organizations, and alumni to participate in the parade. They can have their own floats, walk as a group, or show support by cheering and distributing giveaways.
Mascot Appearance: Make sure your school's mascot is front and center, interacting with the crowd, and spreading cheer and enthusiasm. They can dance, take pictures, and engage with spectators.
Candy and Giveaways: Have participants along the parade route distribute candy, small trinkets, or promotional items to the spectators, enhancing the fun and excitement of the parade experience.
Spectator Engagement: Encourage spectators to dress up in school colors or spirit wear. Organize contests or interactive activities for them to participate in, such as trivia questions or cheers, to keep them engaged throughout the parade.
Local Bands and Performers: Invite local bands or performers to join the parade, adding variety and entertainment to the event. They can provide live music, performances, or interactive acts.
Safety Measures: Ensure proper safety measures are in place, including barricades, volunteers, and traffic control, to guarantee a smooth and secure parade experience for all participants and spectators.
Remember, these suggestions can be adapted and customized based on the specific traditions, resources, and preferences of your school and community.
Have fun, promote school spirit, and create a memorable Homecoming Parade experience for everyone involved!
---
Homecoming Parade FAQ: Answers to Your Questions
Q: What is a Homecoming Parade?
A: A Homecoming Parade is a festive event typically held during Homecoming week at high schools and colleges. It involves a procession of floats, vehicles, marching bands, sports teams, clubs, and other school organizations, parading through the community to celebrate school spirit and unity.
Q: Why is a Homecoming Parade important?
A: A Homecoming Parade serves as a centerpiece event during Homecoming week, fostering a sense of community, school pride, and tradition. It brings together students, alumni, families, and the local community to celebrate the school's accomplishments, support athletic teams, and showcase the diverse talents and organizations within the school.
Q: How can I participate in the Homecoming Parade?
A: There are various ways to participate in a Homecoming Parade. Students can get involved by joining their school's marching band, cheerleading squad, sports teams, or other clubs and organizations that are part of the parade. You can also volunteer to help with float decorations, distribute candy or giveaways along the parade route, or be a part of the Homecoming Court.
Q: How can our organization or club create a memorable float for the Homecoming Parade?
A: Creating a memorable float starts with a creative concept or theme that represents your organization or aligns with the overall Homecoming theme. Plan and gather necessary materials, decorations, and props. Involve members of your organization or club in designing and building the float, making sure to incorporate eye-catching visuals, school colors, and symbols that reflect your group's identity.
Q: Can the local community or alumni be involved in the Homecoming Parade?
A: Absolutely! Homecoming Parades often welcome the participation of local businesses, community organizations, and alumni. They can contribute by sponsoring floats, walking as a group, or showing support by attending the parade and cheering on the participants. Involving the broader community and alumni helps strengthen the bond between the school and its surroundings.
Q: How can we ensure safety during the Homecoming Parade?
A: Safety is paramount during the Homecoming Parade. Make sure to collaborate with local authorities, school administrators, and parade organizers to establish safety measures such as traffic control, barricades, and volunteer supervision. Communicate guidelines to participants regarding float safety, crowd interaction, and proper behavior throughout the event.
Q: How can we make the Homecoming Parade enjoyable for spectators?
A: To make the Homecoming Parade enjoyable for spectators, consider providing clear information about the parade route and timing. Encourage spectators to dress up in school colors, bring signs, and cheer for their favorite groups. Include interactive elements such as candy or giveaways distributed by participants, engaging performances, and opportunities for spectators to participate in activities or contests along the parade route.
Q: What are some additional Homecoming Parade traditions or activities we can consider?
A: Alongside the parade, you can incorporate other Homecoming traditions and activities such as a pre-parade pep rally, a post-parade community fair, a tailgate party, or a Homecoming football game. These events complement the parade and further enhance the festive atmosphere of the entire Homecoming celebration.
Remember to consult with your school's administration or Homecoming committee for specific guidelines, requirements, and traditions related to your Homecoming Parade.
---
Conclusion
Homecoming is a wonderful time for high school students to come together, celebrate their school spirit, and express pride in their community.
It marks the beginning of the exciting high school experience and helps foster lasting friendships and memories.
Seeing the parade of smiling faces and creative floats can be an inspiration to all involved, especially when there's such contagious energy.
Beyond that, it also has the potential to create deep-rooted connections within our local community.
All in all, homecomings are something we all look forward to that brings us joy and excitement on a yearly basis.
So let's all show our support and enjoy this year's high school homecoming parade!
---
Read More
Homecoming Parade | Fostering Unity & Memories to Last a Lifetime
From discovering new songs to getting more gigs, I'm excited to share the wealth of knowledge I've gained through many years of DJing. [email protected]