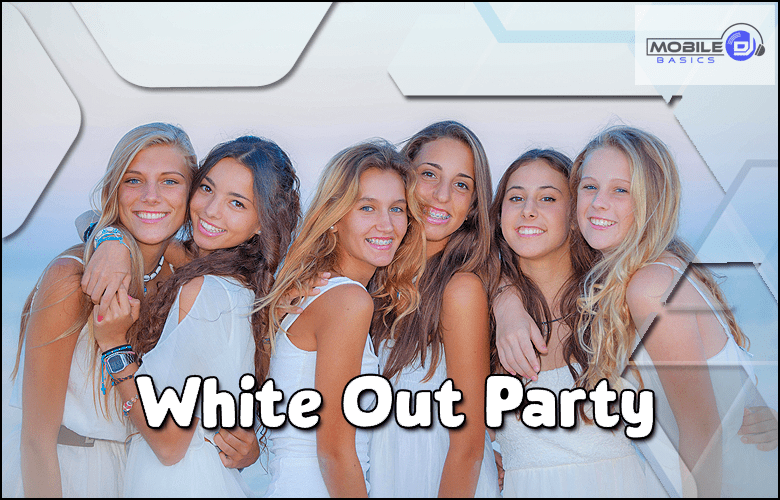 Last Updated on October 16, 2023 by Ryan Conlon | 🕒 3 min Read Time
---
Planning a white out party for your school dance is a fun and easy way to get everyone excited for the big event. By following a few simple steps, you can create an unforgettable party that will have your classmates talking long after the dance is over. So gather your friends and get planning!
The White Out Party is a new craze that has been sweeping the nation. White clothes, white food and white festivities – it's a party you won't want to miss! If you're going to be attending one of these school dances, make sure you know what to wear and how to plan for it. Have you ever thought about having a White Out Prom Theme?
In this article we will give some tips on what not to wear at a White Out Party, as well as provide an idea for planning your outfit. We'll also talk about other ways that you can stand out from the crowd at this type of event.
White Out Party Ideas
This type of party is perfect for any occasion, and there are endless possibilities for decor, activities, and food. Keep reading for some ideas to get you started.
Decorate with lots of white balloons, streamers, and lights.
Play games like Pin the Tail on the White Unicorn.
Serve drinks in opaque cups so they look snowy.
Put snow cones or shaved ice in bowls and let people help themselves.
Have a photo booth set up with fun props like fake mustaches, glasses, and hats.
Have a band play or set up a DJ to get the party started.
End the night with a big White Out dance party!
What are your favorite ideas for throwing a white out party?

---
White Decorations, White Food, and White Clothes
Are you looking for a fun way to decorate for your next party or school dance? Why not try a white out party! This theme is perfect for any occasion, and it's easy to pull off. All you need are some basic supplies and some creativity.
With just a few simple decorations, you can turn your home or school into a winter wonderland or a chic Summer Themed party! So grab your friends and family and get ready to celebrate in style!
Decorations
The party starts with the décor. Décor can be as simple or elaborate you want it to be, depending on your style and needs! When throwing a White Out Party, the possibilities for decorating are endless.
You can use different whites or white patterns in your decorations and have everyone come up with creative ideas to make it more interesting than just setting out some lights on tables!
Decorations can include:
Streamers
Balloons
Candles
Paper Lanterns
White dinner plates
White Christmas lights
You could go all out by bringing in white flowers
Get creative with white decorations and balloons. You can also use silver or other light colors to mix things up a bit. Go with white themed party supplies, treats in plain or white wrappers, or something similar.

Food for the Party
When throwing a White Out party, it's all about the white food! Check out this list of ideas for party food that will make your celebration special. From snacks to desserts, there's something for everyone.
Here are some ideas to get you started:
– White cake or cupcakes
– White frosting or whipped cream
– White chocolate chips or M&Ms
– Frosting in various shades of white
– White cheese (cheddar, Swiss, etc.)
– White pizza
– Creamy Alfredo pasta
– White cake with white icing
…and more! This list can go on forever. The possibilities are endless when it comes to the definition of "white food".
You could even do a White Out Party potluck style party where each guest brings their favorite type of white food, just make sure you have enough for everyone!

Planning Your Outfit for a White Out Party
White Out Parties are typically all-white dress parties. White is a very hot color for spring right now, so you may find that most people have planned their outfits around this homecoming theme already. The idea of being white out party ready isn't necessarily about wearing an entire white outfit (though it can be).
You could also wear one or two statement pieces in white and make the look work. Some ideas include: – White blazer with jeans – White top with trousers/jeans – White dresses Once you've chosen what to wear, don't forget your accessories!
White clothes (duh)
White shoes/socks/accessories
Bright colors will make you stick out like a sore thumb.
Avoid wearing logos or brand names.
If it's cold outside, layer up with sweaters and jackets instead of wearing bulky coats.
White clothing can easily get stained and look dirty
Bring a change of clothes in case you get too sweaty or if it starts raining.
When it comes to White Out Parties, the key is to dress in all white. This can be tricky though, because you don't want to look like you're attending a funeral!
Here are some tips on what not to wear:
Don't Wear Black – Since the whole point of the party is to be dressed in white, wearing black will make you stick out like a sore thumb. Save black clothing for other types of parties.
Don't Wear Bright Colors – Again, since everything else at the party is white, bright colors will just ruin the theme. White Out parties are all about blending in.
When attending White Out Parties, always keep the above things in mind! Dressing up can be fun and even beneficial because everyone will know that they're invited to an exclusive event if only those who were wearing white were allowed into the White Out Party.

---
Stand Out From the Crowd at White Out Parties!
When it comes to White Out parties, you want to make sure that you look good and blend in with everyone else. Here are some tips on how to stand out:
Wear White Shoes – The easiest way for someone standing across a crowded room during a White Out party is going to be spotting people wearing white shoes. Make sure yours match your outfit so that they don't stick out like sore thumbs.
Wear a White Vest – A white vest is a great way to make sure that you stand out from the rest of the crowd while not going too over the top. White vests can be dressed up or down, so they're perfect for any type of White Out party.
Accessorize with White – Accessories are always a great way to add some personality (and color) into an outfit, but when it comes to White Out Parties it's important to stick with all-white accessories. This will help keep everything toned down and in line with the party's theme. White hats, scarves, belts and bags are all perfect accessories to help you stand out at a White Out Party without going over-the-top.
White Out parties are great for those who like to keep their outfits toned down, but they're also the perfect place for people who want to stand out in a sea of white. White gives everyone an equal chance at looking good, so make sure you take advantage!
---
Music – What to look for in a DJ
Choosing the right DJ for your school dance or party is not an easy decision. With so many DJs to choose from, how do you know which one will be best? There are a number of things that should consider before making this final decision on what company or individual could provide the best music and entertainment at an event like yours!
When you are looking for a DJ to catteries or school dance, there are certain considerations that need attention. These tips should help narrow down your options so all students can find what they're searching!
Song requests – If you plan on providing a list of songs, the DJ should be willing to play them all. You'll want a DJ who will work with your schedule and provide an efficient entertainment experience for everyone involved. This is also important if you have any special announcements or speeches – make sure they can accommodate those as well!
Music Selection – DJs come with different levels of experience and knowledge about certain types of music. Some might specialize in Top 40 hits, while others might have a wider range including brand new songs, TikTok Hits, and international tracks. It's important that you find one who has a good mix of songs that will keep everyone on the dance floor all night long!
Lighting – The dance floor lights are what really set apart certain DJs from others. They give the party that extra sparkle that sets it apart from most other parties throughout high school. Whether it's different color spotlights during slow dances, black light effects at white out parties, UV Lights for a Black Light Dance or colored strobe lights everywhere else – these options can greatly enhance the visual effect of your dance.
Sound Equipment – One of the most important things to consider when choosing a DJ is the sound quality. They need to have the right equipment to accommodate your crowd.
Price – DJs can vary widely in terms of price, so it's important to find one that fits within your budget. However, just because a DJ is cheaper doesn't mean they're the best option – make sure you consider all of the other factors as well!
We hope this list helps you when choosing a DJ for your school dance. Keep these things in mind and you're sure to have a night that everyone will remember!
---
Conclusion
To make your White Out Party a success, plan in advance and keep the following tips in mind. This will help you avoid last minute scrambling or failure to provide enough food for guests that arrive at different times during the party.
If you're looking for more inspiration check out Pinterest where there are hundreds of posts from other bloggers sharing their own creative white out party ideas.
---
---
---
Read More
---
Pins for Pinterest
If you like what you see, feel free to share some love on Pinterest ❤️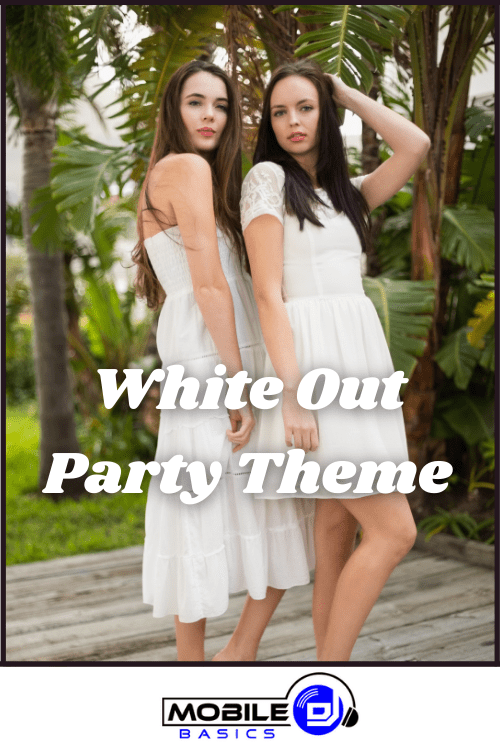 Fun White Out Party Ideas – Décor, Menu and What to Wear 2023
From discovering new songs to getting more gigs, I'm excited to share the wealth of knowledge I've gained through many years of DJing. [email protected]