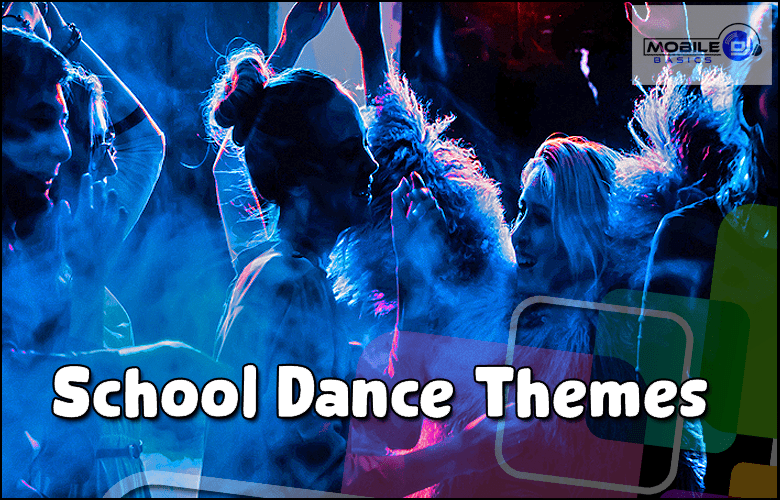 Last Updated on October 16, 2023 by Ryan Conlon | 🕒 4 min Read Time
---
School dance themes can make the celebration of back to school or the end of the school year even more exciting and memorable.
While school dances are a beloved tradition, many students find themselves feeling anxious about what to wear, whether they can afford it, and if their date will come through.
However, with the right themes, students can feel confident and empowered in their wardrobe choices, enjoy the festivities with their peers, and create lifelong memories.
From vintage Hollywood glamour to tropical paradise, the possibilities for dances are endless.
Plus, themed school dances often include exciting decor, engaging activities, and delicious refreshments that are sure to make the night unforgettable.
---
Classic Dance Themes
High school dances can be one of the most memorable events for any student during their four year journey.
From Freshman Prom to Senior Ball, having unique themes and decorations is key to making these events extra special.
If you're struggling to find fun and creative theme ideas, why not check out some classic high school party themes that are sure to make your proms or homecomings stand out in a crowd?
Whether you decided on an 'Under The Sea' themed event or want your guests embracing their wild side at the 'Jungle Safari' bash – there are plenty of amazing concepts that will bring life into any high school dance.
Timeless Themes for a School Dance
A Night in Paris: Transport students to the city of lights with romantic decorations and French flair.
Masquerade Ball: Encourage attendees to wear masks and formal attire, with a grand and mysterious ambiance.
Hollywood Glamour: Roll out the red carpet for a night of stars, emulating the glitz and glam of Tinseltown.
Under the Sea: Transform the dance floor into a deep-sea adventure with ocean-inspired decorations.
Casino Night: Incorporate gaming tables and a Vegas-style atmosphere.
Tropical Theme: Create a paradise with beach-inspired decor, tropical flowers, and a laid-back island vibe.
Black Light/Neon Glow Party: Bright colors, UV lights, and neon decor can make the night unforgettable.
White Out Party: Encourage attendees to wear all white while the decorations and lights contrast in bold colors.
Around the World Party: Highlight different cultures with themed areas representing various countries.
Roaring 20s/Great Gatsby: Bring back the elegance and glitz of the Jazz Age.
Decades Dance: Choose a specific decade like the 50s, 70s, 80s, or 90s and have everyone dress up in that era's fashion.
Winter Wonderland: This theme can work well if your dance is in the cooler months. Think ice sculptures, snowflakes, and a cool color scheme.
Outer Space/Galaxy: Decorations could include stars, planets, and nebulas. Think dark colors with bright accents.
Wild West: Cowboys, saloons, and country music could set the stage.
Harry Potter/Magic School: A popular theme, especially if the attendees are fans. Houses could be represented as well.
Comic Book/Superheroes: Attendees can dress as their favorite characters, and decorations can include comic strip-style visuals.
Carnival/Circus: Consider games, popcorn, and brightly colored decorations.
Medieval/Renaissance: Knights, princesses, and a castle-like environment can be very engaging.
Haunted Mansion: Perfect for dances near Halloween, with eerie decorations and costumes.
Jungle Safari: Animal print decorations, plants, and jungle sounds can create a fun and wild atmosphere.
High school dances are not just any regular parties; they are the events that students will remember for years to come.
To make your prom or homecoming unforgettable, you need to spice up the scene by exploring creative ideas for decorations and themes.
However, brainstorming new concepts annually can be challenging, especially when you are feeling the pressure to top the previous year's extravaganza.
---
Popular School Dance Themes
School Events are one of the most important events in a student's life. It is something that every student looks forward to with excitement and anticipation.
There are plenty of dance theme ideas to choose from, including retro dance, Bollywood night, Masquerade ball, Hawaiian Luau and many more.
These unique dance ideas create a mood and ambiance that is both fun and thrilling for the school's young dancers.
In fact, school themes are an integral part of every school dance as it helps to set the mood and tone of the entire event.
Bright Colors
80's themed school dance
A sweet sixteen theme for a junior/senior formal
Hollywood glamour party theme for a homecoming dance
Other ideas: beach, masquerade ball, winter wonderland and more!
As homecoming season approaches, high school dance committees scramble to find unique dance themes that will make this year's event unforgettable.
The Great Gatsby and Disco Fever have been popular themes in the past, but this year they are looking for something truly unique.
Some committees have brainstormed themes like "Enchanted Forest," "Winter Wonderland," and "Under the Sea" to create a magical night for students.
Bonus points are awarded if they can incorporate disco balls and other fun decorations to enhance the experience.
The best part of homecoming is making the best memories with friends, and a unique theme can elevate those memories to something truly special.
---
What to Wear to School Dance
Planning – Now it is time to start thinking about what kind of outfits your guests will wear.
Will there be a dress code? If so, make sure to communicate that early on and give people enough time to get their outfits together.
Attending – There are a few things to keep in mind when choosing what to wear to a school dance. First, dress appropriately for the theme of the dance.
If there is no specific theme, choose something that is stylish and age-appropriate.
You also want to make sure you feel comfortable in your outfit – dancing all night is much more fun when you're not worrying about your dress.
Recently, at a school they hosted a casual dance that was a huge hit among students.
The theme was "Bright Colors" and everyone showed up wearing their most colorful outfits.
Additionally, the school held an award show during the dance where students were recognized for their academic achievements and extracurricular activities.
The atmosphere was lively and festive, making it a memorable night for everyone who attended.
---
Decorations for your Dance
Once you've decided on a theme, it's time to start thinking about what kind of decorations and outfits you'll need.
If your theme is for a particular season or holiday, make sure to incorporate those elements into your decorating scheme.
For example, a winter wonderland themed dance could have lots of fake snow and icicles hanging from the ceiling, while a beach party might have sandcastle centerpieces and seashells scattered around the room.
If you're on a budget, there are lots of great DIY decorating ideas that can help you save money without sacrificing style.
For example, instead of buying expensive centerpieces or balloon decorations, try making your own using things from the dollar store or last years decoration.
The DJ company you hire might be able to help you with lighting and decorations. Ask them about their different packages.
---
What Are Some Easy Themes for a School Dance?
Some popular ideas include masquerade balls, '80s night, Neon, White Out, or beach party theme.
If you're looking for a less specific school dance theme idea, another option is simply to choose a color scheme and go from there.
This can be as simple as picking two colors and incorporating them into everything from your decorations down to your dress code.
For example, if you want a pink and black themed dance party, try decorating with lots of black and hot pink balloons, streamers, lights, etc., and suggest that everyone wear something in those colors.
Make sure to start thinking about your plans as early as possible, and don't be afraid to ask friends or family members for help.
---
What Can You Suggest for a Budget Theme?
School events don't need to be stressful – just think about how amazing it will feel when everyone shows up in their best clothes knowing that they're going to have an awesome night!
Dances don't have to break the bank! There are lots of ways you can save some cash and still throw an awesome dance party, so we've compiled a list of our favorite tips and tricks below:
Pick out your theme or color scheme before finalizing anything else.
This way, you'll avoid having to buy tons of decorations that aren't quite what you were looking for in the first place.
If you're looking for an easy way to dress up the room without spending a lot of money, consider investing in some streamers or balloons.
Another great way to save money is by having the dance party at your school instead of renting out a hall or venue.
---
How do you make dances more fun?
To make middle school dances and High School dances more fun, there are plenty of ideas to incorporate different elements that students will love.
First and foremost, the décor can have a big impact on the mood and overall experience. Setting up a red carpet entrance with twinkle lights and palm trees creates a tropical island vibe.
This can be further enhanced with bright colored stripes and backdrop props that add depth and excitement to the space.
A painting station could be created where students could paint their own palm tree or beach scene. Or a carnival area could be designated with plenty of cotton candy and prizes to be won.
An awards ceremony could be held where students receive beads, necklaces, and glow bracelets for their participation and success.
For snacks and treats, a blue punch station could be set up with a variety of colorful and tasty options.
Plenty of food options can also be made available, such as a snack bar with different snacks like chips, popcorn, and candy.
Characters or different themes could be introduced, such as a beach party.
Masks could be handed out to add to the overall island ambiance.
Overall, by creating an environment where there are plenty of activities and interaction opportunities, students will become more engaged and invested in the dance.
With a few well-placed snacks, decorations, and fun activities, dances can be transformed into spectacular events that capture the imagination of every student.
---
Hire the Best DJ for Your School Dance
Whether you're planning your school's homecoming dance or any other formal event, hiring a DJ is a great way to ensure that everyone has a good time.
But with so many DJs out there, how do you choose the right one for your event? Here are some tips on how to find and hire the best DJ for your school dance.
First, start by evaluating your needs.
What kind of music do you want played at the dance?
Who will be providing the sound equipment?
Will the DJ need to provide lighting as well?
Benefits of a professional DJ
DJs can provide a lot of expertise when it comes to music for dances.
A DJ can also help to make sure that the evening flows smoothly and is on schedule.
Make sure to find a DJ who has experience working School events, not just weddings! This will ensure that they know how to work with a younger crowd.
Ask the DJ for references from other clients or listen to some samples of their past work. This will give you an idea of what they are capable of and if their style matches what you are looking for.
A good DJ can help keep the party going all night long, and make sure that everyone has a great time.

---
Conclusion
We have compiled some of the most popular and best selling themes to help your event stand out from all other dances this year.
We hope this article has helped provide some useful information and inspiration for your upcoming school dance party!
---
---
---
Read More
---
Pins for Pinterest
If you like what you see, feel free to share some love on Pinterest ❤️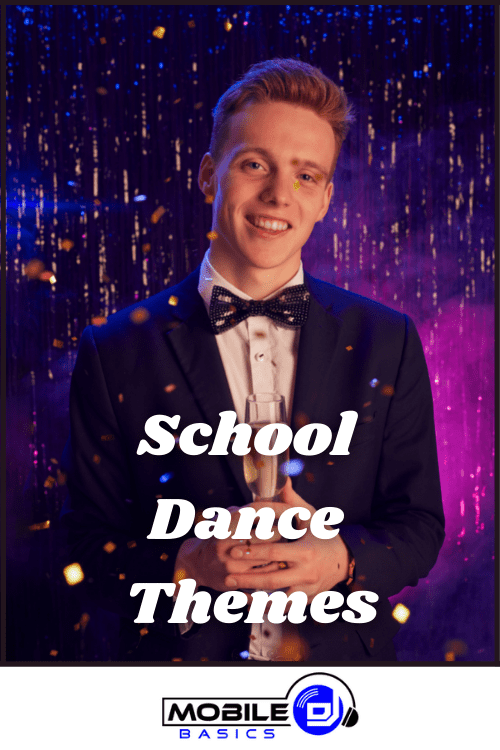 20+ Best School Dance Themes | Budget Saving Ideas 2023
From discovering new songs to getting more gigs, I'm excited to share the wealth of knowledge I've gained through many years of DJing. [email protected]