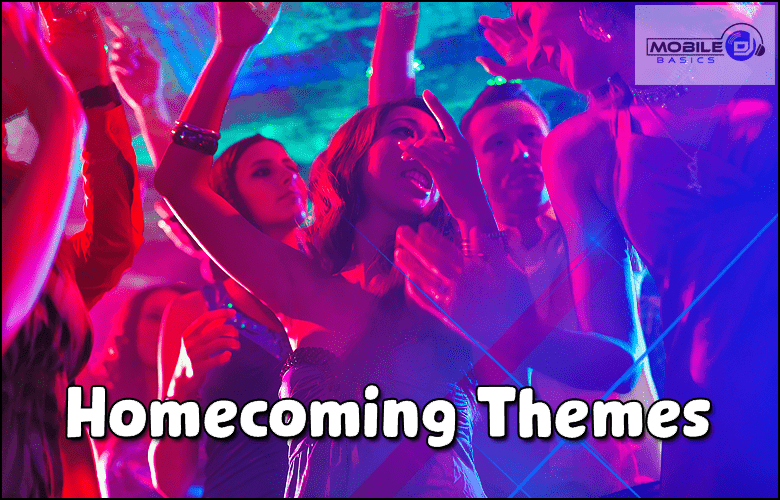 Last Updated on September 11, 2023 by Ryan Conlon | 🕒 5 min Read Time
---
Homecoming themes can range from traditional motifs like "Under the Sea" to more contemporary choices like "Neon Nights," "Dreamland," or "Boho Chic."
No matter what the theme, students always show up ready to be dazzled by the elaborate decorations, costumes, and music.
Homecoming is a time for celebration, reuniting with old friends, and creating new memories.
One of the most exciting aspects of homecoming at any school is choosing the perfect theme for the big dance.
The theme sets the tone for the entire night, bringing students together in a spirit of camaraderie and festivity.
So start brainstorming, grab some friends, and get ready to dance the night away at this year's unforgettable homecoming event!
Best Homecoming Themes
Every year, schools across the country host homecoming events.
There are so many different themes that can be chosen for a dance and it's important to choose one that will appeal to students as well as teachers and staff members.
In addition, if you're hosting a themed event there is an added element of decorating involved which adds even more fun!
Let us help broaden your perspective with some great theme ideas from our guide below:
Hollywood Night
Beach Party
Retro Night
Carnival Night
Starry Night
Movie Night
Under the Sea
Space/Science/Stem
Marvel
Around the World
A Night in Paris
Back to the Future
Club Homecoming (Dress as your favorite celebrity)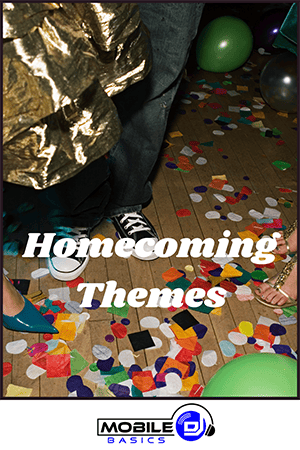 Discover the hottest homecoming themes for your school! Get inspired by our top picks and let your students decide on their favorite one.
Empower your student body by giving them the opportunity to vote for the perfect theme for your special event or for Prom.
The most popular homecoming theme in the US in 2019 was "A Night in Paris", chosen by 17% of schools.
The second most popular homecoming theme in the US in 2019 was "Under the Sea", chosen by 15% of schools.
The third most popular homecoming theme in the US in 2019 was "Around the World", chosen by 12% of schools.
The fourth most popular homecoming theme in the US in 2019 was "A Night at the Movies", chosen by 10% of schools.
The fifth most popular homecoming theme in the US in 2019 was "Masquerade Ball", chosen by 8% of schools.
The sixth most popular homecoming theme in the US in 2019 was "A Night in Vegas", chosen by 7% of schools.
Homecoming week at our high school was filled with fun and excitement as we celebrated with various activities and events.
The highlight of the week was undoubtedly the spirited spirit week where students donned their craziest outfits and showed off their school pride.
We also had candy stands set up throughout the school, reminiscent of a carnival or circus.
One of the themes for the homecoming dance this year was "Disney and Fantasy," which made for a magical evening.
The decorations included elements from popular Disney movies like Cinderella, Beauty and the Beast, and Aladdin, as well as fantasy worlds like Harry Potter and Lord of the Rings.
It truly felt like we were transported into a fairytale.
Another memorable theme was "New York and Superheroes." The dance floor was transformed into a cityscape complete with replica skyscrapers and Broadway signs.
Students dressed up as their favorite superheroes like Superman, Spider-Man, and Wonder Woman and danced the night away.
We also traveled back in time with the "Decades" theme, where students dressed up in outfits from the 60s, 70s, 80s, and 90s.
The gym was decorated with vintage posters, records, and disco balls to create a nostalgic atmosphere.
For those who wanted to escape to a different world, the "Enchanted and Arabian Nights" theme transported us to a mystical realm with flying carpets, exotic lanterns, and luxurious fabrics.
The dance had a Middle Eastern flair with belly dancers and traditional music.
The "Jungle and Euphoria" theme was also a hit, as students were encouraged to dress up as their favorite animals and dance to a wild rhythm.
The gym was decked out in greenery, vines, and animal prints, making us feel like we were in a tropical paradise.
One particularly creative theme was "Alice in Wonderland and Western," combining two very different worlds into one.
The dance floor was split in half, with one side decorated as a whimsical fantasy world and the other as a dusty western frontier.
---
Popular Themes for Homecoming

Homecoming is the momentous occasion for high schools and colleges across the United States, where students celebrate their school spirit and coming together as a community.
Excitement for the homecoming party is always high, as students eagerly anticipate the opportunity to dance, socialize, and let their hair down.
One of the most engaging aspects of the festivities is the homecoming theme, often chosen by the student council or entirely student-driven.
Students often put considerable thought into selecting unique homecoming themes, such as "Garden Party,""Winter Wonderland," "Magical Night Under the Night Sky," or "Casino Royale" with card games. Other popular themes are "Mardi Gras," "the little mermaid," and even a "comic book."
Regardless of the chosen theme, one can expect the school gym to be transformed into a stunning and imaginative space where lifelong memories are made.
Decades (80s, 90s, 70s) – Attendees could dress in attire from the chosen decade.
Storybook Fantasy – Could be specific (like Alice in Wonderland, Harry Potter) or general.
A Night on the Titanic – Vintage and elegant, revolving around the iconic ship.
Jungle or Safari – Animal print decorations and tropical plants.
Winter Wonderland – A cool change if your homecoming is in the fall.
Roaring 20s/Great Gatsby – A classy and jazzy era to revisit.
Under the Sea/Aquatic – Decorations can include marine life, bubbles, and blue lights.
Broadway/Musicals – Based around popular musicals or the idea of Broadway.
Candyland/Sweet Dreams – Bright colors, oversized candy decorations.
Around the World – Different areas of the dance could be themed after different countries or cultures.
Halloween – If your homecoming falls close to Halloween.
Circus/Carnival – Fun and games, bright colors, circus tents.
Hawaiian Luau – Hawaiian shirts, leis, tropical decorations.
Superheroes vs Villains – Everyone picks a side and dresses accordingly.
Video Game/Esports – Based around popular video games or gaming culture in general.
Anime/Manga – Japanese pop culture is always a hit with many students.
Music Genres – Different areas could represent different music styles, or it could be centered around one popular genre.
Pirates – Sea and pirate decorations, treasure chests, costumes.
Greek Mythology/Olympus – Greek gods and goddesses, laurel wreaths, marble columns.
Post-Apocalyptic – A little different, but can be very fun with dystopian or futuristic decorations.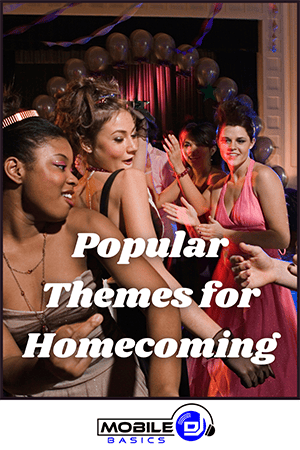 As the homecoming planning committee gathered, they brainstormed party ideas to ensure a successful and memorable homecoming night.
After much discussion, they agreed that choosing the right homecoming theme was crucial to boost school spirit and engagement in school events.
To make the night even more exhilarating, the committee recommended a fun theme where students could wear costumes and don fun masks on the dance floor.
With their creativity ignited, the committee was ready to execute their plans for a night to remember.
---
Exploring the Significance of Homecoming Themes
It's that time of year again–the leaves are changing, the weather is cooling down and football seasons have kick-started. It can only mean one thing: homecoming season is here!
High school homecomings offer an exciting opportunity for students to come together with their classmates and celebrate the start of a new school year.
But it's not just about the tailgate food or traditional three-legged race; selecting a clever theme sets up your homecoming dance to make lasting memories.
From 'Under The Stars Gala' to 'Great Gatsby Soiree', each custom theme has its own special flair—incorporating fun decorations, music choices, dress styles and more!
To help you plan the perfect event, let's dive deeper into these unique approaches to discover why creative themes are so important for that unforgettable night.
Homecoming themes are typically chosen by student councils or other student organizations at the beginning of the school year.
Themes can range from classic, like "A Night in Hollywood" or "A Night at the Beach", to more modern and creative themes like "A Night in Outer Space" or "A Night in the Wild West".
Homecoming themes are often used to create a sense of unity and school spirit among students.
Many schools use their homecoming themes to create decorations, activities, and even food for their homecoming events.
Homecoming themes can be used to create a unique atmosphere for the event and to encourage students to dress up in costumes or other attire that fits the theme.
Schools often use their homecoming themes to create a fun and memorable experience for their students.
Homecoming themes can also be used to raise money for the school or for charitable causes.
---
Homecoming Budget Friendly Themes
Homecoming isn't just a dance that you go to with your friends, Homecoming is also an event that can be planned and executed by the whole school.
It's one of those things where every person in the community gets involved, from students and teachers to parents and alumni!
While it might seem like planning Homecoming would need a huge budget, there are lots of dance themes that can be incorporated into the event without costing too much.
Casino Night (Dress all in black and white)
Retro Prom (Dress like it's 1985—the best year ever!)
Diner Party (Mimic a 1950s diner scene with your Homecoming decorations)
The Great Gatsby (Decorate in 1920s style, have a live band playing jazz music)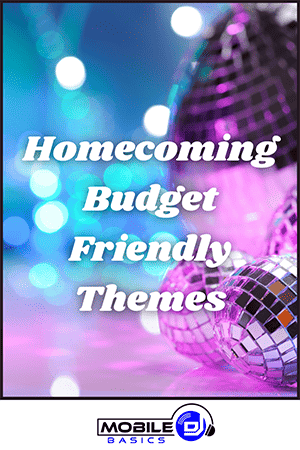 There are so many different Homecoming ideas out there, you're sure to find one that fits your school's needs. If the theme is something simple but creative, it will be easy on your budget.
Other themes from the past – Winter Wonderland, Carnival Theme, Masquerade Ball, Red Carpet, and the Great Gatsby.
Homecoming is a great way to bring the whole school together and everyone will be excited about the party – whether you're playing old school music, serving pizza, or creating a casino themed Homecoming.
Your Homecoming decorations don't have to break the bank either; all you need are some cheap supplies from a party store or dollar store if you want to get really frugal.
The best thing about Homecoming week is that it doesn't have to be expensive or elaborate to be a lot of fun!
---
The Evolution of High School Homecoming Dance Themes
In the early days of school homecomings, the themes were generally based on familiar stories.
For example: common themes included "A Midsummer Night's Dream" or "Snow White and the Seven Dwarfs."
However, as time went on and students became more creative, the themes began to reflect current popular culture. One notable example is the 1990 theme of "The Wizard of Oz," which was based on the then-popular movie.
In recent years, homecoming dance themes have become even more creative, with students often choosing to base their themes on specific TV shows, movies or coming up with an unique theme.
As a result, the history of high school dance themes is a reflection of the changing tastes of high school students over time.
School Dances were more Formal
In the past, school dance themes were typically more formal and based around a specific event or time period.
For example, some popular themes included "A Night at the Oscars" or "The Roaring 20s."
However, in recent years there has been a shift towards more casual and unique themes. While some schools still stick to tradition and choose a formal theme, others are opting for something different.
Homecoming Past Traditions
The Rich Cultural Legacy of a Timeless Tradition
Homecoming is a cherished American cultural tradition that has been celebrated for over a century in colleges and universities across the country.
This festive occasion is an opportunity for alumni, students, and staff to come together and celebrate their shared experiences, reminisce on their time on campus, and strengthen the bonds of their community.
Over the years, homecoming has evolved into an elaborate spectacle, complete with parades, tailgates, and football games.
But the roots of this beloved tradition run much deeper than just these festivities.
Homecoming Court is an exciting annual tradition in high schools and universities, where students nominate and vote for their classmates to represent them as royalty during the game.
The homecoming court members are usually selected based on their leadership skills, academic achievements, and involvement in school activities.
The event is marked with a grand celebration, where students don exquisite dresses and suits as they pose for photos with their proud parents and excited family members.
The night is filled with delicious food and drinks as the homecoming court rules the dance floor, making unforgettable memories.
---
What makes a great homecoming theme?
A great homecoming theme is more than just a catchy phrase or a colorful banner.
It's about creating an atmosphere that gets everyone in the mood for a fun and memorable celebration. A great theme should inspire creativity, whether it's through decorations, costumes or activities.
It should also be inclusive, meaning that everyone feels included and excited about the theme, regardless of their interests or background.
Additionally, a great homecoming theme should reflect the values and personality of the school, whether it's through incorporating school colors or symbols.
---
How Do You Make Homecoming Fun?
Homecoming is an exciting time for high school students. With so many different themes out there, you're sure to find one that fits your school's needs. If the theme is something simple but creative, it will be easy on your budget!
You can't have a great school dance without an awesome DJ! There are some really talented DJs out there who specialize in entertaining teens at their school dances.
You don't want to settle on just any old tunes, though – make sure they keep the crowd moving and have plenty of variety so everyone has something different each time you dance together as well as throughout all night long.

---
How Do You Organize a Homecoming Week?
Homecoming events are typically organized by Homecoming committee. They work with the school administration, student government and parent groups to make sure that all of their Homecoming needs are met.
What theme should my school choose? There is no one-size-fits-all answer to this question; your school will need to choose a theme that reflects their unique personality.
However, some of the most popular themes include colorful decor: Masquerade Balls, Hollywood Nights, Casino Nights, Beach Parties and Retro Proms.
---
What are some unique homecoming traditions?
As autumn approaches, high schools and universities begin to gear up for their annual homecoming festivities.
While homecoming generally involves football games, parades, and dances, there are some unique traditions that add an extra touch of excitement to the celebration.
These traditions add a fun and memorable aspect to the already exciting homecoming festivities.
---
Conclusion
Homecoming is one of my favorite parts of the school year because it's a time when we can celebrate school spirit and have a fun school dance.
It's important to know what is most popular with current trends in the homecoming world so you can plan your homecoming week accordingly. Our article has given you some of our favorite themes for this year, and we hope that it helps!
We've also provided tips on how to incorporate these homecoming theme ideas into a budget-friendly celebration.
So what are you waiting for? Start planning your Homecoming Events today!
---
---
---
Read More
---
Pins for Pinterest
If you like what you see, feel free to share some love on Pinterest ❤️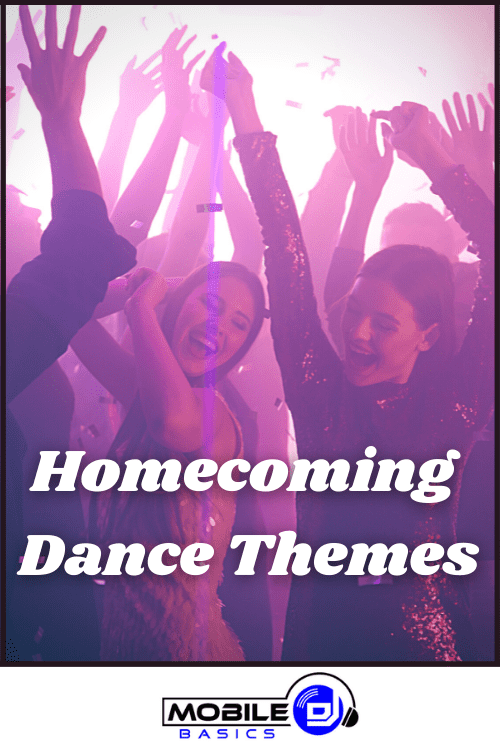 40+ Best Homecoming Themes | Budget Friendly Dance Themes 2023
From discovering new songs to getting more gigs, I'm excited to share the wealth of knowledge I've gained through many years of DJing. [email protected]