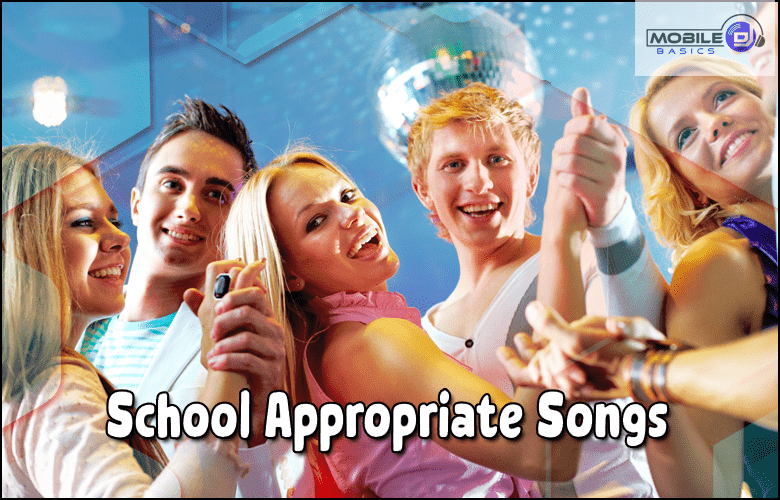 School dances are an excellent opportunity to get together with friends and socialize. Most schools offer at least one dance per year, but you might need some help planning your event!
It can be hard to find appropriate clean songs for school events. You want something that will get everyone up and dancing, but you don't want anything too inappropriate.
This article talks about some School Appropriate Songs that you might want to consider playing at your school dance!
School Appropriate Songs
Playing the right (Clean) songs for your school events will allow students to have a good time at the dance without feeling self-conscious or embarrassed by the music.
Appropriate music also help teachers plan the event without having to worry about any complaints from parents, teachers, or administrators.
Age appropriate music is a great way to make school dances more fun for everyone involved. However, I think that there can be some confusion about what qualifies as a "school-appropriate" song.
I believe that any song can be played at a school dance as long as it is appropriate for all ages. This means that the lyrics and the images in the music video should be appropriate for a school setting.
Others might think that there are specific types of songs that are better suited for school dances. These songs might be more upbeat and have cleaner lyrics than regular songs.
Here's a guide to what kind of pop songs you should play at your school dance.
Some Clean Current Upbeat School Dance Songs:
BTS – Permission to Dance
TONES AND I – DANCE MONKEY
Crazy Frog – Tricky
Olly Murs – Dance With Me Tonight (TikTok)
Dua Lipa – Levitating
Coldplay X BTS – My Universe
Walker Hayes – Fancy Like (TikTok)
Jonas Brothers – What A Man Gotta Do
The Weeknd – Blinding Lights
THE ANXIETY, WILLOW- Meet Me At Our Spot (Tiktok)
BTS – Dynamite
JoJo Siwa – It's Time To Celebrate
Lady Gaga – Rain On Me
These songs are all upbeat and have clean lyrics (Radio Edit) that are appropriate for a school setting. Student friendly songs help to create a more festive and fun atmosphere at school dances.
Age Appropriate Slow Songs:
Olivia Rodrigo – traitor
Forest Blakk – If You Love Her
Madison Beer – Reckless
Justin Bieber – Holy
Andy Grammer – I Am Yours
Blake Shelton – Nobody But You
Justin Bieber – Ghost
AJ Mitchell – Slow Dance
Luke Combs – Better Together
Lewis Capaldi – Before You Go
Surf Mesa, Madison Beer – Carried Away
Shawn Mendes – Wonder
Ed Sheeran – Perfect
P!nk, Willow Sage Hart – Cover Me In Sunshine
Andy Grammer – Don't Give Up On Me
School-appropriate songs also give teachers peace of mind when choosing music because they know the lyrics will be safe for all ages in attendance.
The bottom line is this: School-appropriate songs offer both students and teachers something enjoyable to do during their dance experience without any worry or fear of embarrassment!
Always Play Clean Versions of Songs at you school events.
---
What is the Best School Appropriate Song?
So, what is the best school dance appropriate song?
There are so many different songs that could be considered school appropriate, it's hard to choose just one.
So,we are going to list our some of our favorite Classic songs:
Village People – YMCA
Los Del Rio – Macarena
Journey – Don't Stop Believin'
Rednex – Cotton Eye Joe
PSY – GANGNAM STYLE
Some people might argue that Village People – YMCA is the best school appropriate song. Others might say that Los Del Rio – Macarena is the perfect tune to get students in the dancing mood. And still others might say that Cupid – Cupid Shuffle is the ultimate school dance song.
What is your favorite song that always gets you dancing?
---
What Are Some Good Clean Fast Songs?
School is a time to learn. School is also a time for students to socialize and relax with other kids in the same grade, age range, or school year level. This means that songs become popular among groups of people often have messages that are not entirely appropriate for schools.
The lyrics penned by modern music artists often contain messages about violence, drugs, alcohol consumption and sexual behavior which schools do not condone. As a result, many instructors remove certain songs from school dances to avoid influencing others with bad ideas in their music selections.
Here are some good clean fast songs.
Taylor Swift – Shake It Off
Cupid – Cupid Shuffle
The Black Eyed Peas – I Gotta Feeling
Miley Cyrus – Party In The U.S.A.
DJ Casper – Cha Cha Slide
Sia – Cheap Thrills
Darude – Sandstorm
B.o.B – Magic
Mark Ronson – Uptown Funk
Meghan Trainor – Better When I'm Dancin'
WALK THE MOON – Shut Up and Dance
Justin Bieber – What Do You Mean?
Pharrell Williams – Happy
Justin Timberlake – Can't Stop The Feeling!
School appropriate clean songs are, therefore, ones that do not have any mature or violent lyrics that would be inappropriate for young people. They also should not contain references to drugs, alcohol, sex, or politics.
---
A Little About School Dances
School dances generally have the same features as any other type of dance party—tunes playing in the background, people on the floor moving around, snacks or a vending machine off to the side… There are a few differences between these parties and ones thrown by older people.
School dances can feature all different types of music—from rap to country, and everyone has a good time – but there are some rules about what is and isn't appropriate to play at your school dance .
Dances are an excellent opportunity for friendships within your grade level to grow closer. The older folks have their own special name for this type of dance party: the "school social."
---
What Kinds of Songs Can I Play at a School Dance?
Now comes the question—what kinds of songs are appropriate for School Dances? Since School Dances are usually thrown for high school students, that gives you a pretty good idea of how old the songs should be.
When planning music at a school dance , there are several things you need to keep in mind:
First, the songs should be appropriate for a school setting;
Second, they should get people dancing;
Thirdly, make sure no explicit lyrics are present in any of the tunes;
Fourth, go for classics instead of current hits;
Fifth, consider the tempo – you want something upbeat that will get people moving.
Every genre of music has some sort of objectionable content, so not playing one type of music isn't the answer.
Inappropriate lyrics aren't always apparent from the context of the song, especially if somebody hasn't heard it before or isn't familiar with the terminology.
Certain songs are played on the radio that have less than appropriate lyrics, and many kids sing along to them.
It can be hard to choose music for a school dance or party, especially if there are kids from every age group attending.
Although some parents may not care what songs are played. The majority of parents with children going to the dance will applaud school-appropriate songs.
School dances provide a great opportunity for students to have fun and let loose, but it's important to remember that they're not the time or place for anything inappropriate.
School appropriate clean songs help to create a more festive and fun atmosphere at school dances.
---
What Kinds of School Dance Songs Are Out There?
So once you've got an idea about which songs are appropriate, all that's left to do is figure out what kinds of School Dance songs exist! School Dances usually play Top 40 tunes (so expect lots of Bruno Mars and Taylor Swift), but some schools like to mix it up with 80s, 90s, or 2000's music.
Either way, there will probably be a lot of great dancing before the School Dance is over! School Dances can be a lot of fun, but you don't want to show up with the wrong songs! So figuring out which songs you want to play or have played can make the dance go from good to great!
---
Let the DJ Know What He Should Play
You can hope your school dance DJ will play a variety of music that is appropriate for high school students. School dances typically include a mixture of slow songs and fast songs with varying styles from hip hop to techno. You should let them know that you are looking for a night of dancing and fun with age and content appropriate music.
The DJ should exclude songs that contain lyrics that would violate the school's code of conduct. Even if your high school has not yet adopted specific regulations for student behavior at dances, most adult DJs will choose not to play songs that have sexually explicit lyrics.
You can chat with the DJ ahead of time to ensure that their playlists are updated and clean before the day of the event. In order for your DJ to avoid complaints about offensive content, he should do some research ahead of time.

---
Conclusion
It's important to remember that what is appropriate at a wedding may not be appropriate at a school dance. When you consider the variety of genres and styles that your students might enjoy, from country to hip hop, it doesn't take much effort to create a playlist that is enjoyable for all.
So don't be afraid to put on some newer hits or throwback tunes at this year's dance! From Ed Sheeran to Ariana Grande (and everything in between), there are plenty of awesome songs out there. Why not ask your student body what they want? You never know what will turn into their favorite song ever!
---
Read More
---
---
---
Pins for Pinterest
If you like what you see, feel free to share some love on Pinterest <3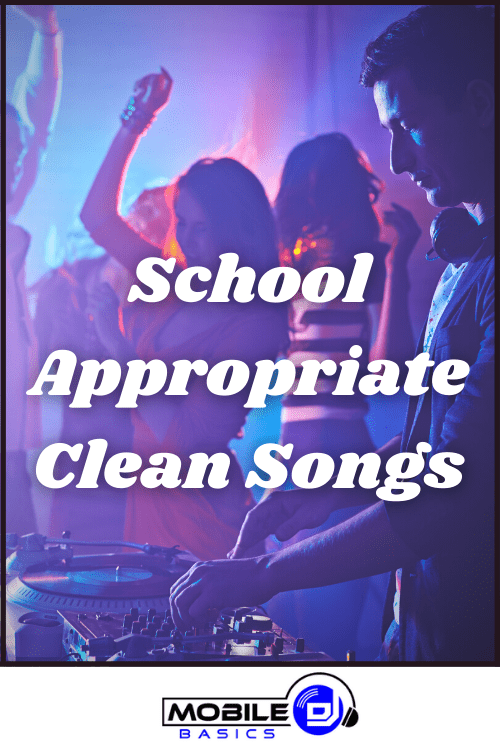 School Appropriate Songs to Help Keep Your Dance Floor Packed 2022