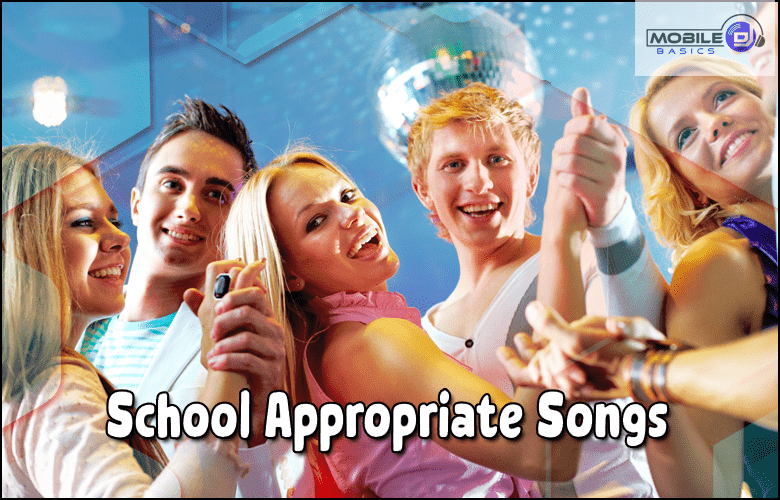 Last Updated on November 20, 2023 by Ryan Conlon | 🕒 8 min Read Time
---
This article talks about some School Appropriate Songs that you might want to consider playing at your school dance!
School dances are an excellent opportunity to get together with friends and socialize. Most schools offer at least one dance per year, but you might need some help planning your event!
It can be hard to find appropriate clean songs for school events. You want something that will get everyone up and dancing, but you don't want anything too inappropriate.
Best School Appropriate Songs
Playing the right (Clean) songs for your school events will allow students to have a good time at the dance without feeling self-conscious or embarrassed by the music.
Appropriate music also help teachers plan the event without having to worry about any complaints from parents, teachers, or administrators.
Age appropriate music is a great way to make school dances more fun for everyone involved. However, I think that there can be some confusion about what qualifies as a "school-appropriate" song.
I believe that any song can be played at a School Dance or Prom as long as it is appropriate for all ages.
Here's a guide to what kind of pop songs you should play at your school dance.
A Collection of Fun and Upbeat School Appropriate Songs
Discover the Ultimate School Playlist with our Collection of Fun and Upbeat Songs – Perfect for Motivating Young Minds and Energizing the Classroom and dance floor!
With a mix of pop hits, classic sing-alongs, and educational jams, this carefully curated list will get everyone excited about learning.
From motivational lyrics to catchy choruses, our selection promotes positivity, creativity, and inclusivity, making it the ultimate addition to any school event or activity.
Get ready to dance, sing, and learn with our Fun and Upbeat School Appropriate Song Collection!
High-Energy & School-Approved Dance Music
BTS – Permission to Dance
TONES AND I – DANCE MONKEY
Crazy Frog – Tricky
Olly Murs – Dance With Me Tonight (TikTok)
Dua Lipa – Levitating
Coldplay X BTS – My Universe
Walker Hayes – Fancy Like (TikTok)
Jonas Brothers – What A Man Gotta Do
The Weeknd – Blinding Lights
Ed Sheeran – Shivers
THE ANXIETY, WILLOW- Meet Me At Our Spot (Tiktok)
BTS – Dynamite
Glass Animals – Heat Waves
JoJo Siwa – It's Time To Celebrate
Lady Gaga – Rain On Me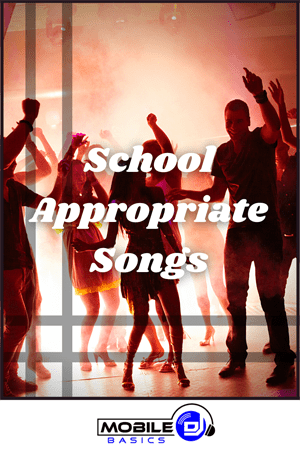 Get the party started with these school-friendly songs! With upbeat tempos and clean lyrics, you can feel confident playing them at school events.
We've got a mix of genres, from country hit-makers like Taylor Swift, Blake Shelton, Gabby Barrett and Florida Georgia Line, to pop sensations like Maren Morris.
Create a fun and festive atmosphere at your next school dance with these student-approved tunes!
BTS – Permission to Dance
BTS, the world-renowned South Korean boy band, is back with their latest single "Permission to Dance."
Released in 2021, the upbeat track is a collaboration with British singer-songwriter Ed Sheeran, who co-wrote the song.
The highly anticipated music video features the band members dancing in various locations, spreading joy and happiness through the power of dance.
"Permission to Dance" is a refreshing and uplifting anthem, with lyrics that encourage people to let go of their worries and embrace life.
The catchy chorus and catchy beats make it an instant hit among people of all ages, and many fans have praised its positive message.
The song has already topped various music charts worldwide, cementing BTS's status as one of the most successful boy bands in history.
---
Slow Songs for Your School Dance
Are you looking for a slow song to add to your set, but don't know what's age appropriate? While there are plenty of great fast songs to choose from, sometimes it's nice to slow things down a bit.
Some students will not fast dance but everyone can slow dance.
Our favorite Slow Songs
Olivia Rodrigo – traitor
Forest Blakk – If You Love Her
Madison Beer – Reckless
Justin Bieber – Holy
Andy Grammer – I Am Yours
Blake Shelton – Nobody But You
Justin Bieber – Ghost
AJ Mitchell – Slow Dance
Luke Combs – Better Together
Lewis Capaldi – Before You Go
Surf Mesa, Madison Beer – Carried Away
Shawn Mendes – Wonder
Ed Sheeran – Perfect
P!nk, Willow Sage Hart – Cover Me In Sunshine
Andy Grammer – Don't Give Up On Me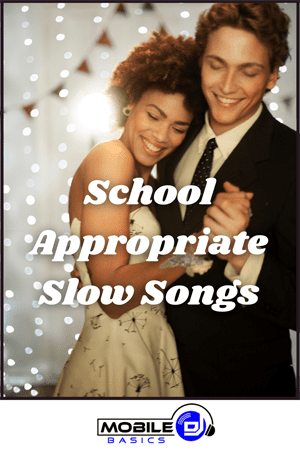 When planning a school dance, it's important to choose appropriate songs that everyone can enjoy without worrying about offensive or explicit lyrics.
School-appropriate songs are the way to go, and they offer teachers the peace of mind they need when selecting music for school events.
These types of songs not only provide a good experience for students but also ensure that the lyrics are safe for all ages in attendance.
This is particularly important for school dances, where attendees range from middle to high school students.
It eliminates the possibility of embarrassment or concern over unsuitable lyrics and keeps students engaged in the dance experience.
For slow songs, it's best to include classics that offer feel-good vibes and lyrics that encourage listeners.
Such songs include "What a Wonderful World" by Louis Armstrong, "Humble and Kind" by Tim McGraw, and "Hey There Delilah" by Plain White T's. These songs are guaranteed to set the mood while maintaining appropriateness.
For fast songs, there are many contemporary options that work exceptionally well.
"Malibu" by Miley Cyrus, "Maniac" by Conan Gray, "Meant to Be" by Bebe Rexha ft. Florida Georgia Line, and "Thunder" by Imagine Dragons are just a few examples of popular school-appropriate songs.
These tracks blend catchy rhythms with clean lyrics and offer a range of musical styles that cater to different tastes and preferences.
When selecting music for school events, it's essential to consider everyone's taste and avoid any lyrics that might be offensive.
By playing only clean versions of popular songs, schools can provide a fun and engaging experience while offering a safe environment for attendees.
With the suggested list of songs, you can guarantee that your school dance will be a memorable and appropriate event.
Olivia Rodrigo – traitor
Olivia Rodrigo's hit song "traitor" is a powerful ballad that explores the raw emotions of heartbreak and betrayal.
The song's lyrics offer a candid glimpse into the experience of being betrayed by someone you love, as Rodrigo sings about the pain and confusion that comes with the realization that your partner has been unfaithful.
With her emotive vocals and skillful songwriting, Rodrigo captures the raw energy of youth and the intense emotions that come with young love.
"Traitor" is a standout track on Rodrigo's critically acclaimed debut album "Sour," which has been a sensation since its release in May 2021.
Get ready to dance with Olivia Rodrigo's other pop rock song "Good 4 U", With its upbeat and energetic rhythm, features a catchy melody that hooks listeners from the very beginning, making it the perfect song to jam out to on a long road trip or at a lively party.
It's a must-listen for anyone looking to connect with their deepest emotions and experience the transformative power of music.
---
Fun School Appropriate Song Facts
Fun School Appropriate Song Facts is a section that lists some interesting facts and trivia about the school appropriate songs that children can enjoy. Songs, in general, can be a valuable tool for learning.
They reinforce lessons in fun and playful ways that children can engage with.
They are also incredible motivational factors that get them pumped up to work on their homework, assignments, quizzes, projects, and presentations.
These songs are not just some bops but have educational value, inspiring children of all ages to enjoy learning and prioritize their education.
In 2019, over half (51%) of all songs played on the radio were rated PG (Parental Guidance) or lower.
In 2017, the average length of a school-appropriate song was 3 minutes and 40 seconds.
According to a 2019 survey, 78% of teachers said that they would prefer to play music with no explicit lyrics in their classrooms.
In 2017, the most popular school-appropriate songs were "Shape of You" by Ed Sheeran, "Closer" by The Chainsmokers, and "Despacito" by Luis Fonsi.
In 2019, the most popular school-appropriate songs were "Old Town Road" by Lil Nas X, "Señorita" by Shawn Mendes and Camila Cabello, and "7 Rings" by Ariana Grande.
A study of 5,000 students found that 78% of them prefer to listen to school-appropriate songs during class.
A survey of 1,000 teachers found that 81% of them believe that school-appropriate songs can help improve student engagement and motivation.
One such fun song is the Beach Boys' "Be True to Your School," a title track of their album released in 1963.
It is a high-energy tune that celebrates school pride and loyalty, and its catchy chorus will stick in your head for days.
Another best song for school days is from the movie "The Peanuts Movie," where Meghan Trainer presents "Better When I'm Dancin'," a song that encourages children to dance and enjoy their school day.
Furthermore, numerous artists such as Taylor Swift, Lady Gaga, Bob Marley, and Justin Timberlake offer some school-appropriate songs.
For example, Taylor Swift "Fifteen" highlights the importance of making the most out of the high school experience.
Lady Gaga"Born This Way" encourages children to love themselves and their unique qualities, while Bob Marley "Three Little Birds" reinforces the idea that everything is going to be alright.
Lastly, we have Smash Mouth "All Star," a song that has become a classic at schools and sporting events, inspiring children to do their best.
School-appropriate songs are not only fun to listen to but also have the power to inspire children to learn and enjoy their education, as well as their daily school life.
The next time children need an extra boost to complete their homework or assignments on time, they can turn up the volume and listen to some of these fantastic songs.
They also offer a great way to make the learning process enjoyable, making it a win-win situation for parents, teachers, and students alike.
---
Classic Clean School Dance Songs
Think back to the school dances of your youth. Was your favorite song by The Backstreet Boys? Or maybe you preferred "Crazy In Love" by Beyonce and Jay-Z.
Regardless of your pick, there's no denying that some classic songs are simply perfect for school dances.
Best dance songs from other classic artists include – Ariana Grande, Selena Gomez, Katy Perry, Pharrell Williams, Miley Cyrus, Lady Gaga and One Direction.
From classic rock to contemporary artistes like Bebe Rexha and Bastille, school dances are all about great music and dance moves.
Indulge yourself in the rhythmic beats of either "Three Little Birds" by Bob Marley or "Counting Stars" by Michael Franti.
Alternatively, you can sway to the captivating tunes of "Riptide" by Vance Joy or "Meant to Be" by Lindsey Ray.
These timeless melodies have become synonymous with serenity and positive vibes, making them a perfect addition to anyone's playlist.
With their unforgettable lyrics and catchy tunes, these songs are sure to uplift your mood and transport you to a state of pure tranquility.
Whether you're a fan of reggae or indie-pop, there's something for everyone in these timeless classics. So, why not give yourself a musical treat and bask in the glory of these soulful tracks?
Some energetic tracks such as "Africa" by Toto, "Take on Me" by A-ha, and "Jump" by Van Halen provide a lively tempo that will get your body moving and your heart pumping.
On the other hand, soothing soundtracks from beloved movies such as Trolls or Fireflies create a relaxing atmosphere that helps you unwind.
As you immerse yourself in the rhythm, you will discover the profound messages hidden in the lyrics.
Songs like "Meant to Be" by Tim Myers, "Fight Song" by Rachel Platten, and "Girls Just Want to Have Fun" by Cyndi Lauper inspire you to cherish your friendships, embrace togetherness, and believe in yourself.
Whether you prefer upbeat tracks or mellow soundscapes, the power of music can uplift your mood, boost your confidence, and help you connect with your emotions.
So why not create a playlist of your favorite tracks and dance to the beat of your own drum? Let the music wash away your worries and fill you with joy and inspiration.
Take a look at some of the most popular songs from back in the day and explore why they continue to be fan favorites.
Classic Dance Songs
David Guetta – Titanium
Chris Brown – Forever
Rihanna – Don't Stop The Music
Justin Bieber – Sorry
Avicii – Wake Me Up
Owl City & Carly Rae Jepsen – Good Time
Calvin Harris – Summer
Katy Perry – Firework
Flo Rida – Good Feeling
American Authors – Best Day of My Life
Lady Gaga – Just Dance
The Chainsmokers – Closer
P!nk – Raise Your Glass
Taylor Swift – Blank Space
Rihanna – We Found Love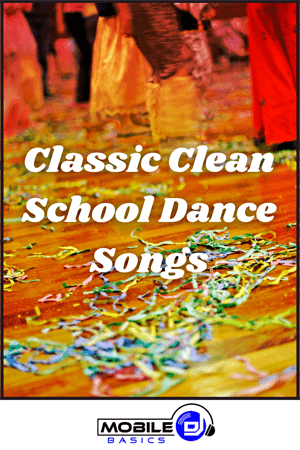 College events are usually more sophisticated compared to Prom or 5th grade school dances.
Experience a vibrant atmosphere filled with age-appropriate songs and energetic beats, as we replace our school songs with catchy tunes that will have you singing and dancing along.
The use of figurative language in song lyrics create a unique ambience that gets the students grooving on the dance floor.
To ensure a clean and enjoyable experience, schools often curate a song list or a clean classroom playlist, and with the advent of online music streaming services, such as a Spotify playlist, schools now have the ability to customize a playlist that fits their specific requirements.
If you're looking for some classic clean school dance songs, you've come to the right place. We've put together a list of some of our favorites that will have everyone on the dance floor.
Justin Bieber – Sorry
Justin Bieber's "Sorry" is a hit song which was released in 2015 as part of his fourth studio album, "Purpose".
The song's catchy beat and pop-infused melody make it a popular choice for school dances. The song features lyrics that depict remorse and apologizing for one's mistakes, making it relatable for listeners.
The music video, which features backup dancers and colorful visuals, has over 3.2 billion views on YouTube, making it one of the most-viewed music videos on the platform.
"Sorry" was a commercial success, topping the charts in multiple countries and receiving numerous award nominations.
Overall, "Sorry" remains a crowd-pleaser and a classic clean school dance song.
---
What are some School Friendly Songs?
Here are some popular choices that are sure to get everyone moving:
"Uptown Funk" by Mark Ronson ft. Bruno Mars: This catchy tune is perfect for getting the party started.
"Can't Stop the Feeling!" by Justin Timberlake: This upbeat song is perfect for getting everyone out of their seats and dancing.
"All About That Bass" by Meghan Trainor: This fun, body-positive song is perfect for getting kids moving and shaking.
"Shake It Off" by Taylor Swift: This upbeat song is perfect for getting kids out of their seats and dancing.
Many fans of the American rock band Journey consider their hit song "Don't Stop Believin'" to be one of the most catchy and appropriate songs for any occasion, but for those who prefer a more modern sound,
The song "A-Punk" from Vampire Weekend is a popular choice, featuring their signature upbeat rhythms and quirky lyrics.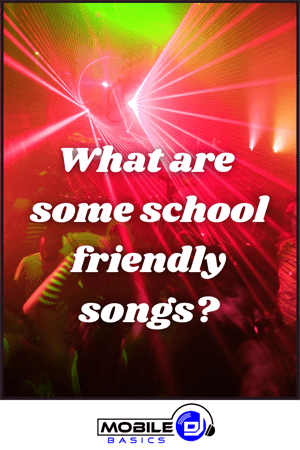 One of my favorite school appropriate songs is "Stronger" by Kelly Clarkson, with its perfect combination of an upbeat melody and lyrics that encourage resilience and empowerment, while another catchy song that always gets me moving is "Levitating" by English singer Dua Lipa, whose dynamic vocals and infectious beat make it an instant hit.
Additionally, the songwriter Harry Styles is undeniable, and songs like "Watermelon Sugar" showcase his ability to craft memorable hooks and unforgettable melodies that resonate with audiences worldwide.
Meanwhile, British rock band Coldplay has a storied history of creating anthemic hits like "Viva La Vida" that are beloved by fans of all ages, while American singer Ariana Grande's soaring vocals and impressive range are on full display in songs like "Save Your Tears."
And of course, no discussion of music greats would be complete without mentioning Scottish DJ Calvin Harris, whose infectious beats and collaborations with artists like Rihanna have made him a household name, or the legendary American Singer Whitney Houston, whose timeless hits like "I Will Always Love You" continue to be celebrated as some of the greatest songs of all time.
School dances are always a great way to let loose and have fun.
However, a good school dance needs a mix of upbeat, feel-good, and popular songs, with catchy melodies that make you wanna dance.
It's important to choose the best school appropriate songs that everyone can enjoy and that promote a positive atmosphere, reminding us to treat people with kindness.
---
What is the Best School Appropriate Song?
So, what is the best school dance appropriate song?
Pop and rock music have been the staple genres of the music industry for decades, but the emergence of new talents like Billy Ray Cyrus and the American electronic music duo, The Chainsmokers, have brought unique and refreshing sounds to the forefront.
From classroom music to global radio hits, songs like "Old Town Road" and "Closer" have captured the hearts of millions with their catchy and upbeat sounds.
It's no wonder why they've garnered massive success, given that even American rapper Flo Rida has vouched for their exceptional talent.
There are so many different songs that could be considered school appropriate kid songs, it's hard to choose just one. So,we are going to list our some of our favorites.
Classic School Dance Songs
Village People – YMCA
Rascal Flatts – Life is a Highway
Los Del Rio – Macarena
Bruno Mars – Just The Way You Are
Journey – Don't Stop Believin'
The Black Eyed Peas – Let's Get It Started
OutKast – Hey Ya
Justin Bieber – Baby
PSY – GANGNAM STYLE
Beyoncé – Single Ladies
Rihanna – Pon de Replay
Sia – Chandelier
Taylor Swift – You Belong With Me
Marshmello – Happier
Paramore – The Only Exception (TikTok)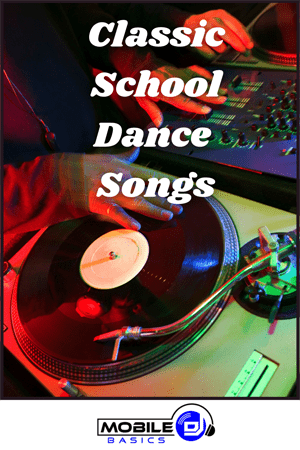 Some people might argue that Village People – YMCA is the best school appropriate song. Others might say that Los Del Rio – Macarena is the perfect tune to get students in the dancing mood. And still others might say that Cupid – Cupid Shuffle is the ultimate school dance song.
---
What Are Some Good Clean Fast Songs?
School is a time to learn. School is also a time for students to socialize and relax with other kids in the same grade, age range, or school year level.
This means that songs become popular among groups of people often have messages that are not entirely appropriate for schools.
The song's lyrics describe penned by modern music artists often contain messages about violence, drugs, alcohol consumption and sexual behavior which schools do not condone.
As a result, many instructors remove certain songs from school dances to avoid influencing others with bad ideas in their music selections.
Here are some good clean fast songs
Taylor Swift – Shake It Off
Cupid – Cupid Shuffle
The Black Eyed Peas – I Gotta Feeling
Miley Cyrus – Party In The U.S.A.
DJ Casper – Cha Cha Slide
Sia – Cheap Thrills
Darude – Sandstorm
B.o.B – Magic
Mark Ronson – Uptown Funk
Meghan Trainor – Better When I'm Dancin'
WALK THE MOON – Shut Up and Dance
Justin Bieber – What Do You Mean?
Pharrell Williams – Happy
Imagine Dragons – On Top of the World
Justin Timberlake – Can't Stop The Feeling!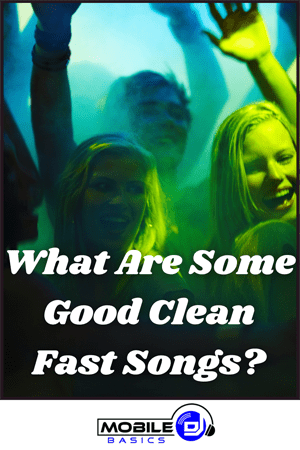 School appropriate clean songs are, therefore, ones that do not have any mature or violent lyrics that would be inappropriate for young people. They also should not contain references to drugs, alcohol, sex, or politics.
Taylor Swift – Shake It Off
Taylor Swift's "Shake It Off" is a lively and energetic song that was released in 2014.
The song quickly became popular due to its catchy tune and upbeat lyrics, making it a perfect addition to any party or workout playlist.
The lyrics are empowering and encourage listeners to overcome negativity and criticism by dancing away their troubles.
In addition to its positive message, "Shake It Off" has a clean and wholesome vibe that makes it an excellent option for those who are looking for fast, clean songs that are appropriate for all ages.
The music video for the song features Swift and a group of talented dancers, showcasing impressive choreography that is both fun and entertaining.
Taylor Swift is a renowned pop star who is widely known for her exceptional songwriting skills and ability to produce music that resonates with a mass audience. Her hit song features catchy lyrics and upbeat sound, coupled with relatable lyrics that make it a feel good song for listeners.
The song has received widespread acclaim from critics and fans alike, with many praising Swift's ability to continuously reinvent herself in the competitive music industry.
With her signature style and unmatched talent, Taylor Swift continues to dominate the charts and leave an indelible mark on the music scene.
Overall, "Shake It Off" is a fun and uplifting song that has become a fan-favorite and is sure to get anyone up and dancing.
---
A Little About School Dances
School dances generally have the same features as any other type of dance party—tunes playing in the background, people on the floor moving around, snacks or a vending machine off to the side… There are a few differences between these parties and ones thrown by older people.
School dances can feature all different types of music—from rap songs, pop music to country hits, and everyone has a good time – but there are some rules about what is and isn't appropriate to play at your school dance .
Dances are an excellent opportunity for friendships within your grade level to grow closer. The older folks have their own special name for this type of dance party: the "school social."
---
What Kinds of Songs Can I Play at a School Event?
Since School Dances are usually thrown for Elementary School, Middle School, JR High and High School Students, that gives you a pretty good idea of how old the songs should be.
When planning music at a school dance , there are several things you need to keep in mind:
First, the songs should be appropriate for a school setting;
Second, they should get people dancing;
Thirdly, make sure no explicit lyrics are present in any of the tunes;
Fourth, go for classics instead of current hits;
Fifth, consider the tempo – you want something upbeat that will get people moving.
Every genre of music has some sort of objectionable content, so not playing one type of music isn't the answer.
Inappropriate lyrics aren't always apparent from the context of the song, especially if somebody hasn't heard it before or isn't familiar with the terminology.
Certain songs are played on the radio that have less than appropriate lyrics, and many kids sing along to them.
It can be hard to choose music for a school dance or party, especially if there are kids from every age group attending.
Although some parents may not care what songs are played.
School dances provide a great opportunity for students to have fun and let loose, but it's important to remember that they're not the time or place for anything inappropriate.
School Dances usually play Top 40 tunes (so expect lots of Ed Sheeran, Harry Styles, Florida Georgia Line, Selena Gomez, One direction, Justin Timberlake, Dua Lipa, Bruno Mars and Taylor Swift), but some schools like to mix it up with 80s, 90s, or 2000's music. Like Billy Joel and Journey.
Either way, there will probably be a lot of great dancing before the School Dance is over!
So figuring out which kid friendly songs you want to play or have played can make the dance go from good to great!
---
Who decides what is considered appropriate?
Deciding what music is appropriate for school dances may not seem like a big deal, but it's a more complicated issue than it appears.
School administrators are responsible for approving playlists, taking into consideration the ages, musical preferences, and lyrical themes of the student body.
However, students may also have a say in the playlist, either by expressing their thoughts to the administration or by serving on a committee to plan the dance.
Creating a school appropriate playlist for kids can be an exciting task, as it involves choosing fun songs that not only entertain but are also educational songs.
Adding a song written by the legendary Bob Marley & The Wailers, or the iconic Michael Jackson is always a crowd pleaser, bringing the perfect blend of fun and learning to the playlist.
While songs by artists like Miley Cyrus may also make the cut, it is important to ensure that they are appropriate for the classroom environment.
By carefully curating musical playlists that cater to both entertainment and learning, teachers can give their students a fun and meaningful musical experience.
---
What are some songs that are typically considered inappropriate?
From explicit language to suggestive themes, there are a number of songs that are often viewed as inappropriate.
Some examples may include tracks that contain derogatory language towards certain groups, such as racial slurs or homophobic comments.
Others may feature graphic descriptions of sexual acts, or objectify women in their lyrics and music videos.
While some may argue that these songs are simply artistic expression, others view them as offensive and harmful to certain communities.
Ultimately, whether a song is considered inappropriate is subjective and will vary depending on individual opinions and perspectives.
---
What if a student requests a song that is considered inappropriate?
Music is a powerful tool that moves us emotionally and helps us express ourselves in ways that simple words cannot.
However, just like any other form of art, music can also be used to convey messages that are not appropriate for certain audiences.
As a DJ, it can be daunting to navigate the murky waters of music censorship, especially when a student requests a song that contains language or themes that are not suitable for the classroom.
It's important to remember that music censorship is not about limiting freedom of expression, but about ensuring that students are not exposed to content that promotes violence, drug abuse, or discrimination.
Engage with the student, explain why the song is inappropriate and provide alternative options that are both enjoyable and appropriate for the whole classroom.
---
Let the DJ Know What He Should Play
One crucial aspect is the music selection, and it's important to communicate your expectations to the DJ.
Set the tone for the night by specifying what styles of music you would like to hear and what is deemed inappropriate.
Remember, the DJ has a responsibility to provide an enjoyable experience for everyone in attendance, and a positive and fun atmosphere is key to making the event a memorable one.
Finding the right DJ
School dances are always exciting events, and a good DJ makes all the difference by creating the right atmosphere and sound.
These DJs must have the right information about the audience and the occasion to make everything flow smoothly.
The reason behind hiring a DJ is to offer a unique voice and style, so students can enjoy their music. Of course, the person behind the decks can be quite important as well.
A quick glance at their record should give you an idea of their experience and popularity.
In any case, English is often the language of choice for announcing the music, performances, and other articles of information that the audience might need to know.
Ultimately, the amount of fun that a student has at a school dance often depends on the DJ's performance.
---
Conclusion
Make sure you choose appropriate music for different events. It's easy to create one that pleases everyone.
Don't shy away from adding new hits and old favorites to this year's dance. From Ed Sheeran to American singer Ariana Grande, there are plenty of awesome songs out there.
Why not involve your student body in the song selection process? You never know what will become their new favorite song!
---
Read More
---
---
---
Pins for Pinterest
If you like what you see, feel free to share some love on Pinterest ❤️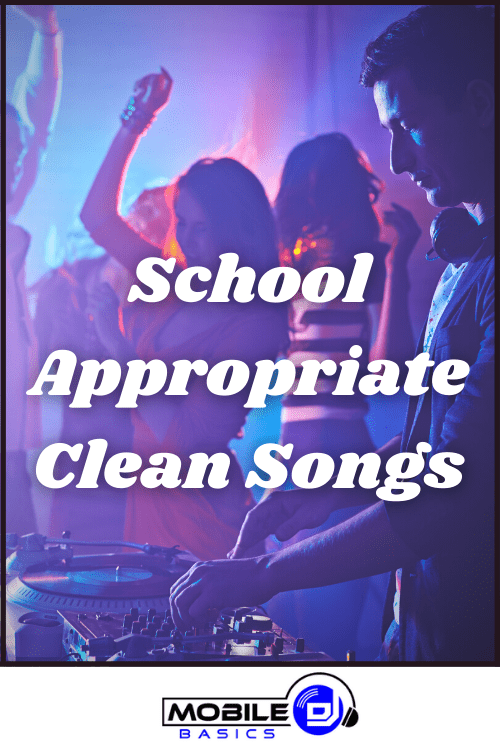 75 + School Appropriate Songs | Keep Your Dance Floor Packed 2023
From discovering new songs to getting more gigs, I'm excited to share the wealth of knowledge I've gained through many years of DJing. [email protected]