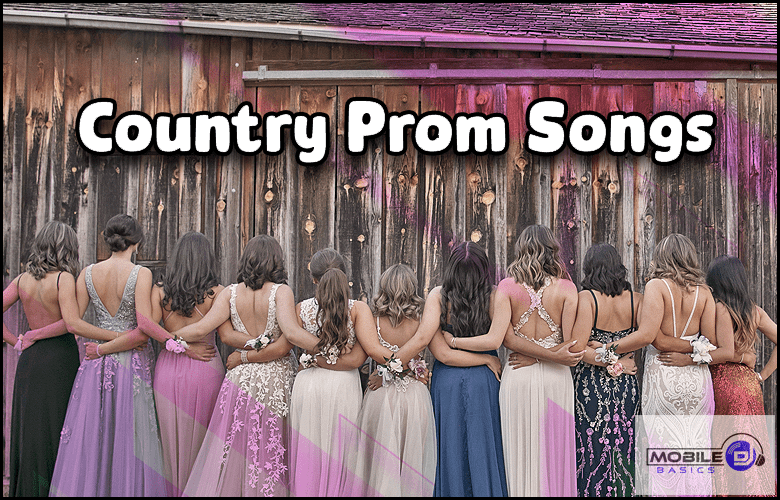 Last Updated on November 20, 2023 by Ryan Conlon | Read Time 4 min Read Time
Are you looking for the perfect music to add life to your upcoming prom? Look no further! We've put together an exciting list of songs for 2023 that will create a romantic, upbeat atmosphere.
Our selection of country prom songs has something for everyone, ranging from slow and heartfelt classics to more modern dance tracks.
And if you're looking for options beyond just country music, we have plenty more genres that you can explore as well.
Let's get started by taking a look at some top picks among this year's hottest country prom hits!
Popular Country Prom Songs

Planning a prom can be an overwhelming task, from selecting the venue to organizing entertainment.
But no great event comes without amazing music!
With recent releases from artists like Luke Bryan and Kelsea Ballerini or classics like Alan Jackson and Shania Twain, our list has the perfect sounds for creating good vibes all night long – now let us help light up your evening!
Best Country Songs for Prom
Tyler Hubbard – 5 Foot 9
Jordan Davis – What My World Spins Around
Morgan Wallen – The Way I Talk
Old Dominion – Memory Lane
Jason Aldean – My Kinda Party
Miranda Lambert – I'll Be Lovin' You
Morgan Wallen – Last Night
HARDY – REDNECKER
Niko Moon – GOOD TIME
Chris Lane – Dancin' In The Moonlight
Tyler Hubbard – 5 Foot 9
When it comes to finding the perfect country song for prom, Tyler Hubbard's "5 Foot 9" is an unforgettable choice!
With catchy lyrics and a bouncy tune, this hit will get everyone on the dance floor.
No matter if you are already familiar with country music or if you need some help getting into it, we promise you won't be disappointed by Tyler Hubbard's toe-tapping jam.
---
New Country Prom Dance Songs

It's never too early to start looking ahead to the best songs for your 2023 prom!
Whether you're planning an epic dance off, impressing that special someone or just planning the most unforgettable night of your high school career, it's important that you choose music that aligns with your party vibes.
So, put on your dancing shoes – because these are some of the hottest beats everyone will be jamming out to this upcoming Prom season!
Here are our Favorite New Country Dance Songs
Kane Brown – Like I Love Country Music
Tyler Hubbard – Dancin' In The Country
Cole Swindell – Drinkaby
Darius Rucker – Beers and Sunshine
Jake Owen – Down To The Honkytonk
Mackenzie Carpenter – Throw You Back
Darius Rucker – Fires Don't Start Themselves
Jon Langston – Forever Girl
Zach Bryan – The Greatest Day of My Life
Cole Swindell – She Had Me At Heads Carolina
Prom night marks a milestone for young adults – reflecting on all the moments that made four years of high school memorable.
One way for teens to make their prom night even more special is through music, and if you're planning on holding your prom dance in 2023, then you'll want to stay ahead of the trends by finding new country songs perfect for this momentous occasion!
Kane Brown – Like I Love Country Music
Country music has always been a genre that many of us can relate to, as its sound often reflects genuine emotions and experiences.
With the rise of young and talented country musicians like Kane Brown, it is no surprise that we have some new and incredible songs stepping up to become the next big dance number at prom!
Like I Love Country Music by Kane Brown captures raw emotiom, making for a powerful song that you won't be able to resist dancing to when it plays at your next prom event.
---
New Country Slow Songs 2023

Finding the perfect song for your high school prom can be a difficult decision. You want something that will set the tone for a romantic evening, but you don't want it to sound too old or dated!
That's why we compiled this list of dreamy new country slow songs specifically designed to make everyone sway and enjoy their night out on the dance floor.
These are some of our favorite tunes from upcoming 2023 releases that combine classic instrumentation with modern lyrics, perfect for bringing people together.
From gentle acoustic ballads to soulful love songs, here are some tracks perfectly suited to create unforgettable moments at Prom 2023!
Romantic Country Songs for Prom
Brett Young – Dance With You
Drew Baldridge – She Does
Micah Fletcher – The Look In Your Eyes
Ingrid Andress – Runnin
Noah Cyrus, Vance Joy – Everybody Needs Someone
Avery Anna – I Love You More
Easton Corbin – Marry That Girl
Brandon Davis – Forever and Always
Kane Brown, Katelyn Brown – Thank God
Lainey Wilson – Watermelon Moonshine
Brett Young – Dance With You
Brett's unique songwriting brings to life tender emotions of love combined with his timeless harmonies.
So if you're ready to go beyond your traditional classics and open up creative possibilities within country music itself.
---
Country Party Dance Mix

Music has the unique ability to make us feel happy, move our bodies to a rhythm, and ultimately bring people together.
Whether it's a club dance mix or a country music night at your local bar, dancing is one of the best ways to celebrate life's moments.
If you're looking for some awesome tunes that are perfect for hosting an epic country party night with friends and family, then look no further!
This section will give you the ultimate dance mix featuring only the best in classic and modern Country Music hits.
So get ready for an unforgettable evening filled with good times and great memories.
Best Country Party Songs
Jason Aldean – My Kinda Party
Eric Paslay – Friday Night
Sam Hunt – House Party
Luke Bryan – Move
Walker Hayes – Fancy Like
Morgan Wallen – Up Down
Frankie Ballard – "Young & Crazy"
Elle King, Miranda Lambert – Drunk
Chris Janson – "Good Vibes"
Brothers Osborne – It Ain't My Fault
Jason Aldean – My Kinda Party
Are you ready for a night of boot scootin' and two-step fun? The perfect way to get your country party going is with Jason Aldean's 'My Kinda Party'.
This upbeat, infectious mix will have everyone on their feet, moving and grooving to the beat.
With its driving guitar riffs and classic country vibe, this song will set the tone for an unforgettable evening filled with great music and good vibes.
---
Upbeat Country Songs

Prom can be an incredibly fun and exciting event, filled with memories that will last a lifetime.
While there's something special about slow songs being played at prom to create the perfect romantic atmosphere, upbeat country songs are also sure to get everyone on their feet and having a great time!
Maybe you're just dancing with your friends or braving the floor with a date, here is our selection of fun Country Music hits perfect for heating up the dance floor come prom night.
Fun Country Songs for Prom Night
Blake Shelton – Fire Up The Night
Chris Young, Kane Brown – Famous Friends
Jack Ingram – Barefoot And Crazy
Jason Aldean – She's Country
Morgan Wallen – Whiskey Glasses
Old Dominion – Snapback
Lee Brice – Soul
Jon Pardi – Heartache On The Dance Floor
LOCASH – Feels Like A Party
Luke Bryan- Country Girl (Shake It For Me)
Blake Shelton – Fire Up The Night
Blake Shelton's banger "Fire Up The Night" featuring HARDY is the perfect example of vibrant energy that can fill your heart with joy.
Featuring crisp production and Shelton's inviting tonality, this track will set any room ablaze with its delightfully infectious tune and uplifting lyrics.
---
Romantic Country Songs

Prom night is a big event and creating the right ambience with music can help to make it even more unforgettable. Nothing sets the mood for romance like some classic country tunes – but with so many songs out there, how can you narrow them down?
Well, look no further: we've put together a list of our favorite romantic country songs that are sure to provide an unforgettable soundtrack to your special prom date!
From heartfelt ballads to these timeless hits. These songs are perfect for setting the tone for what will surely be remembered as one of your best nights ever.
Luke Combs – Forever After All
Randy Travis – Forever and Ever Amen
Kane Brown – Heaven
Easton Corbin – Marry That Girl
Gabby Barrett – "The Good Ones"
Dan + Shay – Glad You Exist (Acoustic)
Jasmine Rae – When I Found You
Kane Brown – Worship You
Ryan Hurd, Maren Morris – Chasing After You
Jordan Davis – Slow Dance In A Parking Lot
Luke Combs – Forever After All
If you're looking for a way to set the mood, put on a romantic country song like Luke Combs' "Forever After All." The beautiful and heartbreaking love songs that come out of Nashville never cease to bring listeners back time and time again.
With lyrics like "They say nothing lasts forever/But they ain't seen us together " this contemporary love ballad perfectly captures each couple's desire to be together despite any struggles that life throws their way.
Whether you're already in an adorable love story or still searching for your perfect partner, "Forever After All" is sure to keep those cheerful feelings alive!
---
Classic Country Prom Songs

Time-honored teenage traditions, such as the high school prom, call for classics.
Nothing screams a classic more than some good ole' country music!
Proms and other dances are special events that are meant to be remembered and enjoyed by all – and what better way to spice up your night and get everyone on their feet than with some timeless country hits?
Spin these timeless classics for an unforgettable time!
Here we've compiled a list of the best classic country songs perfect for your next prom or dance gathering.
Tim McGraw – I Like It I Love It
Brooks Dunn – Boot Scootin Boogie
Garth Brooks – Friends in Low Places
Nitty Gritty Dirt Band – Fishin In The Dark
Shania Twain – Any Man Of Mine
Garth Brooks – The Dance
Big & Rich – Save A Horse (Ride A Cowboy)
Lonestar – Amazed
Shania Twain – Man! I Feel Like A Woman
Trace Adkins – Honky Tonk Badonkadonk
Nothing quite sets the tone for a high school prom like the perfect country song. With its powerful lyrics and smooth twang, country music is sure to make any dance interesting!
Let's take a look at some of the all-time favorite classic country prom songs.
From "The Dance" by Garth Brooks to "Any Man of Mine" by Shania Twain, these timeless classics will surely be remembered long after prom night is over.
---
What are the most common line dancing songs?
With catchy beats that make footwork come alive on the floor, it's no wonder people love a good two-step or choreographed routine when they hear those first few notes!
But what are some of the most beloved songs used by dancers worldwide?
From traditional sounds like "Achy Breaky Heart" to more modern tunes such as "Cupid Shuffle," there's an endless list of top favorites—so let's take a look at some of the most common line dancing songs today!
What are the most popular songs for group dances?
Ed Sheeran – Shivers (Give Me Shivers Line Dance)
Walker Hayes – Fancy Like
Blanco Brown – The Git Up
Marcia Griffiths- Electric Boogie (The Electric Slide)
Rednex – Cotton Eye Joe
Midland – Mr. Lonely Line Dance
Cupid – Cupid Shuffle
Billy Ray Cyrus – Achy Breaky Heart
Mr. C – Cha-Cha Slide
The Tractors – Baby Likes to Rock It
Ed Sheeran – Shivers
When Ed Sheeran's hit song "Shivers" first came out, it quickly gained worldwide attention and acclaim.
But what has made this single standout and stay firmly entrenched in our collective minds is the innovative line dance call inspired by the song that everyone loves to perform at social events around the world.
This line dance has been called simplyenough 'Give Me Shivers', referring to the chorus of Sheeran's chart-topper classic.
It encompasses a range of moves from salsa steps, hip rocking and shoulder shaking – all filled with unmistakable energy!
---
Conclusion
As we've seen, there are a plethora of country prom songs to choose from.
If you're considering a fun-filled jaunt down memory lane or getting ready to wow your date with a romantic classic, you'll find something just right on the list.
And no matter what song you choose, it's sure to have all your friends and loved ones singing along and letting loose on the dance floor!
Above all else, relax and have an unforgettable evening with your special someone or friends.
Of course, while you march away in the wee hours of the night still bobbing your head to the beats of country prom songs, always remember not just the classics but how all this music brings us together in celebration and joy.
---
Read More
---
---
Country Prom Songs 2023 | New, Romantic and Upbeat Music
From discovering new songs to getting more gigs, I'm excited to share the wealth of knowledge I've gained through many years of DJing. [email protected]