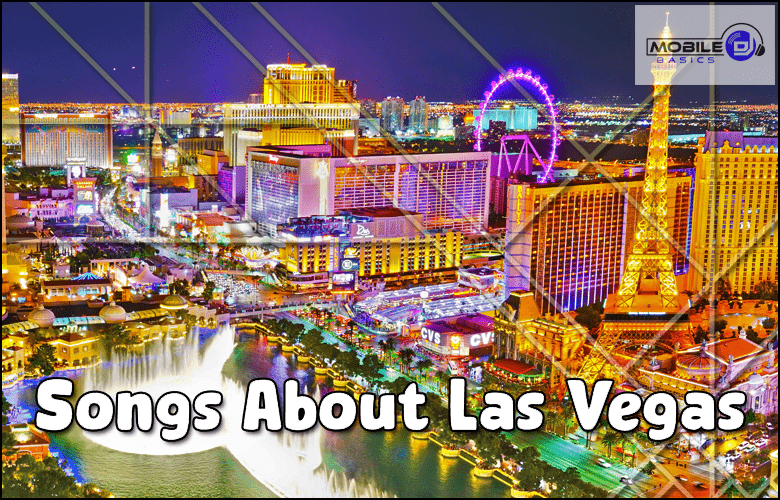 Last Updated on October 21, 2023 by Ryan Conlon | 🕒 4 min Read Time
---
What comes to mind when you think of Las Vegas? Gambling, partying, bright lights, Fremont Street, and music, of course! Sin City is the perfect place for a night out on the town, and what better way to get in the mood than by listening to some songs about Las Vegas?
Whether you're a seasoned pro or just visiting for the first time, these tunes will have you feeling like a winner. Ready to take your entertainment up a notch? Check out these songs about Las Vegas and get ready to party!
New Songs About Las Vegas
As the unofficial party capital of the world, Las Vegas has inspired songwriters for decades. And while many older classics about 'Sin City' still get heavy rotation at clubs, casino nights and weddings, a new crop of songs about Vegas is starting to emerge.
It could be they're odes to the city's hedonism or tributes to its unique atmosphere, these tunes capture all that makes Vegas special.
Here are some of our favorites
The Vamps – Married In Vegas
The Weeknd – Blinding Lights
Houndmouth – Las Vegas
Chrishan – Sin City
Tinashe – Feels Like Vegas
Jimmy Ray – Going to Vegas
Sam Smith – Money On My Mind
Hootie and the Blowfish – Las Vegas Nights
Panic! At The Disco – Vegas Lights
Thunder – Going To Sin City
The Killers – Shot At The Night
Erin Kinsey – Vegas
Piero Piccioni – Las Vegas
David Gray – Snow In Vegas
DJ DENZ The Rooster – Christmas in Las Vegas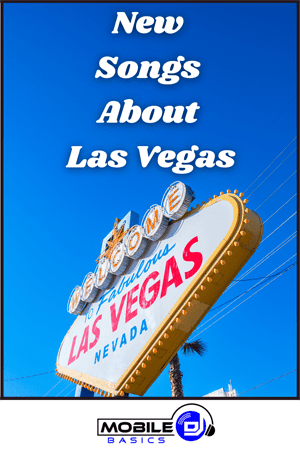 Are you looking for the perfect songs to add to your Las Vegas themed party playlist? Whether you're looking for classic tunes or modern hits, we've got over 100 songs listed. From Frank Sinatra to Katy Perry, check out our lists of the best Las Vegas songs for your next party!
The Vamps – Married In Vegas
If you are a fan of The Vamps, then you need to check out their new song. "Married In Vegas" It's such a fun and upbeat song, and I can't help but dance along to it whenever I hear it. If you're looking for a new party anthem, then be sure to add "Married In Vegas" to your Spotify playlist. You won't regret it!
---
Classic Las Vegas Songs
Las Vegas is known for its glitz and glamour, and the music played in the city reflects that. There are classic songs that are synonymous with Las Vegas, and any mobile DJ worth their salt knows how to work them into a set.
Here's a list of some of the most popular Las Vegas songs, so get ready to party like a rock star!
Elvis Presley – Viva Las Vegas
Dean Martin – Ain't That A Kick In the Head
Frank Sinatra – Luck Be A Lady
Bee Gees – Night Fever
Barry Manilow – Here's To Las Vegas
Gram Parsons – Ooh Las Vegas (feat. Emmylou Harris)
The B-52's – Queen of Las Vegas
Dean Martin – I Love Vegas
ZZ Top – Viva Las Vegas
Sheryl Crow – Leaving Las Vegas
Shawn Colvin – Viva Las Vegas
Dean Martin – Las Vegas
Hall & Oates – Las Vegas turnaround
Buck Owens – Big in Vegas
Tom Waits – Straight To The Top (Vegas)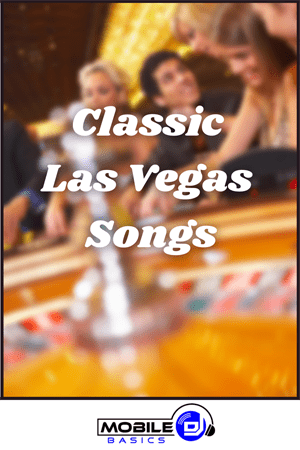 If you're a fan of old school Vegas songs, you'll love this list. Whether you're looking to get in the mood for a night on the town or just want to reminisce about some of the city's most famous tunes, these songs are sure to get your feet tapping.
Elvis Presley – Viva Las Vegas
In the early days of rock and roll, Elvis Presley was the king. He helped to shape the genre with his music and performances, and he remains a popular figure to this day. One of Elvis' most well-known songs is "Viva Las Vegas," which perfectly captures the excitement and fun of Sin City. It could be called Vegas' Theme Song. Many other artist have done their own version of the song – Johnny Ramone – Viva Las Vegas.
---
"It's Not Gambling – If You Know You Are Going To Win"
---
Sin City Songs
What happens in Vegas stays in Vegas, but the music that comes out of it is something everyone can enjoy. Whether you're looking for some classic Rat Pack tunes or modern dance hits, these songs will have you feeling like a high roller in no time.
So put on your best party attire and get ready to hit the Strip!
Frank Sinatra – That's Life
Tony Bennett – With Plenty Of Money And You
AC/DC – Sin City
Frank Sinatra – Fly Me to the Moon
Flying Burrito Brothers – Sin City
Benny Goodman – Let's Dance
Frank Sinatra – My Way
Alicia Bridges – I Love The Nightlife
Tom Jones – Without Love
Steve Earle Gillian Welch David Rawlings – Sin City
Frank Sinatra – Come Fly With Me
The Jazz Jury – Pictures
Dean Martin – I Don't Care If The Sun Don't Shine
Big Bad Voodoo Daddy – Go Daddy-O
Frank Sinatra – This Town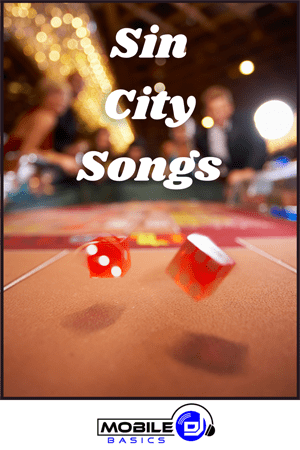 A casino night themed party is the perfect way to celebrate a special occasion or just have a fun evening with friends. To make your party extra special, choose music that reflects the feel of Las Vegas.
Frank Sinatra – That's Life
That's Life, the anthem of Frank Sinatra and one of the most popular songs in history. Few people know that the lyrics were written by Dean Martin, Ol' Blue Eyes' friend and Rat Pack cohort. This song is an example of the perfect pop ballad – a three minute journey through heartache, pain, and finally resolution. Whether you're a Sinatra fan or not, this song is worth a listen.
---
---
Other Playlists for Mobile DJ Basics
---
Las Vegas Themed Songs
Do you love Las Vegas? Get in the mood for Sin City with some of these great Las Vegas themed songs! Whether you're planning a trip to the strip or just want to feel like you're there, these tunes will have you partying like a high roller. So put on your best showgirl outfit and get ready to boogie!
Katy Perry – Waking Up In Vegas
The Rolling Stones – Tumbling Dice
Charlie Clouser – Let it ride
Dwight Yoakam – Little Chapel
Elvis Presley – Night Life
Bruno Mars – 24K Magic
Brandon Flowers – Welcome to Fabulous Las Vegas
Death Cab for Cutie – Little Bribes
Faith Hill – Let's Go To Vegas
Pusha T – Alone In Vegas
Kool & The Gang – Ladies Night
Mary J Blige – Vegas Nights
Marc Almond & Gene Pitney – Something`s Gotten Hold Of My Heart
The Everly Brothers – I'm Tired Of Singing My Song In Las Vegas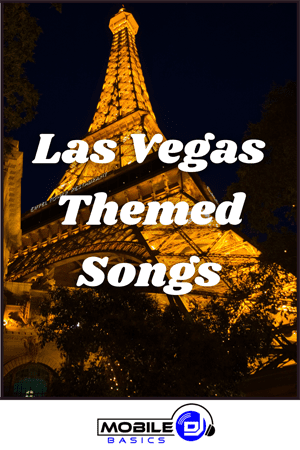 Whether you're a bona fide poker fanatic or just looking for an excuse to party, a "poker night" themed event is always a blast. And what could be more appropriate for a Vegas themed bash than some tunes inspired by the city's most iconic songs?
Katy Perry – Waking Up In Vegas
If you're a fan of Katy Perry, then you know that her dance song "Waking Up in Vegas" is all about experiencing the high-energy party atmosphere of the city. And what better place to experience that than right in the heart of the action? Whether you're looking for some crazy nightlife or just some good old-fashioned relaxation, Las Vegas has something for everyone.

---
Vegas Party Songs
When you think of a Vegas party, what comes to mind? The bright lights, the endless amounts of partying and, of course, the music. While classic songs like "Viva Las Vegas" and "Luck Be A Lady" will always be crowd pleasers, there's nothing wrong with mixing things up once in a while.
Here are some upbeat Vegas party songs that will get your guests on their feet and into the spirit of things!
Flo Rida – Right Round
Fatboy Slim – Wonderful Night
Fergie – A Little Party Never Killed Nobody
Flo Rida – How I Feel
Afrojack and Steve Aoki – No Beef
The Magician – Las Vegas
Pitbull – Fireball
Dirty Vegas – Days Go By
Tiësto – Red Lights
LMFAO ft. Lil Jon – Shots
Christina Aguilera – Show Me How You Burlesque
Lady Gaga – Poker Face
Tiësto – Wasted
Flo Rida – Turn Around (5,4,3,2,1)
Clubstrophobia – Vegas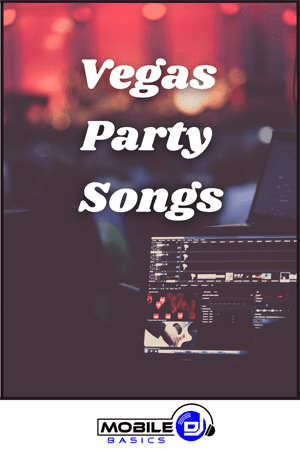 The best and most popular party songs in Las Vegas.
Makes you want to get up on stage, or at least join the crowd!
Flo Rida – Right Round
It is no secret that the Hangover movie series loves to use popular songs in their soundtracks. "Right Round" by Flo Rida is a great dance song. In fact, it was actually used in the first Hangover movie.
While many people know Flo Rida for this one song, he has actually had a successful music career for over a decade. Check out this fun Vegas video below

---
Songs with Vegas in the Title
Las Vegas is one of the most popular tourist destinations in the world. People come from all over to gamble, see shows, and enjoy the nightlife. While there are plenty of songs about the city itself, there are also a lot of songs with "Vegas" in the title.
INXS – Pretty Vegas
Matt Goss – Lovely Las Vegas
Conor Maynard – Vegas Girl
Chumbawamba – Jesus in Vegas
The Thrills – Your Love Is Like Las Vegas
Sara Bareilles – Vegas
Punkinloveee – Las Vegas
Was (Not Was) – Wedding Vows In Vegas
Size 14 – People Get Really Drunk In Las Vegas
Cocteau Twins – Heaven Or Las Vegas
Geggy Tah – Las Vegas With the Lights Out
Stereophonics – Vegas Two Times
Frankie Yankovic – Vegas Polka
Lucky Lee – She Moves Like Vegas
Tori Amos – Dont Make Me Come To Vegas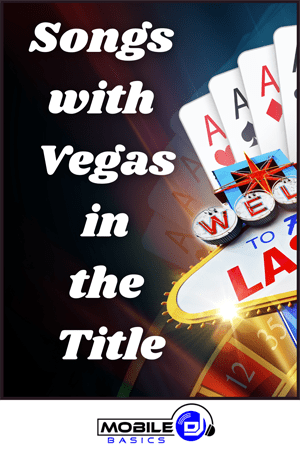 What comes to mind when you hear the word "Vegas"? Elvis? Gambling? Casinos? bright lights and showgirls?
While all of those things may be associated with Las Vegas, there is one other thing that's hard to miss – the countless number of songs about Vegas.
Either it's an up-beat pop song, Song about lost love, lost money, or a slow ballad, musicians can't seem to help but write about Vegas. Some of the greatest live performances have been done in Las Vegas.
---
Songs That Make You Think of Las Vegas
Do you ever hear a song and it takes you back to a specific time and place in your life? Maybe a vacation or special event? For me, that place is always Las Vegas.
Whenever I hear certain songs, I can't help but think of all the great memories I've made in Sin City.
Wither it's dancing the night away at one of the clubs or seeing some of the world's biggest stars perform live, Vegas always knows how to bring the party.
If you're looking for some tunes to put you in a Vegas state of mind, check out these songs!
Elvis Presley – A Little Less Conversation
Elvis Presley – It's Now or Never
Kenny Rogers – The Gambler
Danzig – Thirteen
Phil Collins – In The Air Tonight
The Belle Stars – Iko Iko
Baha Men – Who Let The Dogs Out
Tom Jones – She's A Lady
Frank Sinatra – Strangers In The Night
Big Bad Voodoo Daddy – You Me and the Bottle Makes 3 Tonight
Kanye West – Stronger
The Brian Setzer Orchestra – Jump Jive An' Wail
Curtis Mayfield – Pusher Man
Jefferson Airplane – White Rabbit
Wayne Newton – Danke Schoen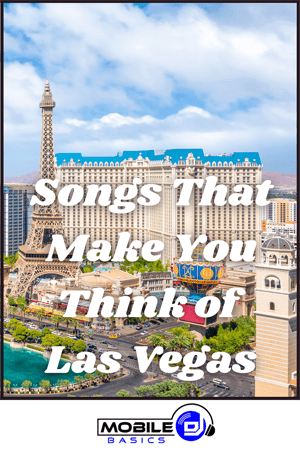 These songs makes me think of Las Vegas. The opening line is "Take me to the city where we are king." It's about a dreamer who has their heart set on being rich and famous, but can't quite figure out how yet because there seems like so many things holding them back – until finally one day in this fantasy-like place called "the City" (Las Vegas) everything falls into place for him/her as if by magic!
---
Conclusion
Las Vegas is one of the most popular tourist destinations in the world, and it's no secret why. This city is known for winning, its luxury hotels, world-class restaurants, and 24/7 party atmosphere.
If you're looking for a vacation that will excite your senses, Las Vegas is the place to be. And if you're a fan of music, you'll be thrilled to know that there are plenty of new songs about Las Vegas.
Whether you're visiting for the first time or you're a regular visitor, these songs will make your experience even more amazing
---
Read More
---
---
---
Pins for Pinterest
If you like what you see, feel free to share some love on Pinterest ❤️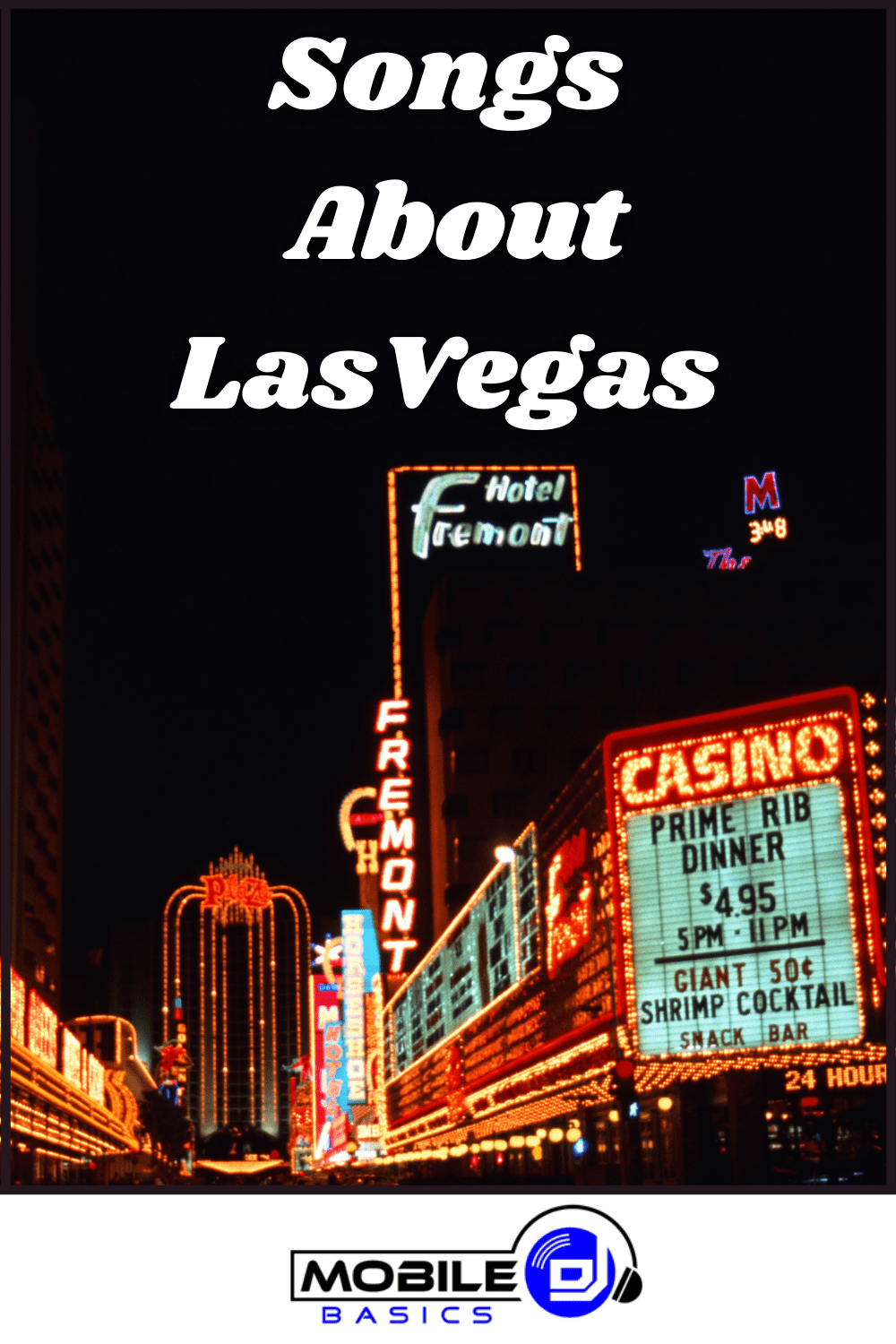 101+ Lucky Songs About Las Vegas | Fun Iconic Vegas Songs 2023
From discovering new songs to getting more gigs, I'm excited to share the wealth of knowledge I've gained through many years of DJing. [email protected]