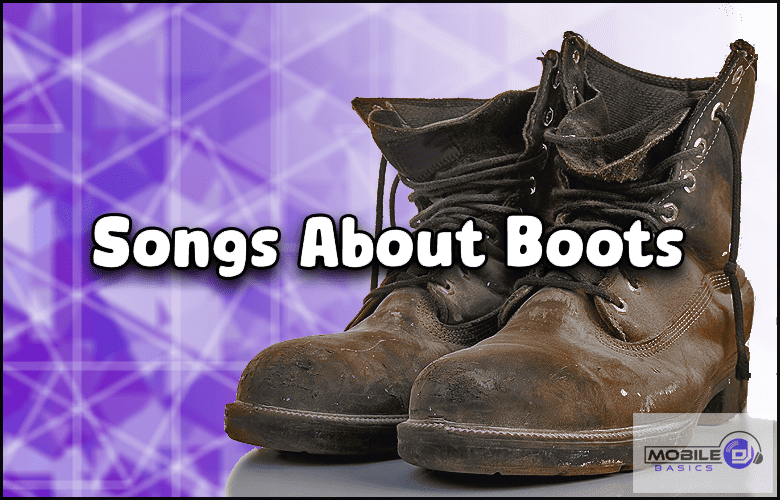 Last Updated on September 11, 2023 by Ryan Conlon | 🕒 7 min Read Time
---
Boots are more than just pieces of footwear; they have made their way into countless songs about boots and have become a staple in country culture.
From Nancy Sinatra's iconic "These Boots Are Made for Walkin'" to Eric Church's empowering hit, there seems to be a song for every occasion where boots are involved.
The imagery of boots can evoke feelings of strength, toughness, and even vulnerability.
Whether the boots are new and shiny or old and worn, they carry a certain significance that has been cemented into music history.
There's no denying that boots have a special place in the hearts of many musicians and fans alike, and their presence in lyrics and melodies is a testament to their enduring appeal.
Songs About Boots

Boots, they come in all shapes and sizes; they protect our feet from the elements while we traipse around town in style.
Boots serve a very functional purpose, but there is more behind them than meets the eye – boots can also represent an attitude or a feeling of confidence.
For centuries, people have been writing songs about the empowering nature of boots, from cowboys to pop stars – these tunes showcase just how integral this footwear has been for generations.
Within this article we'll explore some classic hits like Shania Twain's "Whose Bed Have Your Boots Been Under" to country star Jon Pardi's "Head Over Boots", each inspiring us with its own unique message concerning what it means to be boot-clad!
Iconic Songs Talking About Boots!
Morgan Wallen – Sand In My Boots
Jon Pardi – Head Over Boots
Luke Bryan – Knockin' Boots
Brooks & Dunn – Boot Scootin' Boogie
HARDY – Boots
Thomas Rhett – Church Boots
Erin Kinsey – Boys In Boots
Nancy Sinatra – These Boots Are Made for Walkin'
Jessica Simpson – These Boots Are Made for Walkin'
Shania Twain – Whose Bed Have Your Boots Been Under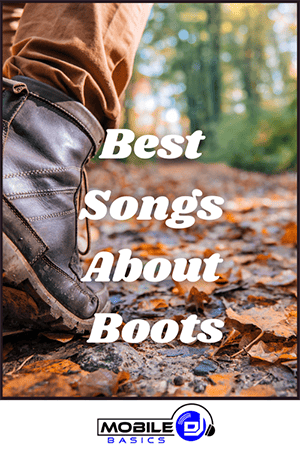 Boots have long been a symbol of hard work in music, and many hit songs have paid homage to this iconic footwear.
There is no shortage of songs that mention boots that also celebrate the grit, determination, and resilience of working-class people.
Whether you're a farmer, a construction worker, or just someone who appreciates a sturdy pair of shoes, there's a boot song out there for you.
Morgan Wallen – Sand In My Boots
Morgan Wallen is a rising country music superstar, known for his smooth voice and relatable lyrics.
The song depicts Wallen on a romantic getaway with his lover, only to be interrupted by the harsh realities of the outside world.
As he sings about the sand in his boots, it becomes clear that he is grappling with the weight of responsibility and the limitations of his carefree lifestyle.
What sets "Sand In My Boots" apart from other songs is its honest portrayal of the complexities of modern-day country living.
While boots may still represent a nostalgic idea of southern charm, Wallen recognizes that life is not always as simple as it seems.
With its catchy chorus and heartfelt verses, "Sand In My Boots" is sure to become a new classic in the canon of country music.
---
Songs About Love and Boots

There's a reason why songs about love are so timeless—they capture the essence of one of the most powerful emotions we experience as humans.
But when you pair love with another beloved symbol, like boots, you've got a recipe for a truly unforgettable tune.
So if you're looking for a little musical inspiration that will have you tapping your toes and swooning at the same time, crank up the volume on some of these unforgettable tracks.
Top Songs That Celebrate Love and Boots
Jake Owen – My Boots Miss Yours
Jon Pardi – Dirt On My Boots
Aaron Watson – Boots
Granger Smith – If the Boot Fits
Randall King – When My Baby's In Boots
Jon Wolf – Boots on a Dance Floor
Lights – My Boots
KWAYE – Lost In My Boots
Kaylee Bell – 'BOOTS 'N ALL
Danielle Bradbery – Stop Draggin' Your Boots
Kesha – Boots and Boys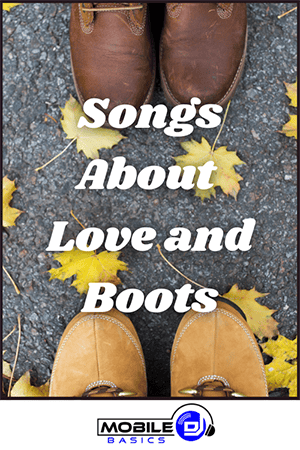 My leather boots always attract a cowgirl's attention with their sturdy sole and protective toe.
They're my favorite footwear for a night of country dancing, and I wear them till the soles are worn down to the ground.
As I listen to my favorite songs at the bar, I feel confident and stylish in my trusty boots.
Jake Owen – My Boots Miss Yours
Jake Owen – My Boots Miss Yours is a heartwarming country song about the struggles of letting go of a past lover while still holding onto memories of their relationship.
The song's lyrics center around a pair of boots that the protagonist wears every day, which reminds him of his ex.
Owen's raw and emotional vocals convey the pain and longing that he feels for someone he once loved, even though he knows they're not coming back.
The song's catchy melody, combined with its relatable lyrics, make it a standout track for fans of country music and anyone who's ever struggled with moving on after a breakup.
Overall, My Boots Miss Yours is a poignant and beautifully crafted song that captures the complexities of love and all the emotions that come with it.

---
Country Songs that Celebrate Boots
Country music and boots go together like peanut butter and jelly.
Whether you're two-stepping at a honky-tonk or working on the farm, boots are a staple of the country lifestyle.
With countless songs dedicated to this iconic footwear, we've rounded up the greatest country hits featuring boots for your listening pleasure.
From Toby Keith's classic "Baddest Boots" to newer hits like Jon Pardi's "Dirt on My Boots", these songs will have you tapping your toes and feeling the country vibe.
So dust off those boots and get ready to sing along to some of the most memorable tunes in country music history.
Famous Country Songs That Honor the Timeless Appeal of Boots
Lainey Wilson – Those Boots
Eric Church – These Boots
Randy Houser – Boots On
Chris Lane – Fill Them Boots
Lady Antebellum – Boots
Joey and Rory – Boots
Toby Keith – Baddest Boots
Tyler Farr – Better in Boots
Jade Eagleson – Shakin' In Them Boots
Terri Clark – Better with My Boots On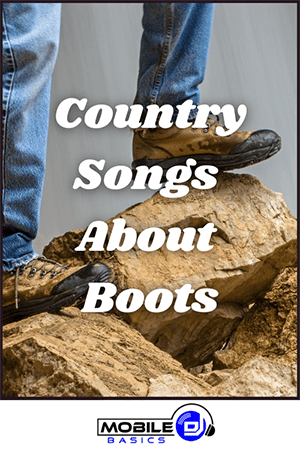 When it comes to Boot Songs on the country radio, there are countless options to choose from.
Some of our favorites revolve around the practicality of boots – like how a great pair of leather boots can provide both protection and comfort.
Other songs highlight the versatility of boots in different weather conditions – whether it be keeping warm in the cold or staying dry in the wet snow.
And let's not forget about the aesthetics of boots, with some tunes focused on the allure of high heels or the search for lost songs associated with a favorite pair.
But no matter the theme, there's something super simple and universally relatable about singing about boots – especially when you're breaking in a brand new pair.
Lainey Wilson – Those Boots
Lainey Wilson is a rising star in the country music scene, known for her soulful tunes and authentic lyrics.
Her hit single "Those Boots" is a fan favorite, showcasing her unique blend of traditional country sounds and modern influences.
The song tells the tale of a girl who loves her worn-out boots, which have seen better days but still carry her through life's challenges.
Fans across the country have fallen in love with this catchy tune, cementing Lainey Wilson's status as one of the brightest stars in modern country music.

---
Songs About Work Boots and Blue-Collar Jobs

From Bruce Springsteen's "Factory" to Jon Pardi's "Night Shift," these tunes capture the hardworking spirit of those who wake up early and put in a full day's work.
They're not glamorous jobs, but they're essential to keeping the wheels of society turning.
Whether it's the pride of a father passing down his worn-out boots to his son, or the camaraderie of workers leaning on each other during long shifts, these songs offer a glimpse into a way of life that's often overlooked in popular culture.
So go ahead, put on your steel-toed boots and turn up the volume. These songs will make you appreciate the sweat on your brow and the grit in your soul.
Honoring the Hardworking Class
Josh Gallagher – Boots Like Mine
Randy Houser – Workin' Man
Frank Foster – Blue Collar Boys
Larry Fleet – Working Man
Kenny Chesney – Shiftwork
Kenny Rogers – The Factory
Dolly Parton – Daddy's Working Boots
Jamey Johnson – High Cost of Living
Uncle Lucius – Keep The Wolves Away
Creed Fisher – Life Of A Workin' Man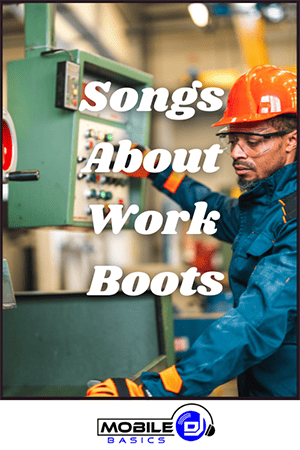 There are plenty of boot songs out there, ranging from comfortable boots to knockout boots that can make any woman feel confident.
One classic example is Johnny Cash's "Tennessee Flat Top Box," where he sings about walking in his boots through different places and events in Nashville.
The song's upbeat version and catchy content appeal to different categories of listeners, from friends to family and even children.
Other iconic songs like Knockin Boots" by Luke Bryan, capture the moments and things that come with wearing a good pair of boots, creating a music album filled with plenty of information and entertainment.
Regardless of the song's message, boots and their comfort remain an essential part of most country music lyrics.
Josh Gallagher – Boots Like Mine
Josh Gallagher's "Boots Like Mine" is a remarkable country song that provides a rich and detailed narrative of blue-collar work boots and their significance in the lives of hard-working individuals.
The song paints a vivid picture of the grueling demands and sacrifices that come with blue-collar jobs through the lens of a construction worker who takes great pride in his work boots.
Josh Gallagher's smooth vocals and impressive songwriting skills allow him to expertly capture the essence of the blue-collar worker's struggles and triumphs.
The compelling imagery and emotional depth of "Boots Like Mine" make it an excellent addition to any playlist celebrating the contributions of blue-collar workers.

---
Songs About Combat Boots and the Military

In these musical pieces, we hear the stories of servicemen and servicewomen who bravely lace up their boots and fight for our freedom.
From ballads that honor the fallen to upbeat anthems that celebrate the bravery and camaraderie of soldiers, the songs remind us of the sacrifices made by those in uniform.
Through music, we can connect with the experiences of those who have served and gain a better understanding of their experiences.
Whether you have a personal connection to the military or simply appreciate the sacrifice and dedication of our troops, these songs are an inspiring and moving tribute.
Songs That Pay Tribute to the Bravery and Sacrifice of Military Personnel
Coffey Anderson – Mr Red White and Blue
Brandon Davis – More Than A Flag
Frank Foster – Boots on the Ground
Danny Freeman – These Combat Boots
Trace Adkins – Still A Soldier
Xandria Cross – Combat Boots
Trace Adkins – Empty Chair
OTHERWISE – Soldiers
John Michael Montgomery – Letters From Home
Buddy Brown – STOP WHEN YOU SEE A UNIFORM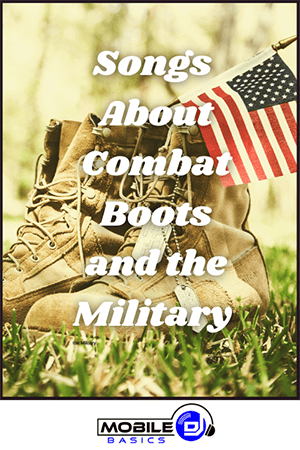 There are a number of English language albums that feature a song about boots, spanning a diverse line of musical genres and perspectives.
Some artists, like Nancy Sinatra and Geri Halliwell, have expressed a near-obsession with footwear and incorporated it into their music.
Others, like Kenny Chesney and George Strait, have used boots as a metaphor for hard work and personal character.
Many country music fans have even created lists and tweeted comments about their favorite boot-related songs.
Regardless of the artist or style, there is nothing quite like the feeling of slipping on a beloved pair of boots and feeling confident and powerful with each step.
It's a perspective that resonates with many, and one that deserves recognition and respect from all who value the rights and hands that create our music.
Coffey Anderson – Mr Red White and Blue
Coffey Anderson is a country singer-songwriter who has received widespread recognition for his heartfelt and patriotic tribute to the American soldiers, "Mr Red White and Blue".
The song, released in 2015, has been hailed as one of the best contemporary anthems for the military and has found a special place in the hearts of many Americans.
With poignant lyrics and a soul-stirring melody, "Mr Red White and Blue" takes listeners on an emotional journey that honors the heroes of the military, past and present.
Through the song, Anderson paints vivid images of the struggles and sacrifice that soldiers go through for their country, highlighting the mental and physical scars they bear.
The song's memorable chorus perfectly captures the feeling of patriotism, stating that "Mr. Red White and Blue lay his life down for you."
Overall, Coffey Anderson's "Mr Red White and Blue" is a powerful tribute to America's military heroes and stands out as a timeless anthem for all who stand for justice, freedom, and democracy.
Its resonance today is as strong as it was when it was first released and continues to inspire and uplift people across the nation.
---
Songs With Boots in the Title

From stomping rhythms to soulful ballads, songs with boots in the title evoke images of rugged terrain, dusty roads, and sturdy footwear that can handle them all.
Whether it's country crooners like Brooks and Dunn with their hit "Boot Scootin' Boogie" or pop sensations like Jessica Simpson's "These Boots Are Made for Walkin'," these tunes capture the spirit of adventure and the resilience required for journeying off the beaten path.
Regardless of the genre, songs about footwear awaken our senses and invite us to walk a mile in their soles.
Exploring the Musical Allure of Boots in Song Titles
Candyman – Knockin' Boots
Struggle Jennings – Alligator Boots
Greyson Chance – Boots
The Killers – Boots
Wheeler Walker Jr. – Puss in Boots
Seth Anthony – These Old Boots
Ryan Charles – New Boot Goofin'
STORMZY – BIG FOR YOUR BOOTS
Copper Chief – Snakeskin Boots
U2 – Get On Your Boots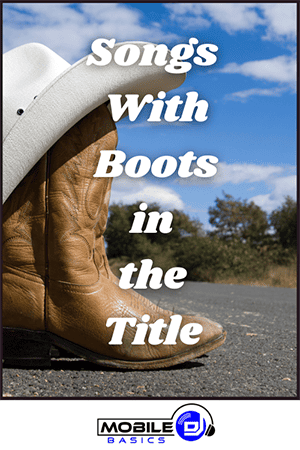 As the California sunrise painted the sky with hues of orange and pink, a man singing a country tune could be heard in the distance.
It's no surprise that people tend to wear boots in these parts – the rugged terrain and occasional rattlesnake make them a necessary accessory.
But it's not just practicality driving the trend; there's a certain rugged charm to a well-worn pair of snakeskin boots that fits right in with the country lifestyle.
Candyman – Knockin' Boots
Candyman – Knockin' Boots is a classic R&B track released in 1990 by the American rapper, Candyman.
The song's catchy chorus and upbeat energy make it a popular dance floor anthem, and it has been covered and remixed by various musicians over the years.
"Candyman – Knockin' Boots" was a massive commercial success, earning a gold certification and garnering widespread attention for Candyman as an emerging artist in the early 1990s.
With its infectious beat and playful lyrics, this fun-loving party track has become a staple of the R&B genre and a beloved classic of the era.

---
Songs About Cowboy Boots

There's something about boots that just screams "country."
Whether you're a true cowboy or just a city dweller looking to channel their inner western spirit, a good pair of boots can make you feel unstoppable.
And what better way to express your love for this iconic footwear than through music?
Countless artists have written songs about their beloved boots, each one filled with stories of adventure, heartbreak, and everything in between.
From George Strait's "Amarillo By Morning" to Kacey Musgraves' "Space Cowboy," these tunes capture the essence of what it means to be a true cowboy.
Legacy of Boots in Country Music
Dierks Bentley – Cowboy Boots
Trace Adkins – Cowboy Boots and Jeans
Charlotte Lily – Cowgirl Boots
Anna Shoemaker – Silver Cowboy Boots
Jerry Jeff Walker – Cowboy Boots & Bathin' Suits
Macklemore & Ryan Lewis – Cowboy Boots
Dave Dudley – Cowboy Boots
TABBY – Dancing in My Cowgirl Boots
Brooks & Dunn – Boot Scootin' Boogie
Knuckles – Cowboy Boots and Shorts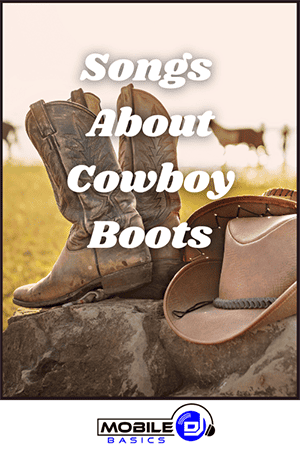 When it comes to songs talking about boots, some of the best songs that come to mind include "These Boots Are Made for Walkin'" by Nancy Sinatra and "Boot Scootin' Boogie" by Brooks & Dunn.
However, there are plenty of other noteworthy tracks that feature boots, like "Crocodile Shoes" by Jimmy Nail and "Dirty White Boots" by Lenny Kravitz.
Even country music superstar Carrie Underwood has a song called "Good Girl" where she sings about go go boots.
And let's not forget about the iconic "Footloose" by Kenny Loggins, where a man sings about kicking off his Sunday shoes.
There's no shortage of boot-themed songs out there, and each one brings its own unique spin to this classic footwear.
Dierks Bentley – Cowboy Boots
Dierks Bentley's song is a quintessential cowboy anthem that recounts the story of a man's love affair with his beloved boots.
The song's chorus is catchy and memorable, with Bentley singing "Gonna put on my boots, gonna ride till I can't no more."
Moreover, the guitar riffs in his song are complex and dynamic, showcasing Bentley's musical prowess and his ability to capture the essence of the cowboy spirit in his music.
As a country music veteran, Bentley has established himself as a leader in the genre with his skillful songwriting and charismatic performances, and this song is just one example of the many hits in his repertoire.
---
Songs That Talk About Shoes

From classic boots to sparkly stilettos, shoes have always been a fashion statement.
They not only protect our feet but also reflect our personality and mood.
No wonder shoes have inspired many hit songs over the years.
Join us on a musical journey as we walk through some of the most iconic songs that celebrate the beauty, comfort, and diversity of shoes.
Whether you're a sneaker-head or a high-heel fanatic, there's a tune for you on this playlist. Lace-up and let's groove!
Step Into Style: Top Hits That Celebrate Shoes
Macklemore x Ryan Lewis "WINGS"
Nelly – Air Force Ones
Mac Miller – Nikes On My Feet
Arctic Monkeys – Dancing Shoes
RUN DMC – My Adidas
ITZY "SNEAKERS"
Kaskade – Fire In Your New Shoes
KC & The Sunshine Band – Boogie Shoes
NewSong – The Christmas Shoes
Elvis Presley – Blue Suede Shoes
Vanessa Hudgens – Sneakernight
Dido – Sand In My Shoes
Jennifer Lopez – Louboutins
Chosen Jacobs – In Your Shoes
Paolo Nutini – New Shoes
David Lee Roth – Sensible Shoes
You Me At Six – If I Were In Your Shoes
Robbie Williams | Shine My Shoes
Montgomery Gentry – Hillbilly Shoes
Adam Ant – Goody Two Shoes
Randy Travis – An Old Pair Of Shoes
Sarah McLachlan – In Your Shoes
Depeche Mode – Walking In My Shoes
Paul Simon – Diamonds On The Soles Of Her Shoes
Kenny Chesney – No Shoes, No Shirt, No Problems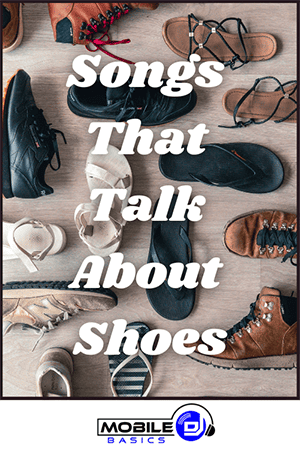 Some popular songs about footwear that I enjoy are "Red High Heels" and "Small Town Girl" by Kellie Pickler.
These shoe songs perfectly capture the feeling of strutting your stuff in your nicest pair of boots, whether they're high heels or a more laid-back pair.
As the song progresses, it's clear that boots are just what you need to complete any outfit, whether it's a tight dress or something more casual.
And of course, "Red Shoes" is another classic that's sure to get you tapping your feet.
Macklemore x Ryan Lewis "WINGS"
Macklemore x Ryan Lewis' "WINGS" is a powerful and thought-provoking song that delves into the social and cultural significance of footwear.
The lyrics touch upon the theme of consumerism and how people often use material possessions, such as shoes, to establish their identity and status.
The song also highlights the impact of advertising and how it can fuel our desire for material possessions, such as the latest and most popular sneakers.
The music video for "WINGS" features a young Macklemore who eagerly saves up to buy the latest Air Jordans, only to realize that the shoes do not bring him the happiness or belonging he was seeking.
Throughout the video, we see various individuals from different walks of life wearing the same pair of shoes, emphasizing the idea that shoes alone do not define who we are as individuals.
Overall, "WINGS" serves as a powerful commentary on consumerism and the importance of finding true happiness and self-worth beyond material possessions.
---
Who sang the song Knocking Boots?
The song "Knocking Boots" has been a major hit among music enthusiasts around the world. Fans of the track may be curious as to who the talented artist behind the song is.
Well, it's none other than Luke Bryan! The country music superstar has become a household name with his soulful voice and catchy lyrics, and "Knocking Boots" is no exception.
The upbeat melody and playful lyrics have made this song a fan favorite, and it's no surprise that it's been on repeat in many homes and cars alike.
Luke Bryan's unique blend of country and pop has won him fans from all over, and "Knocking Boots" is a true testament to his talent.
---
Who used to sing these boots are made for walking?
"Get ready to put on your dancing shoes" with the unforgettable hit song from the 60s, "These Boots Are Made for Walkin'".
The melody is unmistakable, the lyrics "One of these days these boots are gonna walk all over you" are unforgettable, but who was lucky enough to sing it? That would be none other than Nancy Sinatra, daughter of legendary crooner Frank Sinatra.
The song, released in 1966, perfectly captures the spirit of the era – filled with rebellion, freedom, and female empowerment.
It quickly became a chart-topping hit and has since been covered by countless artists, cementing its place in music history.
So, the next time you hear "These Boots Are Made for Walkin'", remember that Nancy Sinatra brought those unforgettable lyrics to life.
---
Conclusion
Music has long been a way to express culture and emotions, and this is just as true when talking about boots.
From the joys of being forever on the road with Canned Heat's "On the Road Again" to Elvis Presley's passion for his "Blue Suede Shoes," it is clear that boots have been part of our global culture for many years.
It's not just famous artists who draw inspiration from boots; everyday people from around the world use songs about cowboy or work boots to express their own feelings.
Whether you are looking for a tune to lift your spirits, celebrate an adventure, or simply enjoy an old classic song, there is something perfect that is all about boots.
So break out your dancing shoes and kick up your heels – it's time to get groovin'!
---
Read More
---
---
---
Pins for Pinterest
If you like what you see, feel free to share some love on Pinterest ❤️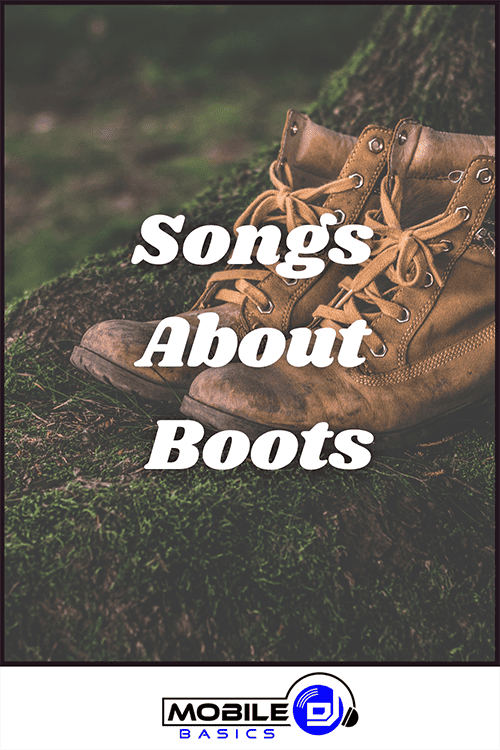 Songs About Boots | Evolution of Boot Music | Work to Combat (2023)
From discovering new songs to getting more gigs, I'm excited to share the wealth of knowledge I've gained through many years of DJing. [email protected]