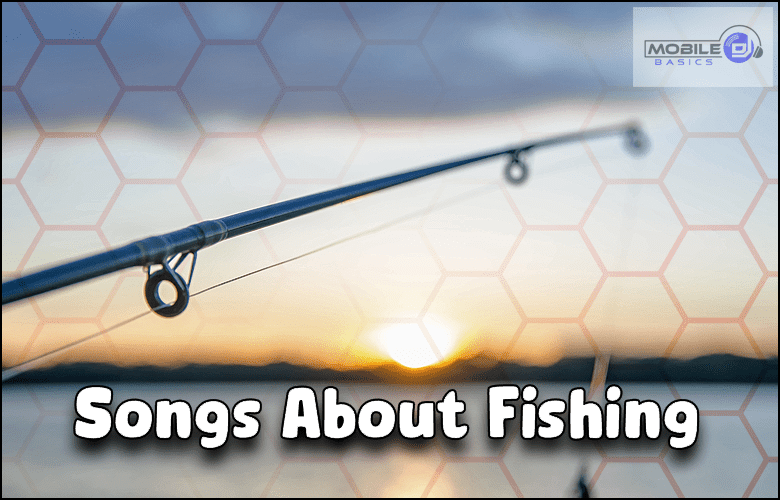 Last Updated on May 15, 2023 by Ryan Conlon
Fishing is one of those activities that can be enjoyed by people of all ages.
Whether you're fishing for sport or for food, there's nothing quite like the feeling of a big fish biting your line.
In this article, we'll take a look at a song about fishing that will have you itching to grab your fishing pole and go out on the water.
Songs About Fishing

Can't wait to get out on the boat and wet a line? Neither can we!
In anticipation of a great day of fishing, it's only natural to want to listen to some tunes that capture the feeling.
Here are some songs about fishing that will get you pumped up for your next trip. Enjoy!
The Best Fishing Songs of all time:
Morgan Wallen – Up Down
Luke Bryan – Bill Dance
Luke Bryan – Huntin', Fishin', And Lovin' Every Day
Billy Currington – Bad Day of Fishin'
Andy Griffith – The Fishin' Hole
Thomas Rhett – More Time Fishin'
Clayton Anderson – Show Me Your Fish
Trace Adkins – Mind On Fishin'
Jill's Cashbox – Fishing In Our Soul
Rodney Atkins – The River Just Knows
Nitty Gritty Dirt Band – Fishin' In The Dark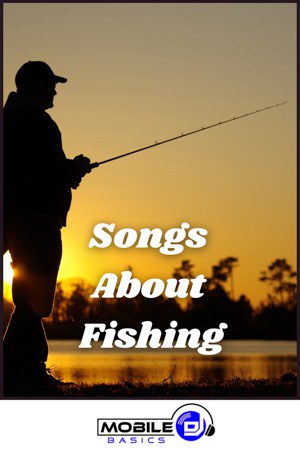 While fishing is a beloved summer activity, what can make the fishing experience even more enjoyable is the right soundtrack.
From country to pop, there are countless songs that capture the spirit of catching a prize-winning catch.
Whether you prefer fishing by yourself or with family and friends, having some fishing tunes in your playlist can add an extra layer of fun to your adventure.
No matter what type of fishing music catches your eye, these essential songs will surely make a grand appearance in your summer playlist!
Morgan Wallen – Up Down
Morgan Wallen's hit single "Up Down" is all about fishing, although it doesn't appear to be super obvious.
He talks about wanting to escape reality with his friends and having good times on the lake going out fishing.
So if you're looking for a good song to blast while relaxing on the river banks, fish in hand and tackle box by your side, then Morgan Wallen's "Up Down" is perfect for you!
It'll have everyone singing along and jamming out to a country-pop groove.

---
Relationships and Fishing Songs

Fishing songs have been around for generations. From the old standards of fishing shanties and sea songs, to more contemporary artists singing about the joys of fishing, these songs bring the fishing experience alive.
While sometimes it can be difficult to choose between your relationship and a fishing trip, fishing usually wins out due to just what these songs mean to us.
From remembering childhood fishing trips with a parent, fishing being a way of life in some areas, or fishing being an escape that lures us away from everyday stressors, there are so many reasons behind why fishing usually wins when we have to make this decision.
We all connect on some level with these songs and the relationships they form with our favorite pastime – fishing!
Songs About Love and Fishing

Brad Paisley – I'm Gonna Miss Her
Jake Owen – Fishin' On A River
Justin Moore – Bait A Hook
Maddie & Tae – Shut Up And Fish
Craig Campbell – Fish
Toby Keith – I'll Probably Be Out Fishin'
Eric Paslay – If the Fish Don't Bite
Chris Lane – Fishin'
Lisa McHugh – Girl with the fishing rod
Craig Morgan – Fish Weren't Bitin'
Luke Combs – On the Other Line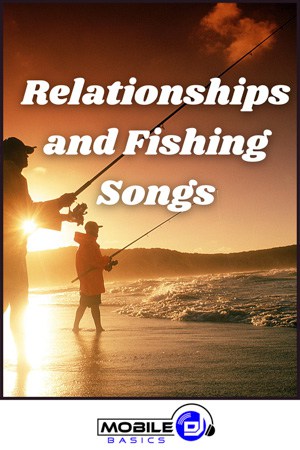 It's an age-old dilemma: fishing or your girlfriend. For me, fishing definitely beats out the girl, hands down!
I love everything about fishing – from hours spent on fishing boats to trips to the lake with friends and family – but I especially appreciate all the fishing songs that come along with it
Brad Paisley – I'm Gonna Miss Her
It's often said that the two great loves of a man's life are fishing and his partner, but Brad Paisley's song "I'm Gonna Miss Her" tells a different story.
This number one hit tells the tale of a young fisherman who chooses to fish over spending time with his lover.
The catchy chorus encourages him (and the listener) to have fun while on the lake, but it also serves as a reminder of what could have been had he chosen differently.
Although it may not be common practice to pick fishing over your better half, Brad Paisley has created an anthem for those anglers in our lives who put their hobby first!

---
Songs About Going Fishing

Going fishing is a popular pastime for many people. There's something about being out on the water that is calming and relaxing.
And, of course, there's the excitement of catching a fish! If you're one of those people who loves to go fishing, then you'll love these songs about fishing.
Log out of social media, put on some tunes, and get ready to spend some time outdoors!
Our Favorite Going Fishing Songs:
Thomas Rhett – More Time Fishin'
Shane Profitt – Better Off Fishin'
Jake Owen – Fishin' On A River
Eric Church – Livin' Part Of Life
Aaron Lewis – Let's Go Fishing
Trace Adkins – Just Fishin'
Slim Dusty – A Bad Day's Fishin'
Bobby Bones and the Raging Idiots – Fishin' with my Dad
Taj Mahal – Fishin' Blues
Bing Crosby and Louis Armstrong – Gone Fishin'
Randy Joe Heavin – I Wanna Go Fishing
James Wesley – Hooked Up
Dustin Huff – I Should be Fishin'
Willie Nelson and Merle Haggard – It's My Lazy Day
Fishing is one of the most popular pastimes enjoyed by all ages, so it's no surprise that many fishing songs have been written to celebrate this tranquil, peaceful activity.
You can hear those sweet notes of relief and relaxation as people go out to the lake or river for a day.
With the sun rising up over the water, fishing song lyrics speak to the joy of being outside in nature, finally getting away from all of the hustle and bustle of daily life.
Whether it's casting into new depths or netting a river full of trout, fishing brings us closer to life's simple joys.
So pick up your fishing rod, load up your tackle box, and enjoy a relaxing fishing adventure set to some amazing fishing tunes!
A Bad Day Fishing Beats a Good Day At Work
Thomas Rhett – More Time Fishin'
Thomas Rhett's country song is the perfect jam for anyone who loves to fish. This insightful and catchy track takes you through all of the feelings that come with fishing, from the anticipation while waiting for a bite, to reconnecting with nature and loved ones.
The chorus speaks to the angling spirit in us all as it declares that "Don't wanna look back at all the things I'm missing – And wake up wishing I spend more time fishing".
Whether you're spending this summer cooling off in the shade next to a pond or hitting the open seas, this tune will put you in just the right mood to cast your line.

---
Songs About Fishing Boats

We all know that music is the universal language, and when it comes to fishing boats, it seems as though there's no exception.
From ballads to rock anthems, there are countless songs written about these vessels that ply the waters in search of fish.
Some capture the tranquility and peace one can find while out on the open sea, while others bristle with excitement at the prospect of landing a big one.
No matter what your favorite style of music is, we're sure you'll find at least one song here that will speak to you.
Fun Day on a Boat Songs:
Morgan Wallen – Need A Boat
Chris Janson – Buy Me A Boat
Judson McKinney – Fishing Boat
Kenny Chesney – Boats
Jake Owen – Drunk On A Boat
Zac Brown Band – Same Boat
Cody Webb – Jon Boat
Luke Bryan – For A Boat
Old Dominion – I Was On a Boat That Day
Little Big Town – Pontoon
Craig Morgan – Redneck Yacht Club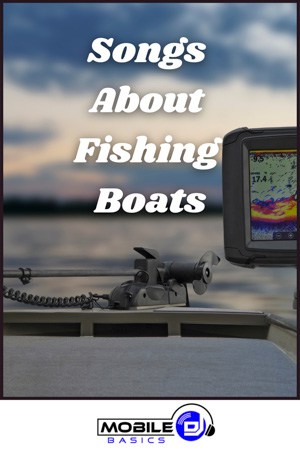 Rocking gently with the waves, a day on a boat fishing can be a peaceful escape from everyday life.
Fishing on the open waters is best accompanied by music that captures all that the experience has to offer.
There are plenty of country songs about fishing on a boat and stories within them of adventure and romance, making them perfect for adding some extra atmosphere during your voyage.
Listening to these songs about fishing boats can help enhance your time out at sea, allowing you to relax and capture both the complexity and serenity of being out in the open water surrounded by nature.
Morgan Wallen – Need A Boat
Morgan Wallen's song, "Need A Boat," invites listeners to join in the joy of an escape to the ocean waves.
Picture yourself on a boat, with no worries and no stress; that's exactly what Wallen evokes in this unique country anthem.
In the song, Wallen talks about how a boat brings peace not only with nature but also within one's soul.
While society can be full of miseries people often face, he provides a refreshing take on freedom from troubles.
Whether you need a break or an escape, Need A Boat will always be there for you to keep your faith alive.

---
Songs with Fish in the Title
Fishing songs have a rich history, often containing stories of fishing with friends or family, fishing as a metaphor for life, and tales of the fishing lifestyle.
From classic Country tunes to modern Rock tracks, fishing is definitely a go-to subject for many songwriters.
The genre-spanning tunes that feature fishing demonstrate the universal appeal of fishing and fishing songs across age groups and throughout time.
Whether you're fishing off the edge of a dock in the summertime or curled up inside with your headphones on during the winter – fishing songs are sure to bring joy and nostalgia no matter what season it is.
Dustin Lynch – Fish In The Sea
Stringbean – Fishin' Song
Davisson Brothers Band – Pond Fishing
Vince Staples – Big Fish
Trent Willmon – Cold Beer and a Fishin' Pole
Genesis Owusu – A Song About Fishing
Zack Walsh – Hunting & Fishing
M.Ward – Fishing Boat Song
Robert Earl Keen – Five Pound Bass
Brad Paisley – Catch All The Fish
Tim Hawkins – Cletus Take the Reel
Zachary Rodgers – Fishing Song
Elvin Bishop – Fishin'
Chris Rea – Gone Fishing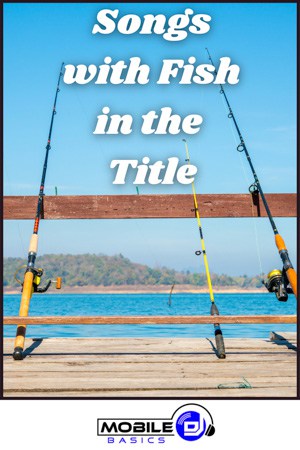 For fishers both amateur and professional, there are many unique and memorable songs that pay homage to the beloved hobby.
From old folk tunes to timeless modern melodies, an abundance of tunes feature fish or fishing in the title. Some of these include "Fishin' Blues" by Taj Mahal, "Fishing in the Dark" by The Nitty Gritty Dirt Band, " Catch All The Fish" by Brad Paisley.
For any one looking for a song to represent their carefree time on the lake or stream, there is no shortage of songs with fish or fishing in the title to choose from!
---
Songs about Fishing in Heaven

There's something about the rhythm of the words and the melody that just seems to fit when it comes to talking about our loved ones who have passed on.
Whether we are thinking about them fishing in heaven or missing them here on earth, these songs capture those feelings perfectly.
Loved One Fishing:
Nick McBride – Fishing Lakes In Heaven
Jimmie Allen – Down Home
Travis Smith – Fishing in the Sky
Jeff Bates – Riverbank
Erik Dylan – Fishing Alone
METHENEY – I Hope Heaven Got a Fishing Hole
Mikalene Ipson – Fishing in Heaven
John Prine – Fish and Whistle
Bo Phillips – Fishin' With Grandpa
Cliff Thigpen – Daddy Went To Heaven On A Fishing Boat
Justin Moore – If Heaven Wasn't So Far Away
Luke Bryan – Tackle Box
The Hues – Grandpa Took Me Fishing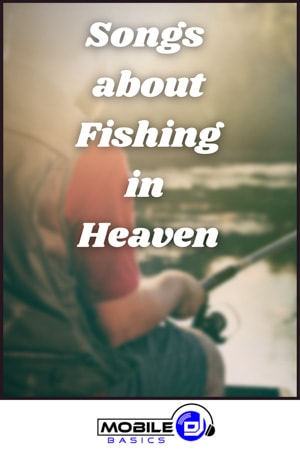 Many of us have known someone in our lives who we have loved deeply and unexpectedly had to part ways with, either due to death or a different type of departure.
There are times when the only way to express these feelings is through music and art. Songs about a loved one fishing in heaven offer those grieving moments that chance for appreciation and acknowledgement.
These songs not only reflect an individual's longing for lost love, but also the idea that a connection between two hearts transcends space and time.
In this sense, these songs are like affirming beacons in storms of sadness, offering comfort and strength in times of need.
Nick McBride – Fishing Lakes In Heaven
The release of Nick McBride's song "Fishing Lakes in Heaven" is one to remind us all of our loved ones that have gone ahead.
The poignant lyrics depict a person missing their beloved as they imagine them up in heaven fishing.
In life, we were often unable to do certain things with our dearly departed, such as having conversations and moments shared with them.
This song helps to bring solace, offering comfort that our lost ones are now happy and in a place filled with beauty.
It provides the idea of an eternal peaceful bliss where fish bite at crystal clear hooks, green hills encircle magnificent lakes, and family once separated by death can be reunited again.
It allows us to dive into the depths of memory for that last splattering of time spent together, releasing sadness as we imagine our loved ones high above in a perfect paradise. Take a look at the music video.

---
What are some of the most popular songs about fishing?
Music has a long history of creating songs about the pastime of fishing.
From fun songs about being at the lake for the day and finding out there are no fish, to songs that look deep into the soul and reflect on why fishing is so special.
Some of the most well-known songs about fishing include "Mind On Fishin'" by Trace Adkins, "Down Home" by Jimmie Allen, and "Buy Me A Boat" by Chris Janson.
Each song is diverse in style and varies between bluesy tunes to light country songs. It's amazing how such a variety of music can be inspired by a single activity: fishing!
All together they provide a beautiful snapshot of what it means to enjoy this beloved hobby – whether you're an avid fisher or just enjoy listening to these songs while you daydream.
---
Conclusion
It's always a good time when you can go fishing with friends or family.
Sometimes, the weather isn't cooperating or you don't have the right equipment, but that doesn't stop you from enjoying the day.
Whether you're reeling in a big one or just spending a day on the water, these songs will put you in the fishing mood.
---
Read More
---
---
---
Pins for Pinterest
If you like what you see, feel free to share some love on Pinterest <3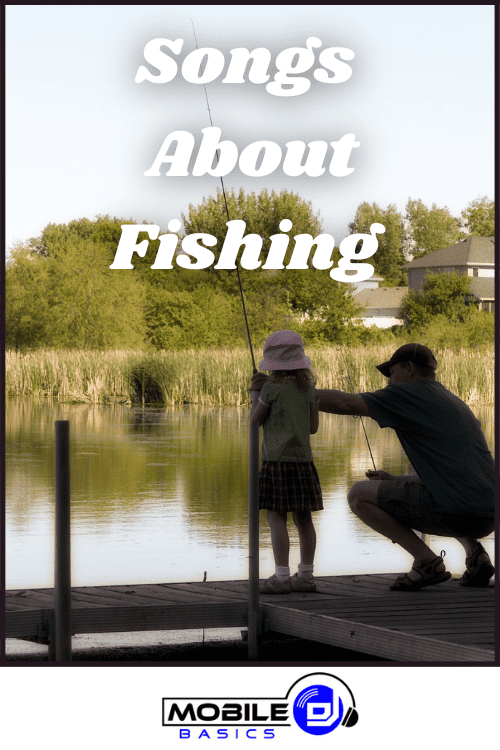 Songs About Fishing | Perfect Music for a Day on the Lake (2023)
From discovering new songs to getting more gigs, I'm excited to share the wealth of knowledge I've gained through many years of DJing. [email protected]