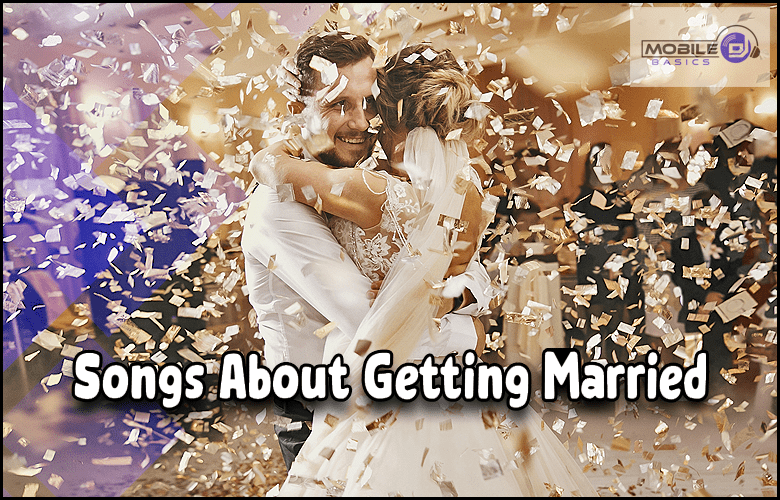 Last Updated on May 2, 2023 by
Ryan Conlon
Getting married is one of the most important and special days in a person's life.
With so much emotion encompassed in the occasion, it can be difficult to decide which song best encapsulates it all.
But fear not; we are here to guide you through the process!
Whether you're looking for upbeat and fast-paced beats or something more self-reflection or romantic – we have compiled 2023's best wedding songs that express joy, love, nostalgia and dedication.
So sit back, relax, as we take you on an emotional journey with our ultimate playlist of beautiful songs about getting married!
Songs About Getting Married
Getting married is one of those moments in life that will stick with us for years to come.
It symbolizes a commitment between two people and can be both beautiful and intense!
Everyone has their favorite songs and movie scenes related to weddings, but why do we so often turn to music when it comes to such an important occasion?
Music is capable of evoking strong emotions while capturing the roller coaster of feelings experienced at weddings—the joy, anticipation, nervousness or sadness.
And what better way to soundtrack your special day than by finding the perfect song about marriage?
To help you celebrate your wedding in style, this article looks at some classic tunes about getting married, as well as exploring some more modern tracks that might be just right for your nuptials.
Hits that will Pack the Dance Floor

Jagged Edge – Let's Get Married (Remix)
Ed Sheeran – One Life
RUELLE – I Get To Love You
Scotty McCreery – This Is It
Bruno Mars – Marry You
Lauren Daigle – Thank God I Do
Colbie Caillat – I Do
Rotimi – I Do
Coffey Anderson – Better Today
Next – Wifey
Westlife – Beautiful in White
Jake Miller – Lucky Me
Rod Wave – Married Next Year
MAGIC! – Rude
Luke Combs – Forever After All
Jason Mraz – I'm Yours
As we've seen, there are so many great songs that capture the joy and energy of getting married.
Whether you're looking for a modern pop hit or a classic folk tune to set the tone at your wedding reception, this list has something for everyone.
All that matters is that you choose the song to make your special day complete.
At the end of the day, it's your wedding and looking at happy couples out there on their most special days can bring us hope and joy as well.
Jagged Edge – Let's Get Married (Remix)
Today we're looking at Jagged Edge 'Let's Get Married (Remix)', which is a sweet hip hop/R&B collaboration about taking that lifelong leap into matrimony.
This song is sure to be popular on wedding days and engagement parties alike!

---
Songs About Proposing

Asking someone to share the rest of their life with you is a huge step, and it is likely that everyone has had butterflies in their stomach at one time or another when they have been considering popping the question.
It isn't easy to find the right words to express such an important sentiment and we believe music can sometimes help us do just that.
That's why we've complied this incredible list of songs about proposing marriage – jam-packed full of beautiful lyrics and musical inspiration guaranteed to help you on your big day!
Music that Captures the Emotions of Proposing
Chris Lane – For Her
Kodaline – The One
Parmalee – Take My Name
Blane Howard – PROMISE TO LOVE HER
Easton Corbin – Marry That Girl
Kiana Ledé – I Choose You
Romain Virgo – In This Together
Jordan Davis – Next Thing You Know
Snow Patrol – Just Say Yes
Emily Hackett – Take My Hand
Hunter Hayes – I Want Crazy
Anderson Gore – Last Name
Train – Marry Me
Ryann Darling – I Choose You
Tori Kelly – I Was Made For Loving You
Aaron Watson – When I See You
Music has always been a powerful form of expression and can capture emotion, love and joy better than any book or poem.
As shown in the music discussed, proposing is one of the most heartfelt acts, and some of the songs perfectly encapsulate how special it is to declare your love to another person.
Experiencing that moment, whether through your own proposal or by listening to these beautiful and romantic tunes can evoke strong emotions — excitement for new beginnings and/or a reaffirmation of hope in everlasting love.
Chris Lane – For Her
While there's no formula for the perfect proposal, the right song can certainly add an extra touch of sweetness—or drama!
If you're planning on getting down on one knee, let us suggest a classic by Chris Lane: "For Her".
With its upbeat vibes, sweet lyrics about having someone for eternity, and gorgeous melody, this tune will make any proposal utterly magical.

---
Romantic Engagement Songs
The sparkle in your eyes and the warmth in your heart, the moment you say "yes" to the love of your life is simply enchanting.
That moment when you two decide to weave your souls together into a beautiful tapestry of shared dreams and endless love is truly unforgettable.
It's a time when stars align, the world seems to pause, and the future becomes clearer than ever before.
A promise to cherish each other, support each other, and create a life filled with meaningful moments more precious than any diamond – that's what an engagement truly means.
Discover the ultimate collection of melodies that brilliantly capture the joyous and wondrous feeling of getting engaged.
Here is a list of Our Favorite Songs:
Sara Bareilles – I Choose You
Rachel Platten – Stand By You
Jason Michael Carroll – Livin' Our Love Song
Drew Baldridge – She's Somebody's Daughter
MEGHAN TRAINOR – Marry Me
Casting Crowns – Wedding Day
Casey Barnes – God Took His Time On You
Tom Walker – Just You and I (Acoustic)
Dan + Shay – When I Pray For You
Andy Grammer – Crazy Beautiful
Dylan Scott – Lay Down With You
Chris Lane – Take Back Home Girl

Meghan Trainor – Dear Future Husband

Colbie Caillat – Bubbly
Tom Walker – Better Half of Me (Acoustic)
One of the most popular engagement songs of all time is "At Last" by Etta James.
Its soulful melody and heartfelt lyrics perfectly capture the feeling of finally finding your soulmate.
Other timeless classics include "Unchained Melody" by The Righteous Brothers and "Can't Help Falling in Love" by Elvis Presley.
In summary, selecting the perfect engagement song can make your special moment even more magical and unforgettable.
From timeless classics to modern hits, there's a song out there that perfectly captures the essence of your love story.
So, take the time to select the perfect song, and let it be the soundtrack to your happily ever after.
Sara Bareilles – I Choose You
Sara Bareilles' hit song "I Choose You" is a beautiful and heartfelt romantic ballad that has become a popular choice for engagement songs.
The song's lyrics express the deep love and commitment that the singer has for her significant other, emphasizing the joy and excitement of embarking on a journey together as a couple.
With its catchy melody and touching lyrics, "I Choose You" has captured the hearts of many, making it a perfect choice for couples who are ready to take the next step in their relationship.
This song has even become a popular choice for wedding ceremonies, proving its timeless appeal and lasting impact on those who hear it.
Overall, "I Choose You" is a powerful and moving ode to love and commitment that has earned its place among the most beloved romantic songs of all time.

---
Songs About Weddings and Marriage
Celebrate the magic of love and marriage with the perfect soundtrack.
If you're eagerly planning your big day or reminiscing on years of wedded bliss, nothing sets the mood quite like music.
From heartfelt ballads that capture the essence of true love to lively party anthems that get the dance floor pumping, there's a wedding song for every emotion.
Check out these timeless tunes that perfectly capture the highs, lows, and everything in between that makes this milestone so special.
Songs That Celebrate Lifelong Love
Florida Georgia Line – Blessings
Dan + Shay – Speechless
Jake Scott – Tuesdays
Jason Derulo – Marry Me
Brett Young – Dance With You
Jasmine Rae – When I Found You
Lewis Brice – It's You
The Shires – I Just Wanna Love You
Erin Kinsey – I Got You
Brian McKnight – Everything
Ella Langley – Country Boy's Dream Girl
Spencer Crandall – My Person
Ed Sheeran – Thinking Out Loud
Jon Langston – Forever Girl
Florida Georgia Line – Grow Old
It is clear that there is an abundance of songs that speak to the beauty and joy of marriage.
From classic hits to more modern beats, they all showcase the beauty of celebrating love and commitment.
Every song speaks to its own unique vision, but they all come together to recognize that weddings and marriages can be truly special occasions.
We hope this list was useful in finding just the right soundtrack for your special day!
Florida Georgia Line – Blessings
If you're looking for just the right tune to capture those wedded bliss vibes, it's hard to go wrong when choosing Florida Georgia Line's "Blessings".
This happy song embraces all of love's highs and lows like no other – it will have every wedding guest swaying along in pleasure.
Let's look at why this up-tempo classic is an excellent choice for your celebration – from its catchy beat to inspiring lyrics! Check out the Video Below

---
Slow and Emotional Love Songs for Your Special Day
Nothing compares to the feeling of being in love, and on your special day you want to express that emotion to the fullest.
Music has a power like nothing else; it can bring forth feelings within us that may have been hidden away or forgotten, and make all of our emotions feel more palpable.
Whether you are looking for something slow and romantic, something upbeat and cheerful, or anything in between – there is no shortage of perfect songs for a wedding ceremony or reception!
Here are some of our favorite selections for those who wish to honor their relationship with an extra heartfelt touch by adding slow and emotional love songs into their celebration.
Beautiful Love Ballads for Your Wedding
Chris Lane – Big Big Plans
Micah Fletcher – The Look In Your Eyes
Brett Young – Change Your Name
Forest Blakk – Fall Into Me
Toosii – Favorite Song
Kane Brown – Worship You
Restless Road – Growing Old With You
Calum Scott – You Are The Reason
Surf Mesa, Madison Beer – Carried Away (Love To Love)
Matt Nathanson – Wedding Dress
Kate Vogel – I Wanna Love You Forever
Jason Aldean – Heaven
Alexandra Kay – That's What Love Is
Blake Shelton – Nobody But You
Ed Sheeran – Perfect
It is clear that having the right slow and emotional love songs for your special day can be essential for setting the mood and expressing your innermost emotions.
From romantic ballads to heartfelt love songs, the choice is yours.
Whether you choose a classic artist like Norah Jones, a newcomer like Taylor Swift, or an up-and-coming artists like Toosii, you are sure to find the perfect musical match for your wedding or event.
Chris Lane – Big Big Plans
Chris Lane with 'Big Big Plans' has become one of the biggest anthems in wedding ceremonies around the world.
This soulful ode talks about strong connections, dedication and promises all bundled within its beautiful melody!

---
Songs for Married Couples

As a married couple, it is important to cultivate an intentional relationship.
Listening to music together can help enhance bonding opportunities and provide an opportunity for reflection away from the hustle and bustle of day-to-day life.
We are here with a selection of songs perfect for couples that will get you in the groove of self-care, quality time, and relaxation together as a married duo!
Songs that Celebrate Unique Love Stories
Blake Shelton – Happy Anywhere
Tim McGraw, Faith Hill – The Rest of Our Life
Jon Pardi – Head Over Boots
Lukas Graham – Love Someone
Conor Maynard – Crowded Room
Chase Bryant – Change Your Name
Luke Combs – Beautiful Crazy
JP Saxe – More of You
Adam Sandler – Grow Old With You
Kane Brown – Good as You
Jason Mraz – Best Friend
Clay Walker – I'd Love To Be Your Last
Thomas Rhett – Die A Happy Man
Jason Mraz – Lucky
Luke Combs – Lovin' On You
Overall, the perfect wedding songs create an atmosphere of love and joy and make beautiful memories that will last a lifetime.
As you look for special music to set the tone on your event, remember that the goal is to celebrate your unique relationship.
Pick songs that have extra meaning to you and your partner as individuals and as a couple, as those are the tunes that are sure to bring out butterflies in both of your stomachs!
Music can evoke powerful emotions.
After all, it's said music is 'the language of love' so choose wisely and enjoy the musical journey together!
Remember this day isn't about the beats or specific lyrics, but about celebrating all the wonderful times ahead you have together.
Blake Shelton – Happy Anywhere
There are few songs that capture the unity and joy of marriage like "Happy Anywhere" by Blake Shelton. This heartwarming country-rock tune has lovely music that evokes warm memories, hopeful dreams and shared moments together.

---
Powerful Love Songs for Your Wedding

Songs of love, such as those dedicated to true and lasting romance, often carry intense emotional power that can move us in many different ways.
As time passes and relationships evolve, the feelings experienced during these memorable moments can fuel and transport us back to passionate recollections with just a single note.
A great love song is timeless; it defines certain eras while simultaneously standing the test of time itself.
Whether you're celebrating a special occasion or simply reminiscing about life's most romantic relationship stories, here are some powerful songs of love for any moment.
Ultimate Love Anthems
John K – ilym
Selena – Dreaming of You
Bruno Mars – Just The Way You Are
Ed Sheeran – Afterglow
Ashe & FINNEAS – Till Forever Falls Apart
Kodaline – Wherever You Are
James Arthur – Say You Won't Let Go
Christina Perri – A Thousand Years
Chris Young – Who I Am with You
Edwin McCain – I'll Be
Peter Cetera – Glory of Love
Lumineers – Just Like Heaven
Jake Scott – Favorite T-Shirt (Acoustic)
Selena – I Could Fall In Love
J Balvin & Ed Sheeran – Forever My Love
Love is an emotion that has inspired many of the most beloved, powerful songs ever written.
Whether it's a joyous celebration, a declaration of everlasting devotion or a grieving goodbye, love can bring out the best in any artist and create something truly inspiring.
Music isn't only capable of transcending language barriers, but also in helping to heal our souls – allowing us to experience emotions we never knew we had or recognize those we already felt but couldn't quite explain.
Many strong love songs have been composed over the years and will continue to exist for generations to come.
So if you're in need of hope, joy, or solace turn on your favorite romantic song and let it take you away – for music can be the strongest bridge when two people are apart, if even just for a moment.
John K – ilym
When it comes to powerful love songs, John K's recently released single "ilym" stands out as a sonic gem that will speak directly to your heart.
Capturing the intensity and hope of romantic love in all its complexities, this track moves forward with intoxicating synths and bubbly beats while expressing an unyielding devotion through touching lyrics.
Perfect for blushing brides walking down the aisle or couples looking for their next slow-dance anthem, "ilym" is sure to become a memorable addition to any music library.

---
Conclusion
Overall, wedding songs are incredibly personal to each couple and selecting the perfect ones for your special day can bring a lot of emotion.
Whether it's the slow ambiance for the first dance, the rousing chorus of "I Wanna Dance With Somebody", Whitney or Ben Rector – or an old sentimental favorite from yesteryear, no matter what style you decide, your guests will surely be singing along or swaying in their seats.
Along with meaningful vows and beautiful decorations, music helps create an atmosphere for a lasting occasion of love, joy and happiness.
Make sure that before you tie the knot you've taken all the time necessary to sift through your options so that on the day of your wedding you have nothing but blissful feelings associated with a soundtrack made just for you and your newfound partner.
---
Read More
---
---
---
Pins for Pinterest
If you like what you see, feel free to share some love on Pinterest <3
Beautiful Songs About Getting Married | Upbeat Slow & Emotional (2023)
From discovering new songs to getting more gigs, I'm excited to share the wealth of knowledge I've gained through many years of DJing. [email protected]